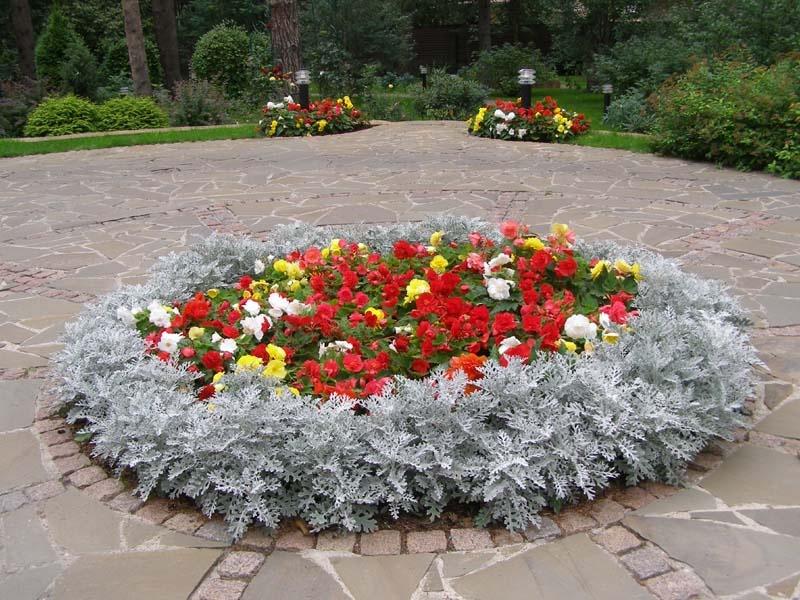 For a start, perhaps, is to determine the kind of flowerbeds depending on its location. Traditionally isolated Central and side flowerbeds. Since the Central draws more attention, it is usually made more elegant, Grand, solemn.
The flowerbed can be located almost anywhere in the area: at the entrance, in front of the building, in the middle of the lawn, in the circle of tree trunks, the fence — just wherever it suits you, and where you see fit. Only, depending on the location, it is important to choose the right size and shape, as well as plants for planting.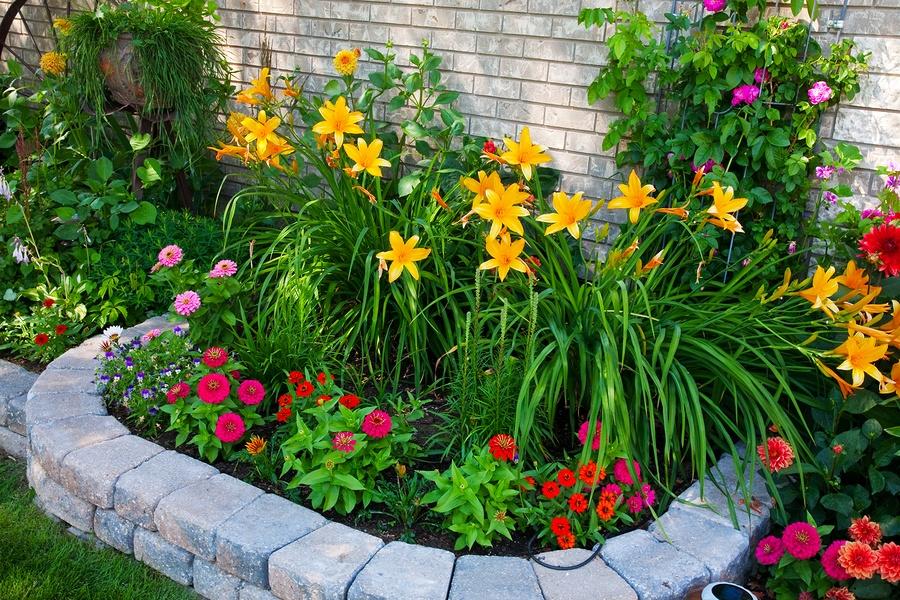 To make large flower beds do not even vast areas — they are just uncomfortable to care. Better in this case to make a few flower beds, creating of them an original composition. For example, like this:
It is believed that a circular flower bed to the most convenient diameter is 2 meters. But it does not necessarily have to be round. Flowerbeds are square, rectangular, oval, figured. Purely decorative surround flower beds, made in the form of various figures. They are built on a special frame, and build a flower garden on a country site probably means very little, but in the parks these songs arouse the admiration of the audience.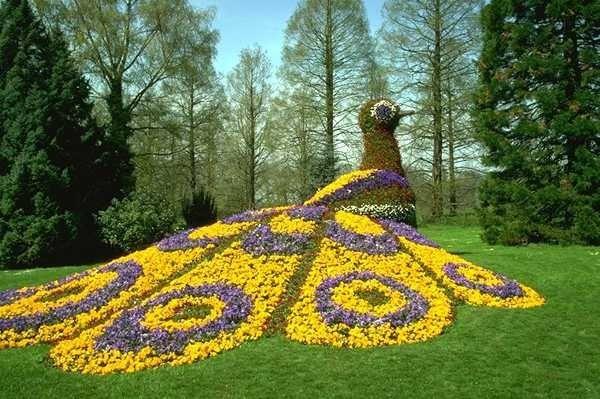 But at the cottage you can use more simple in execution option: draw from the colors in any simple or, on the contrary, an intricate pattern. In this case, use, as a rule, low-growing plants of equal height, so that the pattern is visible clearly. Such kind of flowerbeds is called a carpet. Large carpeted flowerbeds are usually equipped in the front zones of the parks, using a dwarf ornamental foliage and ground cover plants that stably retains ornamental for the season. The floral pattern here can be very difficult; he often repeats the figures of these carpets. These flowerbeds look absolutely fantastic, but they are very time consuming. And here for example such variant, it is possible to repeat on your site: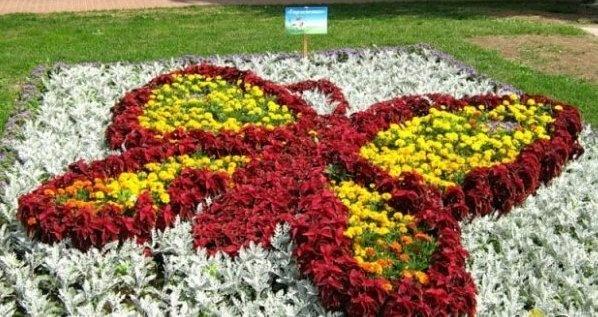 Continuing the conversation about the shape of the flower beds, it is impossible to ignore its setting. Flower beds rarely leave without edges, as a rule, only on lawns where the grass is green in itself serves as a border flower garden, emphasizing its shape. In other cases, use all sorts of materials to draw the contours and to separate the flower garden from the surrounding space. Often form raised beds of various heights. Among the popular materials for fencing flower beds — natural stone, brick, wood; now it is very common and finished plastic fencing, relatively inexpensive and very comfortable.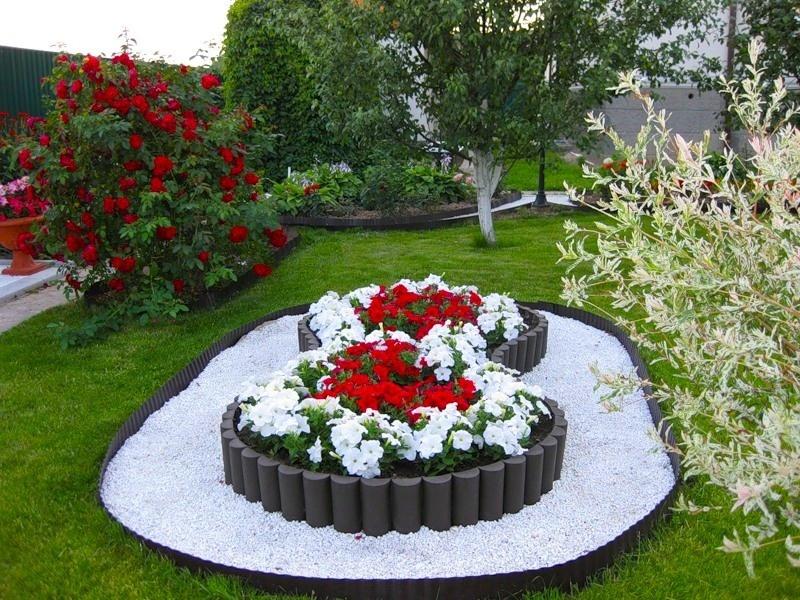 Here is an example of the original usage of gabion mesh when you create flower beds — the option is available and very interesting: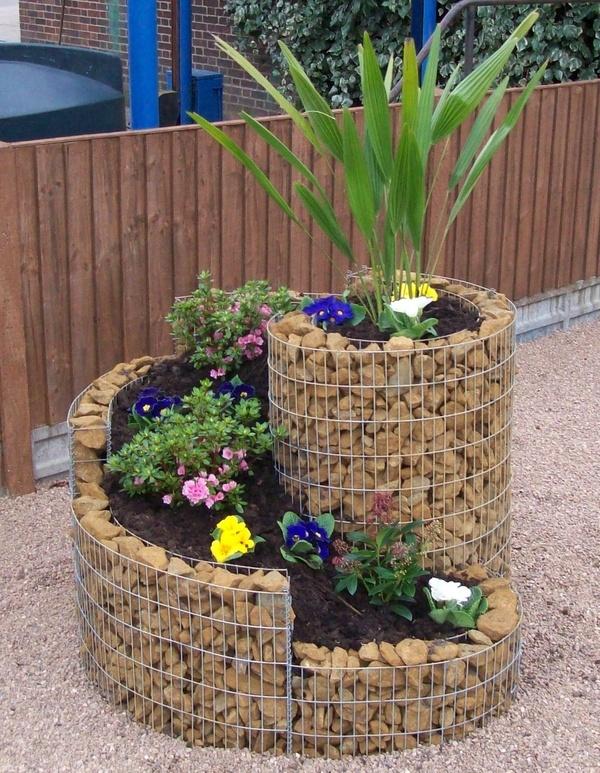 Flowerbeds in pots and containers is a very convenient option not only for urban design, but also for summer houses. Their advantage is mobility: a small container can be installed anywhere, and if desired and necessary, easy to move. For this flowerbed easy care. But let me remind you again: the moisture from the plants, planted in a container, require more frequently, therefore, those who happen in the country only on weekends, will have to take care about some additional sources for plants. Good decision — making into the soil when planting hydrogel granules which retain moisture and give it to plants as needed.
And another important thing: be sure to allow holes to drain excess water and good drainage at the bottom of the pot, otherwise the first rain will turn it into a small swamp.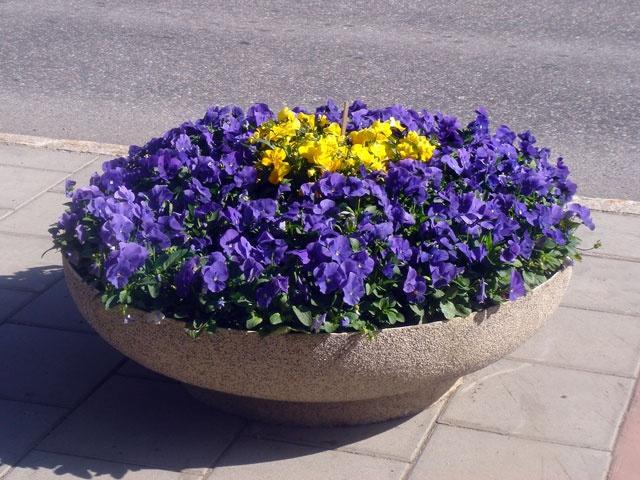 Pots and containers can be made from any material at hand — there are no limits, only your imagination.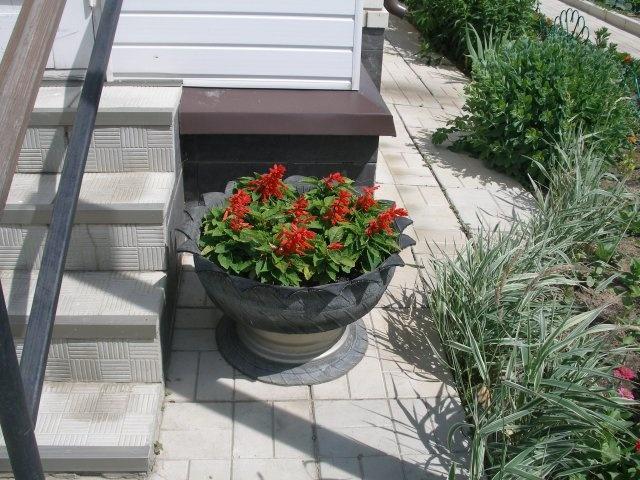 Can't ignore such original option, as potted flowerbed. Of course, it is rather the idea of urban than suburban, but in my opinion, it is in any case noteworthy. In this case, the composition is made up of plants in pots and containers, but it is made as one big flowerbed, sometimes with the inclusion of figurines and other small architectural forms. Here's a look: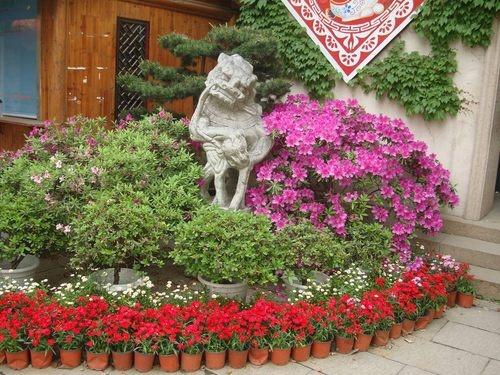 One of the types of container flowerbeds serve bulk vertical flower gardens, are very common in urban landscaping.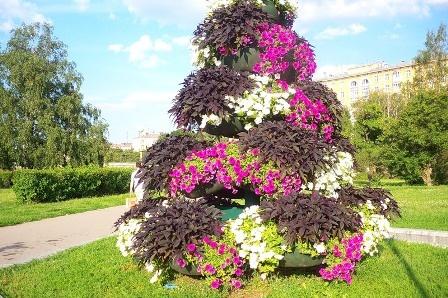 But in a country house vertical flowerbed will be appropriate. This design, incidentally, is not difficult to do, and the material it will require quite a bit.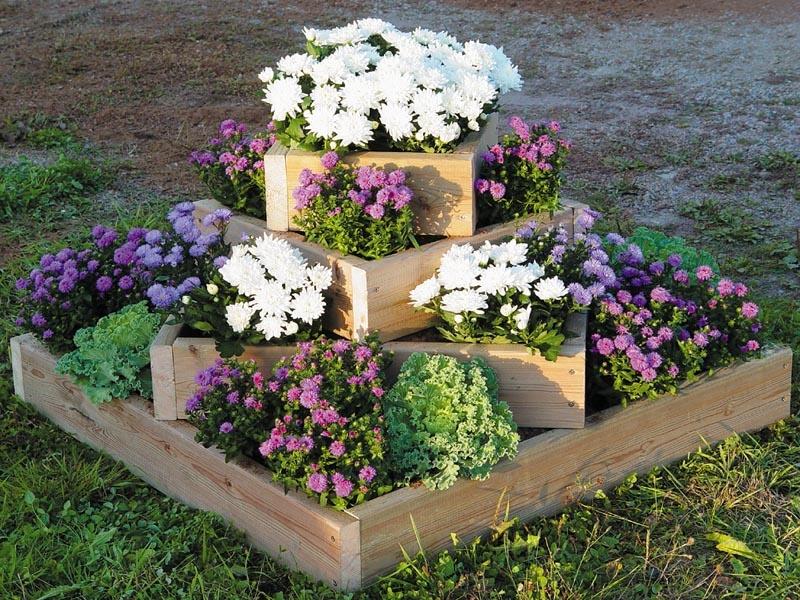 At the time of flowering flowerbeds are spring, summer, autumn, and continuous flowering. This is determined by the selection of plants and, of course, the last option is the most difficult to implement, but at the same time the most advantageous. It all depends on your desires and capabilities, as well as from existing conditions, which also must be considered.
So, most flowering plants are photophilous, so if your flowerbed is located in partial shade, to pick up flowers for planting will have to be more careful. Be sure to take into account the requirements of agriculture: on one flower bed planted plants with the same or at least similar requirements for soil composition and care. Amazingly beautiful flowerbeds where plants of only one species are planted: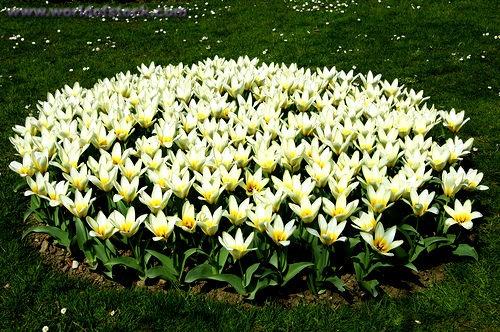 The flower bed is not necessarily the flowers. For its arrangement successfully applied and decorative-deciduous plants (e.g., Coleus or cineraria) and a mix of flowering and decorative-deciduous plants. This files most often for planting in these flower gardens use annuals and perennial plants. To create a flower bed of perennials is more challenging, because it is important to choose plants so that the composition was harmonious and elegant throughout the season. But let's see what luxury can be a perennial flowerbed:
Here is the flower bed to tree trunks round.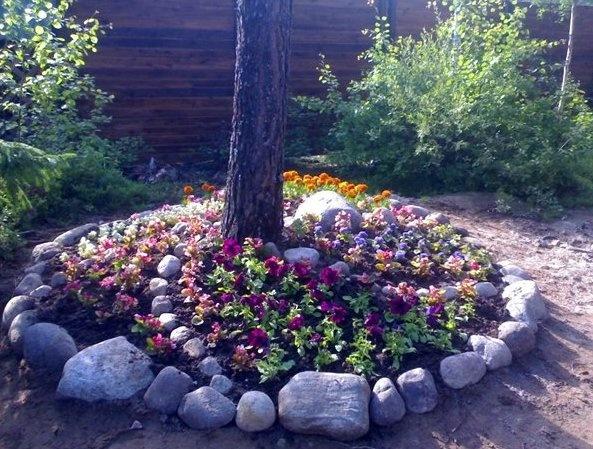 Little flowerbed of petunias at the entrance.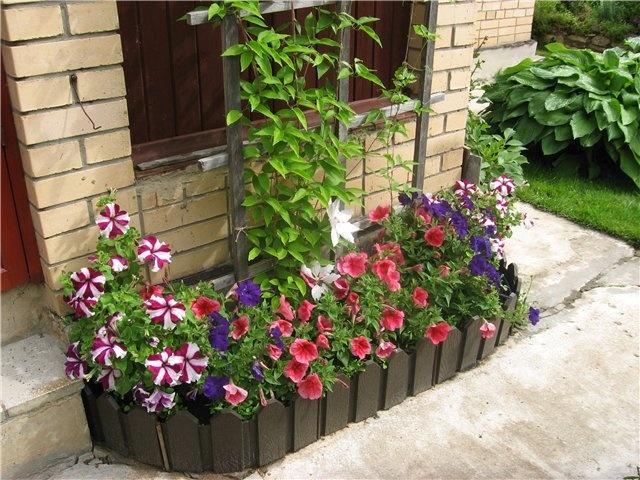 Flowerbed with a fountain in the middle.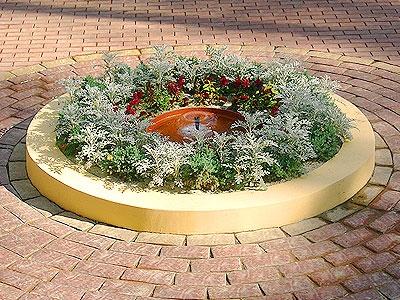 A flowerbed of primroses.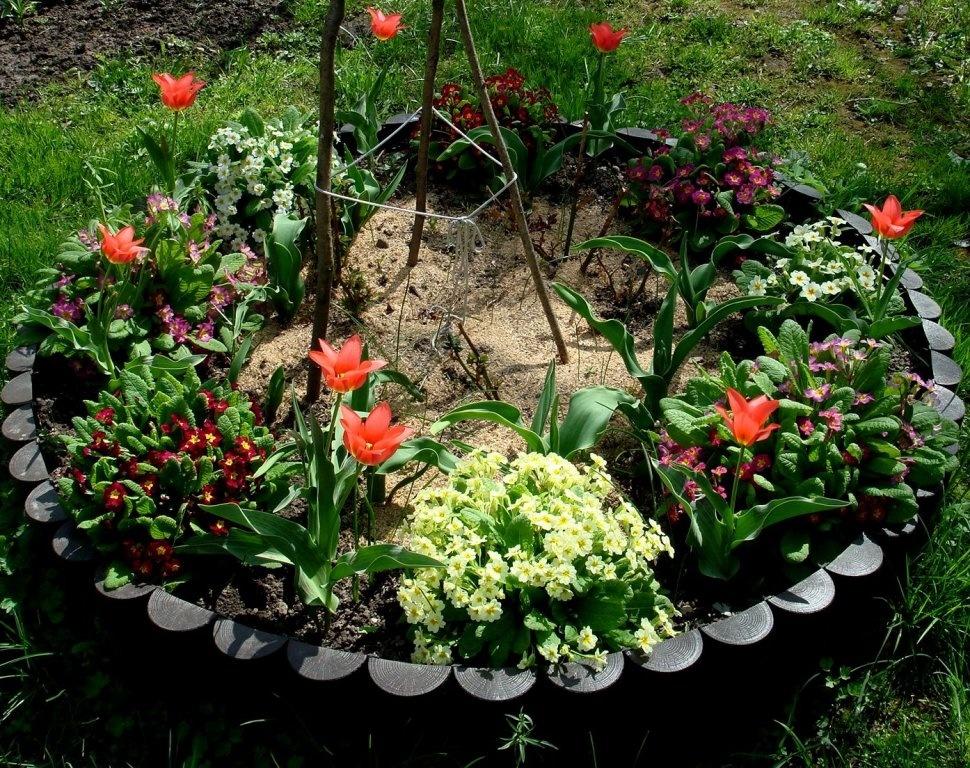 Floating flowerbeds.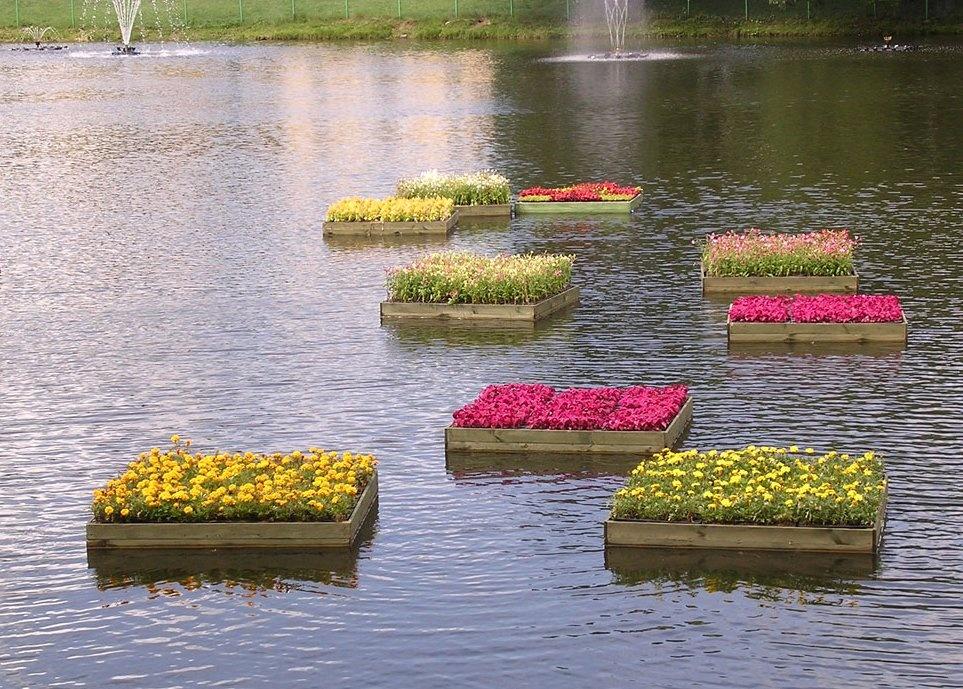 Huge flowerbed-the hill.