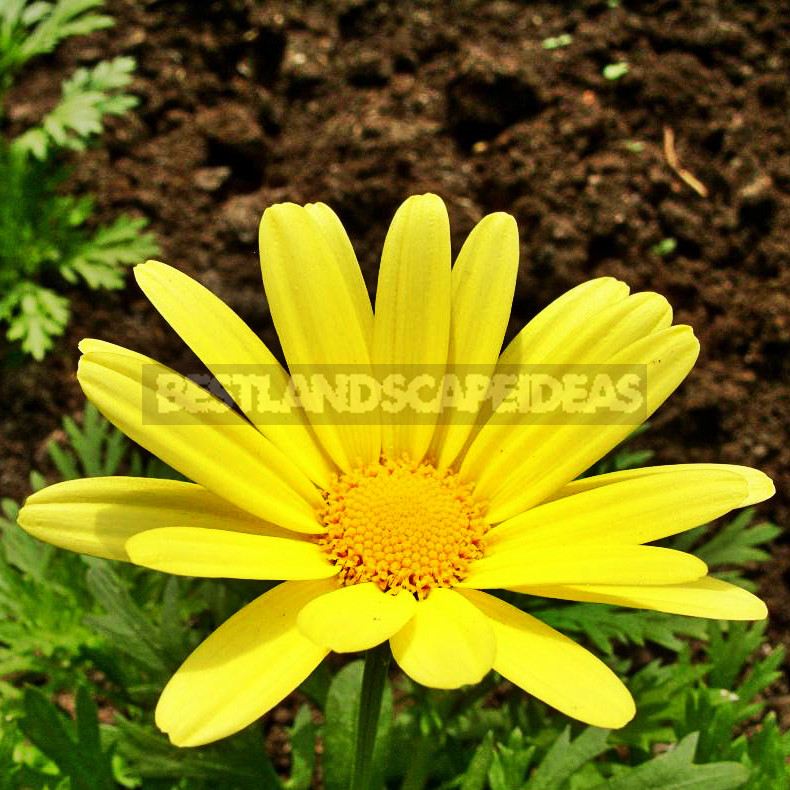 In this article, I will talk about edible chrysanthemums and some types of this plant.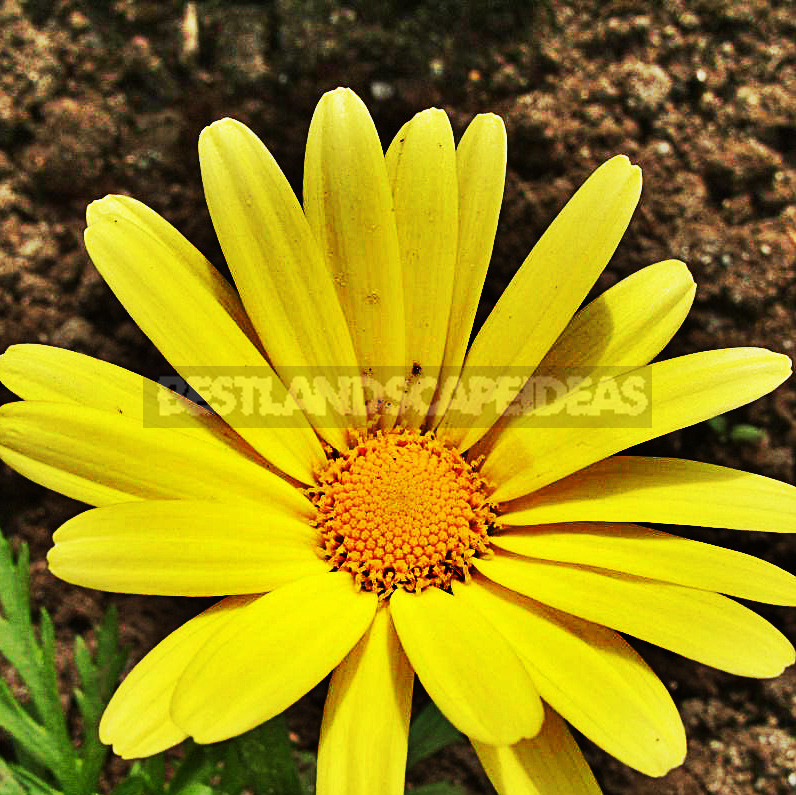 Chrysanthemum carinatum is an annual herbaceous plant with erect, branched stems from the base, 50-80 cm (1.6-2.6 feet) tall. The leaves are dissected, after cutting they are quickly replaced with new ones. Flowers are two-or three-color: white, yellow, red to the base, brown, bronze, collected in large, 5-7 cm (2-2.7 inches) in diameter, single baskets on long, strong peduncles; bloom from August to late autumn. Fruits-achenes; ripens in September. Decorative varieties: "Court jesters "(inflorescences with a diameter of 8 cm (3.1 inches), from white and yellow to orange, bright red, chestnut, bordered with orange or red)," Polar Star " (inflorescences pale yellow, bordered with orange), Dunetti series (inflorescences semi-double, variegated color). Birthplace: Morocco.
Chrysanthemum polychlorum is an annual herbaceous compact plant with numerous erect stems 15-25 cm (5.9-9.8 inches) tall. The leaves are small, collected in a root rosette, deeply dissected. The flowers are bright yellow, collected in single baskets on thin peduncles; they bloom in June-July. The fruits are achenes that ripen in August-September. Homeland: Asia.
Chrysanthemum coronarium is an annual herbaceous plant with erect, strongly branched stems, up to 80-150 cm (2.6-4.9 feet) tall. The leaves are twice pinnate. Yellow flowers are collected in numerous baskets on long peduncles; they bloom in May-June. Fruits-achenes; ripen in July-August. Decorative variety " Primrose' (height 30-45 cm/1-1.5 feet, inflorescence first pink, then yellow with a golden center). Homeland: Mediterranean.
Edible chrysanthemums – cultivated exotic vegetables, medicinal, ornamental plants. Young leaves with a pleasant, spicy smell of parsley, stems (salads, soups, meat, vegetable dishes, sauces), inflorescences (pickles, decorations, dishes) are used for food. For medicinal purposes, inflorescences are used for diseases of the cardiovascular system, hypertension, to increase immunity and as a tonic.
Bright, abundant flowering allows edible chrysanthemums to occupy a prominent place as a border on the garden ground (low-growing species and varieties), in cuttings on the lawn, flower beds, in the mixborder, where they can quite cope with the role of focal (in group planting) or accompanying elements. The distance between plants is 30-35 cm/1-1.1 feet (for tall forms), 20-25 cm/0.6-0.8 inches (for short forms). It is undemanding to the soil, but it grows best on fertile soil.