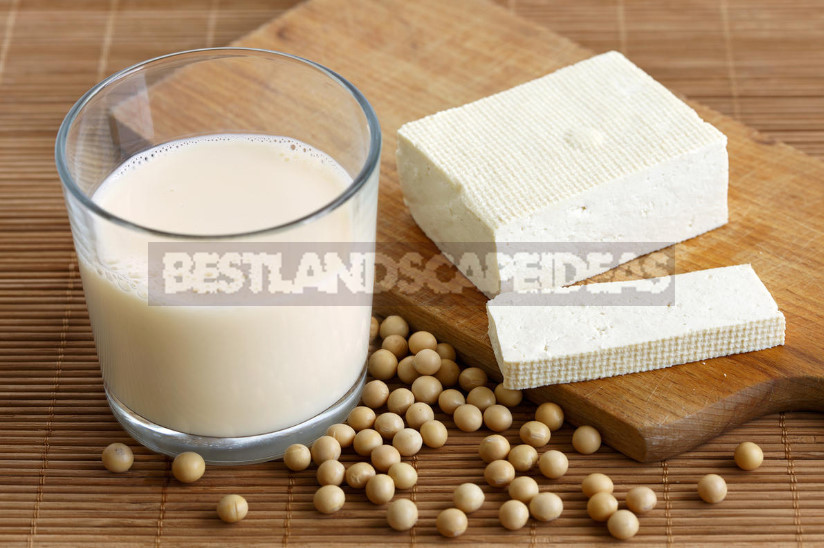 To prepare tofu cheese at home, there are several methods, they differ mainly in the way of grinding soybeans and substances used as a coagulant. For coagulation, citric acid or lemon juice, English salt or a mixture of vinegar and table salt is used.
There may be other coagulants, but I don't know about them. The type of coagulant affects the chemical composition of cheese. For example, if you use English salt, tofu will contain more magnesium and sulfur – substances that are part of the English salt (heptahydrate magnesium sulfate).
There are also different ways to grind soybeans. The better they are crushed, the thicker and more saturated will be soy milk, from which, in fact, is made tofu itself. There are ways of making tofu, where a kilo of beans will 350 grams of cheese. At the same time a lot of soybean meal goes to waste. I want to describe here a method that will require the use of a mixer or food processor. This will make it possible to extract the maximum of soy milk from the minimum of beans. As a result of 500-600 g of soybeans will receive approximately 1300 g of tofu. The exact weight will depend on how long the cheese will stay under pressure and how much liquid it will be able to remove.
Ever need:
500 g dry soybeans;
4.5 l clean water;
3 teaspoons ground salt;
5 tablespoons vinegar 4.5 % (Apple, rice, table);
0.5 l of water (optional).
In addition, you will need some equipment:
blender (you can use a submersible blender);
large pot (6-7 l);
large diameter sieve with fine metal mesh;
small sieve with fine mesh;
wide bowl;
silicone spatula;
a piece of mesh fabric (or a four-layer piece of gauze);
measuring Cup (or half-liter mug);
two round or rectangular plastic mesh container (with a volume of 1.5-2 liters).
Preparation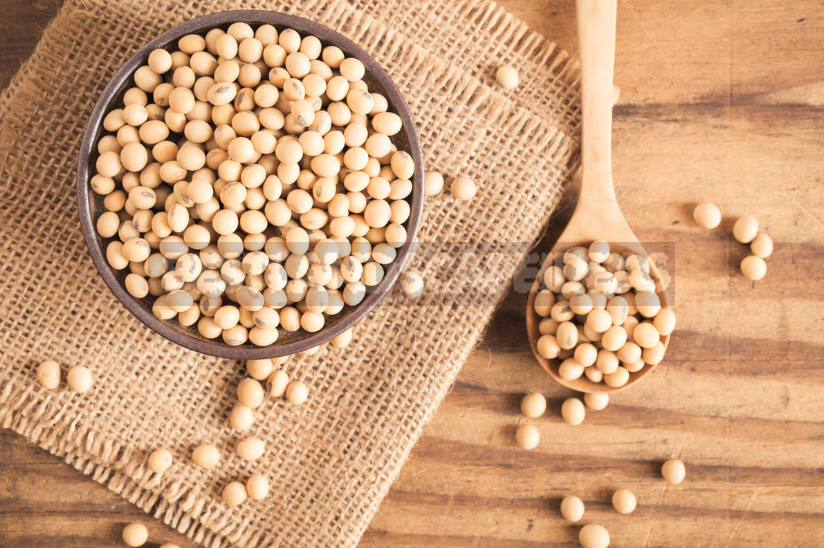 Half a kilogram of soy is sorted out, removing unsuitable beans, washed and soaked in clean water at room temperature for at least 12 hours. As a result, 500 g of dry beans will make about 1 kg 200 g of swollen soybeans. After the specified time, the beans are washed again, the water is drained. Delete anything not needed, like the separated crusts – whole beans go to work.
Now we begin to obtain milk from soy. In the bowl of the blender pour a third of the soaked beans. Pour 1/2 liter of clean water. Close the bowl and at high speed grind the beans with water for about 2 minutes. As a result, we get a foamy mixture of white, larger than the original volume by about 2 times.
Place a fine sieve over a large pot and pour the slurry obtained in the mixer onto the sieve. Slowly stir the soy mixture in a sieve with a silicone spatula, allowing the liquid to drain into the pan – until the sieve does not remain pasty mass – soybean meal, and in the pan – a certain amount of soy milk.
Soy cake, remaining on the sieve, send again in the mixer bowl, then again add 1/2 liter of water. This portion of soy is mixed with water again – again for 2 minutes.
The resulting soy mixture is poured again on a sieve installed above the pan, and repeat the previous steps again: slowly stirring the mixture with a silicone spatula, separate the soy milk from the cake, which remains on the grid. This mass is more liquid and more finely dispersed than the previous one, it is more easily filtered through a sieve, but in the end there is still a certain amount of soybean meal on the grid.
We send it to the blender for the third time. Add again the same amount of water and mix at high speed for 2 minutes. The resulting suspension is filtered through a sieve over a pan, which has gathered a decent amount of fragrant soy milk.
The spent cake spread in a bowl, covered with a four-layer gauze, to later squeeze out of it the remains of the liquid. Set aside the spent cake to the side, and themselves proceed to the processing of the remaining two parts of soy, repeating the same steps: each part is stirred three times with a mixer for 2 minutes, adding each time a half-liter of water, and then straining through a sieve in a pan.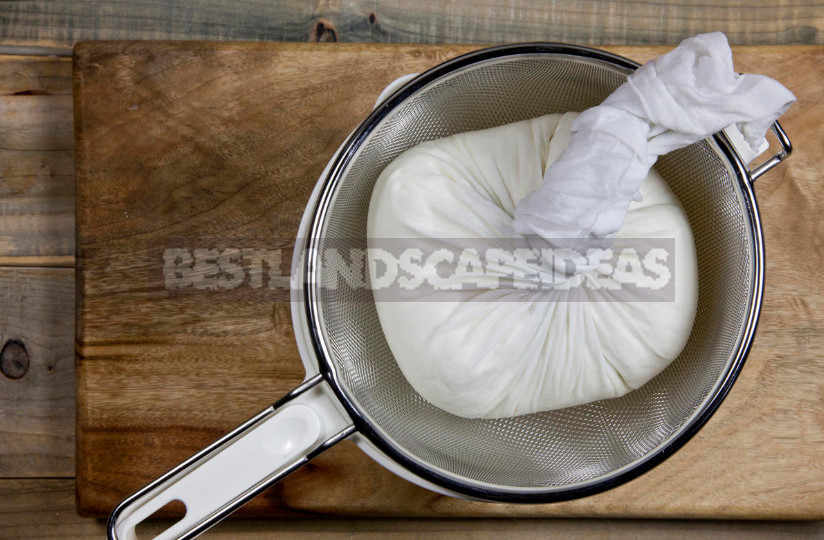 The final cake from all three parts collect in a bowl, covered with gauze. It is squeezed by hand through a cheesecloth over a bowl – it turns out about 0.5 liters of soy milk, which is also sent to a large pot.
In General, the soybean meal itself, remaining in the manufacture of soy milk, is called Okara. It is not thrown away, because it is made from the well-known soy meat. This is a great protein product – a substitute for meat in a vegetarian diet. So, we've completely redesigned the pound of dry soybeans. As a result, we got about 4 liters of soy milk and 600-700 g of Okara.
Place a saucepan with soy milk on the fire and heat. Soy milk should be heated over medium-low heat, stirring constantly, because it can burn. Do not allow burning – it will spoil the taste of the final product.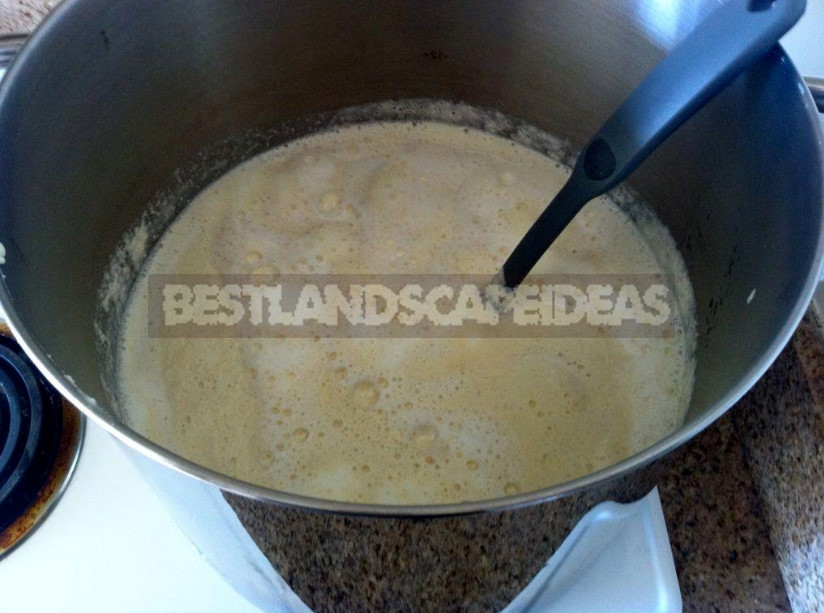 When soy milk is heated, foam is collected on its surface, which must be removed with a small sieve.
While the milk is heated, prepare a coagulant: mix half a liter of water with 3 teaspoons of salt and 5 tablespoons of vinegar.
When soy milk starts to boil (almost!), we are constantly mixing it with a spatula, gradually, parts pour into it a coagulant: first half, and then after a couple of minutes of heating and stirring – another half.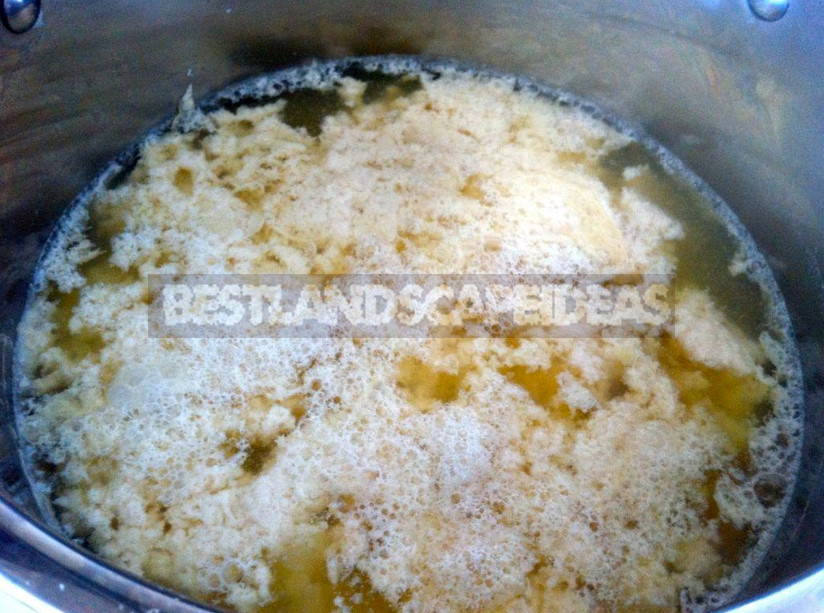 Then, continuing to mix the contents of the pan, again bring it almost to a boil. The principle of making tofu cheese from soy milk is very similar to making cottage cheese from ordinary milk: the more time you heat the milk, the more dry the cottage cheese will turn out. The same applies to tofu. If you want to get a harder, hard cheese, heat it longer, and if you want to have a softer tofu – bring the milk almost to a boil, remove from heat, cover with a lid and let stand for 20 minutes.
After a specified time, there is a separation of cottage cheese from whey. Prepare a plastic mesh container with holes in the bottom, placing it in the sink and lay a piece of four-layer gauze, which must be pre-wetted and pressed. Typing a half-liter mug of liquid from the pan, pour it into a container on the cheesecloth.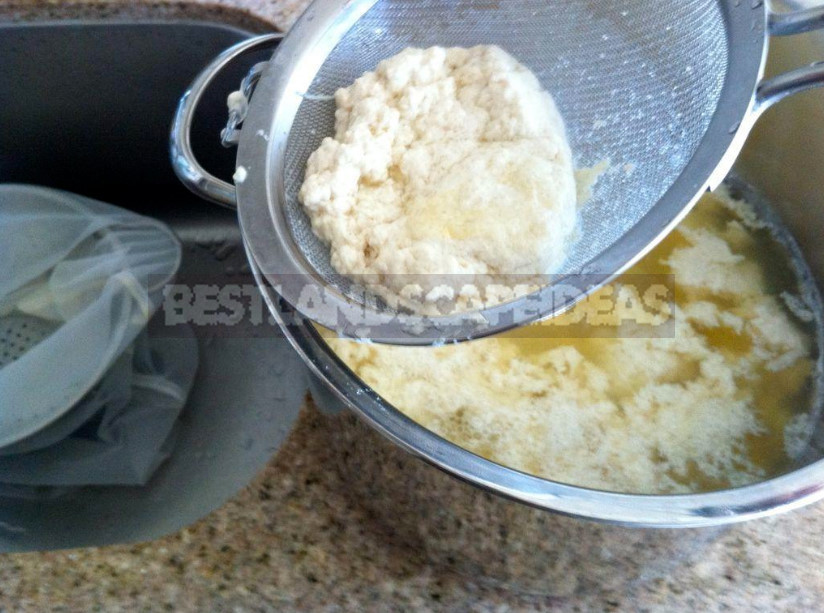 When all the liquid from the pan is poured into the container, the serum will leak into the sink, and in the container will remain the actual cheese. Carefully wrap the edges of the gauze, covering them with cheese, and place on top of the second plastic container, which will serve as a yoke. In this container for weight you need to put something heavy – for example, 2-3 packages of cereals or beans. All this homemade press leave in the sink until cool.
After a few hours, when the cheese cools down, disassemble the entire structure, removing the oppression and removing the tofu wrapped in gauze from the mold. As a result of all the work, we get the final product – a large round or rectangular piece of soy cheese, weighing about 1 kg 300 g. the Density and exact weight will depend on how much liquid our homemade press has removed from the tofu: the more cheese is under pressure, the more solid and dense it will be.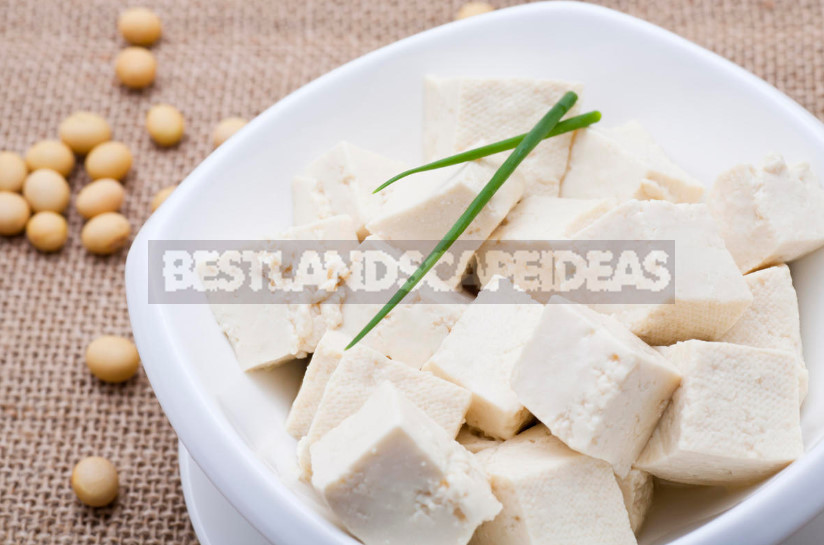 All! We have an excellent protein vegetarian product. It can be eaten immediately, as well as fry, cook, use in recipes of various dishes.