October is the time to collect pumpkins and prepare a variety of Goodies from them. The benefits of pumpkin pulp and the excellent taste of diet dishes made from it are obvious, but we will not dwell on this now. Let's talk about seeds — there really is something to tell, because not every pumpkin is suitable for harvesting this wonderful product.
Roasted pumpkin seeds can be called a real treat for children and adults. Scientists have proven and undoubted benefits of their use in raw form for the treatment of many ailments. Nutritionists note pumpkin seeds as a storehouse of useful elements. Edible oils, fiber, vitamins of various groups, amino acids, proteins, fats, carbohydrates, as well as pectins, phosphorus, zinc and iron-all this wealth is contained in each pumpkin seed.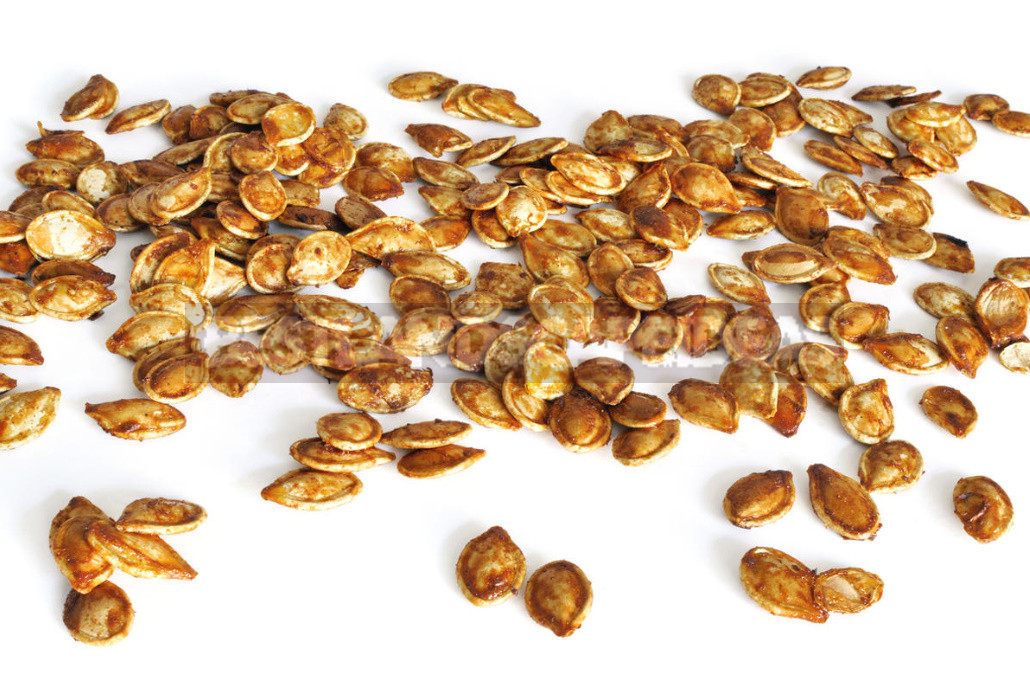 The taste is very similar to nutty-the same rich and pleasant. The energy value varies depending on the processing method. In raw seeds there are about 350 kcal, dried-about 540 kcal, fried contain more than 600 kcal per 100 g of the product.
Pumpkin for harvesting seeds: what is it?
You can eat seeds of almost all types of pumpkin, except decorative, although many gourmets and they see benefits for the body. Seed producers are sure to indicate on the packaging that the fruits of the ornamental varieties of pumpkin are not intended for food, but among them there are quite edible specimens.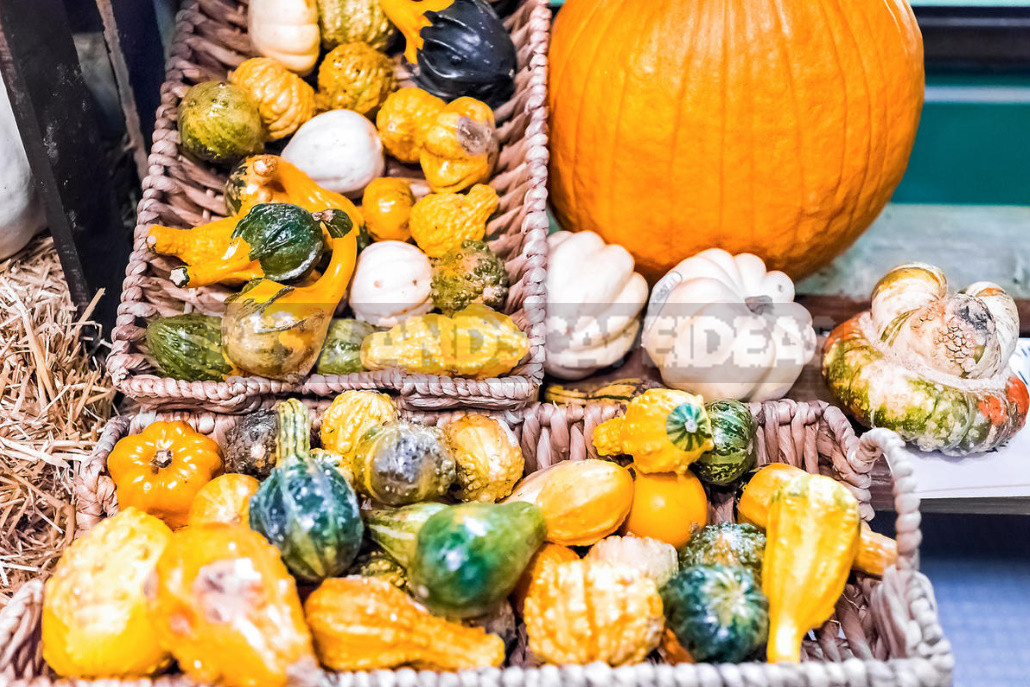 If you want to collect seeds to grow on your site, keep in mind that hybrids are not suitable for this purpose. Their next generation will not produce the same fruits as in the original cultivation. On the packaging of seeds of these plants in the name you will find a mark F1 or F2. From their fruits, seeds can be taken exclusively for consumption.
For seed collection are suitable as ripe, slightly immature specimens. Harvesting time is determined by the appearance of the vegetable and the terms specified on the packaging of the seed material. Often gardeners leave the fruits on the bed for a long time and consider them ripe after complete drying of all the leaves and vines, lignification of the stalk, compaction of the skin, the acquisition of a characteristic color of the vegetable. Seeds of overripe pumpkins are usually used to make various medicines, and in cooking-to prepare pumpkin oil.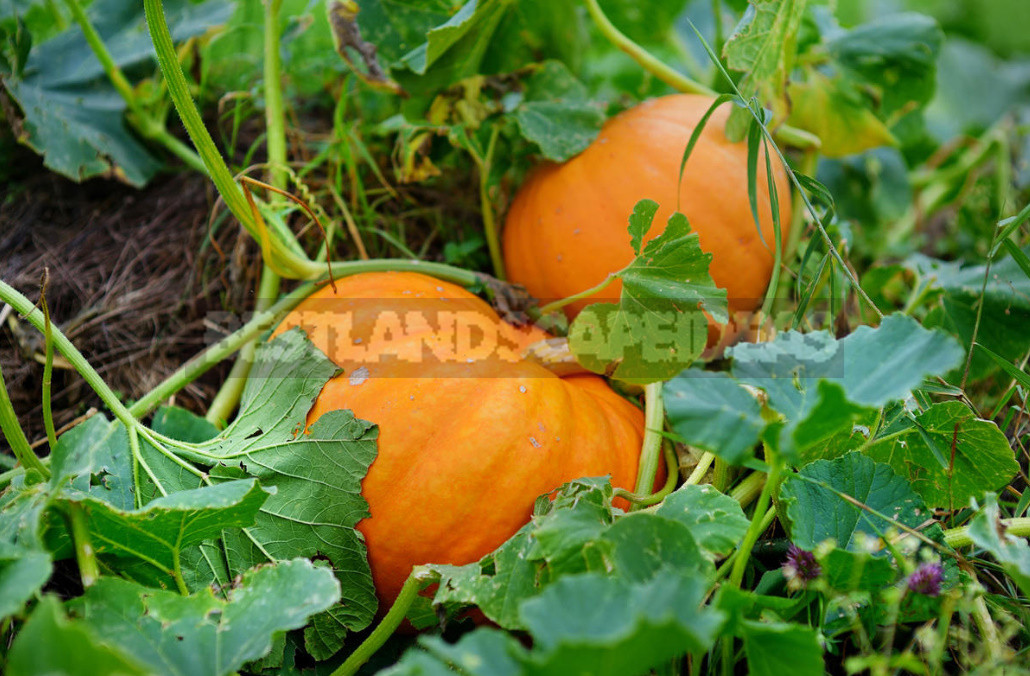 Seeds for sowing
Harvesting of planting seeds begins in the spring-even when planning a garden. Seed specimens are planted separately from the common pumpkin patch and timely pinch the lashes to obtain 2-3 quality fruits.
Ripened pumpkins are transferred to a warm room and initially kept there for 10-15 days. Longer storage can lead to deterioration of the quality of seeds, and even their germination in the flesh of the vegetable. Then the seeds are removed, thoroughly cleaned, discarded rotten, moldy and broken. It is not recommended to wash the planting material in water. Seeds spread in 1 layer on a linen fabric or paper and dry on a Sunny windowsill or just in a dry warm room.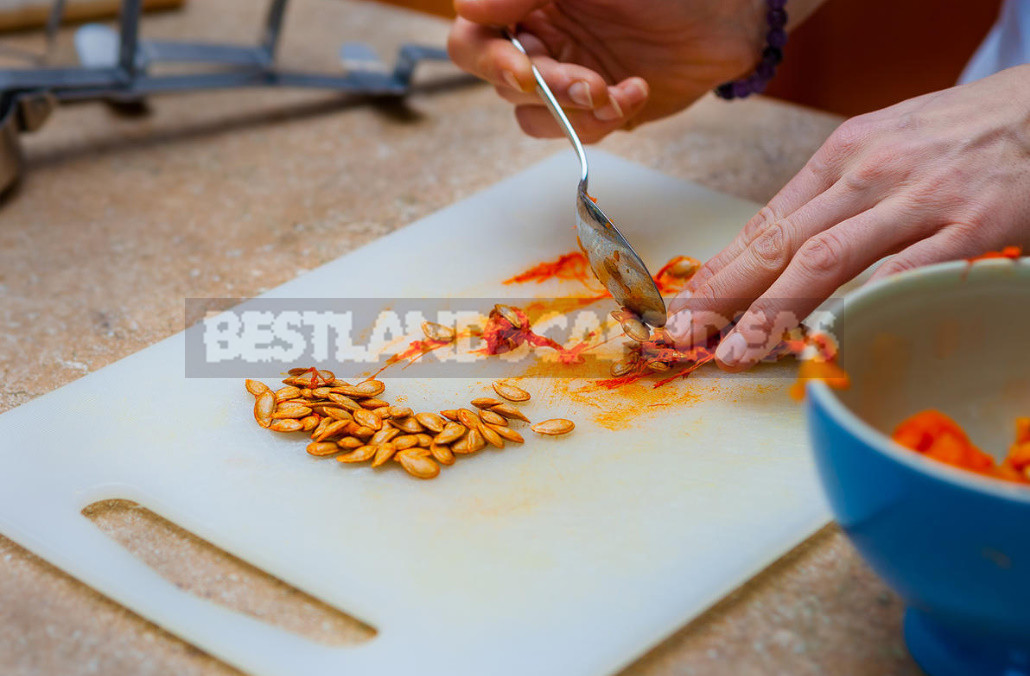 It should be borne in mind that pumpkin crops are quite easily re-pollinated. Therefore, if you have grown several varieties nearby, the collected seeds can carry mixed genes, that is, the result of their sowing will be unpredictable. When planning a small pumpkin patch is better to give preference to the purchased seeds of a proven manufacturer, so you get exactly what you want.
If you still decided to prepare the seeds yourself, here are a few tricks:
on the Sunny side of the fruit, more productive seeds are formed, fully ripened and well warmed;
seeds formed at the stalk, give a greater yield;
the best quality for germination are large seeds located in the Central part of the pumpkin;
for harvesting the seed material, it is better to take the fruits formed on the main stem, tied at the beginning of the growth of the pumpkin whip.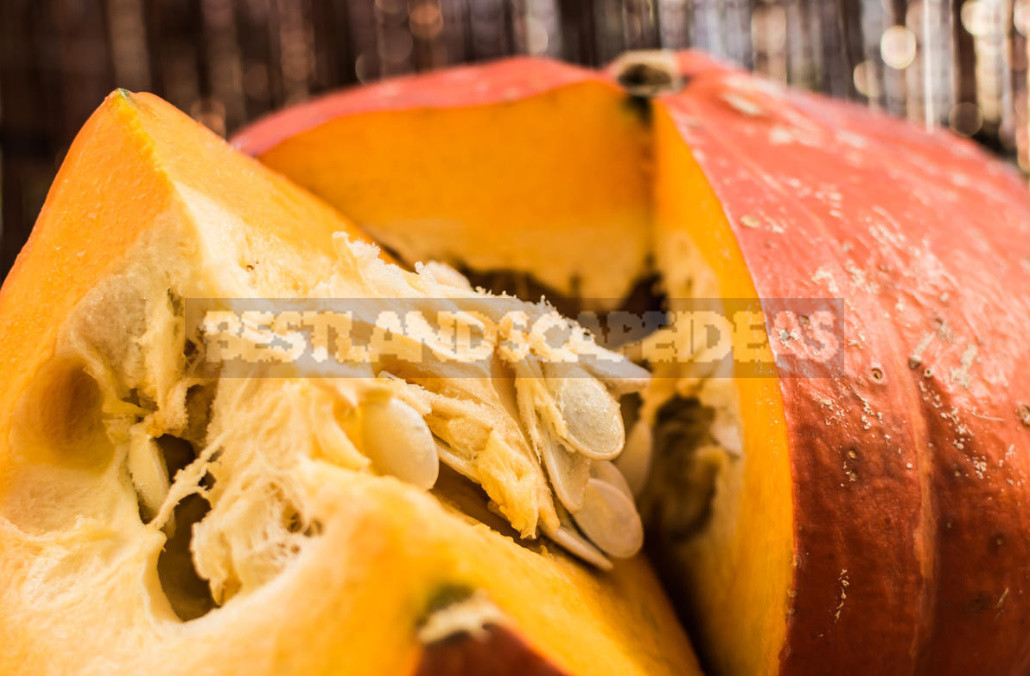 In the spring before planting, be sure to carry out etching-treatment of seeds against pathogens of fungal diseases.
Seeds for food
The recipes describe the ways of cooking various nutritious dishes, where pumpkin seeds are used. From dried produce flour, raw-oil, fried just eat in your spare time. The main thing is to prepare them correctly. In the beginning sort, reject low-quality, then clear and wash. For this purpose, a colander is well suited, in which raw seeds are spread and with active stirring, washed with hands under a stream of water.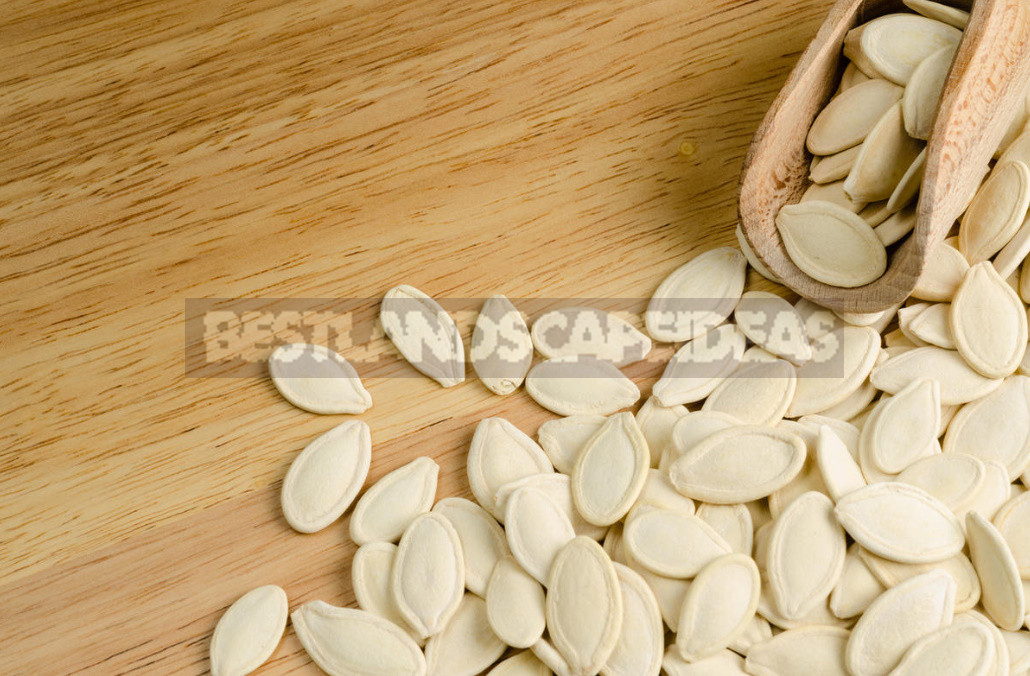 This is followed by drying. It can be carried out outdoors, as in the preparation of seed, in the oven or with a frying pan. The method depends on your preferences and recipe. Dried quality seeds should be light and dense, have no dark spots and traces of mold, have a pleasant and characteristic pumpkin smell.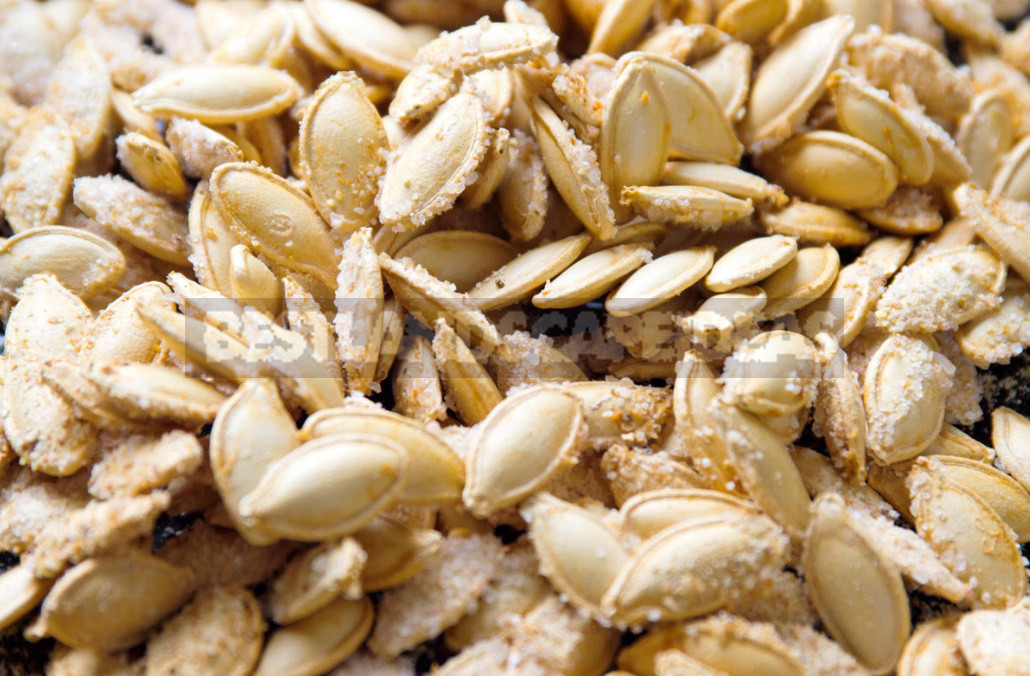 Storage
For proper storage of pumpkin seeds, you need to create certain conditions and there is not much difference how you will use them later. Definitely not suitable wet cold room. With significant changes in temperature and high humidity, the product can moldy and lose its taste. The number of sprouted seeds during sowing will also decrease. The storage room should be dry, well ventilated, the optimum temperature is +16…+20ºC, humidity-not higher than 75%.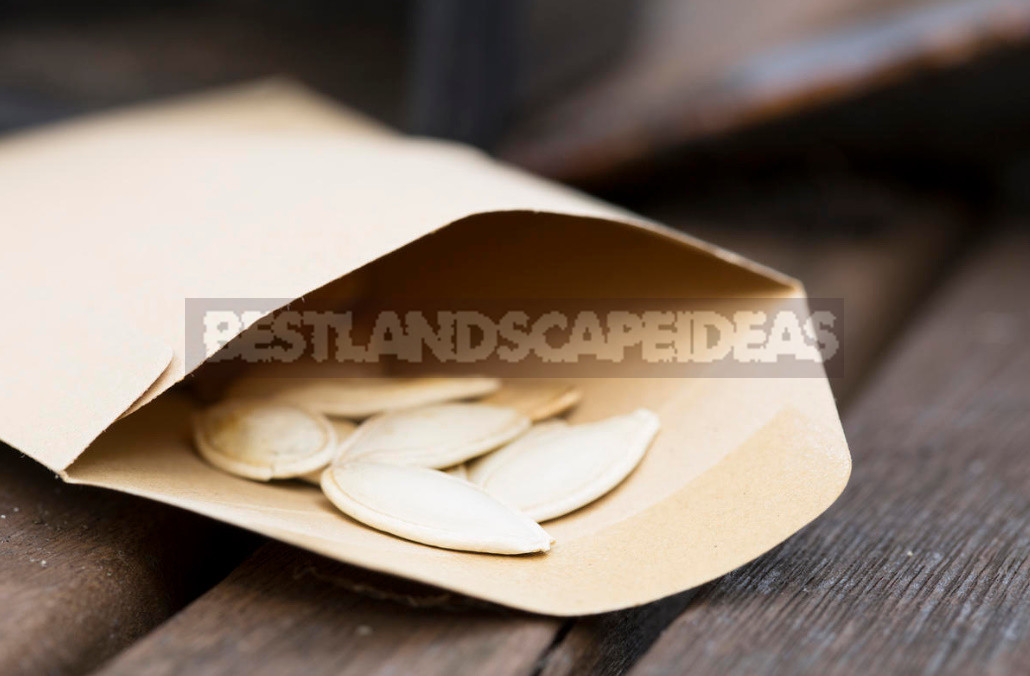 At home, paper bags or canvas bags are used to store dried pumpkin seeds. They are placed on the shelves of kitchen cabinets or storage racks. If the seeds are intended for sowing, then on the package do not forget to write the name of the variety and the date of collection, since with proper storage, pumpkin seeds retain germination up to 6 years.
Pumpkin seeds can bring both benefits and harm to the human body. And it is necessary to remember, applying them for preparation of various culinary dishes. But a reasonable approach and daily consumption of about 100 g of purified kernels will only benefit. Therefore, sow your favorite varieties of pumpkin and enjoy not only fragrant and healthy flesh, but also delicious seeds.