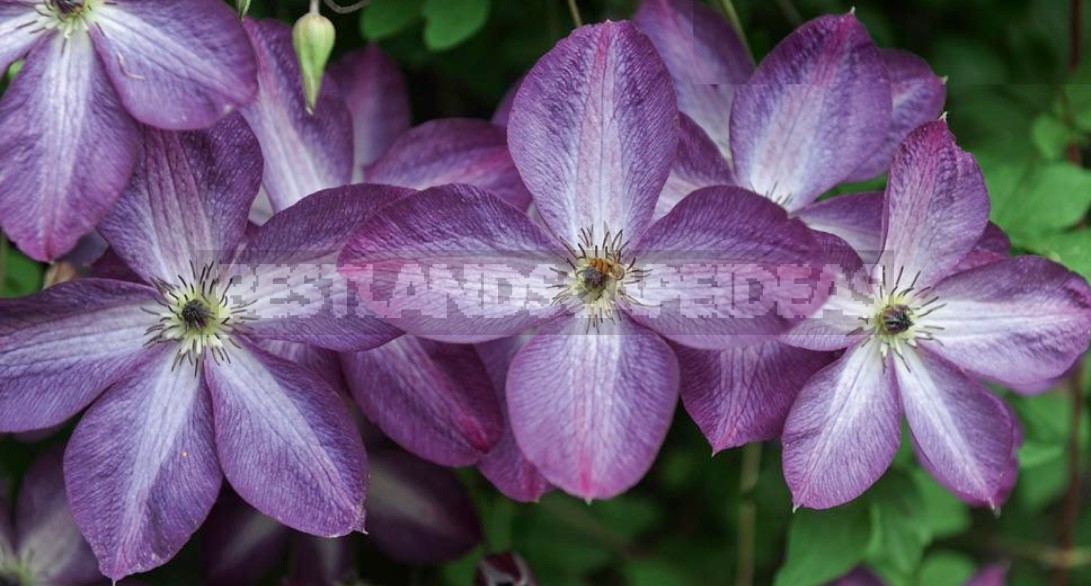 Bush clematis varieties of the Viticella and Jackmanii groups delight the eye with large flowers and do not require special care.
Portrait of a plant
The Viticella group includes varieties, one of the "parents" of which is clematis Viticella, in the Jackmanii group, respectively, – clematis Jackmanii. The shoots of these shrubby lianas grow up to 3-4 m in length. Flowers of Viticella group varieties reach from 8 to 12 cm in diameter, Jackmanii group-10-15 cm, and in some varieties – up to 20 cm.
The beauty of these clematis is that they bloom profusely and long in summer (and varieties of the Jackmanii group-and in September) on the shoots of the current year and belong to the third group of pruning. This means that you do not need to save old shoots-plants are cut in the fall to a height of 10-15 cm. This fact will forever save you from the hassle of hiding for the winter.
Of course, skeptics will say that the most beautiful, large-flowered and Terry varieties are represented by clematis of the second group of pruning. But their shoots need to be removed from supports for the winter, carefully bend down, making sure that they do not break, cover, in the spring time "unpack" and release from shelters, lift and fix the shoots on supports, check how successfully they have overwintered and carry out sanitary pruning.
All these troubles can be avoided by planting varieties from the Viticella and Jackmanii groups. Their flowers do not lose much in size and color options. Moreover, selection does not stand still, and there are new varieties of the third group of pruning with large semi-double and double flowers.
Due to the fact that the shoots of clematis of the third group of pruning do not need to be saved for the winter, they are the best partners for roses. These lianas can be put on other shrubs, as well as decorate high tree stems and Eastern and Western facades of houses with them. Planting several identical or different varieties in a row, you can form them into spectacular "flowering walls".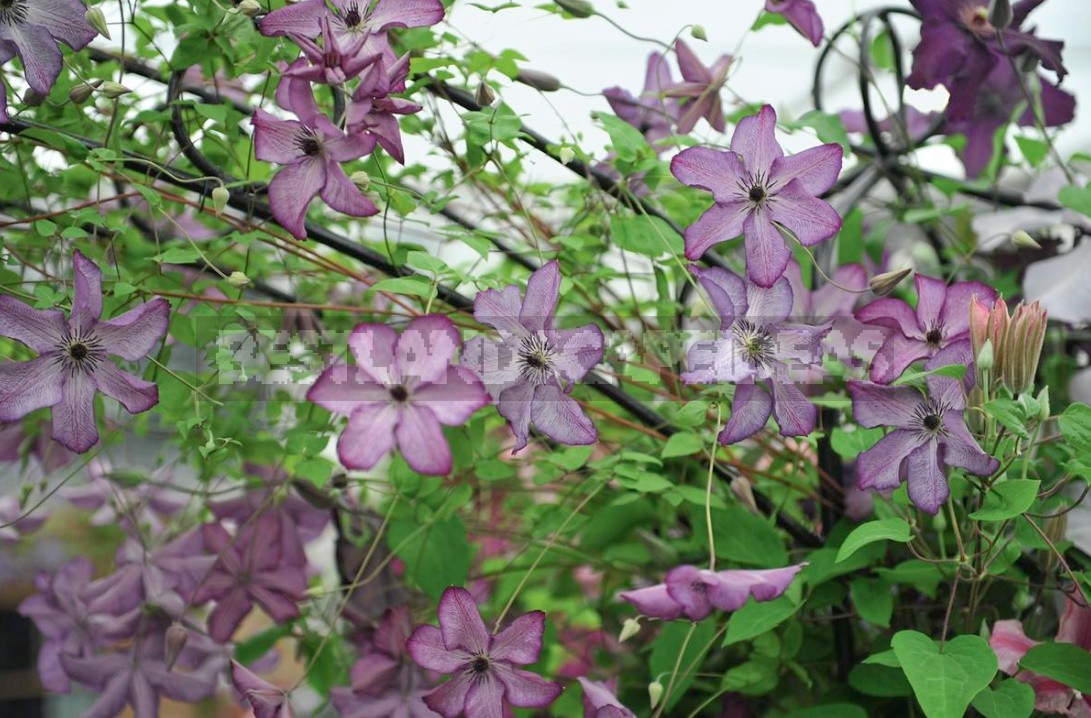 Any varieties from the Viticella and Jackmanii groups on beautiful supports will perfectly fit into the traditional mixborders of the cottage garden. And compact bushy monophonic varieties with medium-sized flowers will look good as vertical accents in modern meadow flower beds.
However, clematis can be used not only for vertical gardening. By running them on low horizontal supports, you can create flowering borders. Or remove the supports altogether and use lianas as groundcover plants.
Optimal growing conditions
Clematis need sun. Only the lower part of the plant should be shaded, and the soil should be mulched – this will protect the root system from overheating.
The site must be protected from the wind.
Soils are preferably loose, fertile, well-drained (the entire site-a layer of gravel in the landing pit on heavy soils will not save). Ideally, if it is a loam or sandy loam. Acid reaction – from slightly alkaline to slightly acidic.
Reproduction
Clematis varieties are propagated by vegetative methods: you can divide the Bush, root the layering or try to graft the plant. But the easiest and most effective way is to propagate the desired variety with green cuttings.
Problems and solutions
Clematis are susceptible to fungal diseases and attacks by various pests. All of them can be combated by buying the appropriate fungicides or insecticides. A sad exception is wilt — a fungal disease that causes complete drying of clematis shoots. There is no justice for him. Fortunately, the varieties of the third pruning group are less susceptible to wilt than, for example, large-flowered cultivars of the second group.
Care during the season
Spring
From may to September, clematis require regular and abundant watering once a week – the soil must remain moist. In this case, water should not fall on the lower leaves of the plant.
The first feeding with complex mineral fertilizer is carried out with the appearance of the first sprouts. The dose and time of subsequent top-UPS are calculated according to the instructions. Fans of watering clematis "lime milk" can do this in late spring, but, in principle, this is not a mandatory procedure. It is desirable that the plants are mulched (humus, bark or mown grass) with a layer of 3-5 cm thick.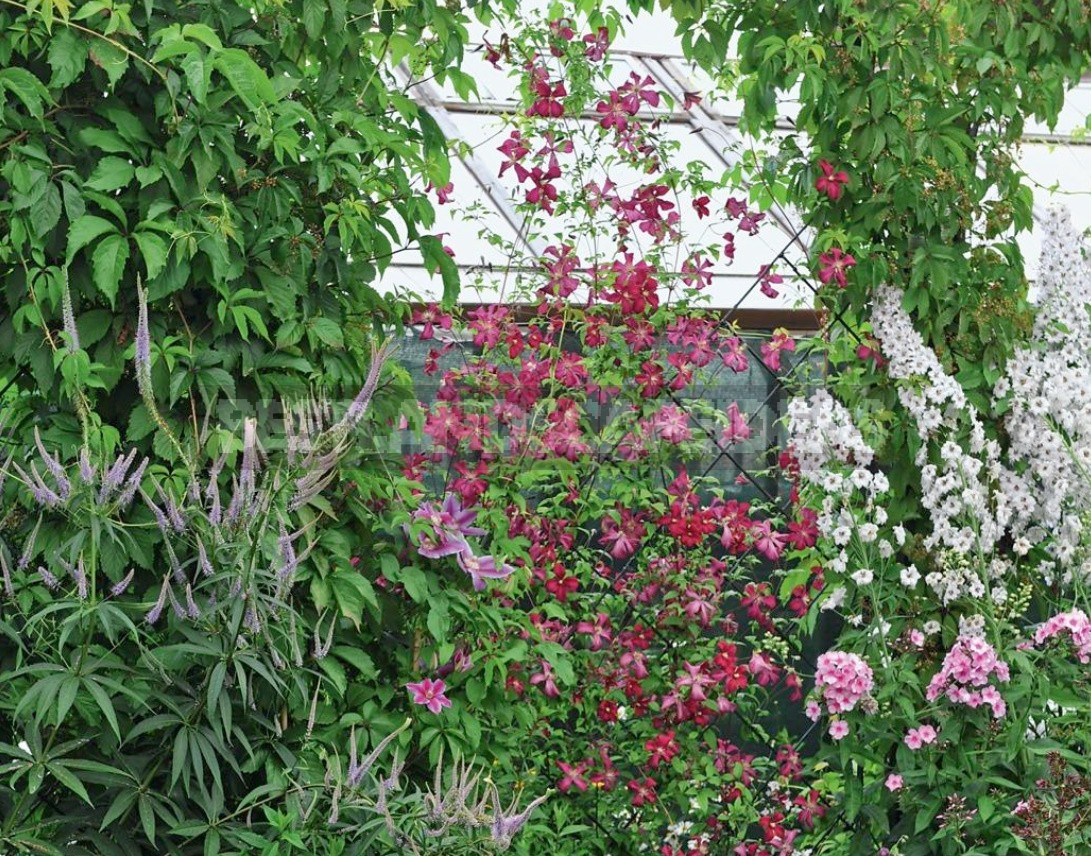 Summer
Potted seedlings can be planted from spring to autumn, but the best time is August – early September, when the soil temperature is ideal for rooting. The depth of the landing pit is calculated so that one or better two internodes are 7 cm below ground level. That is, seedlings are planted with a depth of. In summer, regular watering and feeding of rooted bushes with complex fertilizer continue.
Autumn
In early September, under each plant, it is desirable to add 2-3 cups of wood ash. Fertilizing with complex fertilizer is stopped. The third group of pruning is the most radical: the shoots are cut off, leaving 1-2 internodes on each, i.e. up to 15-20 cm in height.
Popular variety
We present you the latest innovations and particularly outstanding cultivars of varieties from the viticella and Jackmanii groups.
Estonian classics
The Estonian red-purple variety 'Rahvarinne' has a beautiful flower structure and a Royal velvety texture.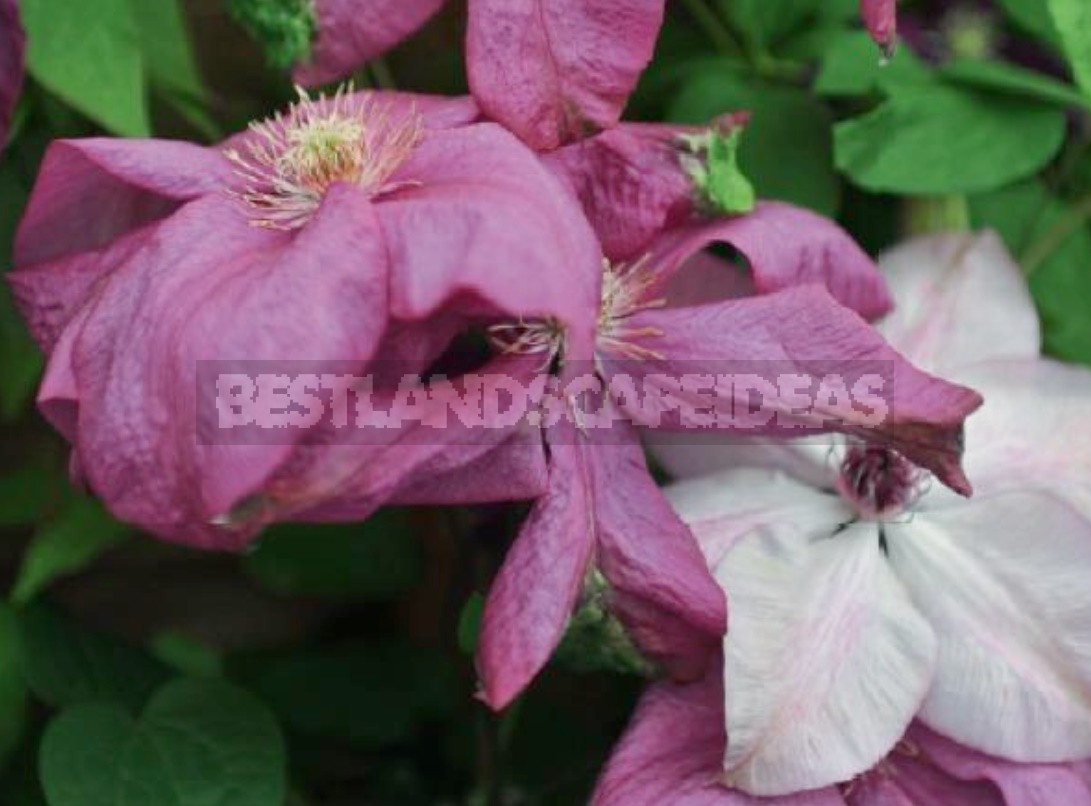 Among the same breeders belongs to the variety 'Bella' rare for the Jackmanii group of white colors.
The flowers of clematis 'Stasik' are 9-12 cm in diameter, and they are beet-red when dissolved, with time they become slightly lighter. The reverse side is much lighter. The length of the lashes is 1-1. 5 m.
Another representative-clematis 'Elegia' was bred in 1963, but still remains an example of high-quality breeding work. Blooms from June to frost, blue-purple flowers – from 10 to 15 cm in diameter, shoots-3.5-4 m.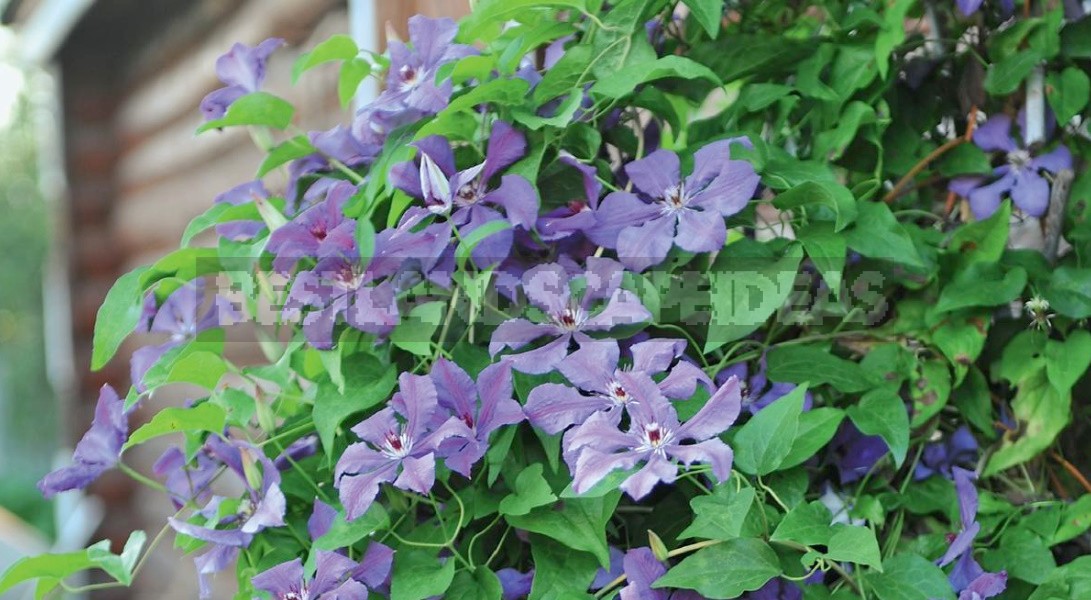 Clematis van Zoest
Not the largest, but cute flowers of the Dutch variety 'Lucky Charm' have an unusual color: white with a purple border. 'Super Nova' – a more compact and richly blooming version of the old cultivar 'Venosa Violacea'.
And clematis 'Jackmanii Purpurea', although it has medium-sized flowers, looks bright due to the contrast of dark purple color on the edges of the petals with a white center.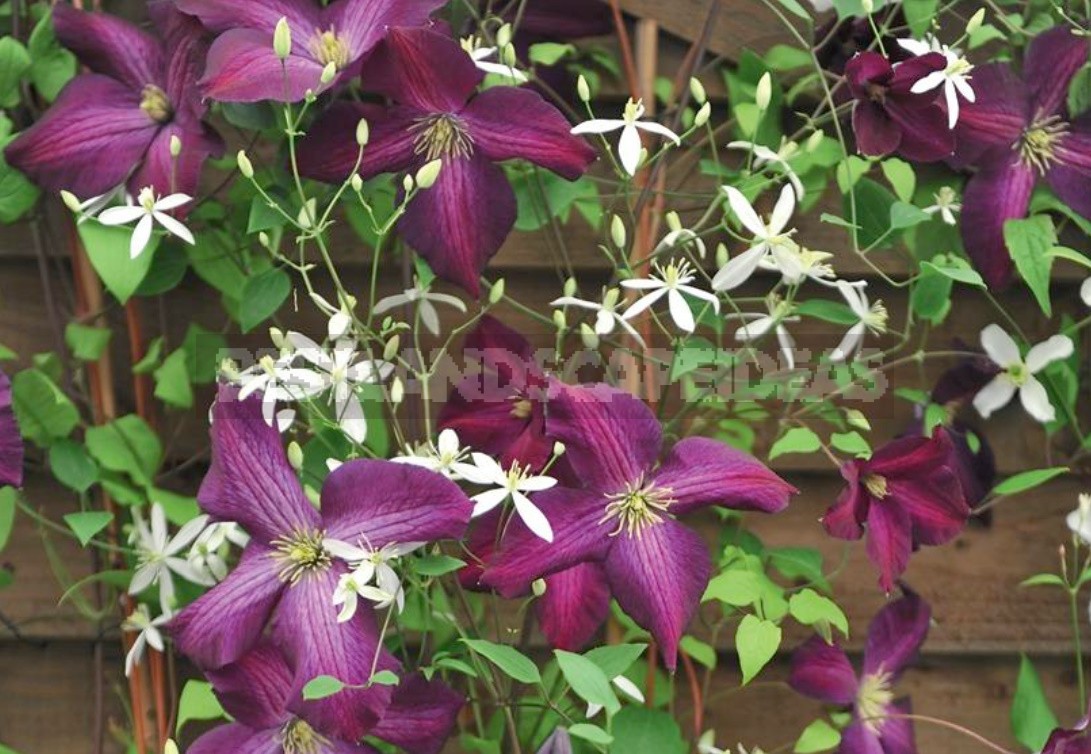 Evison's Clematis
English breeder Raymond Evison is known for its productivity and spectacular varieties. A lot of clematis in his piggy Bank and the third group of pruning. So, in 2017, he introduced three new cultivars at once:
The variety 'Sacha' with purple-blue sepals and grayish-pink stamens due to its compact size (1.2–1.5 m) will perfectly fit into small gardens.
Clematis 'Kitty' can be called dwarf-height from 60 to 90 cm. It has cream-white flowers (8-9 cm) with a pinkish-brown center. Both are suitable for growing in containers, and ' Kitty' can be grown even in balcony boxes.
'Charmaine' – a long-awaited Terry novelty with bright crimson-red flowers (10-15 cm) and yellow stamens. At the same time, you can see both simple and semi-double flowers on the same plant.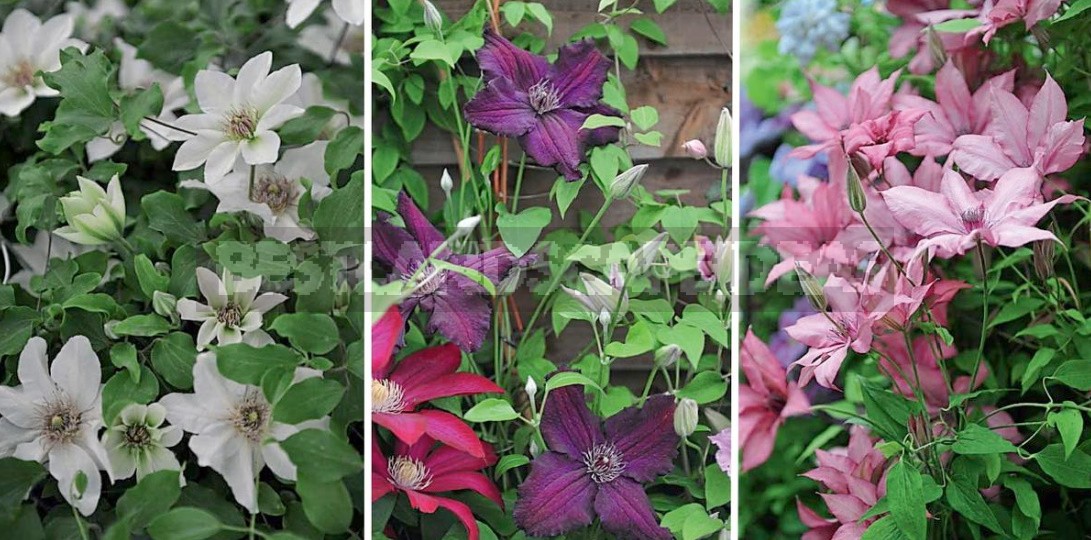 Previously, Evison presented another semi-double variety of the third group of pruning-light purple-blue compact 'Reflections'. Among the new products of 2016, it is worth Recalling clematis 'Tekla' with pink flowers of a very rich tone and the original low 'Volunteer', whose purple sepals are decorated with a Carmine stripe in the center.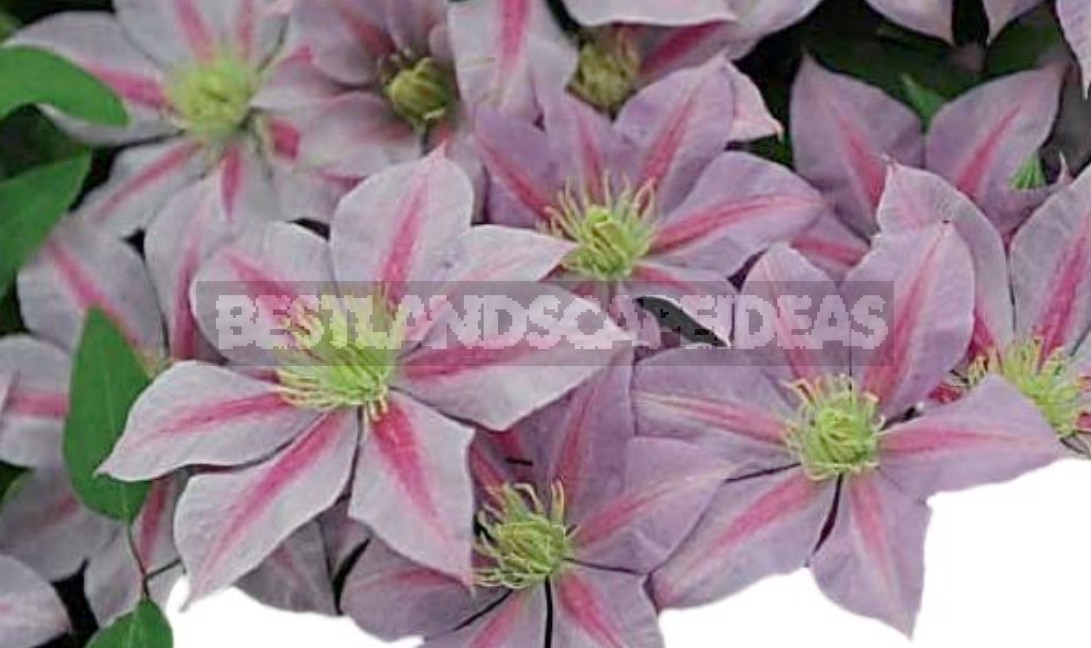 The color of purple clematis 'Alita' is quite close to red. The hand of the same master belongs to the hits 'Chelsea', 'Neva', 'Giselle', 'Guiding Promise', 'Samaritan Jo'.
Other breeders
The variety 'Venosa Violacea', obtained at the end of the XIX century in France by Lemoine, still remains one of the most popular cultivars, its flowers are medium-sized.
Warm pink with yellow stamens English clematis 'Barbara Harrington' and a very dark purple German 'Rasputin' they have already gained popularity and become classics.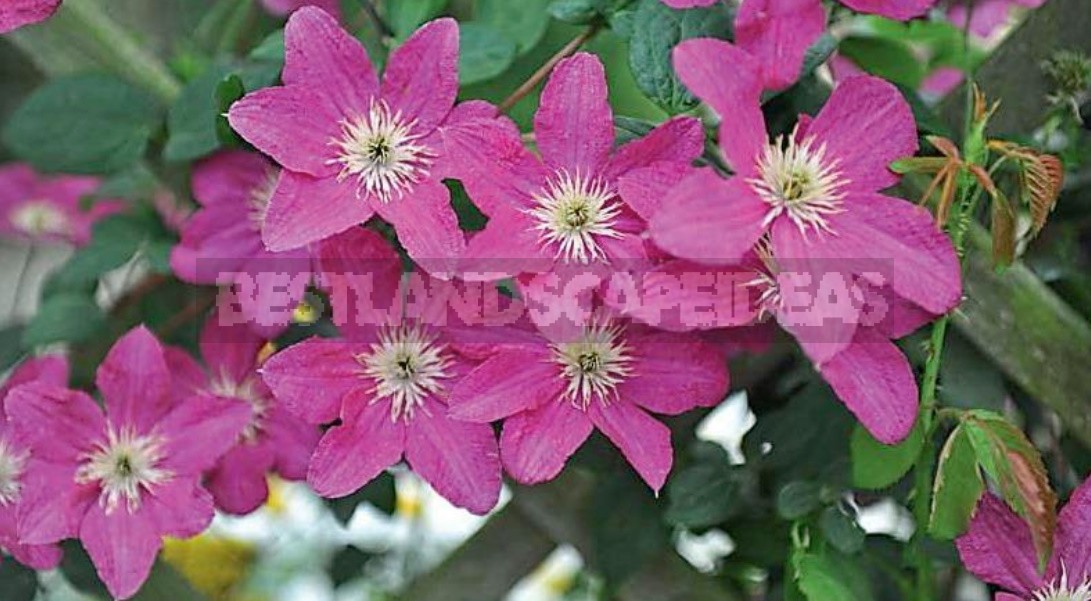 But the two-color variety 'Taiga' of Japanese selection, which thundered at the last Flower show in Chelsea, still raises doubts about winter hardiness. Although it is the third group of pruning, it belongs to the Florida group, which means that it needs shelter in the middle zone for the winter.