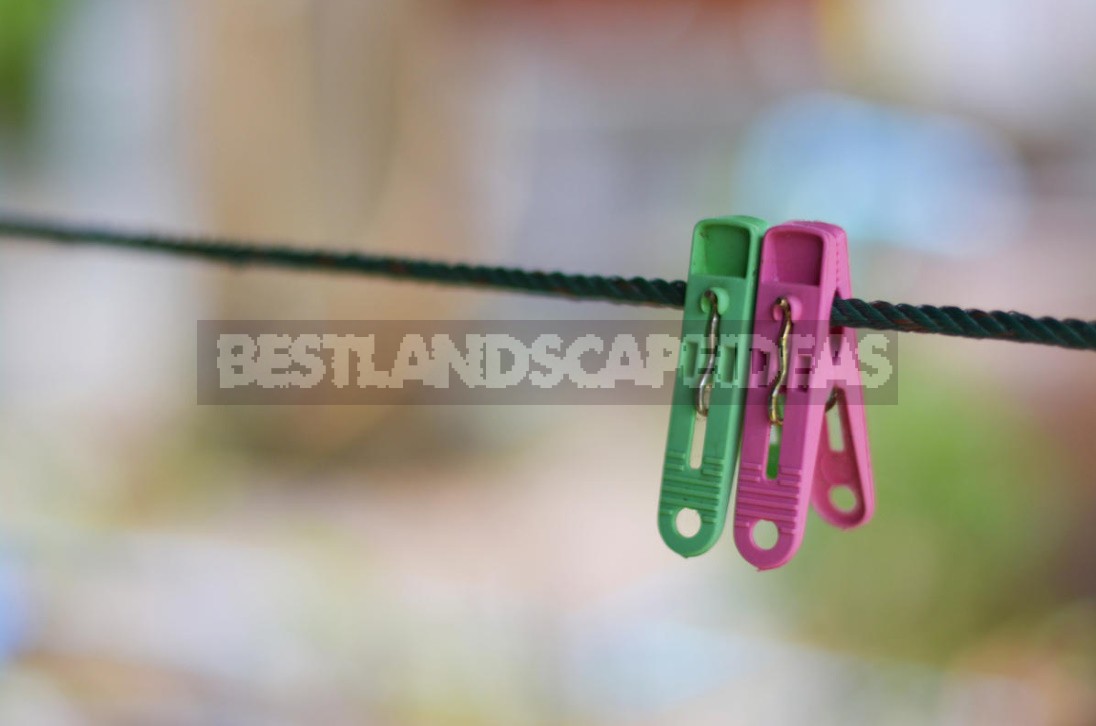 A comfortable place outside the house to dry clothes is my long-standing dream. For example, there is an idea related to a structure for firewood that is empty, it is very convenient to pull the ropes, and the laundry is covered from the rain — everything would be great, but only as soon as the firewood is brought, so again you need to look for a new place, so in this article we have collected a few ideas that can be useful in each of your country houses.
List of Requirements
Durable: the dryer should support a decent weight;
Simple: fast and cheap construction is one of the main features;
Comfortable: this should not interfere with other furniture, and also not block the paths that are the only path of daily worries in your home;
Beautiful: I don't want to disfigure the landscape at all — I think many homeowners will agree with me here;
With rain protection: it's perfect, of course, but still very convenient when you don't have to run to get your underwear off at the first storm cloud, right?
Now let's see which ideas were found and which of them meet the specified requirements.
Old but the simplest idea
This design, I think, everyone represents: T-shaped supports installed at some distance from each other; between the upper crossbars, a clothesline is stretched in several rows.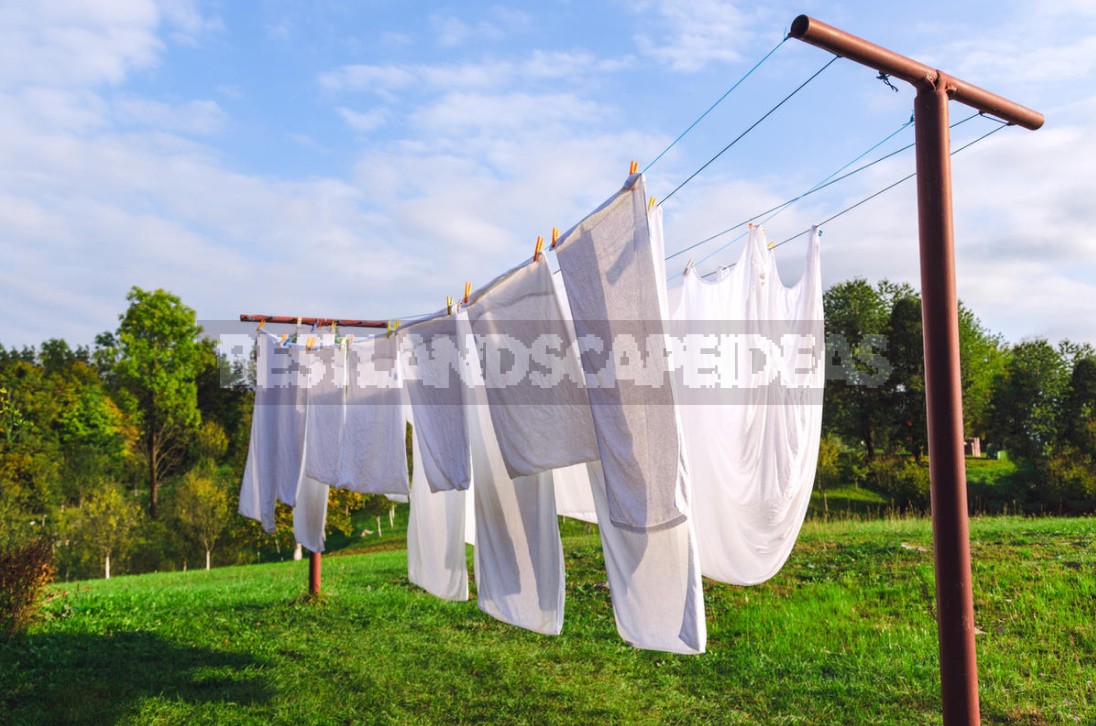 With durability and convenience, everything is in order here-it has been tested for generations. Here with the simplicity of manufacturing is more difficult. To make a metal base, that is, the strongest support, you need the skills of a welder. Although you can, of course, build a wooden version: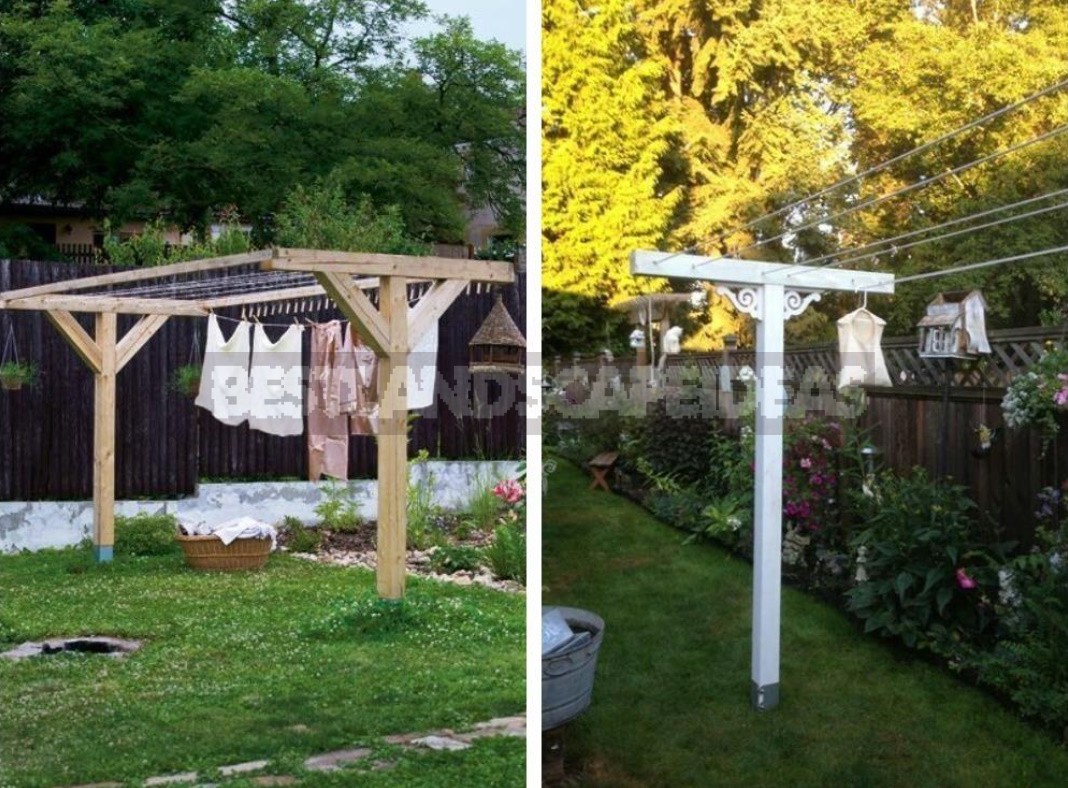 But it also needs to be installed securely — strongly buried, strengthened, so that it does not fall under the weight of the laundry. And we also have strong winds — the load on the support will be considerable. Well, with the beauty here somehow did not work out. We'll keep looking.
Miracle tree for drying clothes
I could not pass by the creative development of the idea of simple supports. The same two pillars with ropes stretched between them — but the hands of master craftsmen turned these pillars-supports into miracle trees: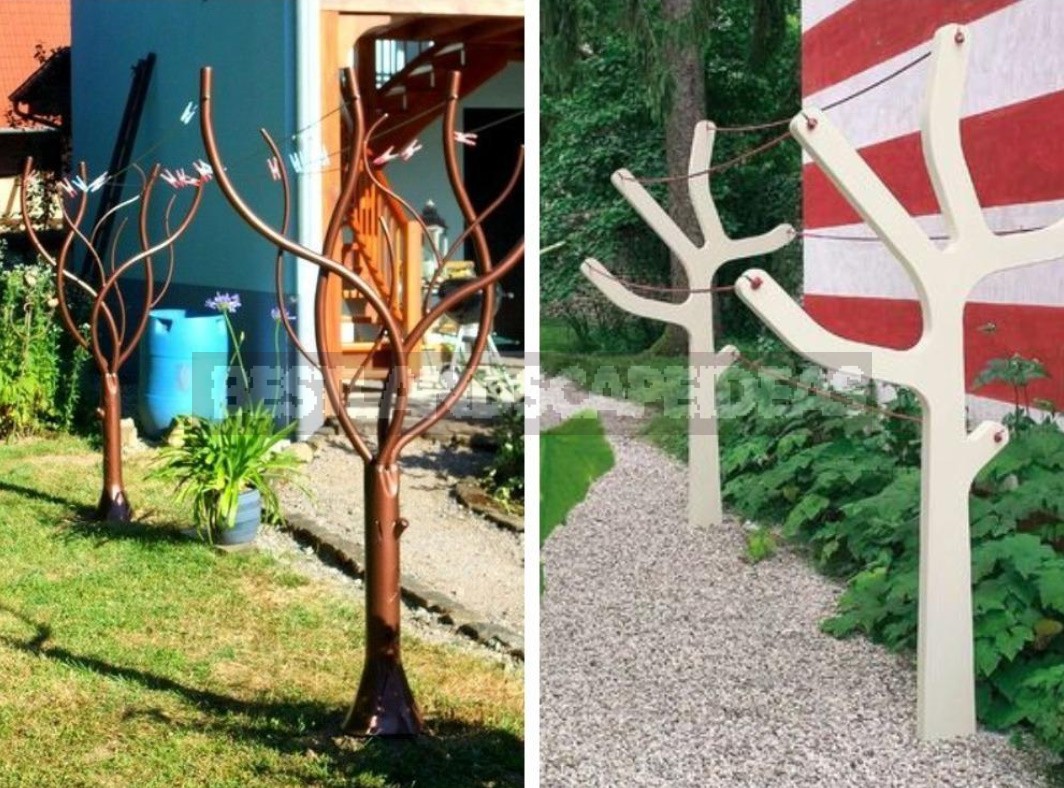 This is very original, unusual, spectacular – without a doubt. And it is convenient: by using the "branches", you can pull the ropes at different heights. But this idea is definitely not for amateurs — you need quite professional skills to implement it. I think such supports will be appreciated by those who are friends with metal materials or know how to make all kinds of beauty out of wood.
Ideas on the theme of Trellis or Garden Screen
This idea won me over with its practicality. In fact, it turns out "three in one": a comfortable, durable, reliable clothes dryer, and an element of garden design, and a support for plants: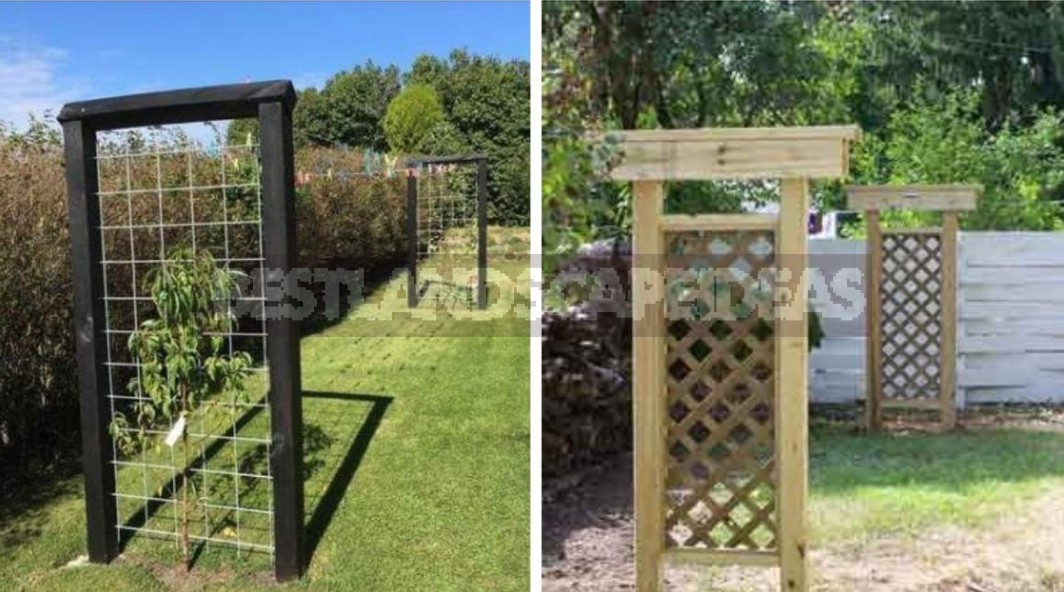 Moreover, the design of such supports varies, as well as the ways of their practical use. Depending on the available free space and your own construction skills, you can build a variety of structures: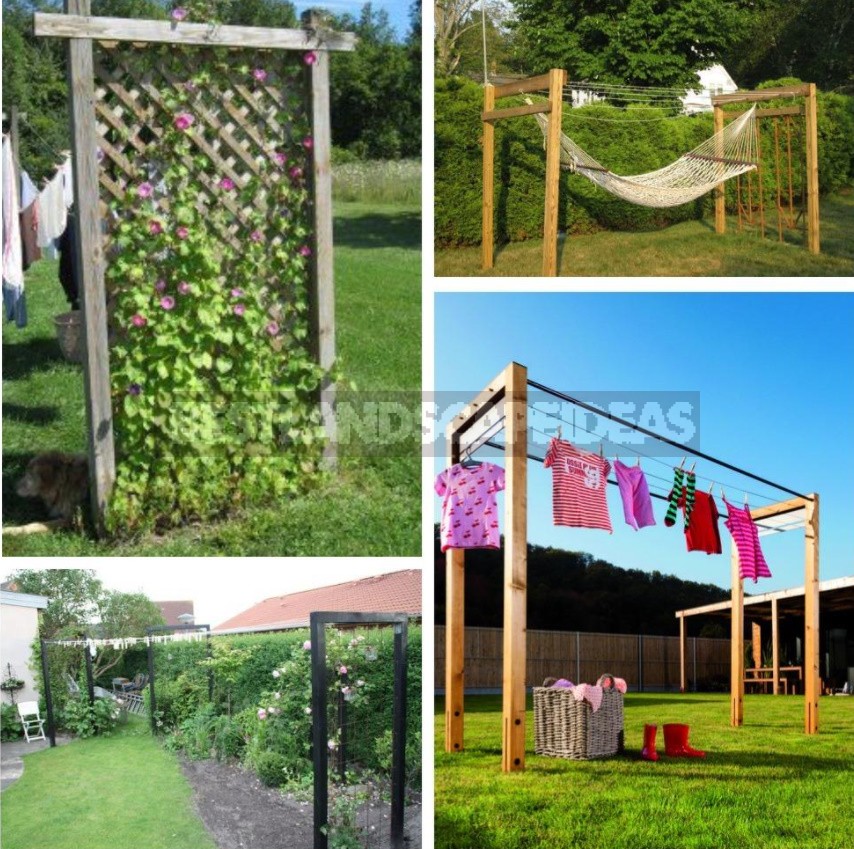 By the way, pay attention to the photo with the hammock: it is no longer "three in one", but just "four in one" turns out! If you need to hang your laundry, just remove the hammock and the laundry will start to dry. However, for complete comfort, something is missing, maybe a roof?
Clothes dryer and a Place to Relax
This idea is practical, convenient, and looks quite good, and it is not too difficult to build (although I, of course, will not take up this task without help, but many master craftsmen will cope with it without difficulty):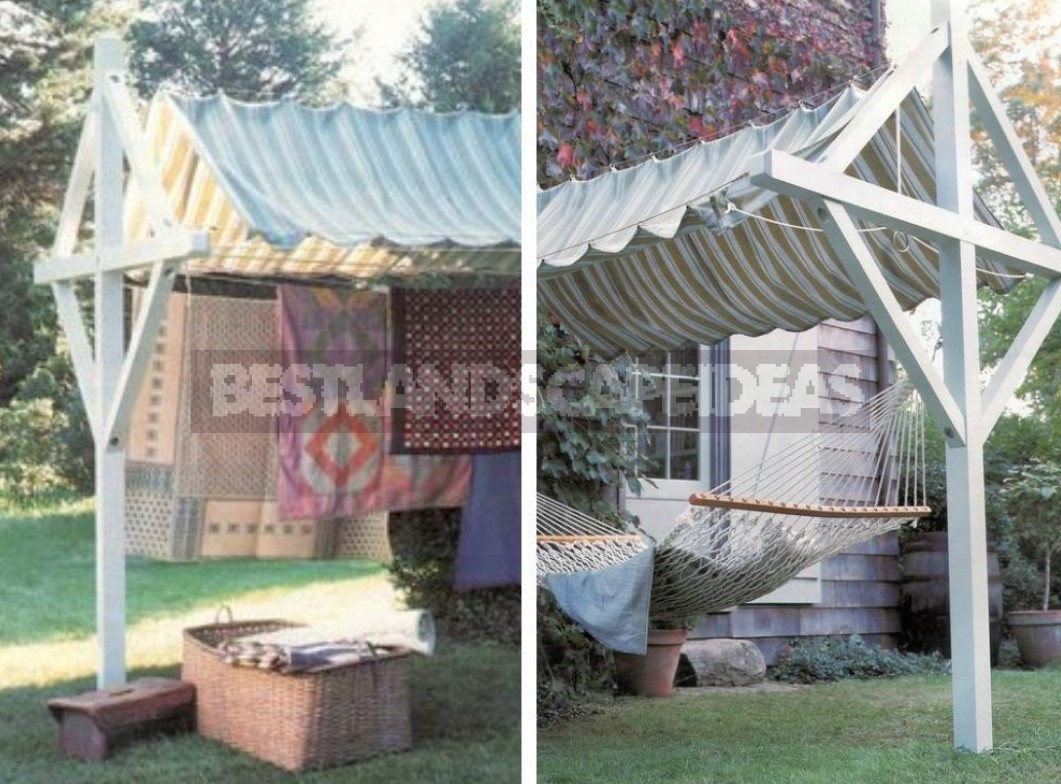 Agree, this is already much more interesting than the usual pillars-supports with crossbars! But this is far from the limit — the ingenuity of creatives knows no bounds!
House for drying clothes
In hot weather, the laundry in such a "house" should dry instantly, and if it rains, you don't have to worry about getting wet.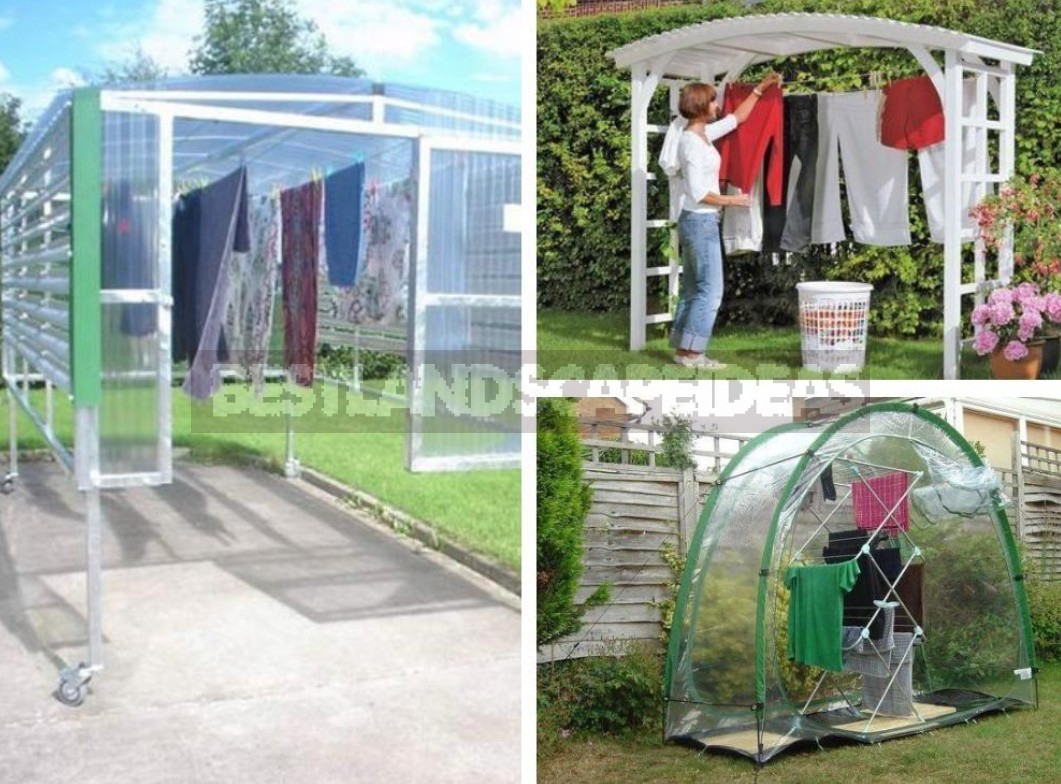 Using a small gazebo as a place to dry clothes is a non-standard and ambiguous idea. But such a structure will constantly adorn the landscape.
Umbrella dryer
This idea is successfully exploited by the manufacturers of dryers, but the self-made craftsmen are not far behind. Moreover, the design of the "umbrella" can assume different ways of hanging laundry: either along the radii (like the spokes of an umbrella), or along the circumference (spirals):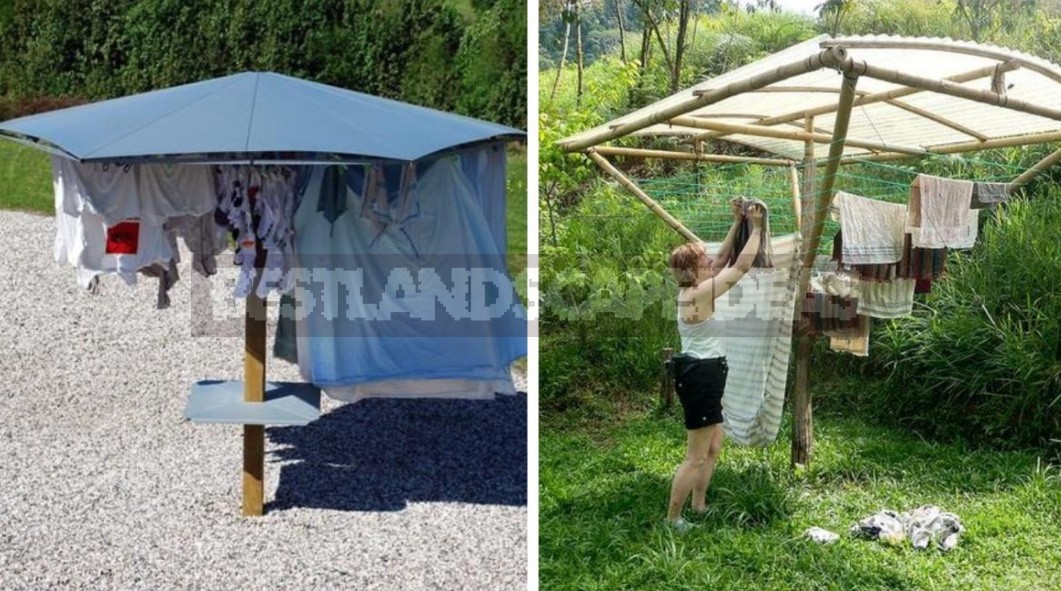 In this version, you can quite compactly place a lot of laundry, and there is a roof that will protect clothes from rain. But, on the other hand, the design must be heavy and durable.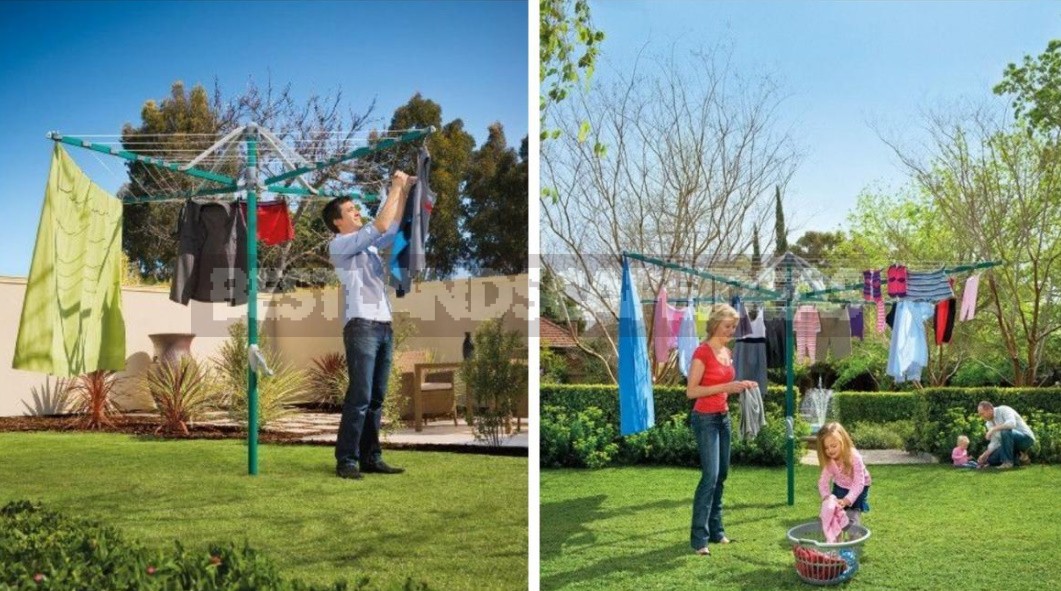 In the photo, products from hypermarkets, but such a dryer can be made with your own hands. However, I don't have the skills of a welder, so we found a few more ideas.
Folding wooden drying rack-ladder
This design is simple, stable and reliable; it does not take up a separate area: you can unfold it when you need it, and then fold it again and put it away. This is not too difficult to do, and it should be convenient to use: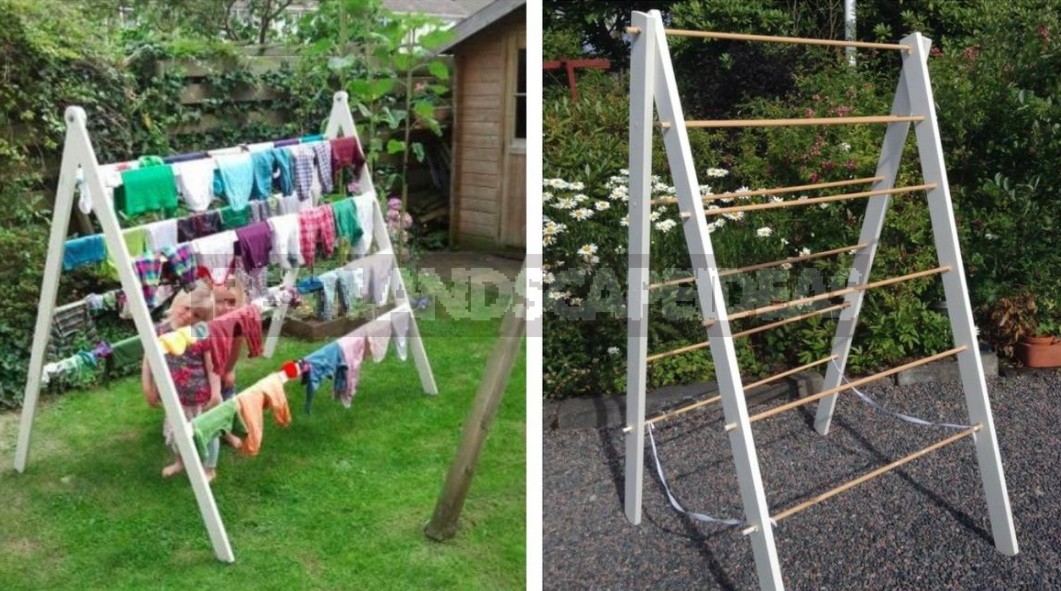 For children's things, T-shirts, towels and other small underwear, in my opinion, such a structure fits perfectly. Only I suspect that every time I fold and put away, and then re-arrange this "ladder", I will quickly get tired… Then, perhaps, it is worth doing something similar, but stationary?
Drying rack-ladder made of PVC pipes
This looks very cumbersome, that is, not practical. But surely it is stable and reliable, but at the same time mobile: it can be rearranged if necessary.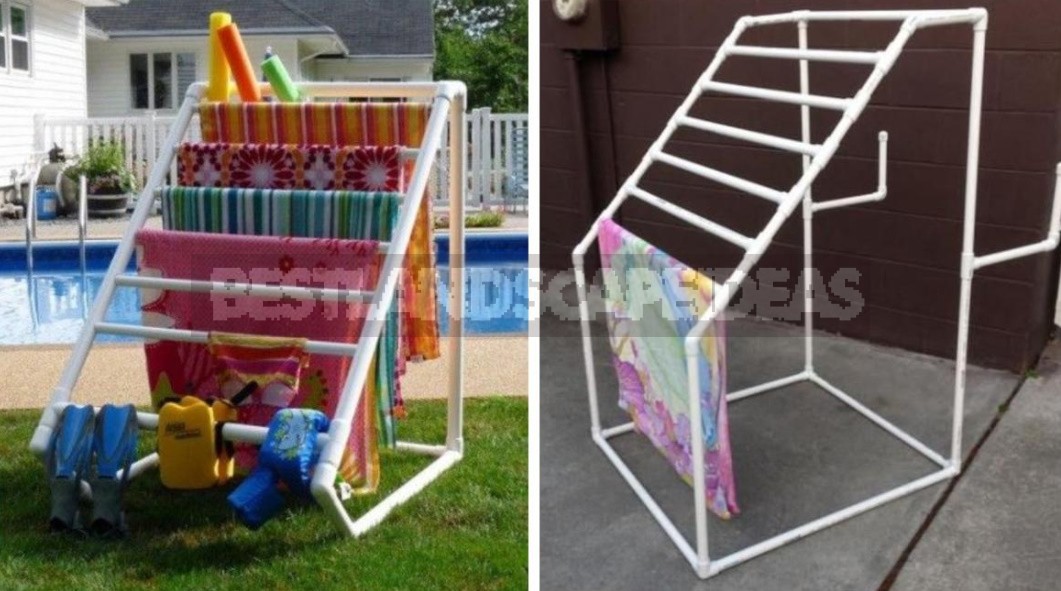 The size and configuration of the dryer can be selected to your taste. Looks neat, easy to clean.
Wall Mounted Outdoor Dryers
From all that I have found, these options seem to be the most successful (although this is only my personal opinion — someone will probably like other ideas more). The absolute favorite is the wall dryer with a polycarbonate roof: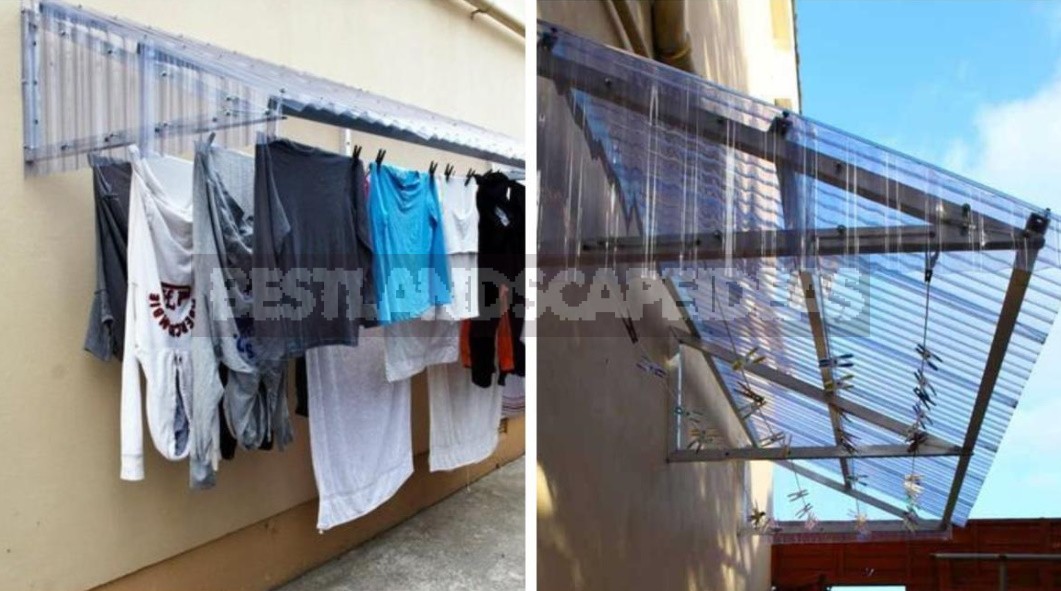 Simple, reliable, elegant, practical, does not take up much space, and you can hang a lot of laundry on it. At the same time, it will be sheltered from the rain, and even birds can not fly inside. However, with my own hands, I can only hang such a dryer if someone does it, because I can't work with metal material myself. But there are still interesting ideas for wooden wall dryers!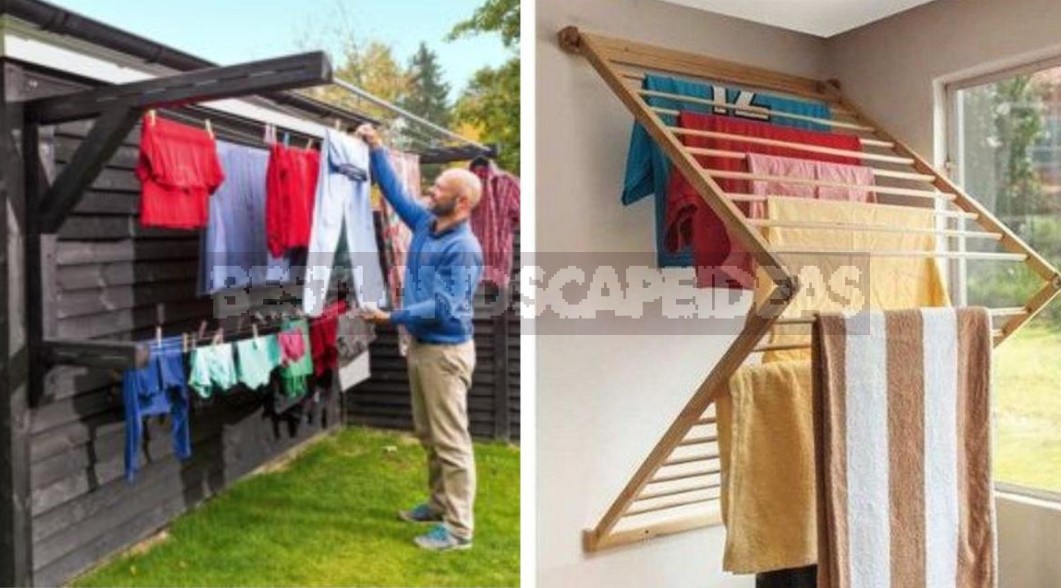 The one on the right is collapsible, so it doesn't take up too much space when not in use. And the monumental structure in the photo on the left is very practical and convenient. It remains only to add a roof to it.
Which dryer did you like? Or maybe you already have a dryer that suits you in every way? Tell us, share the photo — your opinion will be very useful not only to me!