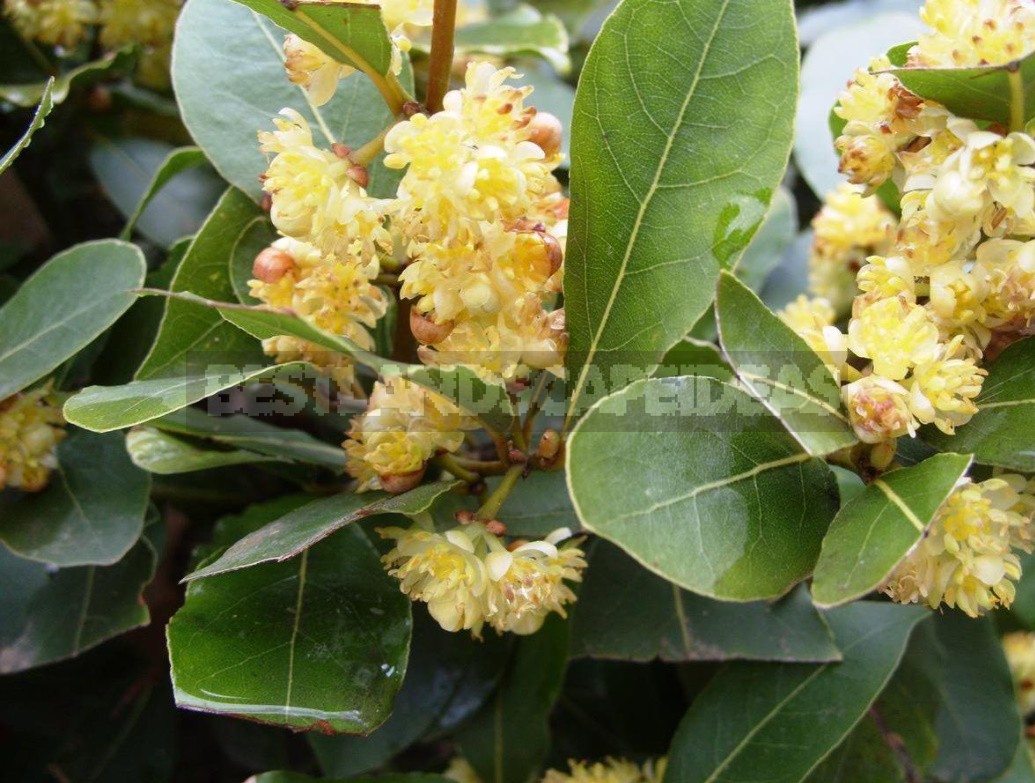 Today we will talk about rare woody plants. In most cases, these are exotic species whose culture is limited primarily by critical temperatures, soils, high humidity, or, conversely, by the aridity of the region. Often even the microclimate of the cottage plays an important role. But is it possible to stop a person in his desire to grow a sunken exotic in his heart? That is why I continue to introduce you to the rarities of wood, specifying their winter hardiness in accordance with USDA zones and focusing on the important nuances of cultivation.
Today, meet exotic members of the Lauraceae family.
Beilschmiedia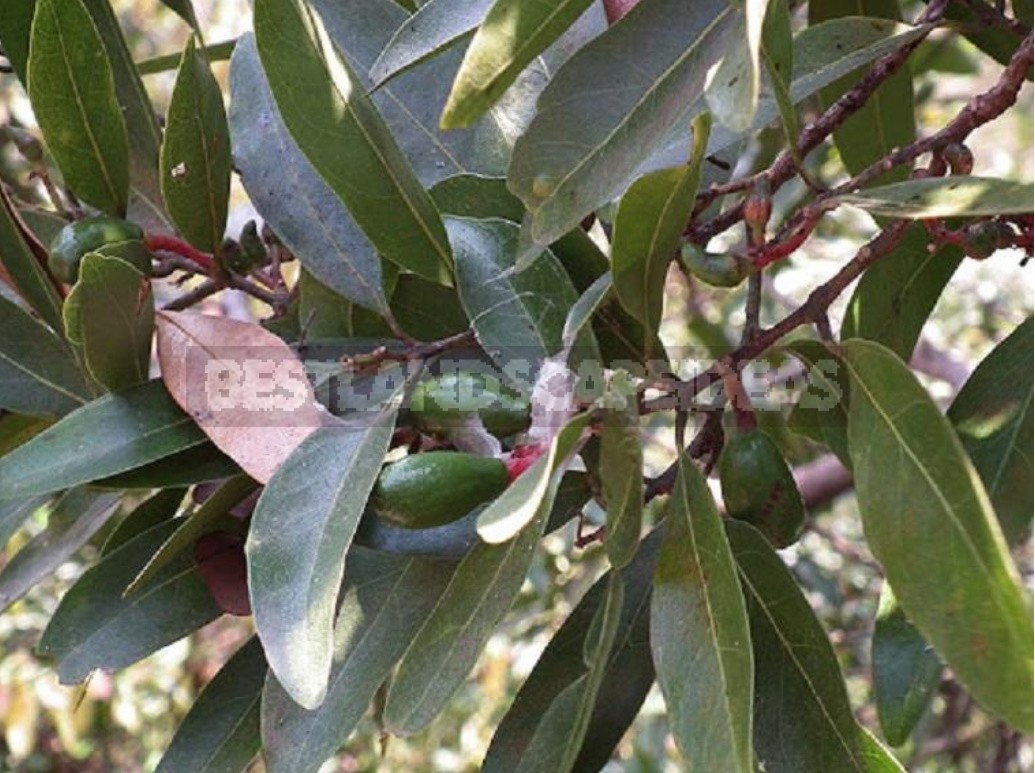 Beilschmiedia roxburghiana is a rare plant in culture. It is thermophilic: according to the USDA, its hardiness zones are 10-11.
This is an evergreen shrub-like tree with a height of 10-15 m (32-50 ft), but it reaches this size only in places of its natural growth. It is native to the Himalayas: the mountainous regions of Assam and Burma. Leathery leaves are large, dark green, hanging, wrinkled. The flowers are yellowish-green, small, nondescript, collected in rare inflorescences. The fruits are small black drupes.
How to Grow and Care for?
It feels great in partial shade on fertile, moist, well-drained soils. Germination of seeds is good — when sowing freshly harvested in autumn in a cold greenhouse.
Cinnamomum tree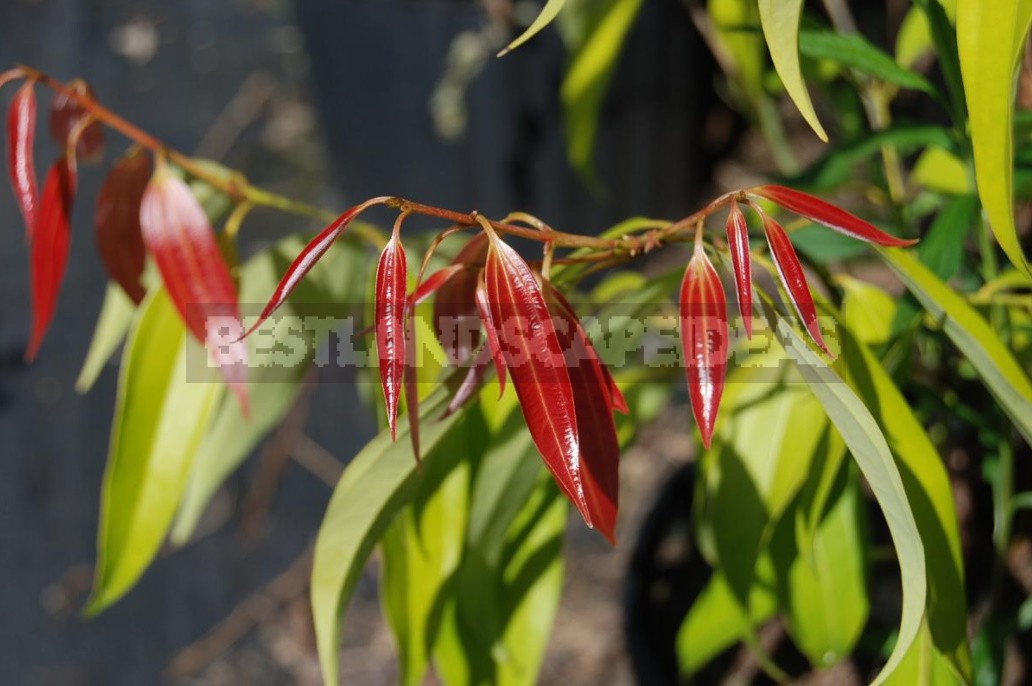 Cinnamomum — evergreen plants. Especially interesting in early summer, when they have a partial leaf fall, and last year's leaves turn scarlet. You can't take your eyes off Cinnamomum chekiangense even in spring, when its young, fiery-red, shiny leaves reflect the glare of the rising and fading sun.
Cinnamomum sieboldii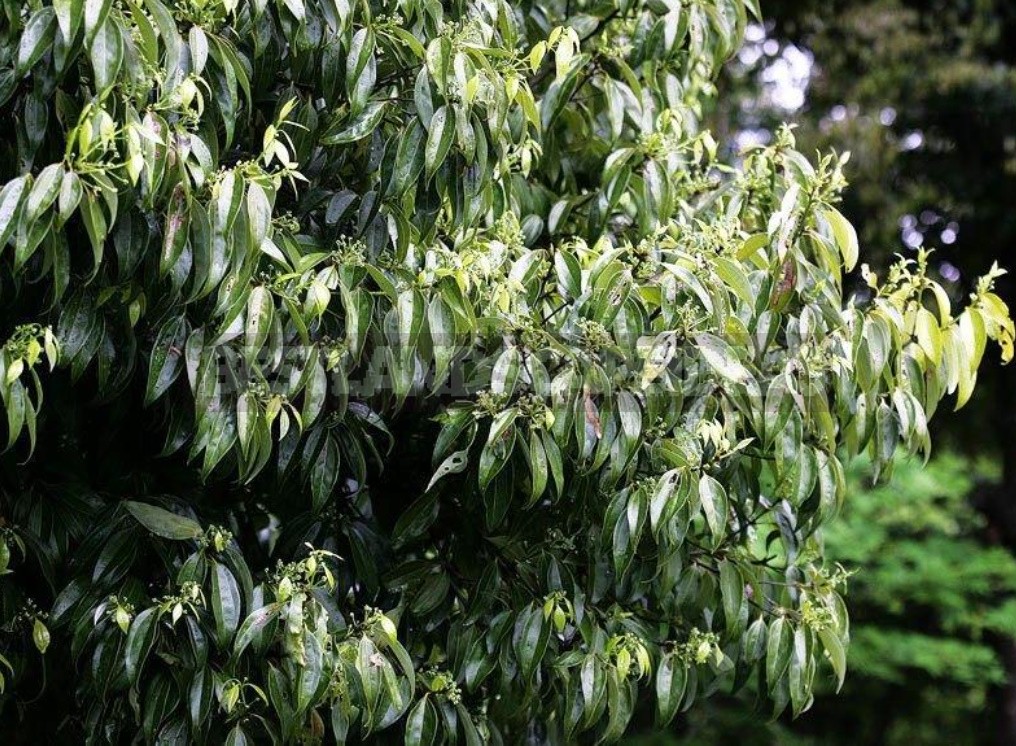 C. sieboldii was formerly known as Cinnamomum loureirii. The tree is native to Southern Japan.
This is a low tree, 3-4 m (32-40 ft) high, with a dense rounded crown. The leaves are broad-lanceolate, smelling of cinnamon, leathery, with a peculiar relief venation.
Cinnamomum chekiangense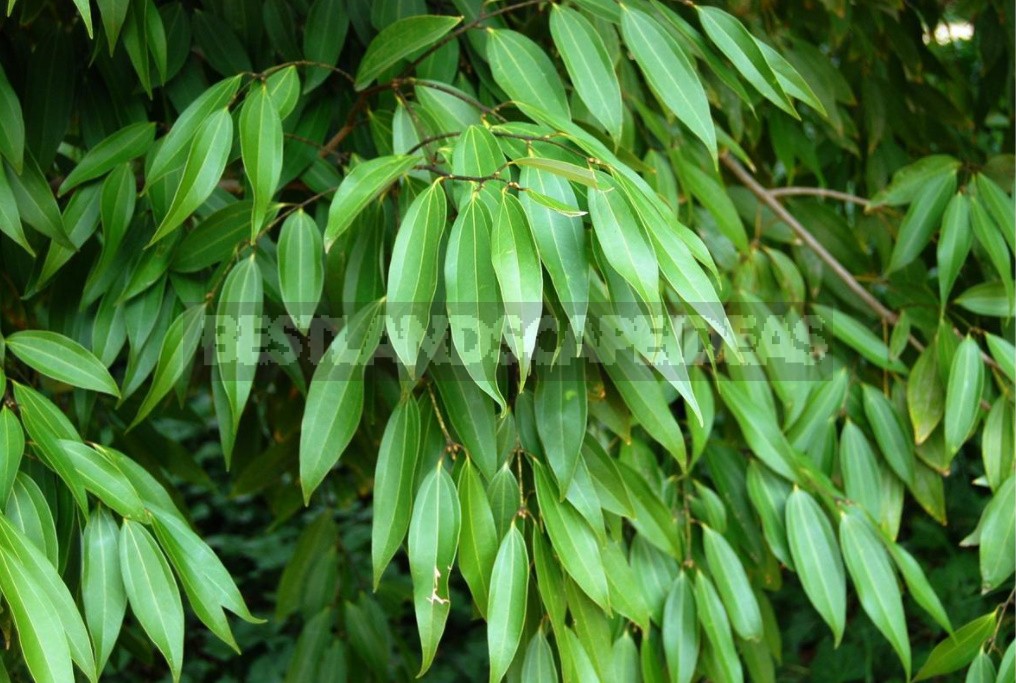 C. chekiangense is native to China, eastern Zhejiang Province.
An unpretentious, long-lasting evergreen tree, 10-12 m (32-40 ft) high, with a relatively narrow crown. The leaves are almost like those of Cinnamomum camphora, but narrower, with turned-up edges and without the sharp smell of camphor, 15 cm (6 inch) long. It grows slowly.
How to Grow and Care for?
According to USDA data, cinnamon trees were distributed as follows by winter hardiness zones:
Cinnamomum camphora — 8b-9;
Cinnamomum glanduliferum — 10b-11;
Cinnamomum sieboldii — 13;
Cinnamomum chekiangense — 7-9.
That is, the first and last species can and should be propagated and introduced into garden compositions in the southern regions. Before landing on a permanent place, it is better to grow seedlings in containers. In the rest of the territory, including in the middle zone, Cinnamomum is grown in a tub culture. They are undemanding to soil conditions, but develop better on deep, moist, loose clay fertile soils. When several seedlings are planted in a bouquet, multi-stemmed (fused with the bases) trees grow in one pit. Propagate with freshly picked seeds: sowing-in autumn in a cold greenhouse or in spring at a temperature of +13…+18°C (55-64.4°F); semi-woody cuttings in summer.
Laurus Tree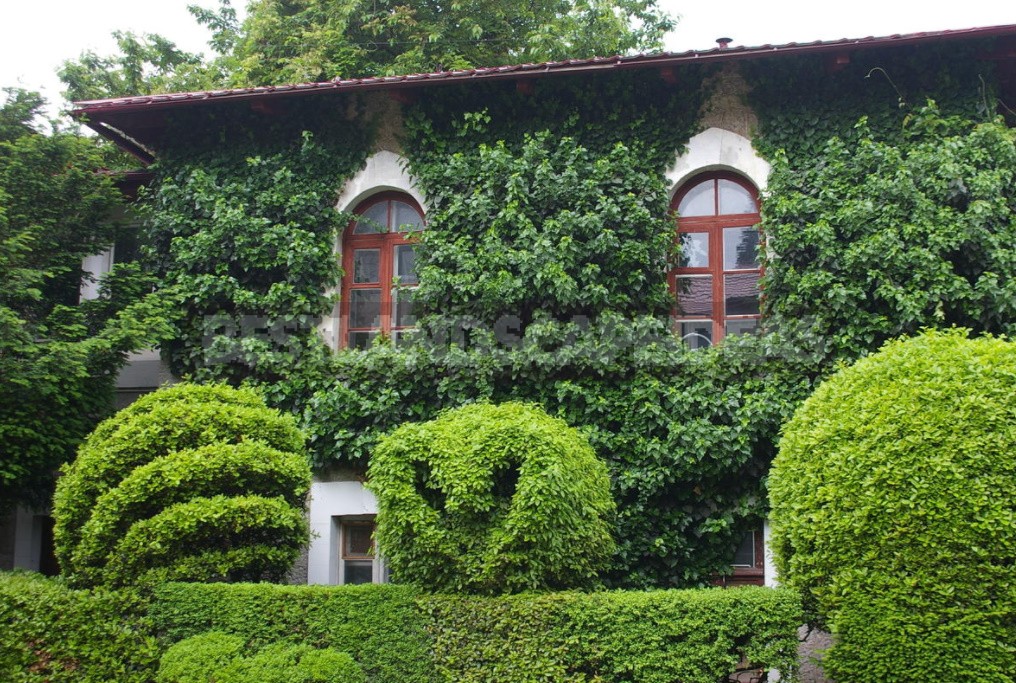 As a spice, the leaf of Laurus nobilis is familiar to everyone, but not everyone has seen it as a tall tree. His homeland is considered Asia Minor, the Mediterranean. Thermophilic: winter hardiness (according to USDA data) – zones 8-10. The tops of young shoots freeze at frosts below -15°C (5°F).
It is a dioecious (rarely monoecious) evergreen aromatic tree or shrub up to 12-15 m (40-50 ft) tall and up to 10 m (33 ft) wide. The leaves are dark green, leathery, oval-oblong or lanceolate, 5-10 cm (2-4 inch) long; when rubbed, as well as in dry hot weather, they exude a strong spicy aroma.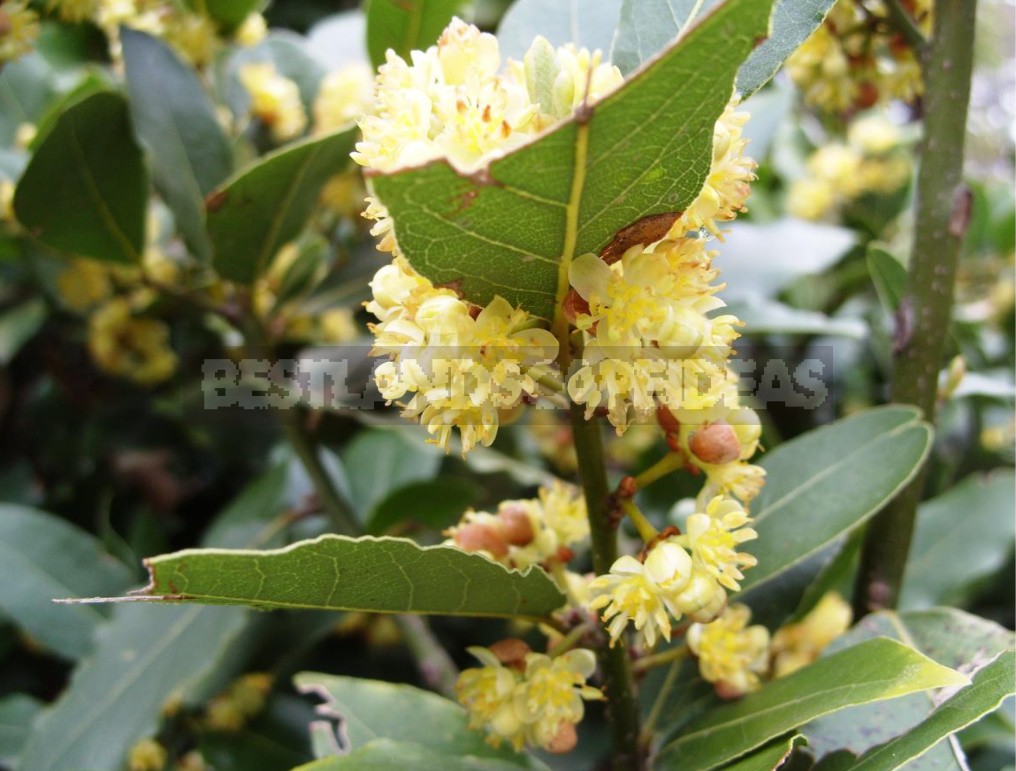 The flowers are fragrant, light yellow, up to 1 cm (0.4 inch) in diameter, collected in 4-6 axillary umbellate inflorescences; they bloom in March-May. Fruits – ovate drupes 1.5-2 cm (0.6 inch) long with a shiny fleshy black pericarp; ripen in September-November. The first 2-3 years it grows slowly. Durable. Bay oil is famous for its phytoncidal properties.
Decorative forms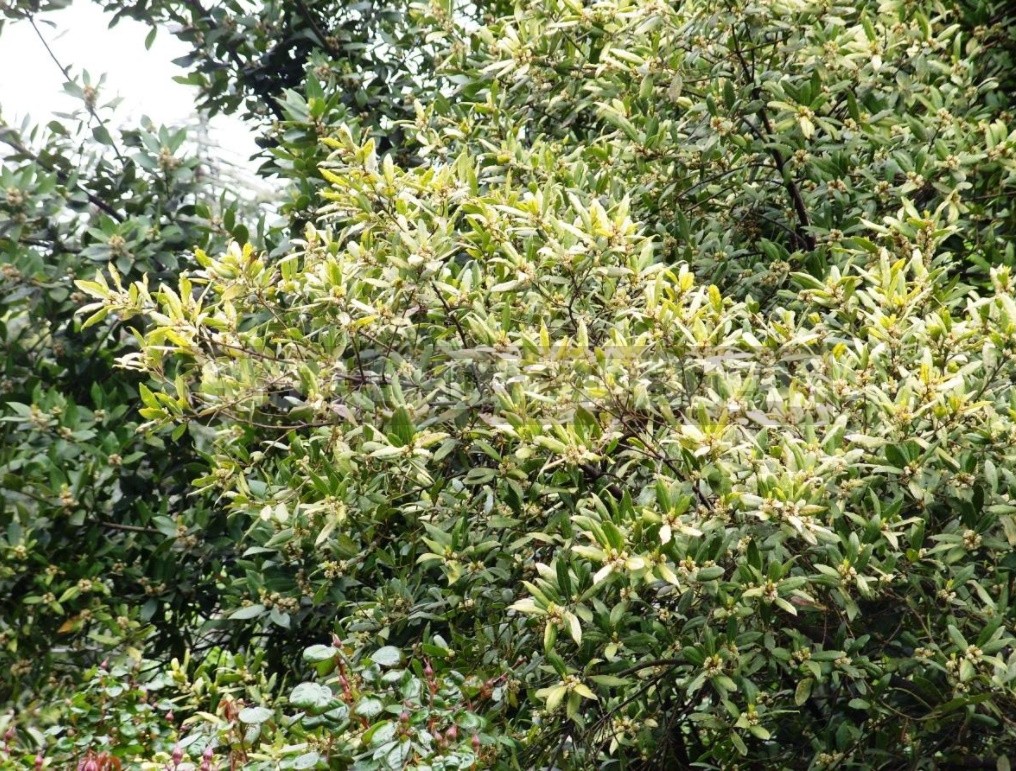 'Aurea' – leaves are golden yellow.
Laurus nobilis var. undulata – leaves are broad-lanceolate, slightly wavy on the edge. Compared to other laurels, it is less affected by pests. The best form for creating hedges. Propagated by cuttings;
'Crispa' – the crown is compact, dense. Leaves with a strongly wavy edge. Propagate by cuttings and seeds, followed by the selection of seedlings;
Laurus nobilis f. angustifolia — "sprat" laurel, a fast-growing garden form with a cone-shaped crown. The leaves are lanceolate. It is characterized by regular and abundant fruiting, the fruits are preserved until spring. Propagated by seeds with the selection of seedlings;
Laurus nobilis f. eriobotryfolia – broad crown, cinnamon-scented leaves, large, oval-pointed, similar to those of Eriobotrya japonica. Propagated by cuttings.
How to Grow and Care for?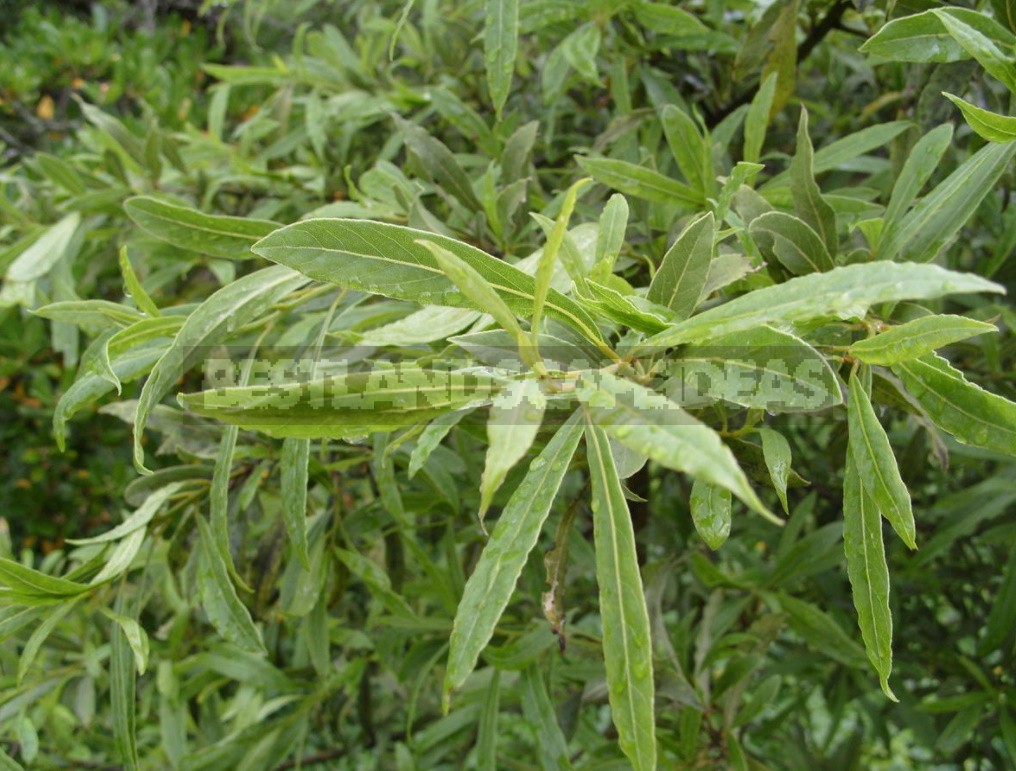 All laurels are light-loving but can withstand partial shade. The trees are drought-resistant and undemanding to the soil, but grow better on fresh drained lime-loam or sandy loam, and do not tolerate excessively wet, heavy and saline soils. If desired, you can close the trunk circle on the 6th year of planting, and before that, they keep the soil in a clean and loose state. In the first year of planting, watering is regular, from the 2nd to the 5th-as the soil dries up, in the future-only in the dry period.
Pruning consists in shortening all the strong-growing shoots. Old laurel bushes, as they are exposed from below, are cut off to a high stump. Laurels are ideal for cutting, suitable for molded, technical, medicinal, spicy hedges and walls.
They can be damaged by scabies and affected by powdery mildew, leaf spotting, so preventive treatments are carried out with systemic insecticides against a complex of pests and fungicides against fungal diseases. Propagated by freshly harvested seeds, lignified cuttings, layering, root offspring.
Lindera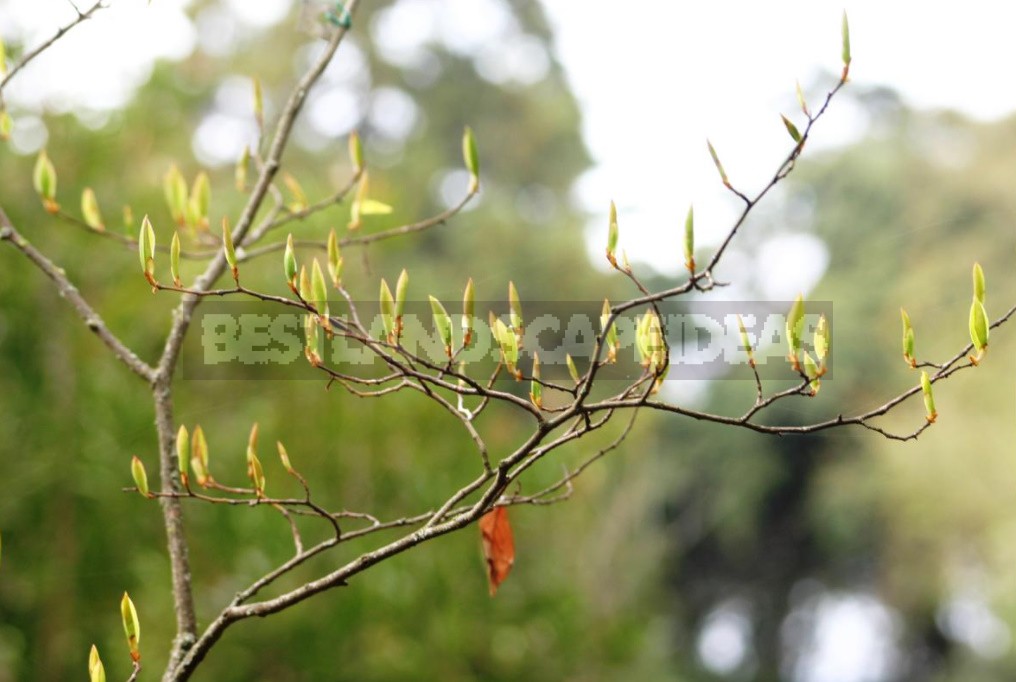 Lindera angustifolia is an interesting deciduous shrub. The plant is native to Eastern China. Winter hardiness, according to USDA data, corresponds to zones 6-8, that is, for it, the critical winter minimum is at the level of -23.3°C to -17.8°C (-9.4 to -0.4°F).
It is perfectly elegant in spring and autumn (beautiful golden leaves remain on the plant for a very long time).
How to Grow and Care for?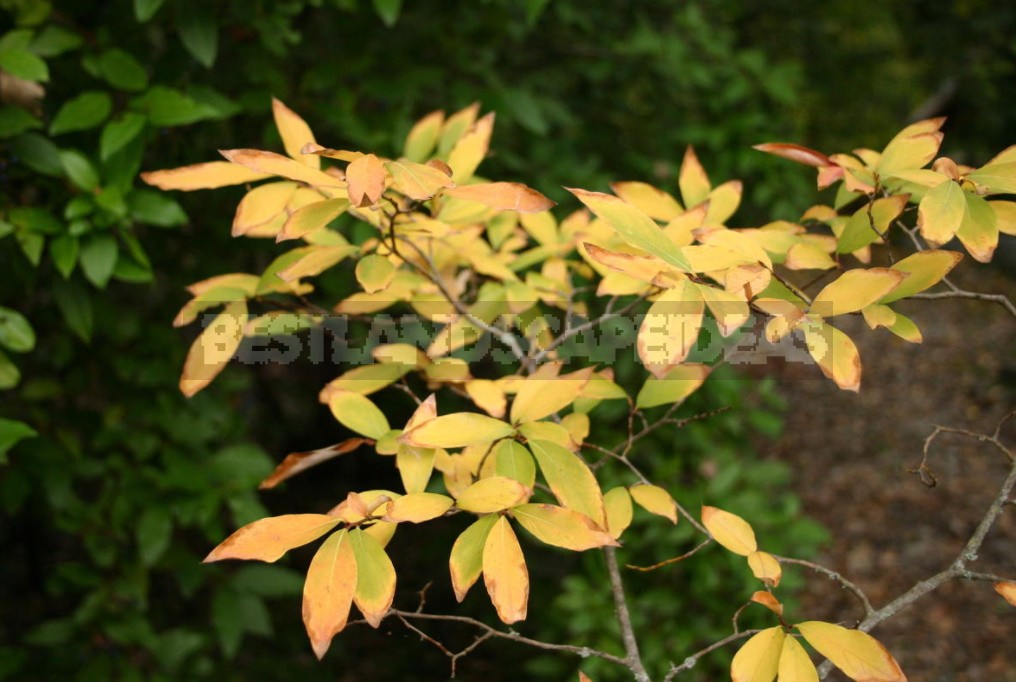 Lindera adapts well to partial shade, preferring moist, fertile soils. Propagate with freshly harvested seeds, sowing — in a cold greenhouse.
Umbellularia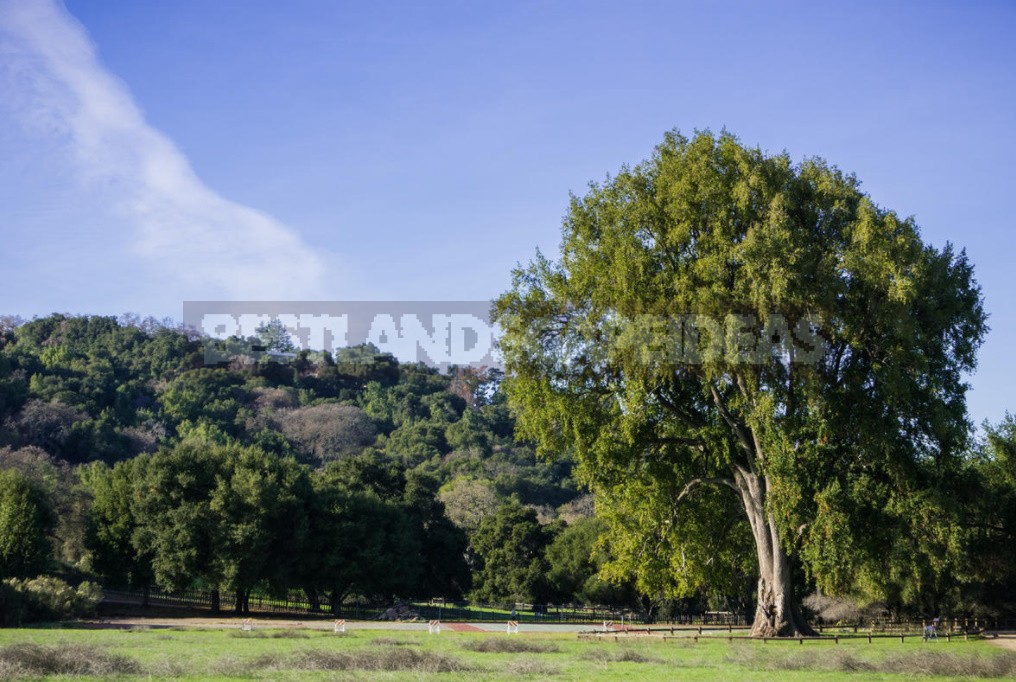 Umbellularia californica is also called the California laurel, as it is native to the Pacific coast of North America. Its winter hardiness, according to the USDA, corresponds to zones 7-10.
This is a beautiful evergreen monoecious tree with a rounded crown, 18 m (60 ft) high and 12 m (40 ft) wide. The leaves are elliptical to oblong, up to 10 cm (4 inch) long, very fragrant. The flowers are similar to laurel flowers, yellowish-green, up to 1 cm (0.4 inch) in diameter, collected in small umbrella-shaped inflorescences; they bloom in late winter-spring. Fruits are black, oval, berry-shaped; rarely tied.
How to Grow and Care for?
Light-loving plant. It feels better on deep, moist, drained soils. Propagate by freshly harvested seeds; sowing-in autumn in a cold greenhouse or semi-woody cuttings in summer. Umbellularia californica is resistant to pests and diseases.