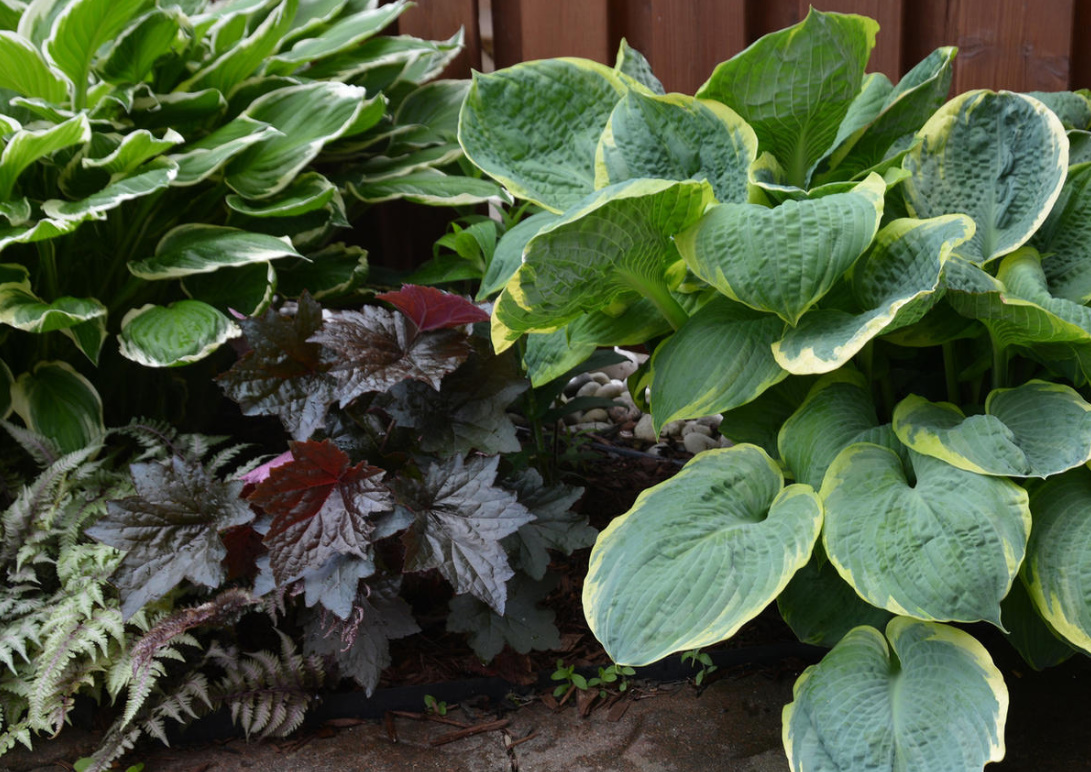 The hits of the spring-summer and summer-autumn garden are deservedly considered flowers. However, their beauty is fleeting, and not all of them look as amazing after the "ball" as during it. The real heroes of the garden season are modest, inconspicuous and unpretentious workers: they create a background for blooming "soloists", cover their withered foliage, fill empty places in flower beds, add volume to flower beds and border paths. Sometimes they also bloom, but this is not their main charm.
We have selected 7 herbaceous perennials with foliage of different shapes, sizes and colors. You are familiar with many of them, and if not, we advise you to take a closer look at them!
1. Heuchera. Cinderella who became a princess
This plant has been inconspicuous for many years and rarely participated in garden compositions. But when the breeders presented to the gardeners a powerful line of new original varieties with bright and colorful foliage, Heuchera almost instantly won everyone's love. What is it good for? On the one hand — exquisite simplicity, and on the other — diversity. Its leaves are monophonic or with a complex pattern, with a glossy sheen or just matte, with bright veins and even almost black. In a word — for every taste.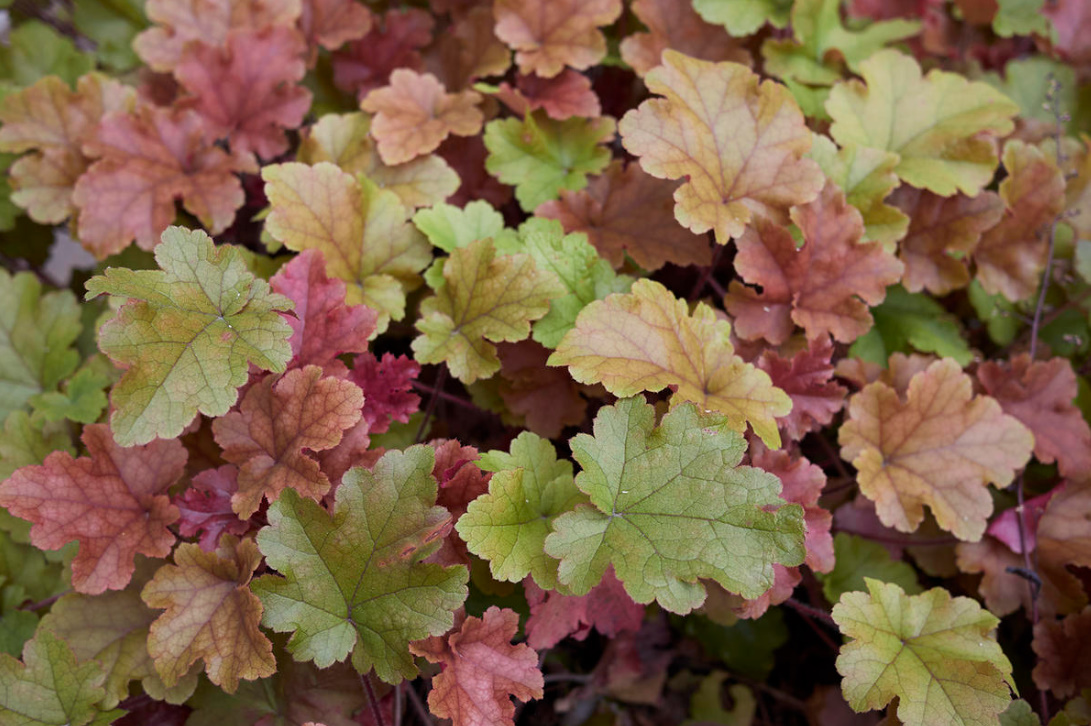 Tip: beginners should choose varieties of green shades, they are less capricious and can grow both in partial shade and in the sun. Purple, maroon and black Heuchera often "burn" in the bright sun. The most capricious are yellow, red and light green.
Which varieties to choose
'Key Lime Pie' is the embodiment of lemon freshness in the garden, it looks especially impressive in shady flower beds.
'Marmelade' is a plant with yellow-orange foliage and a red underside, very cheerful and positive.
'Black Bird' impresses with maroon, almost black, shades of large leaves and perfectly plays the role of an accent in the composition.
'Color Dream' will present a spectacular game of shades that will change throughout the season, striking with an incredible kaleidoscope of purple-silver-green spots
Where to plant
The plant absolutely does not tolerate stagnation of moisture at the roots, so the presence of a drainage layer of 3-5 cm and deoxygenated soil is a prerequisite for successful existence. If you have acidic soils at your dacha, take a look at the article How to deoxidize the soil on the site.
Heuchera feels good in the openwork shade, but in general, the color dictates the choice of place: bushes with light leaves (silver and yellow) can not live without the sun, and with crimson and green –they feel good even with significant shading.
How to care for
Heuchera is unpretentious and the only thing it really needs is moderate watering (once a week, even in the hottest time) and hoeing, because the core of the bush gradually bulges out of the ground and, if it is not covered, the sockets can freeze or dry out. Pre-winter pruning is canceled: cold autumn days make the color of the rosettes even more saturated.
What to use it for
A spectacular beauty can decorate the shores of small reservoirs, enliven a boring mixborder or become the basis of an original container composition. Colorful unpretentious bushes will make bright and elegant borders, Heuchera will fit perfectly into the context of rock gardens and rockeries.
What to combine with
Roses, hosts, daylilies and irises will suit her as companions, she is also good in combination with decorative cereals and astilbes. However, a flower garden made up of different varieties of this plant alone will also turn out to be stylish and bright.
2. Athyrium. The Witch's Leaf
Ferns are mysterious plants, and many legends and beliefs are associated with them. The most mystical of them is Athyrium filix—femina, which is nicknamed "witch". In the old days, it was believed that this plant has a soul capable of bestowing magical abilities to someone who liked it. For example, to recognize all medicinal herbs and use their properties and abilities. It is no coincidence that today this plant is often planted along the border with unloved neighbors — as protection from the evil eye and evil thoughts.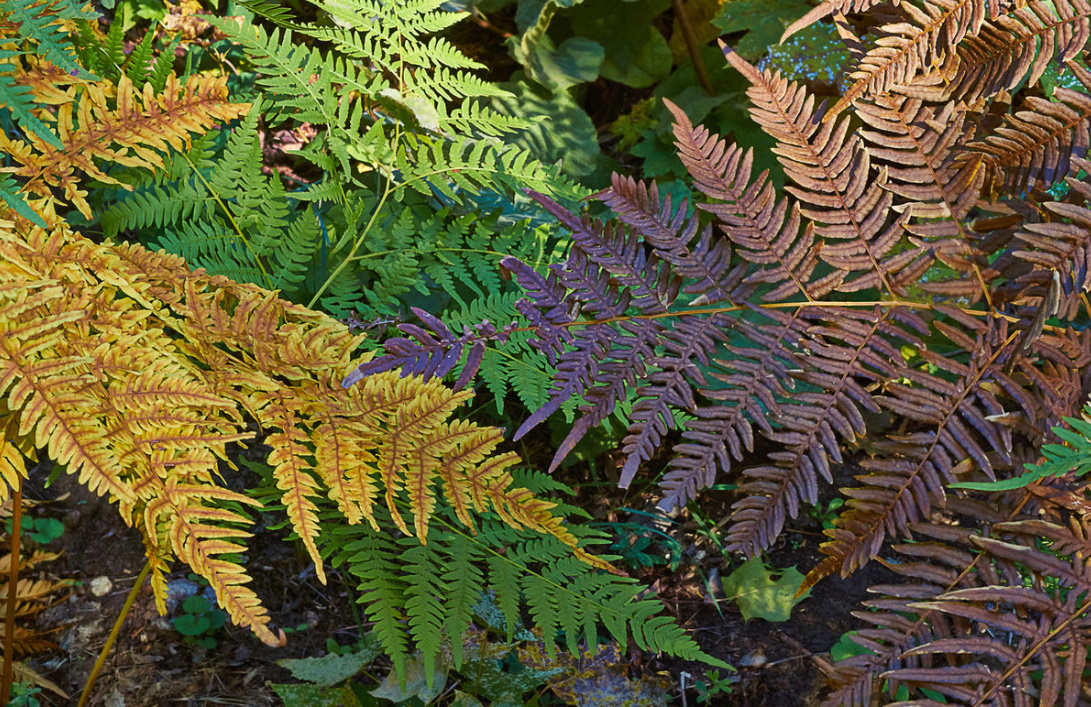 Where to plant
Athyrium prefers to grow in the shade, but for the manifestation of redness (in some varieties), sunlight is needed, ideally in the morning, before noon. The soil should be loose, rich in humus and slightly acidic (pH 5).
How to care for
Ferns are moisture–loving plants, and for good health they require constant additional watering. With the exception of watering, they practically do not need care, are not affected by pests and diseases and grow in one place for up to 15 years without transplanting and dividing.
Important: when planting in organic-rich soil, fertilizers are not needed, and on poor soils, a third or half of the norm used for perennials is sufficient.
What types to choose
Athyrium sinense forms a compact shrub with a height of 60-100 cm, characterized by dark reddish petioles, giving the plant an original appearance. Propagated by dividing the bush and self-seeding.
Athyrium filix-femina is a perennial up to 100 cm tall with delicate and delicate foliage that grows throughout the summer. It is not capricious, undemanding to soils and temperature, grows in one place for up to 10 years.
Athyrium niponicum is a compact shrub 60-100 cm high with delicate reddish feathery leaves. It is very decorative due to the metallic luster of the leaves and red-purple streaks. Prefers shady damp places with loose and nutritious soils. With sufficient moisture, it can grow in open areas, where it acquires a brighter color.
What to combine with
The most suitable company is Polygonatum, rogersia, hosts, lilies, ornamental cereals. Under the "wing" of Athyrium, low spring-flowering plants can be planted.
What to use it for
This unpretentious plant is ideal for landscaping shady areas and creating "long-lasting" group plantings. It is also used to create mixborders and other compositions of herbaceous perennials in the shady areas of the garden.