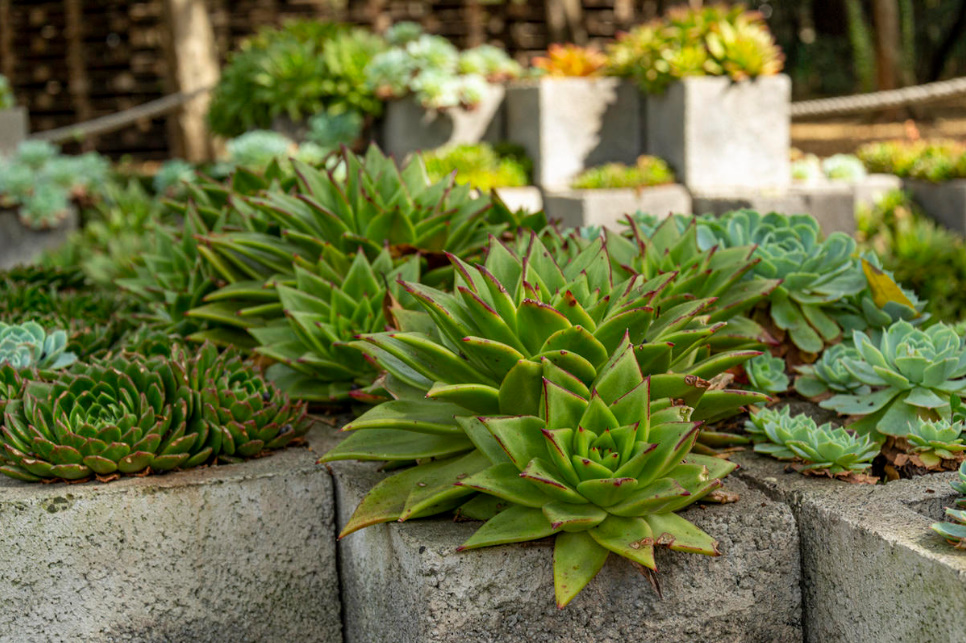 We buy materials for the construction site with a margin — it's better to have a little bit left than not enough. And then what to do with these remnants? Put them somewhere in a secluded corner, so as not to interfere, and forget about them? No, this option is definitely not for us! Summer residents will be able to use even a modest amount of building materials properly, and now you will see this. Concrete blocks and practical ideas of their application in suburban use are on the agenda today.
First of all — the beds
Most gardeners appreciated the advantages of fences and equipped their beds with sides. In the meantime, let's see how easy and convenient it is to limit the landing place with the help of blocks.
And it's nice to look at, and practical — vegetables grow in the garden, and flowers can be planted in the voids of the blocks. For beauty — succulents, for repelling pests — repellent plants.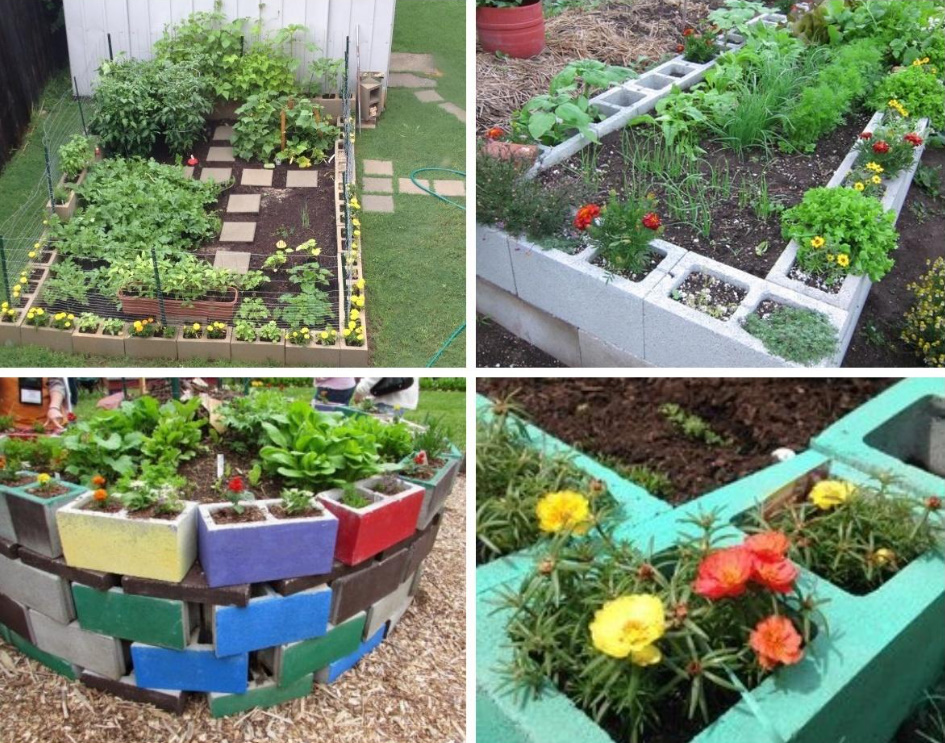 The cavities can be used both as individual "apartments" for crops, and as grooves for installing greenhouse arcs.
They are perfect for installing trellises if cucumbers, peas or beans grow in the garden. To prevent the support from collapsing, a piece of pipe with a larger diameter is concreted in the opening of the block than on the trellis.

Flower pots and planters
It is impossible to imagine a cottage without flowers, and they, as you know, require a decent frame. In my opinion, the building blocks perfectly cope with this task — the internal voids are quite voluminous, and many plants will fit perfectly in them. But that's not all: thanks to the clear geometric shape of improvised pots, you can use them to lay out a curb for a path or flower beds — a great solution, do you agree?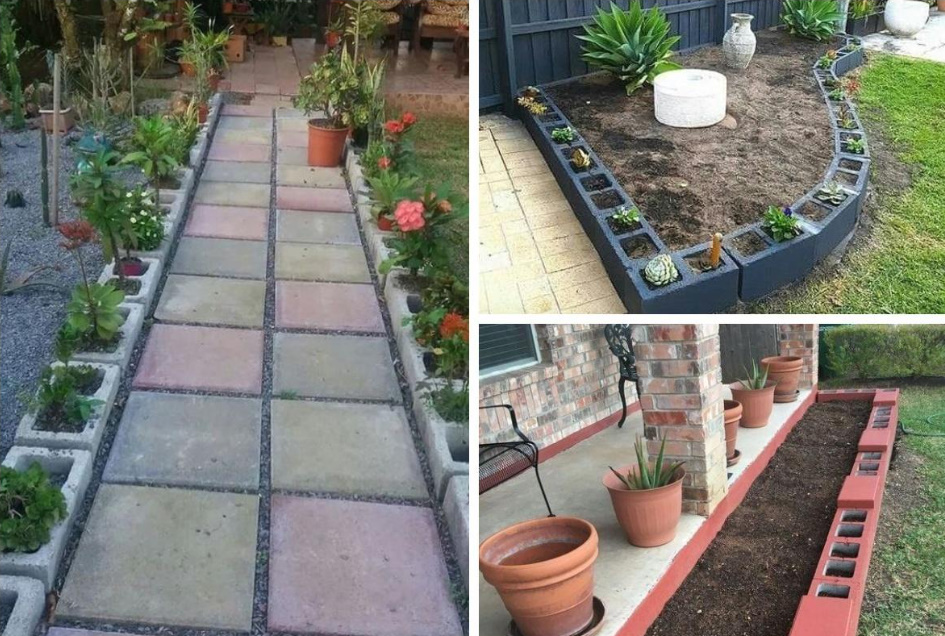 If necessary, they will help visually delimit the space, and you can implement your plans quickly and easily, which is important for many of us. If it is planned to lay out the structure several rows in height, the blocks can (and should) be fastened with special glue or cement-sand mixture for reliability.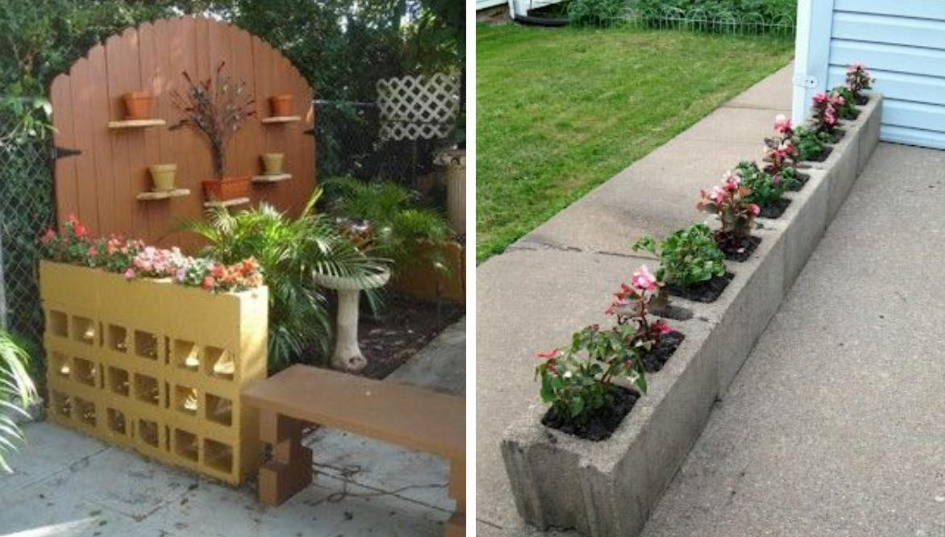 Building blocks are ideal concrete pots for plants with a small root system. Armed with glue, you can unleash your imagination and build the most intricate design. The criteria of beauty are different for everyone, but it is impossible not to pay attention to such a structure!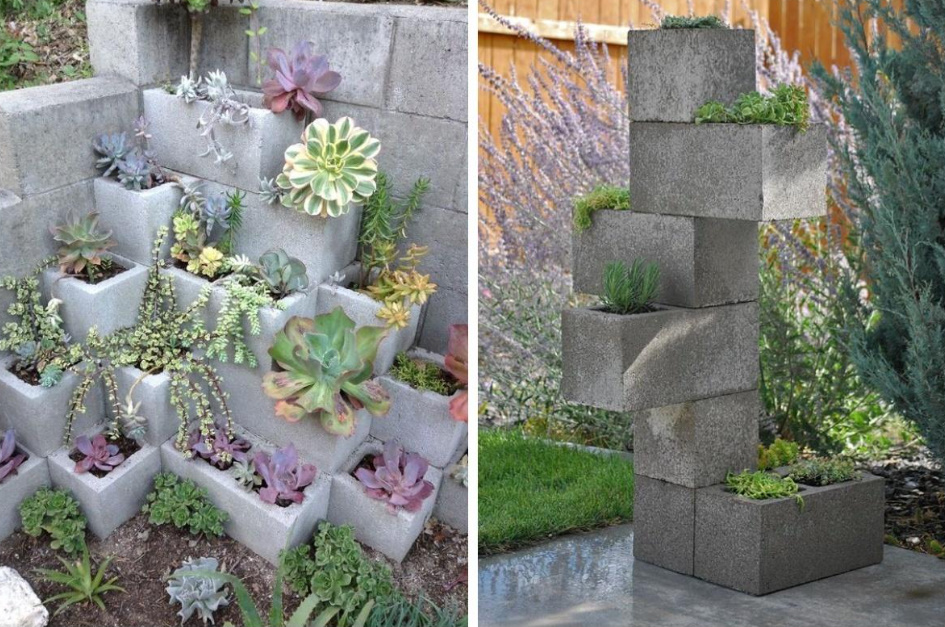 An unusual pyramid will fill an empty corner on the veranda, and it's a pity to walk along this amazing path! But finally, the pebbles brought from the sea for years have been successfully attached – after all, it was not for nothing that we wandered along the beach for hours, looking for the most beautiful pebbles!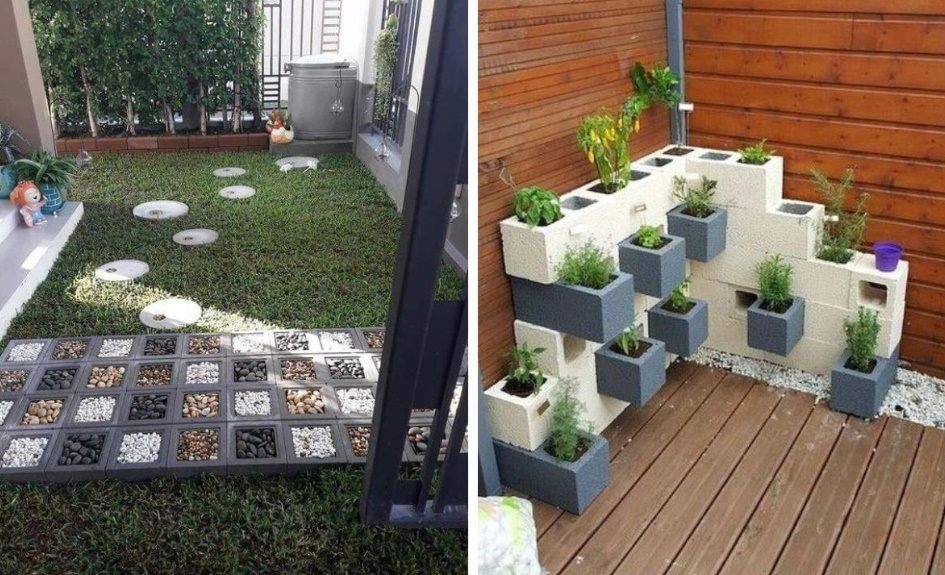 If the improvised pots seem too uncomplicated to you in their usual form, do not try to be upset — and what is the paint for? Stencils and a little patience will create a miracle, and no one will recognize a simple building material in the exquisite creations of your hands.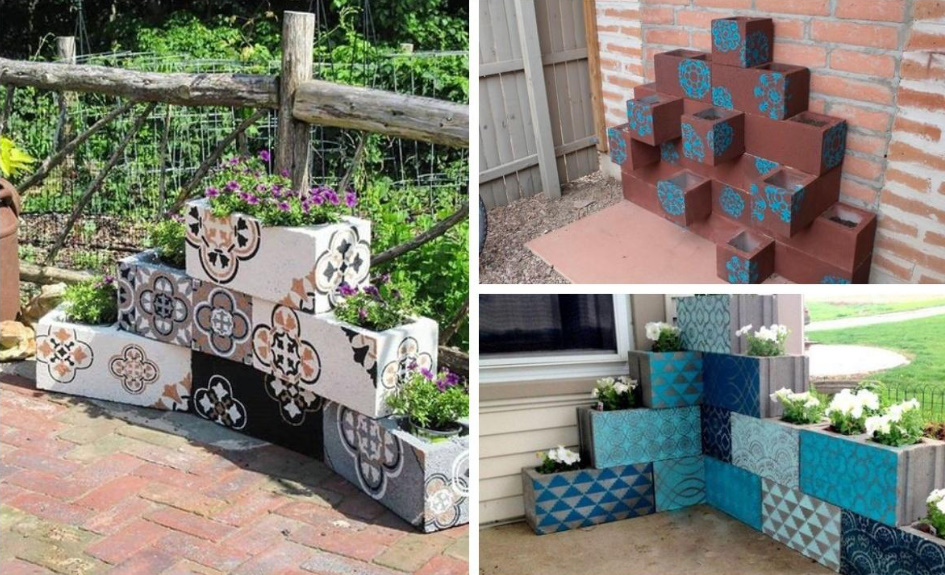 Mosaic decoration will take more time and skill, but if these colorful ideas have found a response in your soul — try it!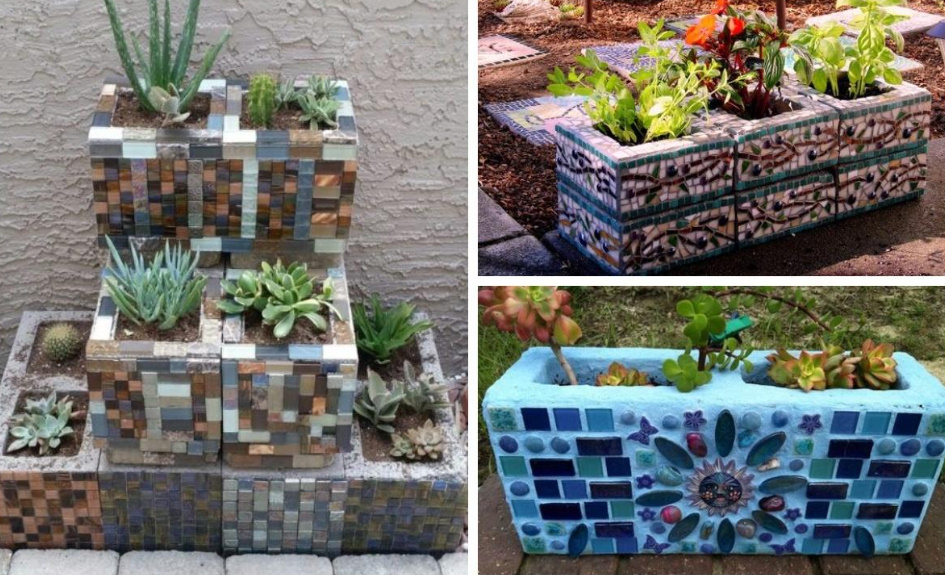 Retaining walls and steps
Owners of plots with complex terrain can build such nice retaining walls-flower beds out of blocks. Or equip a steep descent with steps, and it is not even necessary to lay slabs on the blocks, it is enough to fill the voids with sand or gravel.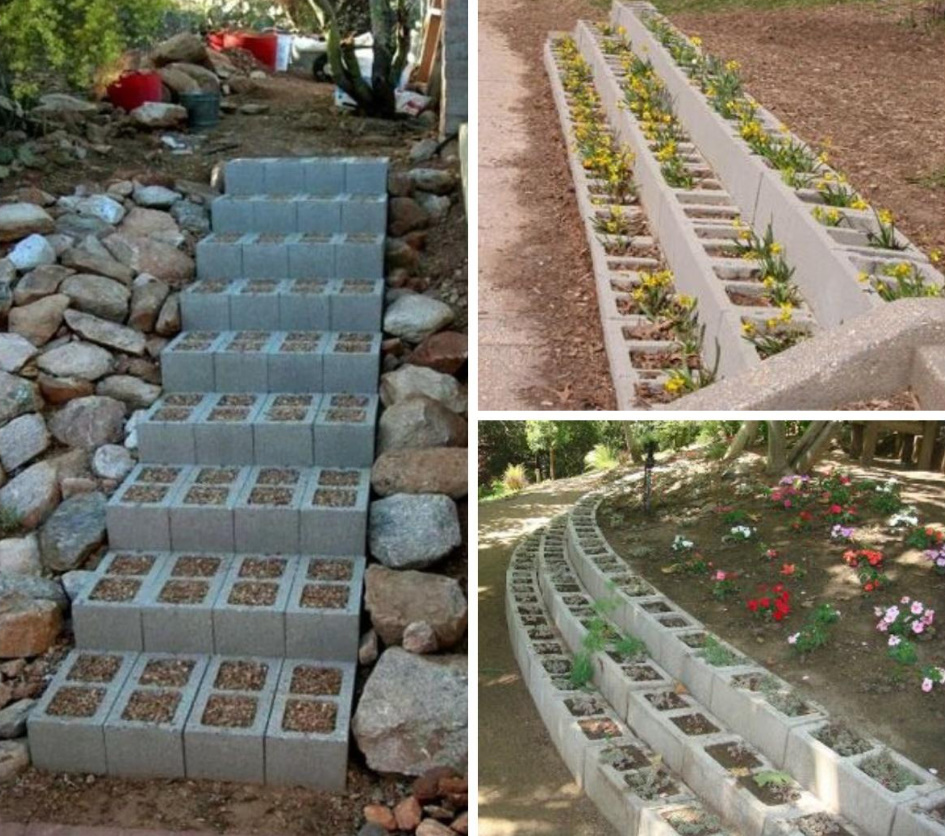 However, modest concrete products have proven themselves as steps not only in the garden. Many people use them to arrange a comfortable entrance to country houses.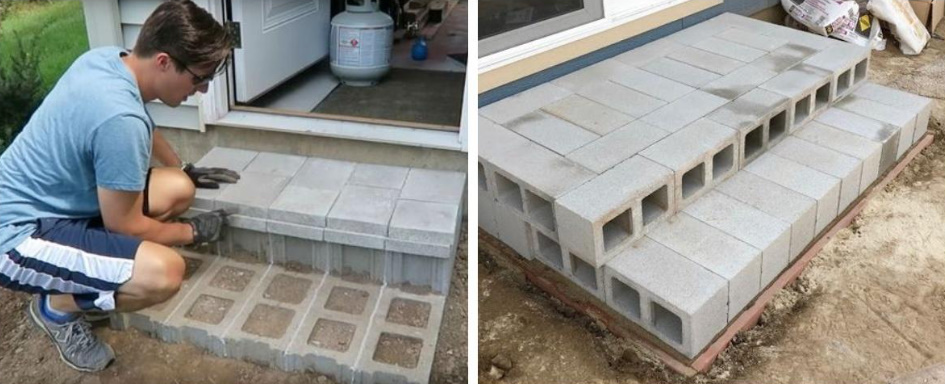 Barbecues and woodcutters
If the filler is not combustible (slag, sand, expanded clay, etc.), building blocks can be used for cooking or heating food. A small barbecue is for a sad lonely summer resident, a spacious hearth is for a large company of gardeners.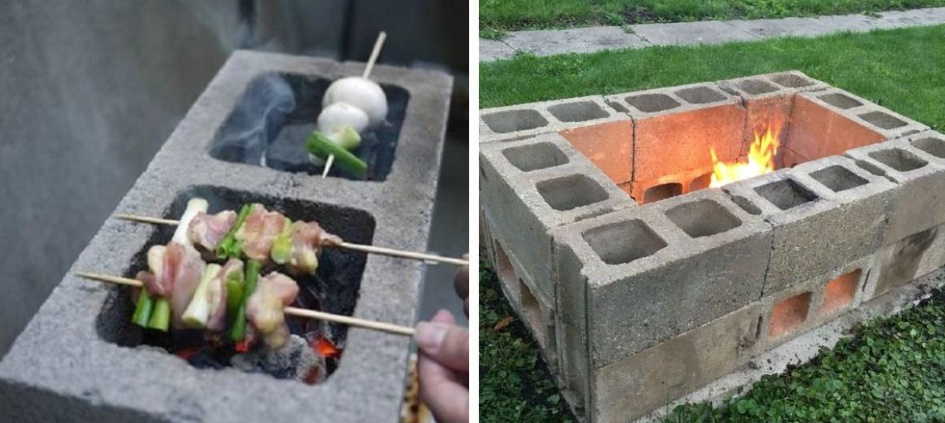 Since we are talking about a bonfire, it's time to remember about a convenient firebox, for the construction of which blocks will also be most welcome!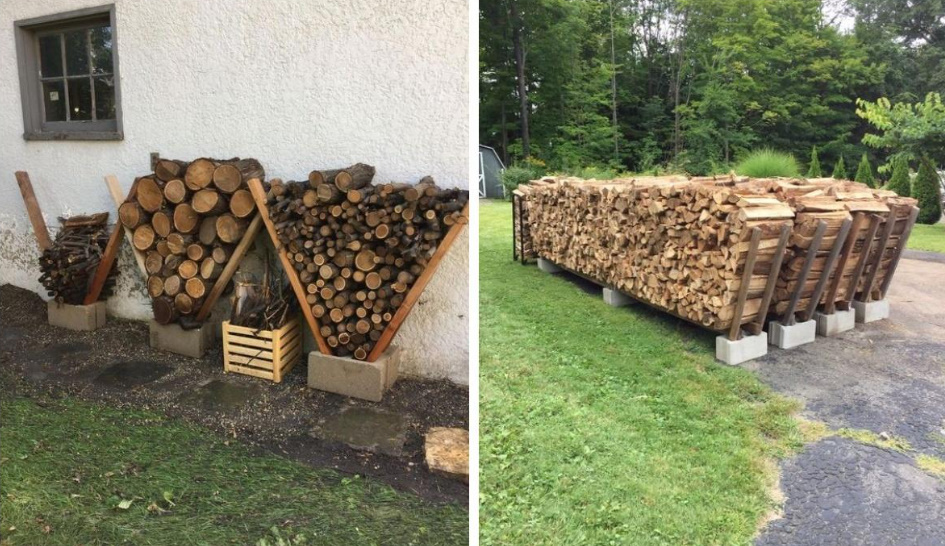 Tables and benches
I don't want to go into the room in the summer — it's so nice outside! I don't want to — and I don't need to, let's cook and have breakfast-lunch-dinner in the fresh air! We will arrange a convenient place of work for the hostess and a table at which it will be pleasant to sit for an honest company.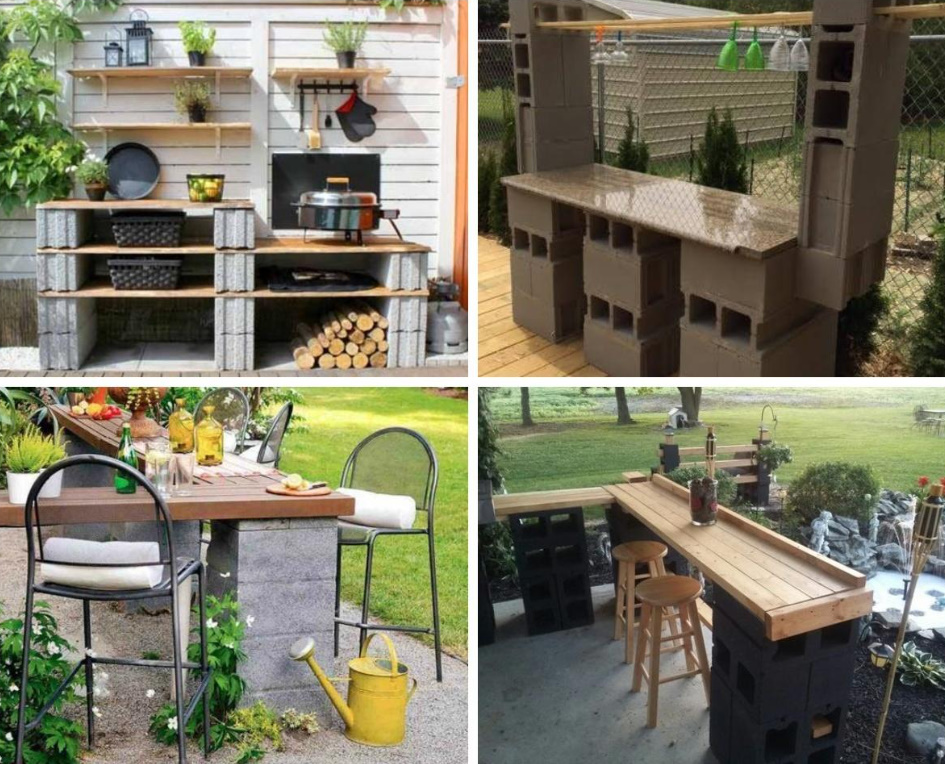 And we will not forget about comfortable benches, fortunately, it is not difficult to make them. For those who want to settle down with maximum comfort, we will sew a soft mattress — it won't take long.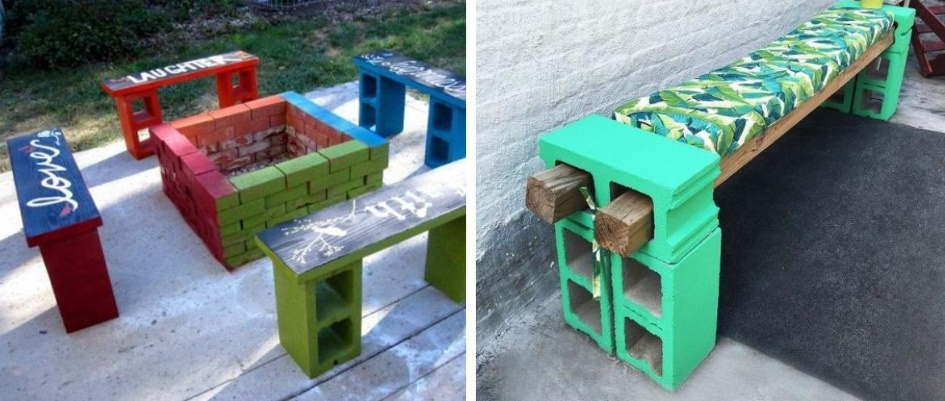 Apparently, the blocks as the basis for various types of seats were liked by summer residents, because there are a lot of interesting ideas. Both with wooden structural elements and without them.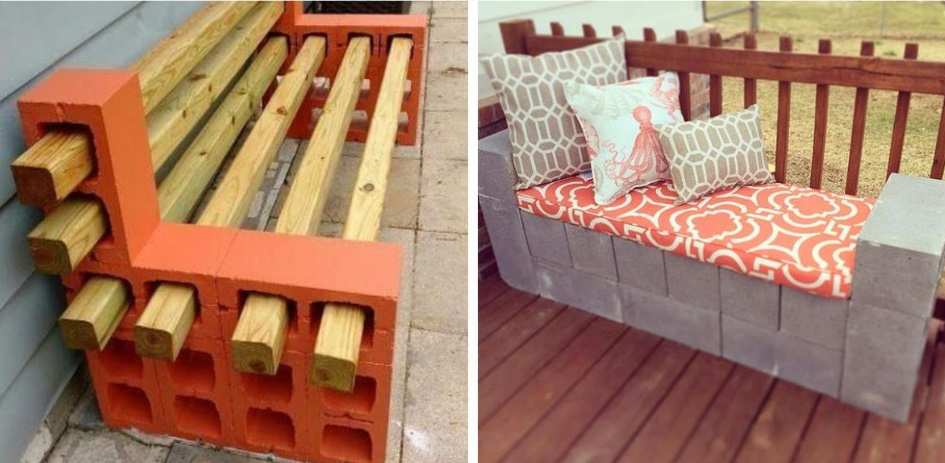 Products with a back, of course, are more convenient, but I would still not rely only on the strength of the bonding compound – who knows what kind of load it can withstand? It is safer to lean the back against a reliable support, best of all — the wall of the building.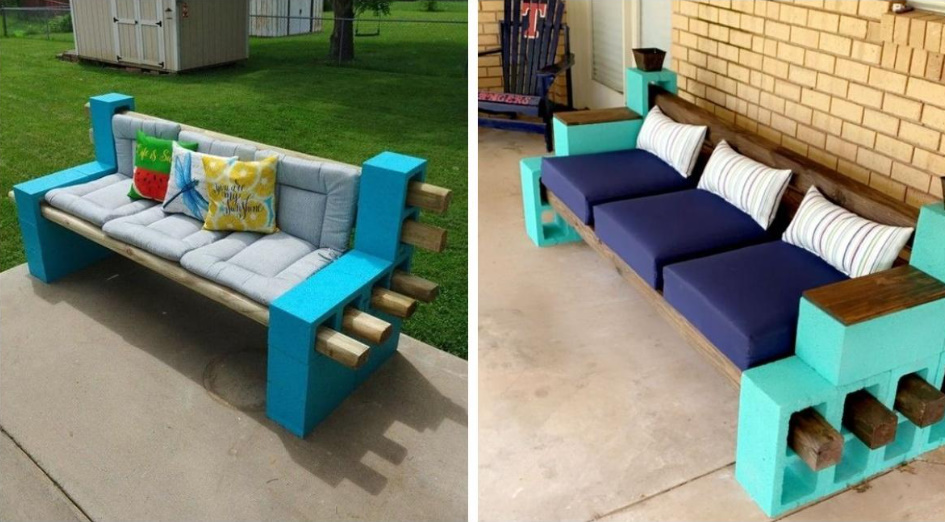 Home furniture
So far we have been walking in the garden, and now let's look into the room and evaluate the practical couch. Solid benefits from the use of blocks, honestly! Firstly, you do not need to buy a sofa or a bed, it is enough to buy a mattress, and this is much cheaper. Secondly, there is a place to store shoes, and there is always not enough of it!
The set also looks pretty nice — a table and a sofa, but it is made from the remains of building materials. Well, tell me, what else could short pieces of wooden timber be used for (I won't ask about blocks)?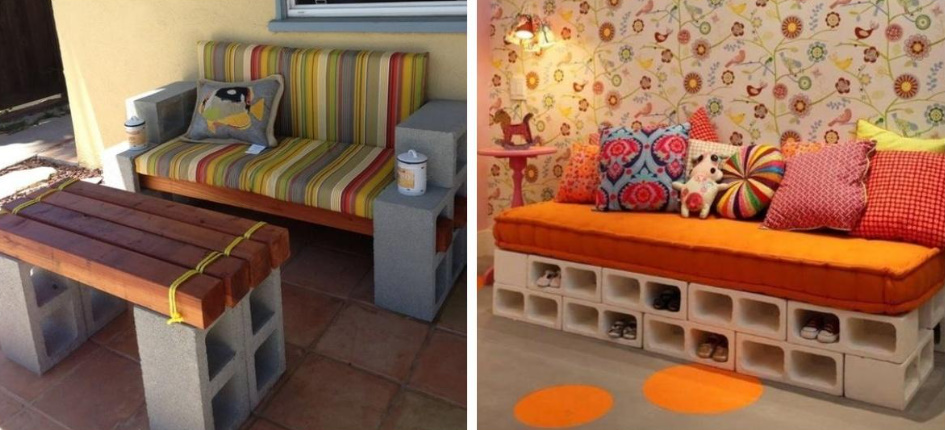 If you think that furniture made of blocks is the lot of the poor, I can assure you — you are mistaken. Look at these photos — does it look like a poor man's dwelling?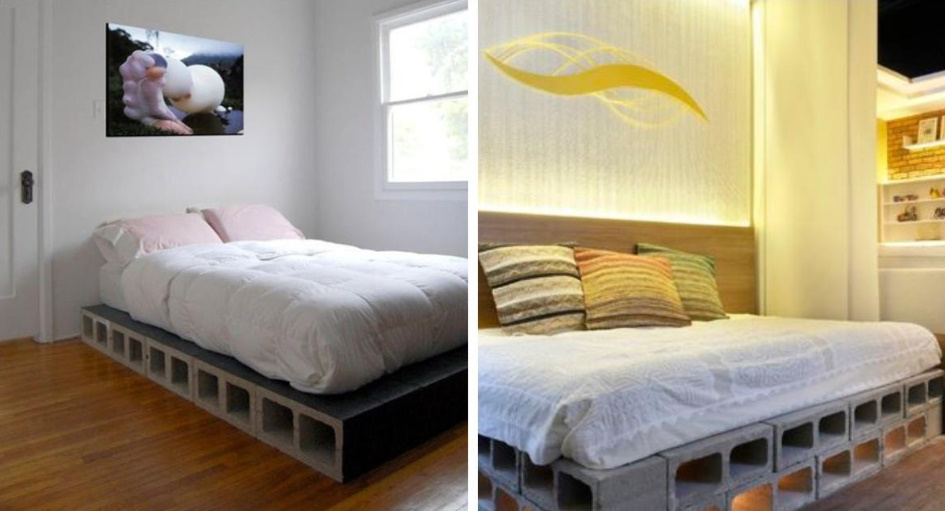 So I think that furniture from blocks is made not out of desperation, but out of a desire to make your home special, unique, interesting. It is clear that such an unusual interior is for an amateur, but we are all different…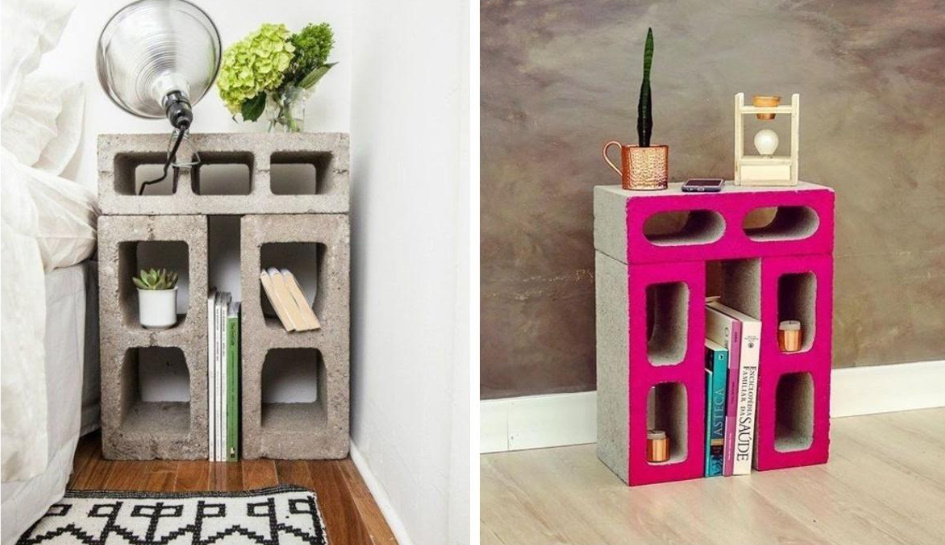 Let the source material be rough, but there are ways to soften its brutality a little. For example, to complement the product with glass — it turns out great.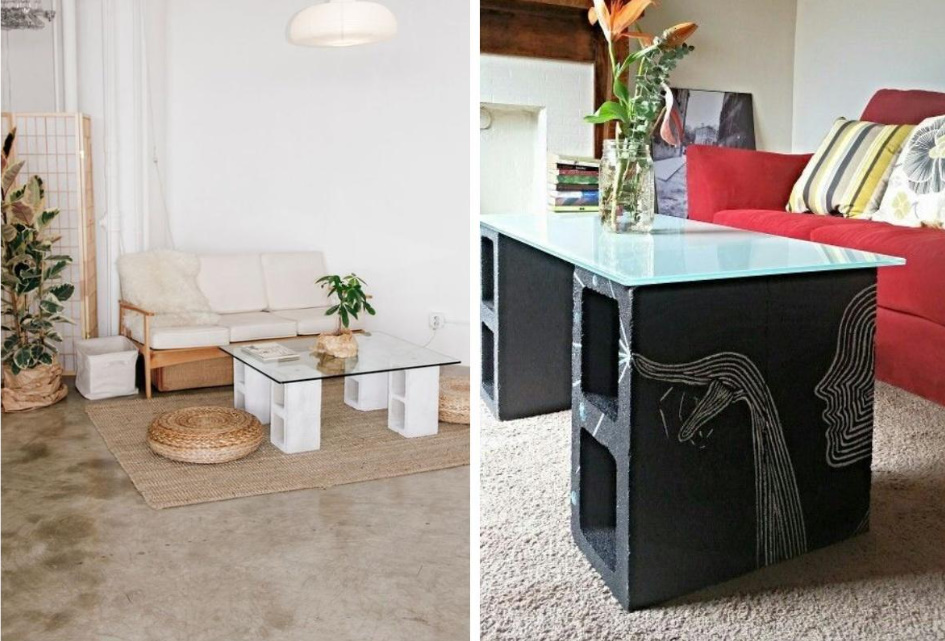 I really liked the ideas with candles — so romantic and cozy! But for the sake of beauty, do not forget about safety: you can repeat the ideas only if you are absolutely sure that your blocks are made of non-flammable materials.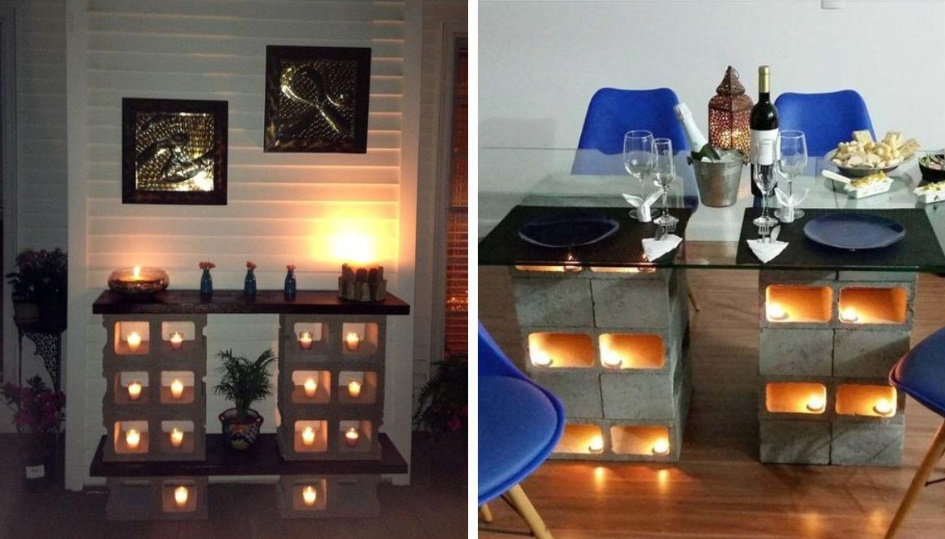 When I look at the ideas of using blocks in the house, I like them, but I'm not ready to repeat this in my own home yet.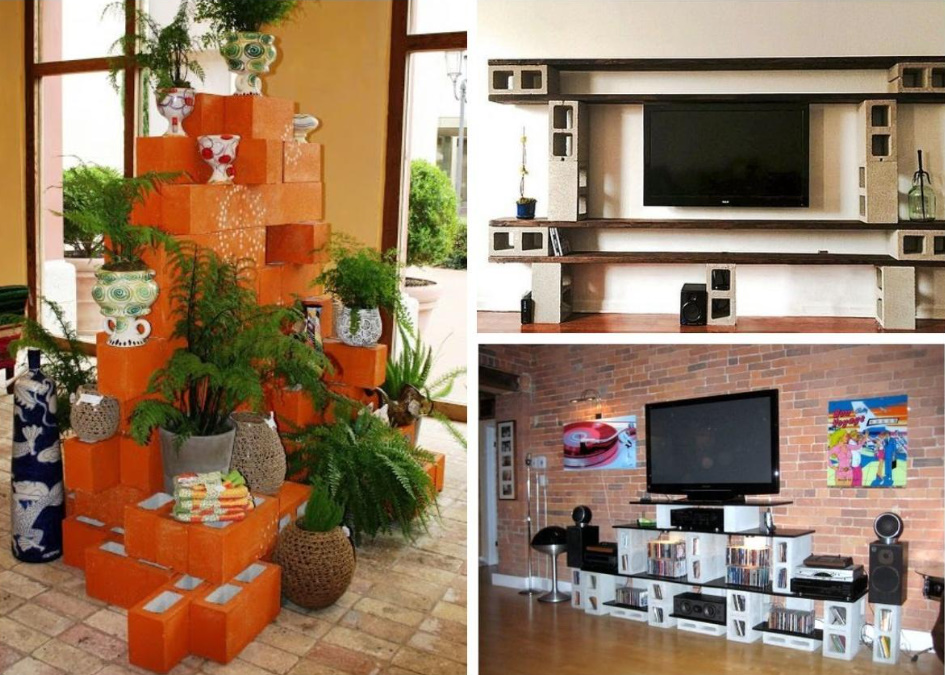 On the street or in the barn is another matter, I'm not against experiments there. For example, there will definitely be something to fill open lockers with: I really like it when every thing is in its place, but these very places are constantly missing!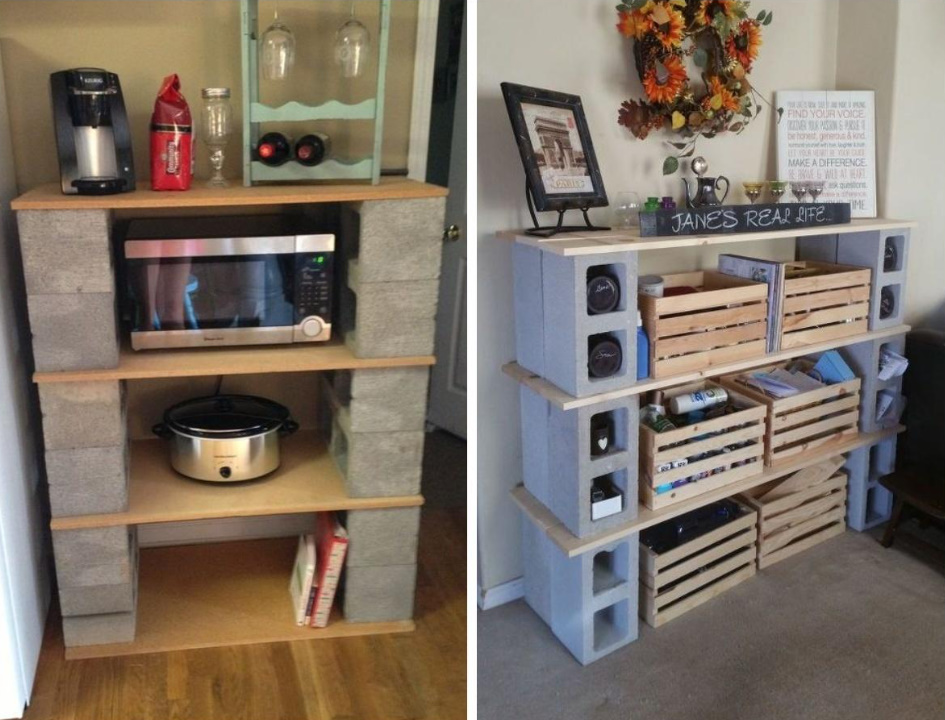 Storage racks
Meanwhile, the blocks have slowly made their way into the holy of holies of your house — into the cellars and basements. They are entrusted with a difficult and responsible mission: to hold on their shoulders a precious cargo — crops and blanks. So far, the reviews about the recruits are the most favorable.
Here are more options that I am ready to repeat: mini-racks for placing flowers, garden tools and other useful little things. One thing stops: the blocks need to be fixed somehow so that they do not fall off accidentally. I'm not worried about myself — I'll be careful, but I'm afraid for the kids.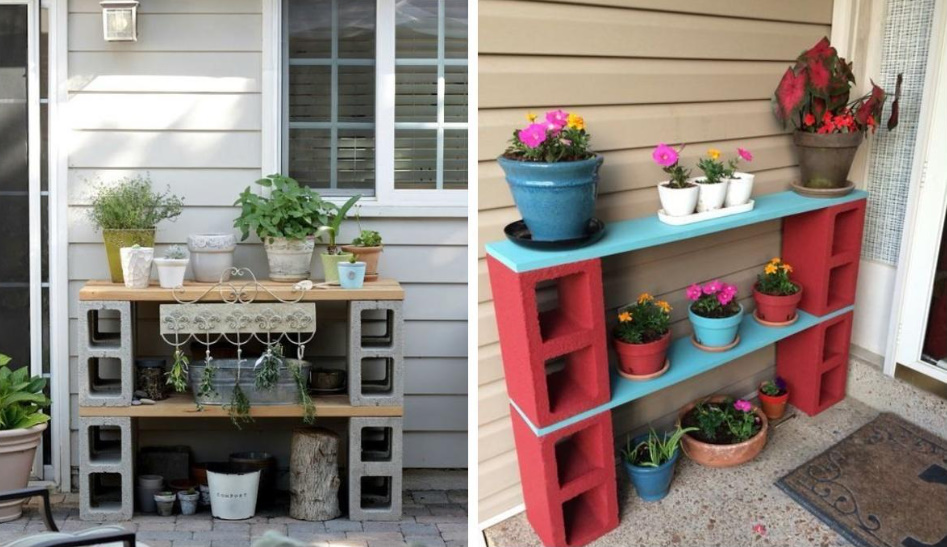 And these ideas are especially for those who need more usable space. If you try to place everything compactly, a lot of stuff will fit on the shelves.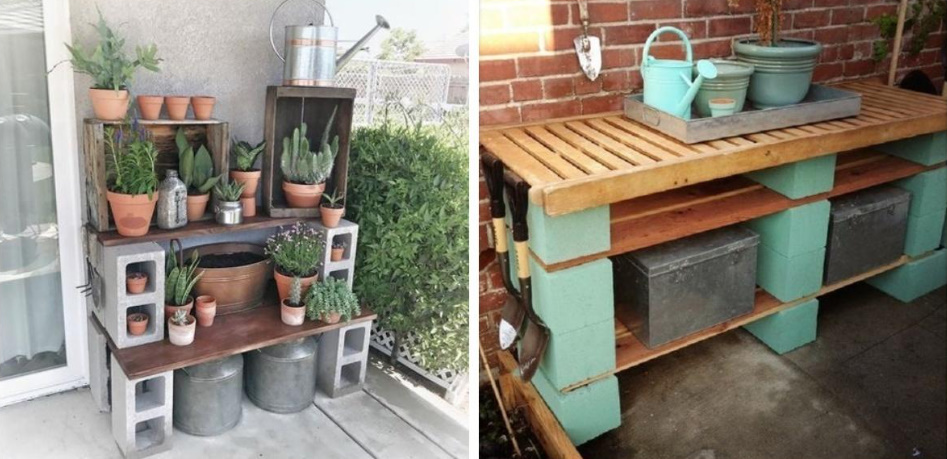 Fence supports
And the blocks can also be used as supports for the fence. It is clear that it will be decorative, it can hardly be considered a serious fence.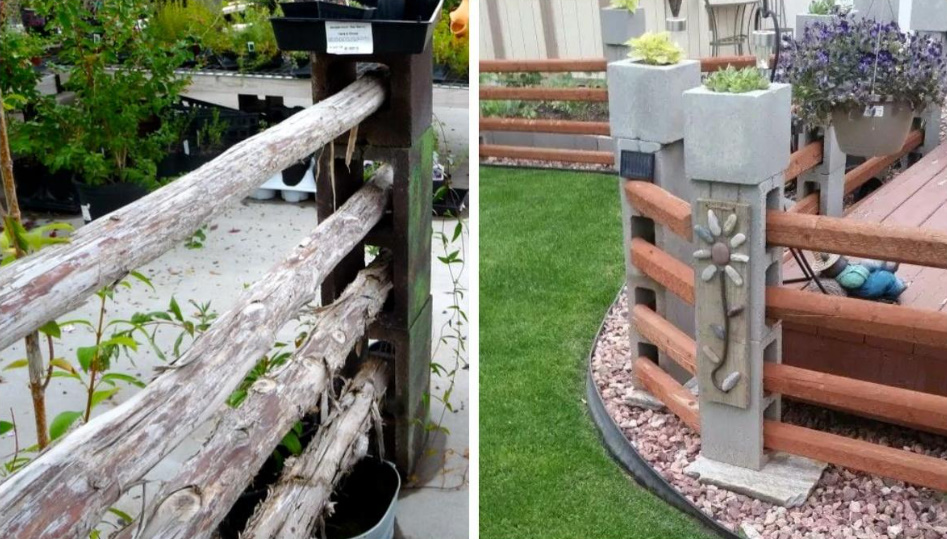 However, it is realistic to mark the boundaries of the territory in this way.
But the pen has become a mystery to me: for whom is it intended, which of the pets cannot (and who will not try) to knock down a symbolic fence? Do you have any suggestions?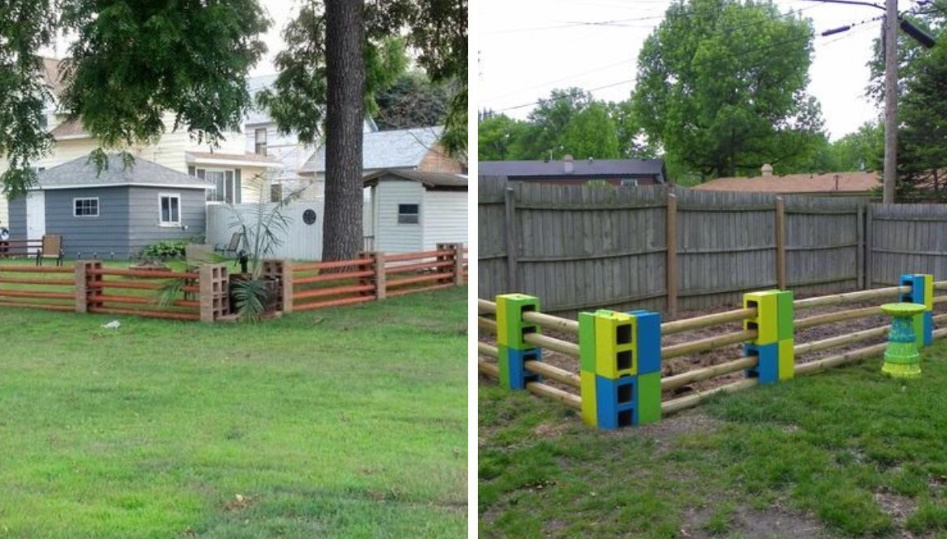 Cozy little things
The selection is completed by the cutest ideas that I managed to find. And even if they are of little use, but you can't measure everything by one yard of practicality.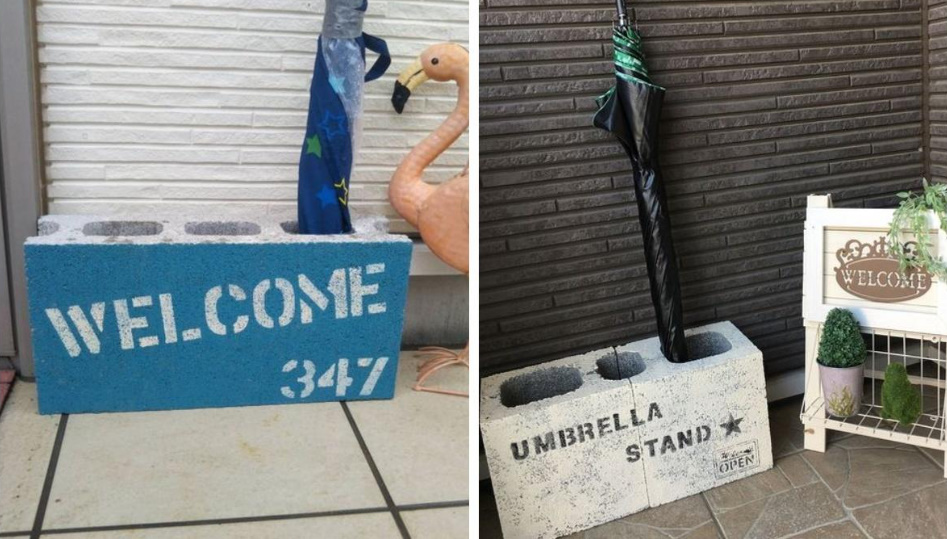 And you can put such a business card on the porch — let everyone who enters your house smile in response to warm words of greeting!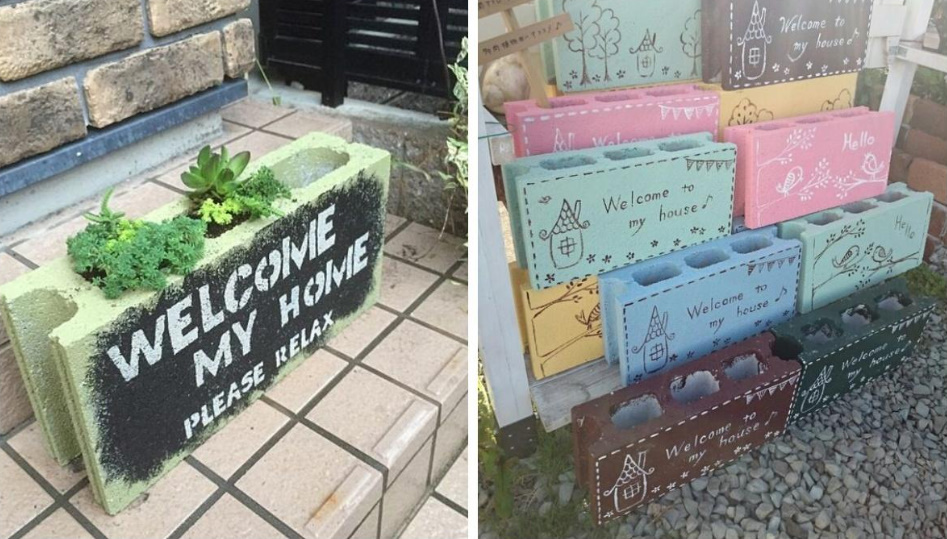 I really hope that you have watched the selection to the end. And if you wanted to repeat any of what you saw, it's even better. I am sure that this is not a complete collection of ideas; if you have something to share on the topic, you are welcome, everyone will be interested!