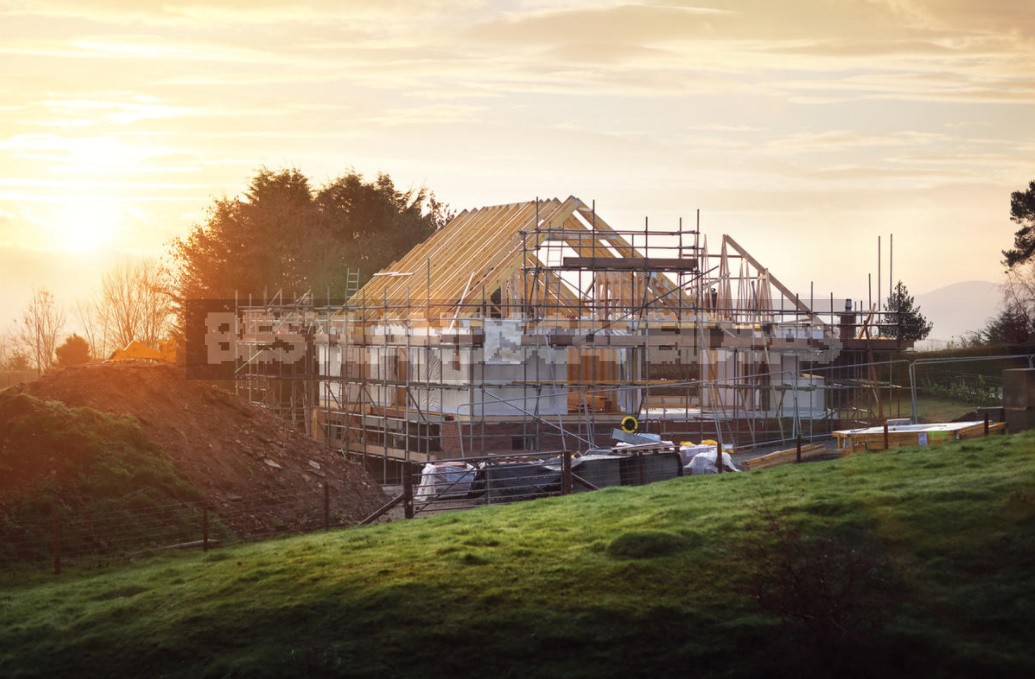 Often, forests are required for the construction or repair of a dacha. Even if all the work is performed by a hired team, the customer often has to deal with the selection and assembly of these auxiliary structures. Which forests are better suited for a private house than to be guided when renting or purchasing them, we will find out right now.
Recommendations for the selection and application
The construction and repair of suburban housing, as a rule, does not require climbing to a height of more than 8-10 m. Sometimes summer residents try to use garden stairs for this. But this method is not only inconvenient, but also too risky: one wrong move is enough to fall down.
It is much more efficient and safer to use scaffolding. The main thing is to determine in advance the maximum load that they will be able to withstand during certain works.
If we are talking only about finishing the facade, you can take a lightweight structure with a load-bearing capacity of up to 150 kg/m². To work with concrete, this capacity should already be 200, or even 250 kg/m². And it's quite another thing if you need to build brick walls: in this case, the best option will be forests that can withstand at least 400 kg/m².
The scaffolding can be attached or attached to the wall. The features of their design depend on the height at which it is necessary to work. If it is no more than 3 m, the scaffolding of the attachment type is just what you need. It is only necessary to make sure that their width is not less than 1 m, and the height of each tier is not less than 190 cm. Devices with such parameters have the necessary stability. But their permissible maximum load is no more than 200 kg/m².
Wooden scaffolding above 3 m must be fixed with support beams, which give the structure additional strength. It is necessary to prop up the scaffolding with them at a height of at least 2/3 of the length of the vertical racks, otherwise the risk of collapse cannot be avoided.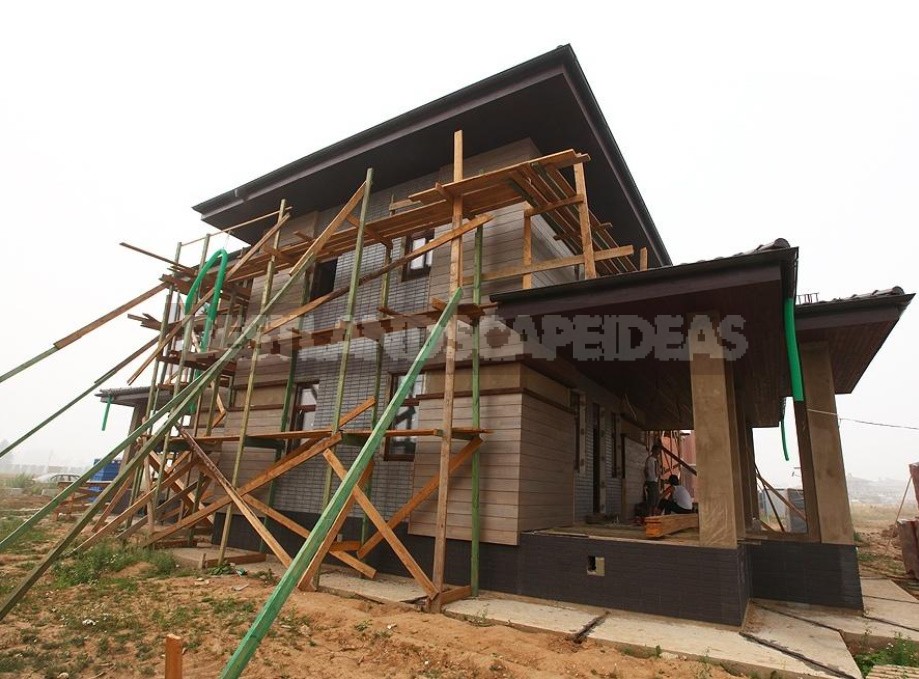 Metal fixtures, as a rule, are equipped with special brackets that are attached to the wall. It is clear that these forests do not need props. The exception is the tower tour: it is not fixed on the facade of the building, so stability is ensured by using stabilizer posts acting as the same supports.
Metal Scaffolding
Of all types of steel scaffolding in suburban construction, frame-type structures are most often used. For them, the value of the permissible load is standard — the same 200 kg / m². If it is necessary to use a more durable structure, a set with a reinforced crossbar should be ordered. Such devices can withstand up to 500 kg/m².
Frame scaffolding is divided into flag and pin scaffolding – by the name of the fasteners with which the individual elements are joined together. The flag mount is a lock with a handle in the form of a flag: it is enough to turn it, and the part will be firmly fixed. Even an inexperienced user, after studying the manufacturer's instructions, will be able to assemble such scaffolds in a short time.
It is not difficult to mount devices with pin clamps. These structures consist of a set of vertical racks and horizontal ties, which are made of thick-walled pipes. The racks are equipped with special slots, and the ties are equipped with pins. During assembly, the pins are inserted into the grooves, connecting the horizontal and vertical elements. As a result, when assembled, both form a rigid frame.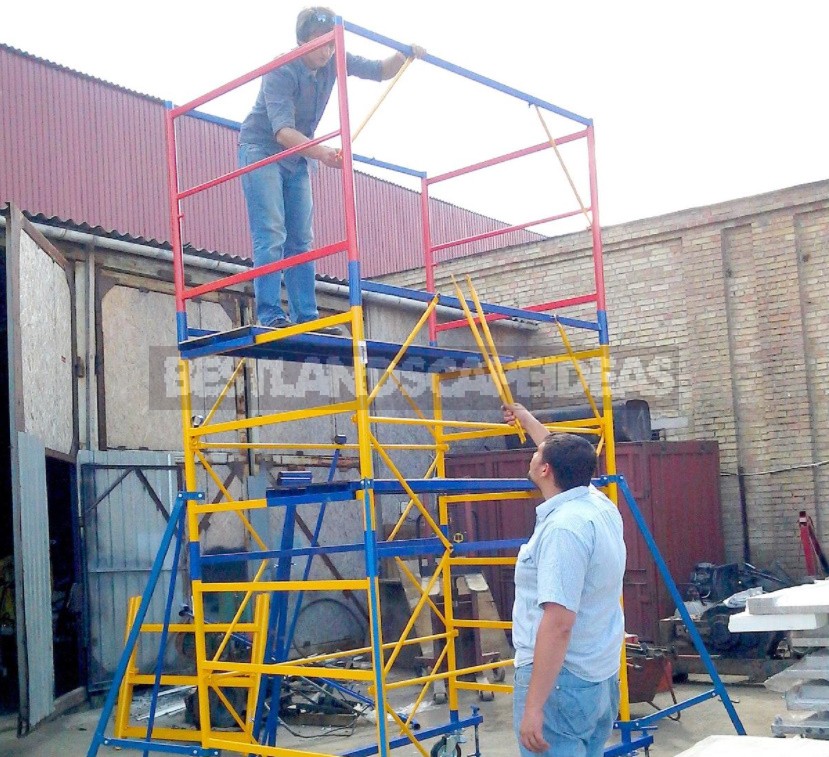 And if the flag fasteners can become loose over time, then the pins are devoid of such a disadvantage. For this reason, the pin-type scaffolds have increased strength and are operated longer. However, they are more expensive. It probably does not make sense to use them for one-time work, especially since the maximum load of such structures does not differ from the standard for conventional structures with flag locks.
Tower-rook
The tower-rook also applies to frame structures. If a large number of people are not involved in the construction or repair of a house, then using such a tower is an ideal solution. In addition, it will cost less than any other metal options.
The tower is supplied as a set of ready-made parts. It includes base rails, diagonal ties, transverse dumbbells, railings, decking and stairs. The height of the structure depends on the number of sections. For suburban construction of such sections, no more than three will be needed, which will be 6-7 m.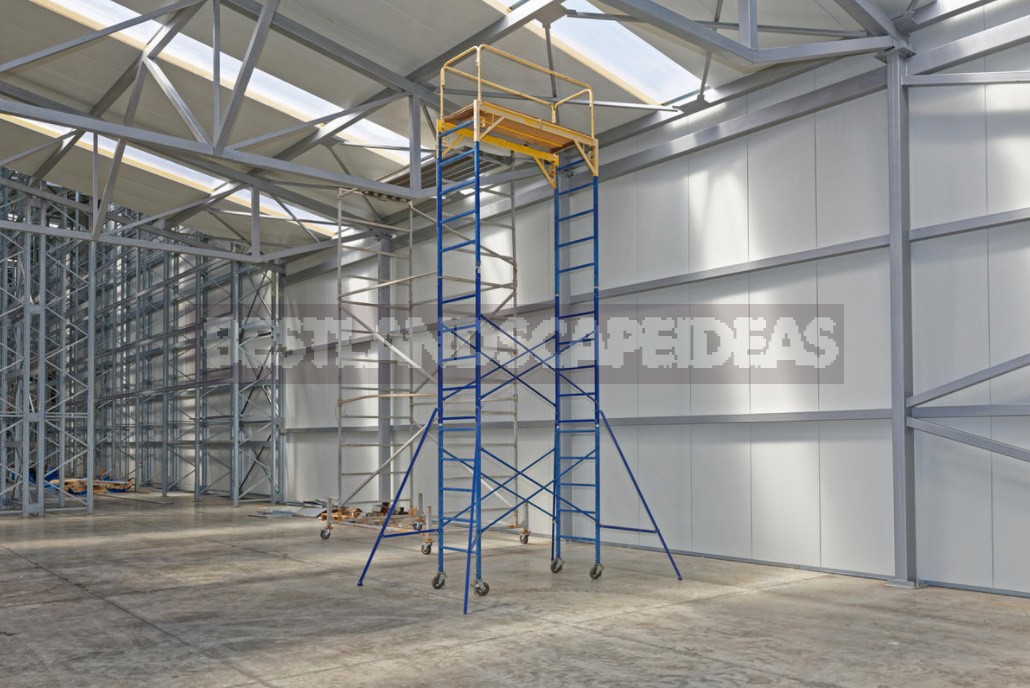 It is also easy to assemble it. On a solid and flat surface, the base rails are installed and fixed with the help of stops or stabilizers. Then the side ladders are mounted on the slats, connecting them together at the bottom with a diagonal screed.
At the top of the stairs are reinforced with dumbbells, after which they are reinforced on the sides with ties, tightening the latter with flag locks. Thus, the first section is assembled. A couple more of the same tiers are mounted in a similar way. On the upper one, the flooring is laid and the fence elements are attached.
A modification of the tower is a metal platform. Unlike the tour, its height is limited and is 4 m, and the supporting frame is equipped with not four, but two rollers. Because of this, it is a little more difficult to move it. But when building or repairing a small country house, it can be an indispensable assistant that does not require serious costs.
When disassembled, steel scaffolding does not take up much space — they are usually stored in a household unit along with other inventory. If necessary, they can always be collected. If you are sure that they will no longer be useful, it is better to rent the scaffolding. At the same time, it is necessary to calculate in advance the number of days for which they will be needed. In the case of prolonged construction or repair, the daily payment may be very unprofitable.
Wooden scaffolding with your own hands
Metal devices are both reliable and convenient, but with a very meager budget, they will undoubtedly empty the wallet. There is only one way out in such a situation: to build forests yourself.
As racks, it is best to use end logs or a beam with a cross section of 10 × 10 cm. Boards with a thickness of 30 and 50 mm will also be useful. The first — for struts and fencing, the second – as crossbars and flooring.
To begin with, fasten the racks. The recommended distance between them is 2 or 2.5 m. The optimal width of the flooring is 1 m. To connect the vertical elements, spacer boards are used, which are fixed crosswise, using bolted connections. It is not worth hammering together the frame with nails. Firstly, it is unreliable, and secondly, it will be very difficult to disassemble such a tower.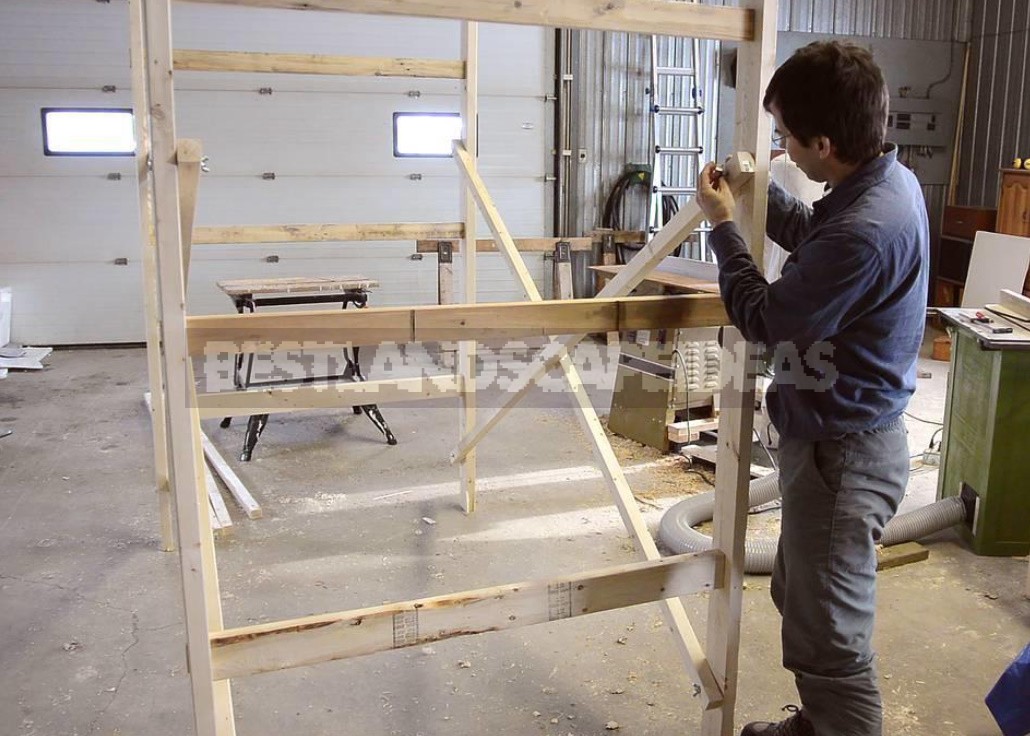 Then, jumpers are fixed between two pairs of racks, which will later serve as a ladder. The flooring is laid along the lintels at the desired height. For greater strength, several boards can be fixed as a base for the flooring, mounting them on the lintels not flat, but with an edge. Such a platform is able to withstand more serious loads.
The described scheme is the simplest, but there are other assembly options. For example, instead of crossbars, the same diagonal struts are sometimes attached. Such a structure will be more durable, but you will have to climb it with the help of a special ladder or ladder.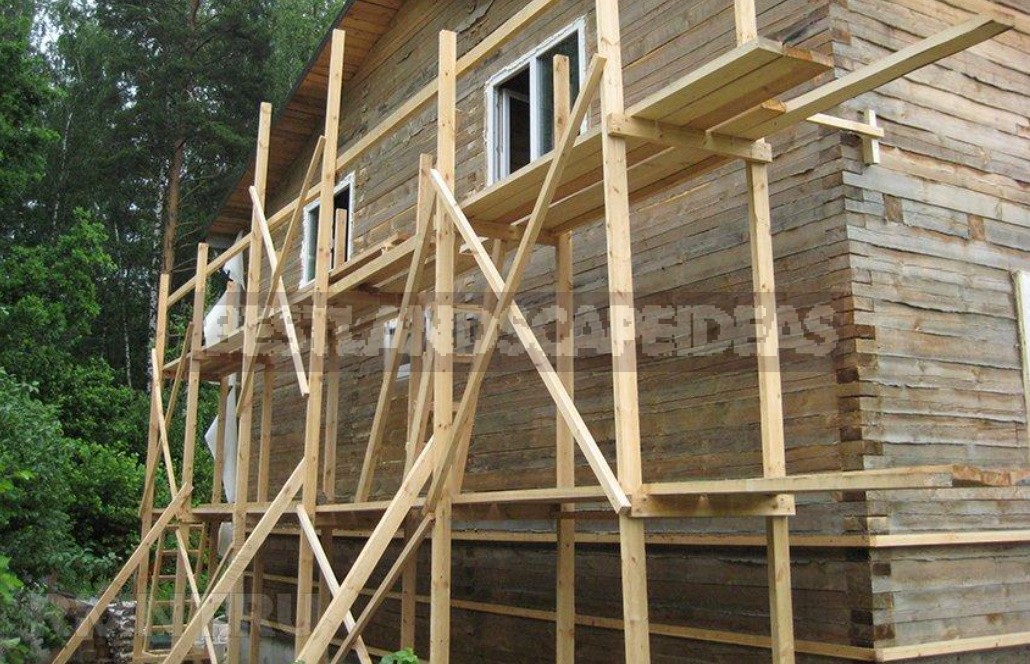 As already mentioned, it is advisable to use wooden scaffolding only if you want to save money. Another reason why they are collected is the inability to order suitable metal fixtures.
The disadvantage of wooden structures is that their height should not exceed 6 m. In addition, they can hardly withstand more than 250 kg / m².