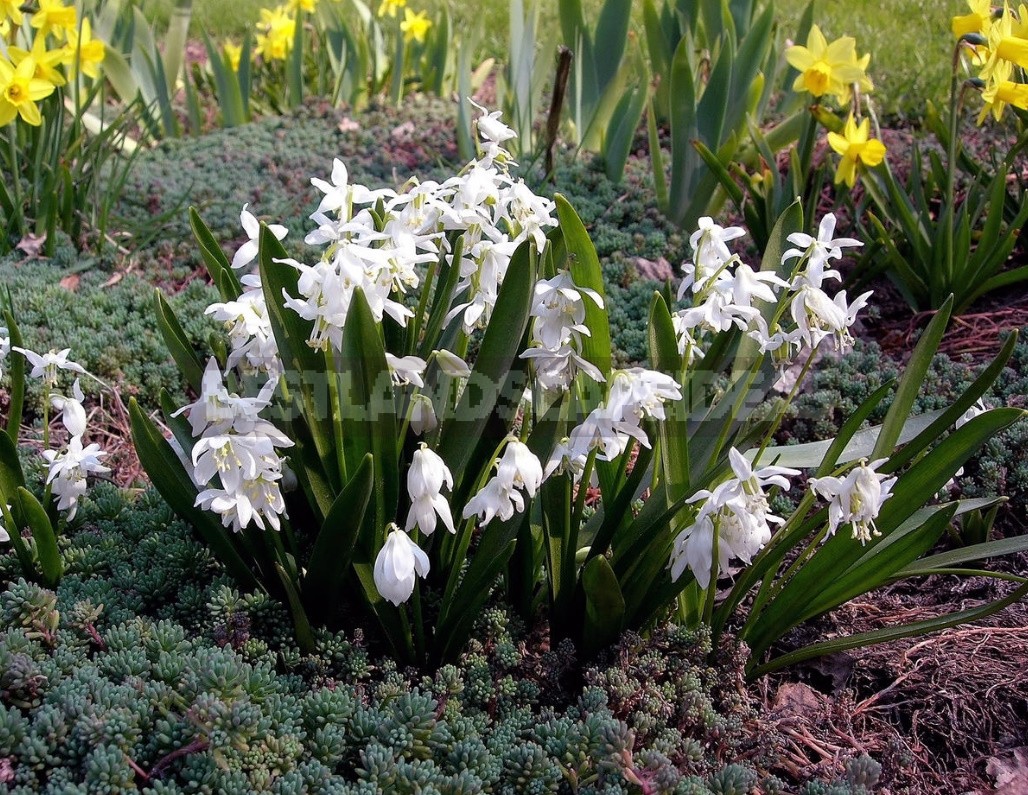 Small Bulbous plants in the garden
Many varieties grow profusely over time, gaining more and more space on the lawns in front of the window, in the Park or in the garden. Any Small Bulbous plants and especially flowering crocuses look very good in small groups, creating their own unique pattern.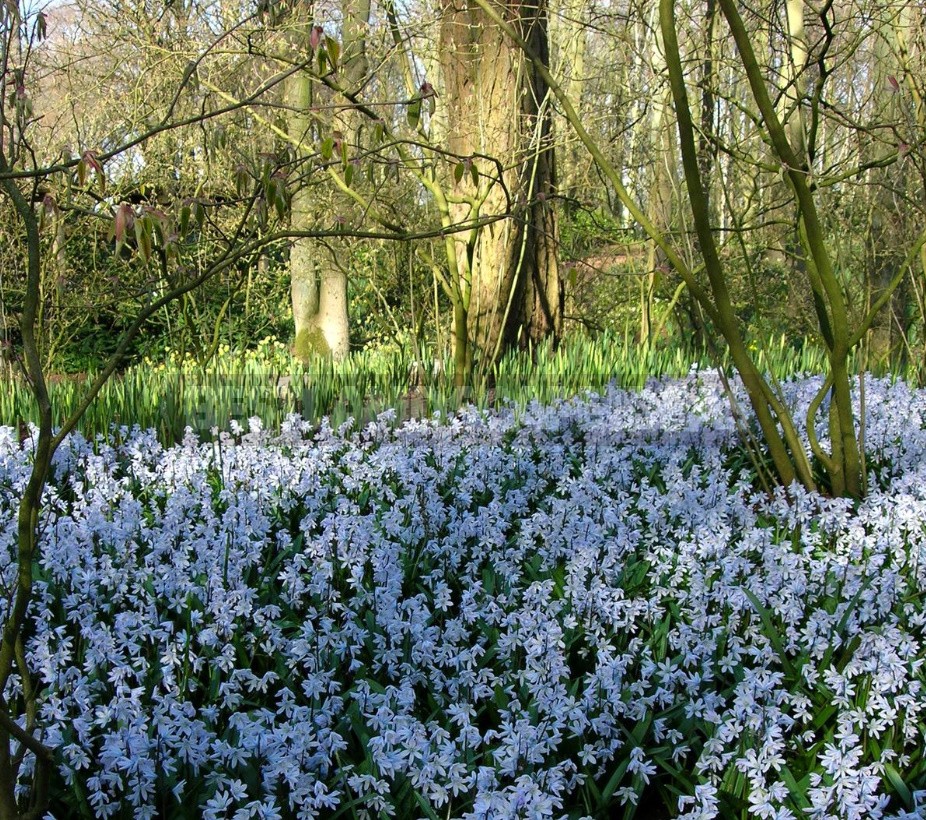 Usually their flower stalks reach only 10-15 cm in height, and therefore these plants are practically of no interest to vandals and ill-mannered teenagers and can perfectly decorate our city flowerbeds, lawns and mixed borders. This is another important advantage of spring-flowering bulbous plants.
Due to its small height, striking unpretentiousness and a large number of bright and colorful colors, almost all Small Bulbous plants are ideal for rockeries, Alpine slides and mixed borders. At the same time, their flowers often have a subtle pleasant aroma that attracts the first spring insects. And already in mid-early June, they almost all disappear, making room for luxury Paeonia, Aquilegia, Hosta, and then roses, Delphinium and other beautiful perennials.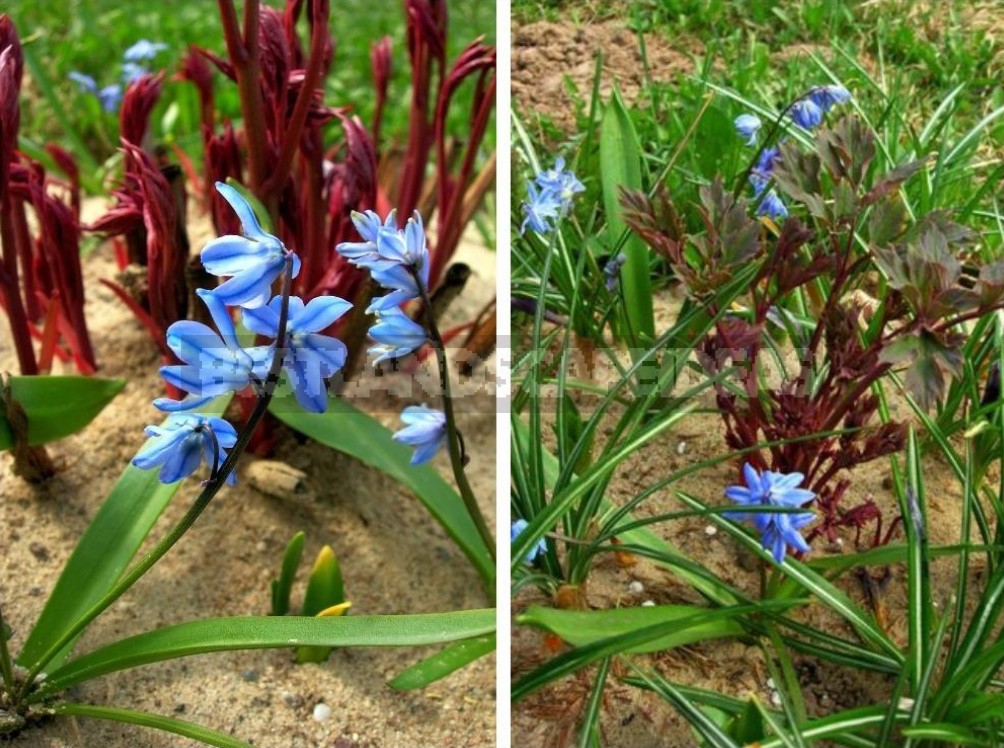 Moreover, its bright flowers Small Bulbous spring flowering plants may indicate the place of last year's fall planting purchased plants and safeguard them from accidental trampling — because tender shoots is poorly visible on the General gray-brown background of fallen leaves or mulch, and you during the long winter, might forget the exact place of their landing. Look how funny the tender young shoots of herbaceous and tree-like peonies look surrounded by spring primroses! This is their third advantage.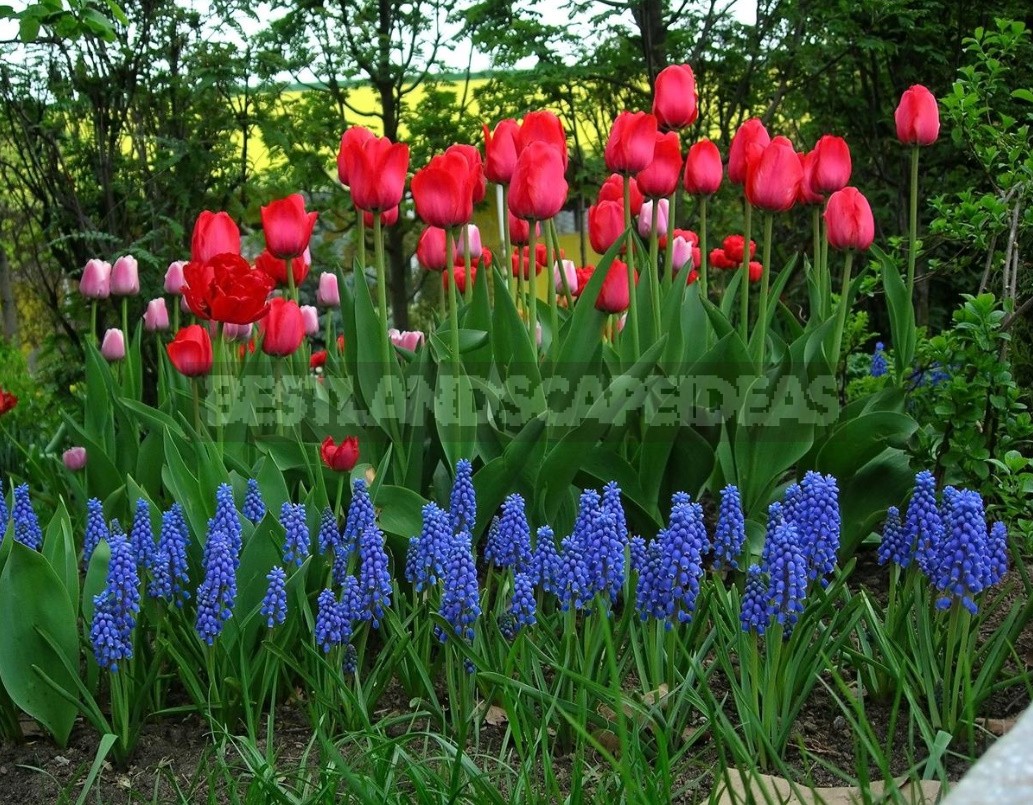 The flowering time of crocuses in the middle zone usually lasts from the end of March to the middle or end of April and with the right selection of varieties can last up to 5-6 weeks. Skilfully selecting a place for planting and correctly combining them with other primroses, you can significantly extend the flowering period of your flowerbeds. For example, at the southern wall of the house or on well-lit hills, they will bloom 2-3 weeks earlier than in a shady place, and Vice versa, flowering will be delayed if the same varieties are planted under tall trees, at the Northern wall, a blind fence or under tall and dense conifers.
Flowering bulbs can also be deliberately delayed for 1-2 weeks, carefully trampling the snow in the right places for this purpose, especially if they are in the shade or on the North side of buildings.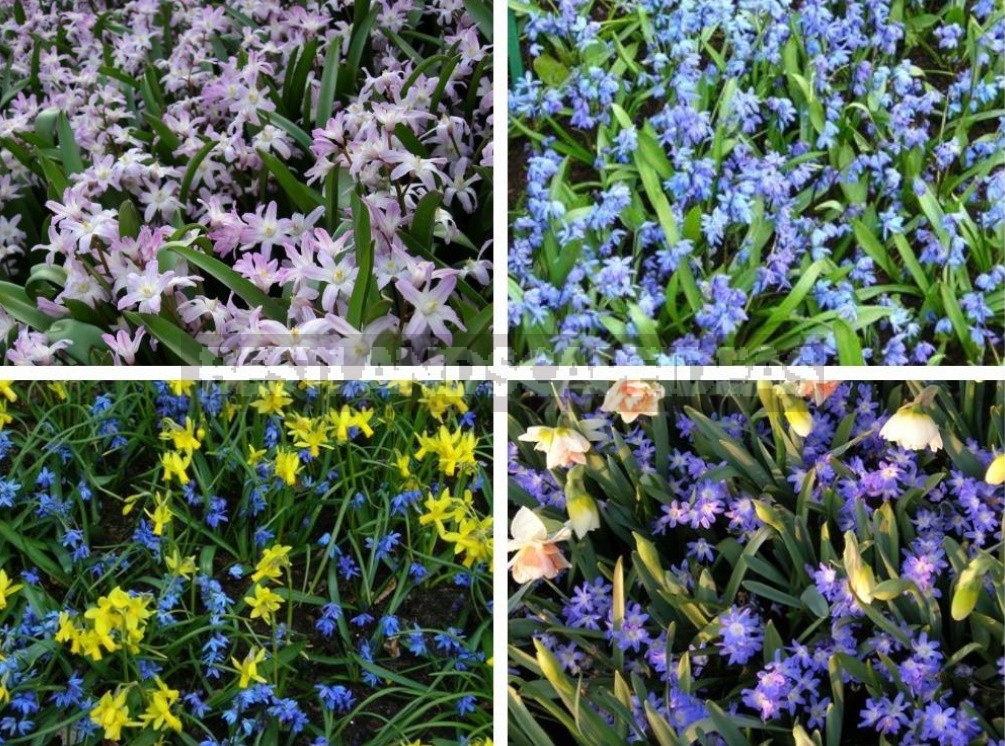 Immediately after the crocuses, the spring Symphony of bulbous blooms is joined by bright Scilla, Chionodoxa and Muscari. A little later, they will be replaced by Small Bulbous Fritillaria. Larger flowers bloom much later, around the middle or near the end of may. Usually their flowering already coincides with the flowering of late tulips and the first decorative bows.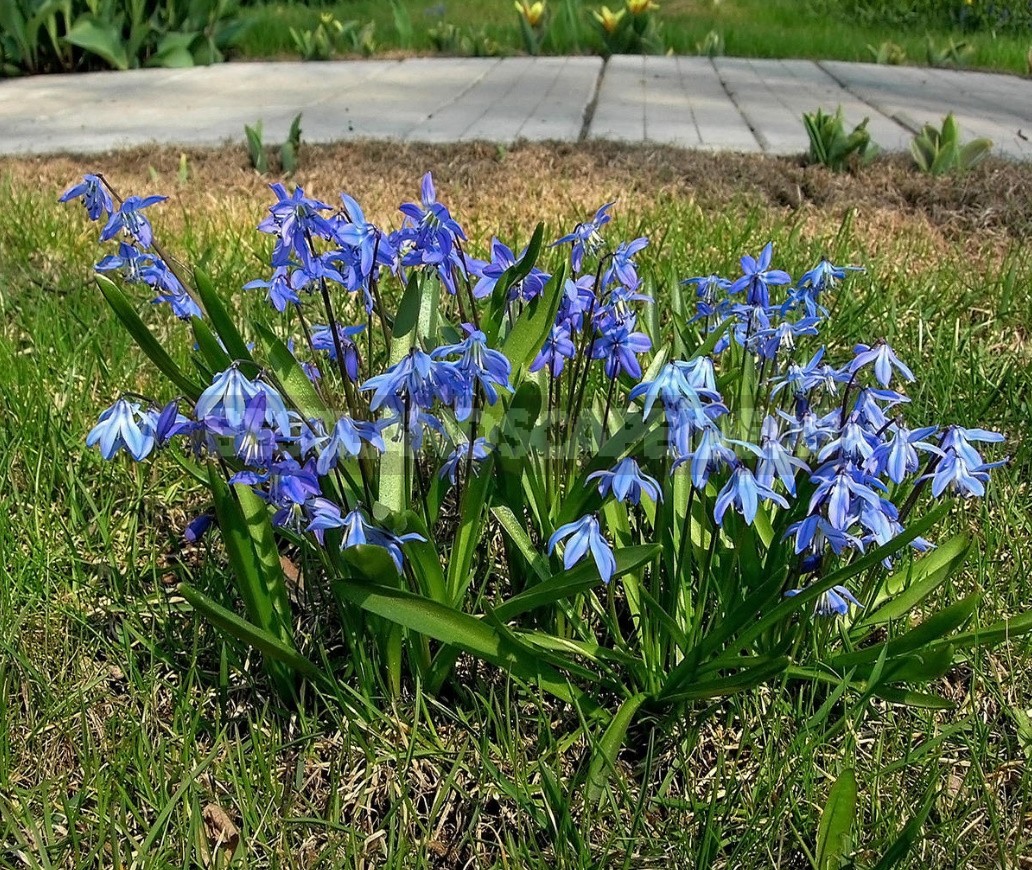 Scilla look good anywhere in the spring garden. Of course, they are best suited for partial shade under coniferous, barberry, Buxus or other decorative shrubs. But they will feel quite comfortable in the sun, and even in almost full shade. This also applies to other Small Bulbous plants. The fact is that during the period of their flowering and intensive vegetation, most trees and shrubs have not yet opened their leaves, but only just budded. Accordingly, the first rays of the sun freely penetrate to the ground, carefully caressing the delicate flowers and especially the young leaves of primroses, which during this period intensively stores nutrients for the same exuberant flowering in the next year.
Early Small Bulbous plants can be planted separately, creating small Islands of white or blue Scilla, Puschkinia, Chionodoxa, Ipheion and Muscari or mass monocultural landscape planting, as well as combine with early species of tulips, low daffodils, Anemone or Hyacinthus. They will fit perfectly into any, even shady corner of your plot, garden or Park, will look original on any early spring flower bed or the edge of the nearby forest.
By the way, white Scilla is still very little common and is quite rare. They are very well combined with bright blue relatives. Among the Chionodoxa varieties 'Pink Giant' and 'Blue Giant' are very memorable.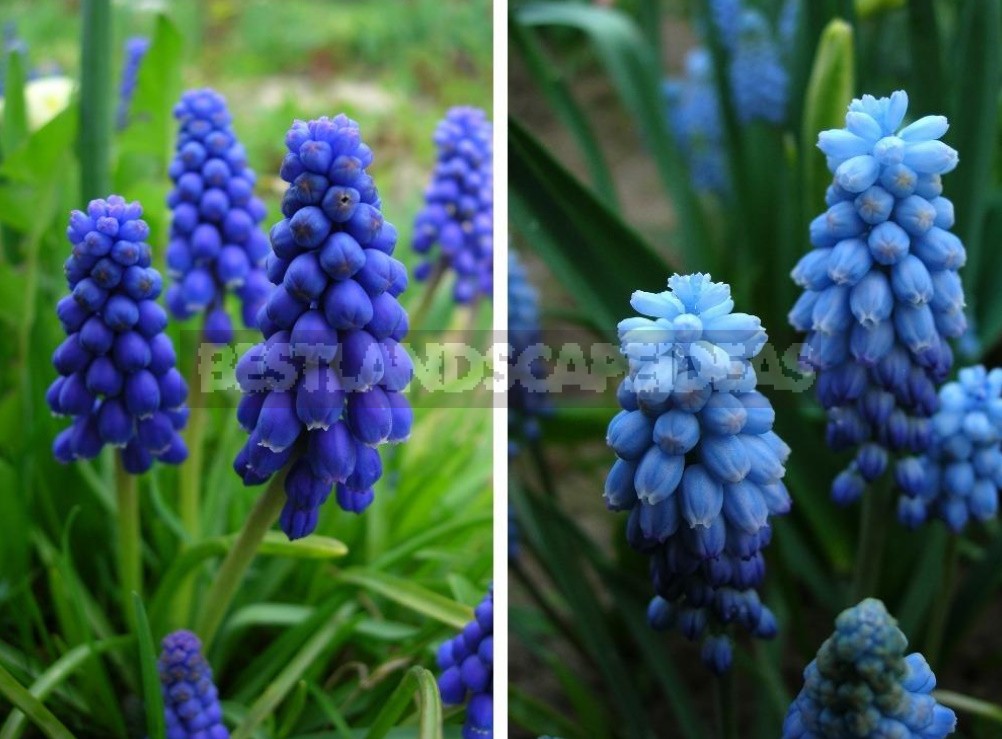 Separately, I would like to talk a little about Muscari. Their species and varieties are already known quite a lot, they are slowly conquering homesteads and gardens. Personally, I especially like the usual dark blue Muscari Armenicum. Such interesting varieties as 'Bicolor', 'Valerie Finnis', 'Dark Eyes',' Golden Fragrance',' Blue Spike',' Atlantic',' Fantasy Creation',' Sky Blue ' and others are beautiful in themselves and may well decorate your favorite rocky hill or become a bright accent in a mixed border. Muscari, by the way, are very well driven out and grow in floor pots and vases.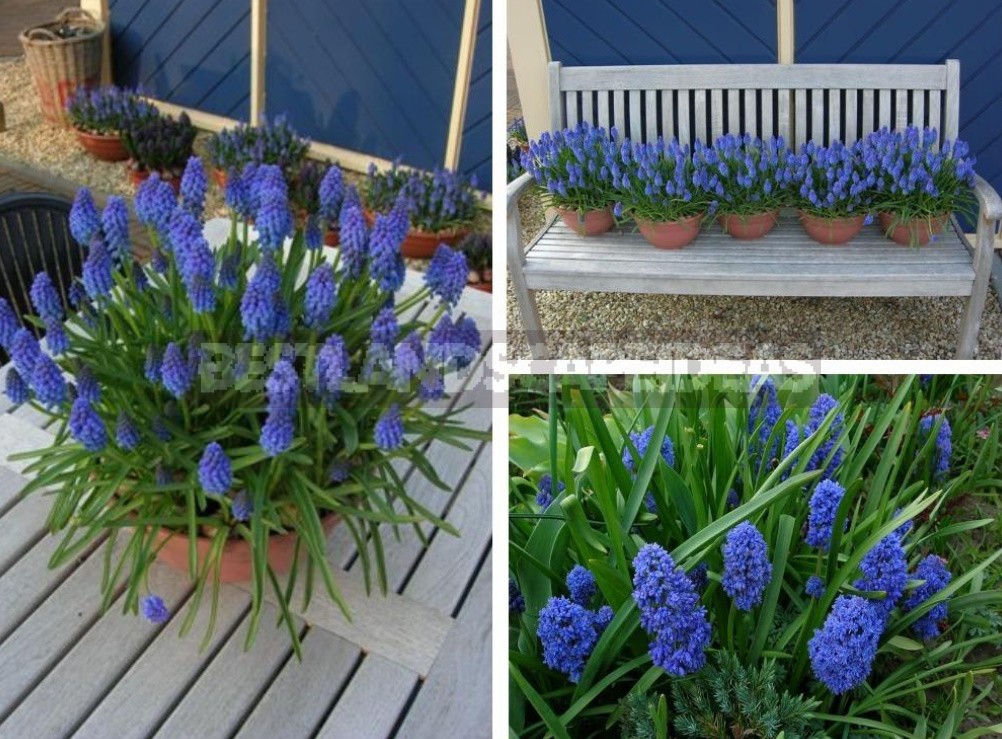 Few garden plants can match the practicality and elegance of blooming anemones, stretching their small bright heads towards the rays of the gentle spring sun. There are many interesting varieties of this wonderful plant. These Are 'Blue Shades', 'Rosea',' Charmer',' Pink Star',' Radar','Violet Star'. And finally, the most popular and well-known white-color form — 'White Splendour'.
Anemone caroliniana is a perennial and highly ornamental garden plant. Its flowers (5-8 cm in diameter), partly resembling poppy flowers, are simple, double and semi-double forms, a variety of double and single colors. Plant height is 30-40 cm. I highly recommend the amazing red variety with a white center 'Governor', as well as Terry varieties' Lord Leitenant 'and'Admiral'.
Anemone can be planted in both spring and autumn. When planting in autumn, the plants should bloom in may-June, spring planting will ensure flowering in July-August.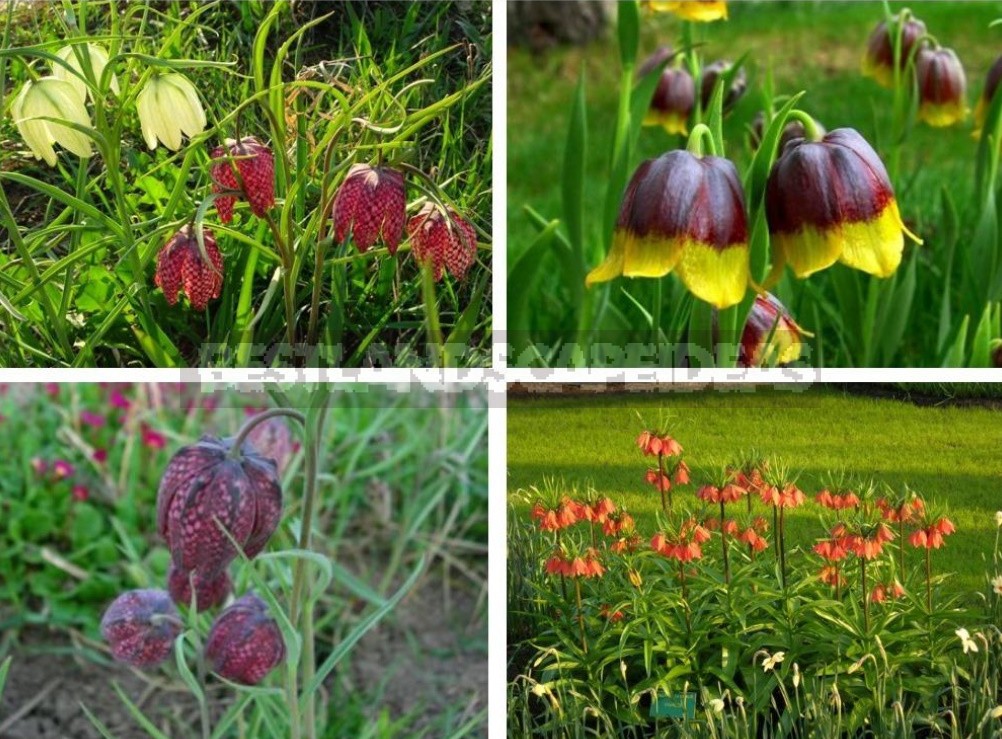 Very funny and very elegant looks a small hillock, strewn with very unpretentious and practically do not require maintenance Fritillária michailóvskyi. And nearby, Fritillaria meleágris gently sway in the wind, feeling great in the shade of ornamental shrubs and climbing roses…
When planting plants in groups, do not forget to select matching colors. Especially elegant are single-color compositions, compositions with different shades of the same color or Vice versa — completely contrasting.
Small Bulbous plants are great for planting in floor pots, planters or decorative baskets, which can be placed close to the front door or on a garden table during flowering, or decorate a wall bench or Foundation with them. In Holland, I even saw Small Bulbous flowers planted on the roofs of houses and various outbuildings, as well as in the bodies and cabs of "abandoned" cars and even inside unnecessary shoes. This is their fourth important advantage.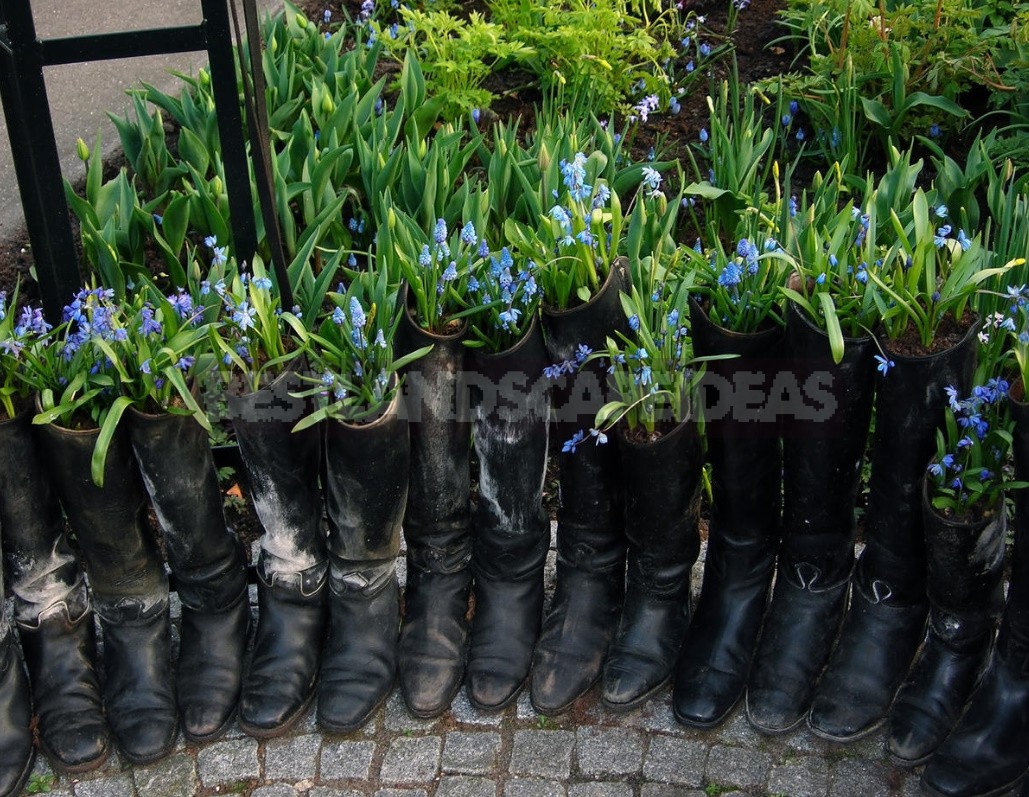 If you have a very difficult place, Small Bulbous plants can be quite planted in the upper tier, i.e. on top of other plants, since the planting depth is much less than that of larger bulbous or perennials.
Propagation of Small Bulbous plants
Crocuses, Muscari, bulbous irises and daffodils reproduce quite easily and quickly. Often the reproduction rate is from 1:2 to 1: 5. Therefore, once every 3-4 years, their overgrown nests have to be divided.
The division should begin when the foliage of plants has completely dried up. As a rule, this is done towards the end of June or early July. Before the next planting, it is desirable to wash the dug-out bulbs well, disinfect them with some permitted fungicide or at least with ordinary permanganate and, after drying them well, leave them for at least a few weeks in a dry, shady and well-ventilated place.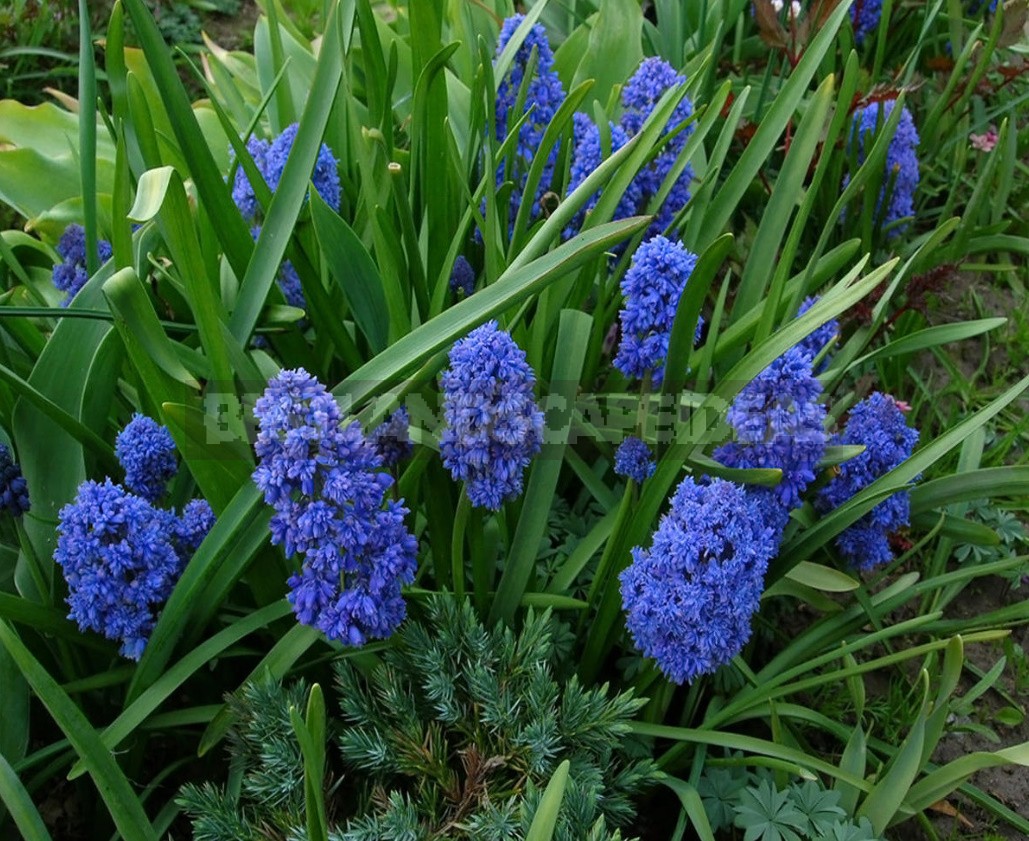 Plant Small Bulbous plants, contrary to established misconceptions, should not be in August and early September, but about 3-4 weeks before stable frosts, i.e. at average daily temperatures of + 10 degrees and below. This (depending on the region) is usually October or even the beginning of November. But the place for landing is possible and necessary to prepare in advance, in September and October.
It is important that the weather is relatively dry, and you would be comfortable and comfortable doing this kind of planting. At the same time, be sure that the plants will have time to root well enough and prepare for winter. And the most important thing — at such landing times, they are almost not affected by any viral and fungal diseases.
The planting depth of most bulbs is about 2.5-3 of the height of the bulb, if you count from its bottom. The distance when planting between plants depends on the type and purpose of the created composition and varies from 5 to 12 cm.
Good luck with your experiments in growing these extremely beautiful plants!