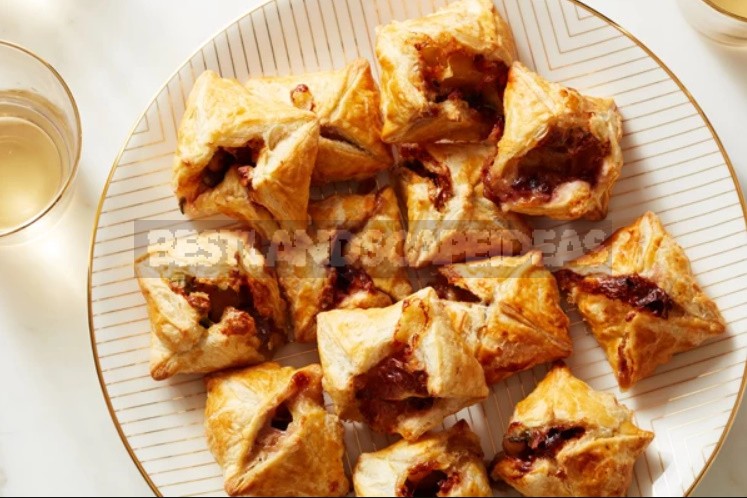 On the holiday table there is always a large selection of dishes, because this is an indicator of prosperity and wealth in the house. A variety of snacks are not the last place on it, but rather the opposite. They are always in demand and fairly quickly come to an end. Therefore, we recommend that you stock up on another dozen snacks that will help you out more than once. Profiteroles, spring rolls, tartlets and not only. Everything is very tasty and, of course, useful!
1. Profiteroles with shrimp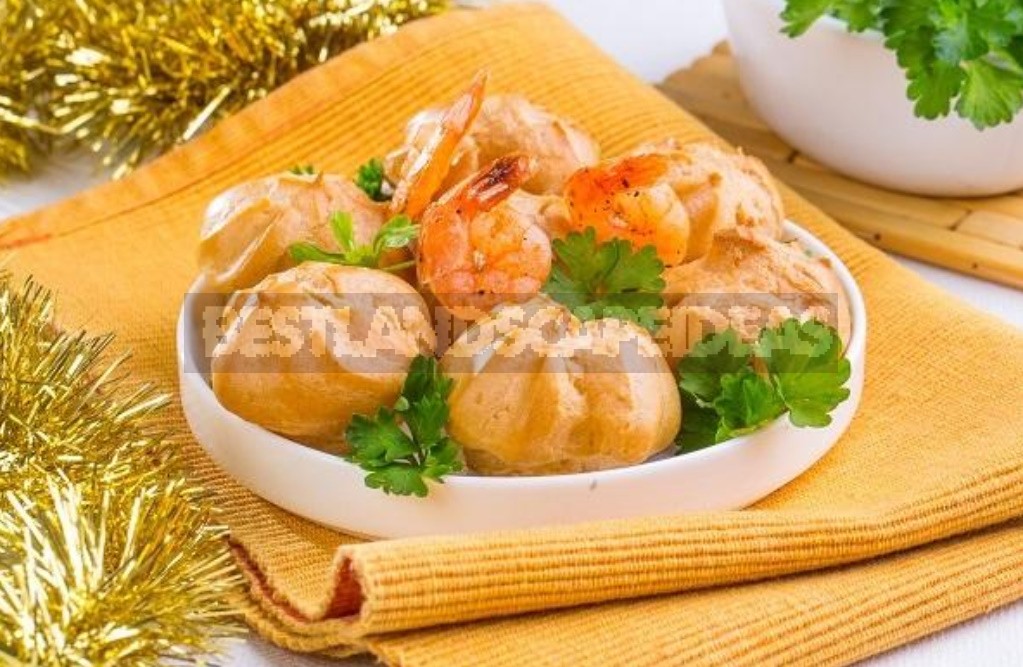 Ever need:
For the dough:
pinch of salt,
100 g butter,
180 g flour,
4 eggs.
For the filling:
100g peeled shrimp,
2 hard-boiled eggs,
70ml heavy cream,
2 sprigs of greenery,
whole prawns and green leaves for decoration,
salt, ground black pepper.
Preparation:
Bring to a boil 150 ml of water with a pinch of salt and oil. Stirring constantly, add the flour and cook for 3-4 minutes, without stopping stirring. Remove from heat and let cool.
Beat the eggs one at a time and mix in the cooled mass. The resulting dough from the pastry bag is deposited on a baking sheet lined with parchment, and bake for about 30 minutes at + 180°C. Let cool and cut in half.
For the filling, boil the shrimp and chop in a blender. Whisk the cream, chop the greens and combine with the shrimp mass. Season with salt and pepper.
Fill the prepared mass with profiteroles, garnish each portion with shrimp and green leaves.
2. Roll with greens and red fish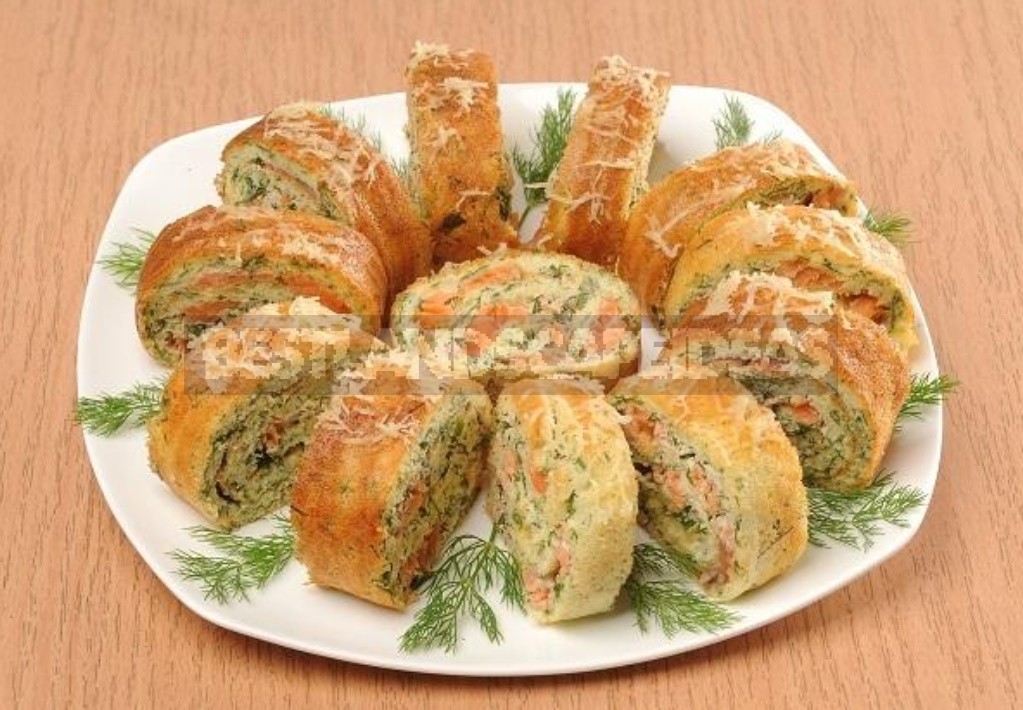 Ever need:
For the dough:
25 g butter,
25 g flour,
175 ml of milk,
3 eggs,
60 g hard cheese,
1 bunch of parsley and dill.
For the filling:
200-220 g of weakly salted trout,
70 g hard cheese,
1/3 teaspoon ground black pepper,
150 g sour cream,
1 bunch of dill.
Preparation:
Melt the butter in a saucepan, add the flour and mix quickly until smooth. Pour the milk into the pan in a thin stream, stirring constantly until all the lumps are dissolved. Then reduce the heat and cook, stirring, until thickened mass. Remove the pan from the heat, add the yolks, grated cheese, chopped herbs and mix well.
Preheat the oven to + 180°C. cover the baking Sheet with baking paper. Whisk the whites into a thick foam. Carefully combine them with the cheese and egg mass, stirring with a spoon from top to bottom.
Pour the resulting dough on paper and spoon it over the baking sheet. Put in a heated oven and bake for about 15 minutes until lightly browned.
Cut the fish into small strips. Combine it with sour cream, finely chopped dill and season with pepper.
Remove the baking sheet from the oven, cover with another sheet of paper, let cool for 15 minutes. Then remove the paper, sprinkle the finished cake with grated cheese (a little cheese to leave for decoration).
Put the filling on it and distribute it evenly. Using a sheet of paper, carefully roll the cake into a tight roll. Let it stand for a while, so that it takes shape.
3. Quick rolls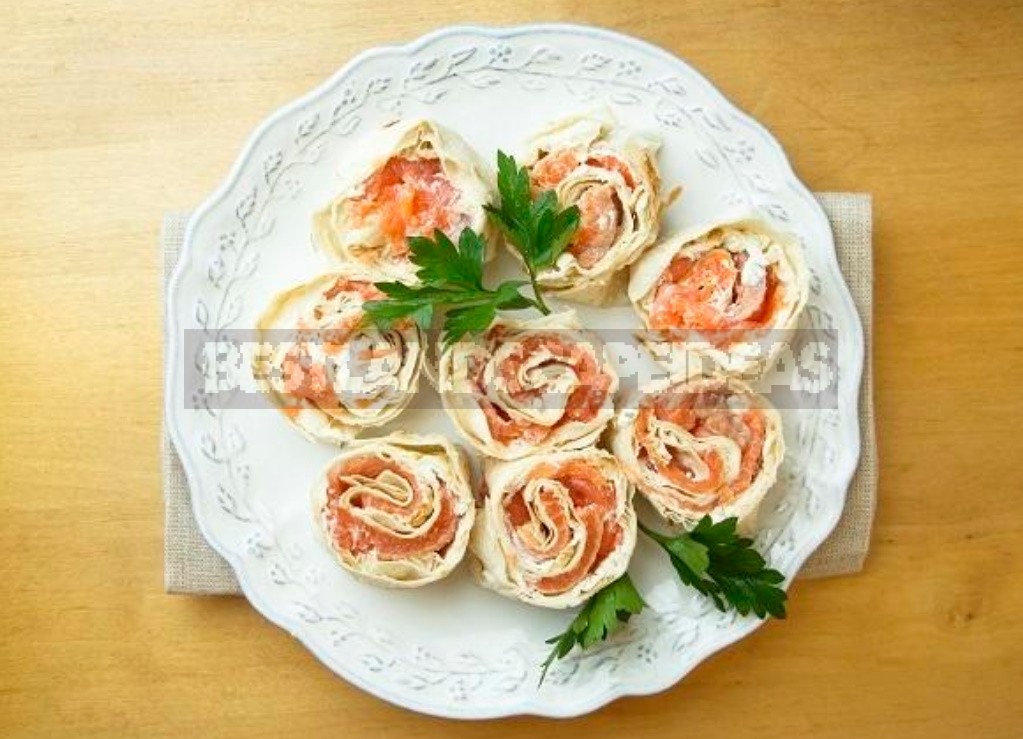 Ever need:
1 Armenian lavash,
400 g of red salted fish,
250 g cream cheese,
2-3 cloves of garlic,
bunch of greens,
salt and pepper.
Preparation:
Red fish (best obtained with salted salmon) with a sharp knife cut into thin long slices. Greens (parsley or dill) well wash and dry with a paper towel. Then finely chop the greens. Peel the garlic, finely chop it or pass it through a garlic press.
Combine the chopped herbs, crushed garlic and cream cheese and mix well. Expand the pita leaf, spread with cheese mass, if desired, a little salt and pepper. Roll the pita bread into a tight roll and cut into portions.
Put the rolls on a plate, decorate with greens, if desired, red fish can be sprinkled with lemon juice.
4. Celery with cottage cheese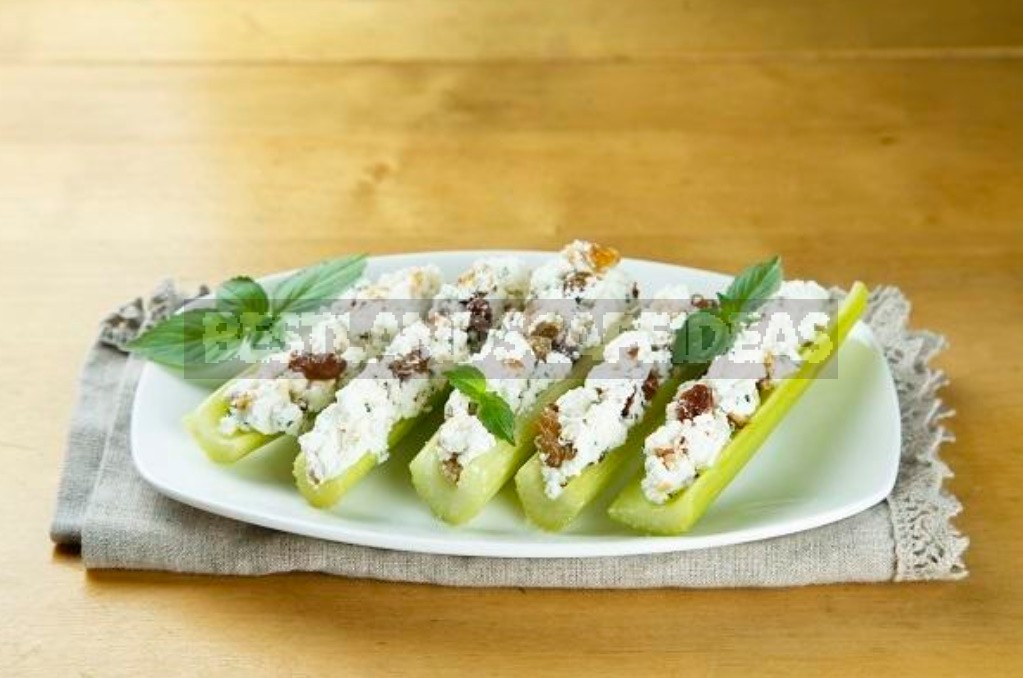 Ever need:
4 celery stalks,
200 g cream cheese or cottage cheese,
3 tablespoons raisins,
3 tablespoons walnuts,
honey to taste,
pinch of salt,
green.
Preparation:
Wash the raisins in hot water, put them on a paper towel and let them dry completely. Walnuts fry in a dry pan, let cool and chop with a knife.
Cottage cheese, salt, raisins, walnuts combine and mix well. Wash the greens, dry and finely chop.
Have stalks of celery to break off the leaves. The stems are well washed and also dry. Cut each stem into 3 equal parts.
In the middle of the stems carefully put the curd mass. To taste, pour liquid honey and sprinkle with chopped herbs.
5. Snack cake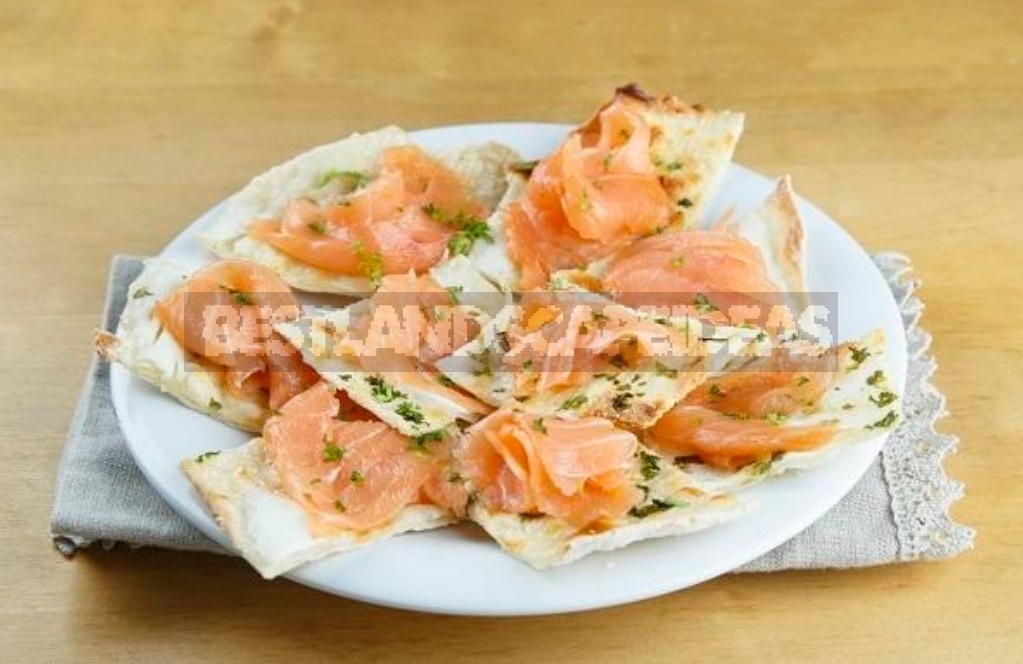 Ever need:
250 g flour,
1 egg,
100 ml of warm water,
1 tablespoon vegetable oil,
100g smoked salmon,
3-4 tablespoons sour cream,
a few sprigs of dill and parsley,
salt and pepper to taste.
Preparation:
Knead the dough. The flour previously sifted, add the salt and mix well. Pour in the water and vegetable oil. Mix well again. Cover the kneaded dough with cling film and let it stand for 15 minutes.
Work surface lined with parchment paper. Put the dough on it and use a rolling pin to roll out into a very thin layer.
Dill and parsley wash, dry with a paper towel and finely chop. Half of the chopped greens combine with sour cream, add salt, a little pepper and mix well.
Spread the dough evenly with sour cream. Preheat the oven to +200°C. Bake for about 15 minutes. Smoked salmon finely chopped. Take the cake out of the oven, put the pieces of salmon on it and serve.