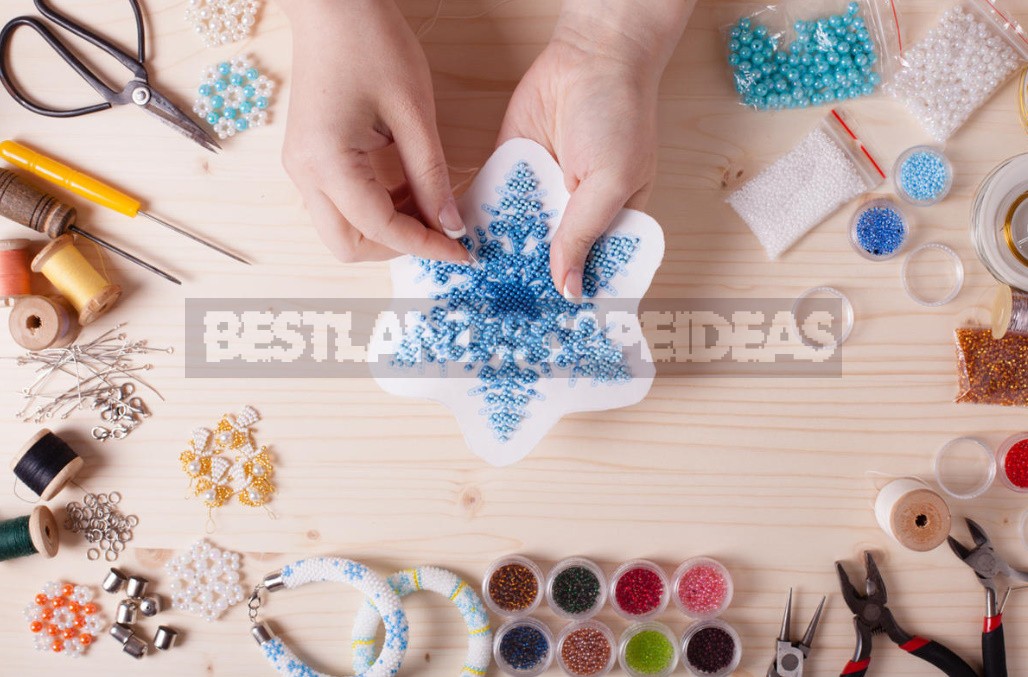 Probably, no other holiday awakens so much creative activity of the population as the New year. Decorate everything and everything: streets, shops, schools, offices and, of course, their own homes. Even in trams and trolleybuses in these pre-holiday days there will be snowflakes on the Windows, a string of tinsel and Christmas balls.
Paper snowflakes-beautiful and accessible even to children. But this is not the only possible option. Those who know how to use a needle and needles will be able to make winter decorations in familiar ways. Add to the piggy Bank of ideas options for needlewomen.
1. Sew
Festive decoration can be sewn from fabric. Such a cheerful snowflake will decorate the children's room. And after the holiday, plump snowflakes-smileys will become decorative pillows or toys for kids.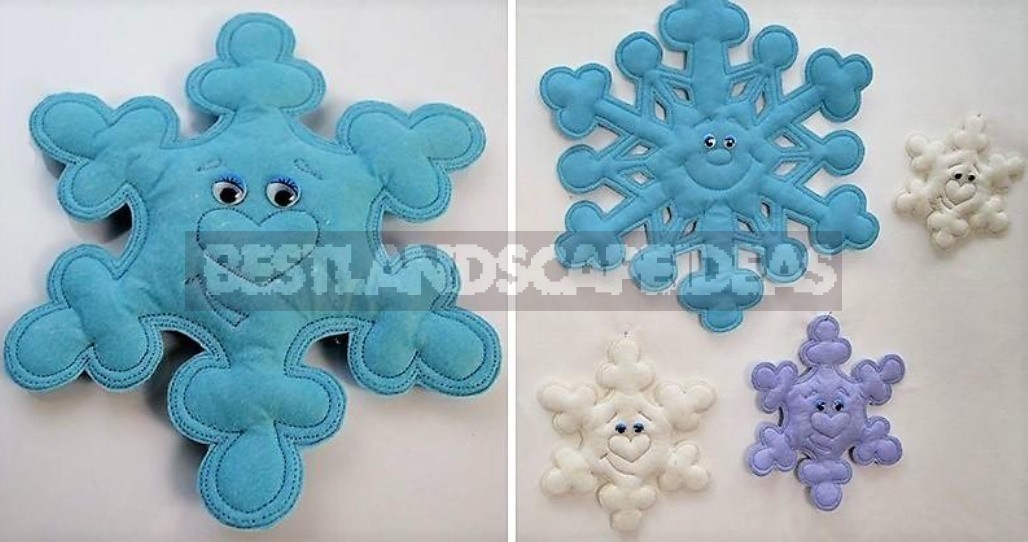 2. Made of felt
If you do not sew very well, choose felt. It is easy to process and even do not need to sew, and the result is impressive.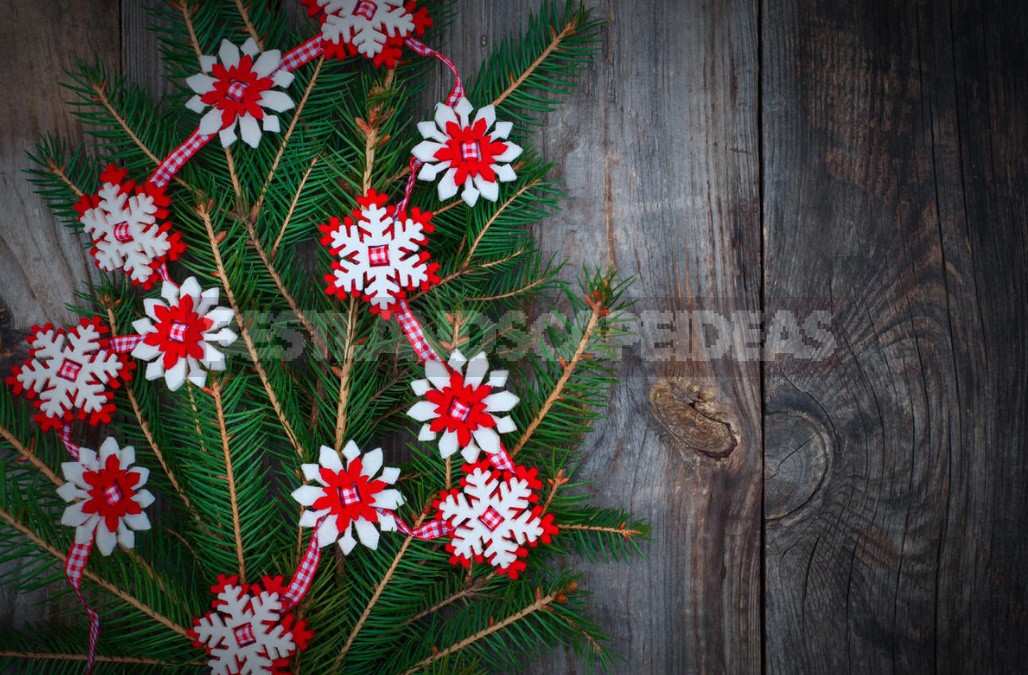 Tip: you can use a non-woven double-sided adhesive material for applications with a flizofix to fasten the felt parts (for example, for a white-red snowflake, as in the photo above). It is laid between two elements that are ironed.
3. Embroider
Can you embroider? You and the Hoop in hand! Medallions with elegant embroidery are charming not only as a new year's decor. Smooth, cross, Richelieu-all embroidery techniques are good in creating Christmas decorations.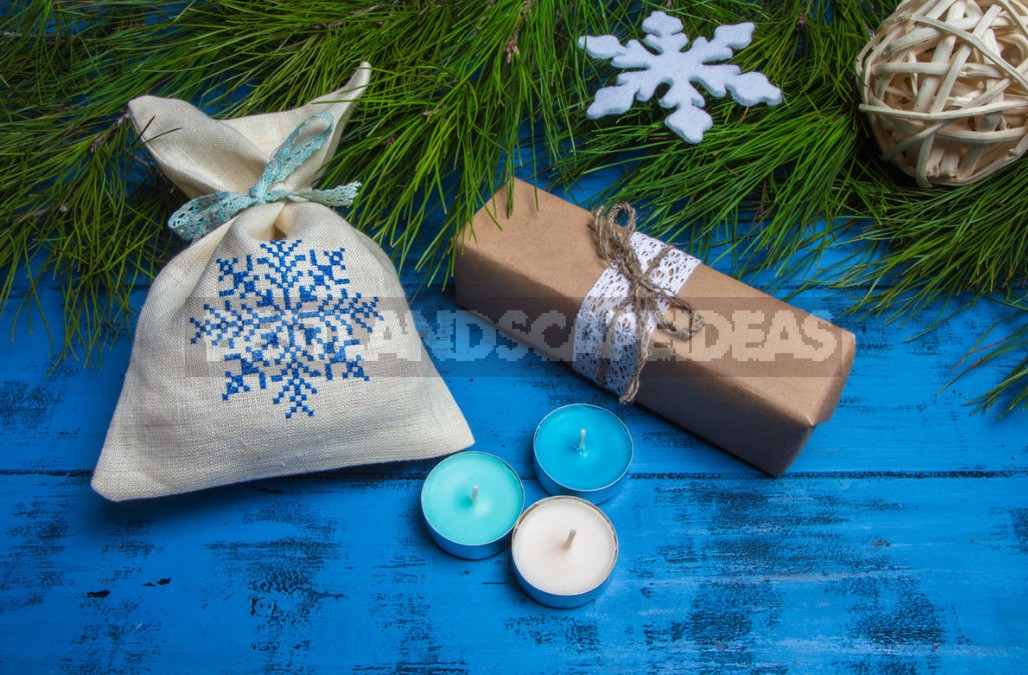 4. Knit
Napkins, crocheted, today many are perceived as philistinism and bad taste. If in the far drawers of the Cabinet there are samples given by your favorite aunt, but, in your opinion, do not fit the style of the interior, look at them. White knitted round napkins themselves look like snowflakes. Perhaps, at last, the time has come when what has been made over the years will come in handy.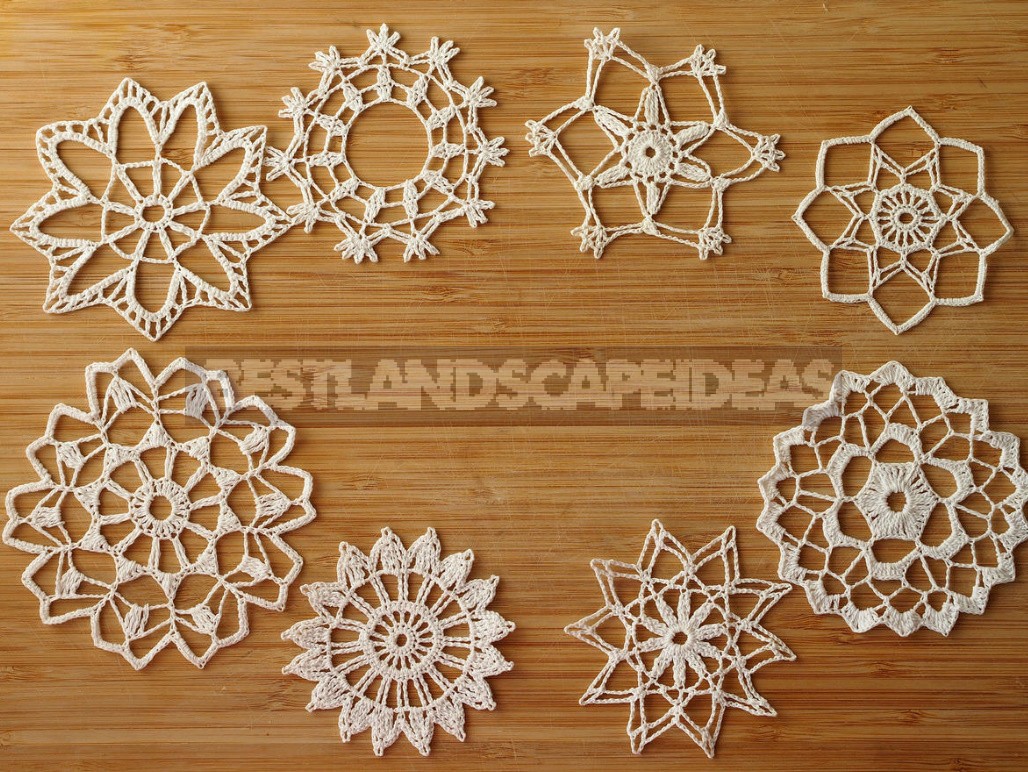 And if you (like me) think that napkins are beautiful, and know how to use a hook, feel free to knit snowflakes and decorate the Christmas tree with them. Just don't forget to starch it.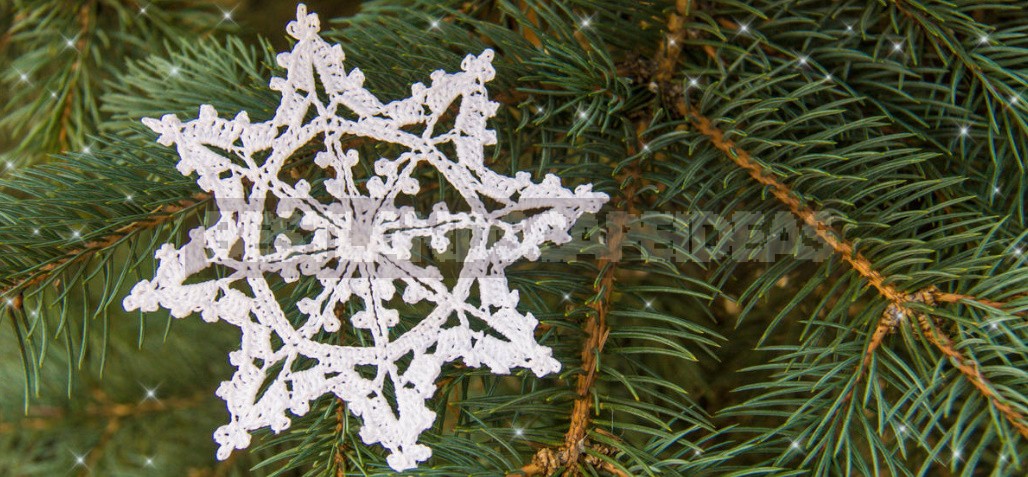 5. Christmas lace
Real small masterpieces can be created by needlewomen who know the art of frivolite or similar techniques-Turkish lace, macrame.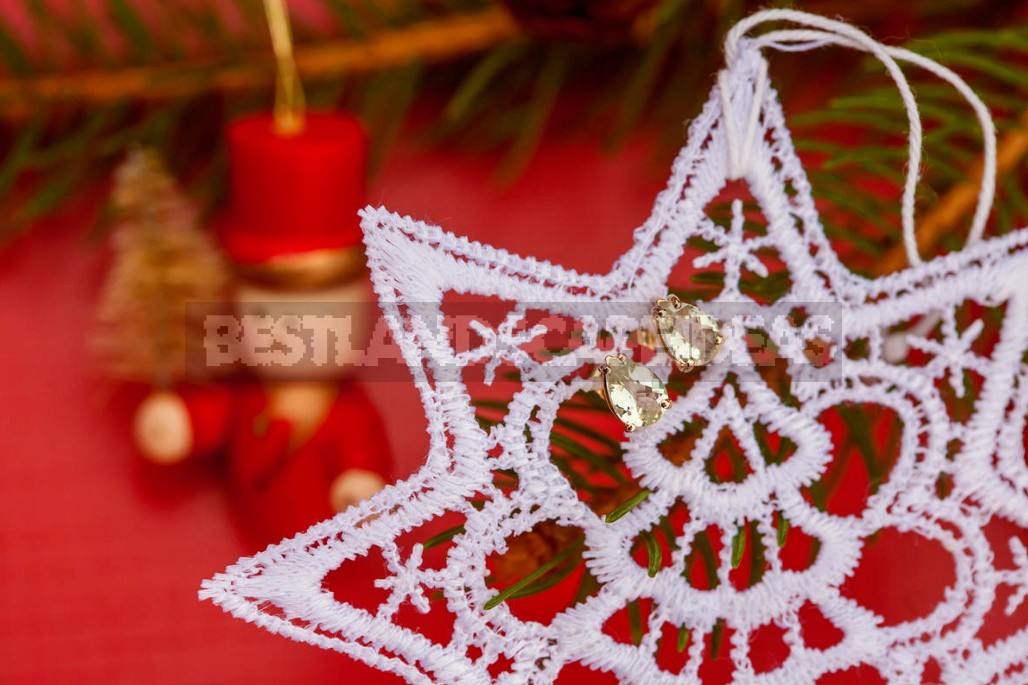 Masters who know how to use bobbins and know a lot about Bruges, Alencon, Venetian and other laces will create a new year's decoration, which can only compete with the snow Queen herself.
6. Snowflakes out of thread
If weaving lace-not your hobby, too, do not worry: choose a suitable wooden base, draw a snowflake of your favorite shape and drive along the contour of the carnation. Then take the ball and pull the thread, creating a drawing in the technique of string art. The more carnations, the more openwork and interesting texture will turn out.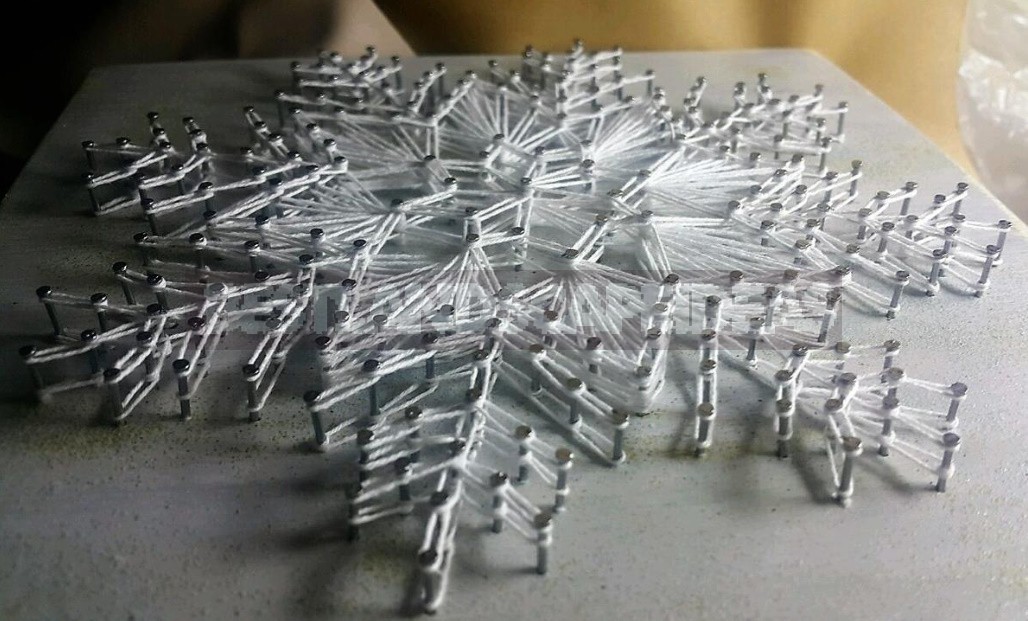 7. Wallow
Do you know the technique of felting wool? Then you should not tell that snowflakes can be warm. And if this needlework is not yet included in your list of skills, it's time to try to dump something like that. Preparing for the New year is a great opportunity to learn something new.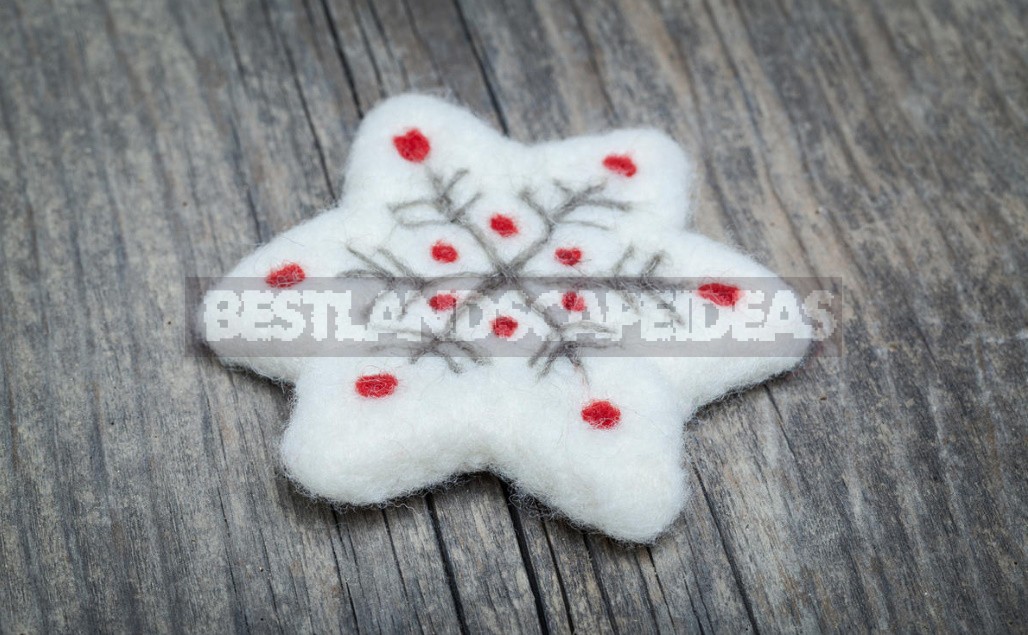 8. Snowflakes made of wire
Do you want to decorate the Christmas tree with jewelry? Make snowflakes in the technique of wire wrap-from wire.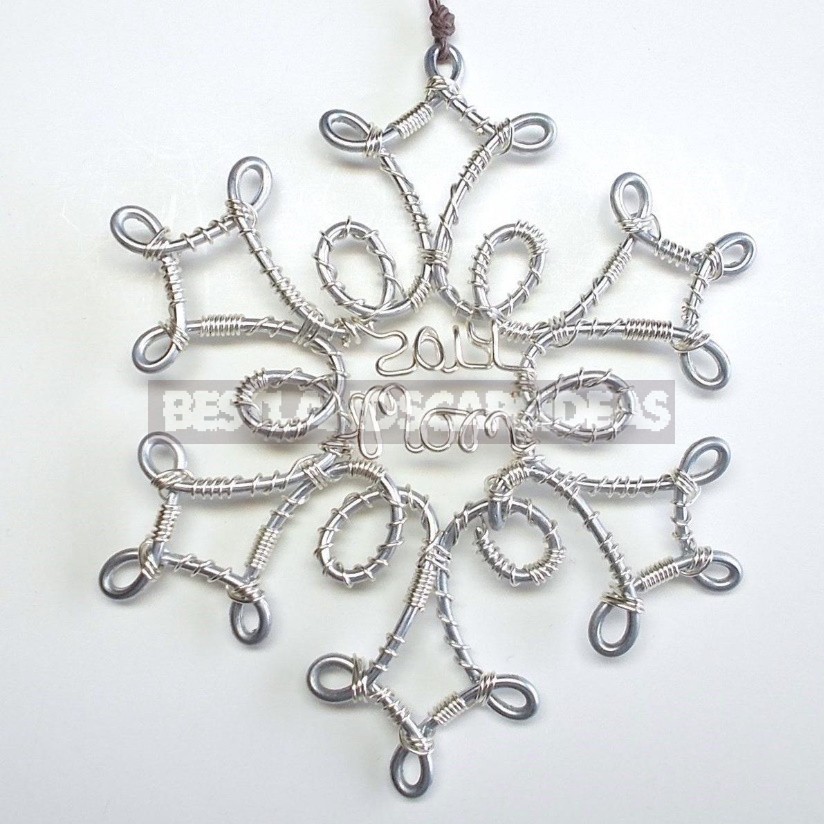 9. Snowflakes from beads
Skillfully made decorative elements of this material are already beautiful, but you can add them with beads and beads. Or weave the product completely from beads.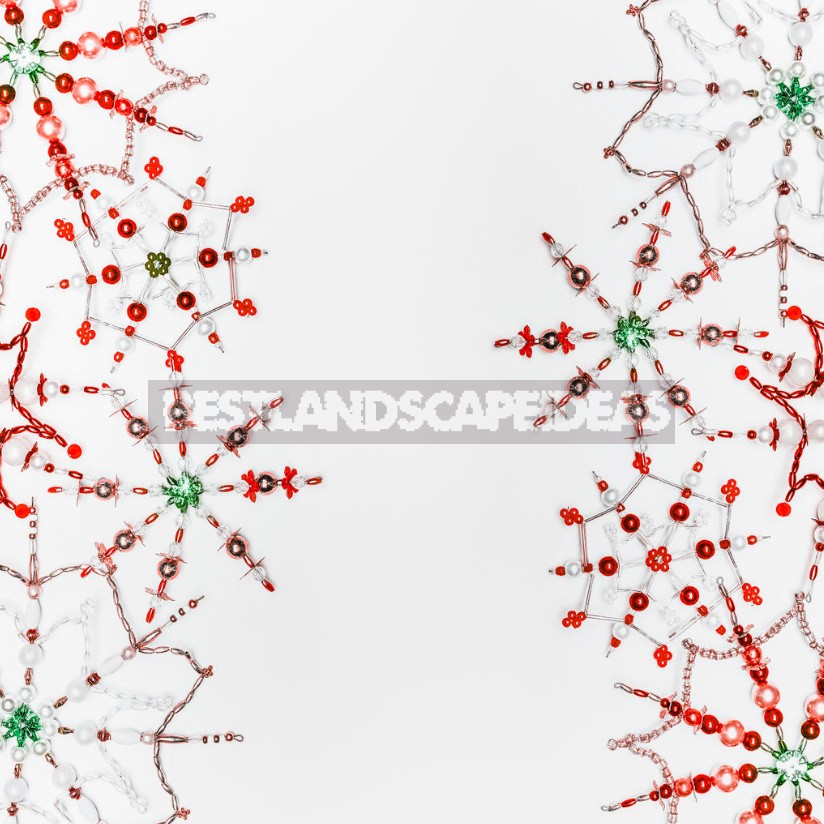 10. Wooden snowflakes
Snowflakes-light, like fluff. But these are real, and decorative can be heavier. For example, wooden. Assemble a festive geometric figure from thin wooden slats. Or, for example, ice cream sticks.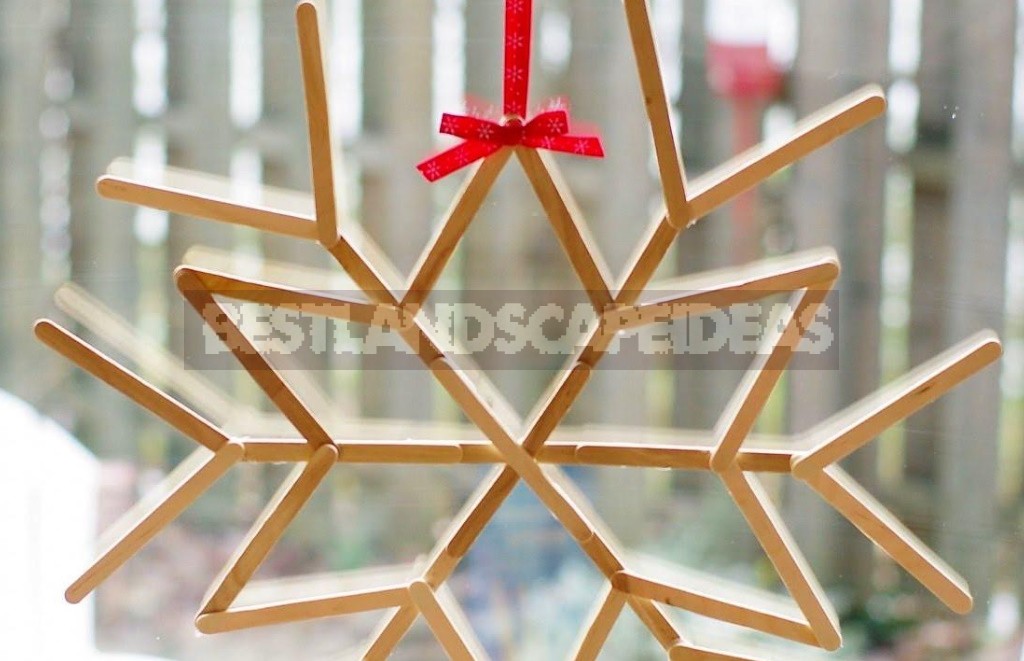 11. From clothespins
If there is no time, but there are wooden clothespins, then you can quickly make Express snowflakes.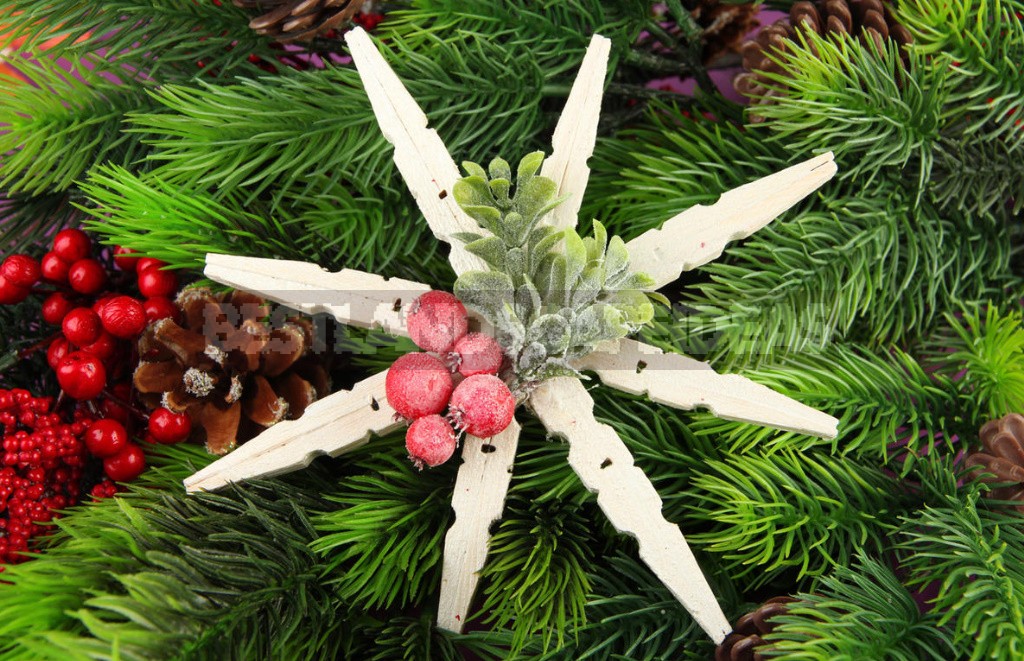 12. From plywood
Do you have a jigsaw? Try cutting a snowflake out of plywood. Large-format figurines – for interior decoration. And small ones can be scattered on the table or floor, attached to a gift. And, of course, use to decorate the Christmas tree.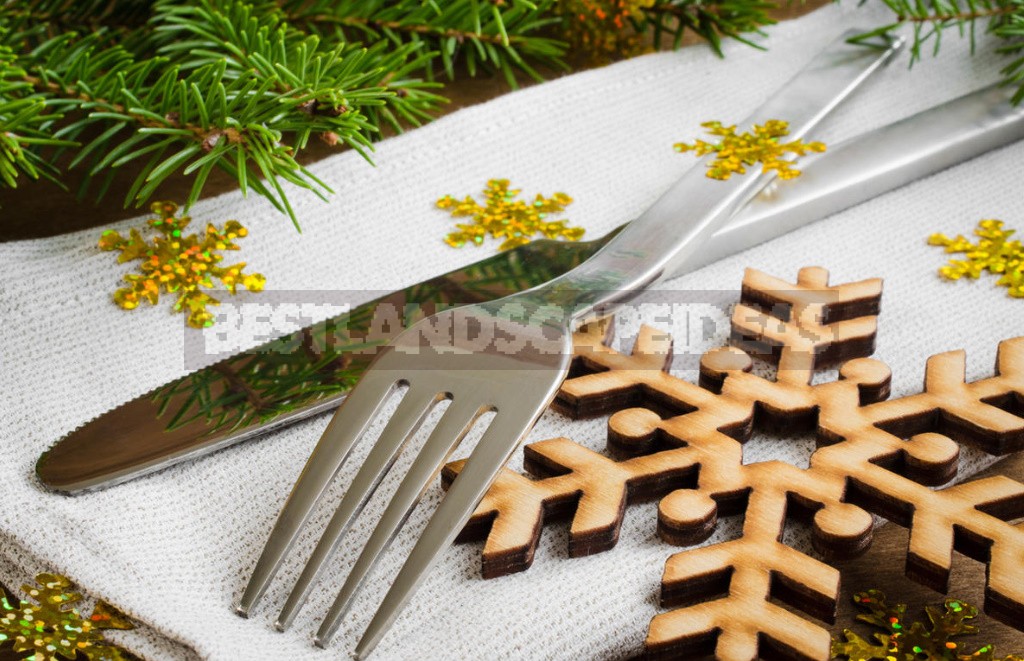 13. Wooden saw blades
And you can burn snowflakes on the spits. This is a very interesting and simple technique.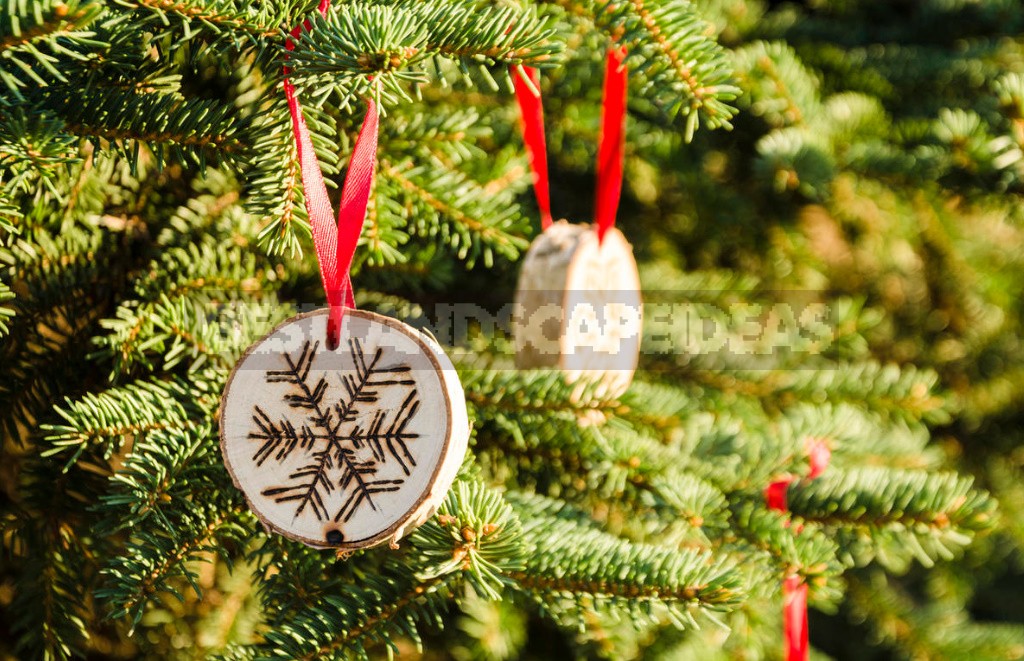 14. The decor of the tubes
Have you seen this before? Hardly. Snowflakes from traffic jams will turn out large, so for the Christmas tree will not fit. But for decorating the walls of a city apartment or country house, they are useful.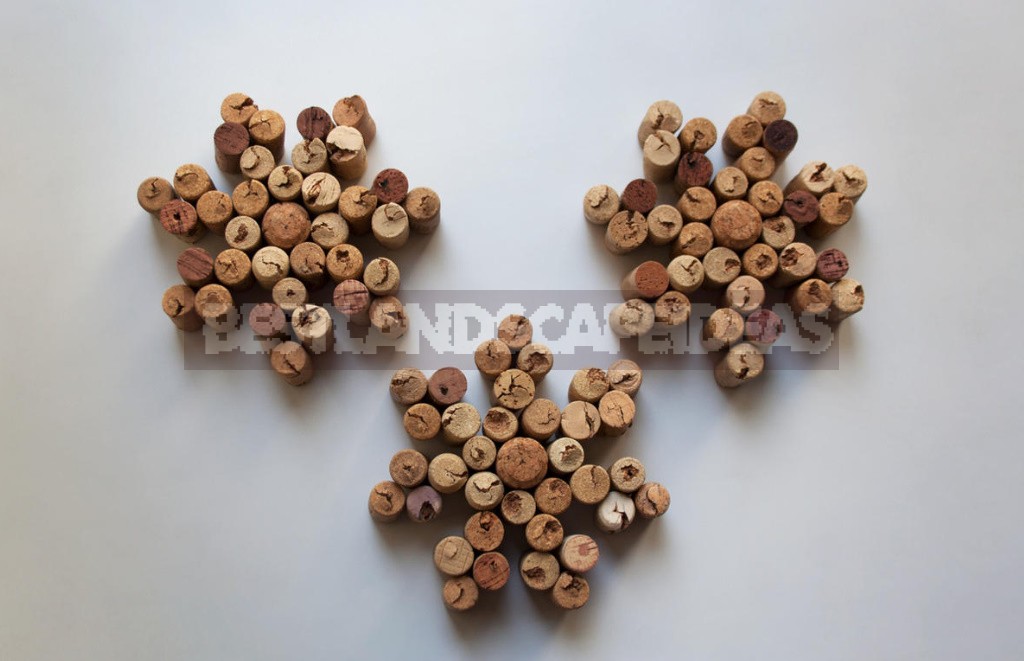 15. Using cones
Stylish decoration can be made from dry twigs or spruce legs. And also from cones, acorns, seeds and other finds from forest walks.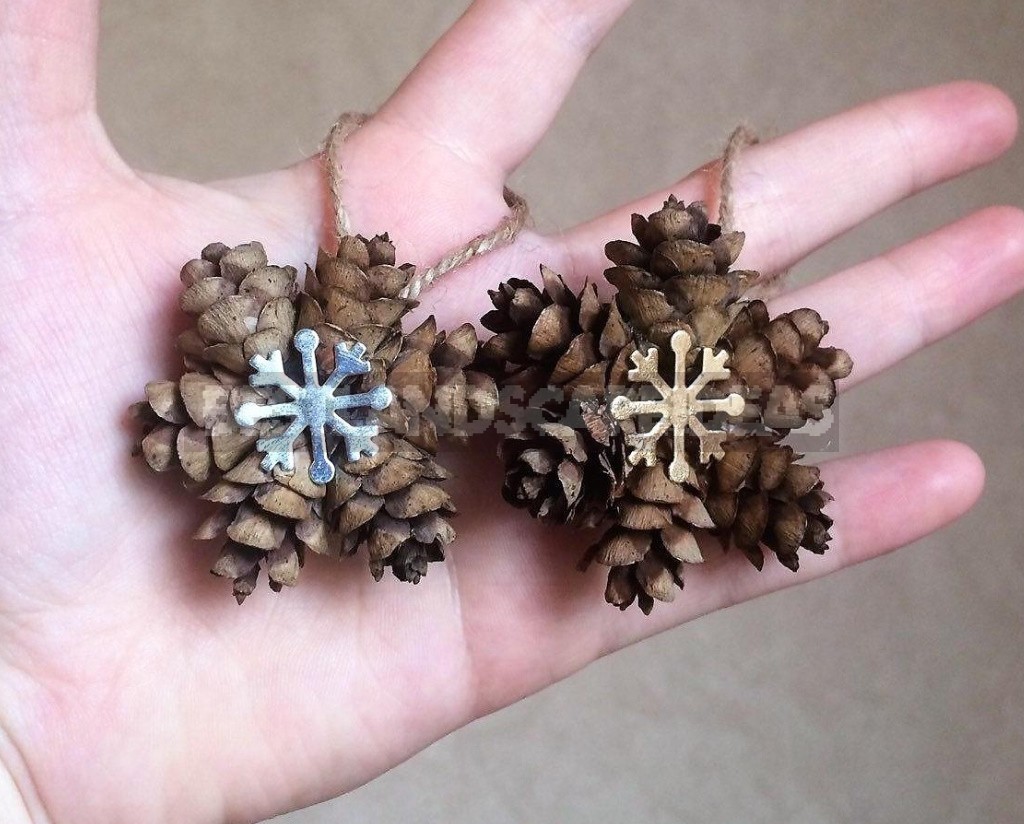 16. From straw
Straw snowflakes are popular in Poland. Such festive crafts are elegant and beautiful. Or you can just cut a snow motif out of an orange peel.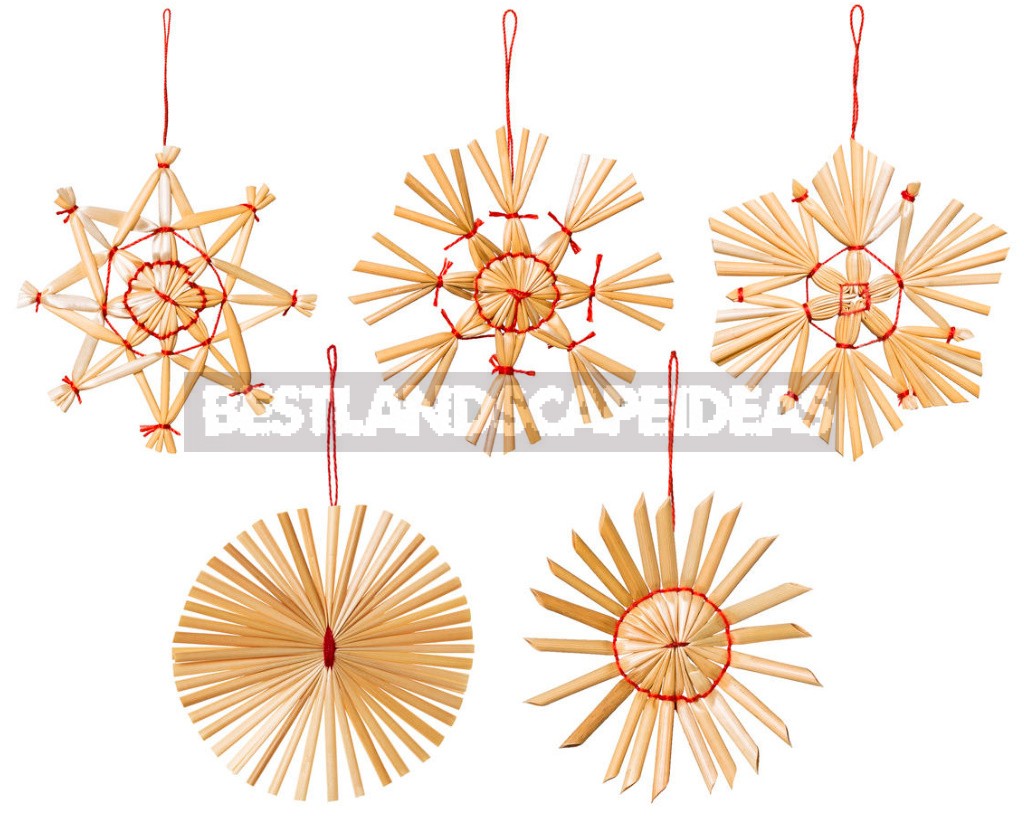 17. Snowflakes from different sheet materials
For Christmas decorations, you can use not only paper. Snowflake paper cutting can be cut, for example, from birch bark. Or from modern materials: foamed polyethylene (laminate substrate), foamed or just paperboard, plywood, sheets of fiberboard, chipboard, OSB, plastic, plexiglass, foam, drywall — all that is found in the construction store.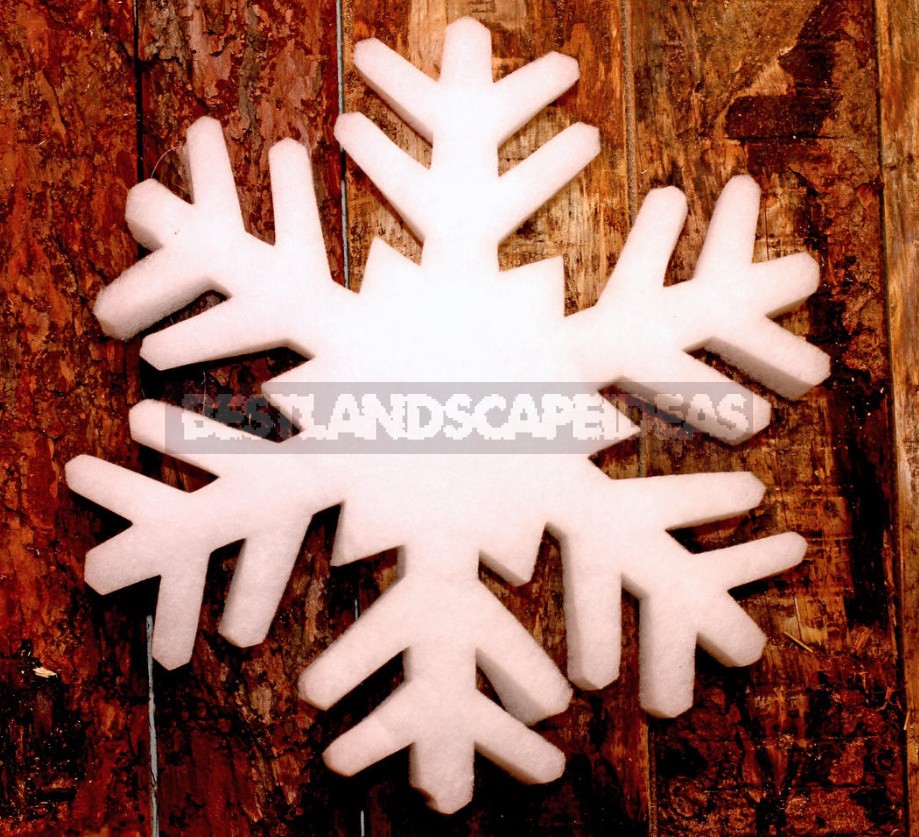 18. From plastic
Large snowflakes made of artificial materials (such as polyethylene foam, foam, plexiglass or plastic) are useful for outdoor decoration — they are not afraid of water. Others are suitable for interior decoration. Large-format snowflakes can be used as an independent decoration or as a basis for new year's compositions.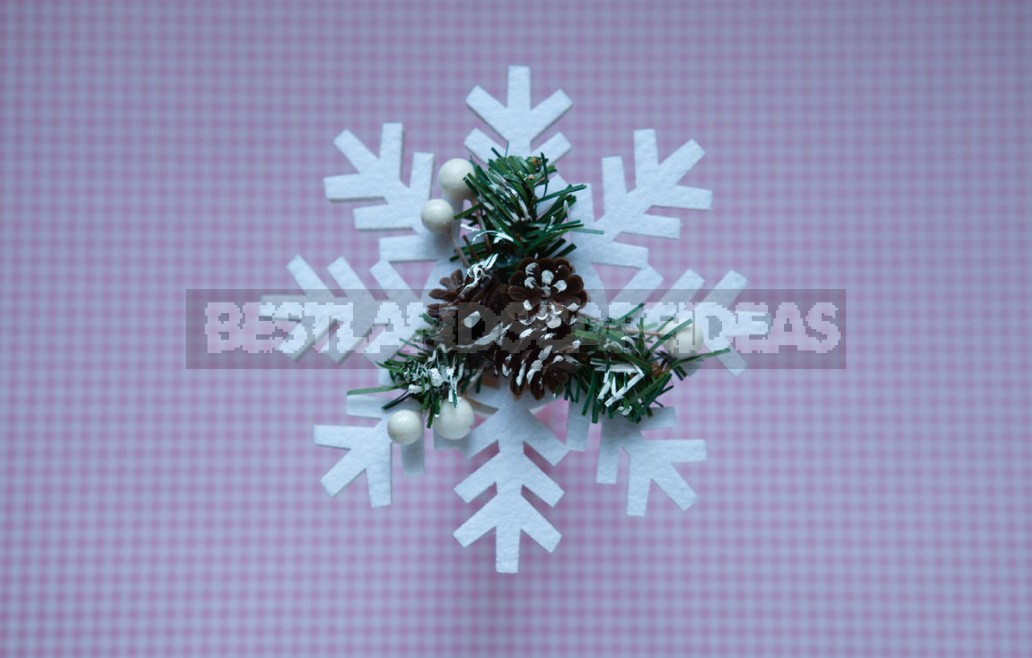 19. Sculpt snowflakes
Snowflakes are not only cut, knit, sew or weave. They can be sculpted! Made of polymer plastic, salted dough. Or from sweet gingerbread and use not only as a decoration, but also as a nice Christmas dessert.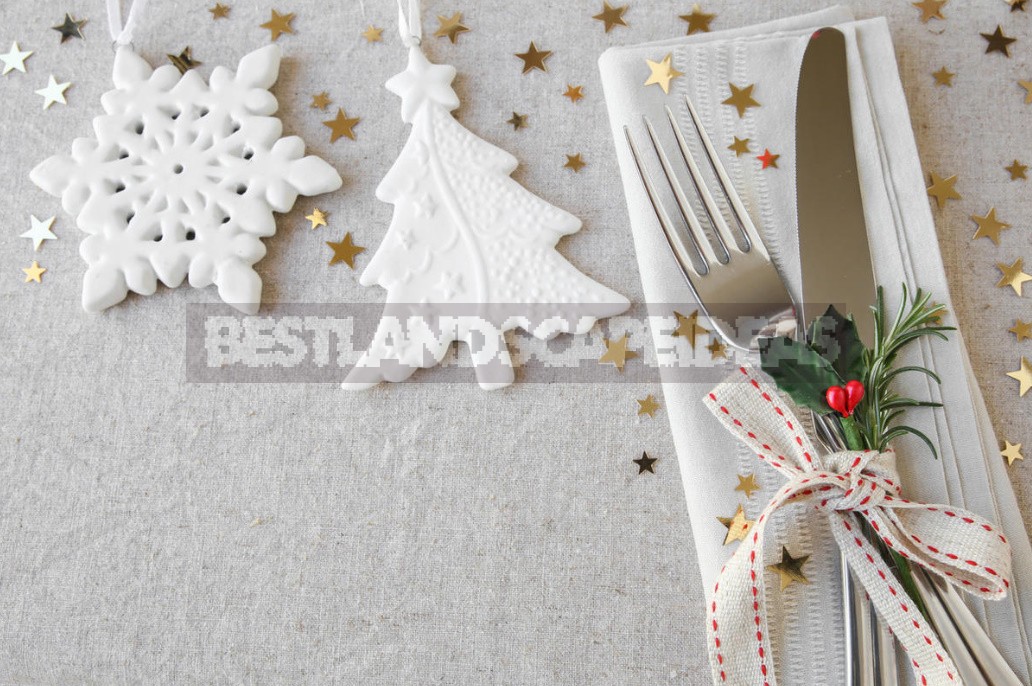 20. From the glue
And still try to draw a structural paste, just thick glue, thermal glue, construction silicone or acrylic sealant contour snowflakes on plastic film, sprinkle with sequins and let your creation dry.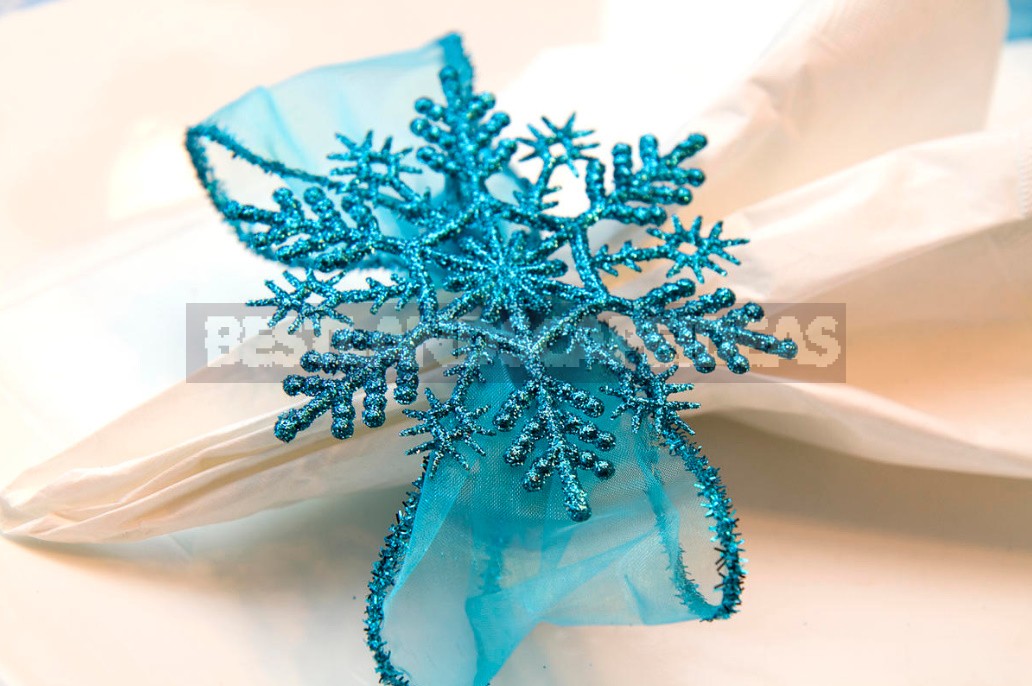 Tip: the same way you can make edible decorations. Use instead of glue proteins whipped with sugar in a thick foam. Meringue snowflakes can decorate the cake. To get a brilliant dessert, sequins are replaced with real gold-food gold or silver potal.
21. Concrete structure
How do you think to make a Christmas decoration out of concrete? Prepare the form — it can be molded from plasticine or find a suitable plastic box-packaging. Pour the cement-sand solution into it. After the solution dries, we take the product out of the mold, if necessary, we process it with an abrasive skin and decorate it at our discretion-paint, paint, use decoupage. Or leave it in pristine gray, if you like the color and texture of concrete.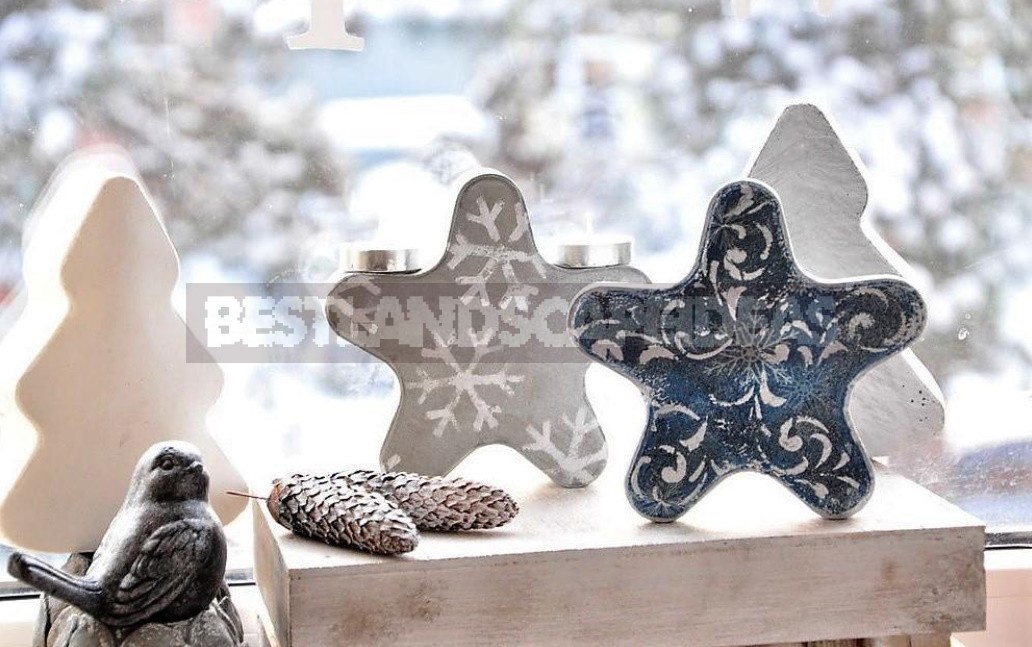 These monumental snowflakes can be used as candlesticks or simply hung on the wall. For this purpose, do not forget to insert a loop-suspension of wire until the solution is frozen. Also figures can be cast from plaster or any construction mix-plaster or putty. It is better to add glue to the putty for strength.
22. Growing snowflakes
The love of chemistry can be turned to the benefit of the process of making a snow decor: grow a snowflake. You will need an oversaturated salt solution. You can take copper sulfate, sodium boron. But if there are small children, it is better to choose the usual table salt: the snowflake will be very salty, but not dangerous.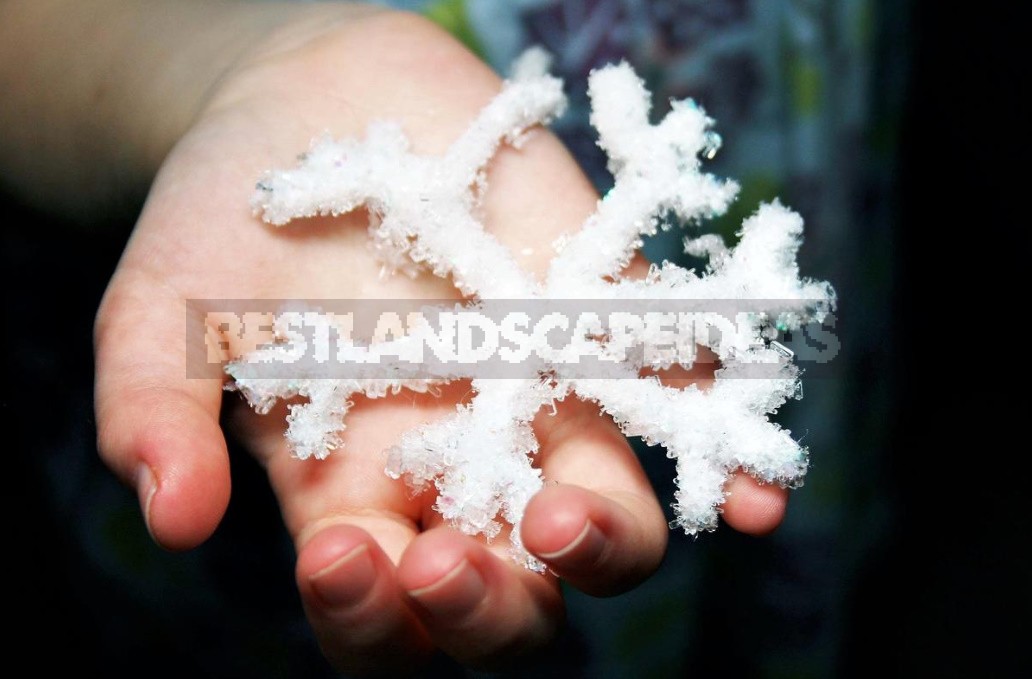 We make a blank of wire, toothpicks and other things. For best results, the surface should be rough. To do this, you can wrap the base with a wool thread or take a chenille wire.
Make an oversaturated salt solution: in very hot water, dissolve the salt until it stops dissolving. In the resulting liquid, we lower the base and fix it in suspension so that it does not touch the walls of the container. The hotter the water, the more salt crystals will settle on the surface of the snowflake. After a day, take out, dry and decorate the Christmas tree.
23. Snowflakes out of nothing
To make Christmas decorations, you can use a variety of materials. And even what has already passed into the category of garbage. Try making snowflakes from cotton swabs, cotton pads, plastic bottles, aluminum cans, old CDS, disposable plates, eggshells, curly pasta, cocktail tubes.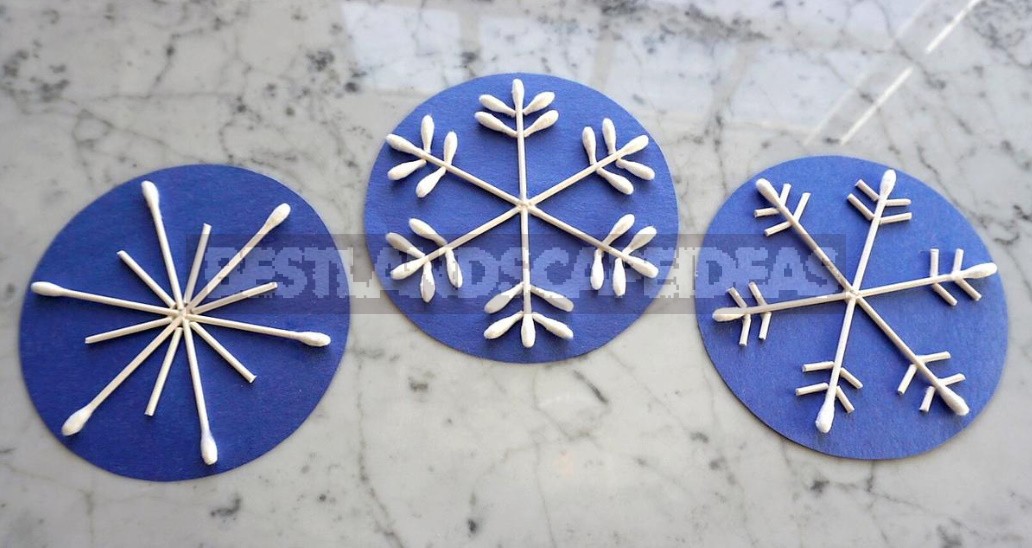 24. Decorative snowballs
And finally about decorative snowballs. The easiest way to make snow lumps is from cotton wool. You can string them on a thread or spread them out on spruce paws.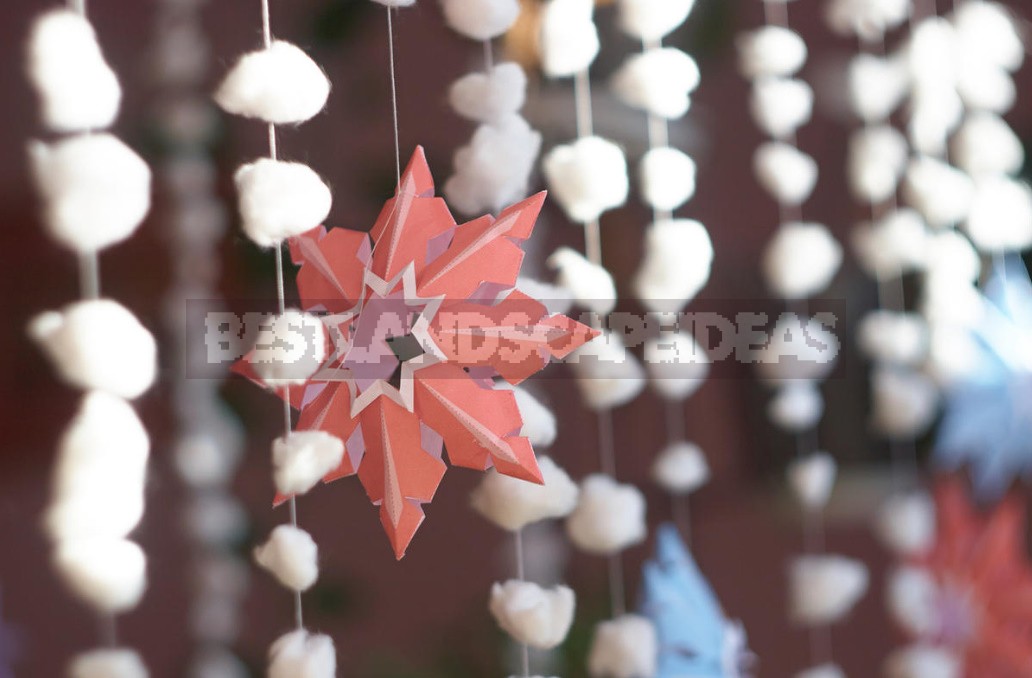 Here is such a large collection of snowflakes turned out. What do you think will be the most beautiful?