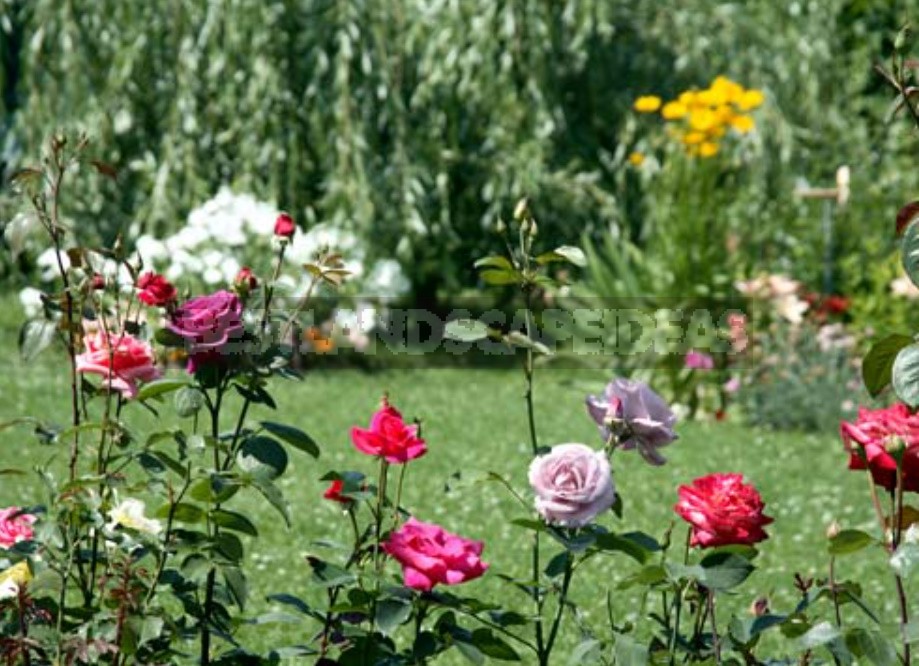 Our tips will help you give the rose garden a special charm. For novice rose growers, we suggest paying attention to common, but effective techniques. And for the experienced — to experiment, putting everything on its head, expanding the idea of the beauty of roses. We warn you: using all the tips at once will bring not just a little zest to your rose garden, but a fair share of raisins.
1. Roses and clematis
These are classic partners: after or during the breaks of rose blooming, clematis support the decorative composition.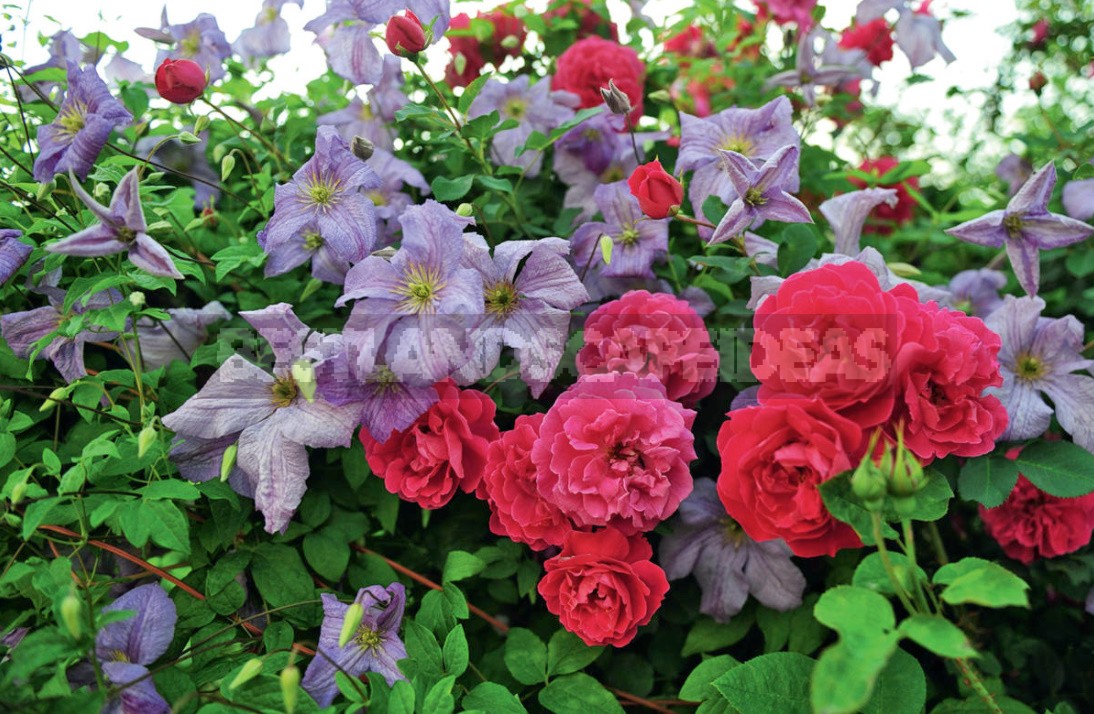 When planting seedlings, the rose can be placed in the same hole with the clematis, but at a short distance. To adult rose bushes (from 5 years and older), clematis are planted at a distance of 25-30 cm, necessarily with a dug-in delimiter of root systems.
Important: the habituses of both varieties (rose and clematis) must match each other. It is not necessary to plant a heavy clematis to a small rose — it will become an additional load for it and a competitor for light, and not a spectacular partner.
Tip: it is logical to plant with roses varieties of clematis of the third group of pruning, which are strongly pruned for the winter.
2. Semi-spun roses
Many modern bush varieties of roses can be grown as low-wattled, this is an ideal solution for small gardens. For this purpose, scars with a spreading bush shape and long shoots are suitable.
They are tied to a vertical support, forming a rose as a climbing one. Pruning here is needed weak to preserve long shoots.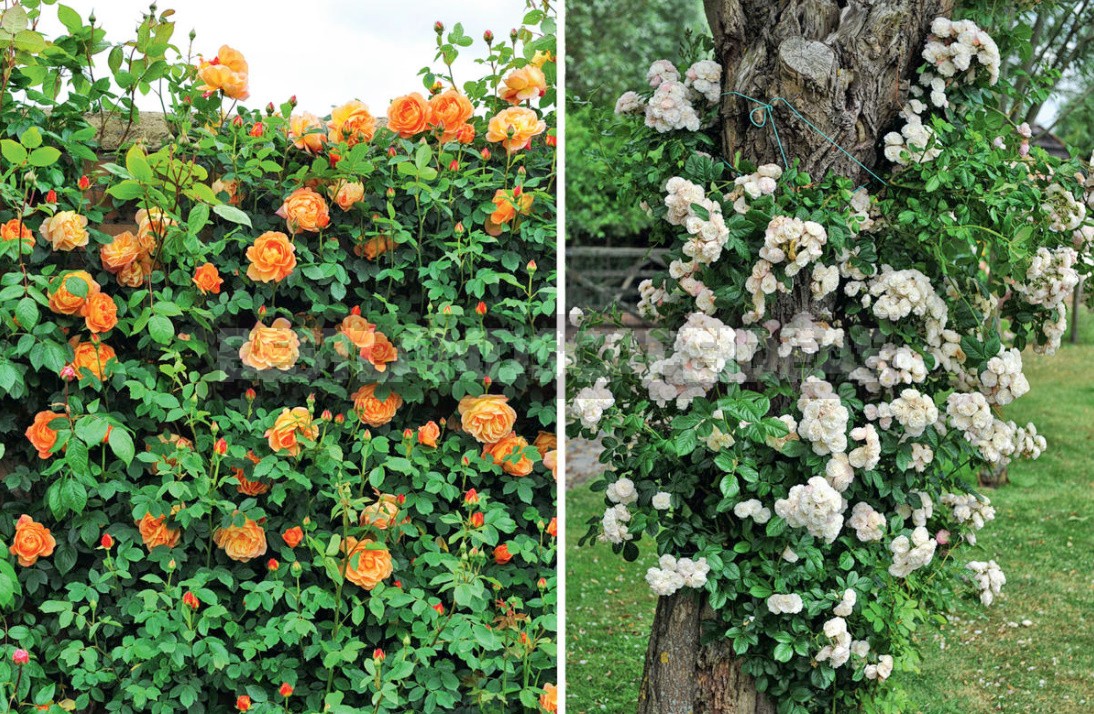 3. Climbing roses on a tree
The best decoration of the tall stems of old trees is semi — spun and wattled roses. In the photo above (on the right) – a profusely and continuously blooming thick-mahogany 'Bouquet Parfait' with a light musky aroma is tied to a willow.
If you plant a rose close to the trunk, root competition will be avoided — in old trees, the suction roots are located approximately along the projection of the crown. There will also be no struggle for light: the crown of the tree is raised high and does not shade the rose.
4. Stamp roses
Well-groomed and profusely blooming roses on the stem have two purposes in the rose garden: to attract attention and to cause delight. After all, in fact, this is a magnificent solemn bouquet, located at eye level. So that the stem does not look like a bare "stick", in the southern latitudes, lavender is planted at the foot, and in the northern ones, dwarf varieties of Japanese spirea are used.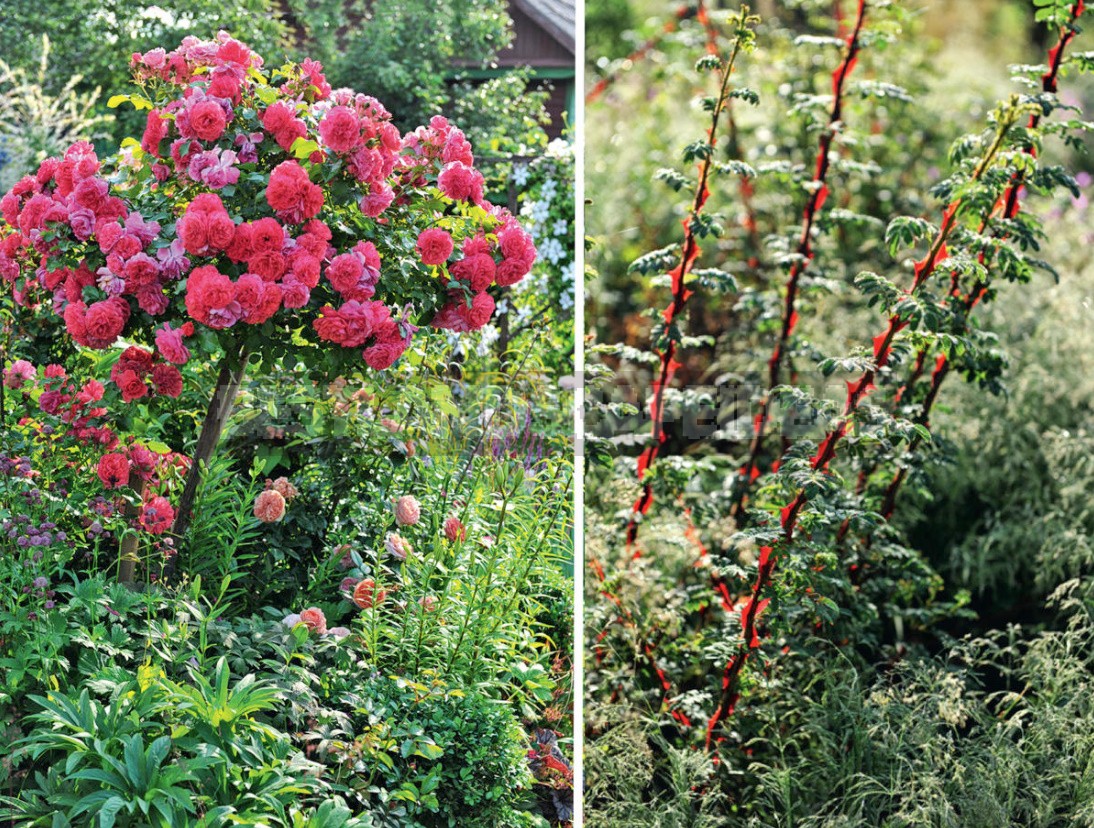 5. Not only flowers, but also thorns
There are roses that can not boast of a particularly beautiful flowering, but they have excellent thorns. Rosa sericea 'Pteracantha' (pictured above on the right) is probably the only one that is loved despite its prickly nature. Its bright red large spikes are painfully beautiful, especially if you look at them in a counter-image. This is its main advantage and an unusual touch in any rose garden.
6. Roses without thorns
At playgrounds and places intended for recreation, it makes sense to plant roses with a small number of thorns or without them at all.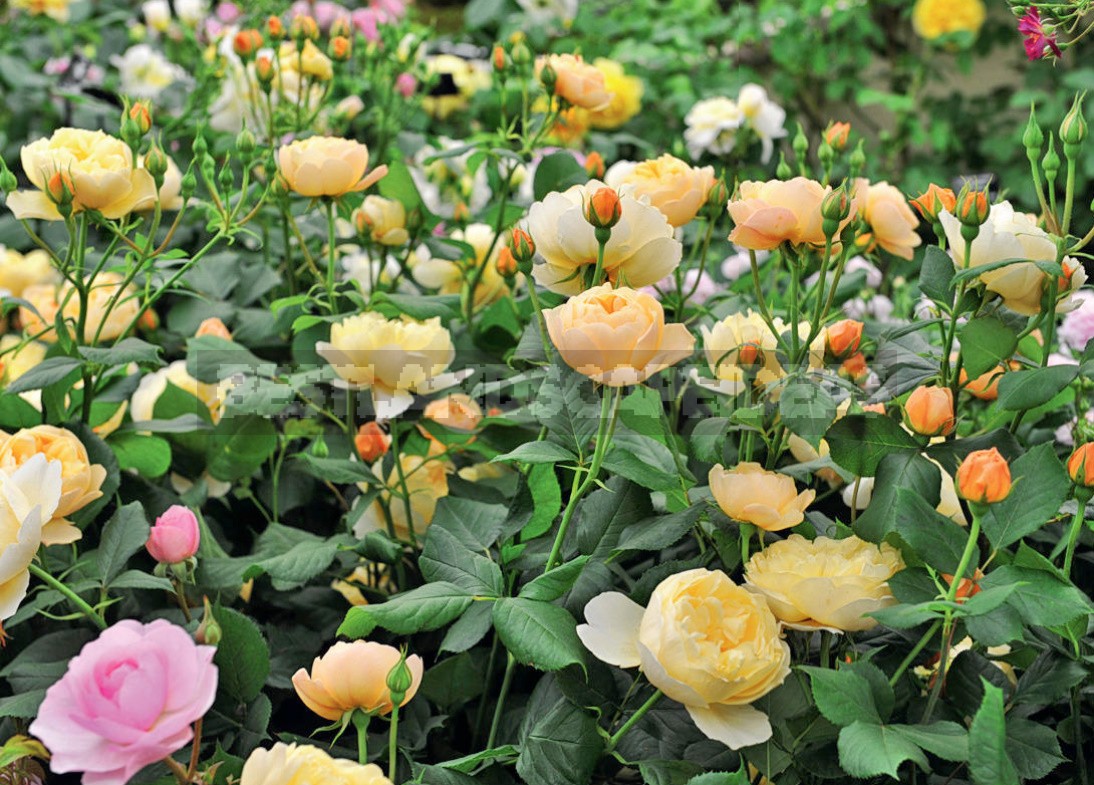 There are many such varieties for every taste. A nice bonus — you can cut and cover such varieties for the winter without gloves.
7. Perennials in the spring rose garden
In the spring, before the roses bloom, the rose garden looks, say, promising. To make it truly spectacular, plant perennials between the roses and in front of them, which will decorate the corner with flowers and elegant foliage before and during the first wave of rose blooming. These are ornamental bows, aquilegia, brunner's, Cirsium rivulare 'Atropurpureum'; foxglove, geraniums that do not give abundant self-seeding, lupines, cottontails, irises, geychers.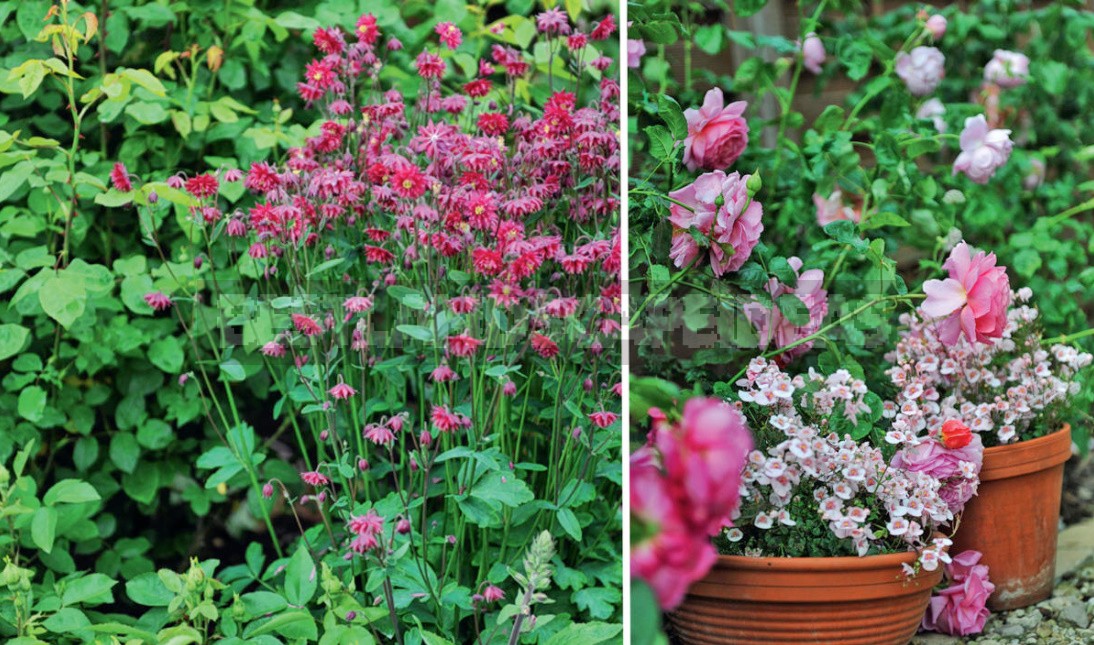 8. Potted annuals
Annuals in containers are good for their abundance of flowering and mobility — they can be rearranged at least every day, changing the composition and creating beautiful contrasting and nuanced combinations with roses. And every time after such a rearrangement, the rose garden will look new!
Pay special attention to diascia, jaundice, osteospermum, dimorphotheca, gatsania, snapdragon, pansies and nasturtium.
9. Hedge
From roses, you can make a blooming, at the same time prickly and impassable wall. When choosing varieties for hedges, you should pay attention to the profusely and repeatedly blooming, with abundant foliage, resistant to diseases, and beautiful fruits.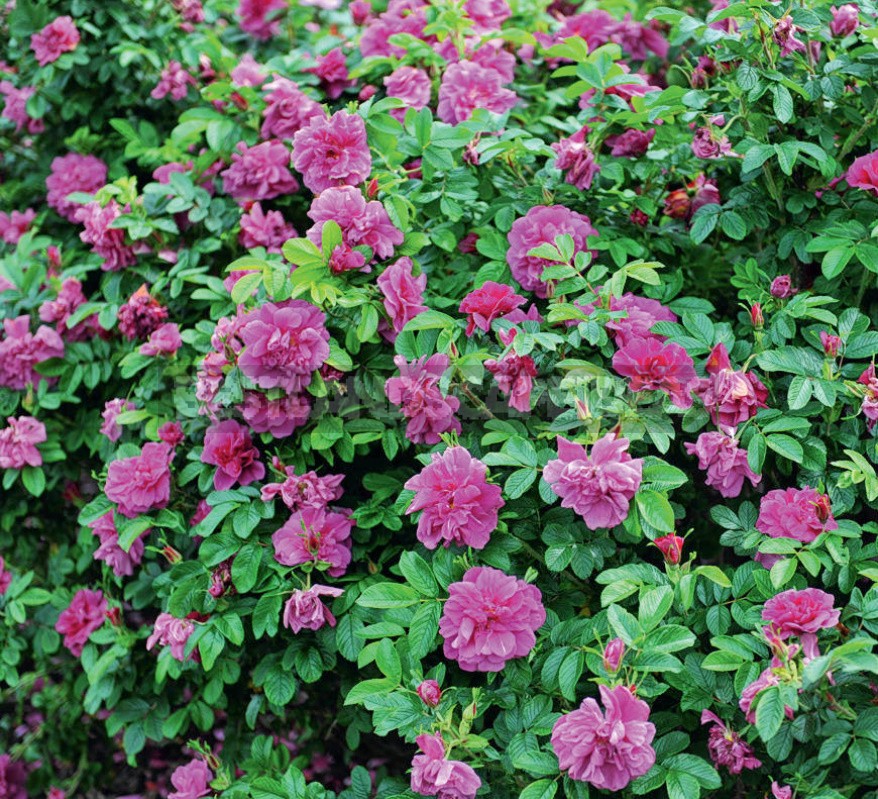 Of course, such a fence should not need shelter for the winter, so most often it is made from varieties of Rosa Rugosa.
10. Wattle borders
From climbing roses, you can get a blooming border that frames a rose garden or individual flower beds. To do this, the required number of climbing roses is planted along the planned perimeter with an interval of 2 m (you will need re-flowering varieties with flexible shoots). As the lashes grow, they are tied to V-shaped guides. The shoots of neighboring roses overlap each other.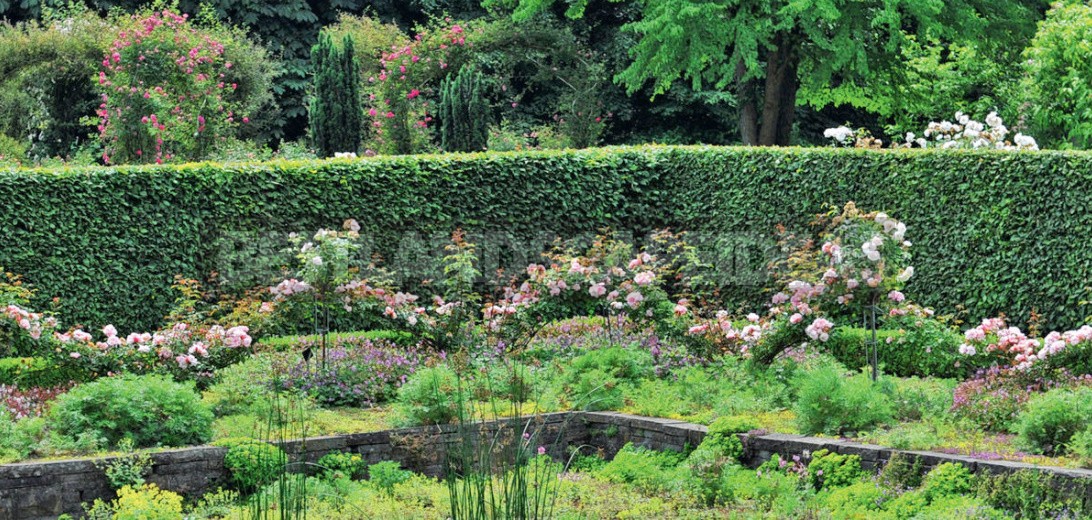 The result is a blooming border with easy care: in a horizontal position, the shoots of roses bloom more abundantly and you do not need to suffer with bending the shoots for the winter and raising them on supports in the spring.