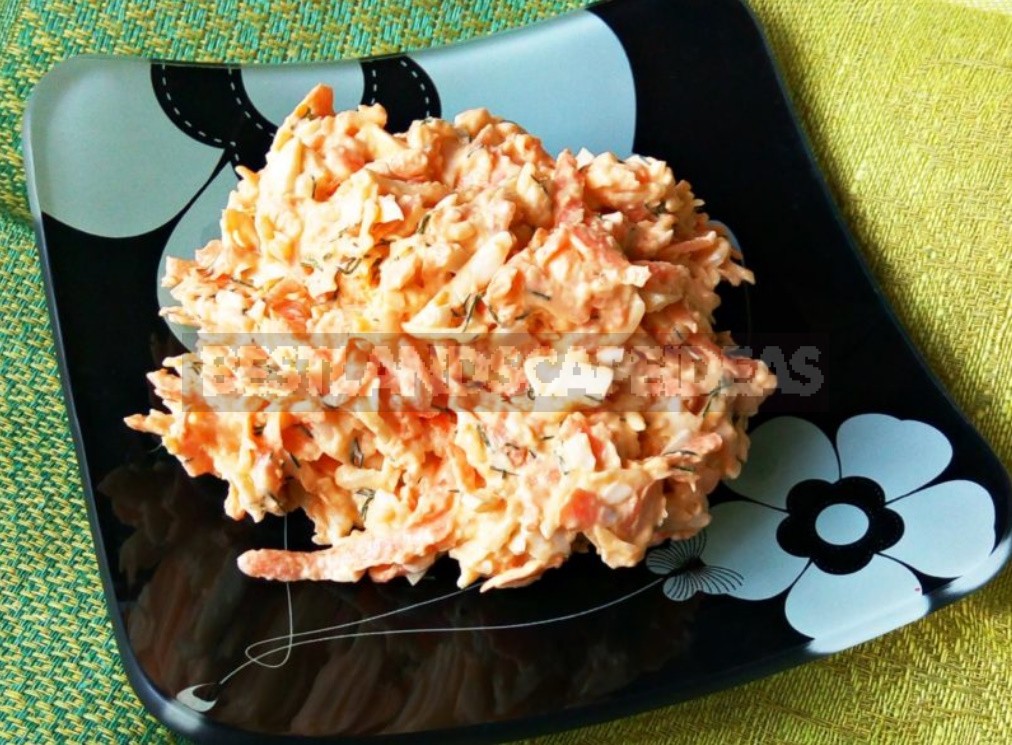 6. Lotus Salad with dried apricots and apples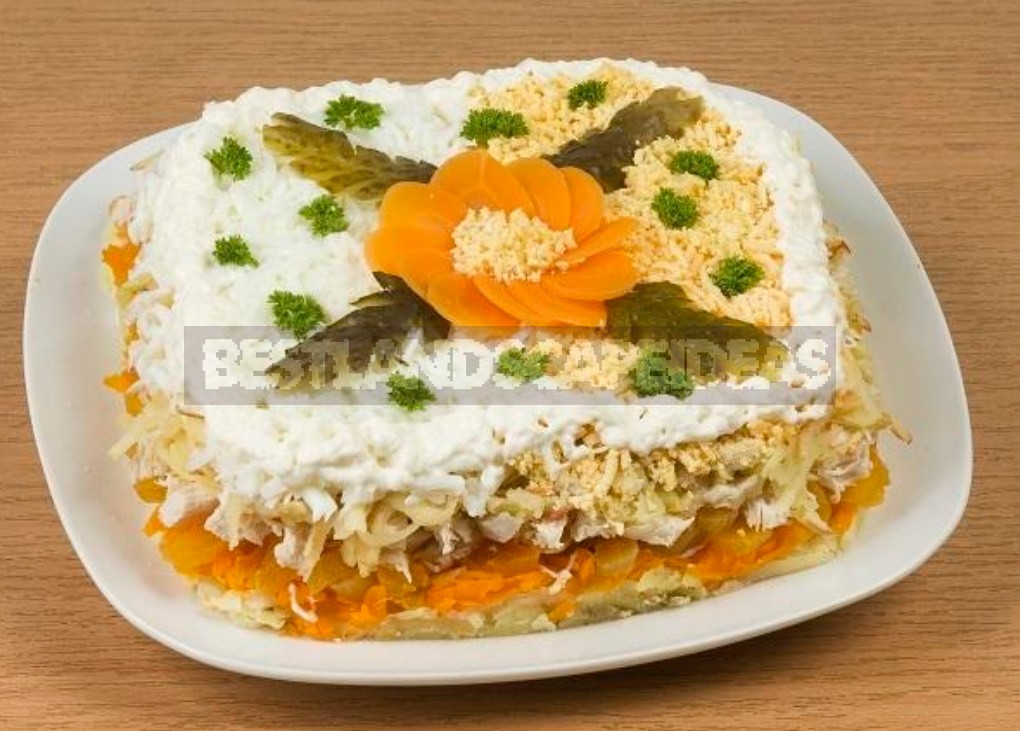 Ever need:
3 potatoes and eggs,
150 g dried apricots,
200 g of chicken fillet,
100 g walnuts,
2 carrots and an Apple each.
For the sauce:
2 tablespoons of mayonnaise, sour cream 15% and 40% fat,
juice of 0.5 lemon,
salt.
For decoration:
Preparation:
Boil potatoes and carrots in the skin, peel and grate on a large grater.
Fry the chicken fillet in vegetable oil, then bring it to readiness in the oven for 10 minutes at + 200°C. Cut into cubes.
The eggs boil hard boiled, clean. Half of the whites should be left for decoration, the rest of the eggs should be grated on a coarse grater.
Wash the dried apricots with cold water, then pour boiling water and leave for 5-10 minutes to soften. Then dry and cut into small slices.
Grate the Apple on a large grater, without peeling the skin. Peel and chop the walnuts with a knife.
For the sauce, combine sour cream with 15% and 40% fat content, add mayonnaise, lemon juice and salt. Mix everything well.
On a flat plate, lay out layers, smearing each with sauce: potatoes (salt) – carrots-dried apricots-fillet-Apple-grated eggs.
Garnish the salad with grated protein and cheese, herbs and pickles.
7. Salad with poultry and mushrooms "Royal"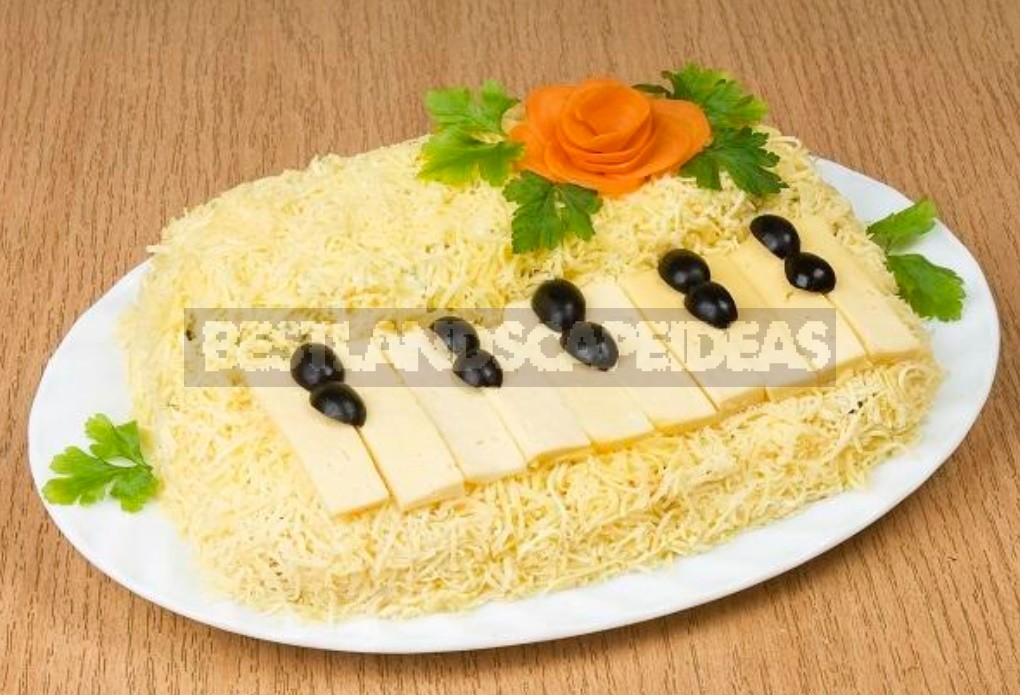 Ever need:
500 g of chicken meat,
3-4 fresh or salted cucumbers,
4 eggs,
300 g of mushrooms (frozen or fresh),
100-150 g of hard cheese,
mayonnaise,
vegetable oil for frying.
For decoration:
olives
200 g of hard cheese,
2 boiled carrots,
parsley greens.
Preparation:
Boil the chicken meat in salted water for 30 minutes, then cool, dry and cut into small pieces.
Defrost and wash frozen mushrooms. Wipe fresh mushrooms with a damp cloth or wash if necessary. Cut the mushrooms into small pieces and fry in vegetable oil.
Hard-boiled eggs, cool, clean and grate on a medium grater.
Cut off the ends of cucumbers, cut them into small pieces or grate them on a large grater.
Hard cheese is also grated on a large grater.
Put the prepared products in layers, smearing each layer with mayonnaise: 3/4 chicken meat-3/4 fried mushrooms – 3/4 cucumbers — 3/4 boiled eggs-1/2 cheese. Put the remaining products in layers on half of the salad.
Decorate the salad in the form of a piano: make keys from strips of cheese and olives. Cut the boiled carrots into spirals and place them on the "piano" with rosettes. Instead of leaves – parsley greens. The salad can be sprinkled with egg white grated on a small grater.
8. Salad of several types of cheese with sweet pepper and radish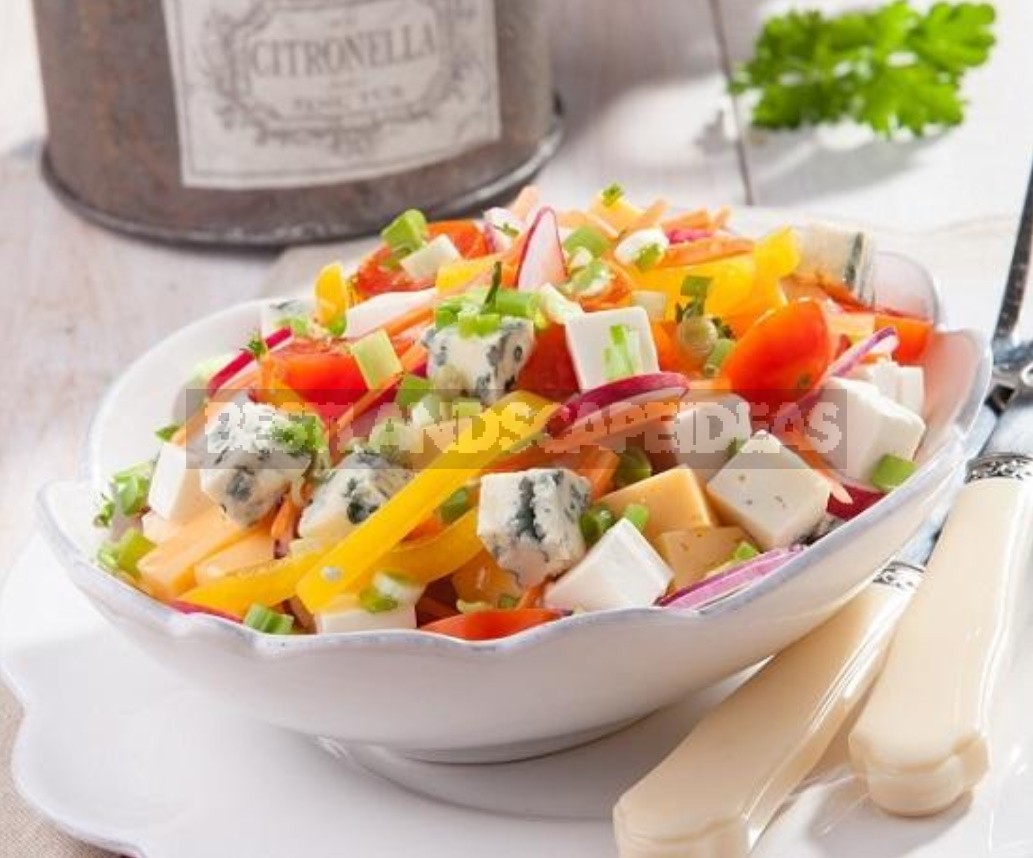 Ever need:
50 g of Roquefort cheese (any with mold),
100 g of Edam cheese (any bright yellow cheese),
100 g of cheese,
2 pods of red and yellow sweet pepper,
200 g tomatoes,
4 radishes,
2 green onion stalks with onions,
1 carrot,
1 red onion,
4 tablespoons olive oil,
3 tablespoons of vinegar,
salt,
1 bunch of fresh herbs.
Preparation:
Cut the cheese and cheese into cubes. Sweet pepper-strips. Tomatoes and radishes – sliced, carrots – julienne, red onion rings, green rings.
Mix the vegetables with the cheese. Wash the greens, dry them, leave a few twigs for decoration, and chop the rest.
Mix vegetable oil with vinegar and chopped herbs, add salt and pepper. Season the salad and garnish with the remaining herbs.
9. Olivier in avocado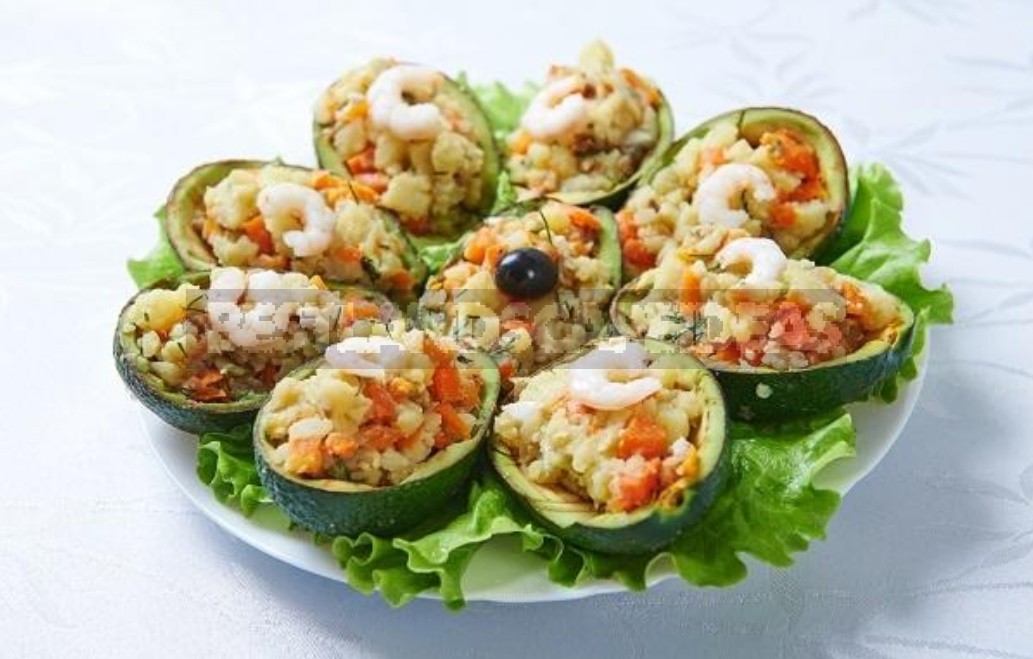 Ever need:
5 avocados,
4 potatoes,
1 carrot,
1 onion,
2 boiled eggs,
200 g prawns,
green,
salt,
mayonnaise,
green salad leaves for decoration.
Preparation:
Wash potatoes and carrots, boil, cool, peel and cut into small cubes. Finely chop the onion and pour boiling water over it. Eggs are cleaned and also finely chopped. Boil and peel the prawns. Wash the greens and chop them.
Cut the avocado in half and remove the stone. With a sharp knife, carefully cut the flesh, leaving the walls 1.5 cm thick, and cut it into small pieces.
Combine potatoes, carrots, onions, eggs, shrimp, herbs, and avocado and mix. Add salt to taste, lightly season with mayonnaise and mix again.
Fill the avocado halves with the salad, place them on a dish lined with green lettuce leaves, and serve.
10. Spring salad with carrots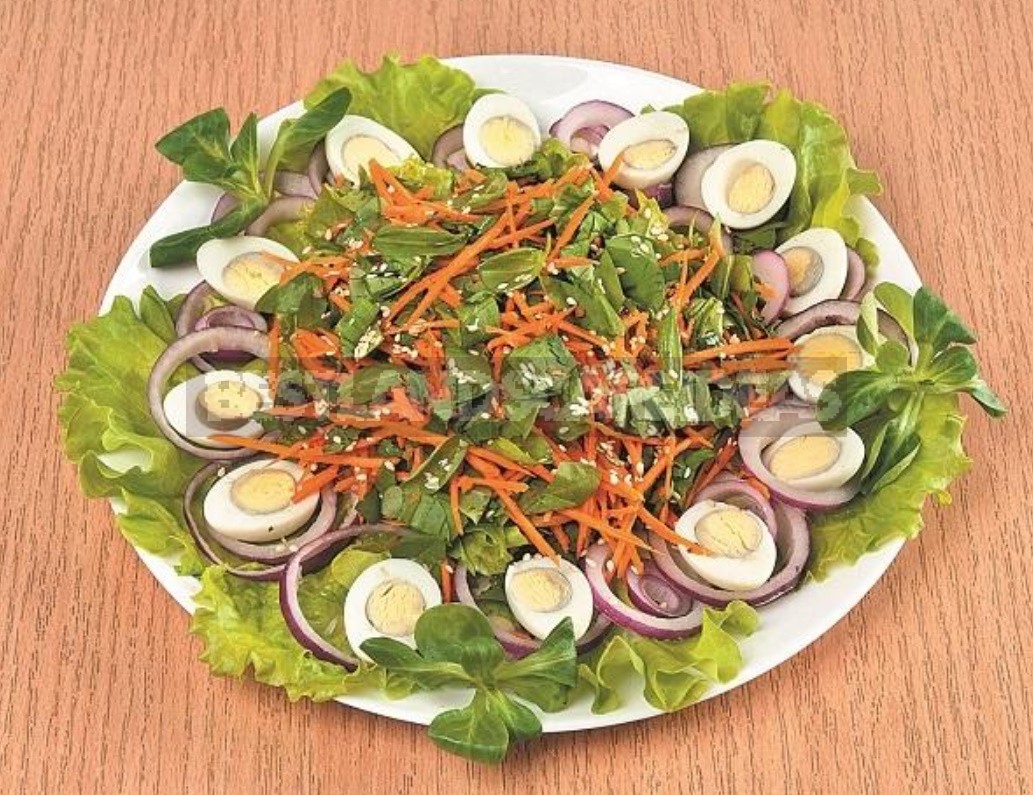 Ever need:
150-200 g spinach,
100-150 g of carrots,
6-8 quail eggs,
1 red onion,
150 g of salad of different types.
For the sauce:
2 tablespoons extra virgin olive oil,
juice of 0.5 lemon,
salt, ground black pepper.
For decoration:
Preparation:
Clean the leaves of young spinach from the stalks, rinse with cold water, then pour boiling water over them and put them in a colander, let the water drain completely. Large spinach leaves are cut into strips, small ones are left intact.
Hard-boiled eggs for 7 minutes. Cool, peel, and cut in half.
Wash the carrots, peel them, and grate them on a Korean vegetable grater. Red onion to clean, wash, cut into rings.
Wash the salad, shake off the water, dry it with a napkin. Put a few large leaves of lettuce on the bottom of the plate, and tear the rest of the salad with your hands.
Combine the prepared spinach, lettuce and carrots and mix. Put the resulting mixture on the lettuce leaves in a slide. Around the slide, spread out the halves of quail eggs and onion rings.
For the sauce, combine the olive oil, lemon juice, salt, ground black pepper and stir well. Pour the dressing over the salad and sprinkle with sesame seeds. For piquancy, you can add 0.5 teaspoons of honey to the dressing if desired. You can also add canned corn or peas to the salad to taste.