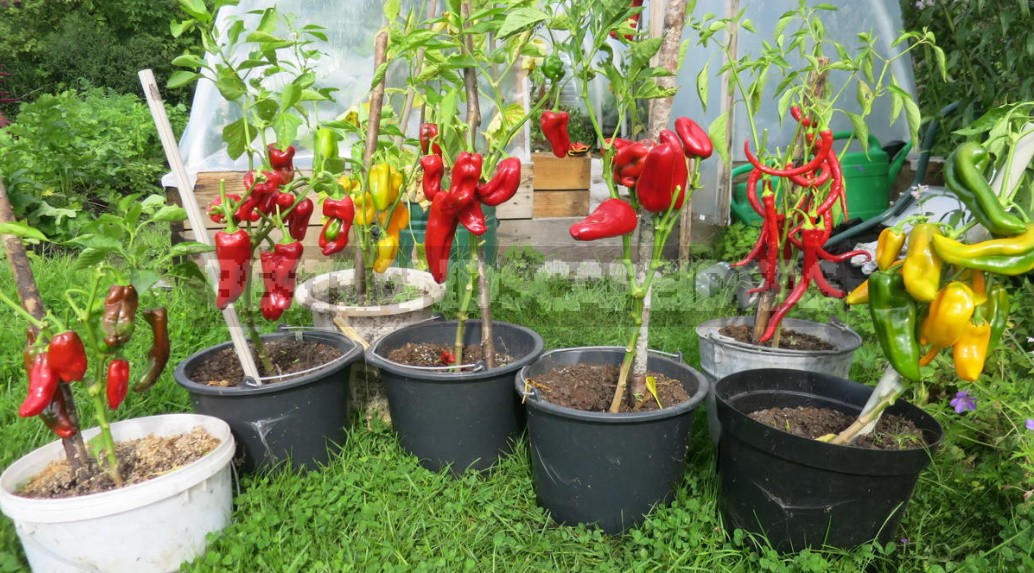 Some gardeners believe that a garden does not need a lot of land — it is enough to have a great desire to grow delicious vegetables and a few garden pots. You won't have to invest a lot of effort and money either.
Advantages
The biggest plus of a container garden is the satisfaction of your desire to grow plants (sometimes it is so great that there is no point in talking about the disadvantages). Indoor floriculture supports this passion of plant lovers! In such a garden, you will not have to dig up land masses — everyone will be able to do this gardening.
The advantages of a container garden include low cost, mobility and compactness. Let's say you don't have your own spacious plot, but you have a wide window sill on the South side, a terrace, a balcony, a backyard with a concrete floor, a flat roof of a high-rise building… All these places seem to suggest: "Put a bucket of dwarf tomatoes here! And better-three; and a few more-with cucumbers… " Put, raised — did not like it? Removed and forgotten! Money is almost not spent, and conclusions are made.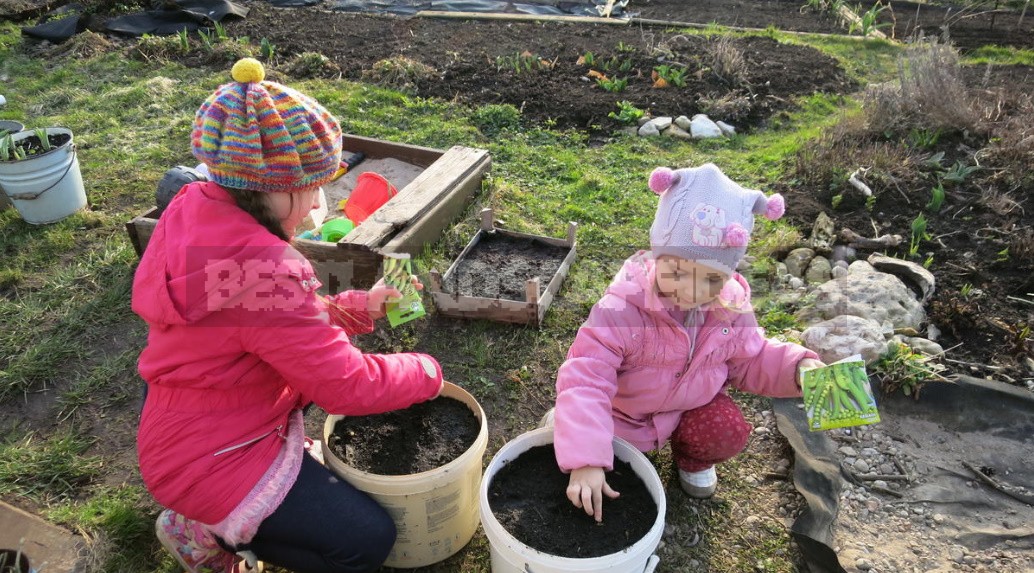 Containers do not need to be left in one place. These are not stationary beds in the garden, which are made "for the ages". Bags and buckets can be easily moved around the site. I put them where there is a lot of light, but they do not interfere with walking: at the end of the greenhouse, on a vacant place in the garden or even in a flower bed. In the fall, I put some buckets in the greenhouse, where the plants can continue to develop for about a month.
Container kitchen garden is very helpful when developing virgin land. Let's say you have a piece of land, but you have not yet reached it — it is neglected, overgrown with weeds. Just cover the area with oilcloth, carpet, black spanbond, agro-fabric, place buckets and basins with plants on it — and collect your "harvest of happiness" in the first season. And at the end of summer, you will be surprised — almost no weeds will remain under the coating! You can easily dig up this plot and next year you will be engaged in gardening "as an adult"!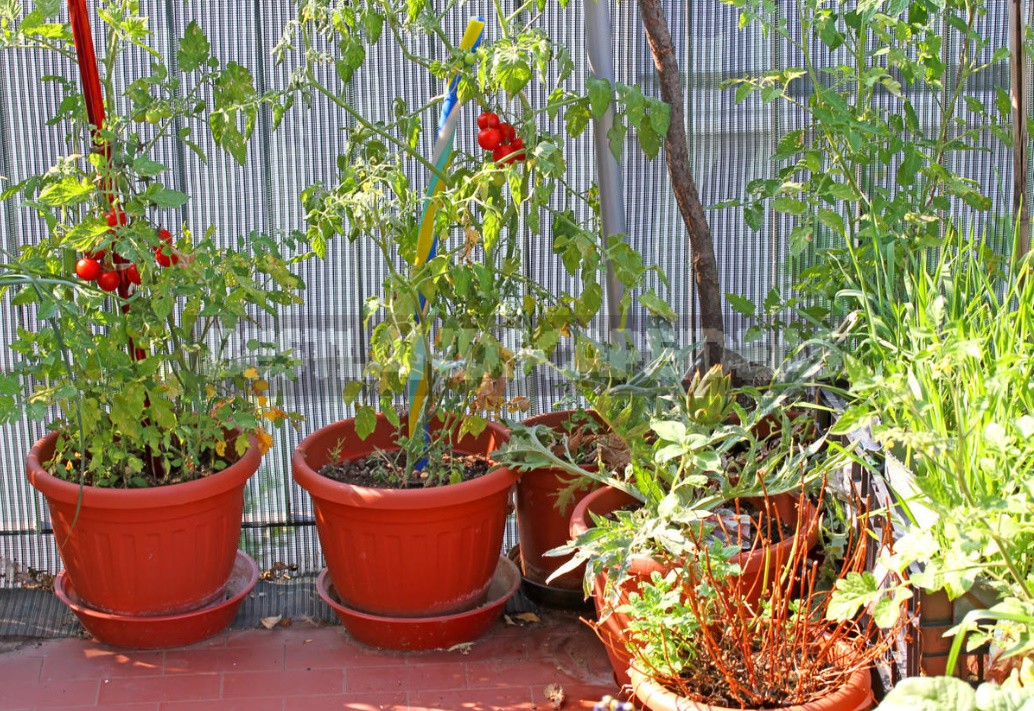 Even if you have a large garden and a greenhouse, no one forbids growing some of the plants in containers, such as cucumbers for the sake of getting an early harvest. In a small bucket located in the greenhouse, the soil will warm up much earlier than in the main beds. In additional containers, you can plant excess seedlings or miniature varieties of vegetable crops, for which it is a pity to allocate a valuable place in the garden beds.
Disadvantages
Of course, the container garden has its disadvantages. First, you will never get a big harvest. If you plan to salt a couple of barrels of cucumbers, then this method of growing is definitely not for you.
Secondly, such a garden requires frequent watering, because the volume of soil in each container is small. And fertilizing for many crops in this case will be mandatory. But even here there is a solution — use automatic irrigation with droppers and liquid mineral fertilizers.
Third, you need good soil to fill the containers! Where can I get it? Buying a ready-made substrate increases the cost and cost of the crop. But if you are overwhelmed with the desire to grow vegetables, then you can start with a five-liter pot with a dwarf tomato, perched on the windowsill next to Tradescantia.
The choice of containers
When choosing containers for your garden, of course, you need to take into account the needs of the crops that you plan to grow, and focus on your own material capabilities.
Clay pots with a volume of more than 10 liters are terribly expensive and heavy. They are very fragile and easy to break. The soil in them dries up faster because of the porous walls. But clay is a natural and eco-friendly material.
Old metal tanks, buckets, baths, watering cans, large cans — a wonderful example of the reuse of household items. And it will not be difficult to collect such containers from relatives and friends.
I just use such recyclables for my garden. Metal containers are long-lasting, lighter than clay, cheaper than them, or generally get for free.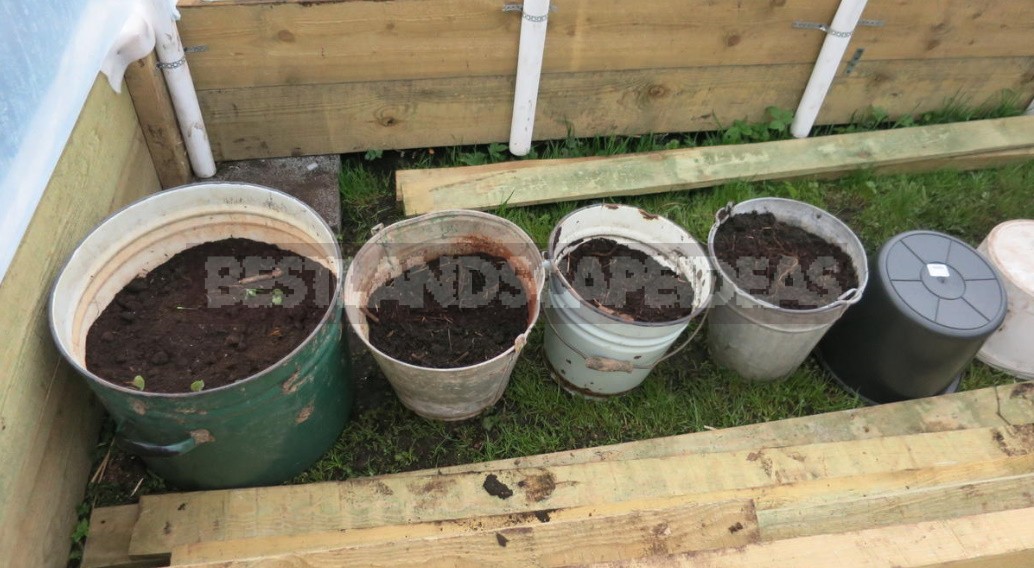 The downside is that the metal heats up more in the sun. But not in all regions this can be attributed to disadvantages.
Plastic flower pots, light and beautiful, are sold everywhere. However, the material from which they are made is destroyed by the sun and frost. Especially thin walls burst even when moving. Therefore, I prefer to use plastic buckets and basins for construction work (black color). They are very strong, and they can winter outside for several years without any problems. In addition, they are much cheaper than beautiful containers for plants.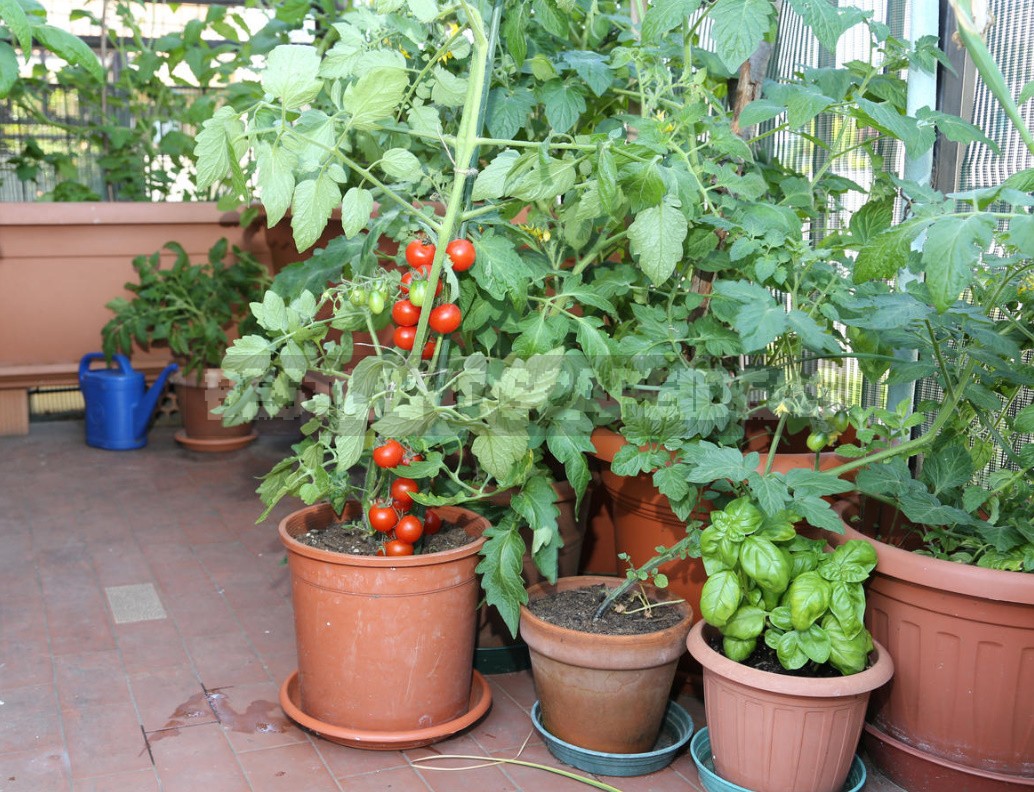 Wooden boxes are a great base for a container garden. In fact, high stationary beds of boards are also containers, only large ones. Do almost the same, but several times smaller, on your balcony and enjoy growing cucumbers or peppers. With your own hands, you can make boxes according to the individual size of your balcony or terrace, which will ideally fit in place.
Plastic bags for construction waste and special containers for plants made of agro-fabric or spunbond are very affordable. The disadvantage that unites this type of container is the soft walls, which make it quite difficult to move them. When you fill a bag with 30-50 liters of soil, it becomes impossible to move it without damaging the walls or root system of the plant. A huge disadvantage of using such soft containers is also the very rapid drying of the soil.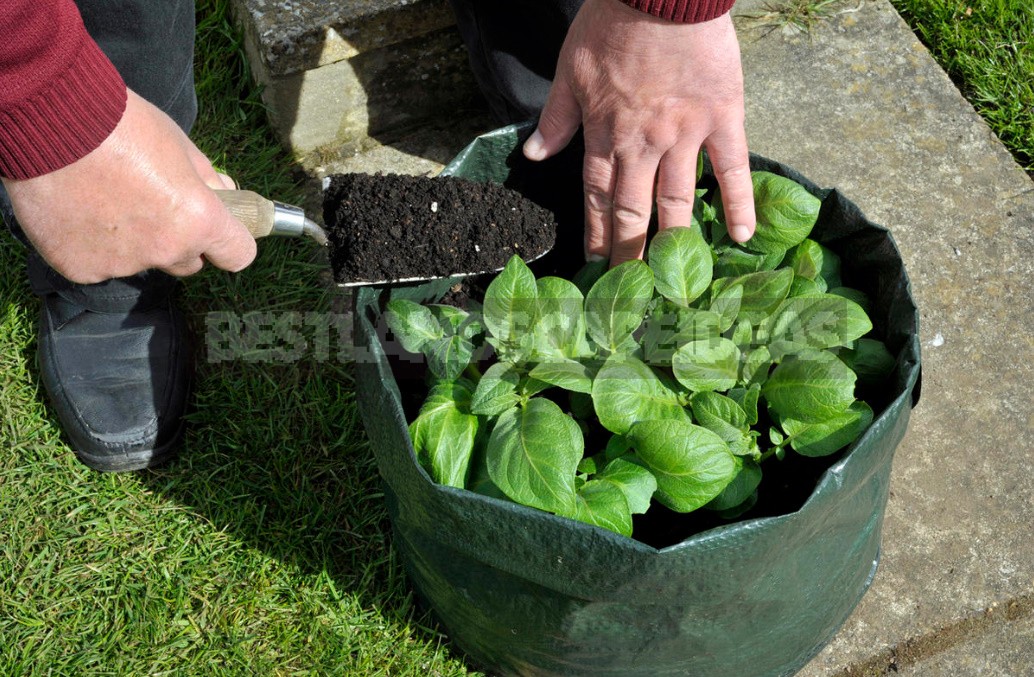 Despite everything, I have been using plastic bags for construction waste very successfully for many years. They are available in many stores and are cheap, but they are short-lived (enough for 3 years). It is very important to buy bags for construction debris, and not simple, household. They have increased strength and are resistant to damaging UV light. Regular bags for household garbage, even large volumes, are not suitable: they won't last a season.