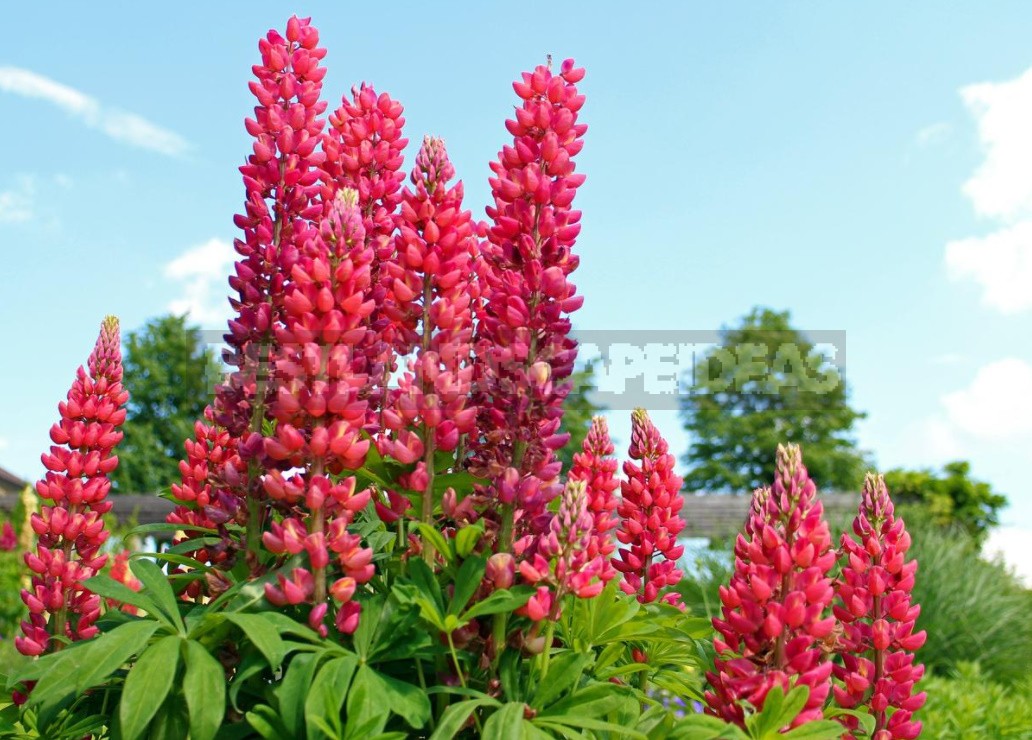 Lupinus polyphyllus and its ornamental varieties
The fantastic variety of lupins causes confusion. Which of the many species has settled in our gardens? This is L. polyphyllus, native to North America, where its range extends from Northern California to Alaska.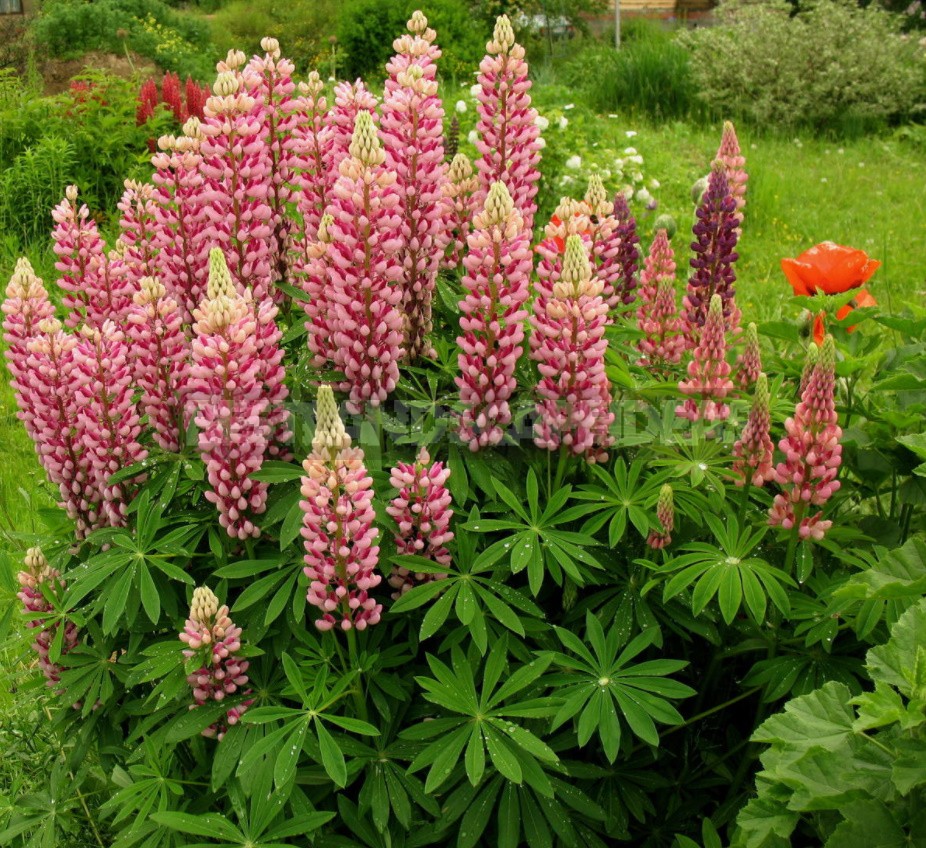 Many treat this wonderful plant as an ordinary weed, reproach it with aggressiveness and completely ignore its decorative qualities.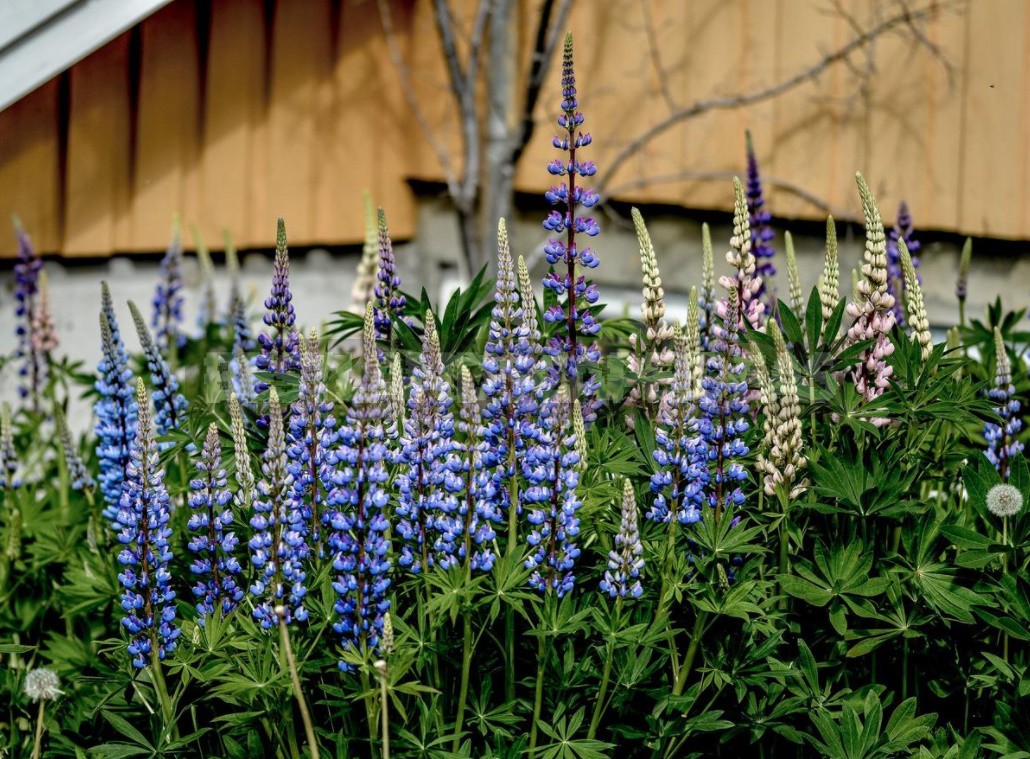 But lupin can extraordinarily decorate the garden, fit into any flower garden or mixborder, create a bright color spot on the lawn!
Thanks to the large number of forms and varieties, the palette of multi-leaved lupine is incredibly rich: from snow-white to deep purple, including two-colored flowers. For any conceived composition, you can choose a plant of the desired tone.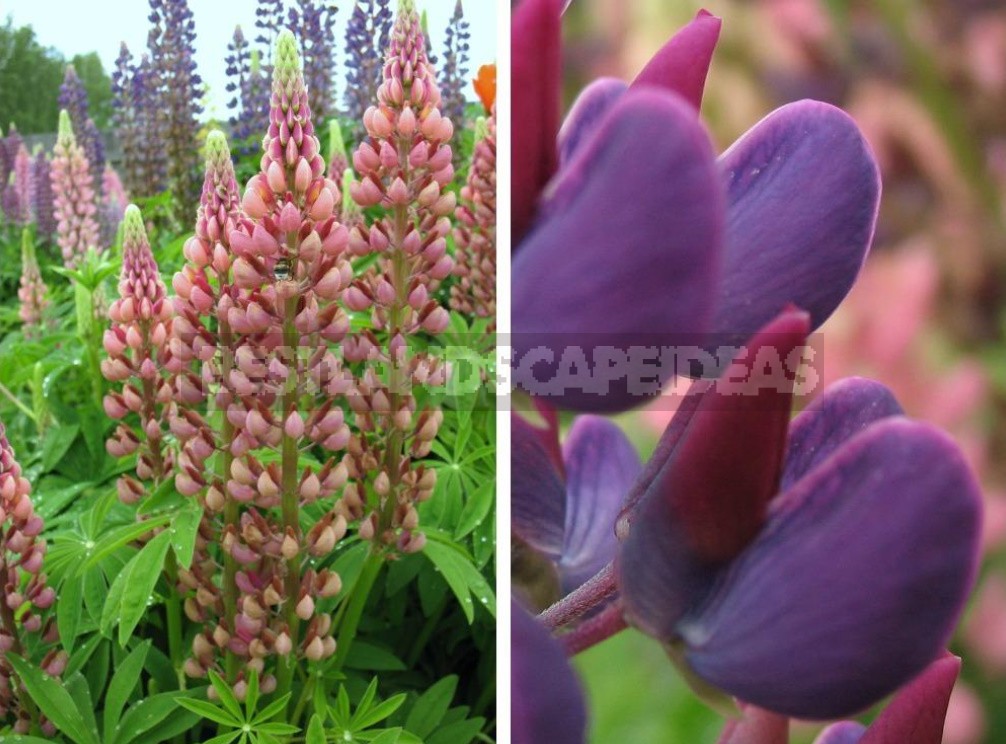 Do you want to create a white garden on the model of the famous Sissinghurst? At your service is the noble beauty 'Albus'. Was white too boring? Add some color by planting a pink and white 'Prinzess Juliana', or 'Governor', with purple and white flowers.
The latter, by the way, refers to the famous Russell hybrids. This wonderful group of lupins will soon be 100 years old. It was named after its creator, the English breeder George Russell. Its hybrids appeared as a result of painstaking work on the re-pollination of annual and perennial lupine species. Among the plants of the group, there are truly unique ones, for example, red 'My Castle' or pale yellow 'Chamdeliers'.
Of the new products of the selection, of course, a very spectacular variety 'Manhattan Lights' deserves mention. Its two-columned flowers are a combination of purplish-purple and yellow. In garden design, this color scheme was and remains very popular. Rose lovers often combine such varieties as 'Graham Thomas' and 'Rhapsody in Blue' in their plantings, complementing them with Nepeta, Salvia or Campanula. "Manhattan Lights" will be quite appropriate in the background of such a composition. In June, when the roses have not yet reached the peak of decorativeness, lupin will perform his role with brilliance, and then disappear behind the scenes, giving the stage to the divas.
Lupines in landscape design
In the background of the flower garden, lupines generally look unusually advantageous. Even more spectacular are the solitaire plantings, only the plants must be planted in arrays.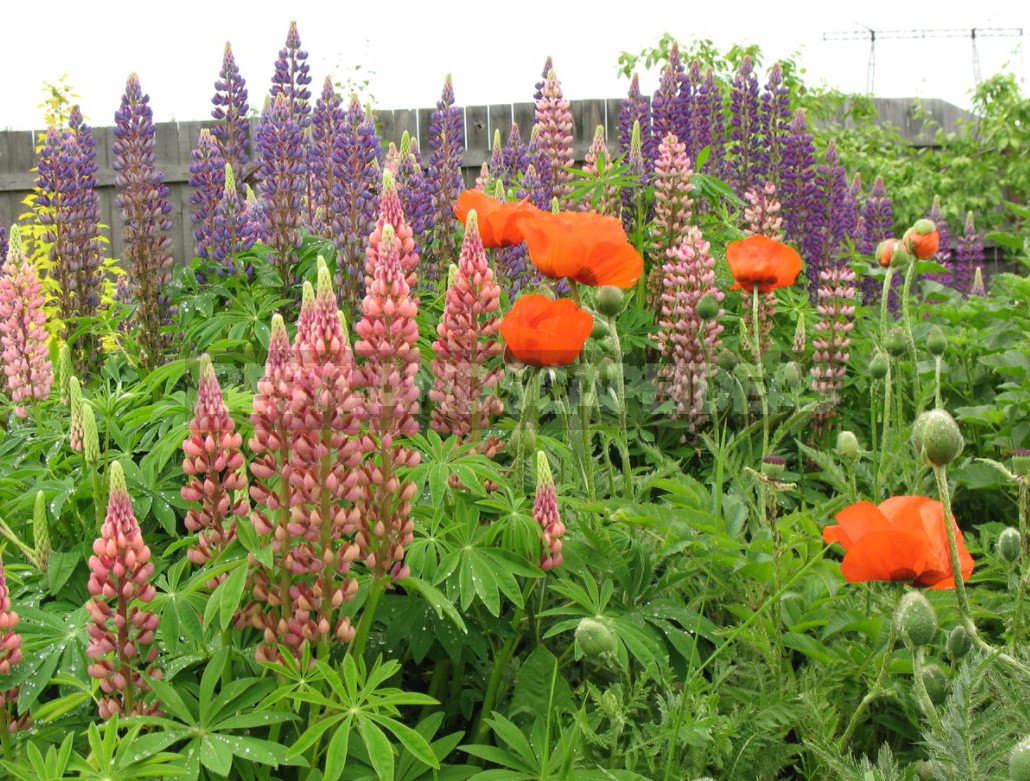 However, lupin will never get lost in mixed landings. Using a single variety, you can always achieve a new impression, choosing different neighbors for your pet.
The traditional plants of the English garden will serve as excellent partners for lupin: Delphinium, Digitalis, Alchemilla. For a country-style flower garden, you can plant it in company with Leucanthemum vulgare. The inflorescences in this duet will effectively contrast with each other in shape. Add to them now fashionable cereals, for example, Deschampsia flexuosa or Hordeum jubatum, and you get a composition of natural style in the spirit of modern trends.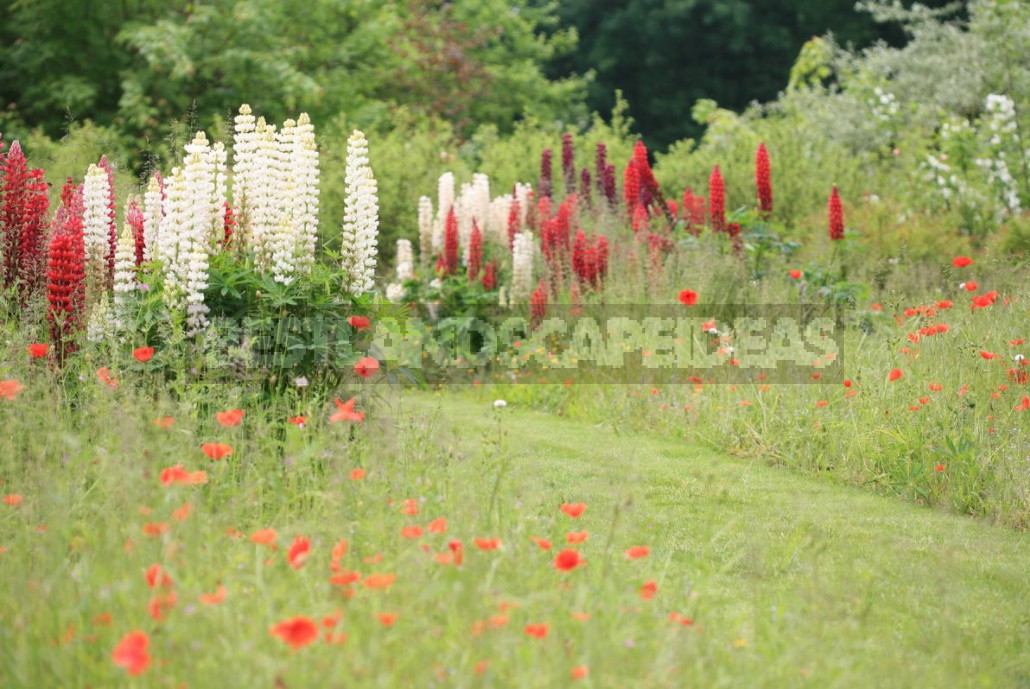 If the soul is disturbed by the paintings of Claude Monet, lupin's partners should choose bearded irises. In this case, the contrast will fall on the share of the leaves. As for the color scheme, the iris, fully justifying its Greek name – "rainbow", paired with lupin provides unlimited opportunities for the realization of any fantasies. For lupins, even avant-garde solutions using vegetable crops are possible!
Features of growing and breeding lupins
Lupine is a long-day plant. It prefers slightly acidic soils and is a xeromesophyte, that is, it is highly drought-resistant, which allows it to be planted even under birch trees. Light shading will not hurt it, but it is better to choose open sunny areas for planting.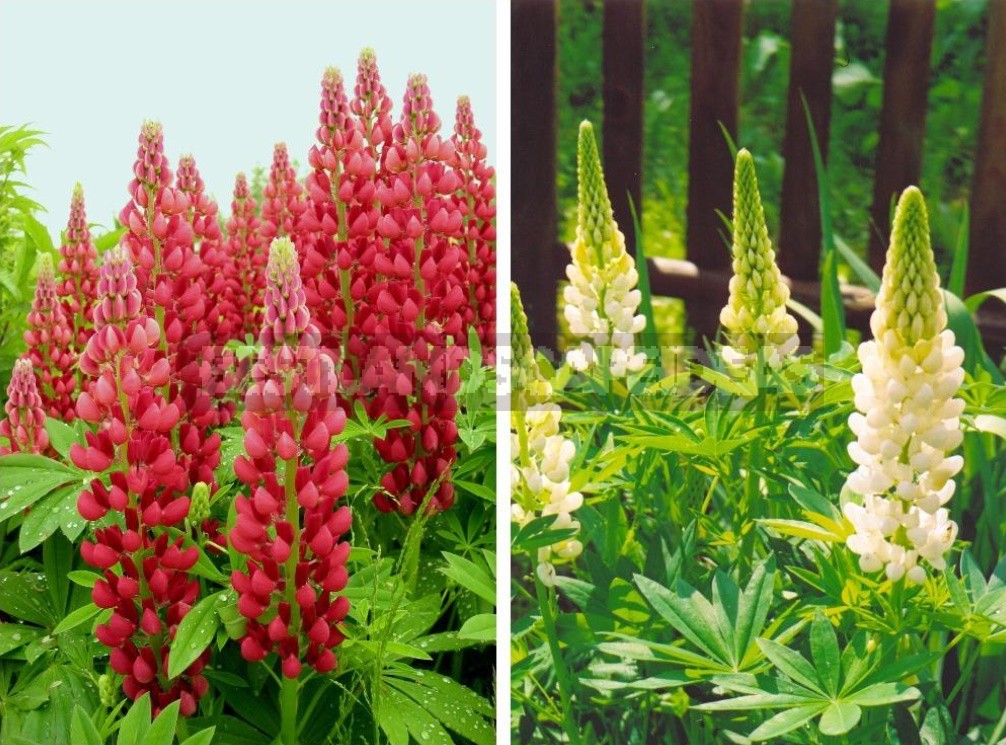 In one place, lupins can grow for 4-5 years. Over time, the root neck of the plants begins to rise above the ground, the middle part of the bush dies, but new side rosettes are formed, so old specimens require mandatory hoeing, which allows you to preserve the decorativeness.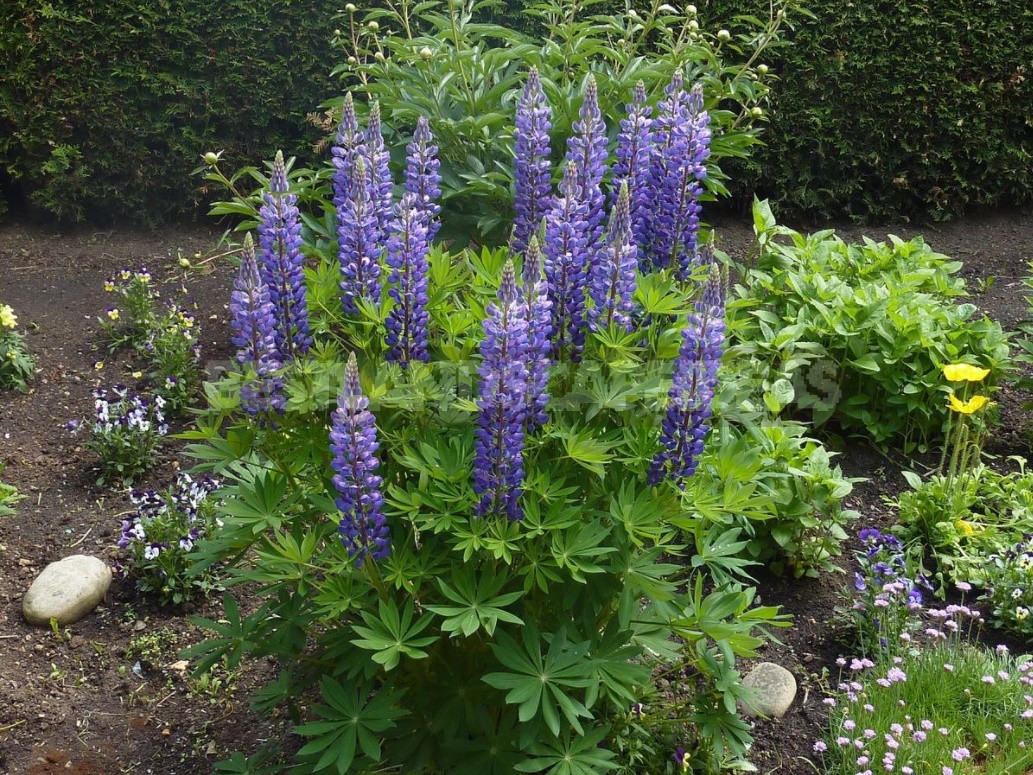 Lupins reproduce by seeds and vegetatively. The simplest and most effective method is winter sowing in the ground. The seeds are sealed to a depth of 2-3 cm and slightly sprinkled with peat on top. Shoots in this case are very friendly, but lupines bloom, as a rule, only in the next season. In the presence of a taproot, the transplant is well tolerated only by young plants, so the place for lupins should be prepared in advance and this operation should be carried out as early as possible.
Lupins often form self-seeding, but in the case of hybrid varieties, the parental characteristics are not preserved, moreover, in young plants, the banal blue-purple color usually dominates. Therefore, it is better to propagate your favorite varieties vegetatively. You can separate the young rosette or cut out the renewal bud formed at the base of the stem. This is done with a sharp knife or scalpel, taking a small piece of the root neck. For rooting in this case, a mixture with a high content of sand is used.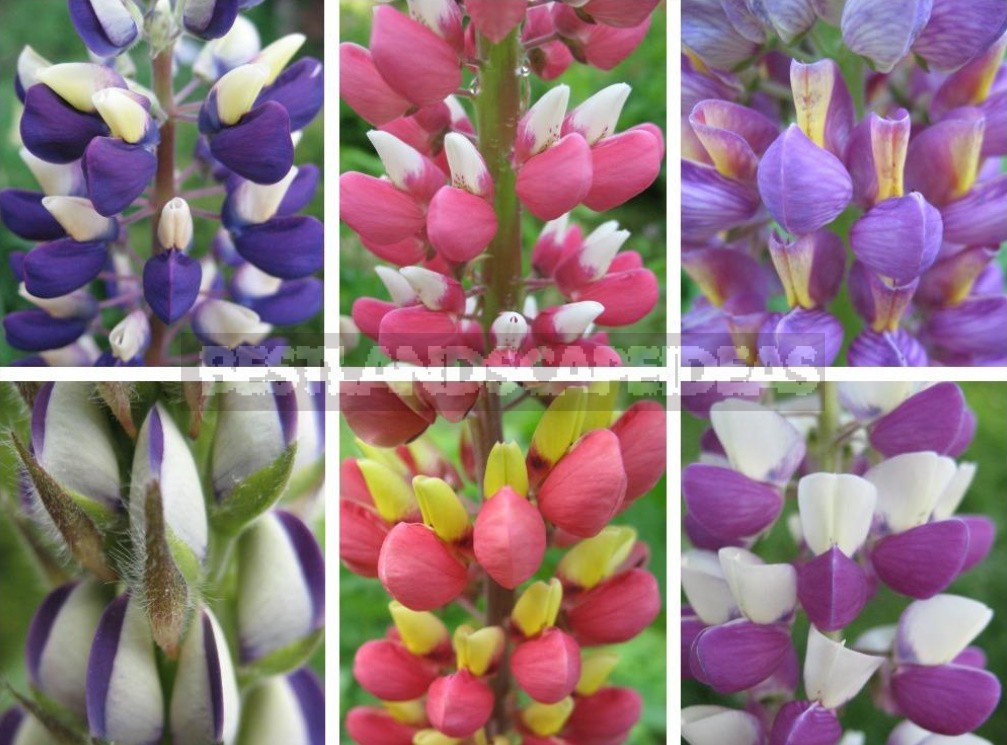 Lupines respond well to top dressing, but do not require special care, always pleasing the eye with a lush flowering and a variety of shades. Once appearing in your garden, the" wolf " flower will certainly become your friend. Don't hesitate!