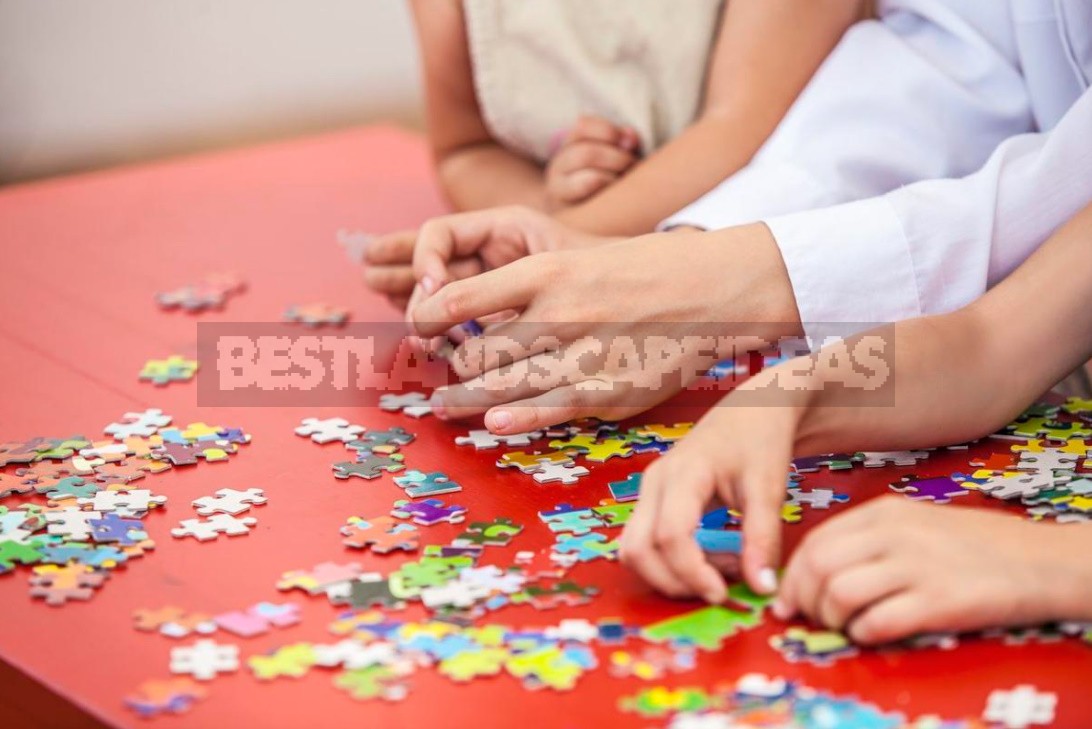 Collecting puzzles is an activity that both children and adults like. Not everyone, of course: such a hobby requires patience and perseverance. But real "puzzle-makers" can sit for hours picking up pieces of the future picture, and find genuine pleasure in it. My today's selection is addressed to just such fans, as well as their friends and family: the ideas collected here will help to please puzzle lovers with interesting gifts and will tell you how to decorate the interior of a country house or apartment with elements reminiscent of this hobby.
All the ideas in the collection are divided into two categories. The first one includes crafts made from pieces of old puzzles. Anyone who has encountered this puzzle knows: one has only to lose a single detail, and the picture can no longer be assembled, the whole set becomes useless… But no — not useless at all! Having looked through the collected ideas, you can see for yourself.
The second category is all kinds of crafts (decorative elements, interior details, souvenirs, etc.) made in the style of puzzles. Techniques are very different: patchwork, wooden and paper gizmos, clay products — what you can do, use it, there are enough ideas for everyone!
Frames and souvenirs from puzzle pieces
This idea impresses with its simplicity: even a child is able to cope with the creation of a frame for a photo or drawing. And the options (both for making and using such crafts) can be very different.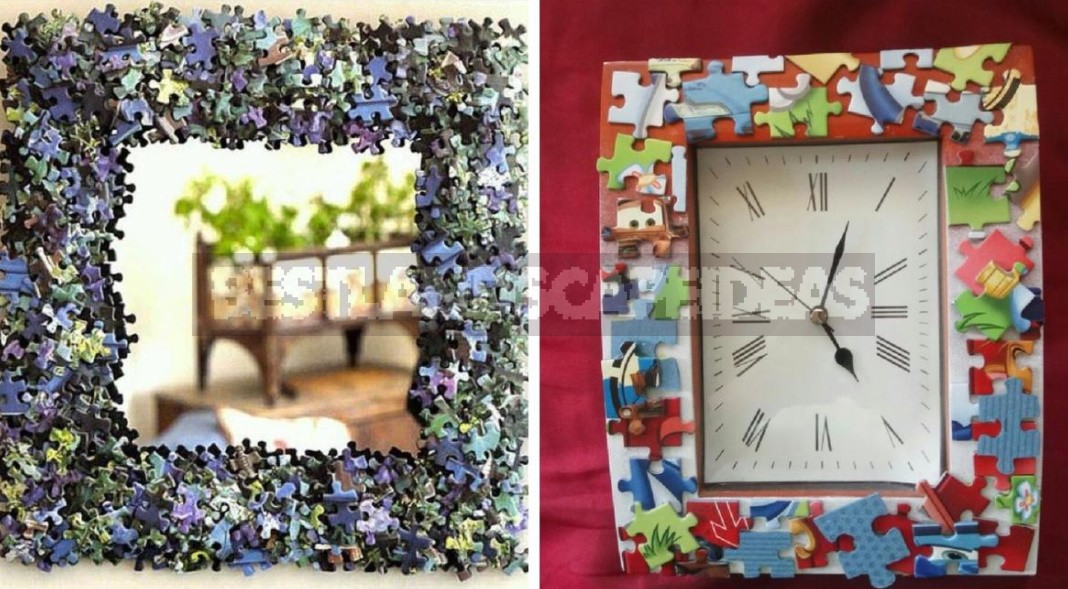 The easiest way is to use multi-colored pieces, randomly pasting them on the base in one or several layers. It will turn out an interesting colorful frame, and you can play with the design here, picking up fragments in tone or deliberately combining contrasting details. If the variegation is not to your taste, make the frame monochrome: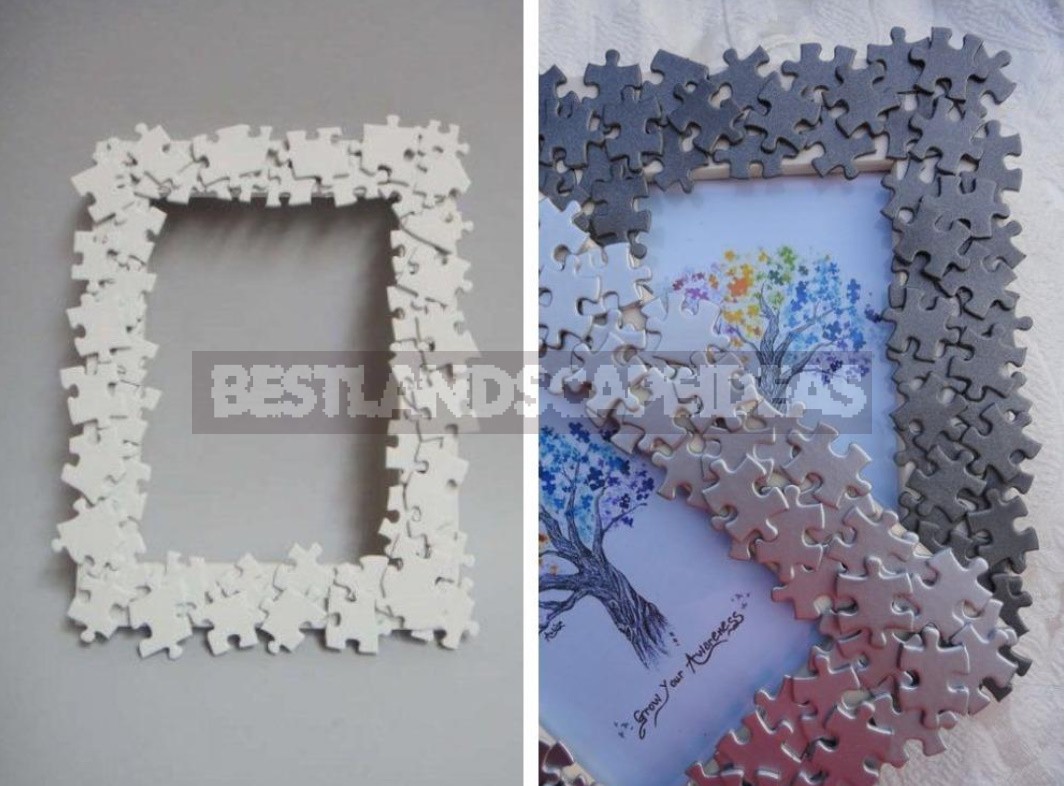 This, in general, is no more difficult, just an additional can of paint will be required. Moreover, you can paint both "semi-finished products— – pieces of the puzzle before assembly, and the finished product. And another nuance: in this case, it is better to paste the details with the base up: the paint may fall worse on the glossy surface of the picture. Alternatively, remove the colorful layer from each piece (but this is extra time and quite painstaking work).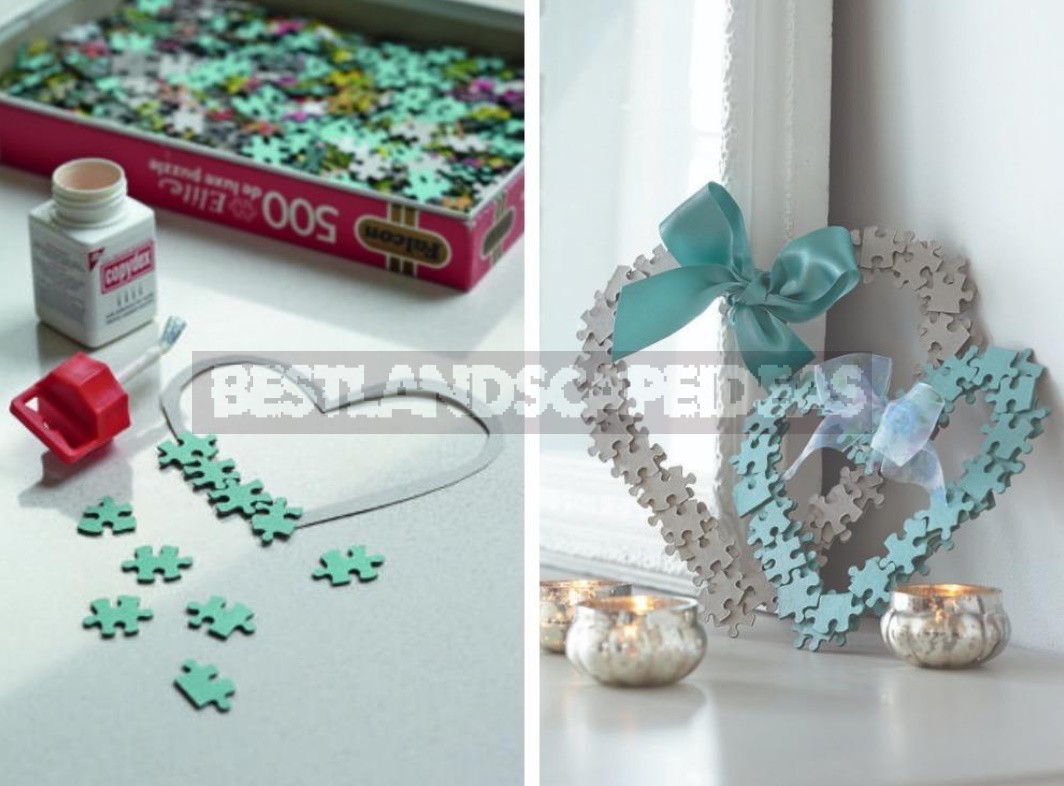 Add a little imagination — and a charming present or a cute decor for the interior of your own home is ready. And at the same time, the problem of what to do with the puzzle, from which it is already impossible to assemble a picture, is solved.
Decorative stands made of puzzle pieces
This idea is perhaps a little more complicated than the previous one, because here the product is no longer flat, but voluminous. But patience is not enough for puzzle lovers, and everything is fine with fine motor skills, so difficulties are unlikely to scare anyone away. As in the case of frames, the finished thing can be variegated or painted in any color of your choice: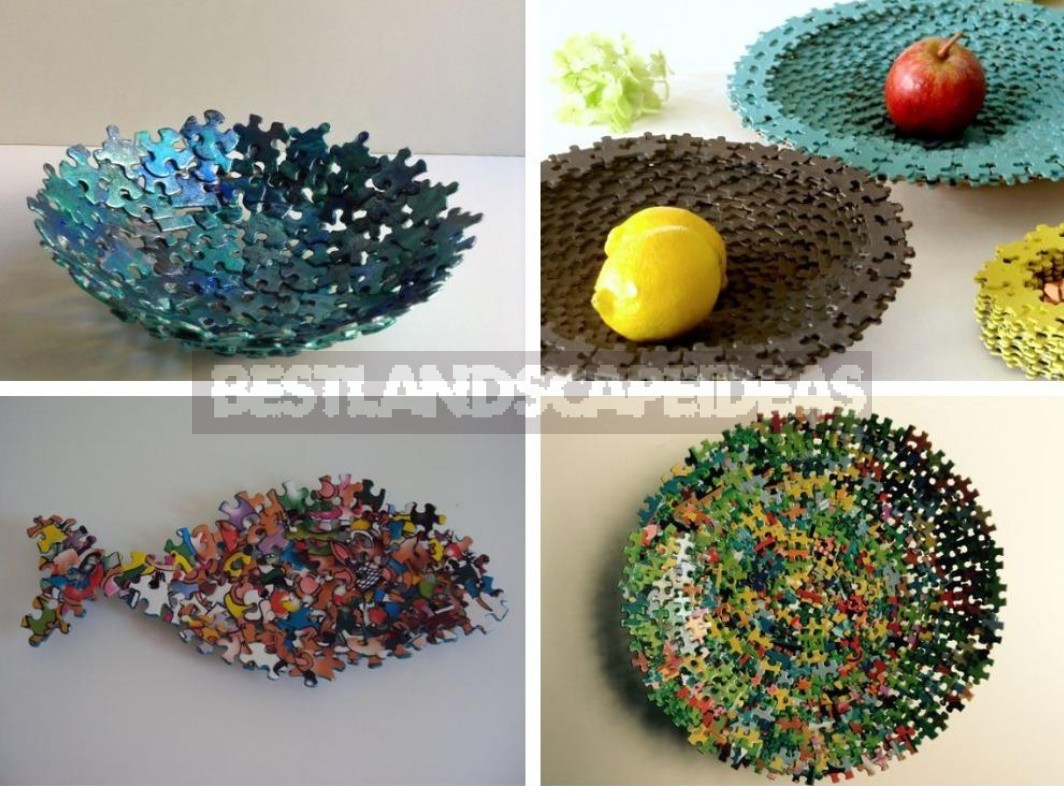 In the same technique, products of any other shape are made — vases, caskets, etc. And you can also simply glue a blank (for example, an unsightly cardboard box) with puzzle pieces — just like when creating a frame. A product with a frame will be deprived of the openwork of plates with photos, but it will acquire practical strength.
Pictures from pieces of old puzzles
By itself, any puzzle is some kind of beautiful picture. But if we can no longer assemble it, then what prevents us from making a new, unusual picture out of disparate elements? For example, like this: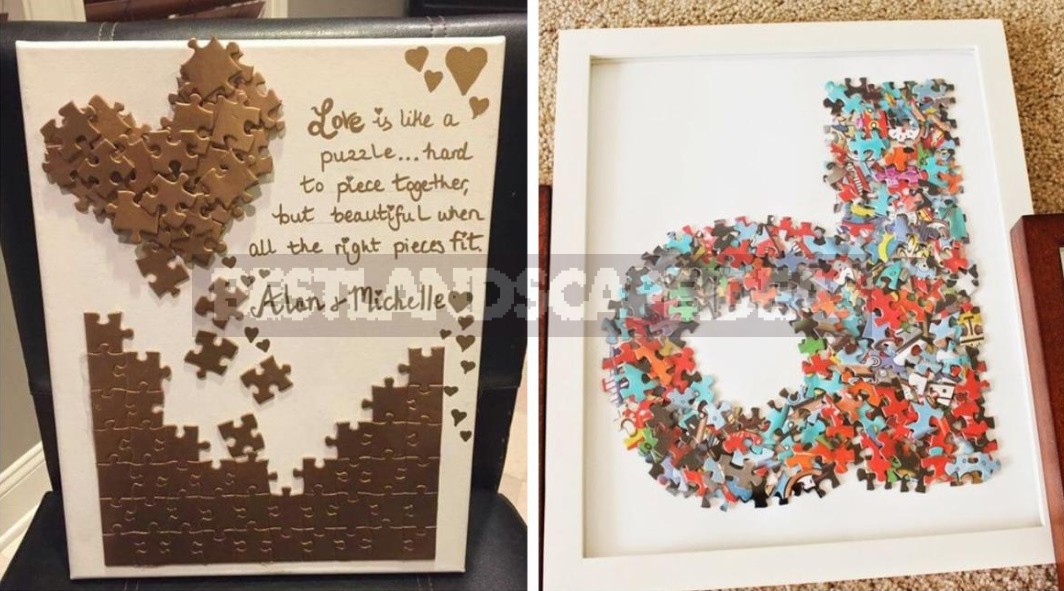 This idea is more for adults, but there are simpler ideas that can be implemented together with children — I'm sure they will also like such creativity. For example, here is the most popular plot — an autumn tree (and if you choose a different color scheme, the picture will turn out to be spring or summer):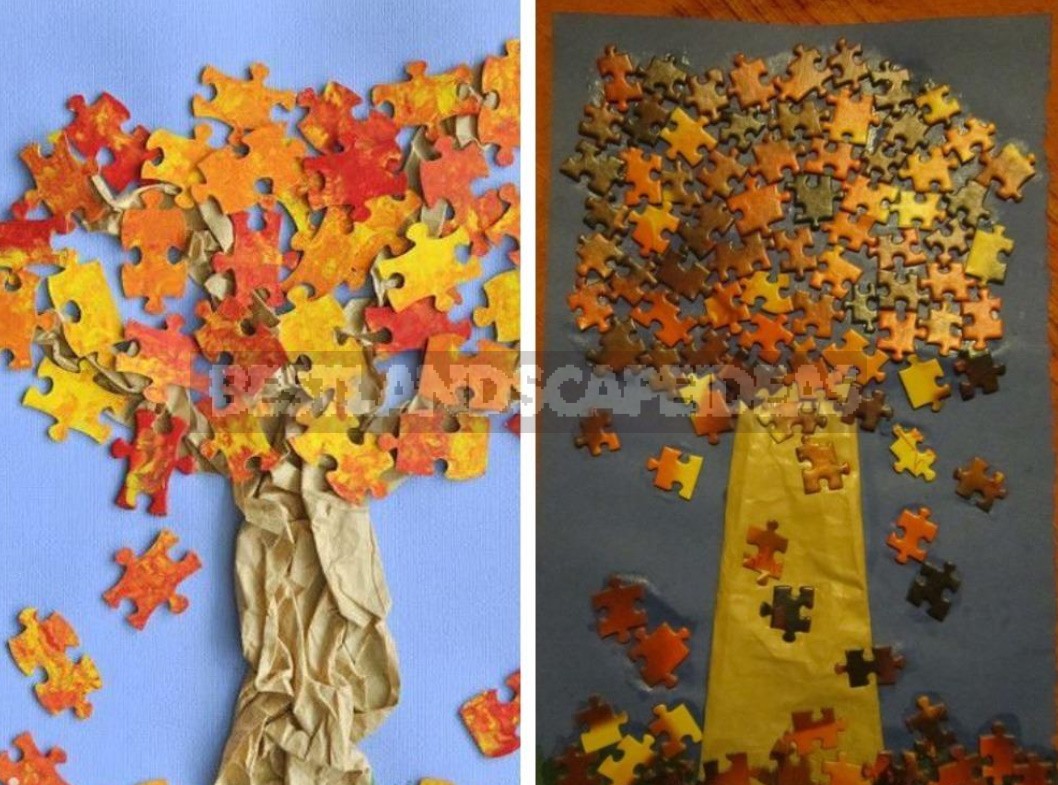 Festive decor from pieces of old puzzles
Perhaps most of all crafts of various kinds are made on the eve of the New Year holidays. Of course, they are still far away, but why not stock up on ideas in advance? Moreover, the old puzzles, which have nowhere to attach, are perfect for New Year's decor.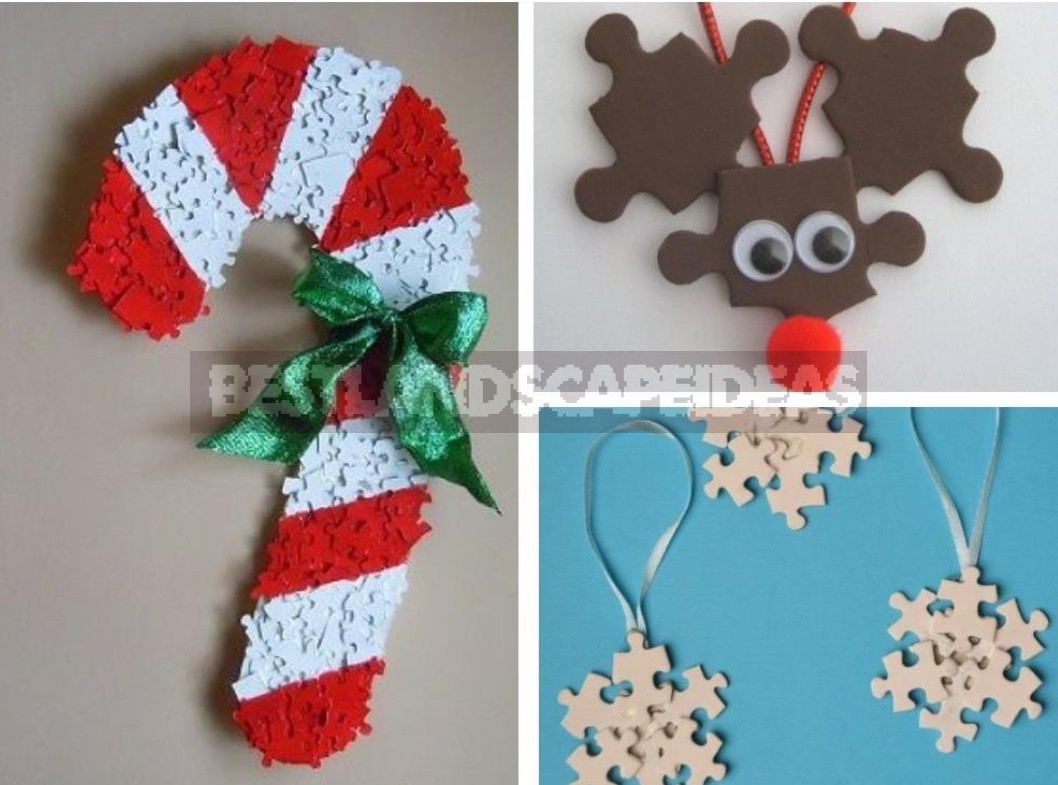 Do you remember how frames and hearts were made? The same technique is useful to make Christmas wreaths. They can be deliberately colorful or laconic, large or small, with additional decor or very simple – the material does not limit your creative impulses.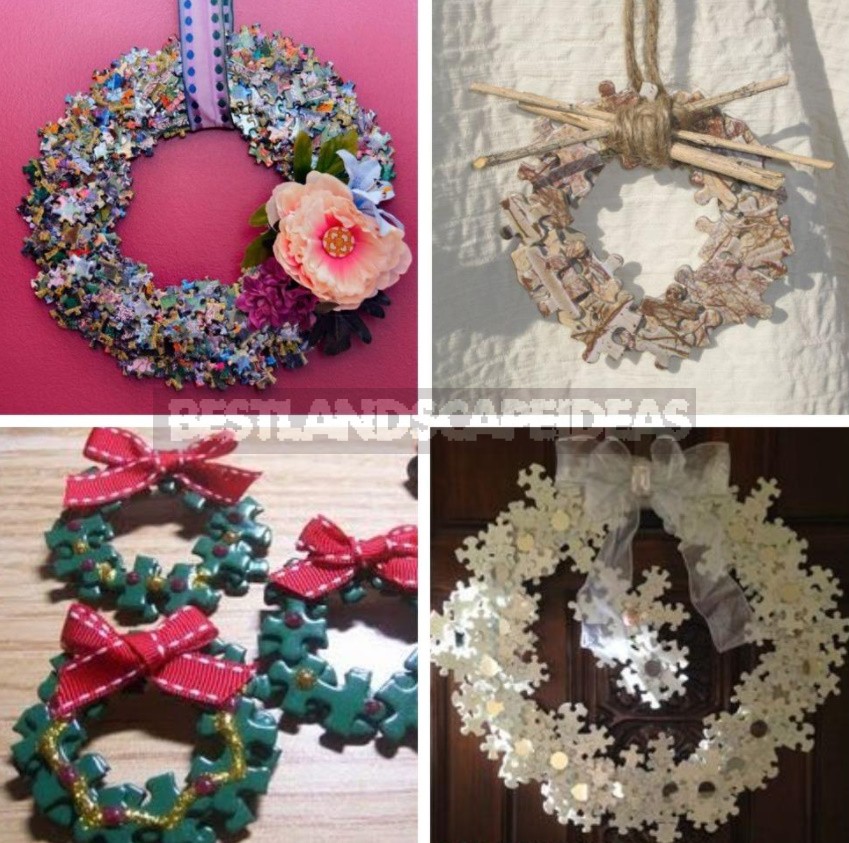 Snowflakes, Christmas trees, snowmen, Christmas reindeer, garlands – almost all kinds of Christmas decorations can be made with your own hands using pieces of old puzzles.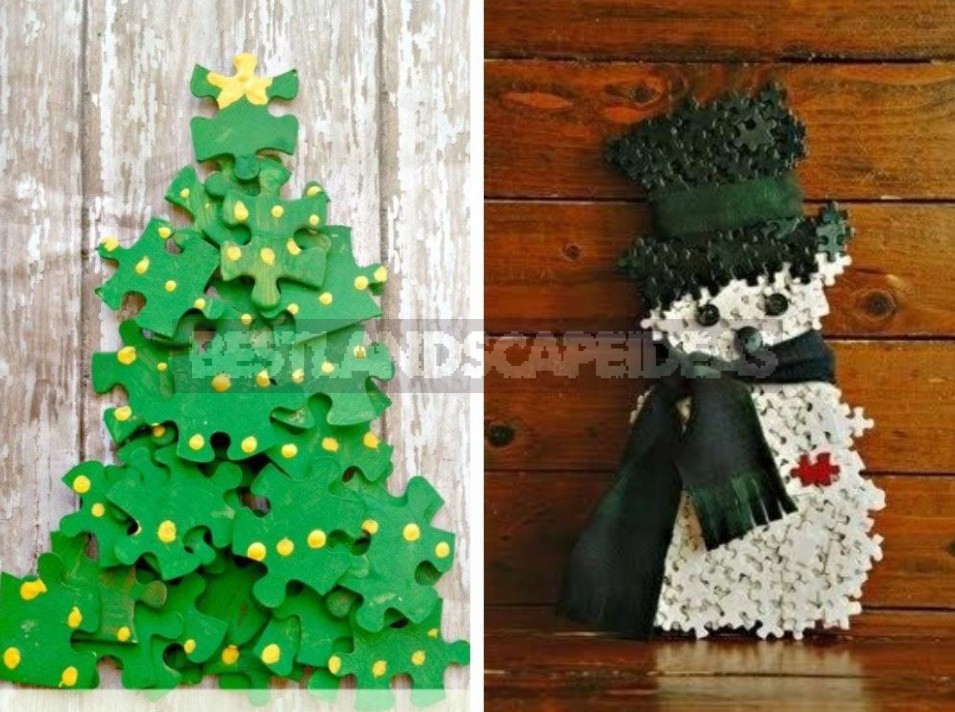 And then there is Valentine's Day — and all kinds of hearts as souvenirs or decorations for the interior.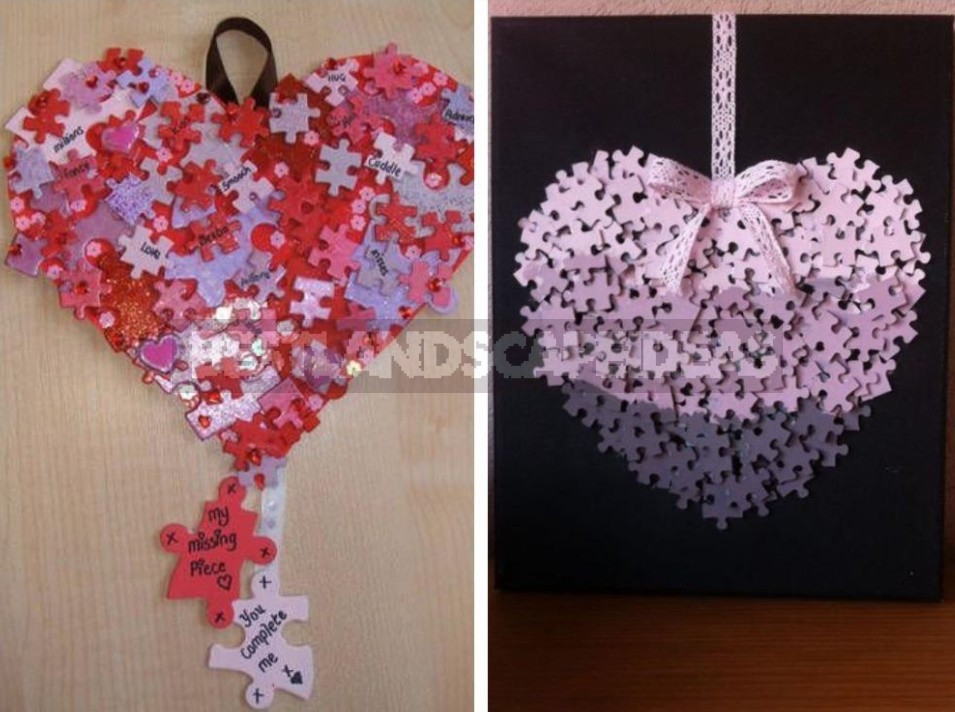 Do you not recognize this holiday? Then make a gift to your dear person just like that or create a romantic mood by decorating your home for no reason, under the mood.
Well, the old disassembled puzzles are no longer lying around, we have found a use for them. Craftswomen will certainly be able to develop and improve the proposed options, and it's time for us to move on to the second part of the selection – ideas of all kinds of useful and pleasant things that can please a fan of a popular puzzle.
Pillow Puzzles
A soft and cozy idea, the embodiment of which will require good cutting and sewing skills. In the form of puzzles, you can make decorative pillows on the sofa, side pillows in the crib, seat pillows on stools — but you never know where such a useful thing will come in handy!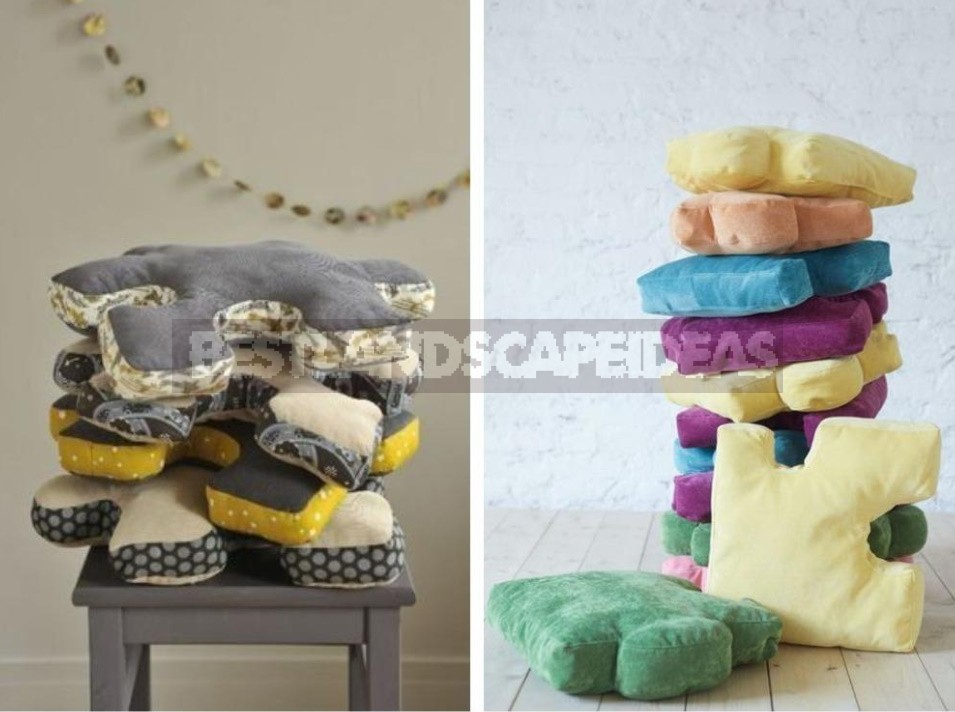 Of course, it is ideal if your pillow puzzles can be assembled like real ones. This is especially convenient in the nursery, where a soft and easily transformable rug will become a comfortable place for your child to play.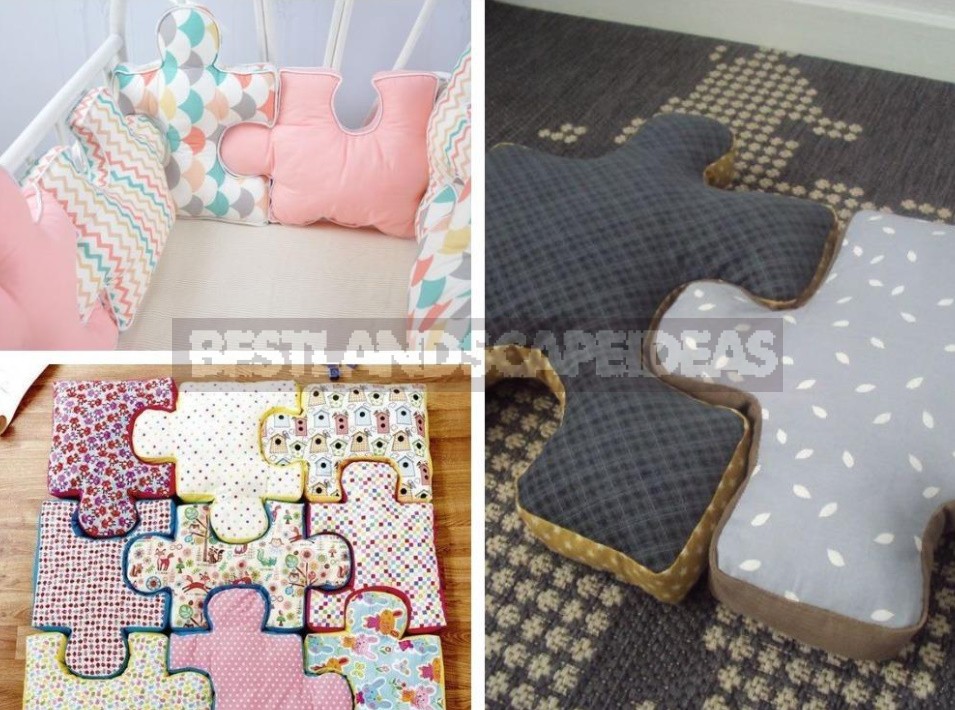 But even if it doesn't work out that way — don't worry, let there be just pillows, they definitely won't be superfluous!
Patchwork puzzle mats
This idea literally begs for itself, right? And a suitable mat is definitely needed in the set for the puzzle pillows. Felt puzzles look great, but this material is not available to everyone, but a patchwork rug made of different—sized scraps is a budget idea and technically quite feasible.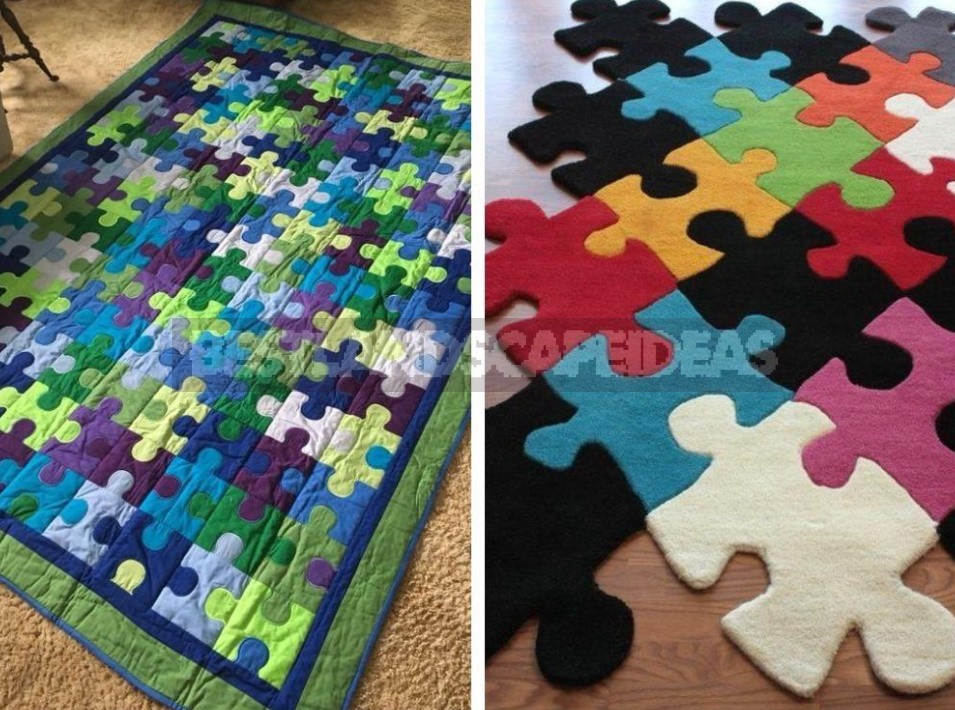 It is better for not very experienced craftswomen to choose a simple option using square templates, but those who are confident in their skills create intricate and intricate "puzzles" made of fabric. And by the way, why not make not only rugs, but also bedspreads?..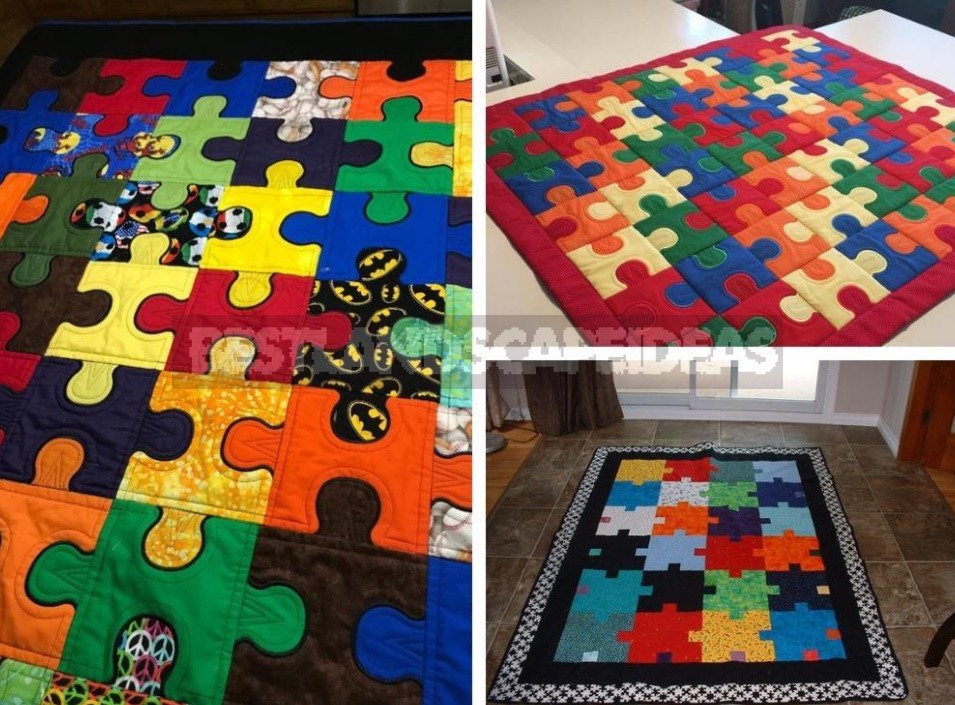 Decorative souvenirs-puzzles
Yes, all kinds of decorative trinkets-fintiflyushki are not to everyone's taste. If you or the person to whom the present is intended are fans of a laconic interior, it's better to choose another idea after all. But these cute crafts will surely find a response in someone's soul.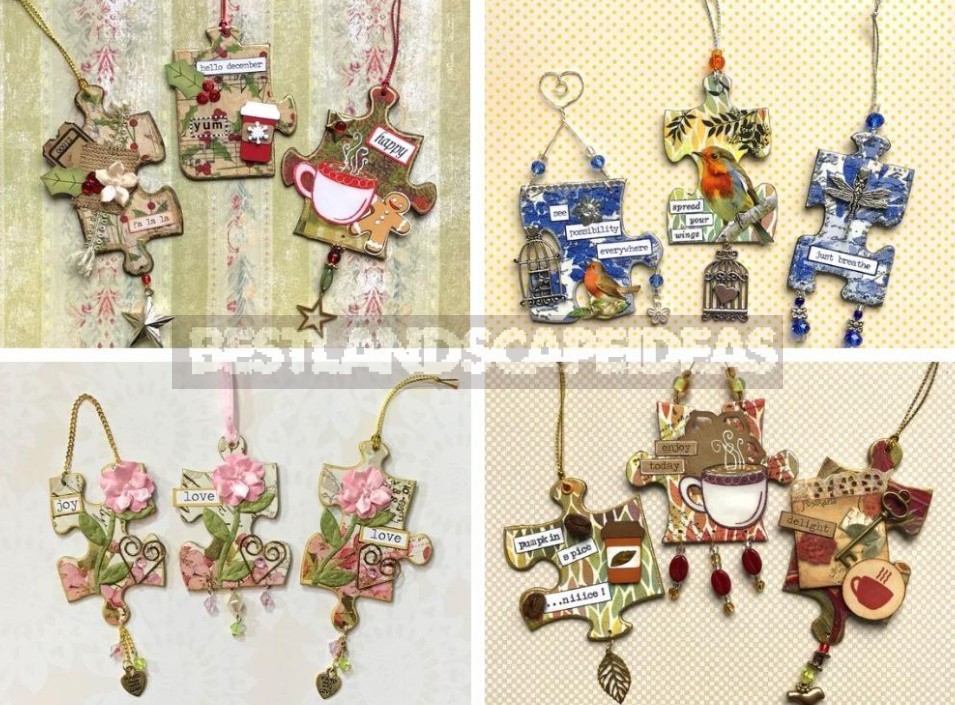 The material for creating your own masterpiece can be clay or a special mass for modeling, or you can use a wooden or cardboard base and a variety of accessories — the choice of technique is yours.
Photo Frames-puzzles
I was captivated by the idea of wall compositions decorated in the form of puzzles with family photos. Yes, only experienced craftsmen can reproduce this with their own hands. But on the other hand, if you are looking for a unique, memorable gift for any important date — for example, a wedding or anniversary — it will not be very difficult to find a master who can embody this idea according to your sketches.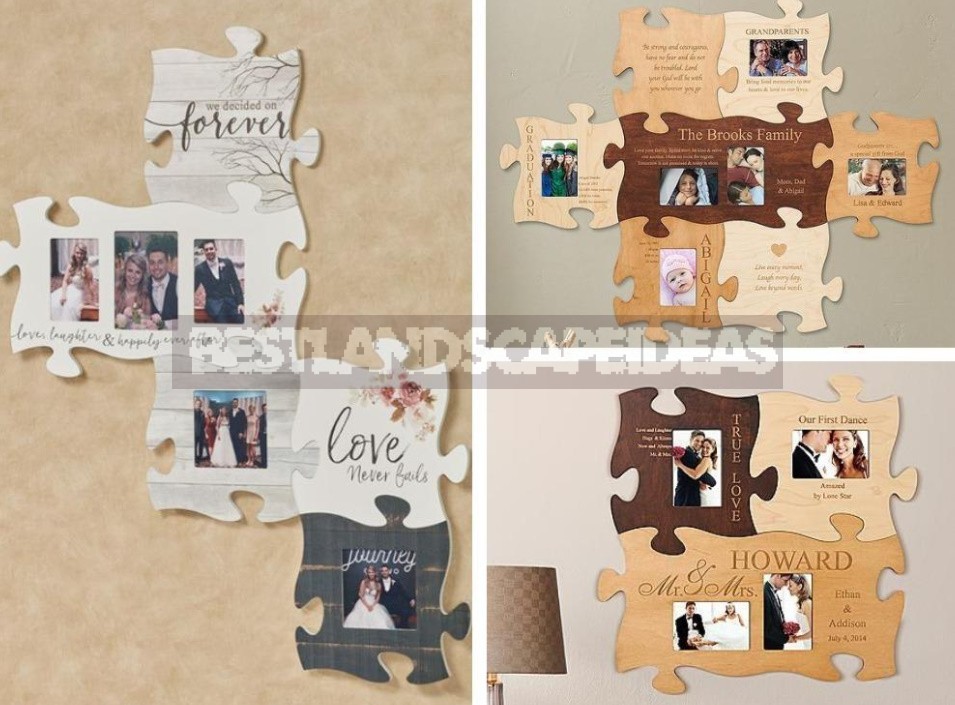 Decorative panel puzzles
The theme of puzzles is in demand among decorators and creators of various interior details. I suggest taking note of a few ideas. Yes, not everyone will like them and not suitable for every home, but maybe someone will see something here that will interest him. For example, I liked the idea of a calendar of birthdays and memorable dates, made in the form of a puzzle. And you?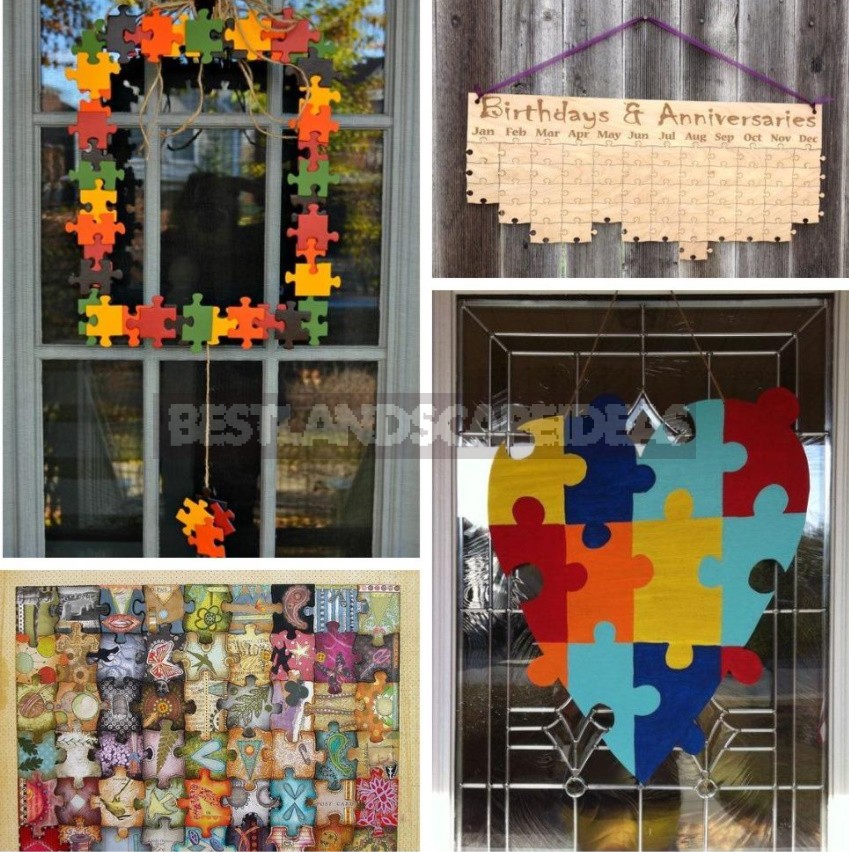 Decorations-puzzles
If the present is intended for a female, the theme of jewelry should not be discounted in any case. The original jewelry of the author's work is a wonderful gift. And the ideas are here, please: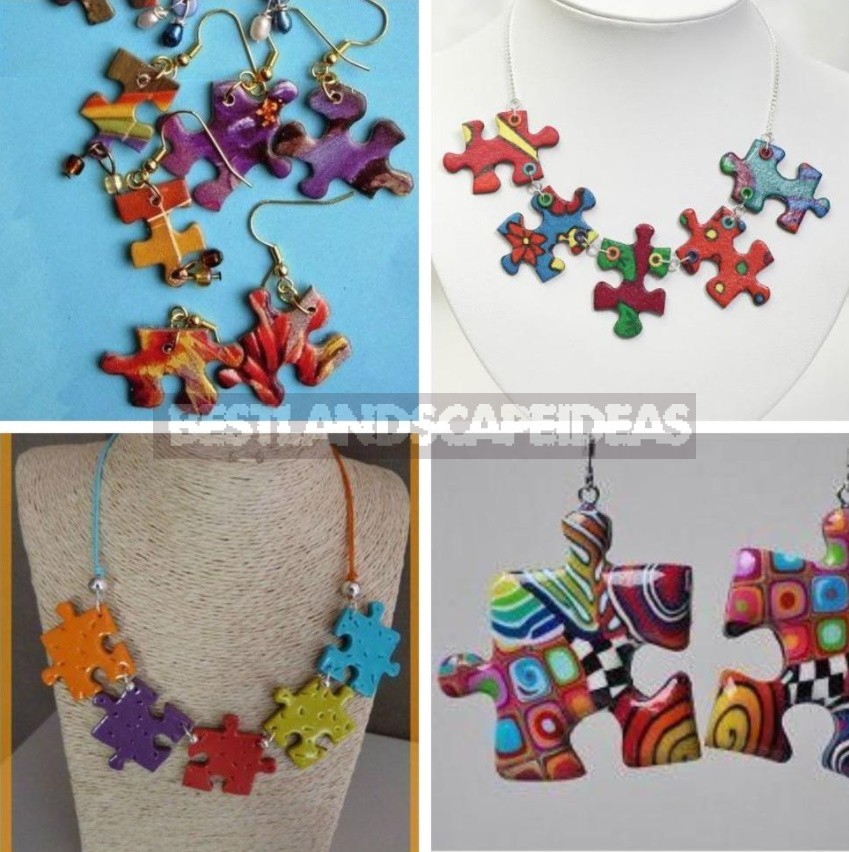 My selection has come to an end. I will be glad if you found something to your liking among the ideas presented. Or maybe you have already implemented some of them? Puzzle lovers, please respond! Share your ideas, evaluate which of the proposed ones would suit your taste.