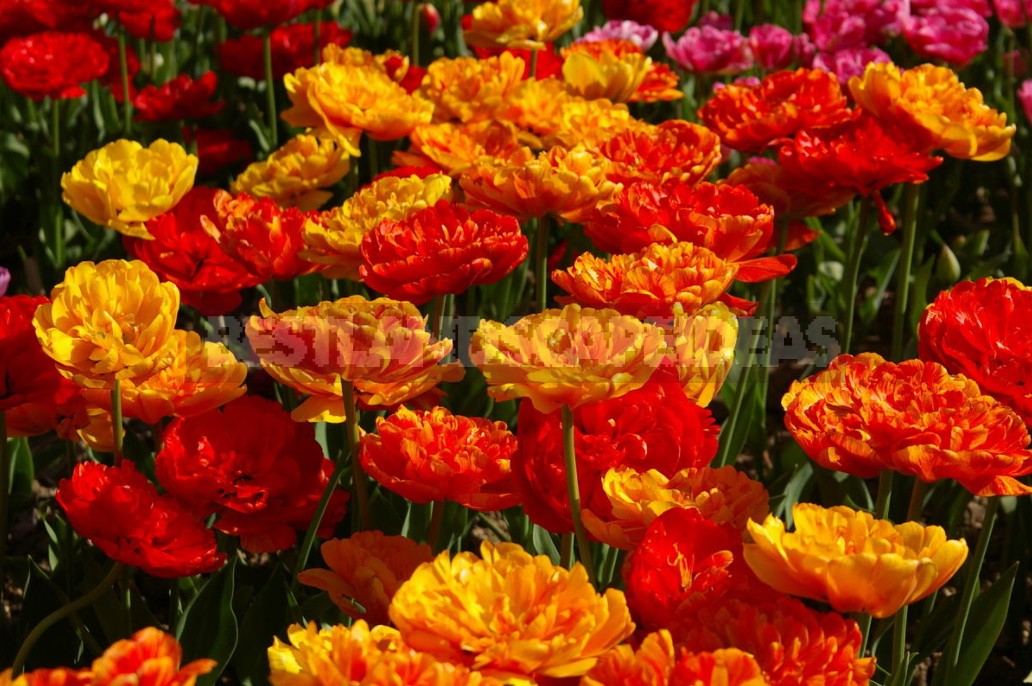 Terry Late Class
Its representatives are no less spectacular than their early "relatives". We will pay a little more attention to the varieties of this class, since there is no material dedicated to them on our website yet.
'Angélique'
A very beautiful named tulip. Since it was created in 1959, it can already be classified as historical. Strong peduncles 35-45 cm high bear delicate white-pink peony-shaped flowers with a diameter of 9 cm or more. It will look good in the composition of a spring flower garden and in a bouquet with both white and pink double tulips.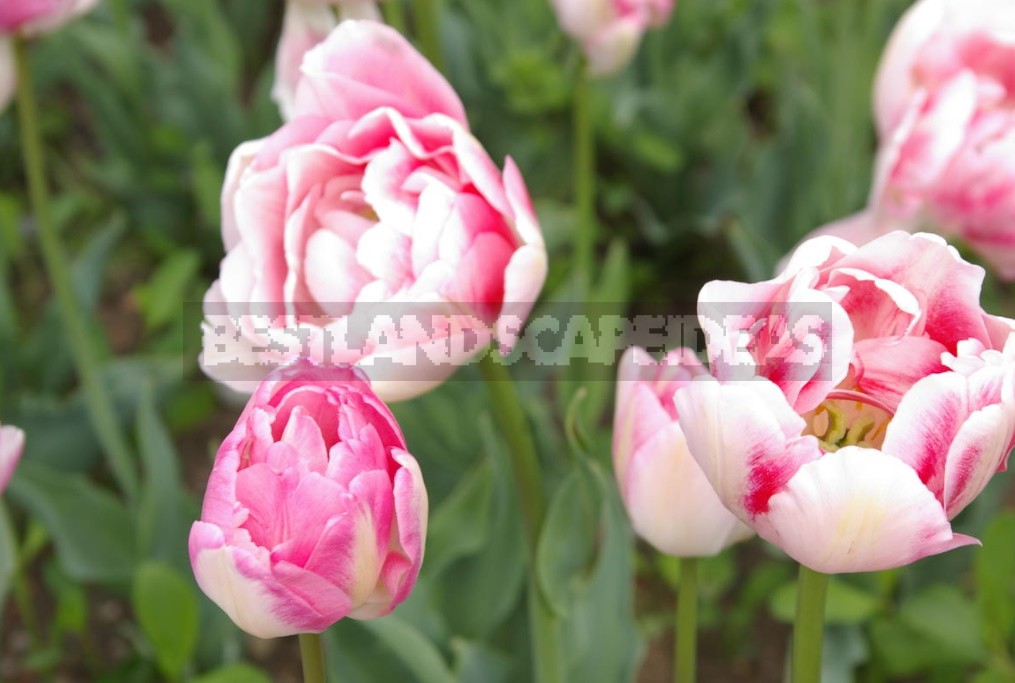 I want to draw your attention to the interesting metamorphoses that occur with the flower as it blooms. The bud (in the photo – bottom left) has a light yellow back and a pink border. And then – the opposite is true: the back becomes pink, and the border of the petals seems to fade, becomes white.
'Blue Diamond'
One of the best double tulips with purple-purple flowers was created in 1990. Strong peduncles 40 cm high bear cup – shaped flowers with a diameter of 8 cm .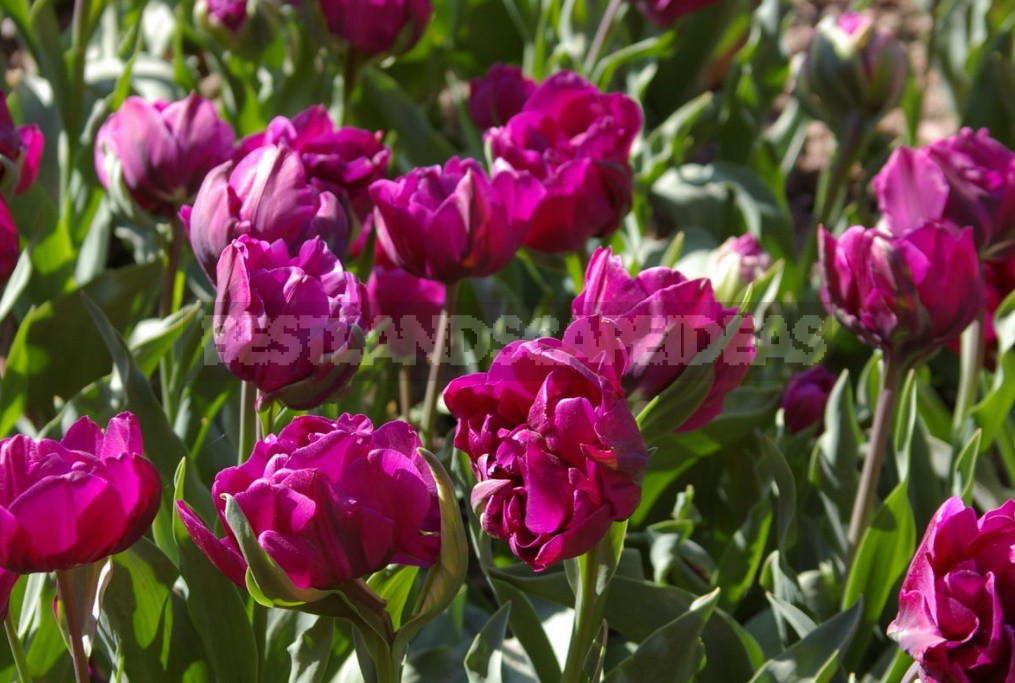 At first glance, tulips of this variety may seem gloomy, but they will look great with contrasting terry varieties of white, yellow, cream and two-tone (white-pink or white-yellow) colors.
'Bonsoir'
A beautiful white-pink tulip, created in 1998, is somewhat similar to the 'Angélique' variety. Thin peduncles 35 cm high are topped with cup – shaped flowers 8 cm in diameter .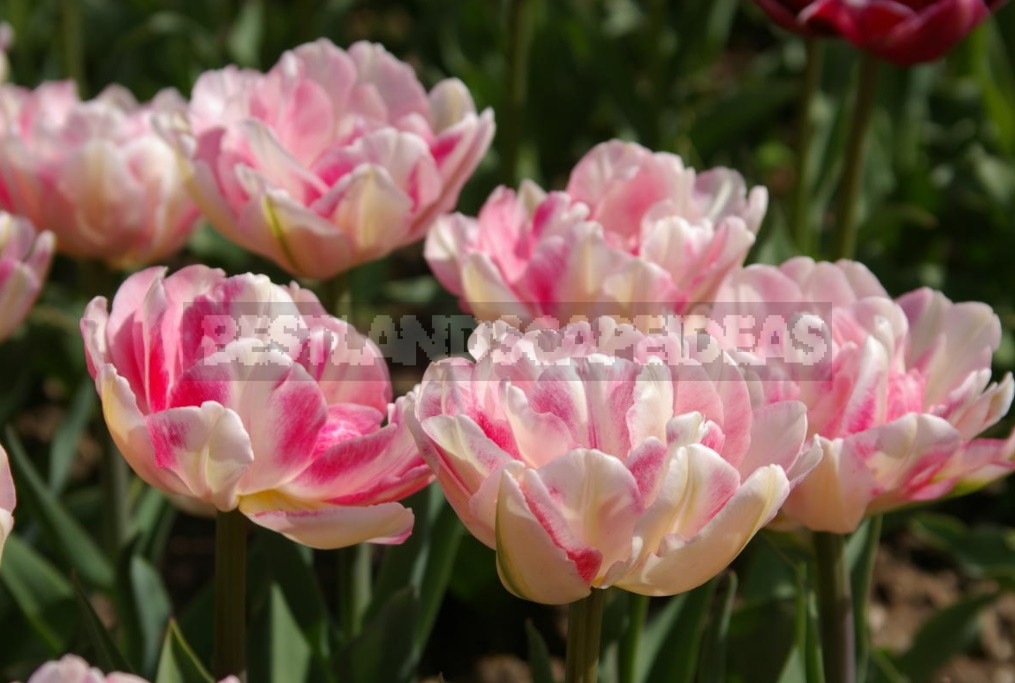 Despite the diversity, it will find its place in spring mixborders and borders, it will look spectacular next to light gray stones in the rockery.
'Brooklyn'
His appearance caused a real sensation. The flowers of the modern variety (created in 2011) resemble ice cream: up to 15 cm high and up to 7 cm wide, crowned with white petals. Peduncles are strong, up to 50 cm high.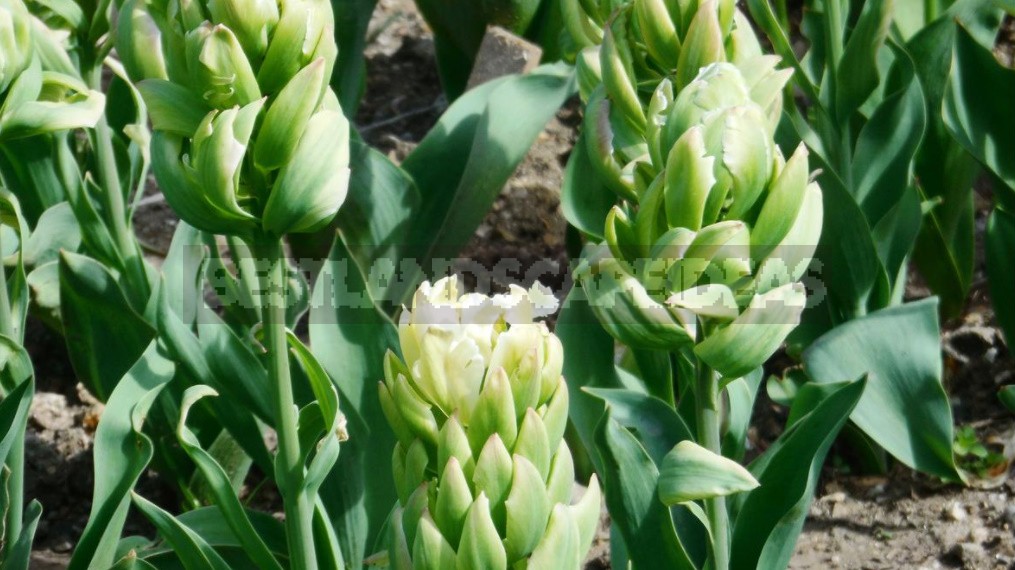 An unusual variety can be placed in wide garden stationary flowerpots and in the foreground of rockeries.
'Casablanca'
Geographical tulip, whose name is associated with the city of the same name in North Africa, was created in 1981. Peduncles of medium strength, 30 cm high, cup-shaped flowers, light yellow, up to 8 cm in diameter. When fully dissolved, it looks like a hybrid water lily. It is spectacular in bouquets and in spring flower beds.
'Chato'
The luxurious tulip became a regular participant in the parades; it was created in 2009. Sturdy peduncles 35 cm high proudly bear lush crimson flowers up to 8-9 cm in diameter . Suitable for planting in spring borders, flower beds and rocky gardens, where it will look beautiful against the background of gray boulders.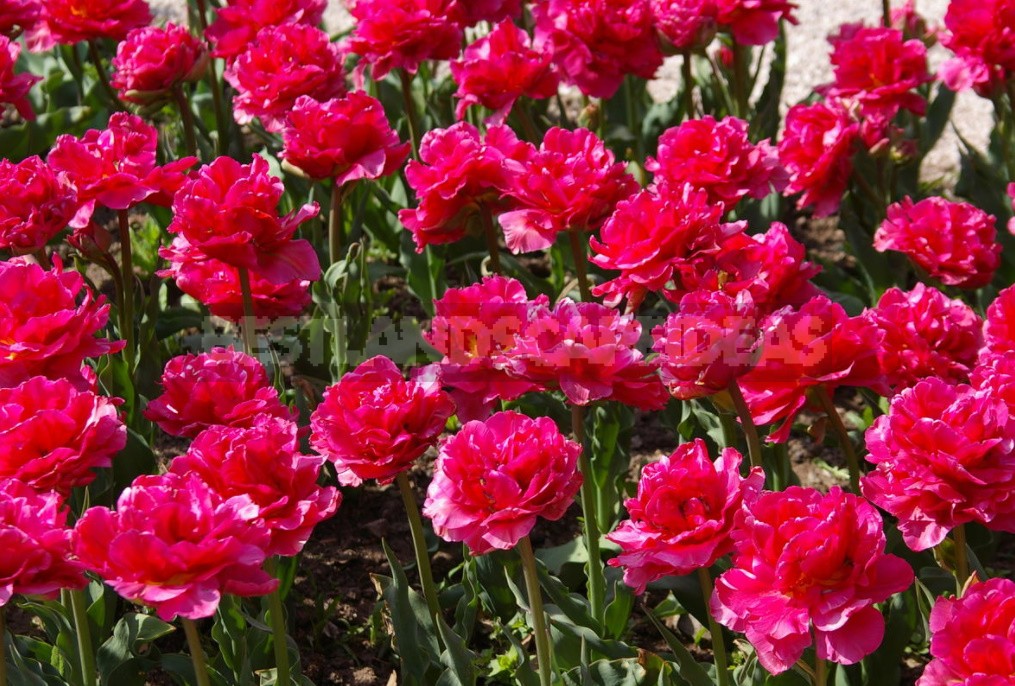 'Horizon'
The two-tone tulip was created at the turn of the century, in 1999. Strong peduncles 40 cm high are crowned with thick-masked flowers up to 9 cm in diameter, the petals are red, with a white border. It is beautiful in borders and spring mixborders, where it can be equally effectively combined with terry red and white varieties; suitable for cutting.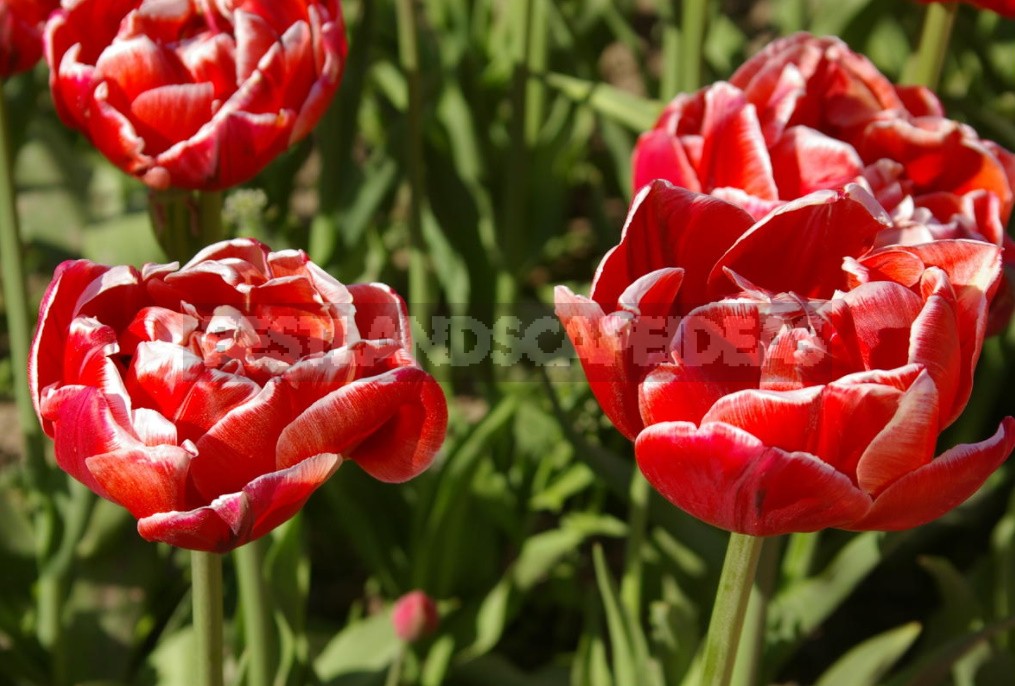 'Maureen Double'
This variety charmed visitors with exquisite white-yellow double flowers at the parade. Created in 2005 . Strong peduncles up to 60 cm high bear cup – shaped flowers up to 11 cm in diameter . It is good for large and small spring groups, it looks very nice in rabatki against the background of the lawn.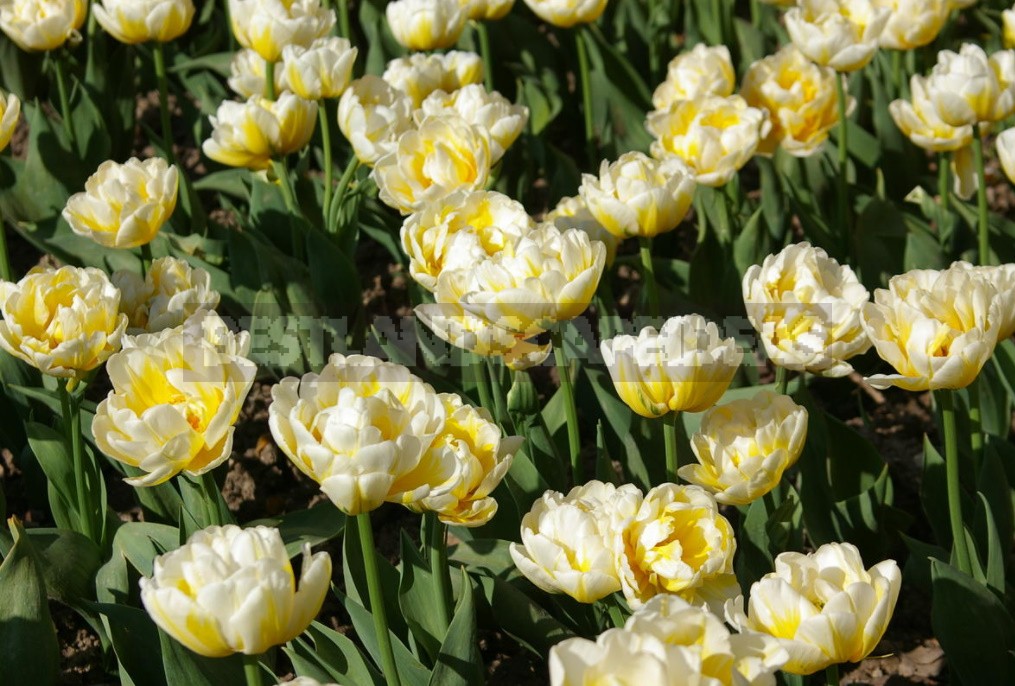 'Sundowern'
A bright two-tone tulip with strong peduncles, flowers up to 9 cm in diameter, thickly double, cup-shaped, lemon-yellow, with a wide red border. Very popular: created in 2013 and two years later participated in the parade of the botanical garden!
Variegation of the variety is not a viral disease. It does not look pretentious, but if desired, in mixed plantings it can be balanced with double tulips of red and yellow colors.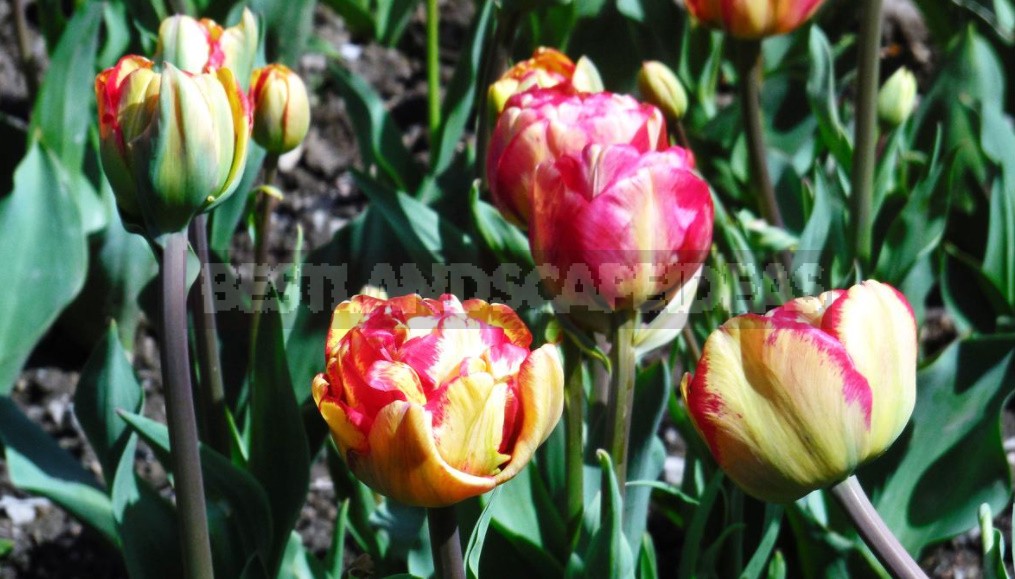 'Silk Road'
A fairly young variety (created in 2013). Strong peduncles 35 cm high bear cup-shaped light yellow (almost white) flowers up to 9 cm in diameter. Suitable for rockeries and spring borders. It looks very nice in bouquets.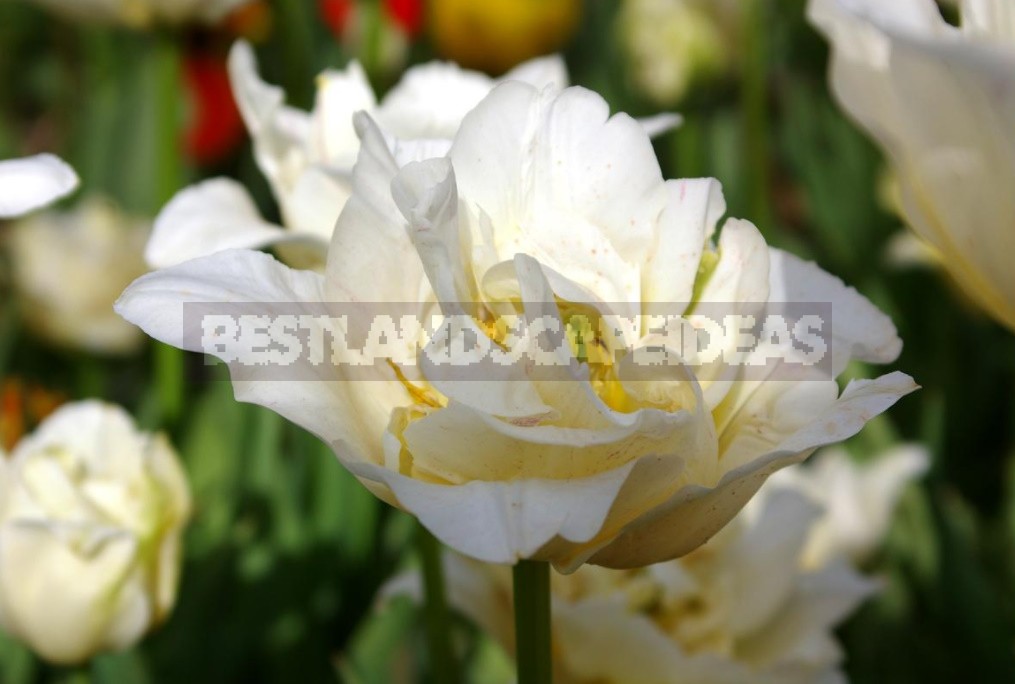 'Urgyen'
A beautiful tulip was created in 2007. Strong peduncles up to 40 cm high are crowned with thickly cup-shaped flowers with a diameter of up to 9 cm of crimson color. Varieties like this are timeless — there's always a place for them in mixborders.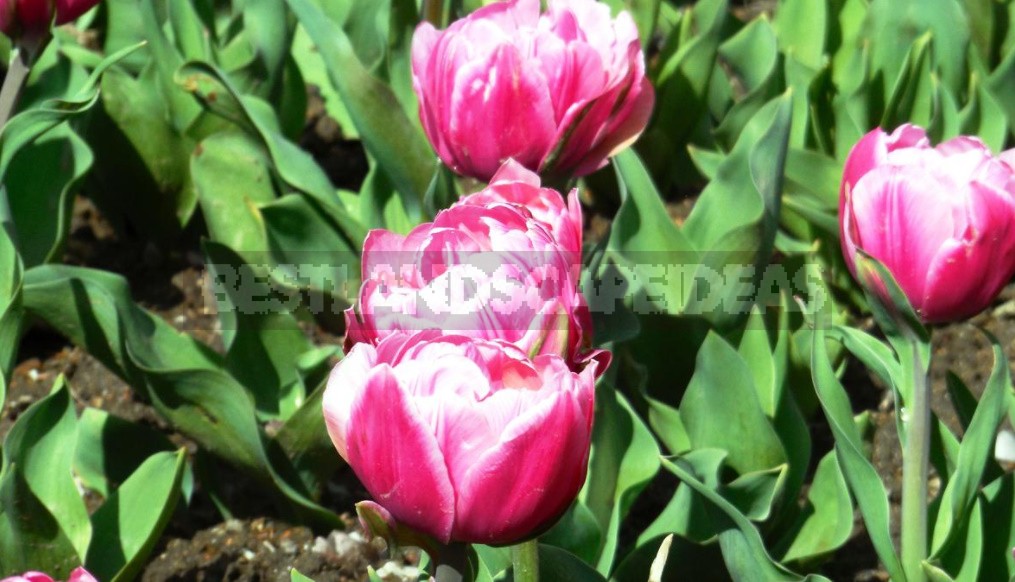 Today, instead of traditional questions, my dear summer residents, I want to cheer you up. Yes, it is difficult to stay in self-isolation mode for a long time, but this is a necessary and vital measure! Do not lose heart — together we will cope with everything, we will overcome everything! Despite everything, tulips are blooming in the botanical garden, and you can admire them online. I was moved to tears by the action when flowers from this year's Tulip Parade were given to doctors, a low bow to them for their selfless work!