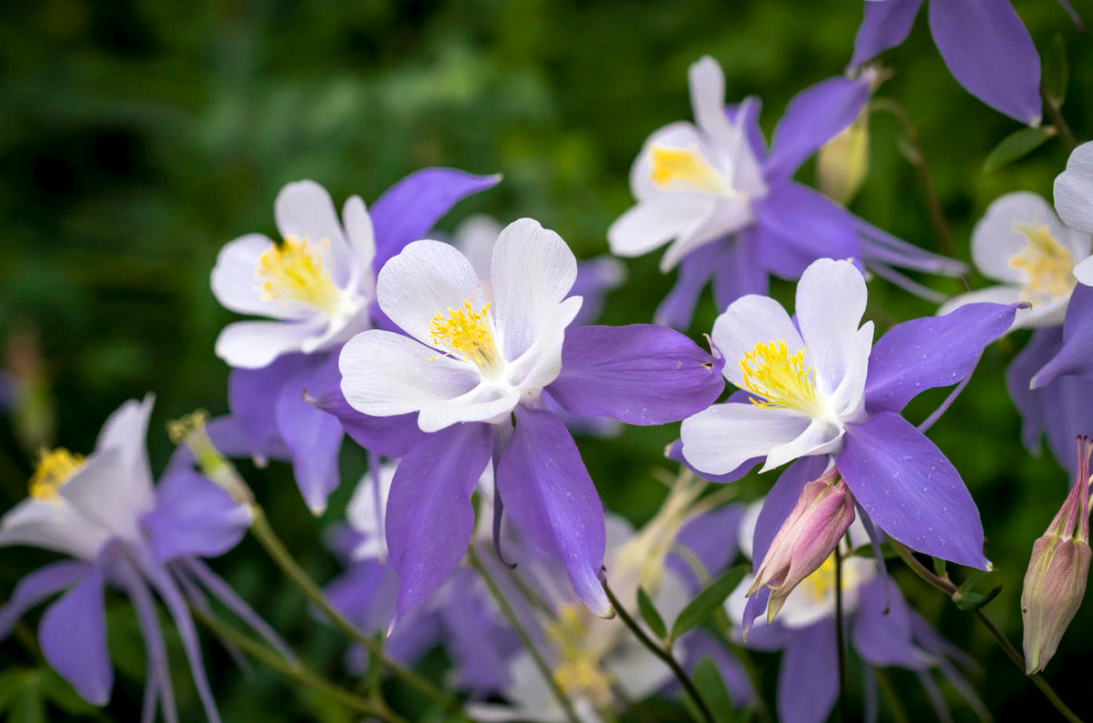 The flowering of aquilegia lasts only a few weeks in early summer, but this elegant perennial is loved by many gardeners. Mainly – for the refined beauty of its flowers and carved foliage, which decorates the garden since early spring.
Portrait of a plant
Aquilegia foliage appears in April, when tightly rolled bluish-green "heads" sitting on long petioles open into complex openwork leaves, each of which resembles a fan in shape. Most of the aquilegias bloom in June. Drooping brightly colored buds bloom, the 5 sepals covering them stand up almost horizontally and expose 5 petals, which may be the same color, but more often turn out to be contrasting. A bunch of golden stamens, extended beyond the "skirt" of petals, gives the inflorescence a sweet charm.
For such an unusual shape of the aquilegia flower, it was named columbine, because the flowers of Aquilegia vulgaris look like 5 pigeons gathered in a circle.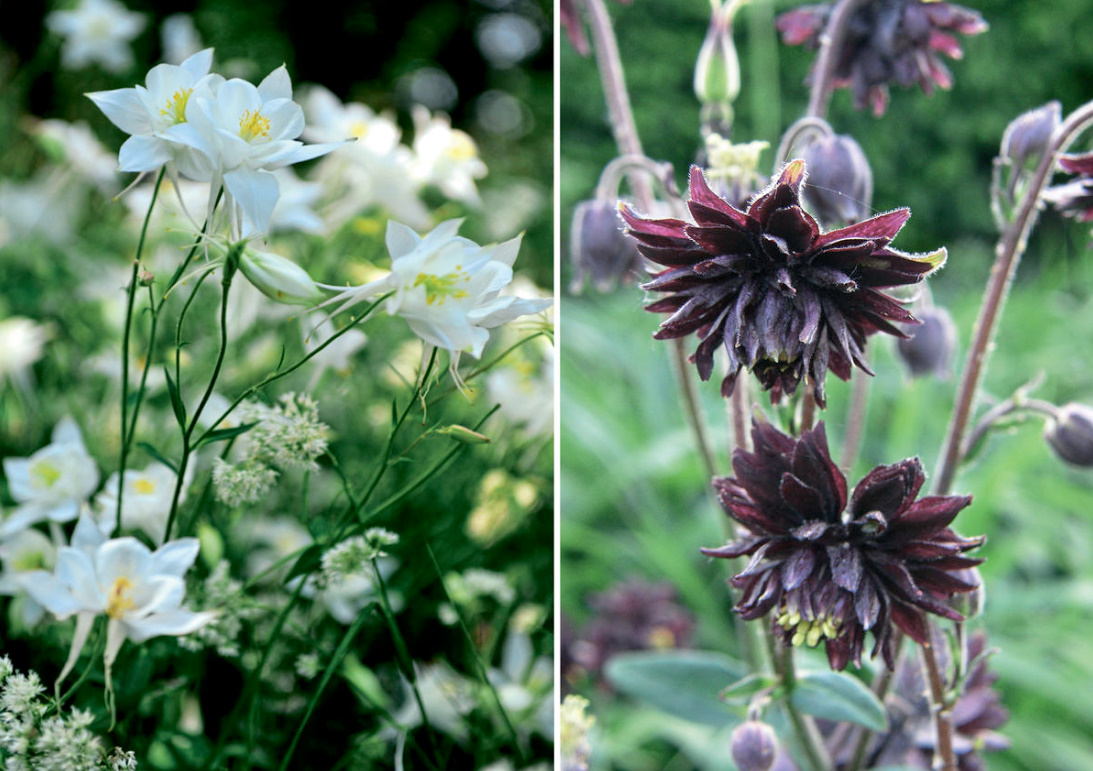 The choice for the gardener is huge: the genus has about 70 species, hundreds of varieties and hybrids. The flowers of Asian and European plants (Aquilegia alpina, Aquilegia flabellata, Aquilegia vulgaris, Aquilegia atráta) are "painted" in blue, purple, white or pink shades and have short spurs. But North American species (Aquilegia chrysantha, Aquilegia canadensis, Aquilegia formosa) are often painted in red-yellow tones and are distinguished by long spurs.
The inflorescences of aquilegia are usually drooping, the exception is Aquilegia caerulea, on the basis of which a series of varieties with flowers looking up are derived. But the main objects of hybridization were species from North America, which differ in the largest inflorescences and a wide palette. The first successful experience was the aquilegia of the McKana group and Mrs. Scott-Eliott hybrids, but today they have been replaced by the F1 hybrid series (Butterfly, Songbird, State, Winky Series), characterized by high uniformity, huge flowers and often compact bush size.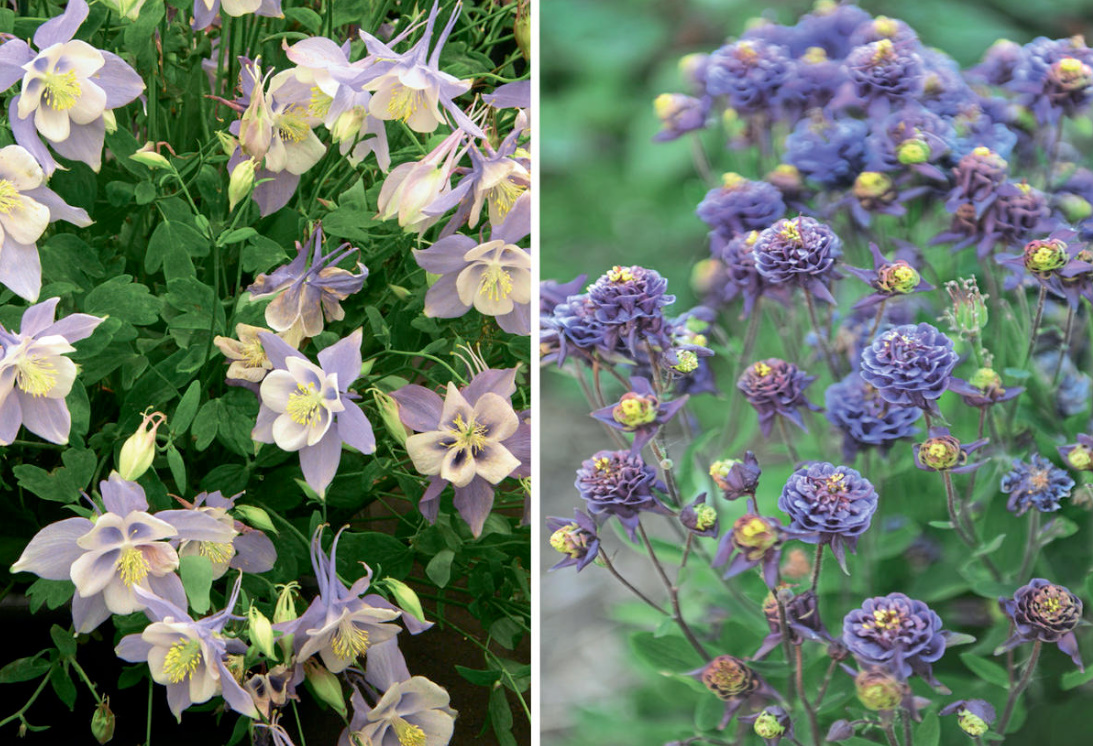 Recently, new varieties of Aquilegia vulgaris have been bred — with variegated foliage, new forms of inflorescences and even with a pleasant aroma.
Among Aquilegia there are cultivars with double flowers, they can be conditionally divided into three different forms:
The first is the "clematis-flowered" or stellate variation of Aquilegia vulgaris. It is distinguished by the absence of petals and spurs and a large number of small narrow pointed sepals, folded so that the flower resembles a terry clematis;
The second form of the double flower Aquilegia is similar to the first, but there are much more sepals, and they are narrow. Such is the popular variety 'Ruby Port', cultivars Barlow Series and Clementine Series;
The third form is a variation of flore pleno, or "flower in flower" with two or more rows of petals. It is possessed by such cultivars as 'Double Pleat', Bonnet Series, terry Aquilegia from Winky Series.
Optimal growing conditions
Most aquilegias grow best in sparse shade or in sunny areas where the soil does not completely dry out.
The soil should be moist, but well drained, preferably rich and ideally slightly acidic.
Reproduction of aquilegia
Aquilegia often behave like juveniles, disappearing from the flower garden after 3-5 years (and in hot climates or on very rich soils — and even faster). Long-tailed hybrids behave especially unpredictably.
Due to the fact that aquilegia has a thick and deeply rooted taproot, its division and transplantation are problematic. It is easiest to propagate the plant by sowing seeds (they retain germination for two years).
If there is only one cultivar growing in your garden, and there are no other aquilegia nearby, then the seedlings will most likely look like the parent plant. In the presence of other aquilegia, cross-pollination will occur, and the seedlings will give a spread in height and color of the flowers. Dominant features: blue color, wide petals and sepals, spurs of medium length. Seeds are sown in May — June or at the end of September in the open ground. They are not sprinkled, only slightly pressed into the ground. The soil is kept constantly moist.
Aquilegia care during the season
Spring
Time to plant new plants (distance — 30 cm).
Aquilegia are responsive to mulching with organic material.
In May, high aquilegia need to install props.
Summer
As the flowers fade, remove the withered flowers, and then at the base of the bush — the flower stalks that have worked out, this procedure will help to avoid unnecessary self-seeding.
If you cut under the root and foliage, keep the soil moist to grow a new one.
The grown seedlings of the winter sowing will be planted in the garden.
Autumn
In early September, seedlings of spring sowing are planted in a permanent place.
In late autumn, the bush is cut to the ground.
Problems and solutions
Aquilegia vulgaris varieties and tall hybrids can fall apart in flowering. Most often this happens on fertile and moist soils. They may need supports, which may be more stable neighbors in the flower garden, as well as pegs or branches of shrubs left after pruning.
If the foliage of aquilegia is speckled with patterns left by the larvae of miner flies, the foliage should be cut off at the root. New leaves usually have time to grow before autumn, but sometimes they may appear only in the next season.
Aphids and caterpillars can be found on the leaves, stems and buds of aquilegia – insecticide treatment will help with severe damage.
Fungicides will help in the fight against fungal diseases (powdery mildew and rust).
10 ideas of compositions with aquilegia
1. In the neighbors of aquilegia, it makes sense to select spreading perennials – geraniums, hosts, ferns. Then even if in the middle of summer the foliage of aquilegia will have to be cut, they will cover the gap in the flower garden.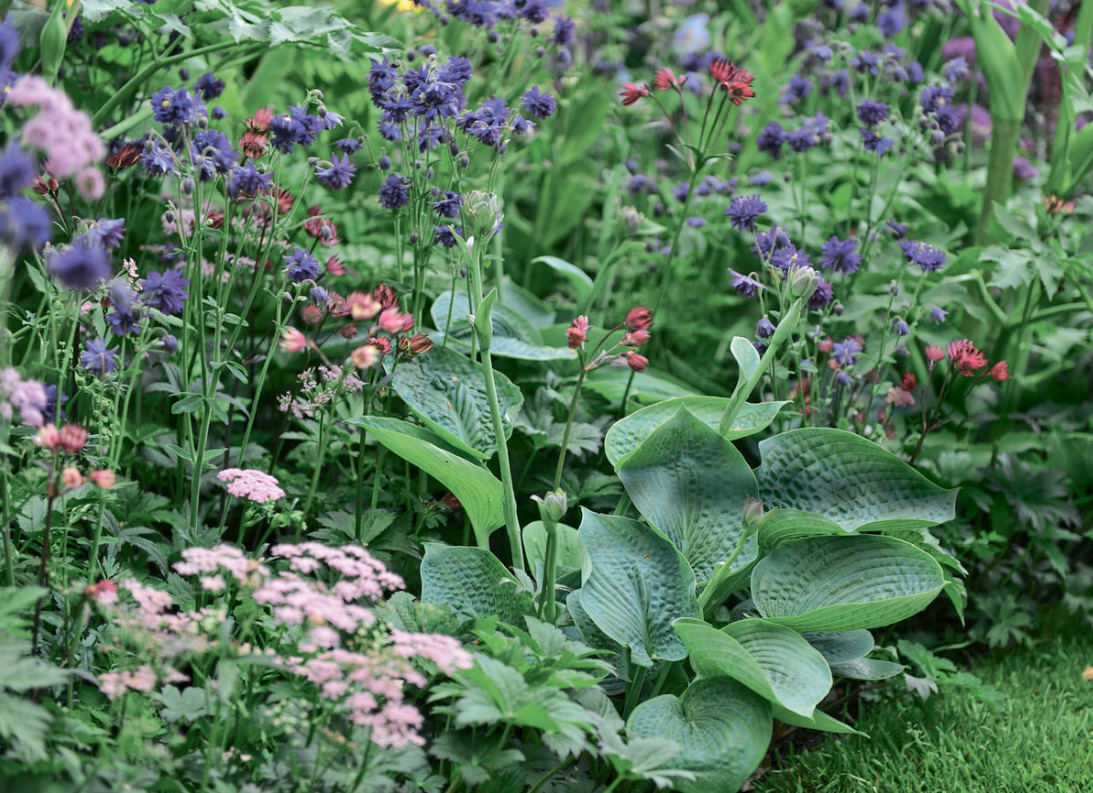 2. Aquilegia alpina, Aquilegia bertolonii, Aquilegia flabellata, Aquilegia caerulea, Aquilegia discolor, Aquilegia jonesii, Aquilegia viridiflora will feel great in rocky gardens.
3. Old-fashioned aquilegia with short spurs, the flower of which looks like a grandmother's cap, are good between trees in a forest garden.
4. In large gardens, aquilegia can be "released into the wild" and allowed to naturalize in "natural" flower beds.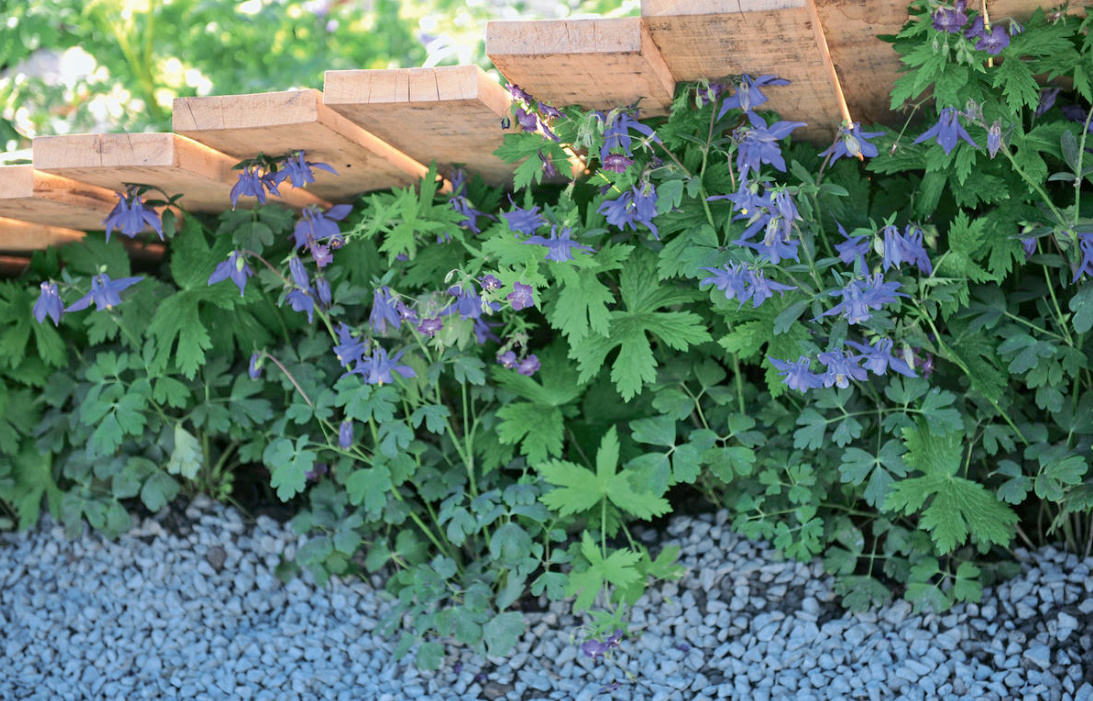 5. Partners of aquilegia, blooming simultaneously with it: amsonia, Anemone sylvestris, astrantia, baptissia, Brunnera macrophylla, geraniums, gravilate, decorative onions, dicentra, Ajuga reptans, bearded and Siberian irises, Nepeta, lupine, Papaver orientale, Alchemilla, Euphorbia epithymoides, peonies, Polemonium, Phlox stolonifera and Phlox divaricata, perennial Salvia.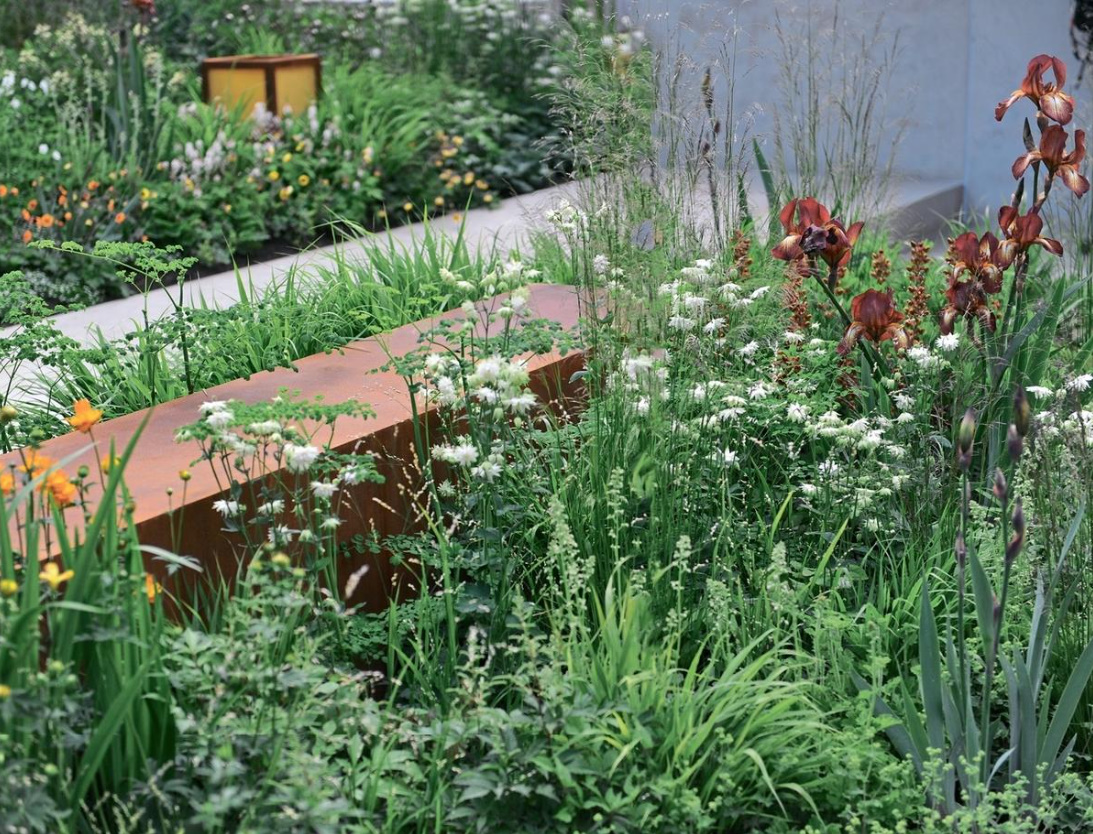 6. Light – white and pastel shades – aquilegia varieties will look good with flowers in the same range, as well as with ornamental plants with silver, blue, bluish and peach foliage. Or – with flowers of more saturated tones of the same scale. Aquilegia of bright or dark colors will solo in flower beds among neighbors of more "soft" shades. Bicolor varieties can set the theme of a two-color flower garden.
7. Hybrids with long spurs feel better in the sun and are perfectly combined with bush roses, including hybrids of the wrinkled rose.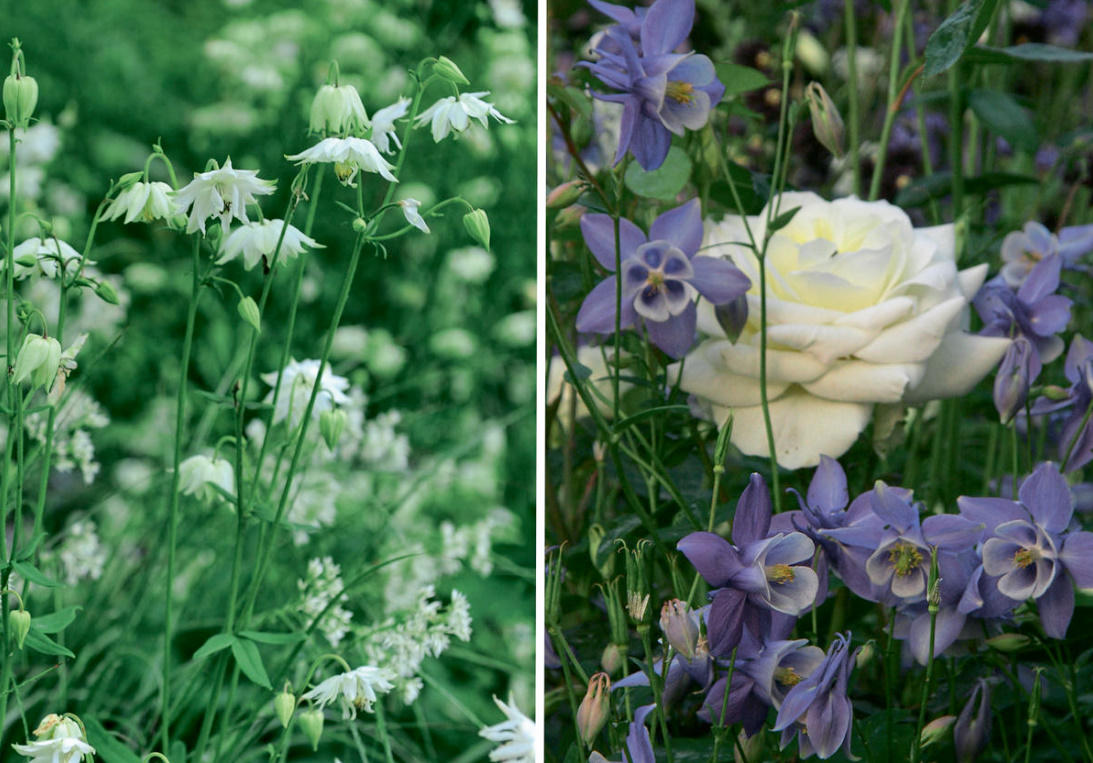 8. Aquilegia nectar attracts bees and hawkmoths. If you want your garden to be filled with life, be sure to plant aquilegia.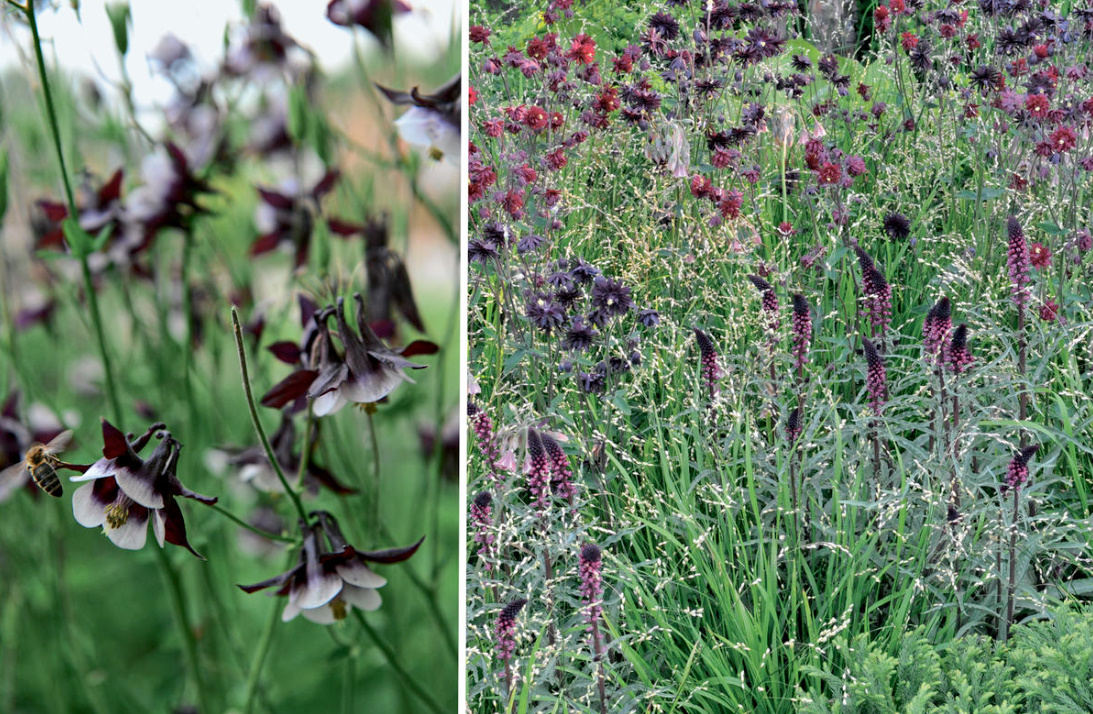 9. Double star-shaped varieties (Barlow Series and the like) are very spectacular on closer inspection, as well as in small-scale floral "placers" with astrantia, Melica altissima 'Alba', geraniums, Anthriscus sylvestris 'Ravenswing' and other decorative umbrella.
10. Variegated varieties of aquilegia will become bright participants in flower beds with other variegate plants.