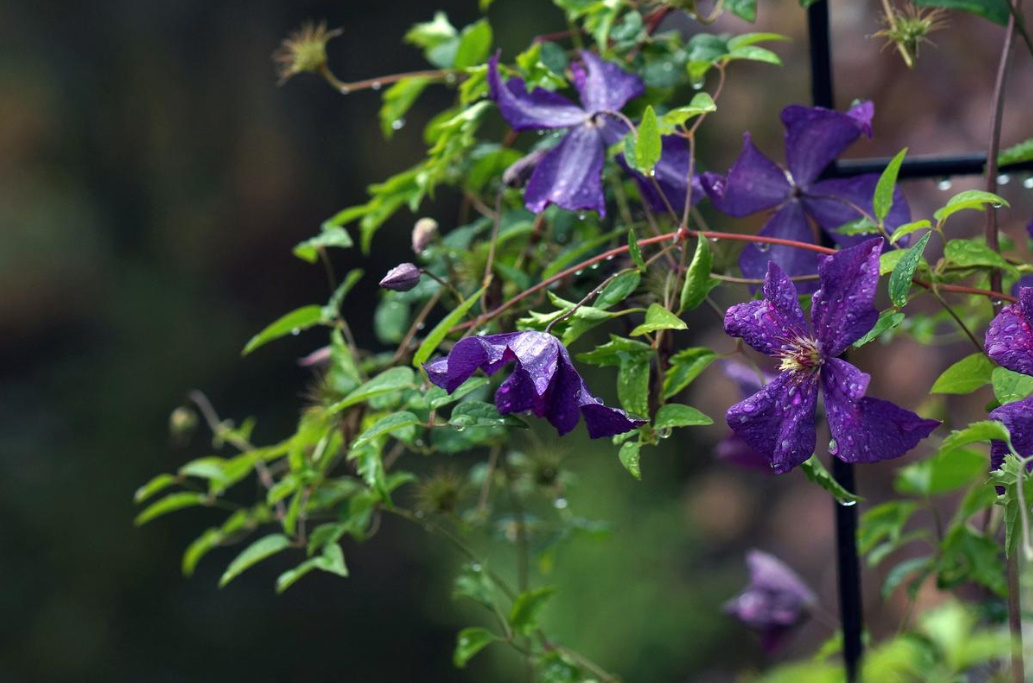 Clematis, like any vine, needs support. This is the only way it can show itself in all its glory, therefore it is worth taking care of a suitable solution already at the time of landing or even when planning it.
Let's start, perhaps, with those that you almost certainly already have.
Clematis + fence = …
A perfect combination: the fence serves as a reliable support for clematis, and that, in turn, decorates even the most unsightly fence and covers the site from prying eyes (of course, when it grows).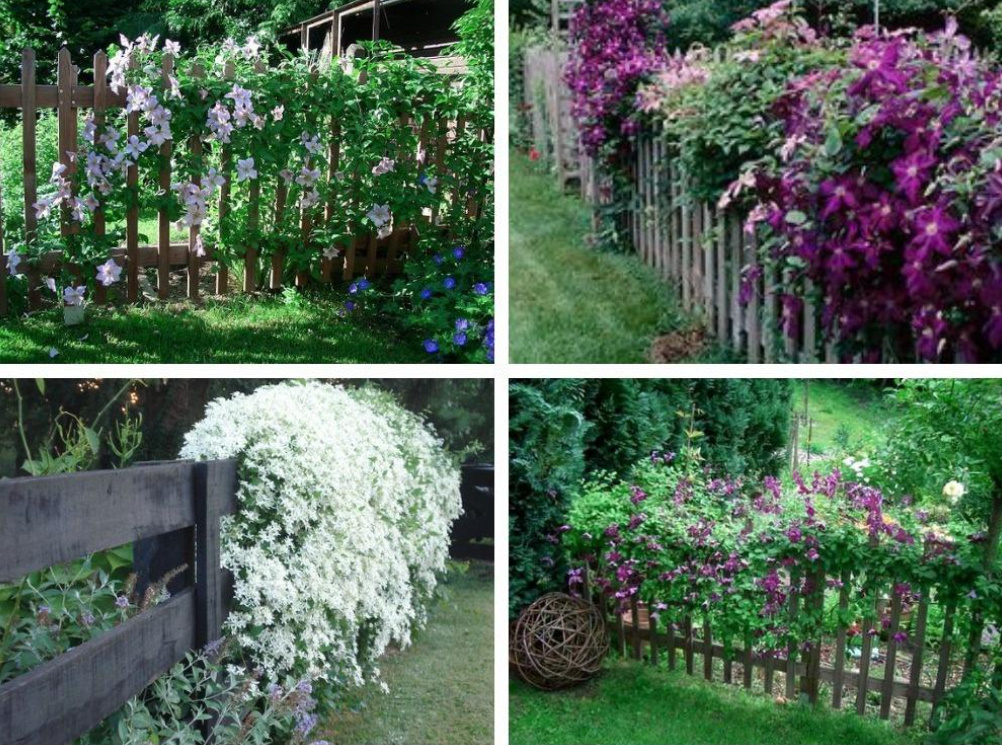 And it doesn't really matter to him what kind of fence you have: an old wooden one, a stylish forged one, a powerful concrete one or a budget one — as long as there is something to cling to.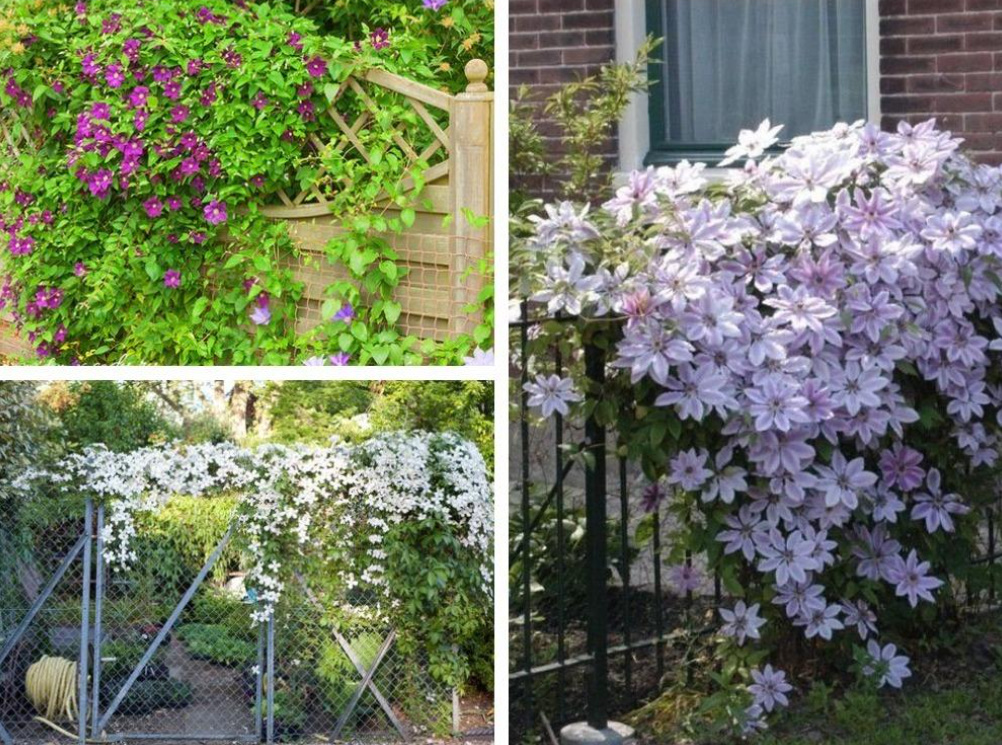 Liana on the wall
No fence? Or maybe you are planning to replace it, and therefore do not want to plant plants nearby, which it would be a pity to lose during construction work? Is there a house? He (or rather, his walls) it can also become a support — you can't think of a more reliable one!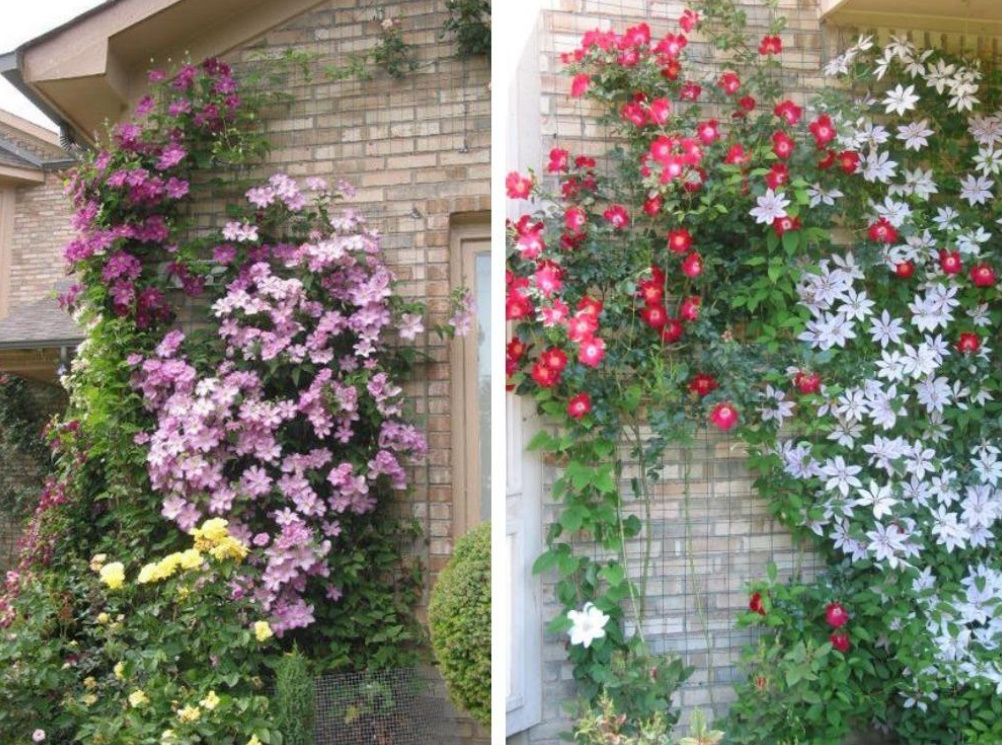 However, it is still not worth letting shoots directly along the wall: both the plant and the building will be better if you fix a strong grid on the facade, along which clematis will climb. Or, alternatively, use a trellis made of wooden slats: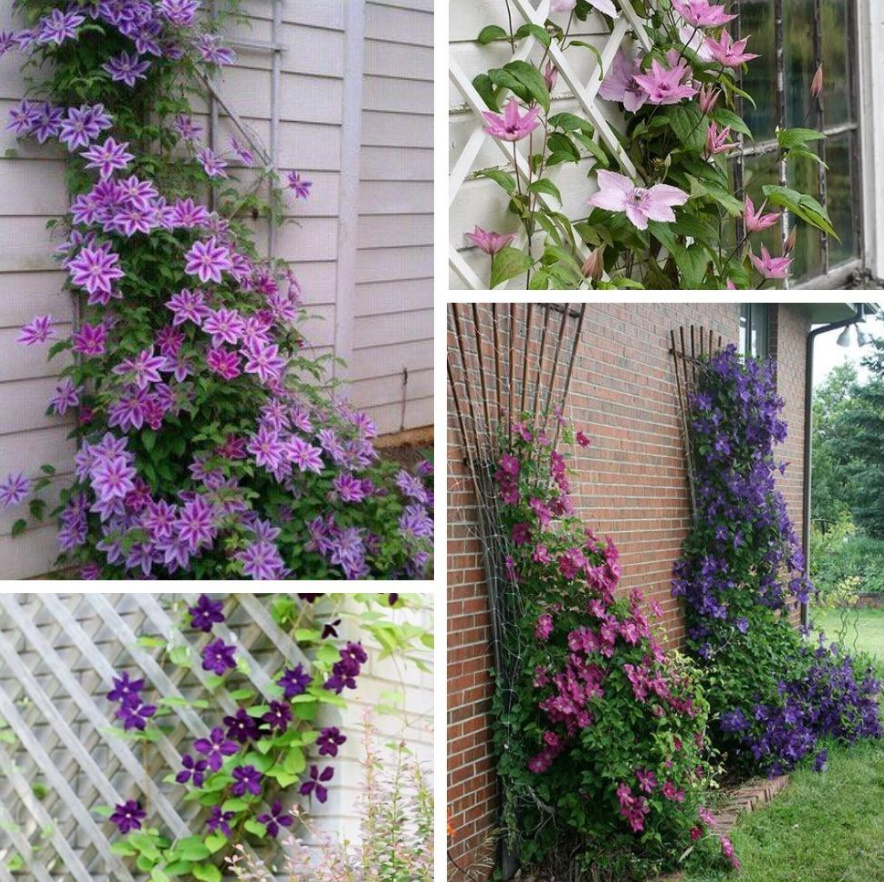 However, there is an opinion that any close proximity to the vines is not good for the building: the walls hidden by foliage are poorly ventilated, which can cause mold and other problems.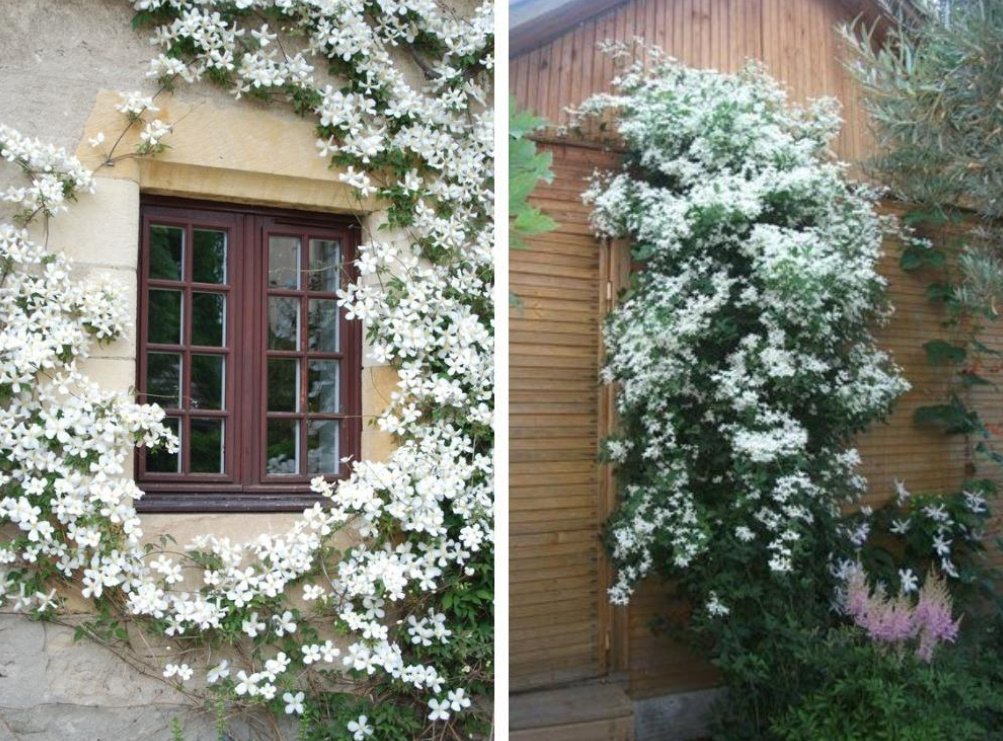 In short, think for yourself, decide for yourself… But it looks spectacular, right?
Decorate the porch with clematis?
Don't want to risk the walls of your home? And what do you say about the idea of sending clematis to the railings and porch posts?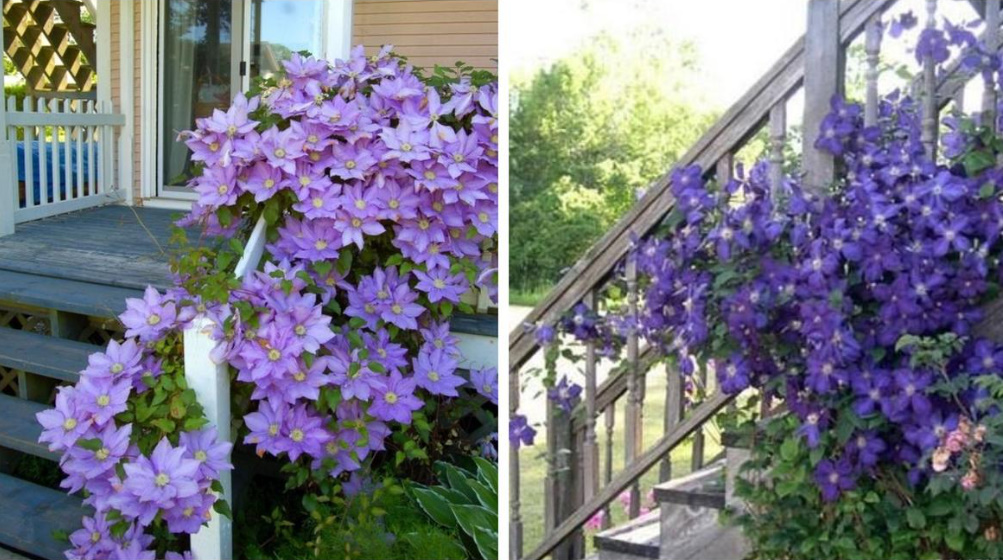 Such a floral decor will certainly decorate the front area. However, when the vine grows, difficulties may arise: there is nowhere for clematis to grow, and it is inconvenient for you to use the railing. Therefore, it is better to choose relatively compact varieties for planting at the porch, so that later you do not have to make your way into the house through the lush thickets.
A pole or a tree as a support
Do the trees grow on the site? Here are some more ready-made supports for clematis! Just do not use fruit crops in such a role: they do not need competition, and you have extra problems when harvesting. But on the Christmas tree, for example, I once had a clematis with pleasure.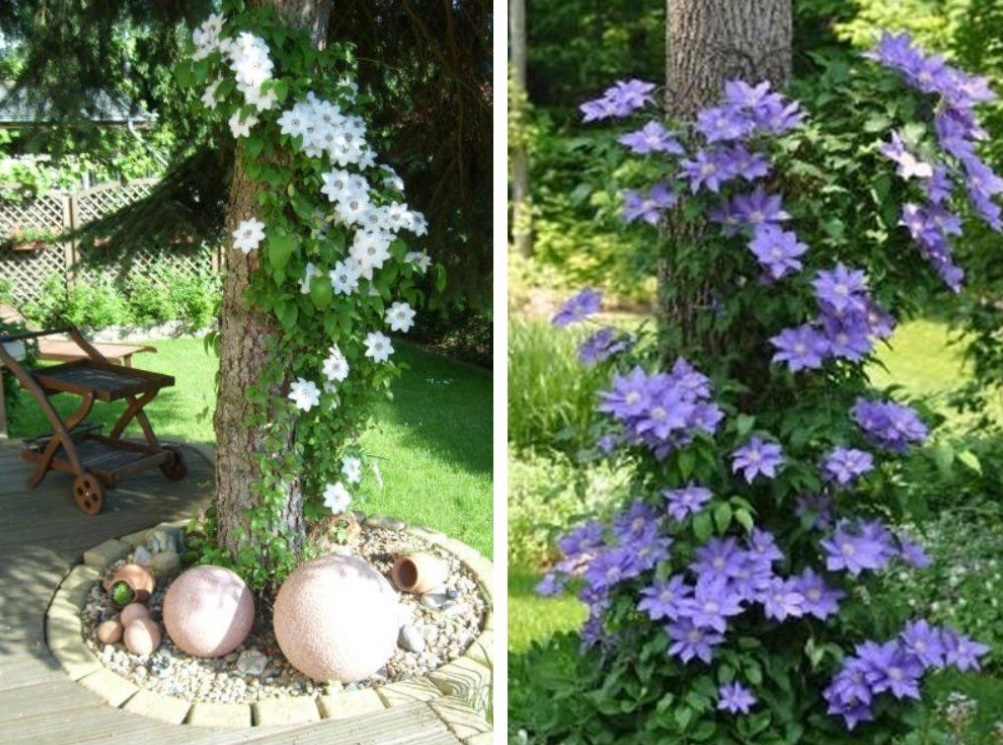 Or maybe there is a pillar on your territory that cannot be removed, but you really want to decorate it somehow? It can also be adapted as a support: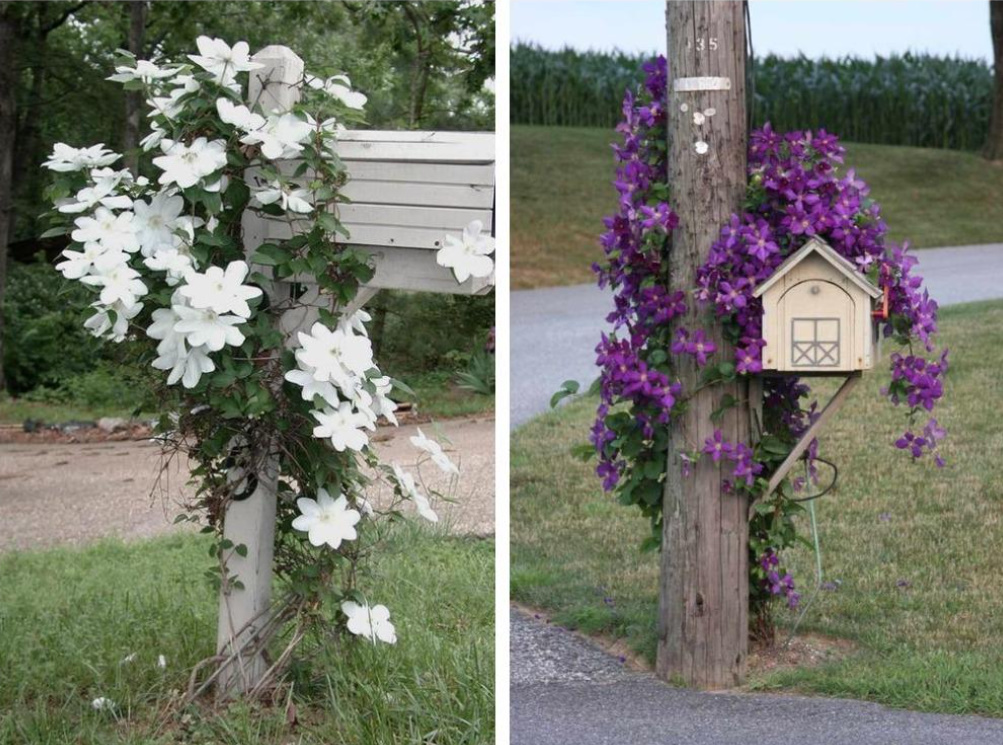 If none of the options for using objects already available on the site as supports do not suit you for some reason, you will have to build a "personal throne" for the king of lianas.
Large and small trellises
In the first place, I think it's worth putting trellises — one of the most popular types of supports for plants. Wooden or metal, homemade or purchased, tall or miniature — they are extremely diverse and functional. And of course, they are perfect for clematis.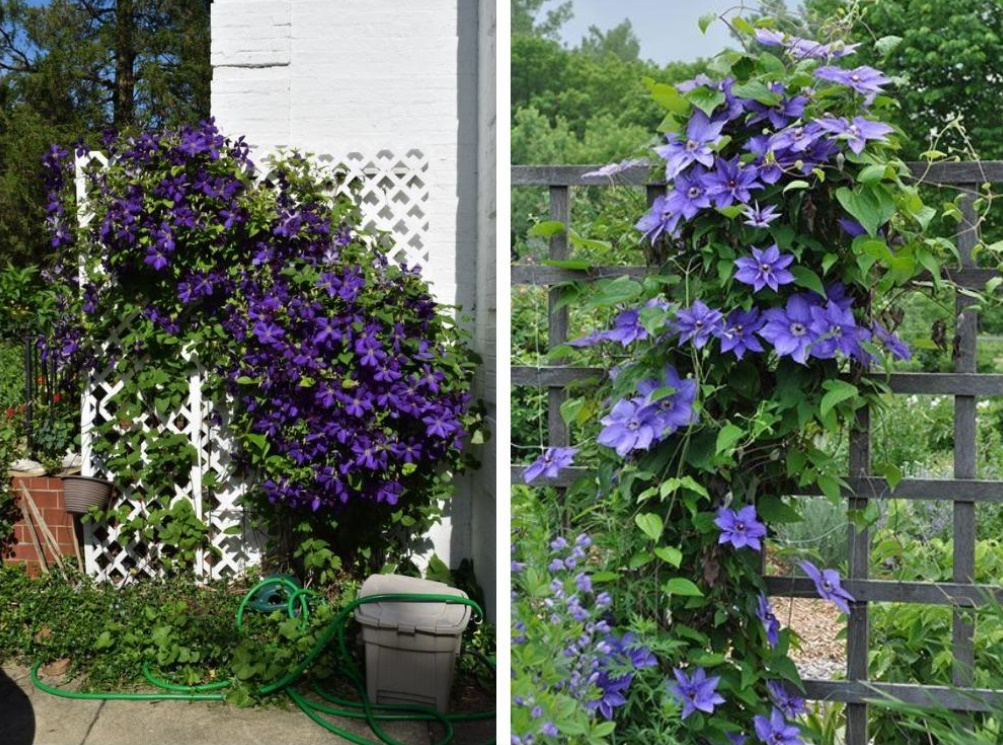 The design and dimensions of such a support depend on the characteristics of the plant that will have to climb it: compact varieties will suit miniature versions, powerful, strongly growing ones will require more impressive ones.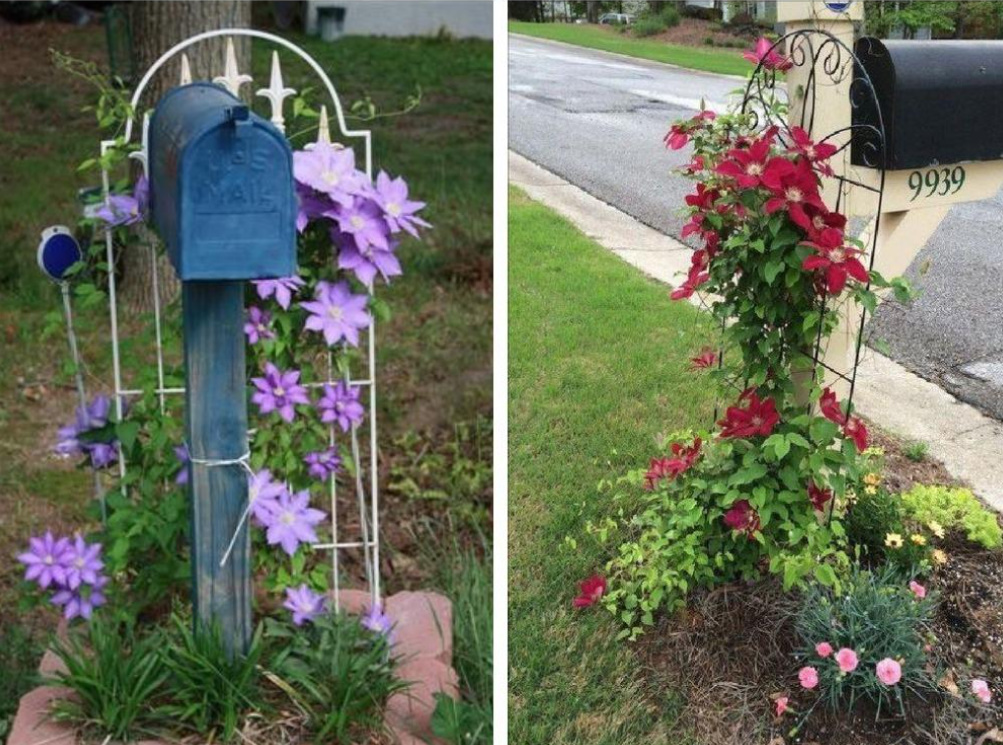 And, among other things, trellises help to zone the territory, hide not particularly attractive objects on the site, place vertical accents.
Arches and pergolas
Undoubtedly, arches and pergolas entwined with clematis are very attractive. If you want to create a romantic corner in the garden, choose this option. However, such structures also perfectly cope with purely practical tasks.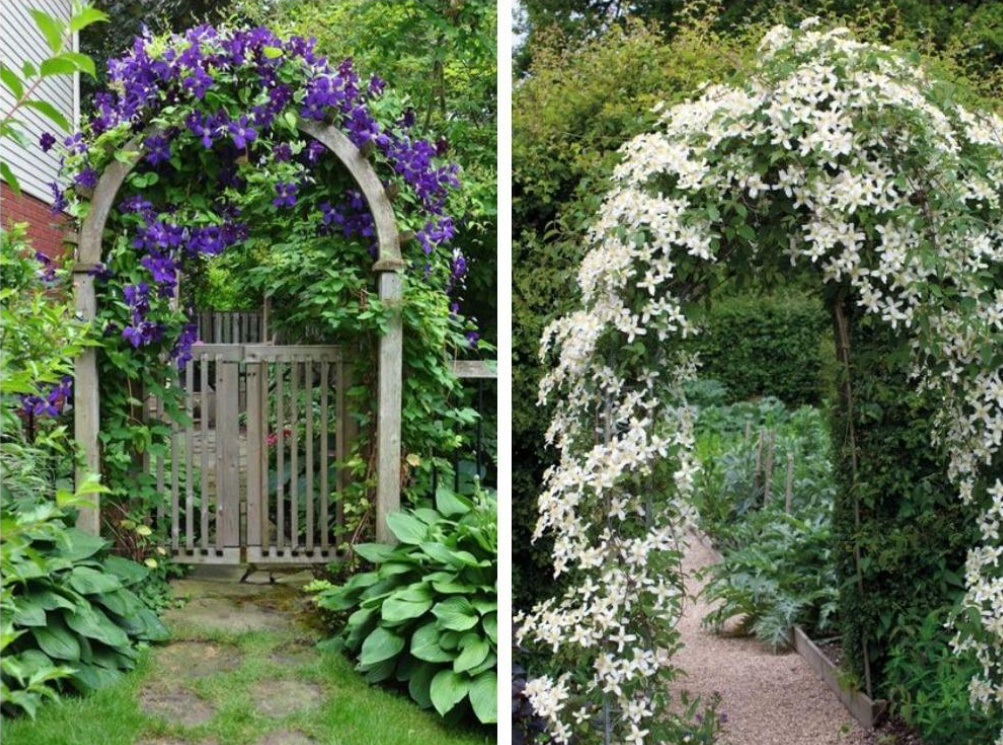 Strong, stable pergolas will withstand even the largest vine, or even more than one! By the way, pay attention to how well clematis and climbing rose are combined: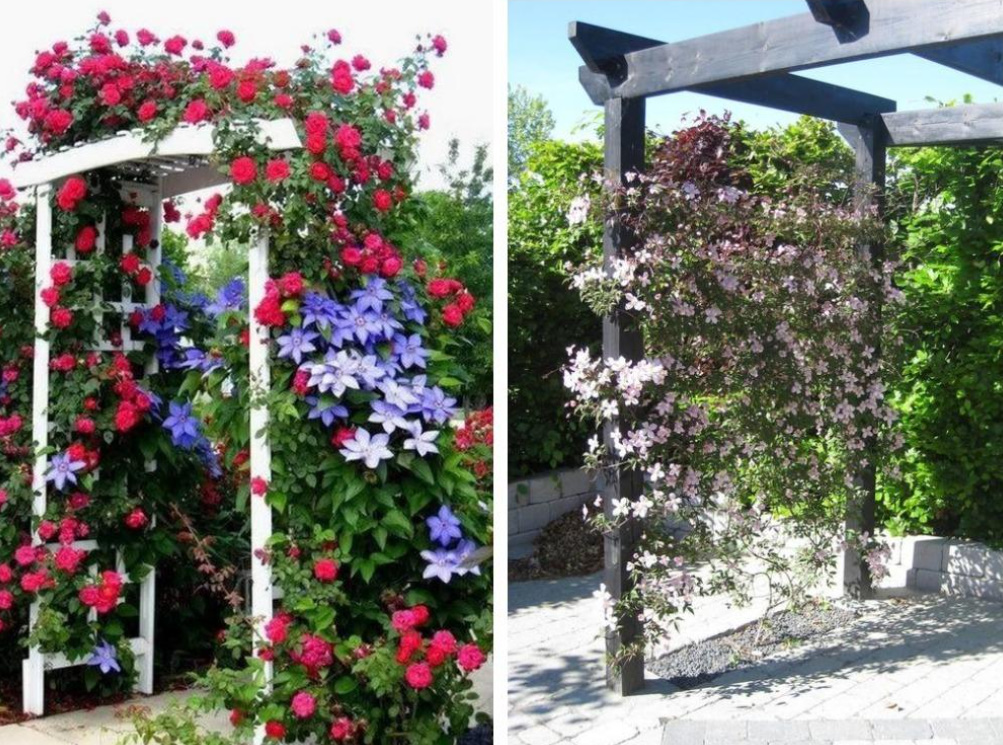 But arches designed for not too powerful varieties may well be light, airy. To make it easier for the young clematis to cling to the support, fix a large-mesh plastic or metal mesh on the rods.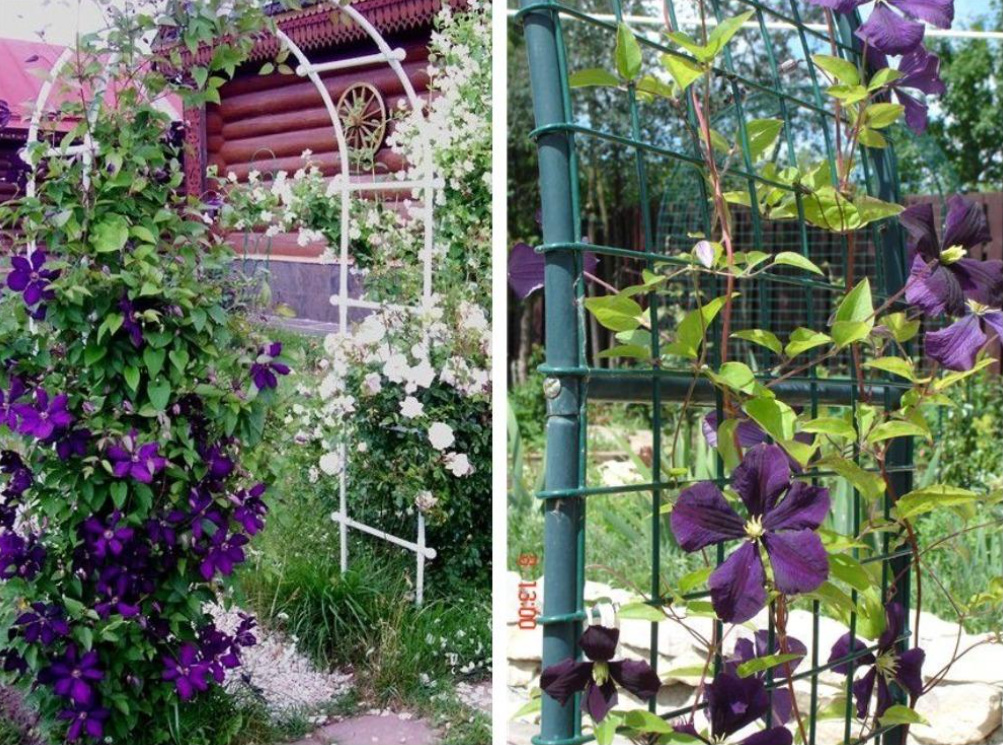 Pergolas are usually constructed of wood; arches are more often metal, but you can make them (and other supports for clematis) with your own hands from PVC pipes.
Columns and obelisks
Such constructions are less common in gardens than trellises, arches and pergolas. Meanwhile, they are worth paying attention to: such supports are compact, stable and allow you to create compositions designed in a variety of styles.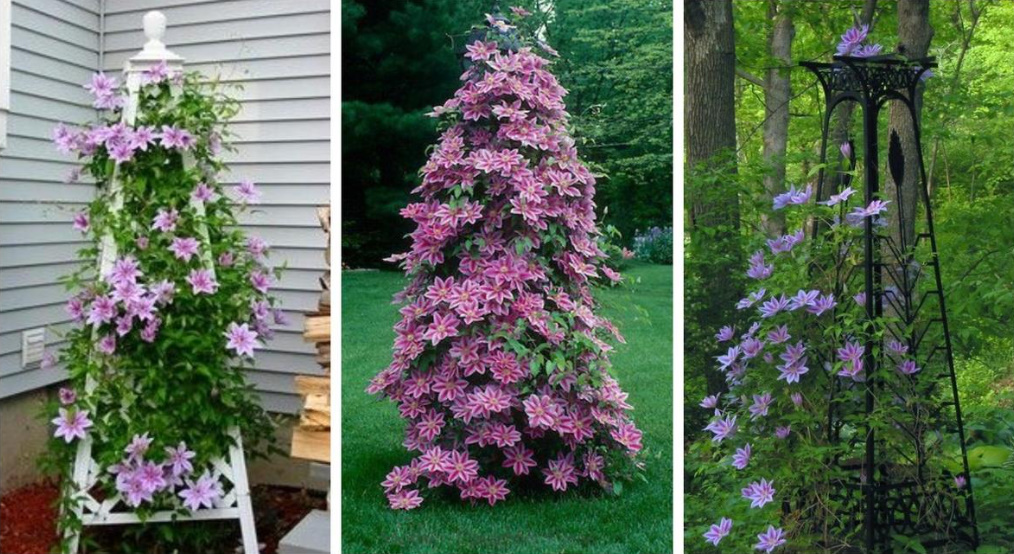 A blooming column looks great on the lawn; it can be made the center of an extensive flowerbed or an independent landscape object. At the same time, the structure does not have to be intricate — you can easily make a simple support of this type with your own hands from wooden bars or PVC pipes.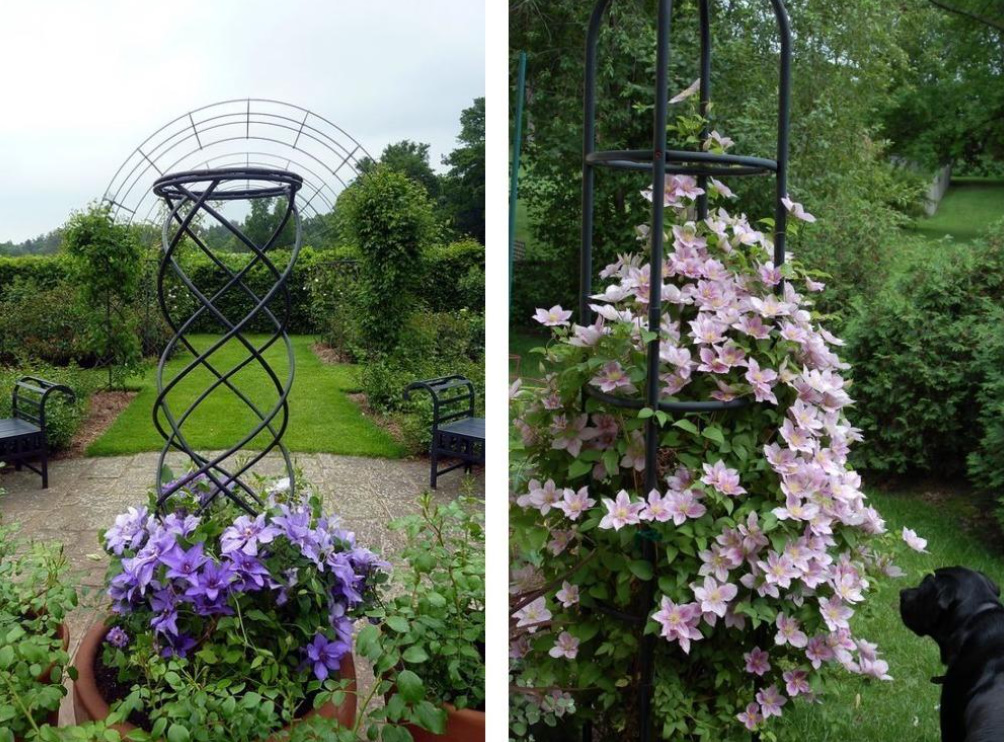 Choose the solution that best suits the style of your garden: somewhere pretentious forged products are needed, and somewhere a simple wooden structure will be more appropriate.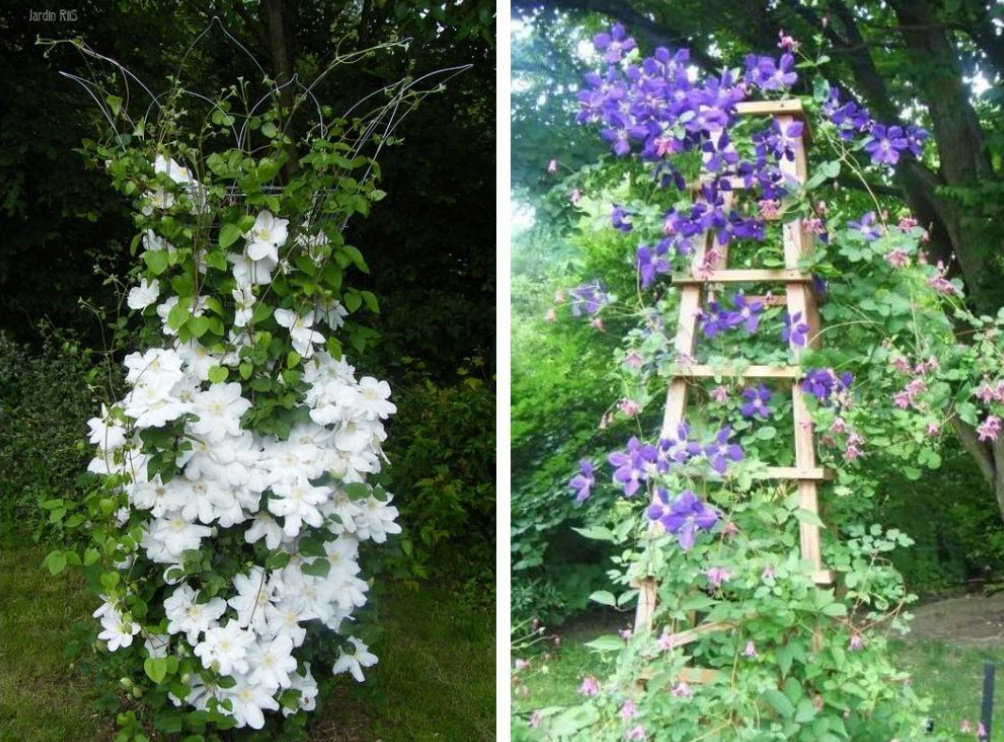 By the way, this is the type of support most often used for potted clematis: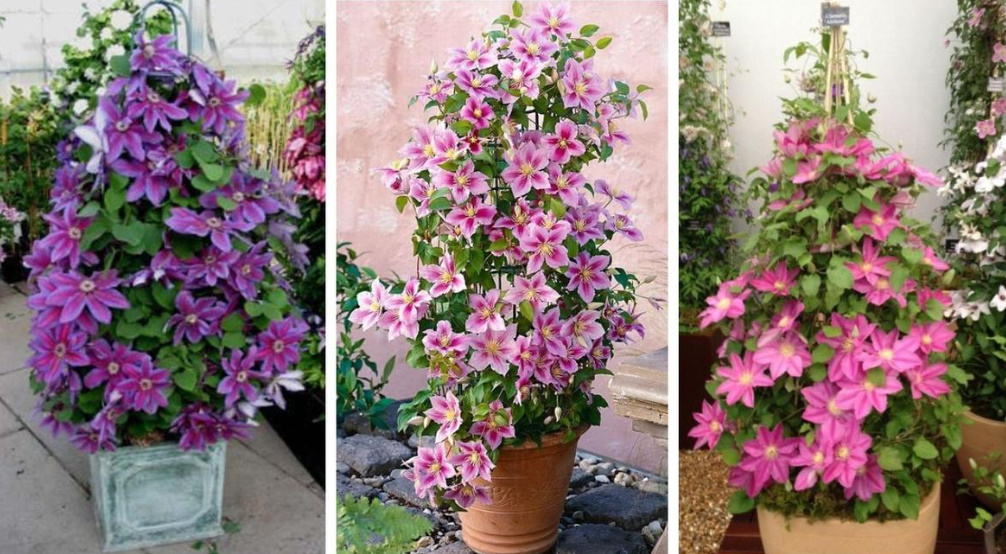 Original solutions
Well, at the end of the selection — ideas of unusual supports that are difficult to attribute to any particular category. Perhaps they will prompt you to search for your own non-trivial solutions: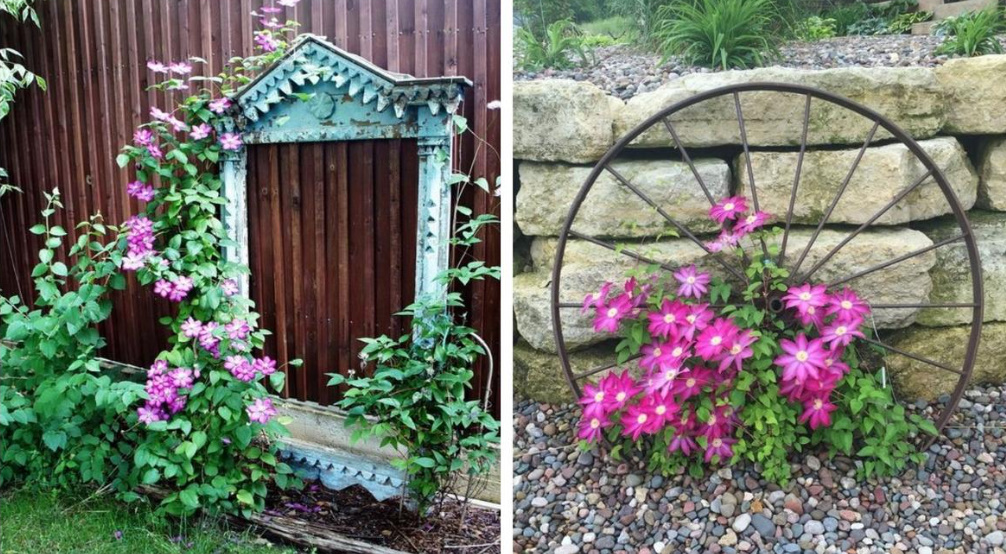 In my opinion, it's a good reason to look into the "bins", where a thrifty summer resident has everything… Now you know where you can attach, for example, rusty metal wheels from some equipment that have been lying around in the shed for a long time: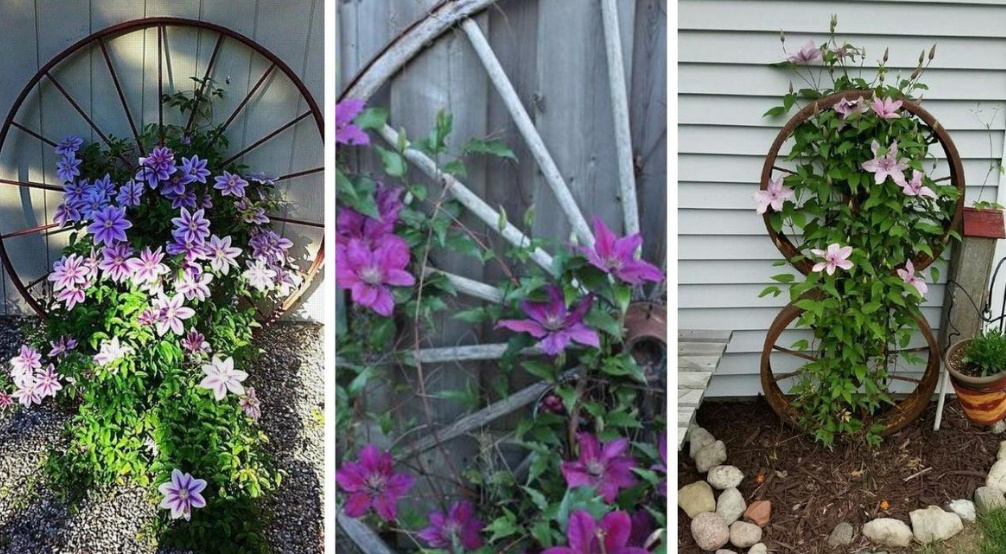 Do clematis grow in your garden? What supports have you made for them? Tell us, share photos!