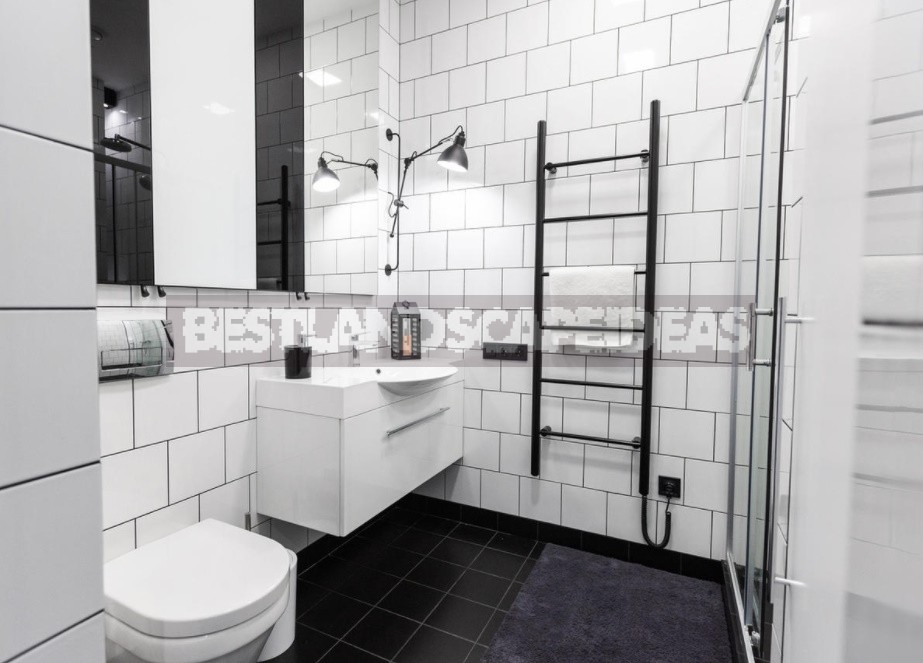 Making repairs in the bathroom yourself, you can save a lot of money. But before you buy materials, you should know which tile is best to choose for the bathroom, and what glue to mount it on.
Tiles — they are different! Selection criteria and properties
Tiles are laid seriously and for a long time. Today, the market offers a very large range of these products with different design options. Therefore, when buying, think about whether the model you like will suit you not only today, but also in 20-30 years.
Equally important criteria are moisture capacity, wear resistance, and maintenance requirements. The high rigidity allows the tile not to deform even under significant tensile loads. And the thicker the coating, the higher its rigidity. The vitreous surface of the tile (glaze or enamel) protects it from the effects of water.
In addition, the ceramic has a fire resistance and fire resistance, so it can be used for lining stoves and fireplaces.
The tiles are not destroyed by contact with chemicals. In addition, it is made from natural ingredients and is safe to use. This material retains heat well, which is also important. The tile finish is very hygienic and easy to keep clean.
The path to a new bathroom
Where is it better to buy tiles — in the markets, in construction supermarkets or in specialized stores? If you need a tile of standard sizes, and there are no specific requirements for color, then you can buy it at the market or in a construction supermarket. In such places, good options are often sold at attractive prices.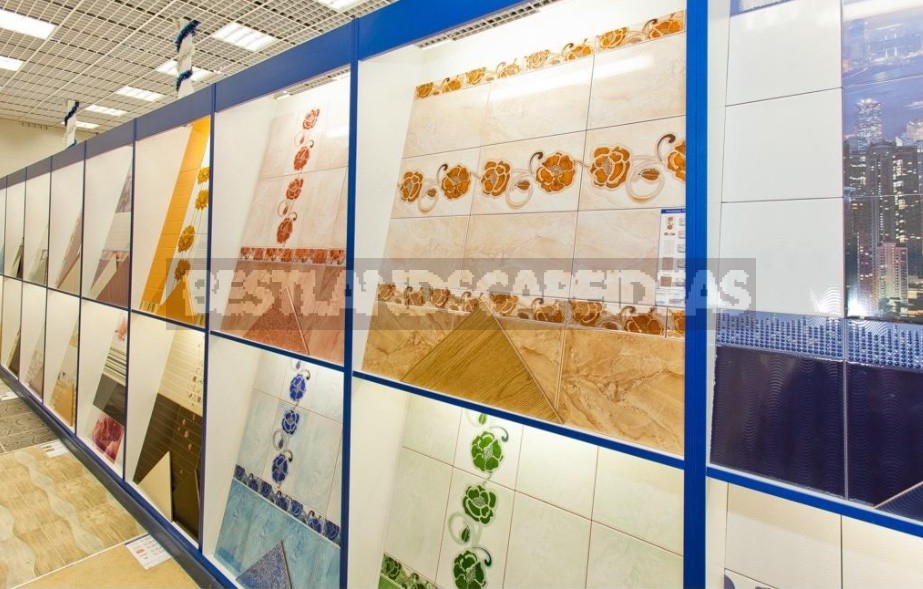 But if you need a coating of a specific design that has unusual shapes and textures, then go to a specialized store. It also happens that supermarkets offer very expensive options while branded stores arrange sales of designer tiles at quite reasonable prices.
When calculating the required amount, proceed from the following formula: the surface area to be finished, plus 5% for waste during cutting, plus 5% for reserve.
Varieties of ceramic tiles
Finishing tiles can be wall, floor and facade. They also produce tiles for swimming pools.
The wall panel is used for interior wall decoration. On such a tile, a layer of glaze is applied, that is, a layer of glass, thanks to which the product becomes moisture-resistant and shiny. Such tiles are characterized by an incredible richness of colors and patterns.
Compared to wall-mounted floor products, they are more durable and resistant to abrasion. They are divided into ceramic and porcelain stoneware. The technology of production of porcelain stoneware resembles the method of making porcelain, so porcelain stoneware is much stronger than ordinary tiles, which affects its price. And, of course, it, like ceramics, can be used on the floor in the bathroom.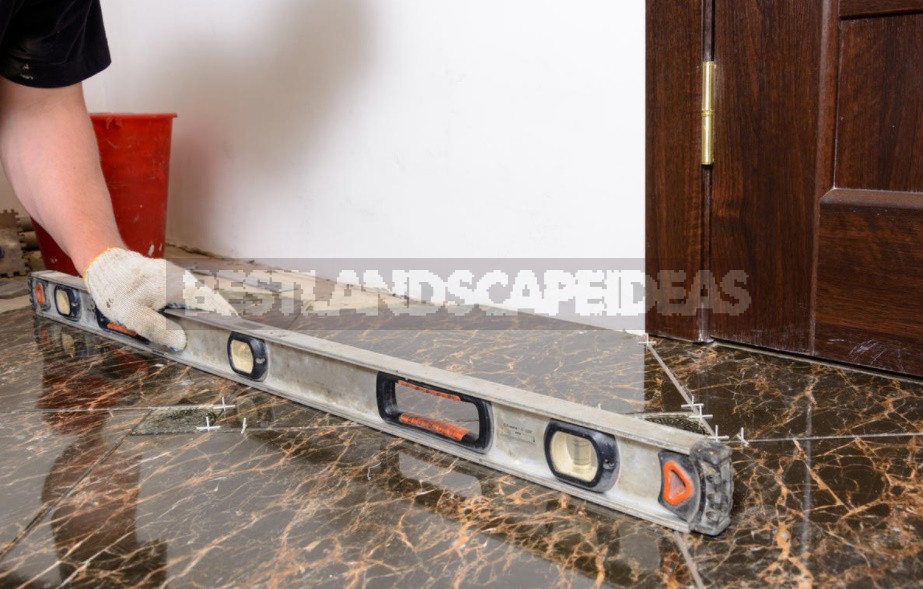 Pool tiles are frost-resistant, have a rough surface, do not absorb water. It can also be used for wall decoration in wet rooms.
Facade tiles are usually made of natural stone. It is very durable and is not afraid of moisture. Of course, if you want, you can also decorate the bathroom with it, the only drawback is the high price.
Wear resistance classes
Wear resistance is one of the most important qualities of floor tiles, it characterizes the resistance of the coating to abrasion and the ability to maintain a presentable appearance for a long time.
Today, the international classification for the degree of abrasion (PEI) is adopted. According to this classification, tiles are divided into five groups.
Group I (PEI I) is ideal for facing surfaces with little mechanical impact. These are the walls of residential premises and the floors of the toilet, bathroom, etc.
Group II (PEI II) is suitable for facing floors in residential areas where people walk in slippers, with the exception of stairs, hallways, balconies.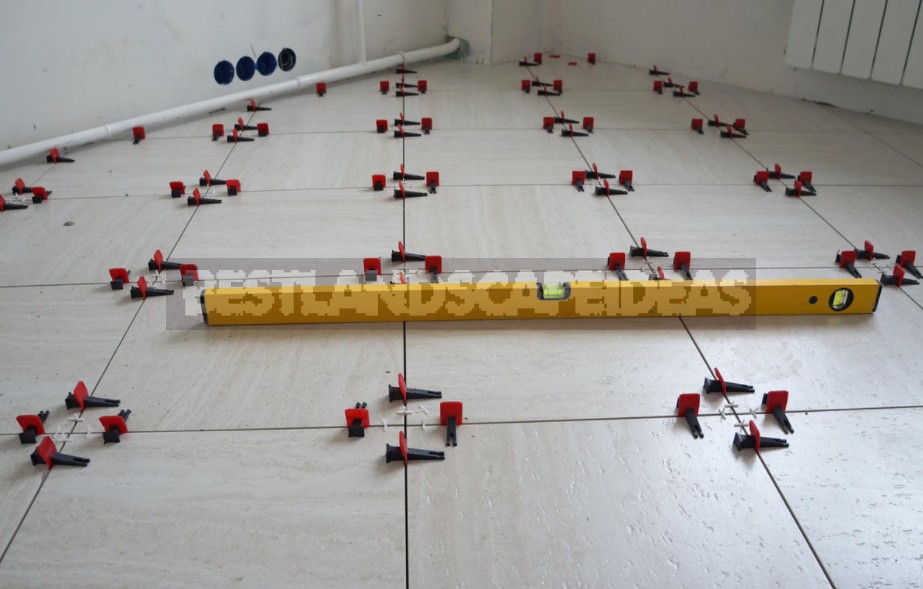 Group III (PEI III) will be appropriate in areas with moderate traffic, where there is no direct access from the street.
Group IV (PEI IV) is optimal for floor coverings in rooms with high and medium intensity of mechanical impact.
Group V (PEI V)will be indispensable in areas with high traffic. It can be used almost anywhere.
What kind of glue is suitable?
The adhesive composition should be selected depending on the place of application and the type of tile, as well as on the characteristics of the base. The range of tile glue presented in construction stores is very wide.
Many people prefer to buy a universal option that is suitable for any occasion, but it is more rational and correct to choose the appropriate option for each type of cladding and the surface on which it will be laid.
In cases where the facing material has a smooth base, an epoxy adhesive is recommended. It is expensive, but very reliable. It is used in places where the load on the surface will be maximum.
Dispersion adhesive is more suitable for laying ceramic tiles on surfaces such as plastic, drywall, metal, wood. With its help, the tile is fixed even on a slippery base without preliminary grinding and priming. It has improved adhesion and elasticity. Its price is lower than epoxy, but higher than cement. It is sold in a ready-to-use form.
Cement glue has a wide range of uses. But it is best suited for laying tiles indoors. Suitable surfaces for this purpose are concrete, brick and plaster. This type of adhesive composition is well suited for rooms with high humidity. It does not emit toxic substances and is therefore hypoallergenic.
Latex additives, serve as a diluent and increase the water resistance and elasticity of the cement adhesive.