Thefts in unprotected settlements and garden associations are so common that at the end of the fleeting summer season, homeowners are forced to take out and securely hide any more or less valuable items. We suggest taking care of the protection of the house from intrusion in advance-before the start of the country work. There is simply no time in the summer!
Protection of suburban property is a task so urgent that it is best to solve it in advance, even before choosing and buying a cottage or a plot for construction. It is necessary to find out in advance whether there is a possibility of rapid response in the locality by police officers of non-departmental security or a private security company (non-departmental security). The number of such "safe zones" is constantly increasing. But in remote areas and regions, the situation may be different. In this case, it is very difficult to organize reliable protection of an empty house located far from other housing. And if the police or private security are not able to arrive at your cottage on alarm within 10-15 minutes, it remains only to hire a security guard.
The choice of equipment is largely determined by the technical capabilities of the operator providing security services. If there are several companies in your region or the operator offers several options for kits, it is most convenient to use equipment with remote configuration and the possibility of round-the-clock technical support.
The advantage of continuous remote monitoring: in the event of a hardware failure, the service will quickly come to the rescue. For a renovated cottage, it is better to choose wireless equipment, because when installing it, you do not need to drill holes and lay a cable. The system should be easy to manage and configure.
The package includes many sensors and detectors that are triggered when a home is invaded from the outside, and of course, a control panel with a keyboard and controller, as well as many sensors and detectors that are triggered when a home is invaded from the outside.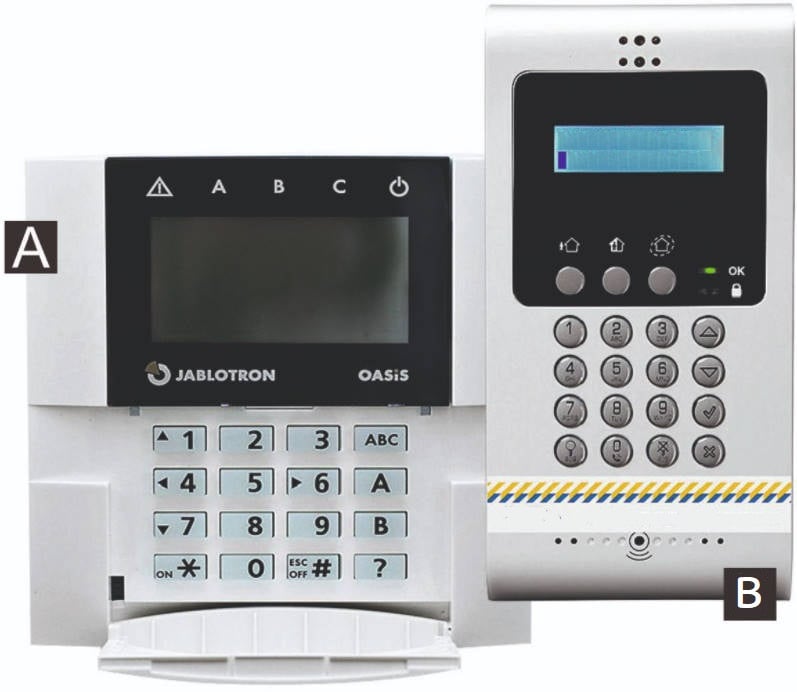 Jablotron keyboard (A).
Wireless keyboard "Caesar Satellite" (B).
AZ-10R wireless keychain (C)
TAG-AZ-10t (D) token, both-Jablotron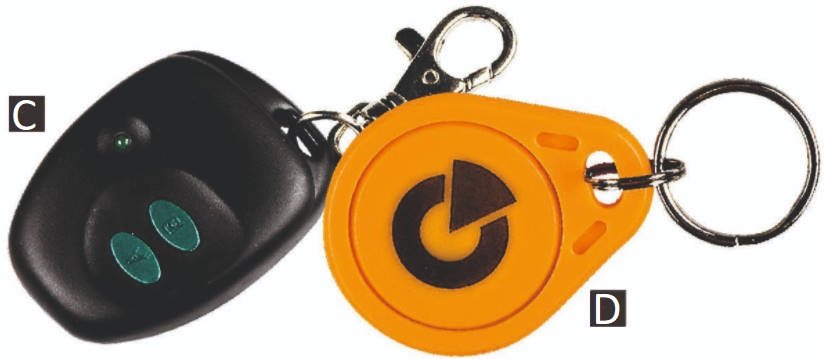 We are talking about sensors for opening doors, breaking glass (acoustic or vibration), a motion detector, and video surveillance cameras. There should be so many sensors that all possible ways of entry of burglars are under surveillance. At the very least, they should be equipped with an entrance door and all windows on the ground and attic levels; often sensors are installed on the windows of the second floor, sometimes in rooms. In addition, the system can be supplemented with smoke detectors, gas and water leak sensors — they will serve as protection against fire, gas explosion and flooding.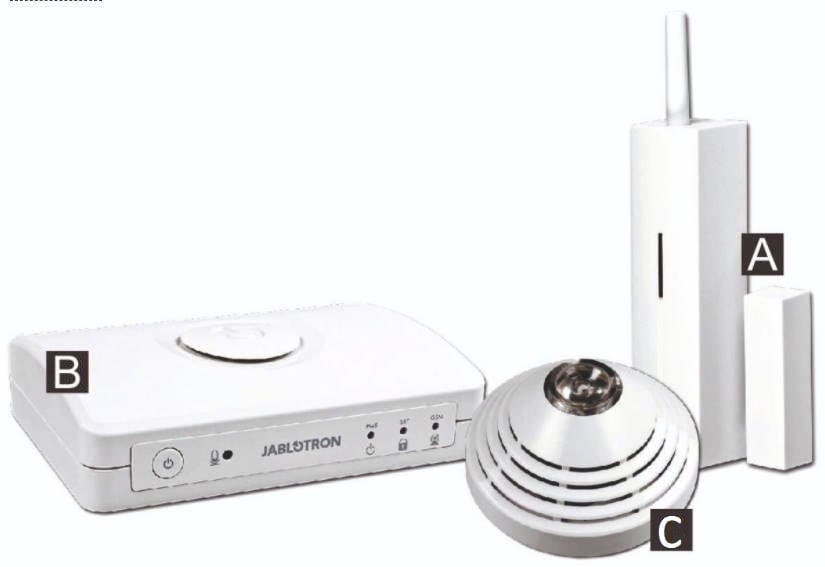 Components of the system (Jablotron):
wireless magnetic door opening detector (A);
control panel for processing information from all devices, GSM communicator, model AZ-10K (B);
AZ-10S smoke and heat detectors with integrated siren (C)
When choosing a security company, you should give preference to the one that responds faster to an emergency. In case of emergencies, every minute counts, so you need to know exactly what time the security staff will arrive. The speed of the response must be specified in the contract. Accordingly, the operator company will be liable (this should also be specified in the contract) if it does not prevent malicious actions.
Another advantage in favor of a particular operator will be the presence of a program-an application for a mobile phone. The latter will allow you to stay in touch with your home at any time, no matter where you are. You can remotely control the security system, for example, remove or put it on protection, check the status, temperature, status of sensors, view photos or videos from surveillance cameras.
Security systems for a country cottage usually cost 30-40% more expensive than similar equipment for an apartment. The subscription fee is also higher.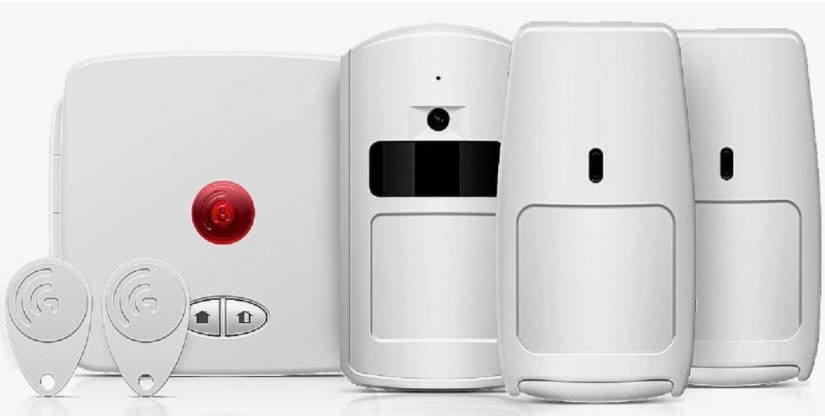 A set for a cottage ("Gulfstream"). It includes a control panel, a keyboard, wireless door opening sensors, motion sensors (2 pieces), a motion sensor with photo confirmation function, and two contactless keys
Lines of defense
In addition to protecting the house, you can provide protection of the perimeter of the plot (a system like "Garden" or "Perimeter"). This increases security, but increases the number of false positives: the bird will fly, the cat will jump into a tree… The response team must go out for each alarm. Therefore, for example, the specialists of the company" Gulfstream " recommend installing video surveillance of the garden without a response function. It can be set to monitor mode with sending a photo when the camera is triggered. The owners will be able to observe what is happening around the house, and react independently when uninvited guests appear.