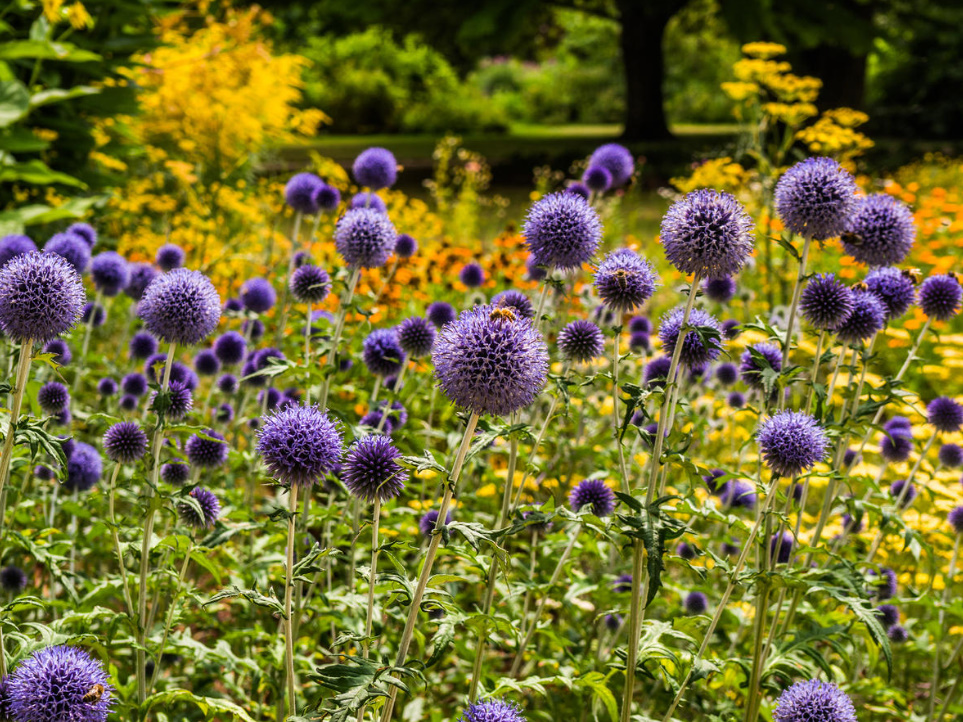 Although Echinops are prickly, their original hedgehog inflorescences undoubtedly deserve a place in sunny summer flower beds. Thanks to the chiseled shape and stately bearing, these "balls on sticks" play a drum roll in mixborders and meadow flower beds: Echinops attracts attention always and in any combination.
Portrait of a plant
In spring, rough but cute carved bluish-green prickly leaves with a white felt lining and pointed tips are collected in dense rosettes. And already at the beginning of summer, the picture is completely different: vertical leafy peduncles are crowned with steel-colored "spiked" balls, similar to hedgehogs. Each "thorn" is a bud that will open into a small grayish-blue, violet-blue or white flower with a metallic sheen.

"Balls", collected from a variety of such tubes-flowers, bloom from top to bottom. Flowering lasts about a month and a half, and at this time the honey–bearing Echinops is bathed in the attention of wild bees, bumblebees and butterflies, and at dusk – and moths.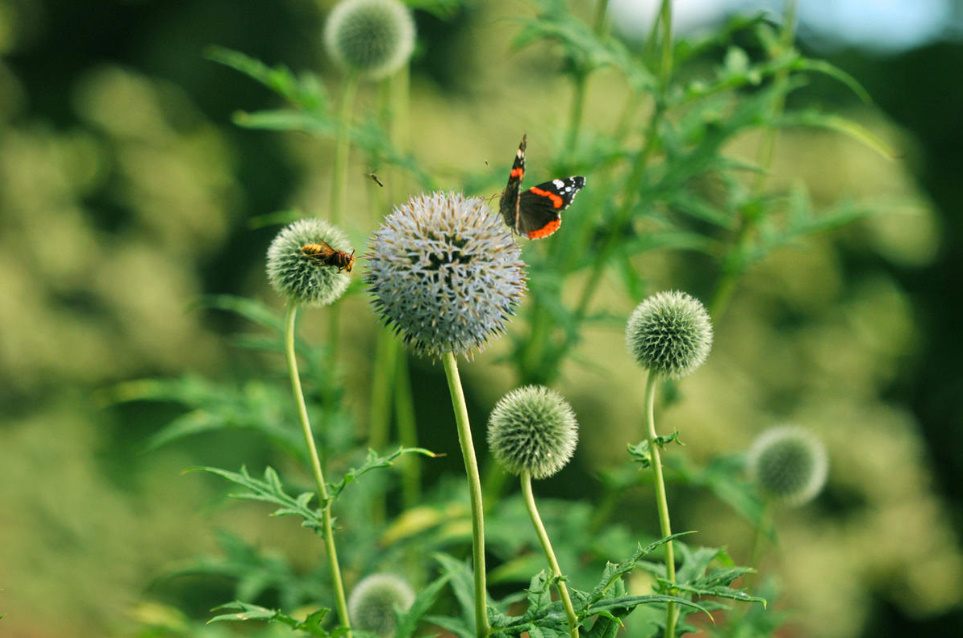 When the seeds ripen, the "balls" turn brown. They are Echinops of rain and birds that like Echinops seeds.
Popular types and varieties of Echinops
About 120 species of Echinops are known, but gardeners especially liked only three of them.
1. Echinops ritro
Echinops ritro reaches 70-100 cm in height and is distinguished by stems with white pubescence. This perennial blooms in early July, the balls reach 3-5 cm in diameter.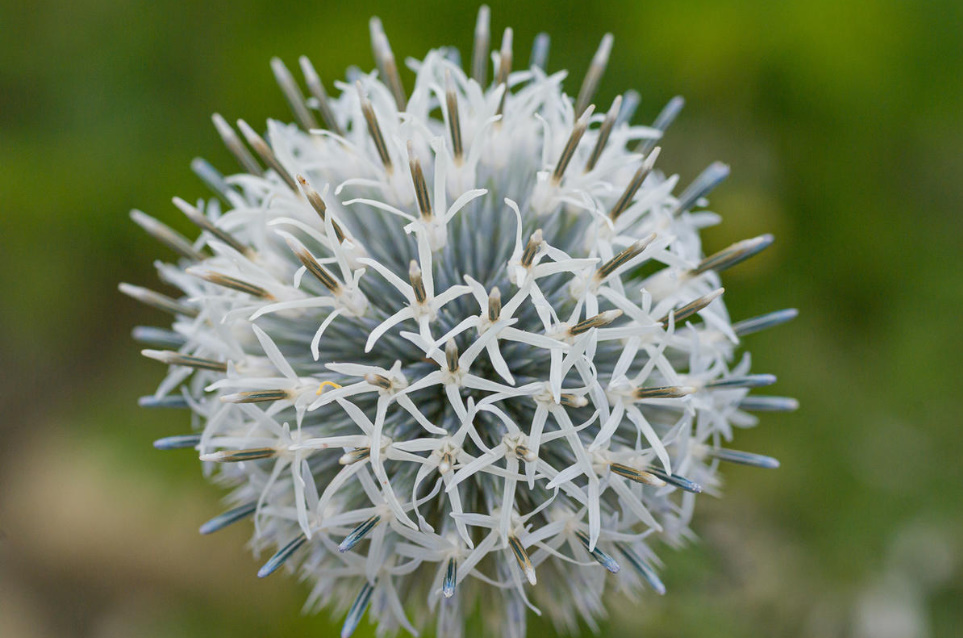 The flowers of the 'Veitch's Blue' variety are darker, the stems are up to 90 cm tall, the cultivar blooms earlier than others.
2. Echinops bannaticus
Echinops bannaticus is often confused with its previous counterpart. But it has a more southern origin, its bush is wider and higher (up to 1.5 m), and it has fewer thorns.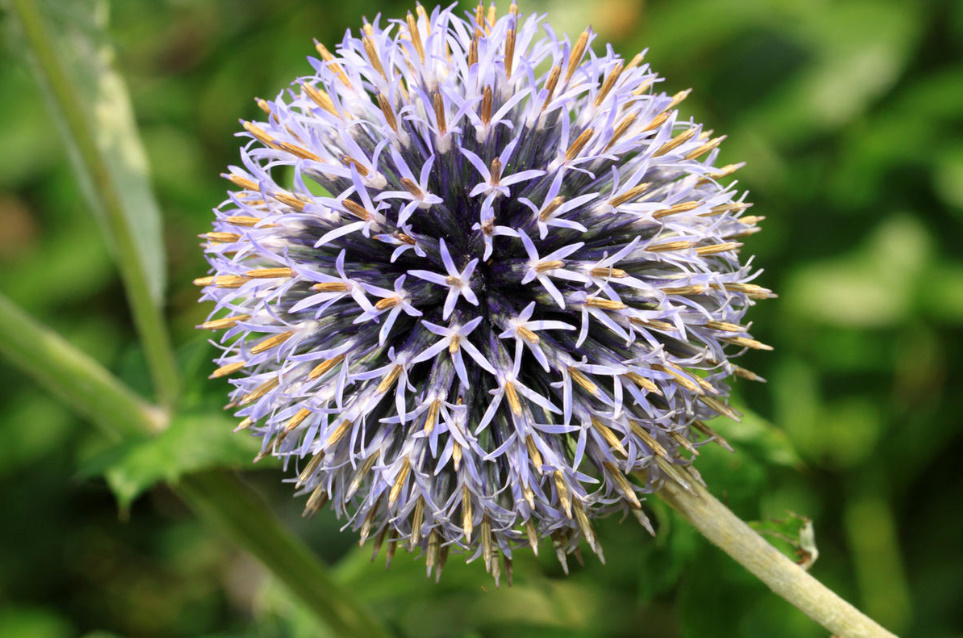 The variety 'Blue Globe' ('Blue Ball') is a purely marketing move, it is no different from the type.
'Taplow Blue' reaches 90-120 cm in height, and its blue steel—tinged "balls" are up to 7 cm in diameter.
'Albus' has white flowers.
3. Echninops sphaerocephalus
Echninops sphaerocephalus is a biennial or perennial, from 70 cm to 2 m tall. Its branched stems are covered with reddish-brown pubescence. Blooms in July – August, "balls" up to 5 cm in diameter.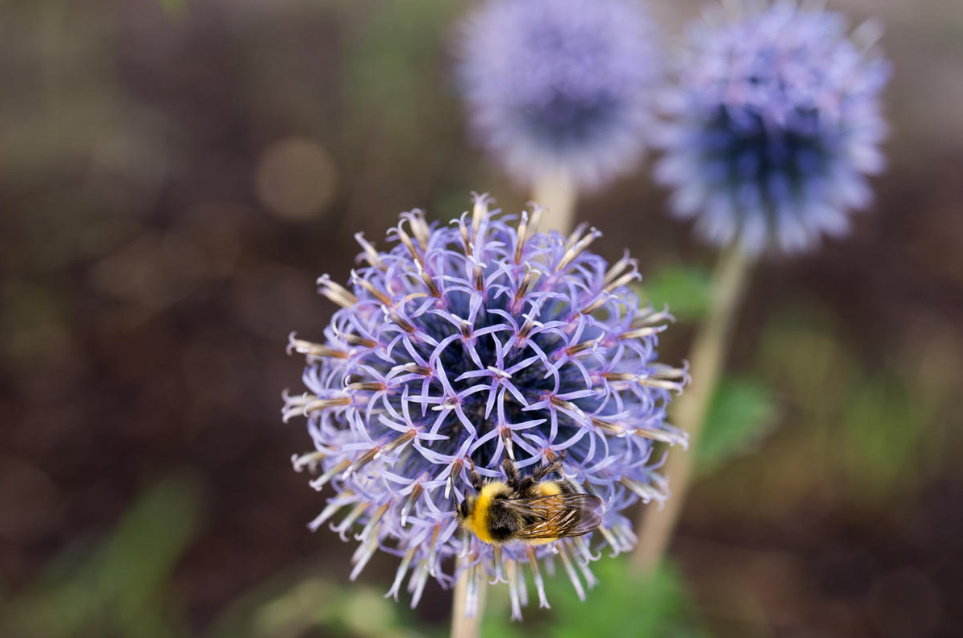 The variety 'Arctic Glow' is distinguished by pure white flowers and retains varietal characteristics when sowing seeds. Its height is about 1 m.
Reproduction of Echinops
Echinops species and varieties can be propagated by carefully separating the root offspring from the main outlet in the spring (it must be at least three years old). Or root cuttings, which are cut in late autumn before frost or early spring.
Specific plants can also be propagated by sowing seeds for seedlings in February or in the ground from spring to autumn. You do not need to sprinkle them, just press them into the ground. Seeds germinate at a temperature of +18 … +22 ° C for 2-3 weeks. Seedlings can be dived 3-4 weeks after sowing. They will bloom in the second year.
How to create optimal Echinops conditions
Echinops feels best in a sunny place, but it can withstand light shading. It grows on any soil, it is only important that the water does not stagnate: in dampness it easily rots. Lack of nutrition keeps the bush in shape, whereas on rich soils the stems stretch and fall apart, they may need a garter. Overall, Echinops is delightfully undemanding.
Problems and solutions
Aphids can covet Echinops if they don't find anything more delicious. In case of severe damage, any insecticides recommended against this pest will help.
Root neck rot can infect Echinops on waterlogged soils. Therefore, good drainage is vital. If the plants are mulched and have begun to show signs of rot (poor development, yellowing of the leaves), then it is worth removing the mulch from the bush by 15-20 cm to allow the soil to dry out.
During the summer, the lower leaves of Echinops dry up and fall off — there is nothing unusual about this. In the foreground of the flower garden, the plant may not look very neat. It is better to place low (30-60 cm) perennials in front of it. They will cover the withering lower part of the Echinops.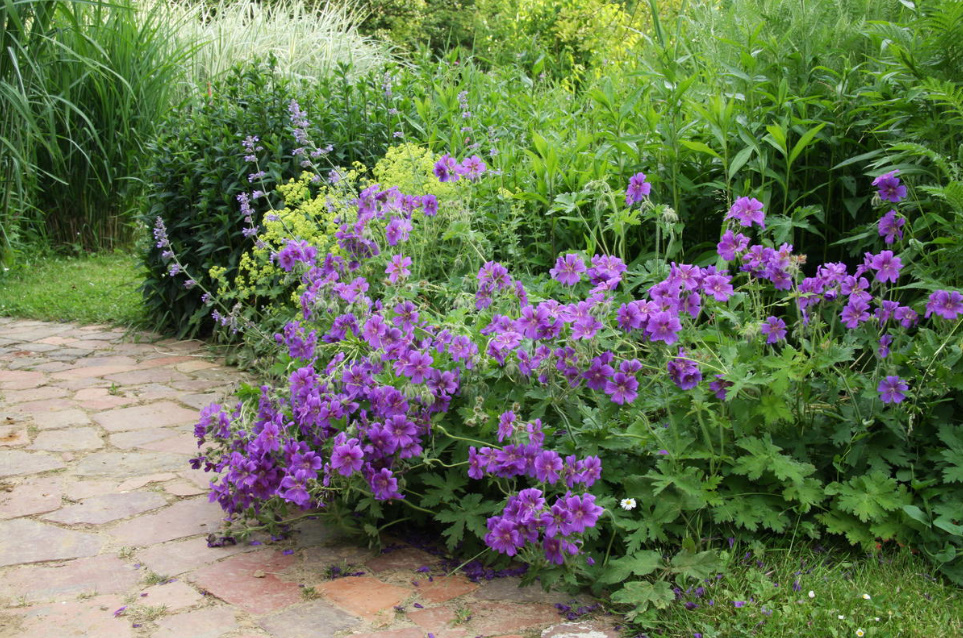 Care during the season
Spring
Echinops has a rod root system, so it does not like transplants — it is better to plant it immediately in a permanent place. In groups, 5-9 seedlings are planted per 1 m2. New plantings are watered if there is no rain. After division or transplantation, rod-rooted plants often take a long time to recover and may even die. If absolutely necessary, you can carry out these procedures until the end of May. At the same time, you need to try to dig as deep as possible in order to preserve the maximum possible root lump.
Summer
Echinops bear steel balls of buds already from the beginning of summer, a few weeks before their flowering in July-August. To avoid self-seeding and partially stimulate re-flowering, you can trim the faded "balls" by cutting off the peduncle just above the lower lateral shoot, or cut off the stem at the base if all the "balls" on it have faded. The rooted bushes of Echinops are very drought-resistant. However, if there is no rain, the plants of the first year of planting should be watered every few days. And in a long drought, old Echinops bushes will look better if they are given rare but abundant watering.
Autumn
If the faded "balls" were cut off in the summer, then Echinops can please with repeated flowering in autumn. And if not, they will give abundant self–sowing, and unwanted seedlings will have to be weeded out next spring. There are two options to avoid unnecessary work: you can trim all the stems immediately after flowering or plant cultivars that do not give self-seeding ('Taplow Blue', 'Veitch's Blue'). Once every two years, you can throw a shovel of compost under the bush.
Echinops in garden design
In any flower garden, Echinops brings two rare ornaments in the garden: topaz blue or sapphire blue color and jewelry-correct spheres of inflorescences.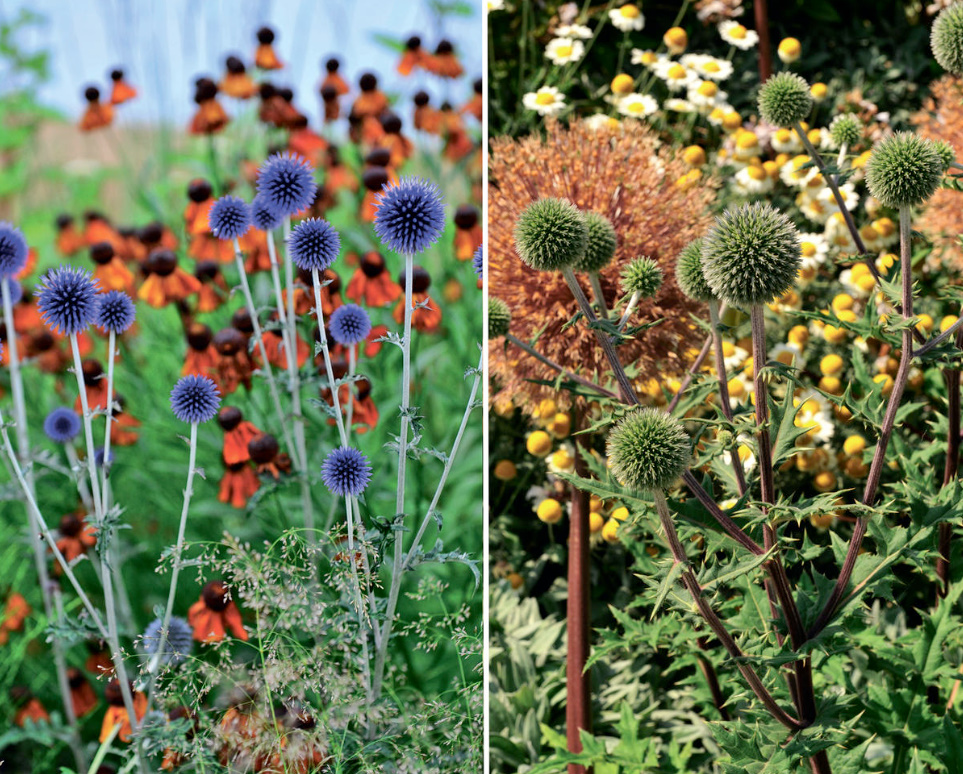 At the same time, the elegant and rather strict appearance of Echinops fits perfectly into modern "new wave" gardens with meadow flower beds, and into mixborders of traditional cottage gardens, where it will clearly stand out among the man-made chaos.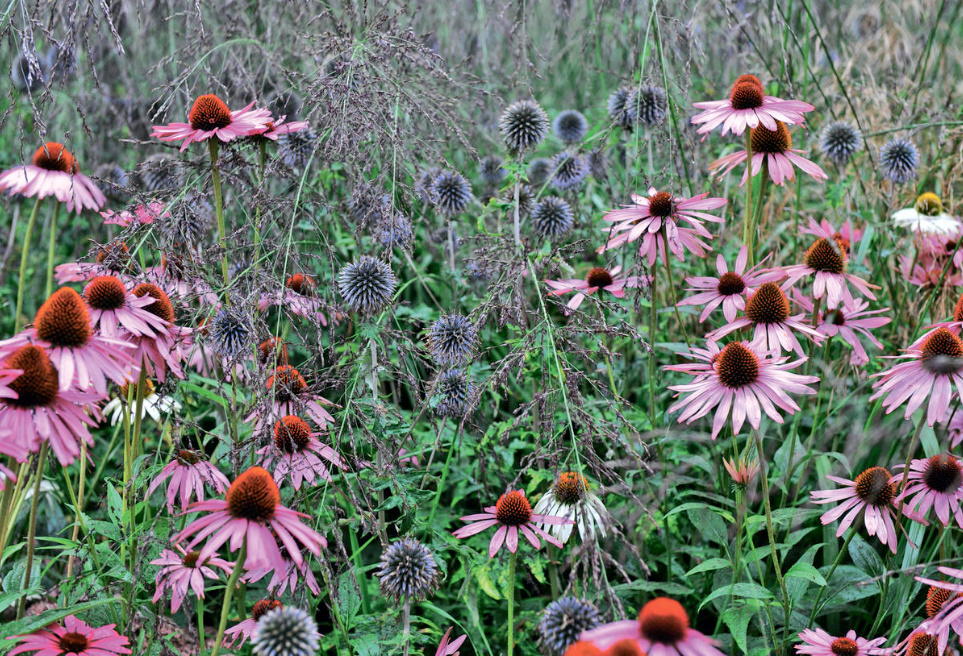 High species deserve the title of "architectural" plants. They can even be imagined in combination with the most luxuriously flowering shrubs and it will be an equal partnership.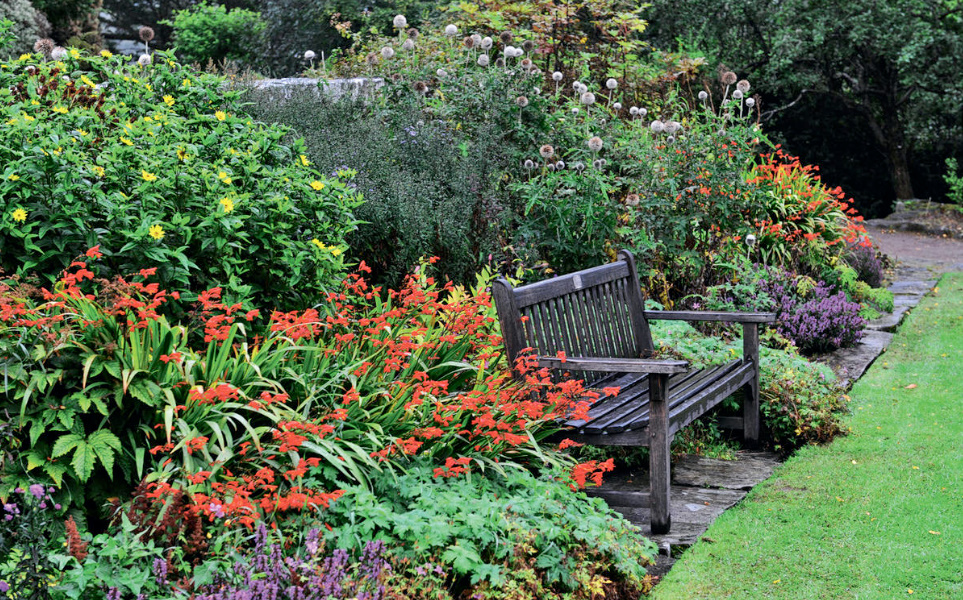 Echinops perfectly contrasts in color and shape with pastel yellow and rich golden flowers. His blue "balls" will be a wonderful addition to color schemes involving cold purple, lilac, lavender, purple, red, white.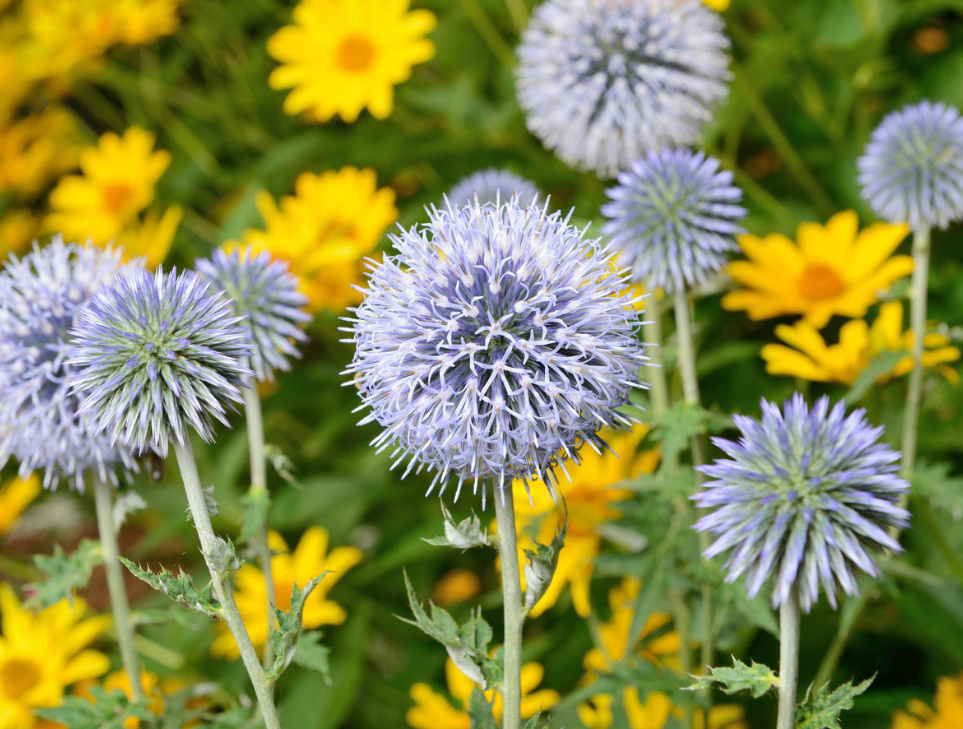 Echinops will become a spectacular participant in thematic coloristic gardens: blue or silver and other plants with grayish-blue foliage.
Of course, because of the increased prickliness, it is not necessary to plant Echinops where children play. Both fresh and dried inflorescences are used in bouquets. The first ones are cut off as soon as the flowers on the top of the "ball" open. They will stay in the bouquet for 6-10 days. And for drying, the "balls" are harvested when a third of the flowers have already opened, but the upper ones have not yet faded and dried up. If you hang them in a warm, dry place with "balls" down and do not remove the leaves, they will not lose color when drying. You need to handle them carefully – dry flowers are quite fragile.