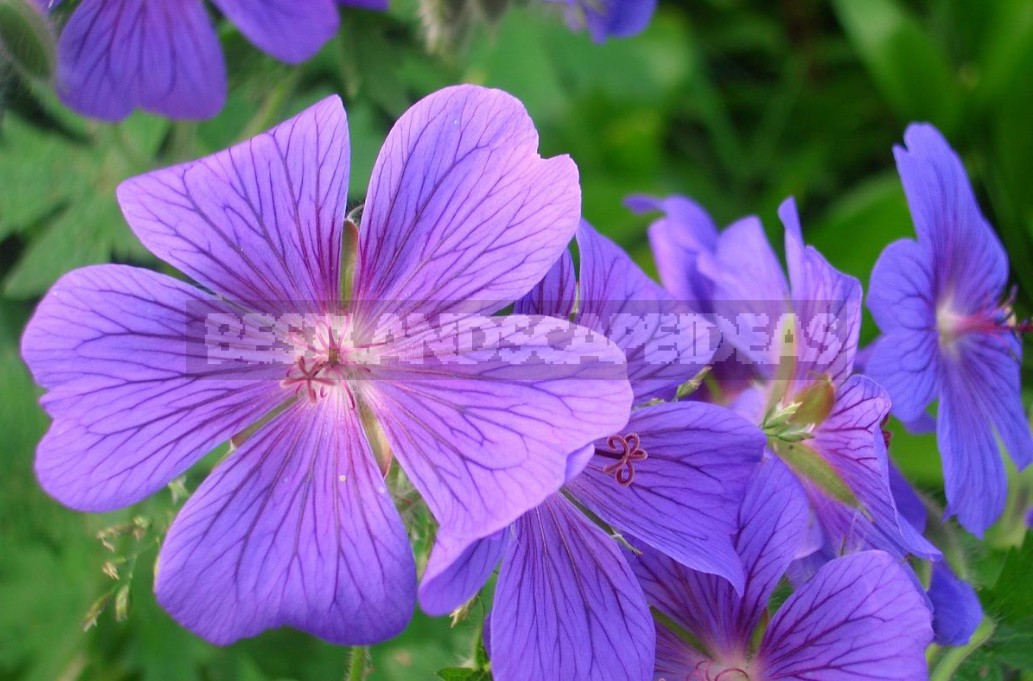 It's all Carl Linnaeus's fault. It was he who, without seeing much difference, United Geranium and Pelargonium into one genus, and with his light hand the confusion still continues.
Of course, taxonomists have long understood everything, but many novice Amateur florists are still wrong. In fact, there are "two big differences»:
Pelargonium flowers are irregular, bilaterally symmetrical (that is, only one axis of symmetry can be drawn through the center of the flower), whereas Geranium flowers are radially symmetrical (all the petals are the same, 5 axes of symmetry can be drawn through the center);
all Pelargonium are thermophilic and originate mainly from South Africa, so they can be grown as a room crop, while Geranium in nature is widely distributed in the temperate zone-the Caucasus, Europe, India, the far East, China, North America.
English tradition
In ancient times, Geranium was not considered an ornamental plant, only a few species were grown for the sake of fragrant foliage and supposed medicinal properties. But times were changing, and with them the idea of the beauty of the garden in General and plants in particular. English gardeners E. A. Bowles, A. T. Johnson and M. fish, who wrote about gardens, were among the first to become interested in Geranium, followed by the Dutch. Many species and natural hybrids were introduced into the culture. So Geranium, considered too modest and not bright enough, suddenly became an object of fashion.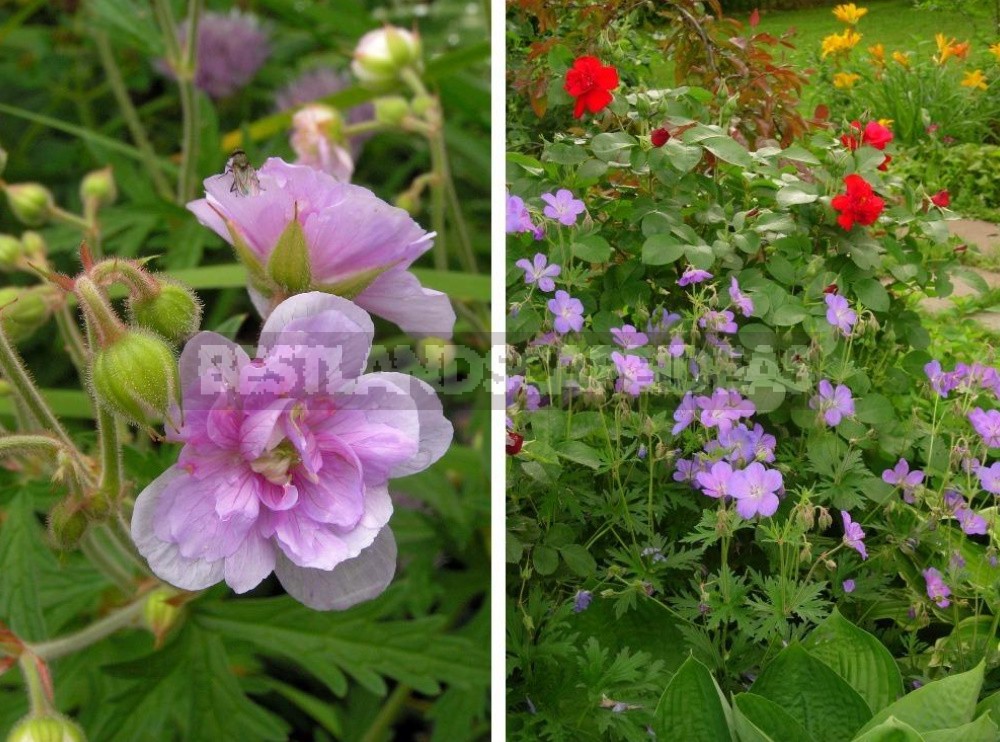 Over the past 20 years, many new varieties have appeared on the market, and in France there is already a "Geranium fever" – some collections have 500 cultivars. But the birthplace of most new products is still the UK, which is obviously due to stable traditions and a favorable climate.
Geranium turned out to be the most valuable material for a modern garden – they are simply necessary in mixborders, where they create a bright color accent or a smooth transition between elements that are too contrasting.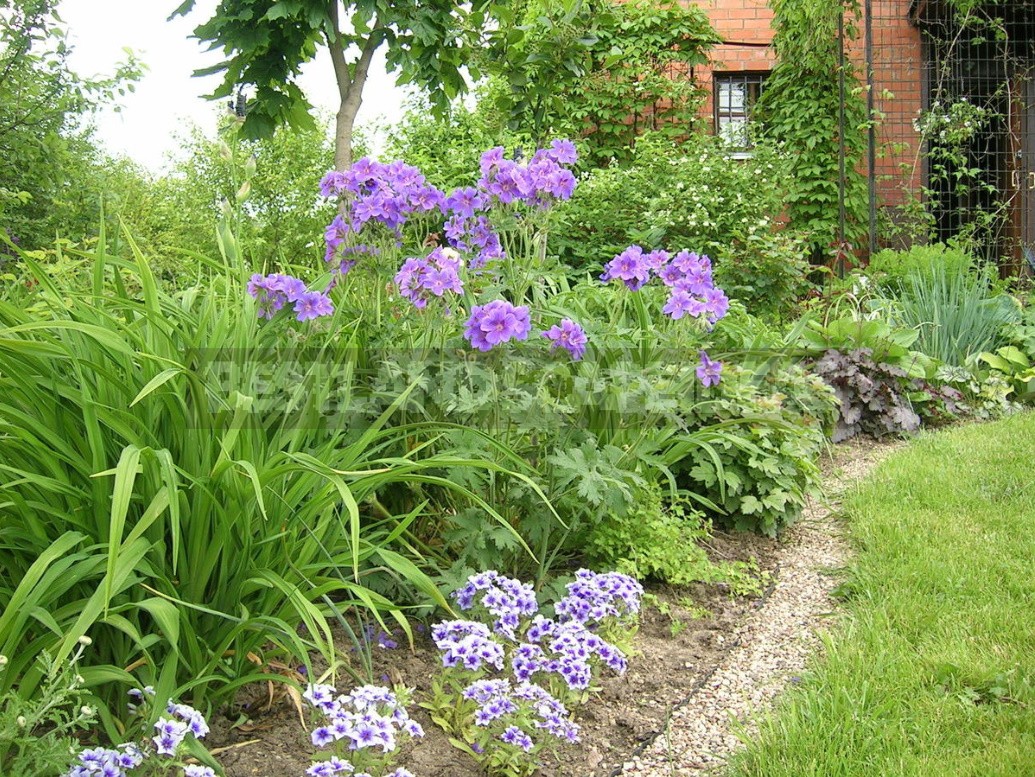 If the garden is not yet fully planned, Geranium will help you quickly fill in empty spaces. There is a place for them in the shade, among rose bushes, and on an Alpine hill — and all thanks to their low-key flowering and attractive habit, shape, texture, texture and color of the leaves.
What is good about Geranium
Geranium leaf blades are rounded and only slightly split, but most often they are divided or dissected into 5-7 lobes, which, in turn, can be serrated or incised. In some species, the leaves have a spicy aroma. Geranium leaves are well preserved until the frost, they have a beautiful autumn color.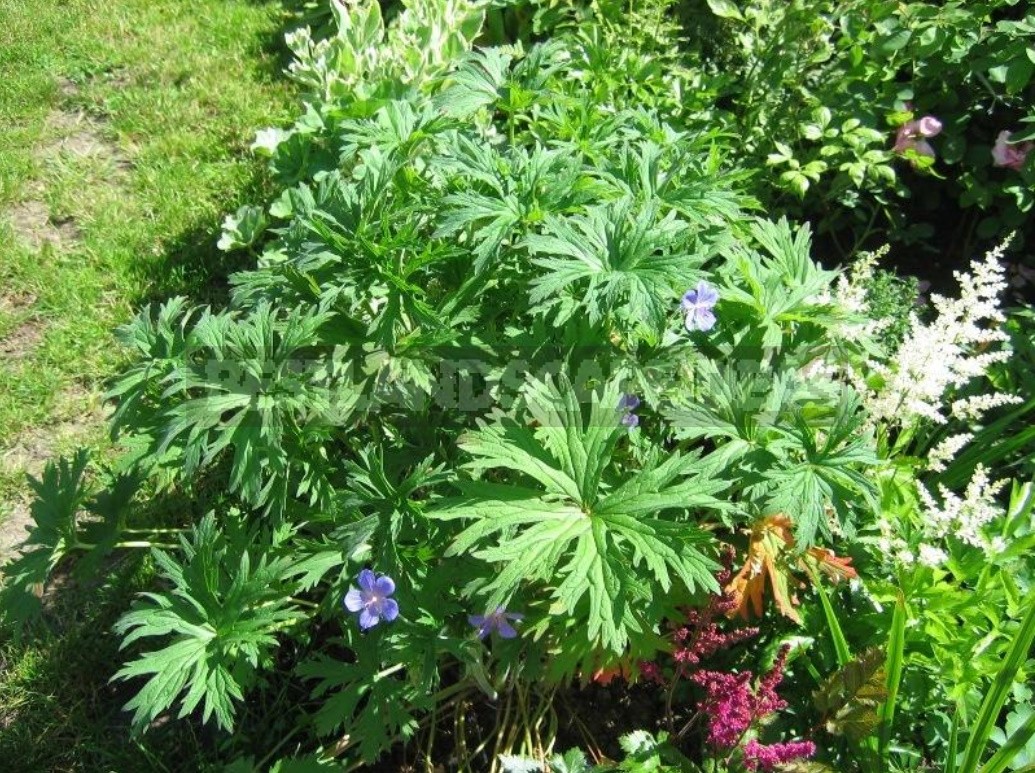 Most modern hybrids and decorative forms bloom beautifully, however, the duration of flowering varies greatly.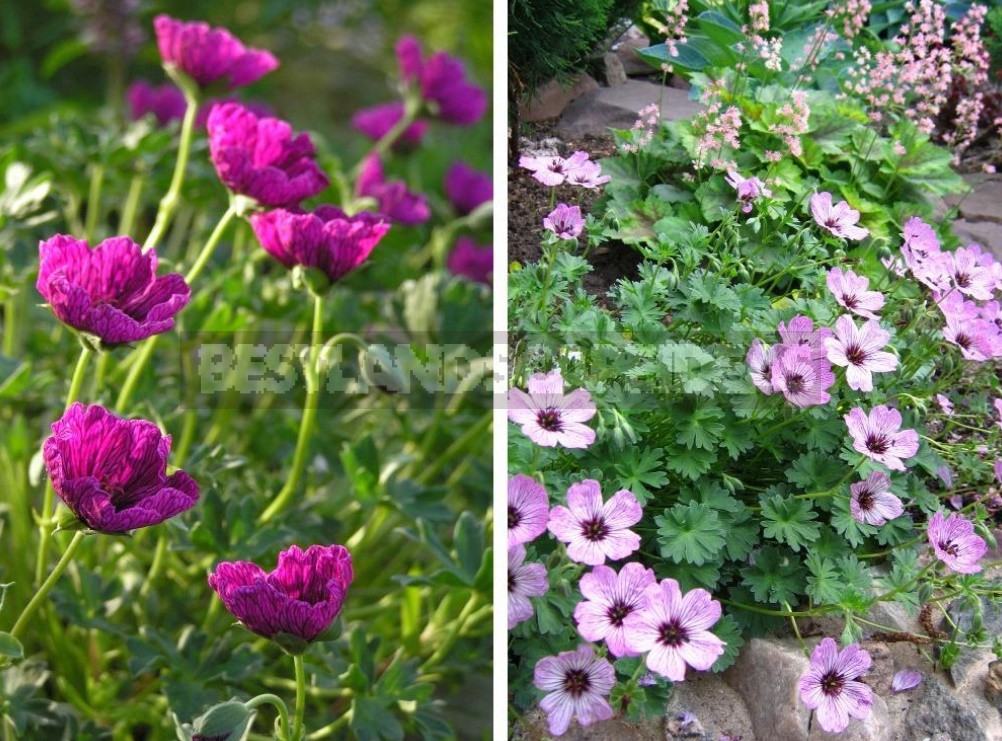 The color of Geranium flowers is absent yellow and orange, most often pink, blue, red and white, as well as purple, lilac, purple, crimson, salmon. At the same time, the first three colors are never pure, always with some admixture; white is rare, found only in albino forms.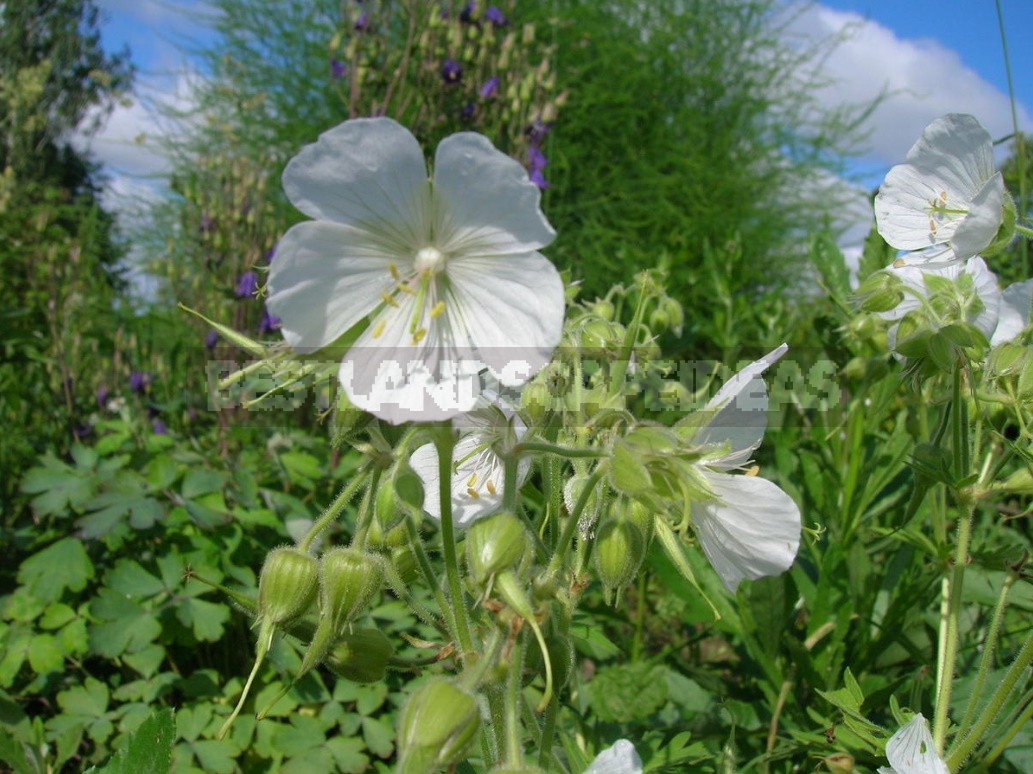 Flowers can have contrasting veins (purple or pink pattern on a light background), contrasting eyes (black center – crimson petals, white center – rose petals).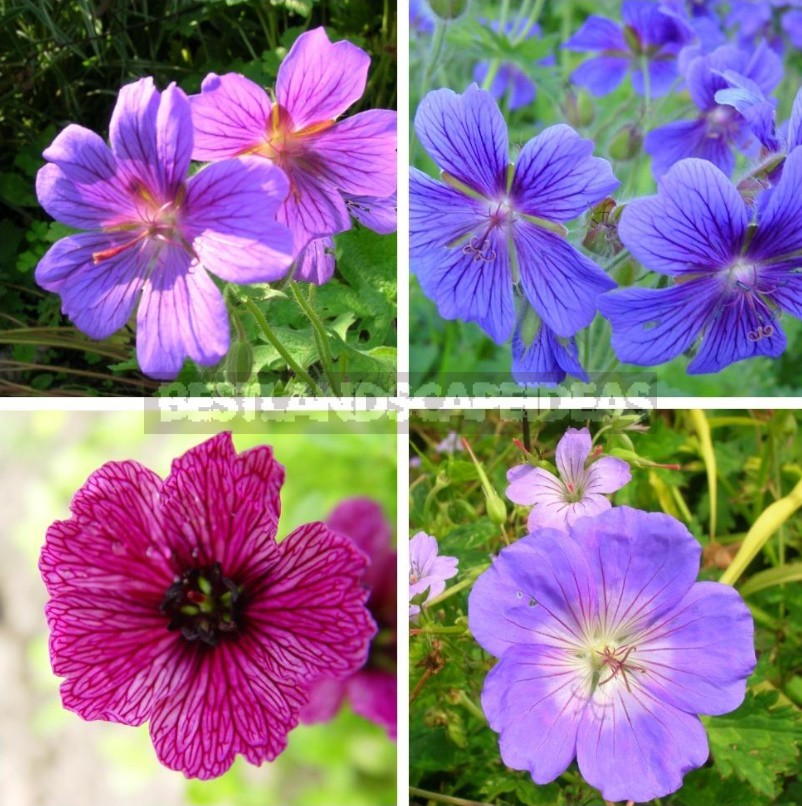 Of course, not all Geranium grown in Western Europe can tolerate harsh winters. However, the choice is still very large, especially since many varieties come from those species that grow in our nature.
Geranium species and varieties
I present to you some types and varieties of Geranium.
Geranium himalayense
With the help of underground rhizomes, it forms loose bushes 30-40 cm high. The leaves are slightly dissected, the flowers are large, 4-6 cm in diameter (this is the champion among Geranium).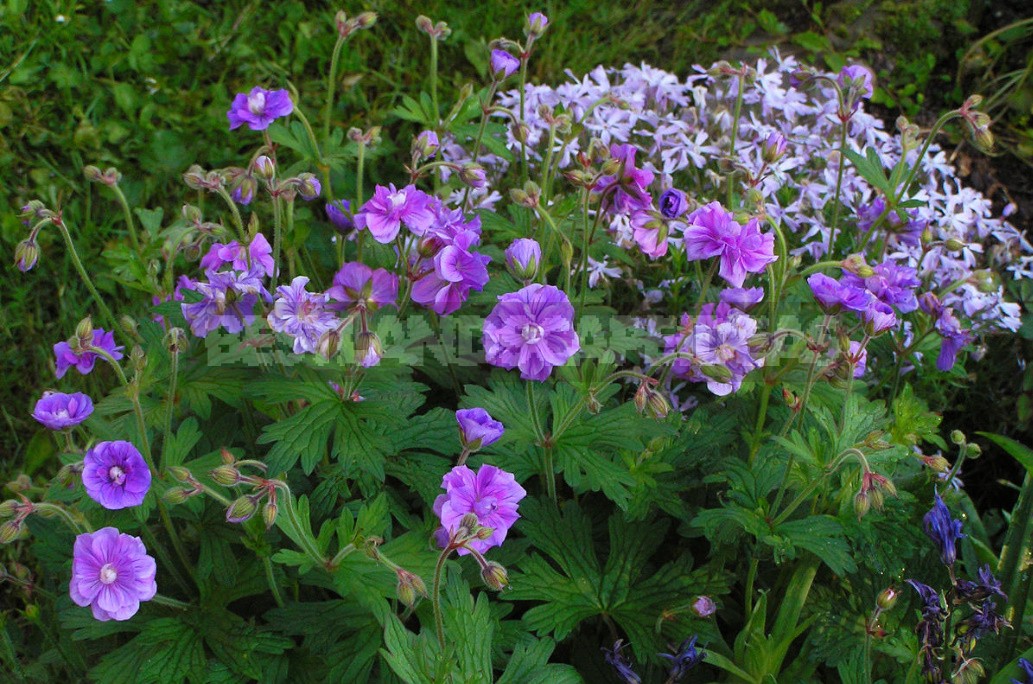 The 'Gravetye' form has very beautiful large flowers of almost pure bright blue color. The Terry form 'Plenum' ('Birch Double') is lower and more compact than the natural form. The long-blooming hybrid Geranium himalayense and Geranium pratense 'Jonson's Blue' is widely known. By the way, this is one of the favorite Geranium English garden designers.
Geranium phaeum
Forest species from Central Europe, prefers shady places with loose moist soils, but tolerates dry, decorative from early spring to frost due to early growing beautiful leaves and a hemispherical shape of the Bush, reaching 50 cm in height (with inflorescences – 90 cm).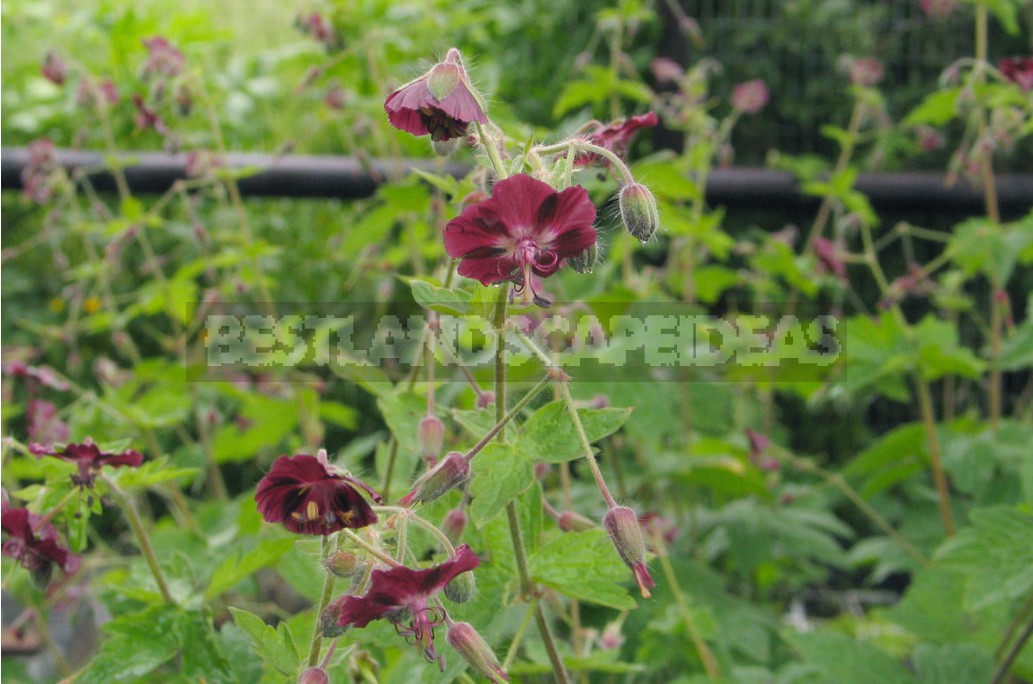 Blooms in the first half of summer with small purple-brown flowers. The leaves are slightly incised into 7-9 lobes. In nature, there are forms with purple-brown spots at the base of the incisions. It reproduces very quickly by self-seeding, so you should cut the flower stalks in time.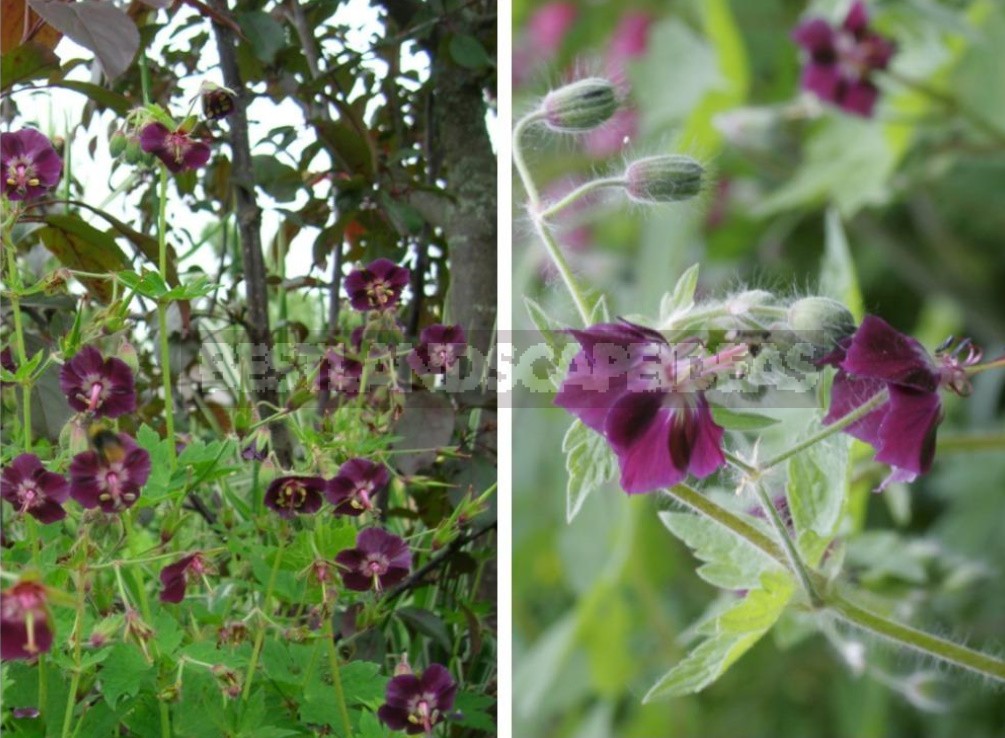 It is impossible not to say at least a few words about the varieties:
'Album' with white flowers, larger than the natural species, and light green leaves. Good for a light spot in a shady corner of the garden.
'Samobor' – on a dark green leaf background, a brown-black stripe formed by merged spots. It needs a rich well-moistened soil to achieve maximum decorative effect.
'Variegatum', 'TAFF's Jester', 'Maggi's delight' – variegated varieties, have cream or pale green edging of leaves.
This Geranium looks great in semi-shade in the company of large hosts, ferns and grasses, Aquilegia, Lamium, Thalictrum aquilegiifolium, Corydalis nobilis, Helleborus orientalis.