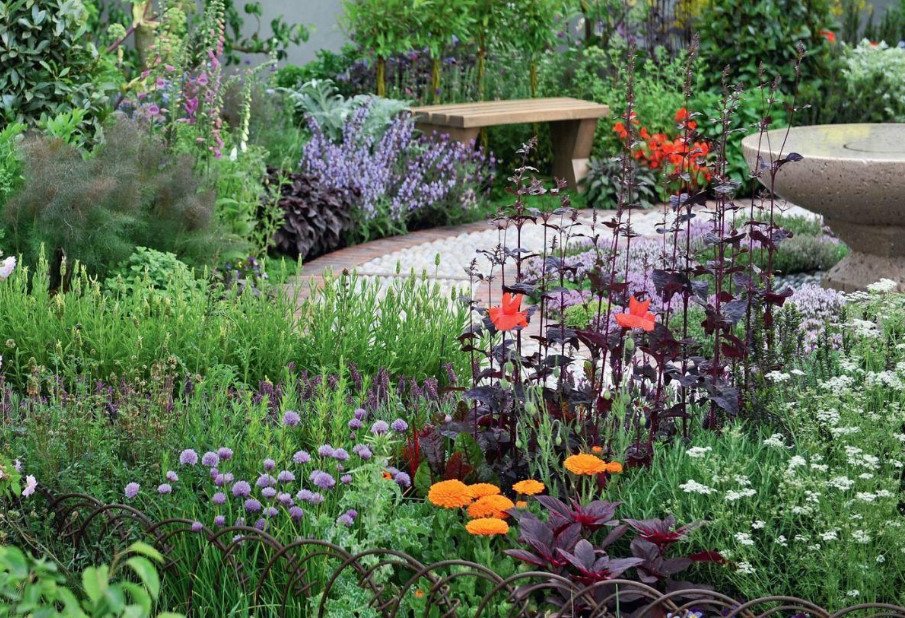 Cereals and ornamental grasses are quite worthy candidates for the village garden. These fragile and elegant " tenants "are so many-sided that they are able not only to fill" pauses "in flower beds, but also to perform in" solo parties", without tiring the owners with star whims.
These amazing in their tenderness and impetuosity plants are beautiful at any time of the year: in the spring they delight the eye with carpets and bumps of life-affirming green shades, in the autumn they "repaint" the garden in ochre and Golden-bronze tones, in winter draw monochrome paintings on a snow-white cover of snowdrifts.
Representatives of the large family of cereals are a pleasant variety in color (from green and bluish-green to red and even purple), and in height (from 20 cm to 2 m), which means — open incredibly opportunities for gardeners. Such nice "tenants" can easily settle around the garden. Spikelets and panicles of inflorescences (appear from June to September, depending on the type of plant) look very romantic and retain their charm until late autumn, and sometimes until next spring.

Cereal plants are ideal companions for " lazy " gardeners: they tolerate drought and heavy rains well, do not require pruning and protection from frost, can grow on both poor sandy and rocky soils, and on fertile black soil, and ornamental grasses that joined this family are characterized by a good growth rate and are not subject to diseases and pests.
Important: remember that many cereals are very aggressive, grow quickly and occupy large areas, and therefore their growth must be artificially limited.
Do you want even more color variety? Easy! Add to the cereal company as unpretentious and close to agricultural plants: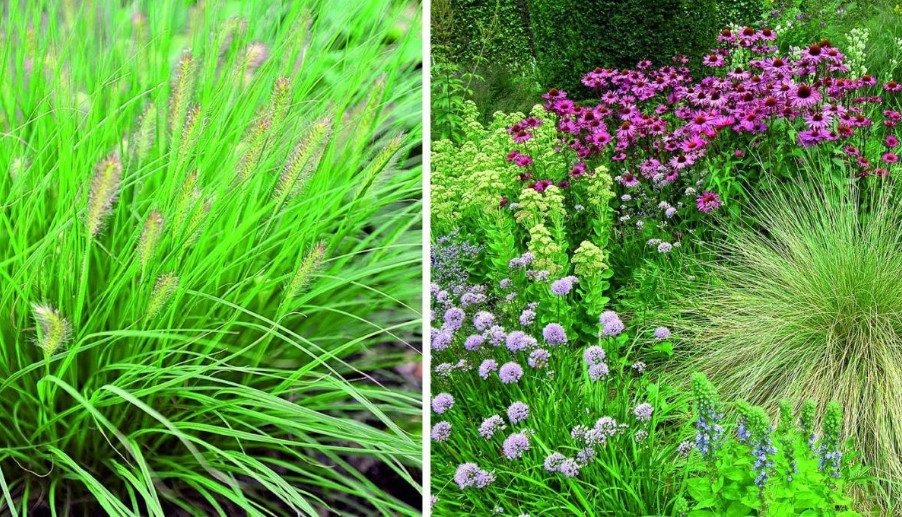 Centaureas will look great among steppe grasses.
Choose cereals by height
When choosing cereals should focus not only on the illumination of the site and the feature of the soil, but also the height of future garden dwellers. After all, this indicator affects the success of their "game" on the garden stage.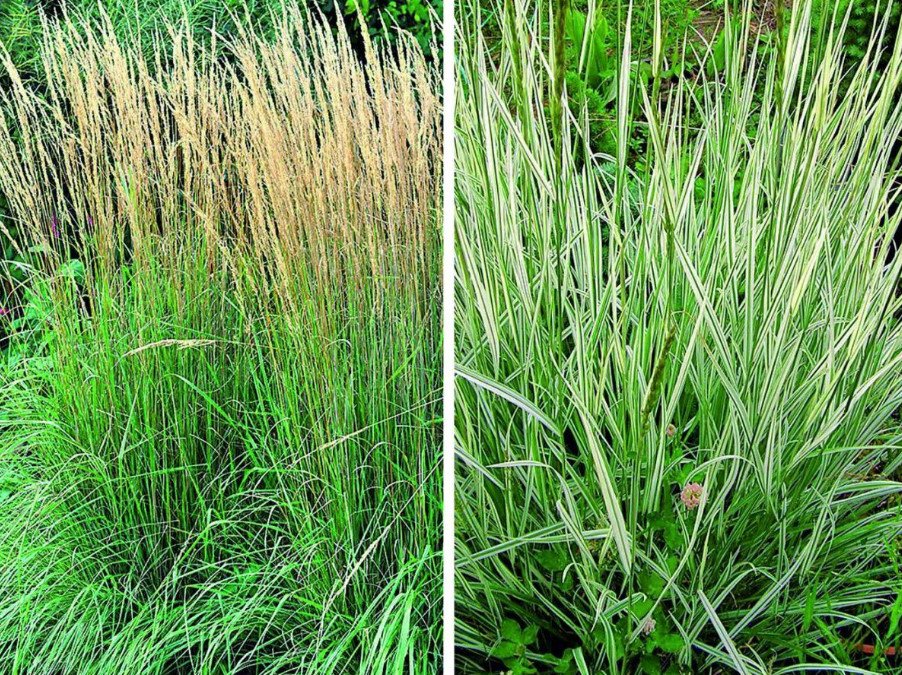 Undersized species (height not more than 40 cm)
They are most often used in the design of rocky hills, rockeries and rock gardens, planted in the foreground mixborders or angazhiruyut the role of the border.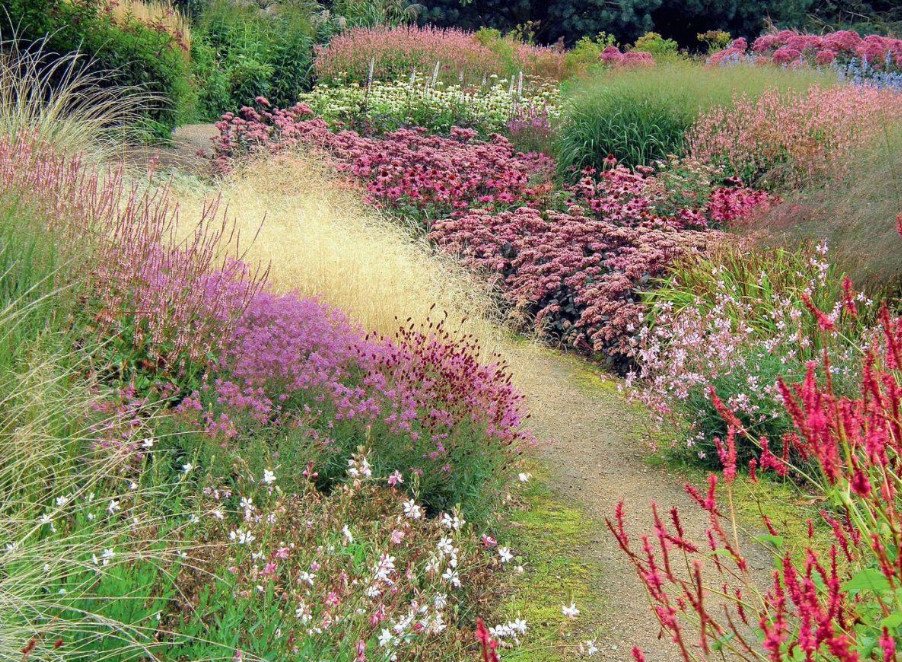 Alopecurus pratensis is a perennial plant with Golden foliage, height up to 30 cm, flowering begins in mid-summer, inflorescence in the form of silky spikelets. Such a compact Bush: does not spread and does not suppress the growing nearby cultures;
Festuca glauca-a small Bush up to 20 cm with needle leaves of blue color and soft reddish flowers-panicles. Prefers full sun and will adorn the rocky hills and mini-beds;
raygras bulbous-long-term cereal up to 30 cm, compact, does not spread, narrow foliage is painted in white-green tones;
Deschampsia flexuosa is a plant with a very slow growth and a spectacular form of foliage — a thin, hair-like, painted in bright yellow. Especially beautiful in early summer, flowering in July, bright flowers on high stalks;
Blue-gray Kohleria-a representative of perennial cereals up to 10 cm, forms a hummock with bluish – green hard leaves, looks beautiful on rocky hills and rockeries, tolerates cold winters, but needs additional drainage.
Medium-sized cereals (height 40-90 cm)
Ideal look in multi-tiered flower beds and mixborders.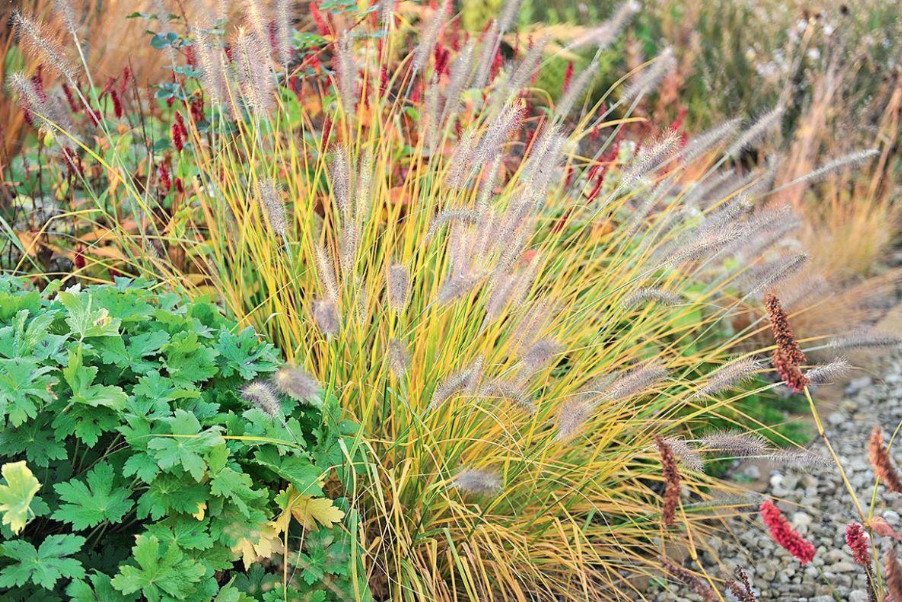 Pennisetum alopecuroides — the most cold-resistant of pennisetum, can winter even in the middle lane under the shelter of leaves or spruce branches. Blooms in August-September, throwing fluffy panicles of white or pink;
Stipa capillata (30-80 cm) prefers an open Sunny place and a soil without stagnant moisture. Its bluish-green leaves and white inflorescences are especially beautiful;

Phalaris Canary (height 50-90 cm) refers to annual crops, leaves are narrow, striped, inflorescences in the form of cones. Ideal for decoration of bodies of water, and in mixed borders can become a focus. Sowing on a Sunny place in the open ground produce in April or may.
Tall cereals (height from 1 m)
They are used in multi-level compositions to create a background or live screens when zoning the garden.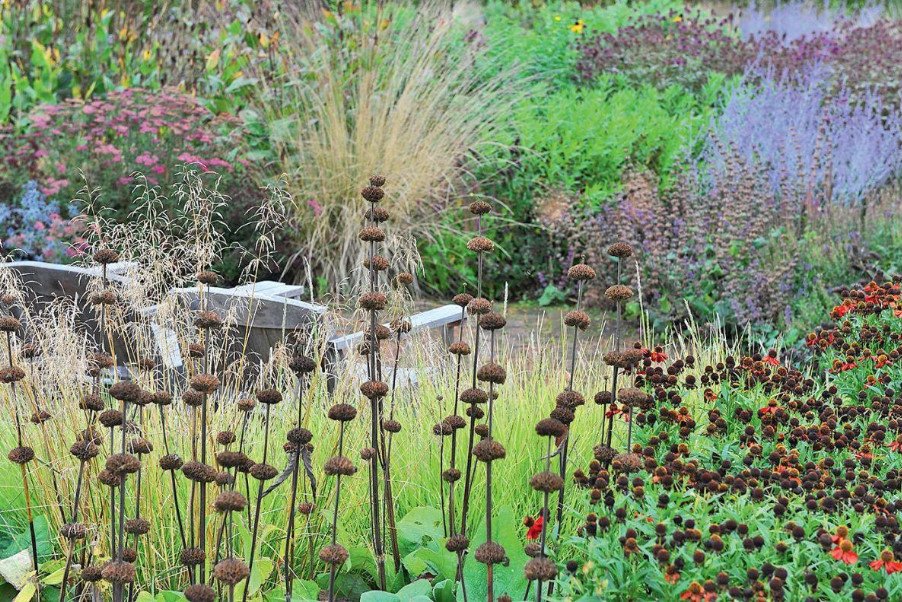 Calamagrostis acutiflora (height above 150 cm) — a perennial cereal with a creeping rhizome, grows very quickly in the sun and in partial shade, unpretentious, easy to tolerate drought and feels good on clay heavy soils;
Pennisetum grey (height up to 150 cm) is an annual herb, leaves and ears of which are painted in a pleasant bronze-Burgundy shade. Used in group compositions, and as a separately growing shrubs;
Melica altissima (height 150 cm) looks perfect in flower beds with yellow or orange flowers, acting as a background for them. Can grow in damp and shaded areas, on any soil. Inflorescences have a purple hue.
Miscanthus sacchariflorus — undemanding species forms a tall, roughly human scale, chalmovidnaya bump. Very effectively blooms in late summer-early autumn;
Phalaris arundinacea (height 150 cm) resistant to rain and wind, extremely unpretentious. He has strong creeping rhizomes, can grow on barren dry soil, but prefers moist. Feels good in the sun and partial shade.
Choose and plant
The basic requirements for the plants for the village garden are simple and clear:
there is no need for regular pruning, that is, they should keep a spectacular shape without the help of a gardener;
wintering foliage-it makes trees and shrubs decorative throughout the year;
durability;
from prenosologic plants pay attention to those candidates who require minimal care: perennial (tarragon, savory, chives, Catnip, lovage, thyme, lemon balm, mint), and annuals (dill, fennel, Anthriscus cerefolium, Origanum majorana);
ideal tenants will be ground cover plants, which quickly and quietly fill the empty areas. It is Vinca, blooming in may blue, pink and lilac flowers; Convallaria majalis, filling the garden aroma; Calluna vulgaris, blooming its thickets of pink, white and red inflorescences, Cerastium, various saxifrage, Sedum and many other plants.