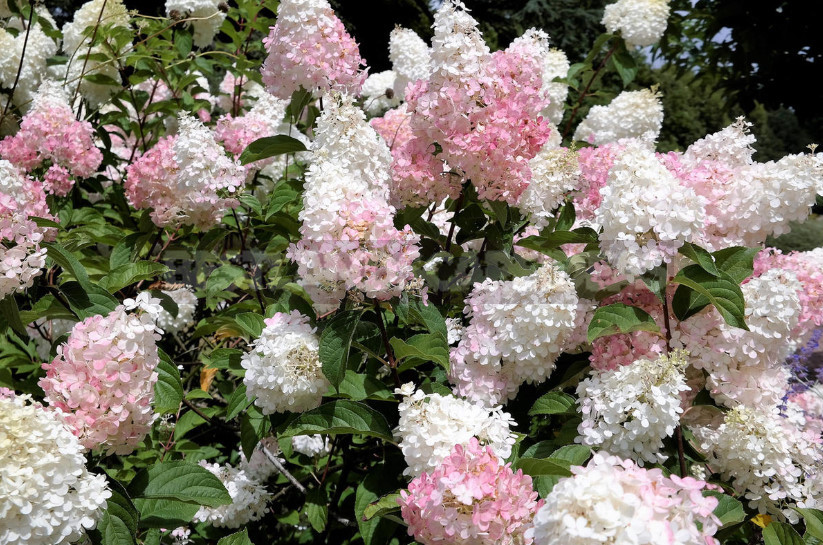 Among the many ornamental plants that adorn our suburban areas, hydrangea paniculata stands out. Wide popularity of this wonderful shrub acquired thanks to its incredibly beautiful and long flowering.
Add excitement around this beauty tireless efforts of breeders, striking our imagination with new and new varieties. Therefore, if you are still at a loss and do not know on what creation to choose, I propose to hold a beauty contest and determine the best variety of paniculate hydrangea.
Variety 'Vanille Fraise'
Among the huge varietal diversity of this culture in the first place claims the title of "Miss Charm" delightful hydrangea 'Vanille Fraise'. This variety attracts attention with gorgeous creamy pink flower bunches, from which it is impossible to take your eyes off. Dense broad-conical inflorescences sometimes reach a length of 30 cm. The branches of the Bush are unable to hold such huge caps, making the plant becomes weeping, leaning under the weight of its unearthly beauty.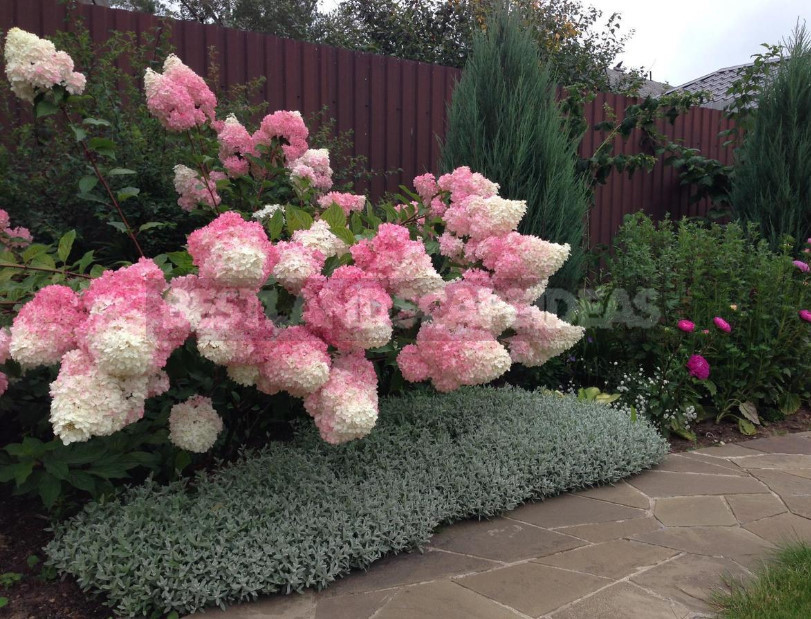 The beauty of the flowers of this hydrangea is that at the beginning of flowering, falling in the middle of summer, they are painted in a delicate creamy white shade. And later gradually change its color to a pink tone. Moreover, the palette of colors varies from the base of the inflorescence to its top, making the plant acquires a completely fabulous look.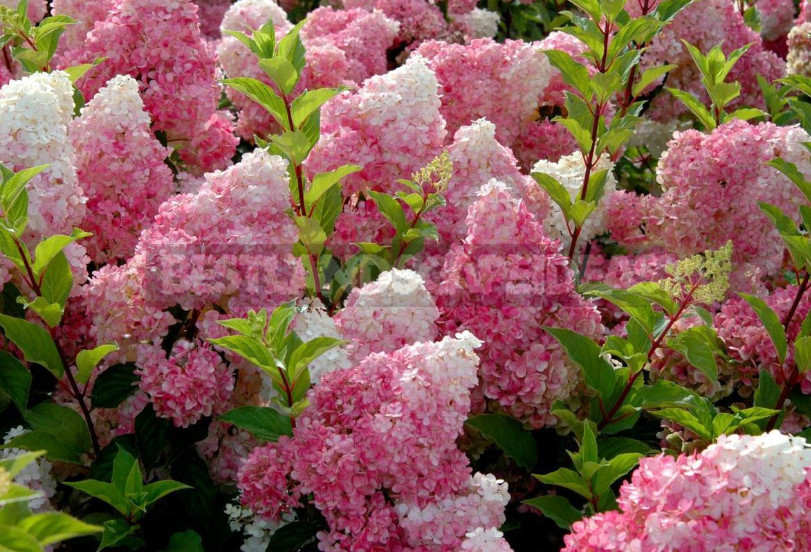 By autumn, the shrub is completely changed-instead of white it is now adorned with lush crimson hats. Crown reaches 1.5-2 m in height and up to 1.5 m in diameter. The variety has a high frost resistance and winters well without additional shelter in the middle lane and in the North-Western regions. It develops well in a Sunny place, but in partial shade forms larger inflorescences.
Variety 'Grandiflora'
Looking from 'Vanille Fraise' to the incomparable 'Grandiflora', I want to give the palm to her. After all, this variety is no less effective during its flowering, falling in the second half of summer and part of autumn. Shrub with widely spreading crown reaches a height of more than 2 m and stands out very large dense inflorescences, thanks to which it becomes the center of attention.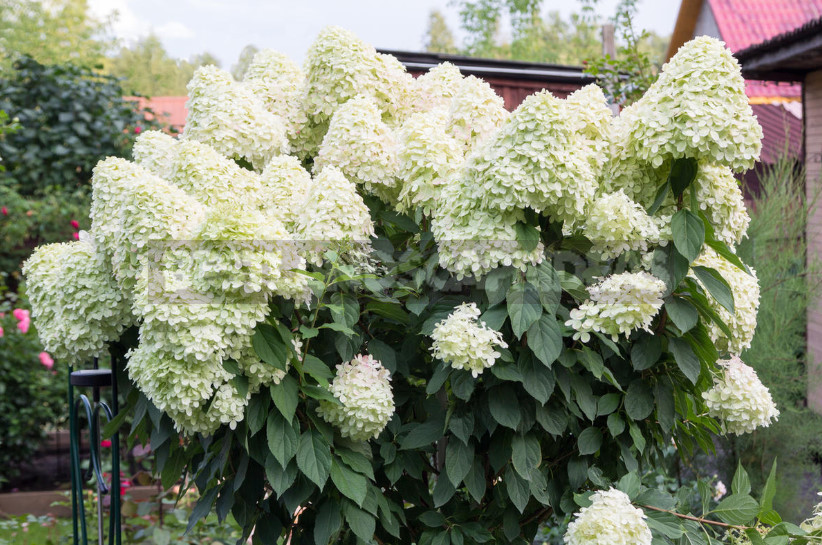 Cone-shaped flower caps of this hydrangea at the beginning have a light green color, and then become snow-white. By the end of summer, their petals begin to turn pink and eventually painted in a rich dark pink color. This variety is resistant to lowering the temperature to -25°C, so perfectly take root in the regions of the middle band.
Variety 'WIM's Red'
It is impossible to ignore the amazing hydrangea named 'WIM's Red', characterized by a particularly long period of flowering. Its inflorescences begin to bloom in late may or early June and continue to delight with its amazing beauty until the beginning of October.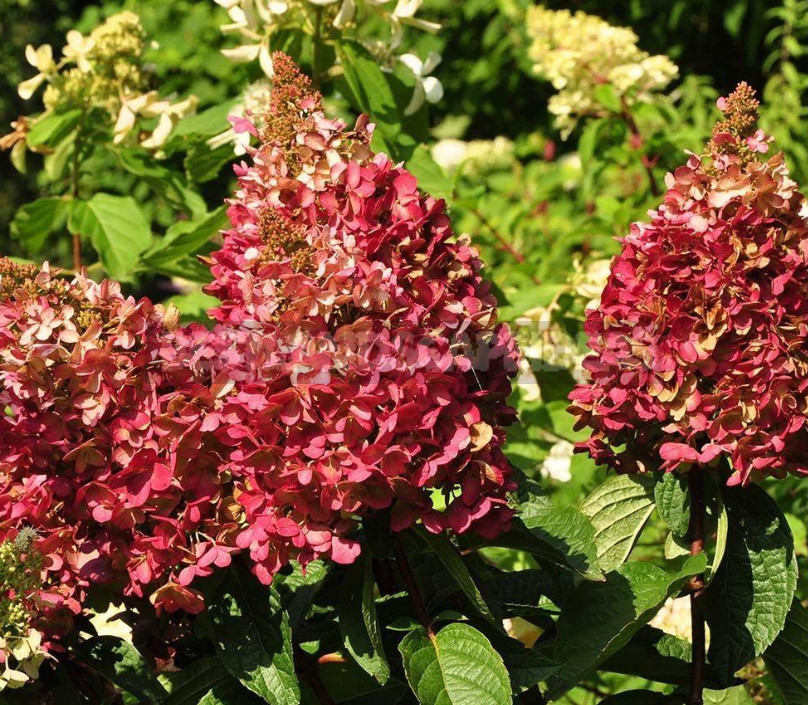 Large caps of this hydrangea have a conical shape with a pointed tip. In early summer, the flower petals are painted white, later change color from pale pink to dark pink, acquiring a delightful autumn Carmine-red hue. Unlike their "crying sisters" this shrub does not fall apart and retains the shape of its compact crown, despite the severity of numerous inflorescences.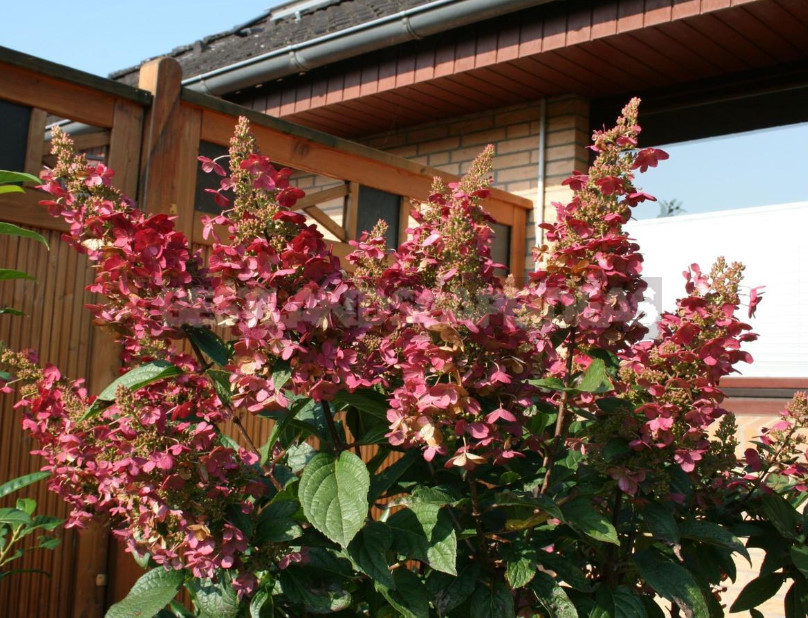 The plant in adulthood sometimes reaches a height of 3 m and a diameter of 2 m, has strong erect shoots. This hydrangea is characterized by high disease resistance and winter hardiness. Sort of feels better in a diffuse shadows and high decorativeness in addition to stands out a very nice honey aroma of its blossoms.
Variety 'Early Sensation'
During its lush flowering produces a real sensation in the garden paniculate Princess 'Early Sensation'. This shrub grows to a height of 2 m and reaches a diameter of about 1 m. however, such bulk form did not interfere with the beauty to stand on its "legs" — it is separate and independent, so well without props.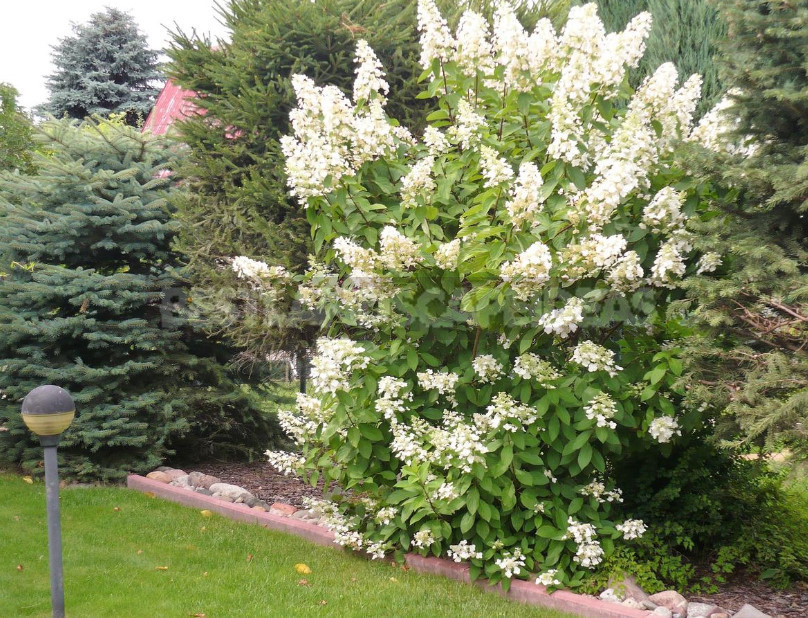 Unlike other varieties, which have inflorescences resemble ice cream cones, this hydrangea has a flat flower panicles, why it becomes like a snow-white cloud. And thanks to the single large flowers, clearly protruding from the inflorescences, it seems as if a flock of fabulous moths lurked on the plant. This color 'Early Sensation' is preserved in the first few weeks of its flowering, and by the autumn she gradually changed into a bright crimson outfit.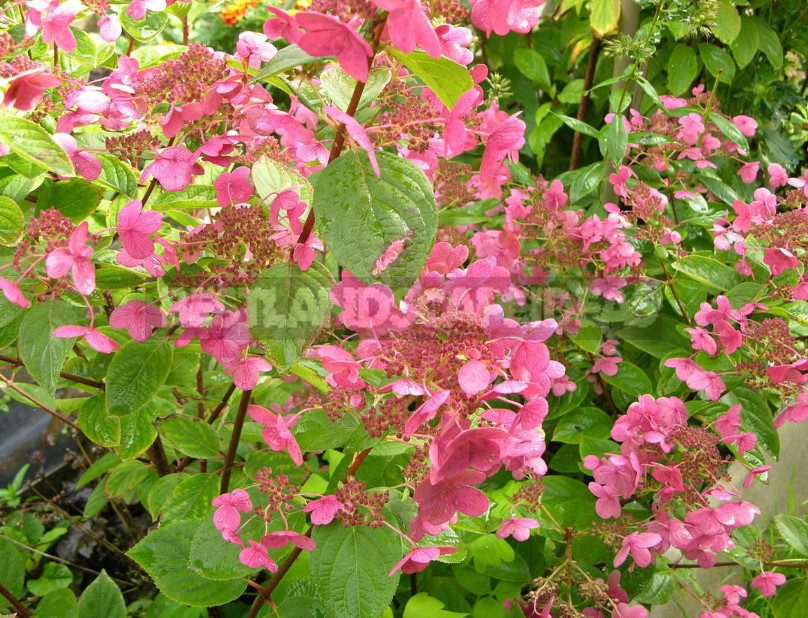 The variety is characterized by unpretentiousness in care, shows high resistance to pests, develops well both in the sun and in the shade.
Variety 'Pinky Winky'
We can not ignore another contender for the title of best-hydrangea named 'Pinky Winky'. This shrub has strong shoots that form a very beautiful crown up to 2 m in height and up to 1 m in diameter, not falling apart under the weight of large flower caps.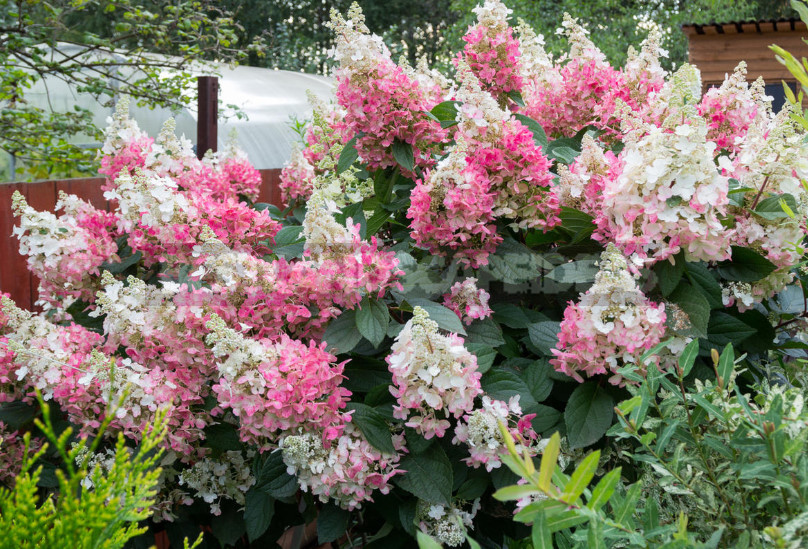 Lush cone-shaped inflorescences of this delicious variety at the beginning of flowering pleasing to the eye with snow-white colors, then from the base are painted in pink tones and by the end of the season acquire a catchy purple color.
It is noteworthy that the leaves of this unusual hydrangea also turn dark red in autumn, so the plant becomes a real masterpiece in the bosom of the deserted and discolored autumn landscape. Variety endures difficult winters, feels great in the middle lane. It grows better in a well-lit and protected from strong winds area.