The huge range of these ceiling coverings makes it necessary to approach their choice thoughtfully and carefully. Moreover, stretch fabrics are made of different materials, the characteristics of which differ markedly from each other.
Types of stretch fabric
Strictly speaking, there are only two of them – these are vinyl and polyester ceilings. Both look very good, but their consumer properties need careful study.
PVC film
The canvas made of polyvinyl chloride film (PVC) is the most affordable and common material. Its main advantage is its low cost, while it does not pass water and is able to withstand significant loads in case of leaks.
In the technical documentation and advertising brochures, you can often read that the PVC ceiling does not tear even if it experiences a pressure of about 10 l/m². At the same time, there are cases in which the film did not leak even under more serious loads.
Contrary to popular belief, the material is not damaged by a blunt object impact. For example, a ball or the notorious champagne cork.
A large selection of color solutions allows you to choose exactly the shade that will best fit into the interior. Unlike a cloth made of fabric, the surface of a PVC film can be not only matte, but also glossy, which allows you to visually enlarge a small-sized room and give it an aristocratic look.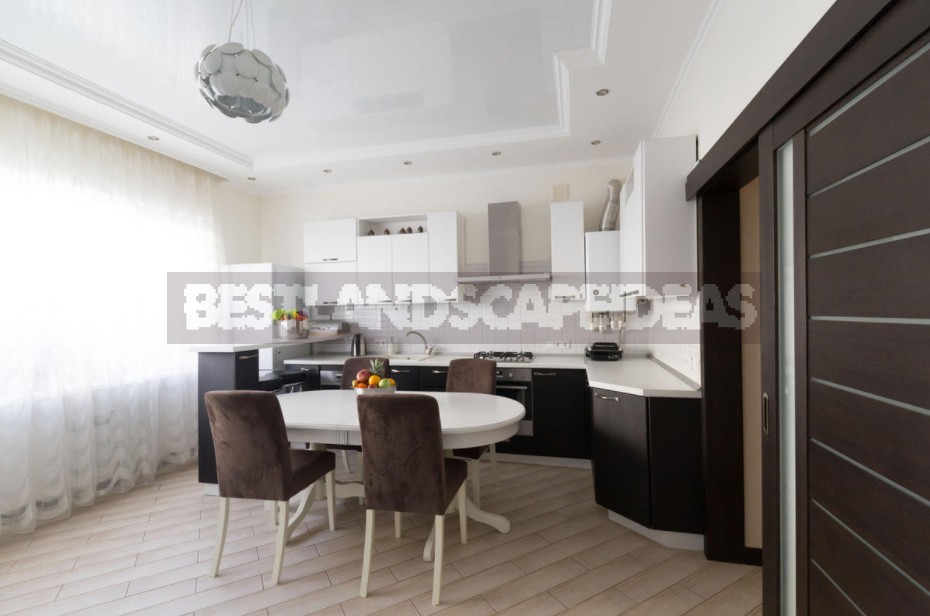 Of course, there are also disadvantages. Many complain that vinyl "does not breathe", and this is true: the material does not pass not only water, but also air. In addition, the film can be accidentally damaged by something sharp: a ski pole or a metal profile. For this reason, it is not recommended to install a PVC coating until the repair work is complete.
Another problem is related to the low frost resistance of vinyl. Already at 5 degrees of frost, it begins to crack and lose elasticity. This means that it is undesirable to install a film ceiling in rooms that are heated only periodically in winter, or are not heated at all.
The film also quickly becomes unusable under the influence of high temperature. Some builders do not advise installing such a canvas in the kitchen, where it will inevitably be heated by a gas or electric stove. However, the coating can only deteriorate if the ceilings are located very low. At a standard height of 2.3-2.7 m, nothing will happen to the canvas.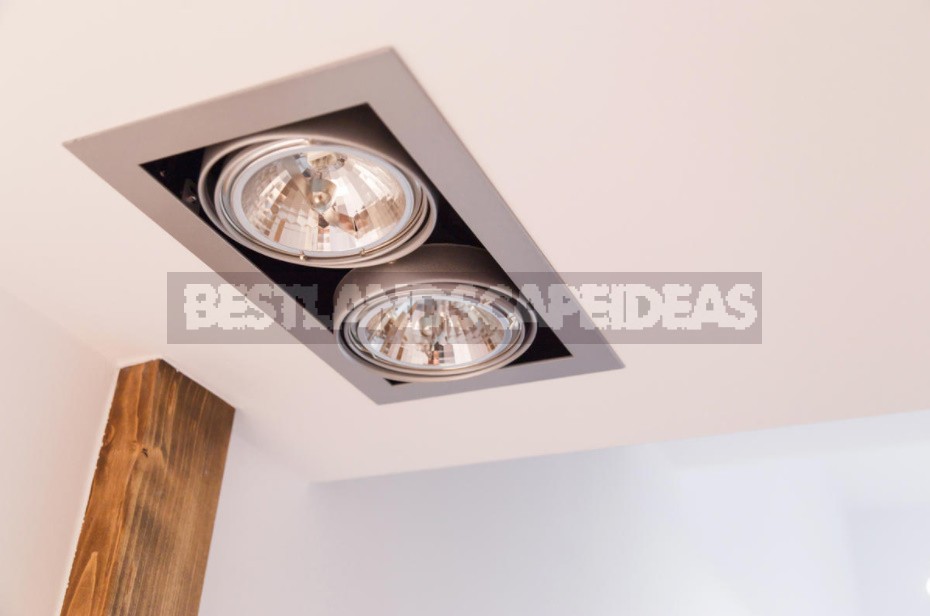 Another thing is that the lamp for finishing from PVC should be selected with special care: if it is not a hanging chandelier, then only devices with LEDs will work, since incandescent lamps are heated too much. For spot lighting, you can also use halogen sources, but with a power of no more than 30 V.
Polyester fabric
The cost of fabric ceilings is an order of magnitude higher, which is quite justified not only by a more complex production technology, but also by their improved consumer characteristics. At the same time, it should be borne in mind that such coatings do not contain any inclusions from natural components: they are really made of fabric, but this fabric is 100% synthetic – made of polyester with polyurethane impregnation.
This material is more durable, so it is hardly possible to accidentally tear it by catching it with a sharp object. In addition, the polyester coating is not so sensitive to high and low temperatures, and does not lose its properties both in frost (up to minus 40° C) and under intense heating (up to 80°C). This causes a very wide range of applications of such finishes.
Fabric ceilings do not have seams, so they can be used even in spacious rooms with an area of 20 m², which can not be said about vinyl, the seams on which are especially noticeable if the canvas is glossy.
Despite the fact that there are not so many shades of polyester ceilings, their texture can resemble a noble natural material-velvet, suede, satin or silk, so this finish is often used in interiors designed in the style of classicism. But, perhaps, the most original are coatings with shimmering sequins.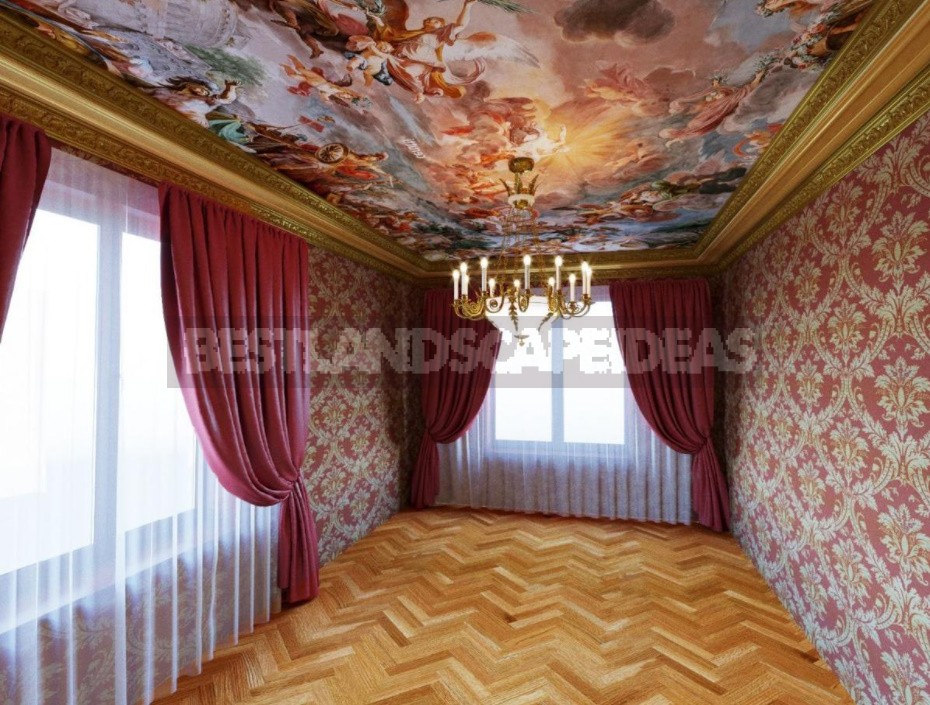 It is clear that there were also some disadvantages. The main one is the inability to reuse the material: it is impossible to dismantle the fabric, and then pull it again. In this case, you will have to buy a new canvas.
The polyester coating, although not immediately (within 72 hours), still gets wet, after which it begins to pass water, so it is unfortunately impossible to hope that it will save you from possible leaks from the upper floors. Moreover, it is impractical to use such a ceiling in rooms with high humidity, otherwise there will be streaks on it, and the matter may sag from the gravity of the absorbed moisture.
Due to the fact that the fabric has a textured surface, it is more difficult to care for it. It does not wash as easily as vinyl, and absorbs dirt and soot faster, respectively, it is not worth using polyester in the kitchen.
The service life of fabric ceilings is about the same as that of film ceilings-10-15 years.
How to choose
Let's try to understand what criteria to proceed from when selecting the material, and what to pay attention to first of all.
PVC ceiling
The film canvas is indispensable if the design project involves the construction of multi-level ceiling structures. The elasticity of vinyl allows it to be used in the design of any complex shapes and patterns. For this reason, it is always chosen by fans of unusual interiors and original solutions. Again, we must remember that only PVC surface can be glossy.
If necessary, vinyl ceilings can be removed and stretched again, it is great for those who have a constant sluggish repair in the apartment. In addition, if you have firmly decided to update the wallpaper every 5 years, then the film is also definitely your choice. After all, the fabric material can be mounted only once.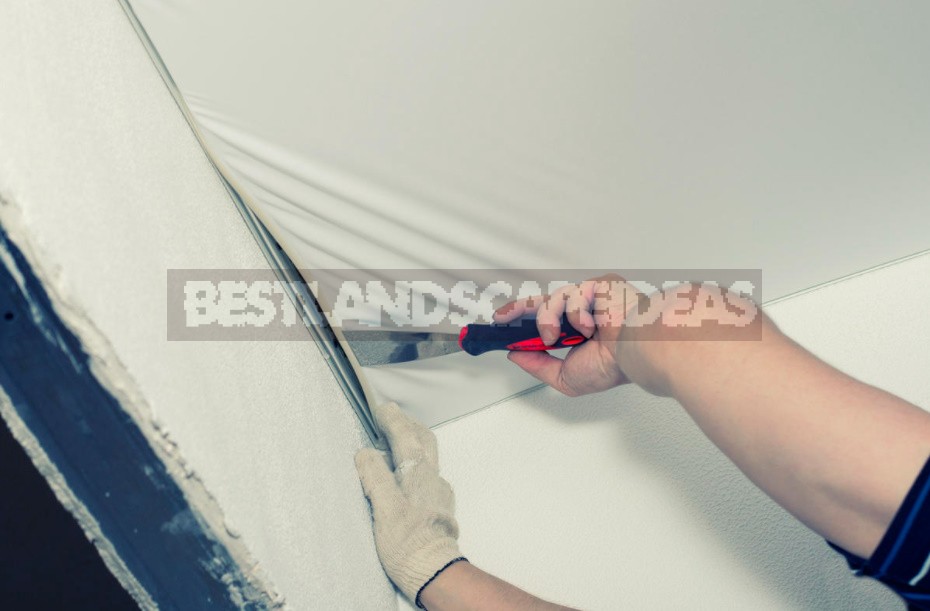 A serious reason why you should choose only a film coating is the dysfunctional neighbors from above. If lovers of walking and drinking live above you, then it is better to insure yourself in advance from the troubles that they can deliver: at any moment one of them will forget to turn on the tap and water will start pouring from the upper floor.
Fabric coating
As already mentioned, it is advisable to use fabric ceilings in interiors with elements of classicism. This material will not only decorate the room, but also emphasize the luxury of the surrounding environment. If you are used to surrounding yourself with beautiful and expensive things – polyester is what you need.
Those who love fresh air, constantly ventilates and sleeps with open windows will also like the fabric coating: the ceiling will not go "waves" due to a draft, as it could happen with a film. Accordingly, the risk of damage is reduced.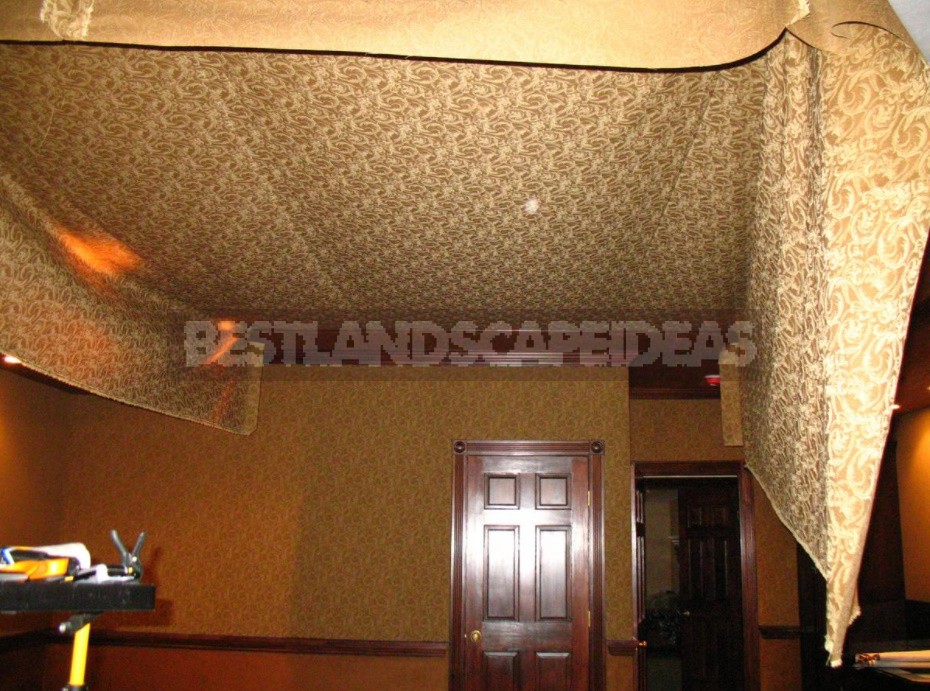 When installing polyester, there is no need to use thermal equipment, hot air from which can spoil the varnish coating of expensive furniture or the finishing of walls. If there is nowhere to remove the situation, then you should not hang a film ceiling – a fabric is better.
And, of course, the fabric fabric, because of its frost resistance, is very convenient to operate in a country house, where the heating is turned on only periodically.