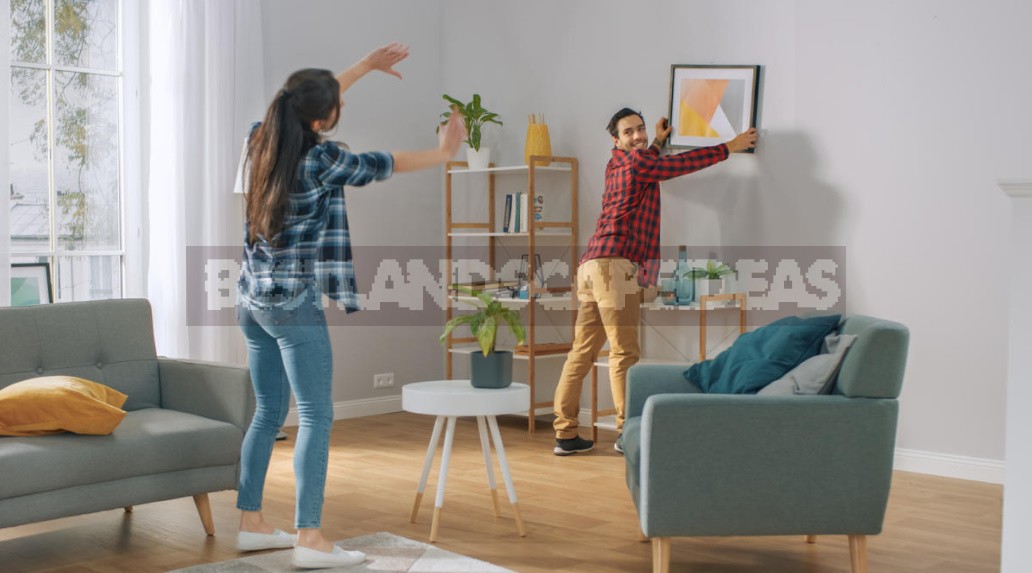 Beautifully hang frames on the wall — it's a whole science. And what about those who don't have time to study it? There are two options — invite a professional designer or rely on your own taste.
The second option is preferable for many reasons. First, you do not have to make changes to your work schedule, adjusting to the time of arrival of a specialist. Secondly, the amount for his services will remain in the family budget, and it can be considerable. Third, there is no guarantee that you will like the look of the frames hung according to all the rules.
Failure excluded
Are you afraid that you will not be able to arrange the frames beautifully? There is no reason to worry: according to interior designers, the most unimaginable mix of styles is now in fashion. Everything that used to be called pretentious, gaudy, tasteless and strange, is now proudly called the fusion style (a combination of incongruous). So leave your doubts, if you have any, and make yourself comfortable: we will offer a wide variety of ideas for the arrangement of frames, and you will only have to choose the one that you like!
What will we frame?
I may surprise you with an answer-almost anything! Paintings, photographs, stamps, coins, banknotes, dried leaves and flowers, lace, cutlery — everything that will fit in a frame!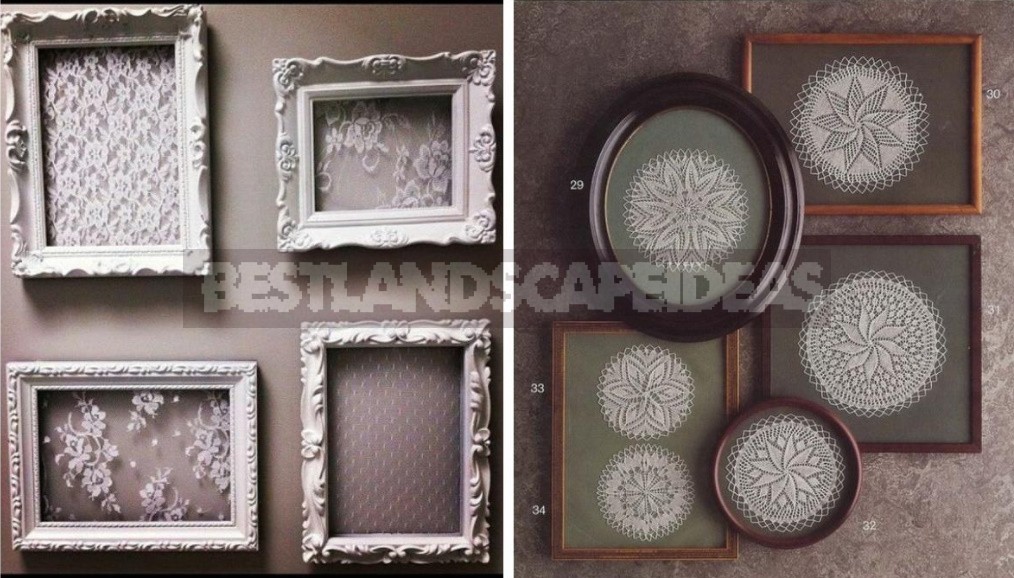 Did you bring back incredibly beautiful sea shells from your trip? Look at them on the wall-and admire them not from time to time, but as much as you like!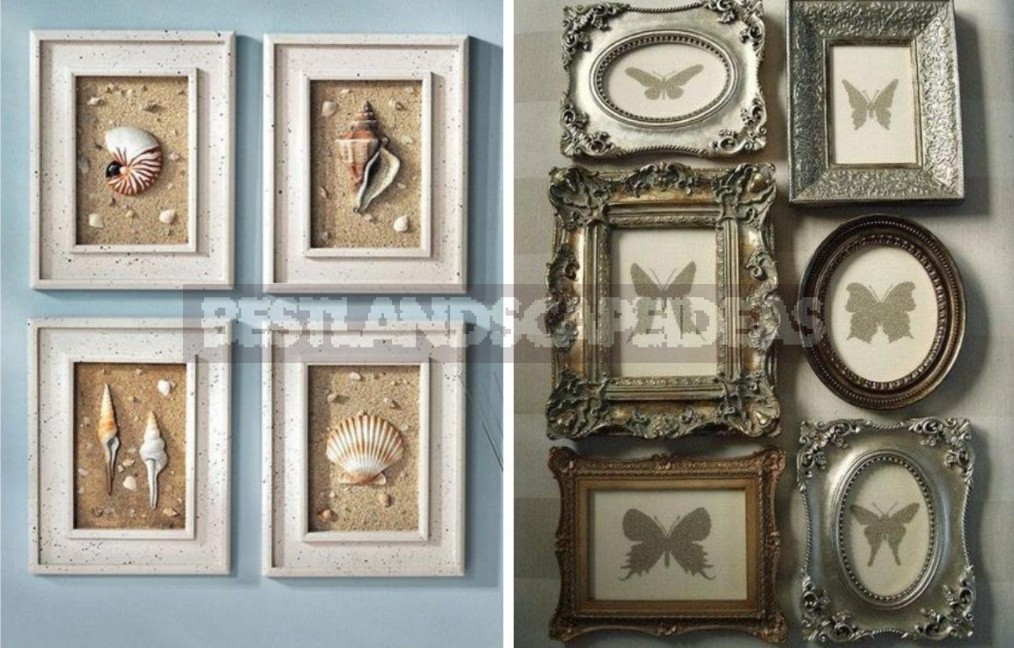 You can save a piece of summer as a souvenir — leaves and flowers. In the winter cold, they will keep you confident that the heat will still come, and soon everything will turn green and bloom.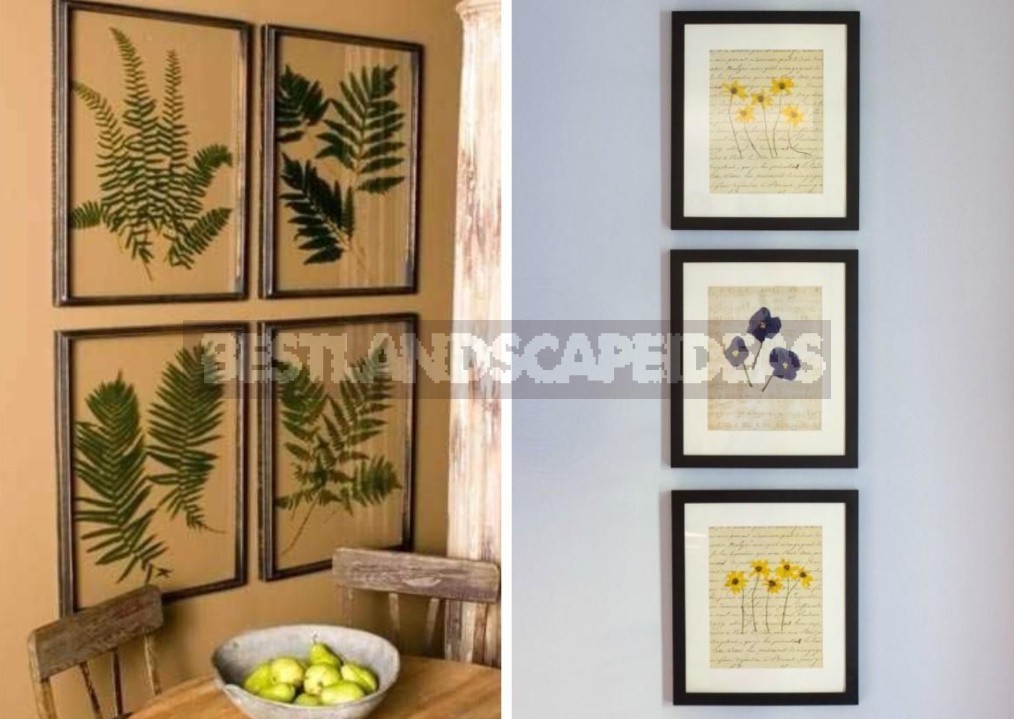 And if you prefer fresh flowers, but children or pets try to overturn the vase, take a closer look at this elegant idea. Bouquets will still delight you and enliven the interior, and so that young and four-legged pranksters do not get to them, hang the frames higher.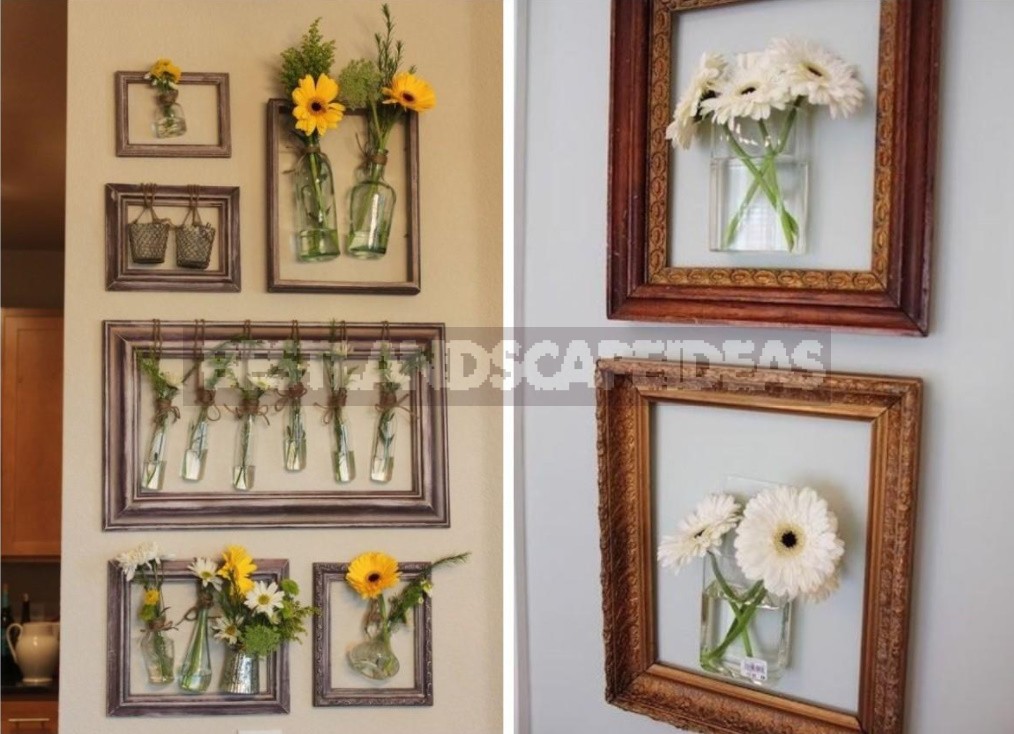 A little unexpected, but very original look collections of mirrors and silver spoons. Perhaps, in the first case, we can rather talk about a collection of elegant frames.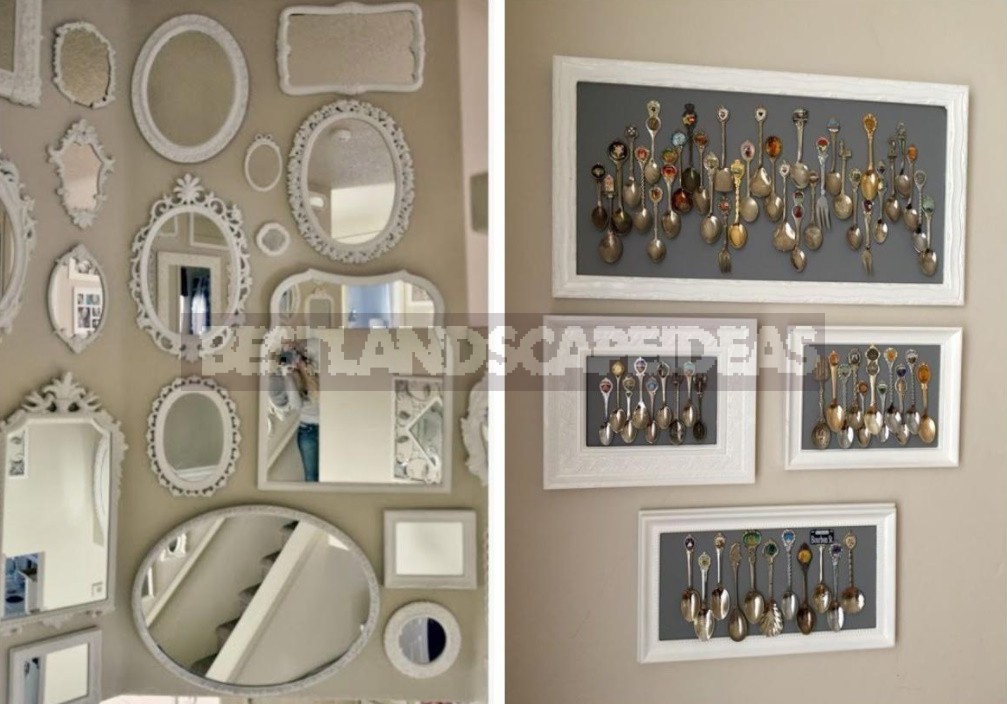 In principle, you can put anything in the frame-a collection of exotic bird feathers or handkerchiefs of any color you like, as long as it is pleasant to contemplate it day after day.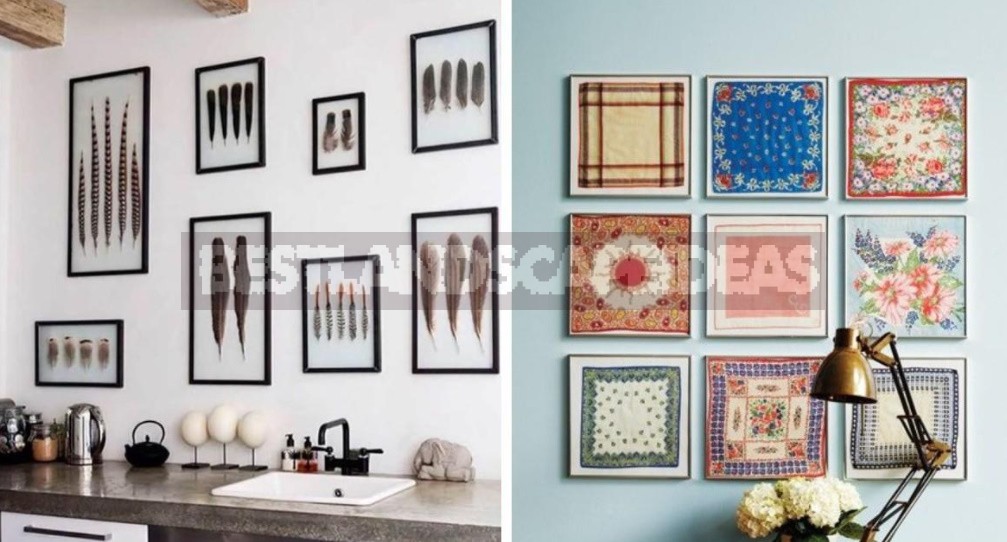 Well, if opinions about the content of the frames have diverged, and it has not yet been possible to reach a solution acceptable to all, hang them just like that. Perhaps the sad look of the empty frames will help you come to a consensus, or maybe you will like this non-standard solution.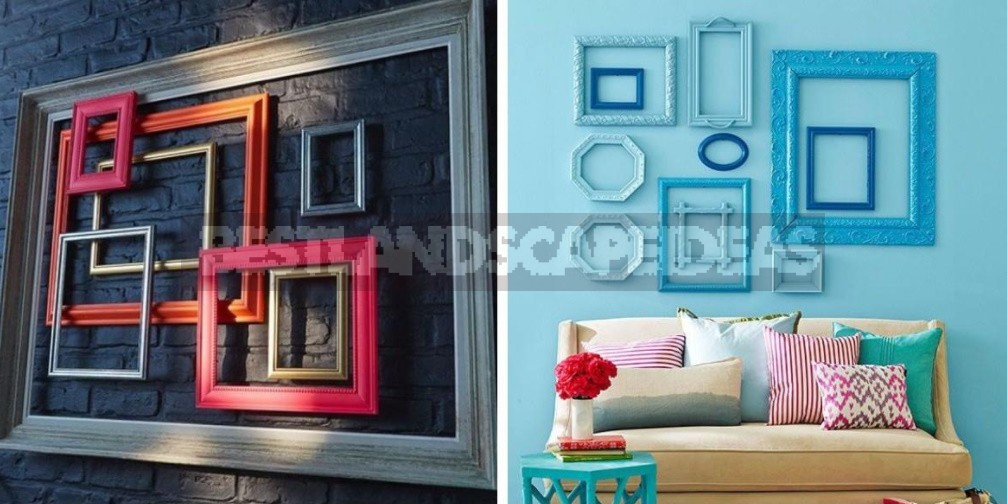 Corners are our pride
Interior corners are usually filled with furniture, at best they are decorated with a floor lamp. Move away from the standards and decorate them with your favorite pictures — the room will become more cozy and will gain personality.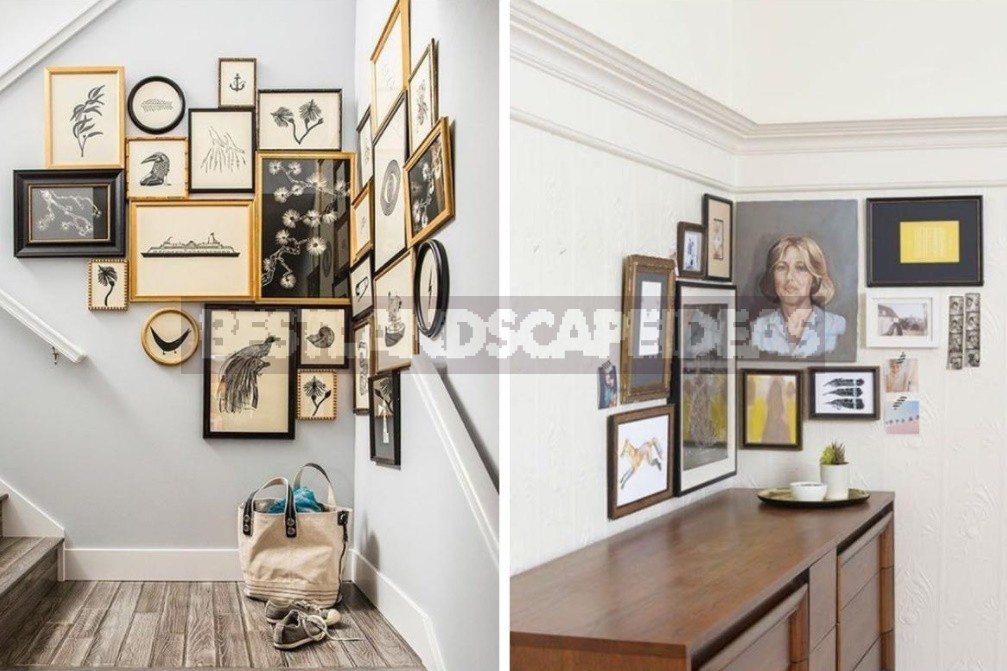 The outer corners are most often not considered as a useful space at all. And in vain: see how you can properly dispose of the free space on the walls.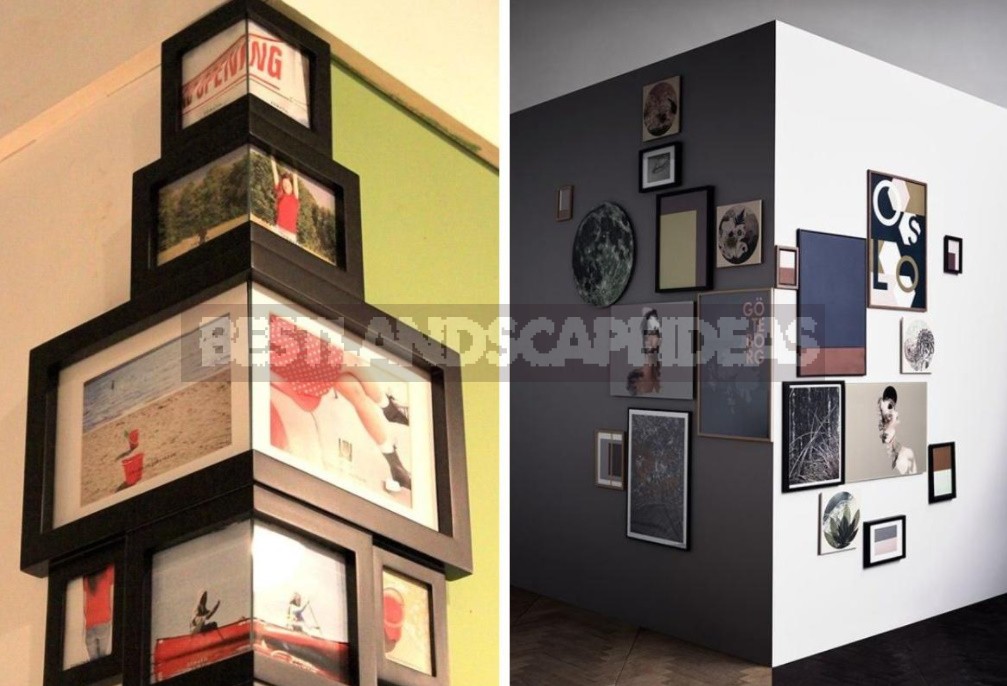 Even a small selection of photos will turn a boring corner into a unique art object.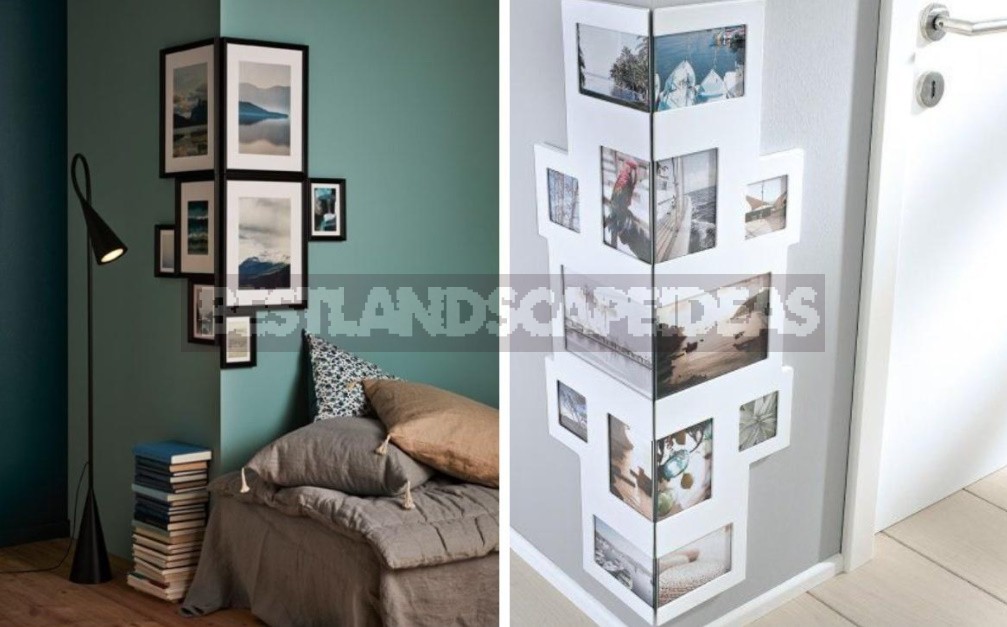 Stairs and piers
The wall along the flight of stairs is an ideal place for arranging a gallery. In fact, what else to do when going up or down, if not looking at a collection of photos? The main thing — do not forget to hold on to the railing, and then you can get so carried away by the contemplation of family heirlooms that there is a risk of missing the next step.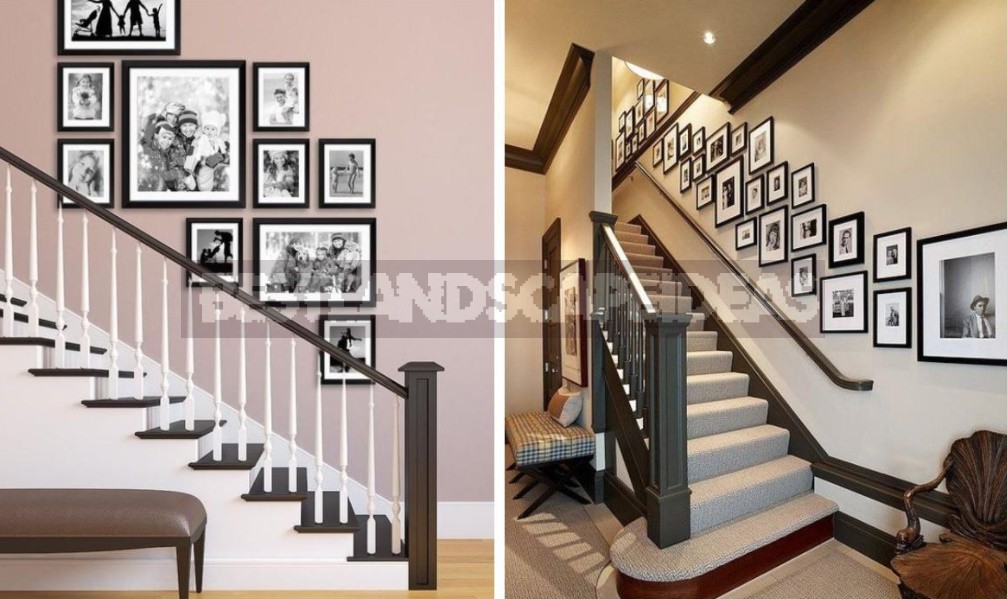 The rules regulate the placement of pictures at a certain height from the floor, but who will forbid you to hang them all over the wall, if you like it so much?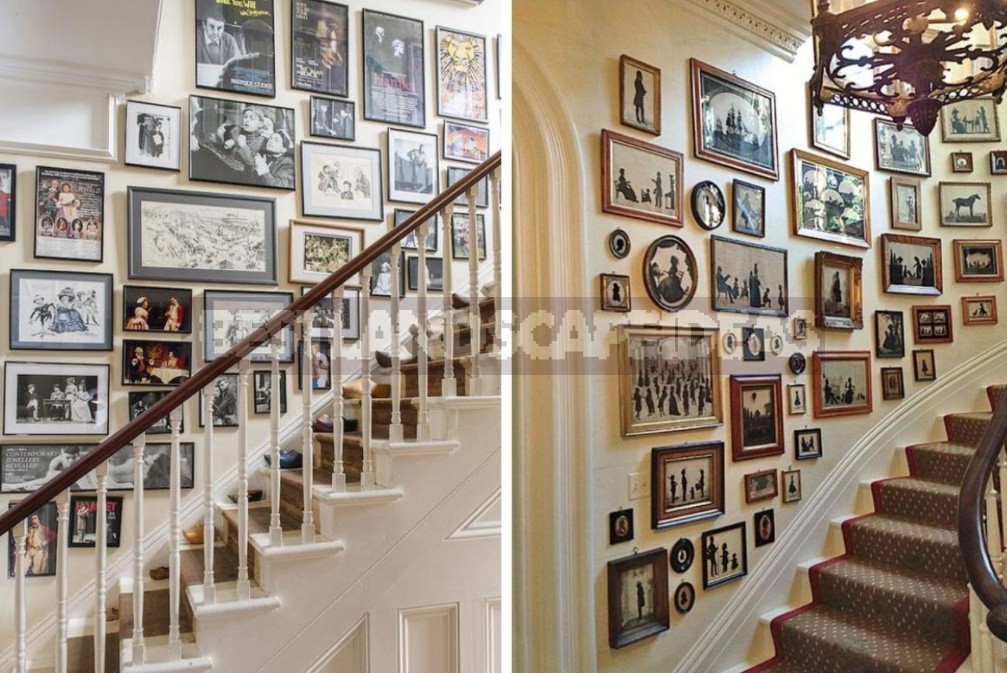 However, it is worth paying attention to other places, such as the piers. In my opinion, they are perfect for posting family photos.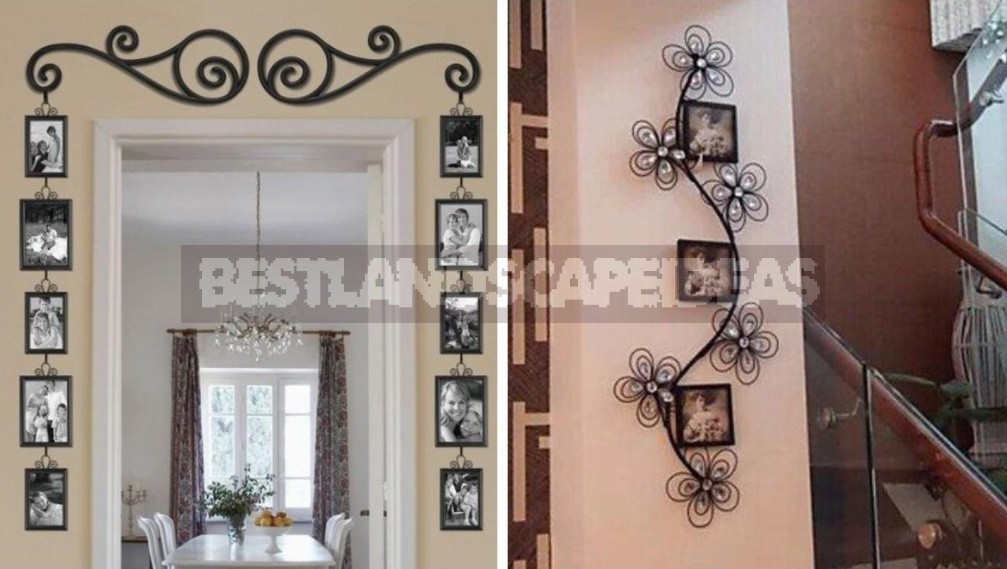 But a non-standard solution is a mobile module with photo frames. Very practical! First, you do not have to hole the walls with nails. Secondly, at any time, you can slightly change the situation by moving the structure to another place.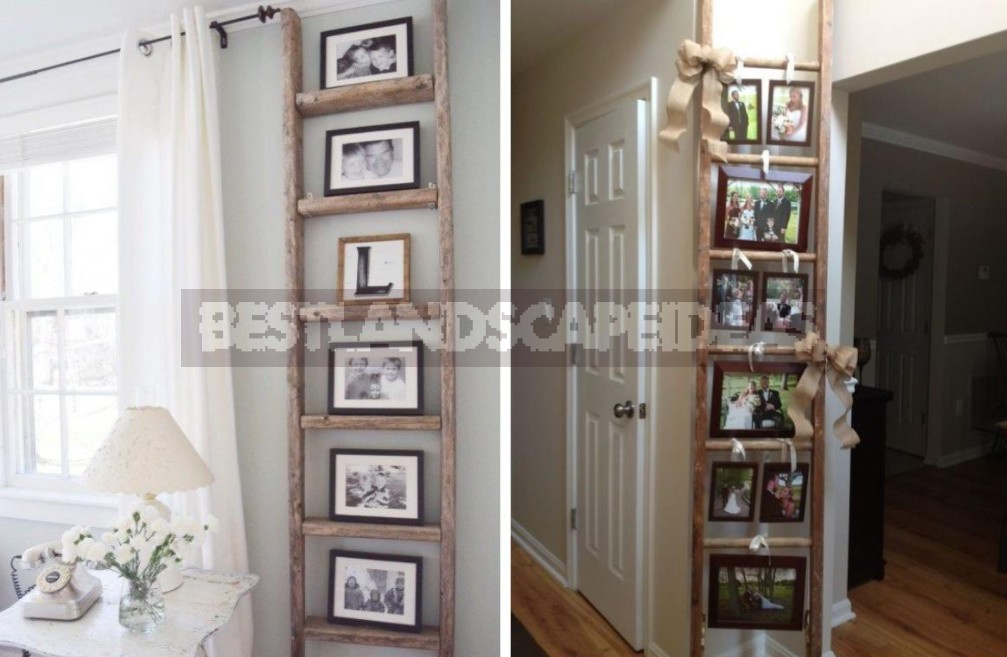 Strict lines and symmetry
And yet, more often, a collection of photos is given the most prominent place in the room. If you like the neat clarity of the lines, take the frames of the same size and hang them according to the classic scheme. Like this.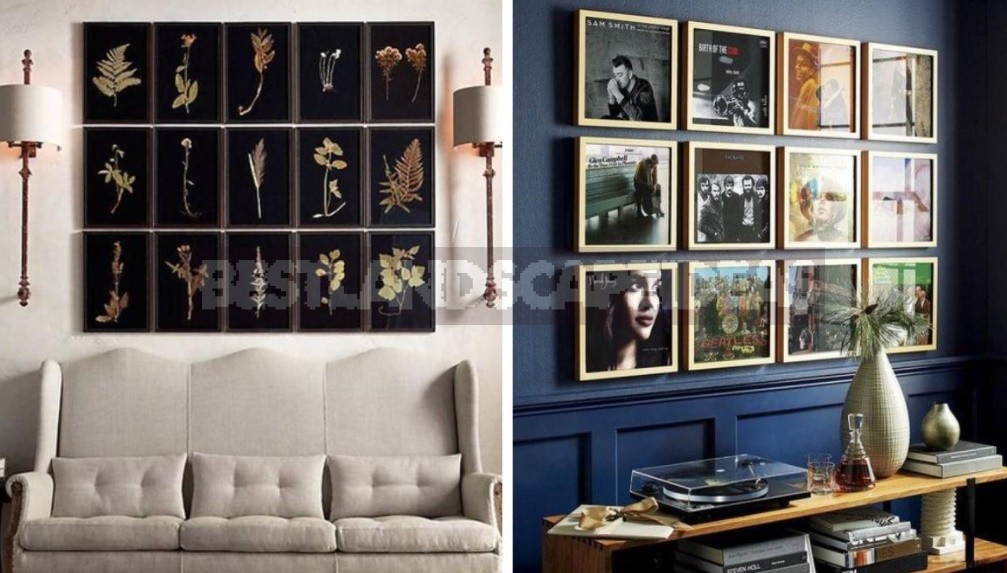 If this option seems too simple to you, pay attention to the symmetrical layout schemes.
There are many ready-made solutions — there are plenty to choose from. The main thing — do not rush, mentally imagine how this or that option will look exactly in your interior.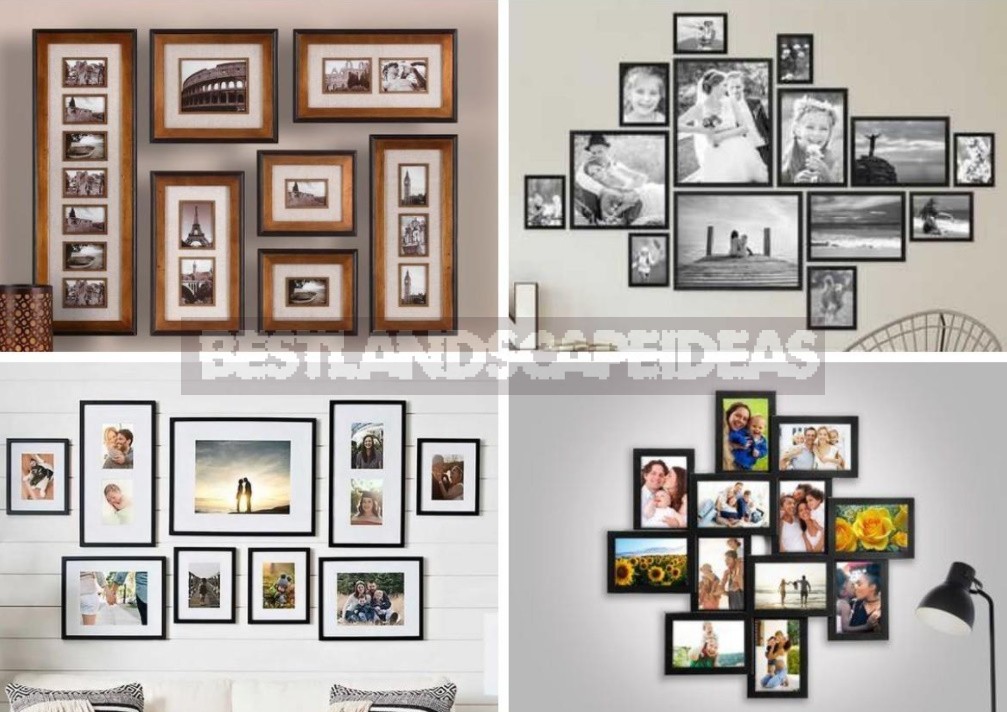 Modular paintings are also very interesting: they seem to be nothing special, but they look modern and stylish.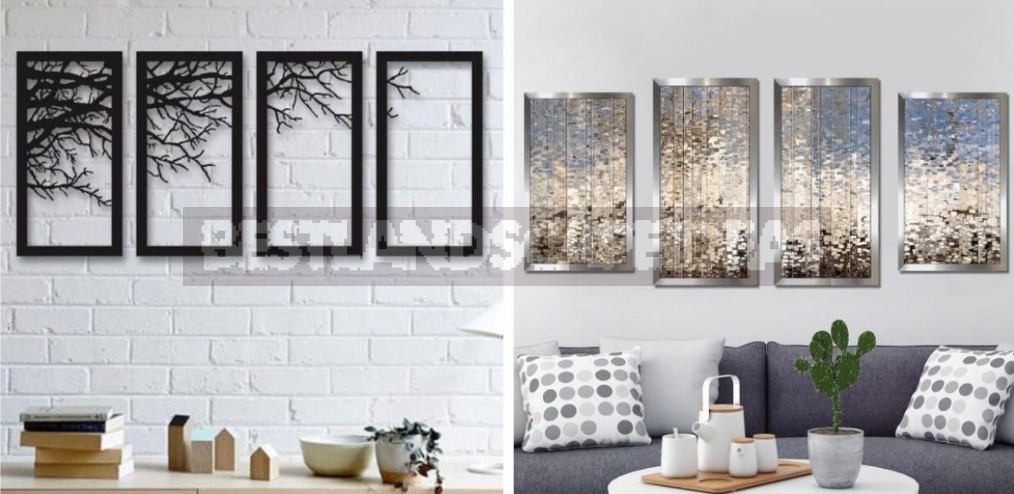 Free flight
And these examples are for those who welcome the flight of creative imagination. The frames, designed in the same style, look good. But the mix of shapes, sizes and materials looks no worse, even more interesting.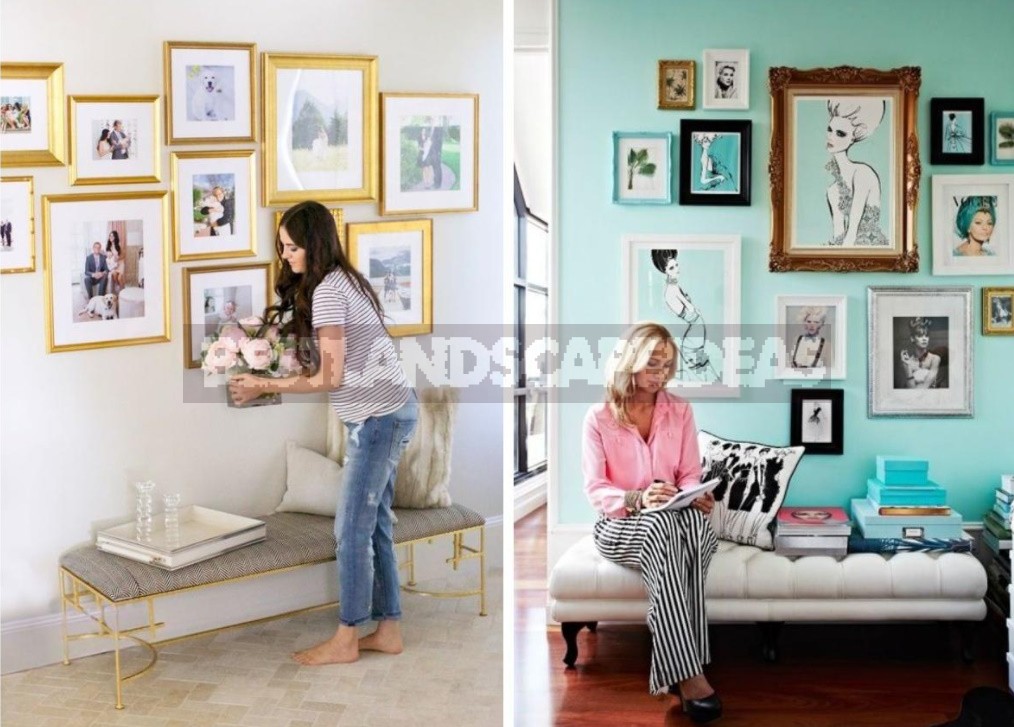 Or-so: perhaps, in any of the generally accepted schemes of arrangement, these frames do not fit. But the room looks cozy! In addition, hanging photos or paintings as your heart desires, you can be sure that your living room will certainly not look like a museum.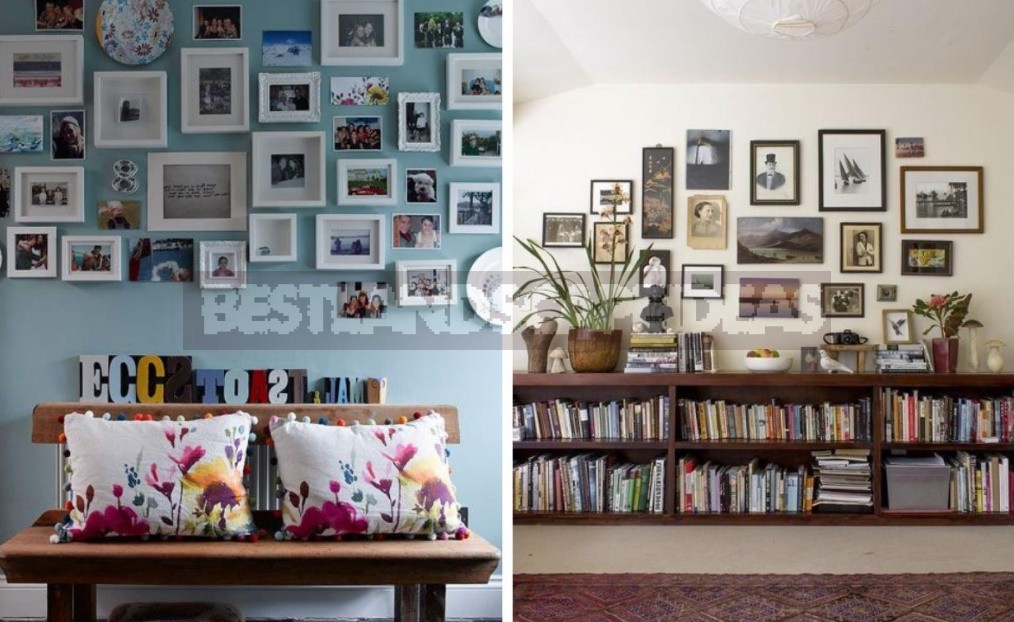 Give more color!
If you think that the room lacks colors, use a clever trick — a color background for photos. The collection looks stylish and restrained in a single color scheme, but if you like a riot of colors, take a closer look at this bright idea.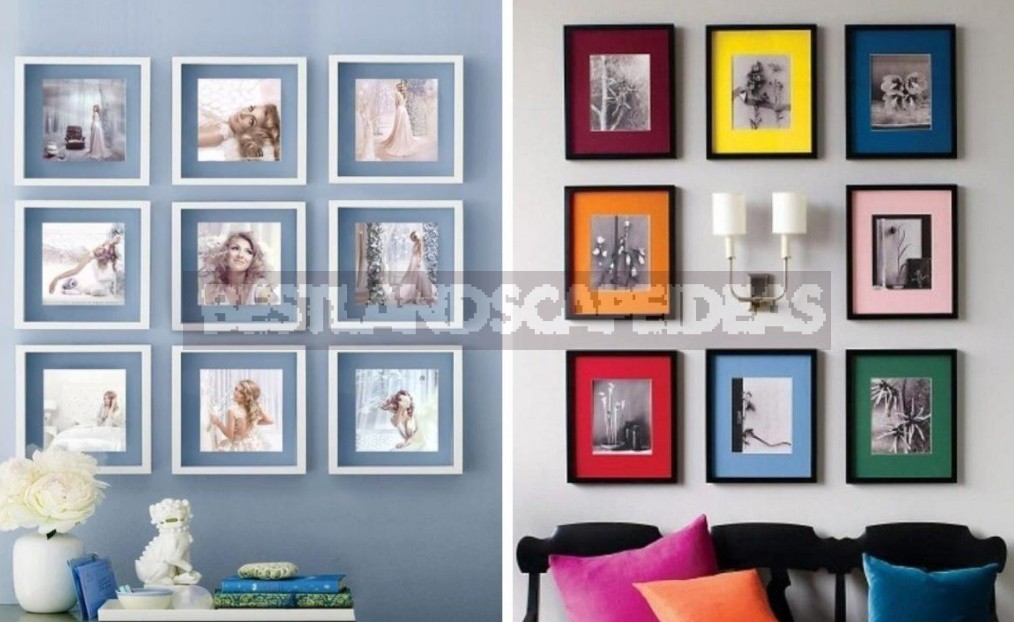 And you can also paint the frames themselves — the result is impressive! In my opinion, it is difficult to find the best option for the nursery. I especially liked the cheerful multicolored ones, very cute!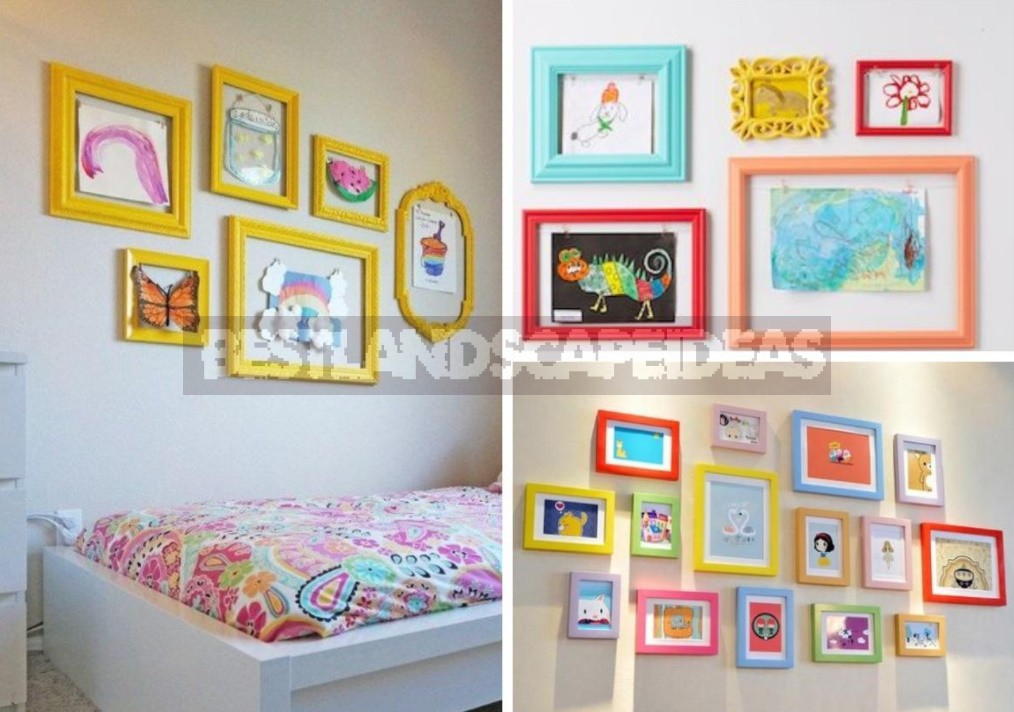 However, in any other room, they will become bright accents, and sometimes they will help out. For example, you bought a stunningly beautiful green carpet, and it is absolutely not combined with anything in the room in color. Sad — but only as long as you do not paint to match the carpet photo frames. See how original and juicy this bright tandem looks in the interior!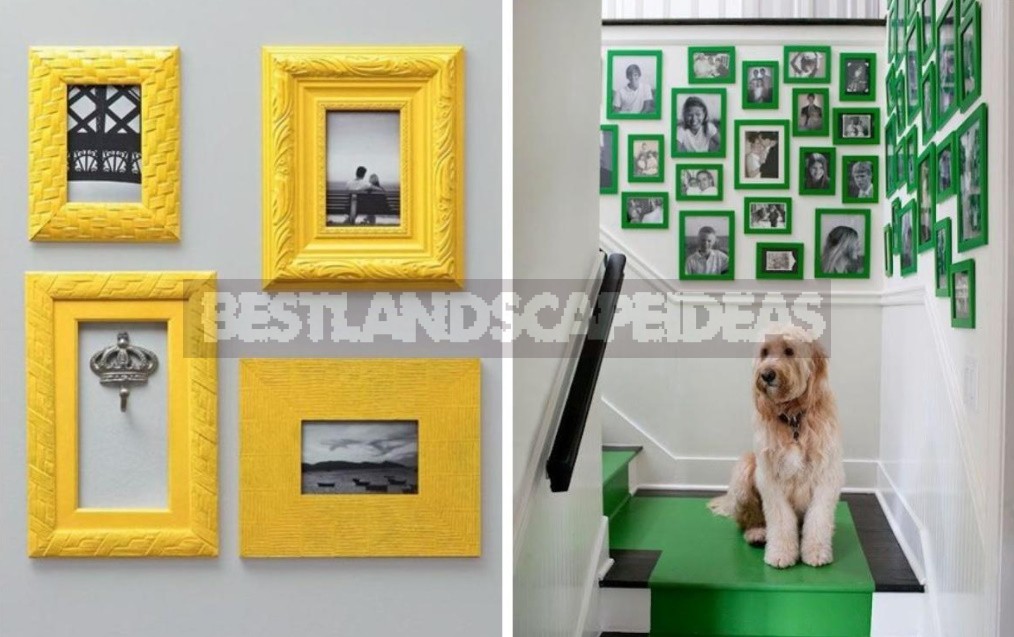 Old photos
Let the fusion and welcomes unimaginable combinations, but it is still undesirable to deviate from some rules. I think it's blasphemous to frame old photos with plastic. Only wood, and preferably with time marks — microcracks, scuffs, and sometimes paint that has come off.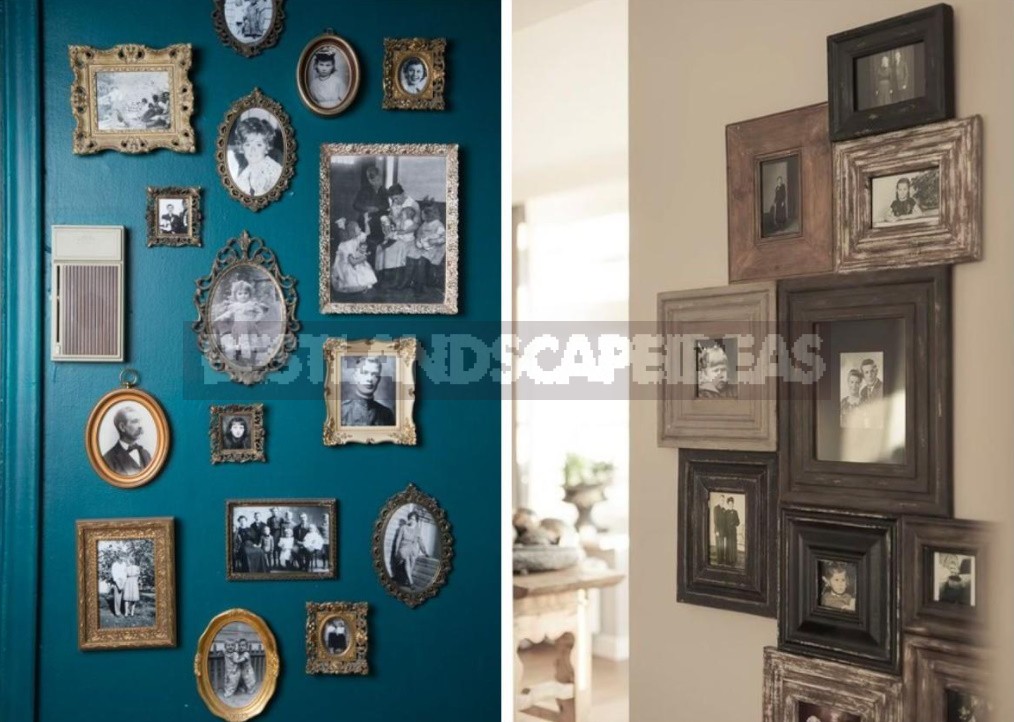 I really liked the original solution just for the photos of the past years-a well-deserved wooden frame. Symbolic: it was as if Time had stopped forever behind that magical window…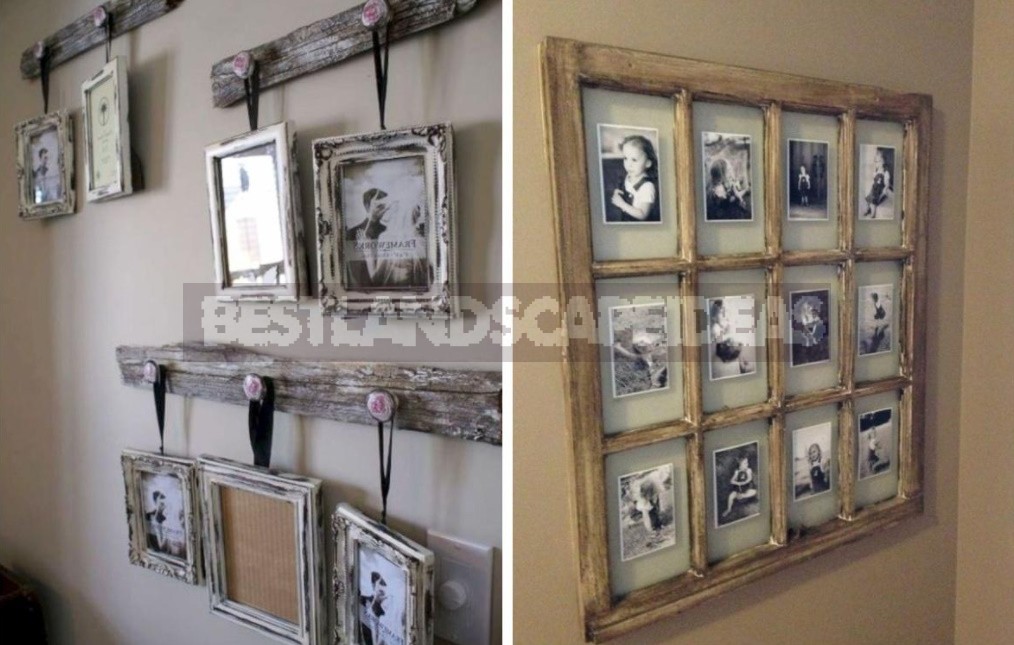 Frames in a frame
If you have a luxurious picture frame or mirror in store for the occasion, pay attention to this interesting technique, which will help you make a lot of interesting compositions. Even if you just change the internal frames in places, it will have a different look.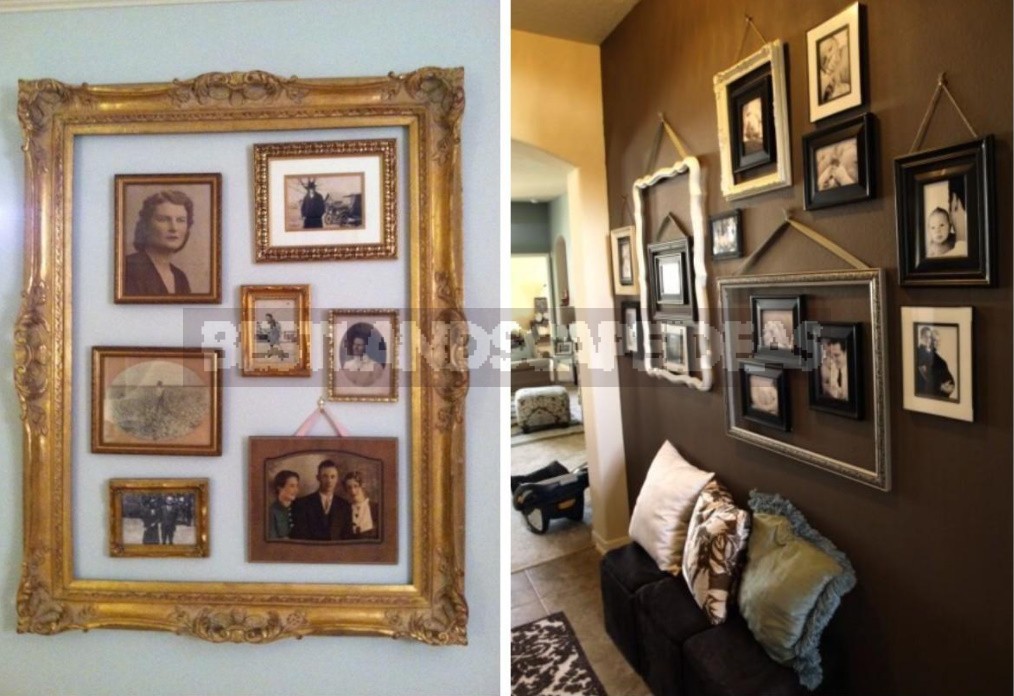 You can cover the plywood with wallpaper suitable for the interior of the room, insert it into the frame — and already attach small frames to it. In my opinion, it turns out very interesting! Well, or just hang an empty frame on the wall — and already hang smaller frames inside it.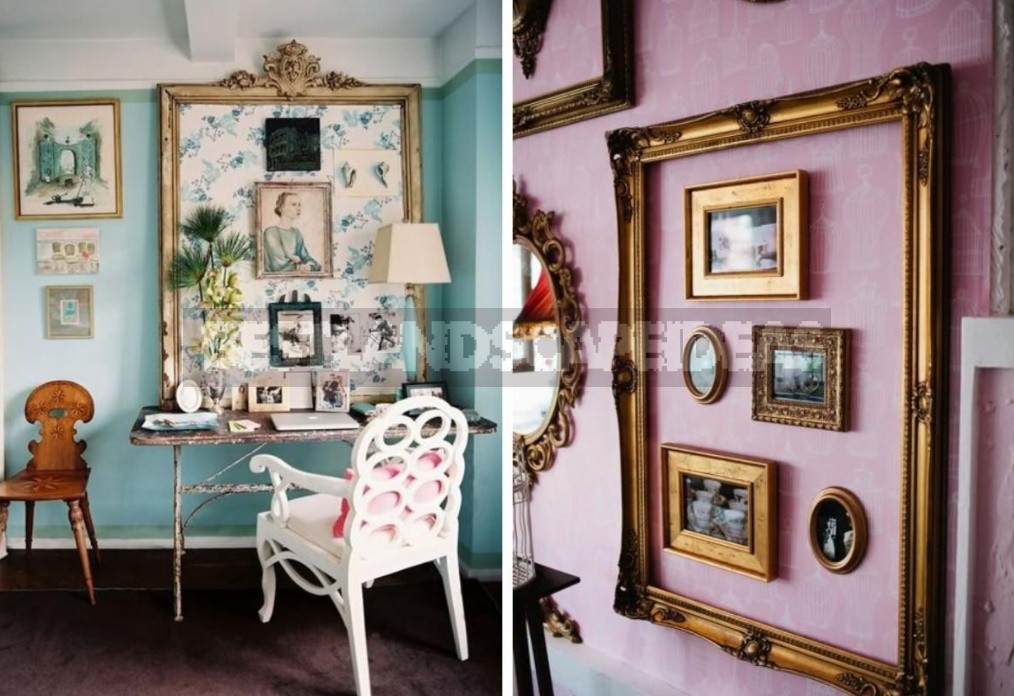 Top ideas
Fashion dictates its own rules almost everywhere, and even the ways of placing frames on the wall, it did not neglect attention. If you do not rely on your taste, feel free to use one of the suggested options, you will not be mistaken.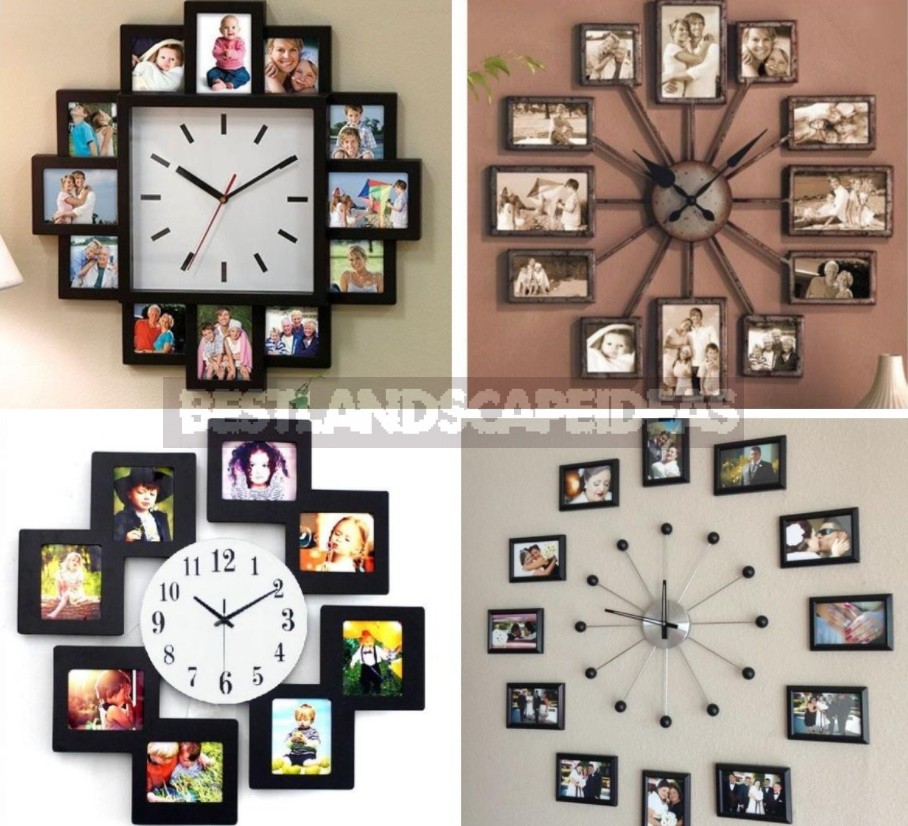 Linking a photo to a map is not losing popularity. It's nice to look around at the continents and note that most of them are already traveled up and down.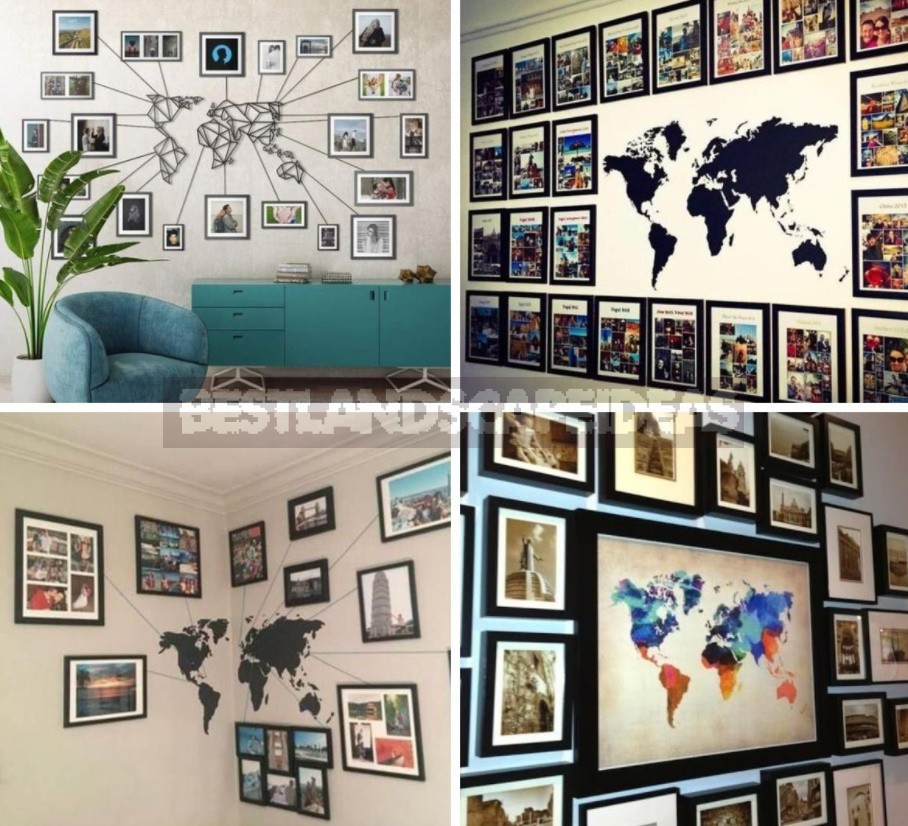 The highlight of the next method is in the fastening technique, and the blocks and ropes do not need to be hidden, rather the opposite. It is very good if the first ones are slightly touched with rust. Do not try to make beautiful knots or carefully cut the ends of the twine. Let everything be deliberately simple, even careless — and accessible to the eye. So it is necessary.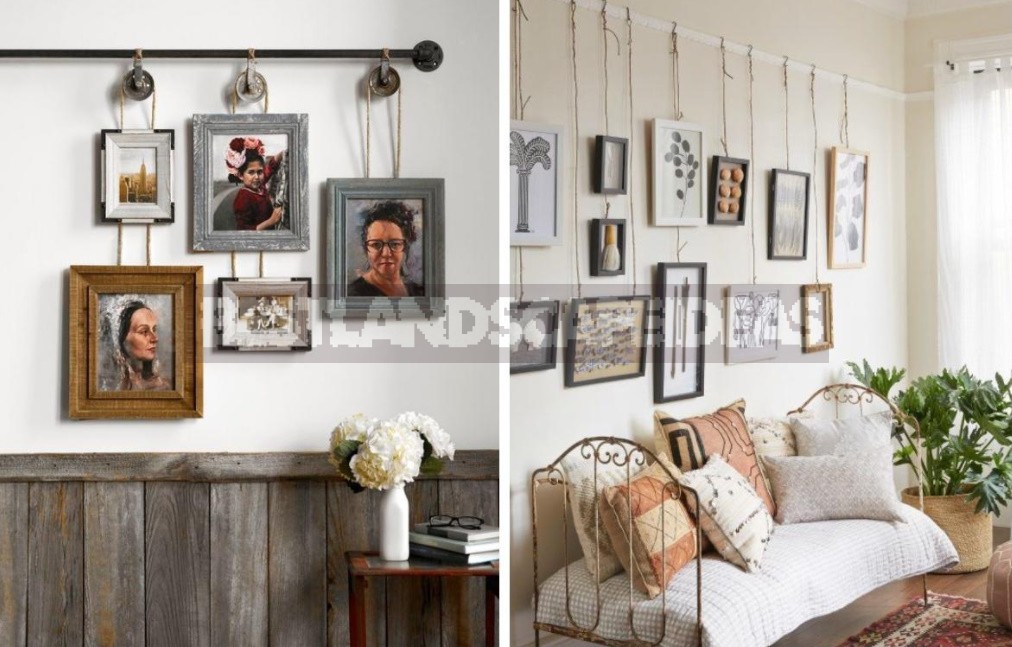 Another fashionable trend is vinyl stickers in the form of a tree. The idea is not new: you probably have seen the image of the family tree in reference books and encyclopedias more than once. Someone tried to enlarge the image and move it to the wall. The idea was crowned with a resounding success and quickly spread around the world.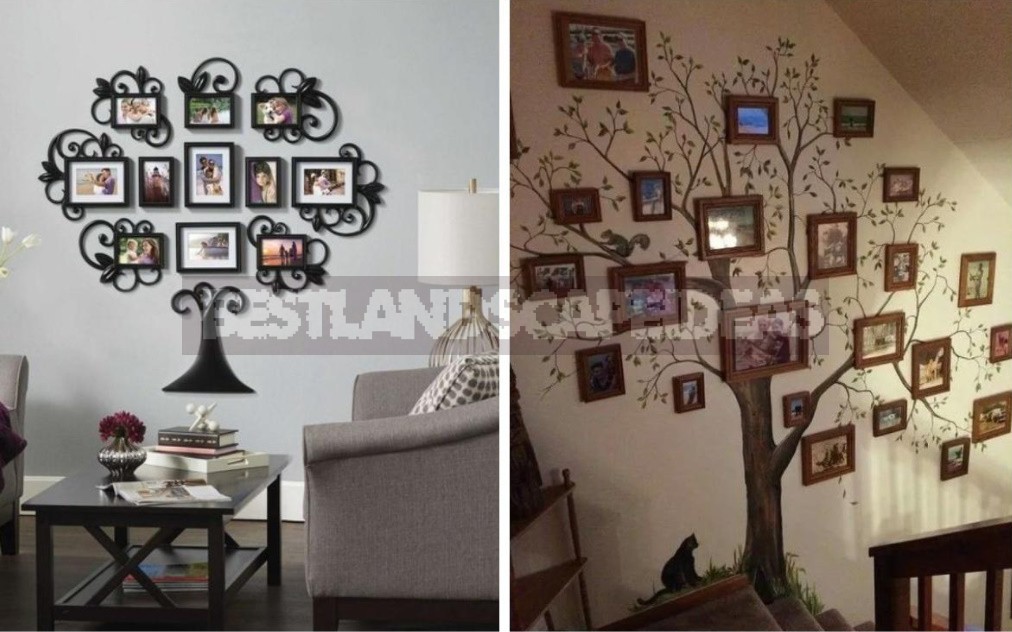 There are also more compact sets for photo frames, and very nice ones.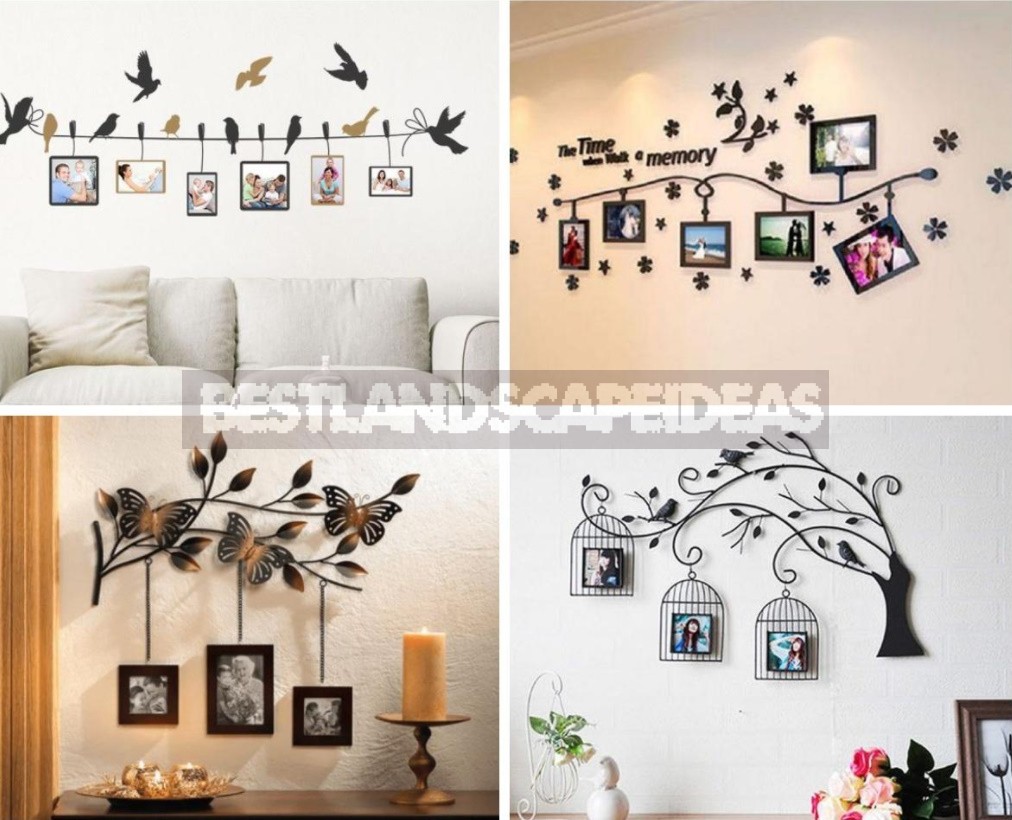 And finally — a really unusual way of placing frames. They are rarely hung on the wall, because the originality is partially lost. A window is the perfect place for these frames. Do you like it? To me-very much!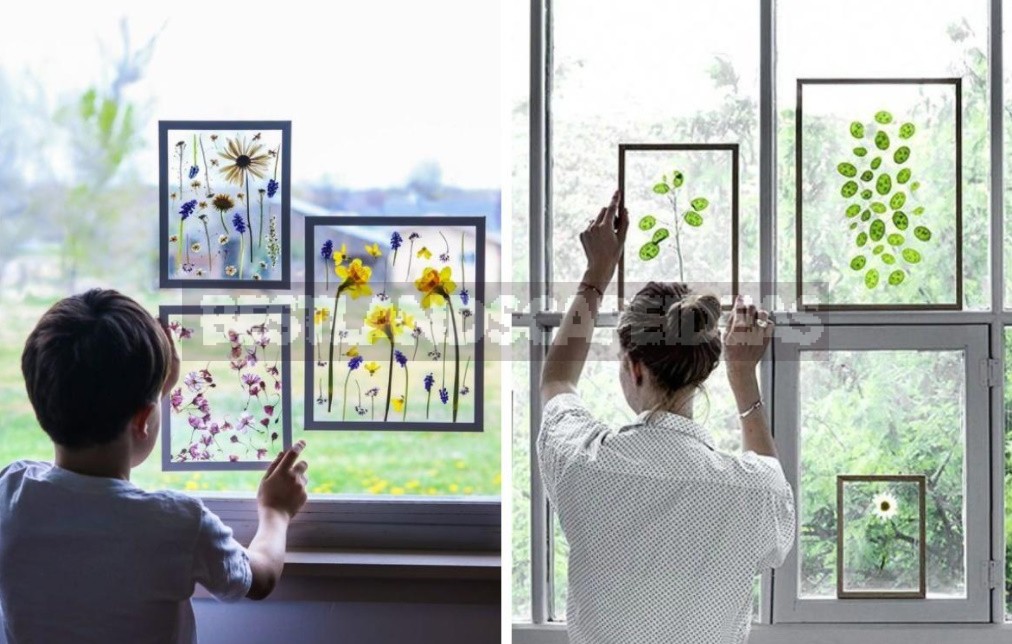 I hope that now you feel much more confident and are ready to immediately start creating your own composition from the frames. Or maybe you want to decorate the house with one of the proposed ideas?