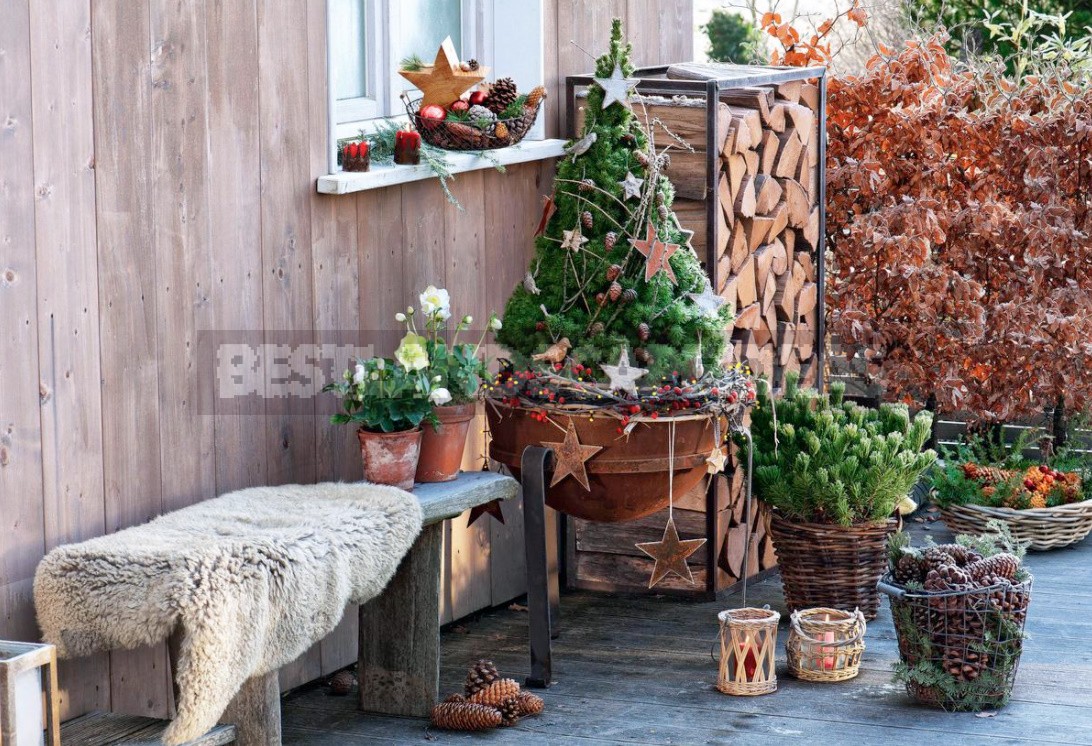 The beloved garden sleeps and has white dreams … let's make them colored! New Year and Christmas are a great occasion to decorate the terrace and raise the mood in the realm of cold winter.
1. Queen of the Garden
The majestic queen looks in a festive headdress Picea glauca 'Conica', seated on a round "throne" and crowned with gold stars.
The foot of the tree is decorated with a luminous garland and a bright wreath of decorative apple branches with red fruits.
2. Christmas bouquets
Instead of a Christmas tree on the terrace, you can place a basket filled with fluffy branches of spruce and pine. The perfect decor for a coniferous bouquet will be transparent candlesticks, large cones and stars made of fabric.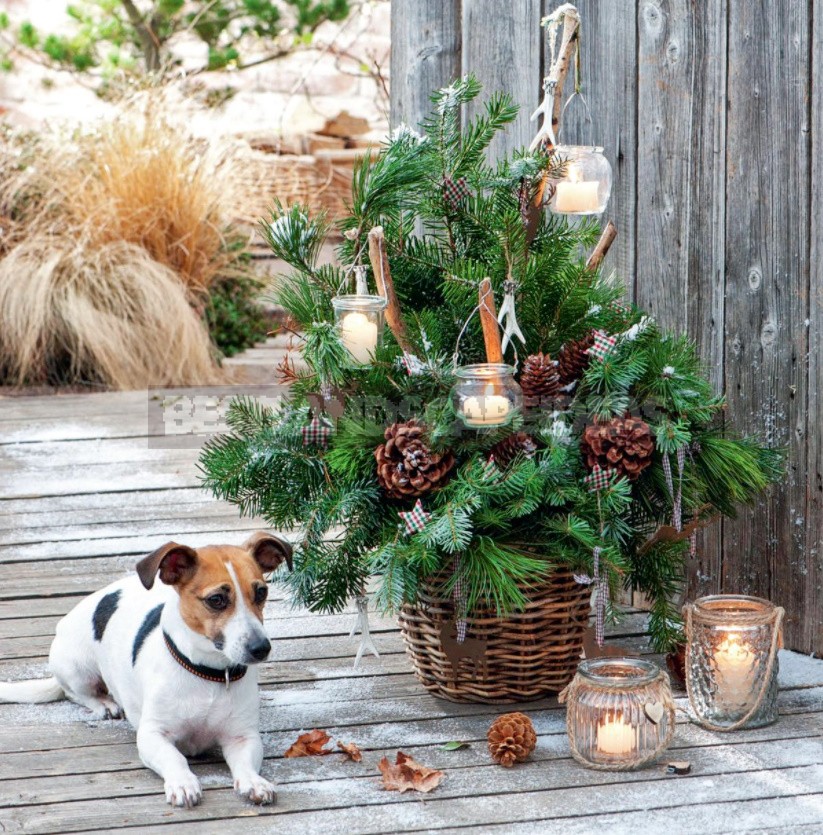 Tip: the composition will live much longer if the branches are stuck in a bucket of wet sand and only then put in the basket. Important: be sure to place burning candles in glass containers with high sides.
Incredibly catchy looks and this New Year's bouquet of branches of coniferous plants, colorful Christmas balls and cones attached to green "brushes" with wire.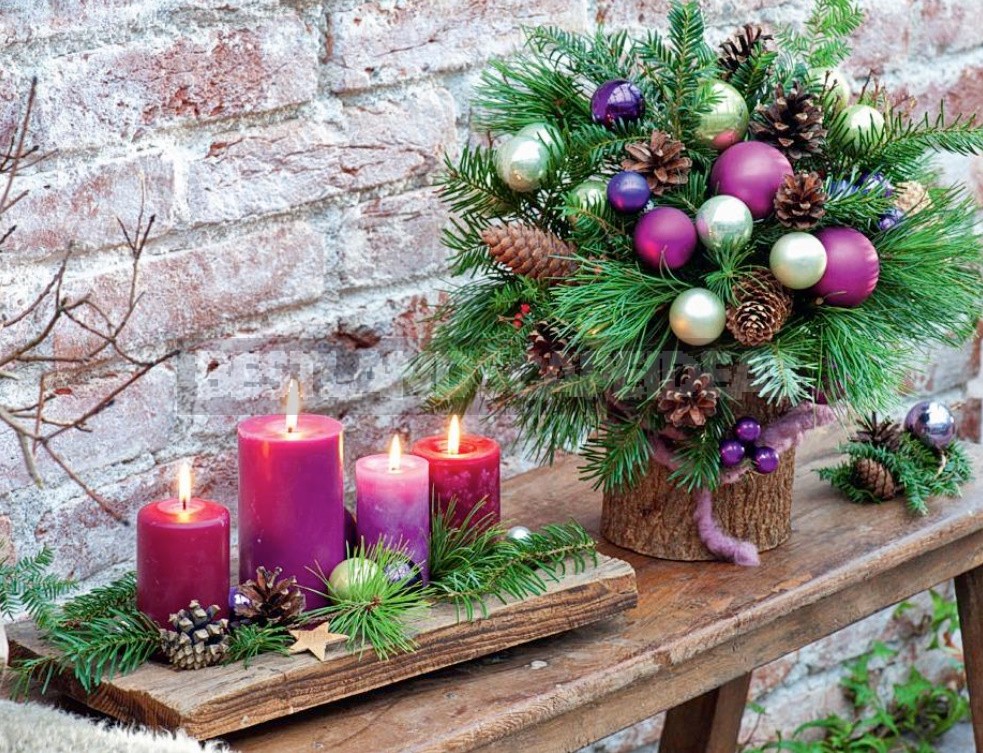 It echoes an elegant composition consisting of bright candles, Christmas tree toys, twigs and cones.
3. From the slide to the terrace
A sledge-a creative alternative to a bench-acts in tandem with a low brick wall that acts as a table.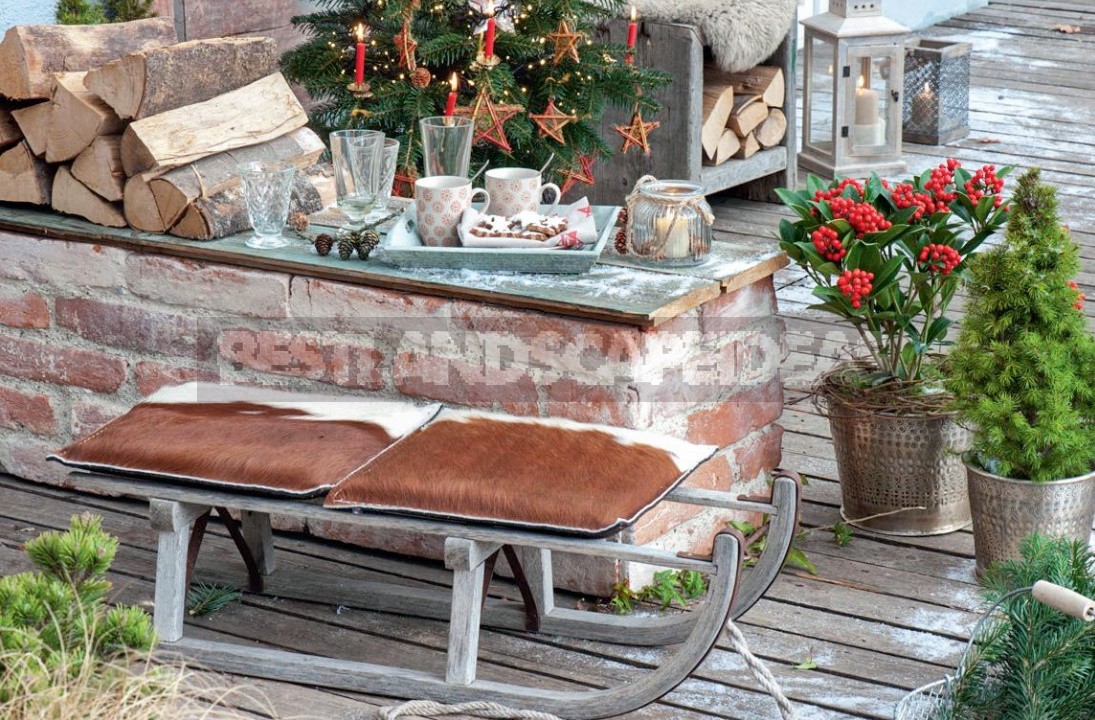 A Christmas tree decorated with stars and a garland, and pots with a skimmia and a coniferous tree are responsible for the festive mood.
4. In the garden… a Christmas tree was born!
This unusual version of the New Year's symbol is ideal for decorating a door or wall. Nail the birch stems to a vertical surface, hang Christmas balls, a garland and ivy shoots to them-it's done!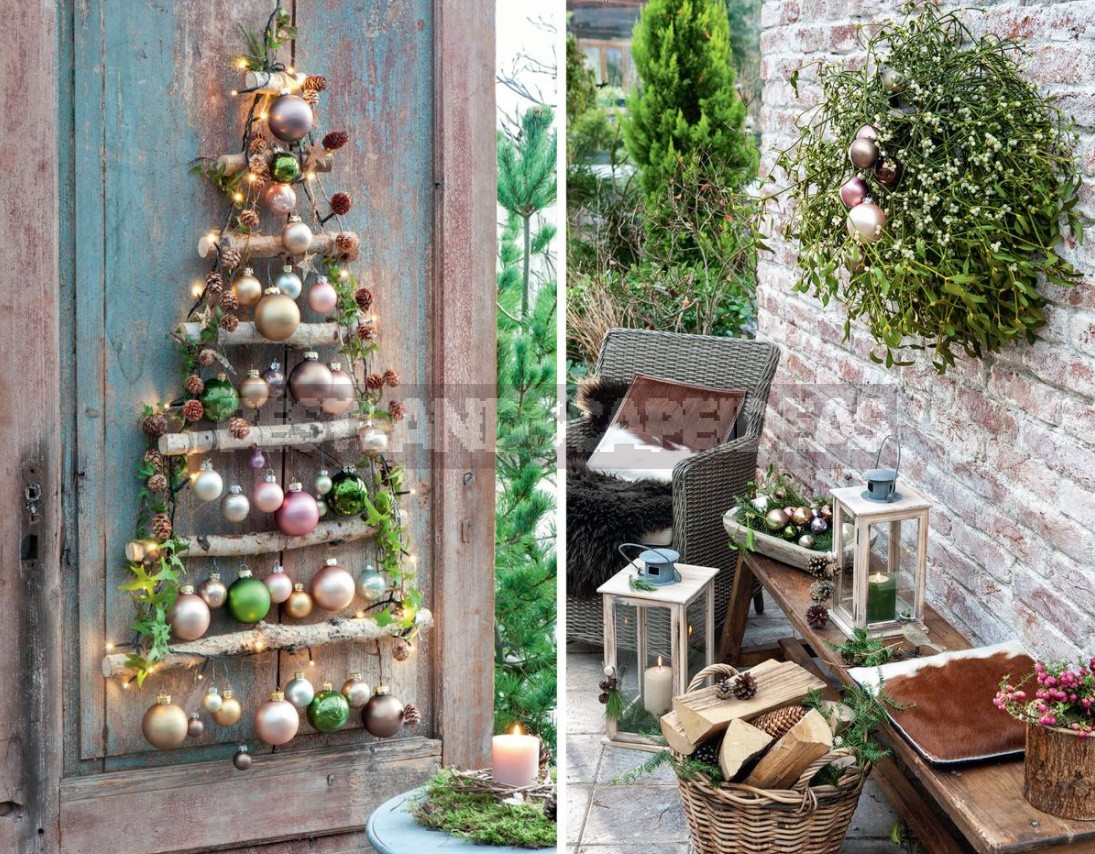 5. Wall amulet made of mistletoe
It has long been believed that mistletoe brings health, love and prosperity to the house. Why don't we lure them in the new year? Attach a green fluffy amulet to the wall and decorate with a couple of catchy balls.
6. The Shining Miracle
The lamps help to create a special atmosphere in the mysterious evening twilight. It is easy to make a shining miracle with your own hands: take a wide jar, put a candle on the bottom, covering it with cones. Wrap the neck of the container with twine, glue wooden stars to it and tie pine twigs. And take care of the loop if you plan to hang the craft.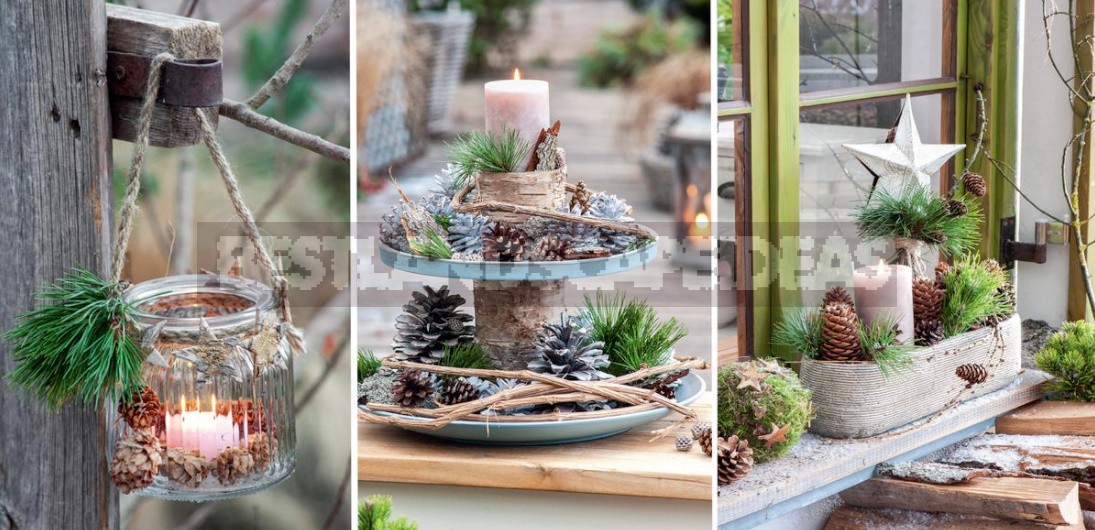 7. Candle holder or fruit bowl?
It will turn out two in one, if between the plates of different diameters put a stump wrapped in birch bark, and the same set on top. It remains only to spread out on the" dishes " pine cones and branches, pieces of bark and stems of clematis, and set a candle in the center.
8. Star on the window
A narrow box with a fluted surface, in which a large beige candle, a metal star, cones and branches of larch and pine feel great, looks like a Christmas magic on the windowsill. Tip: it is advisable to put the candle in a tall glass beforehand — so that the flame is not blown out by the wind.
9. Art object from cyclamen
A delightful art object can be created from cyclamen in a cup, decorating it with pine twigs and shiny balls.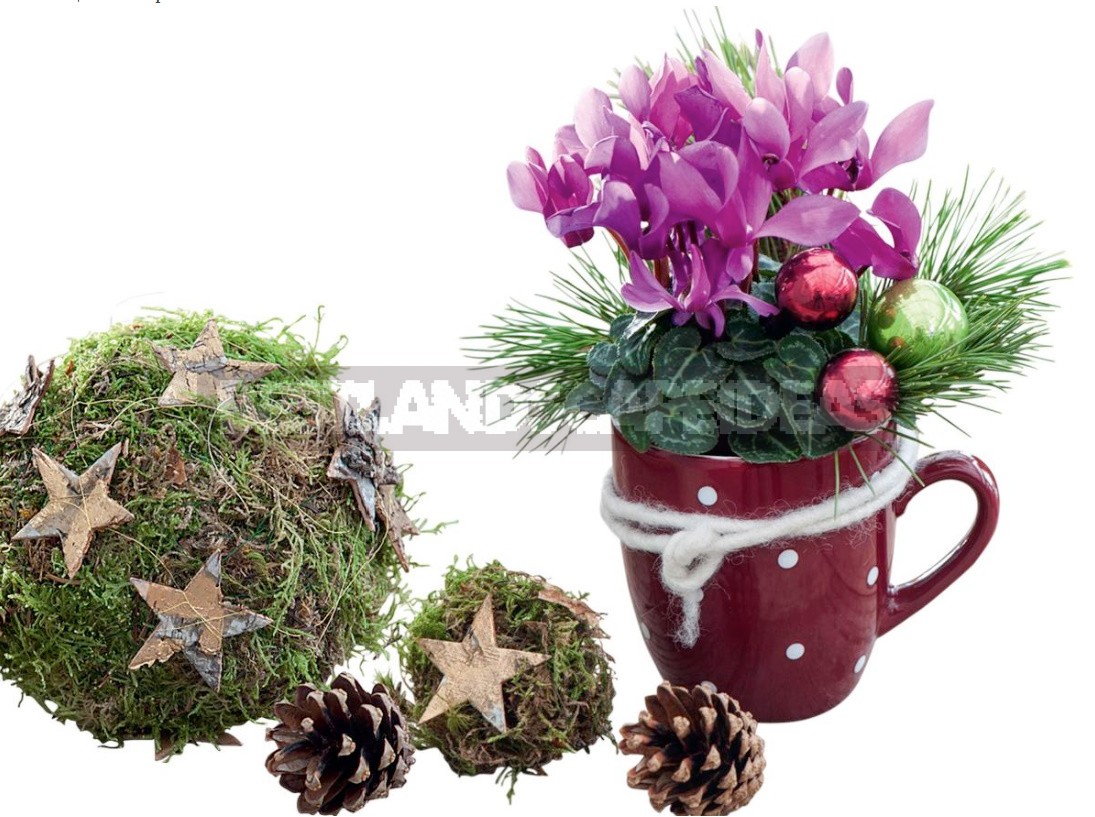 Cyclamen are able to withstand a small sub-zero temperature, so they are perfect for winter compositions on the balcony.
Balls of moss will not be left without attention. Make them simple: crumple the newspaper and a thin wire to tie the moss and stars of birch bark.
10. Compositions with moss
Moss is an environmentally friendly material, ideal for decoration. It is not only harmless to the environment, but also able to absorb toxic substances from the air.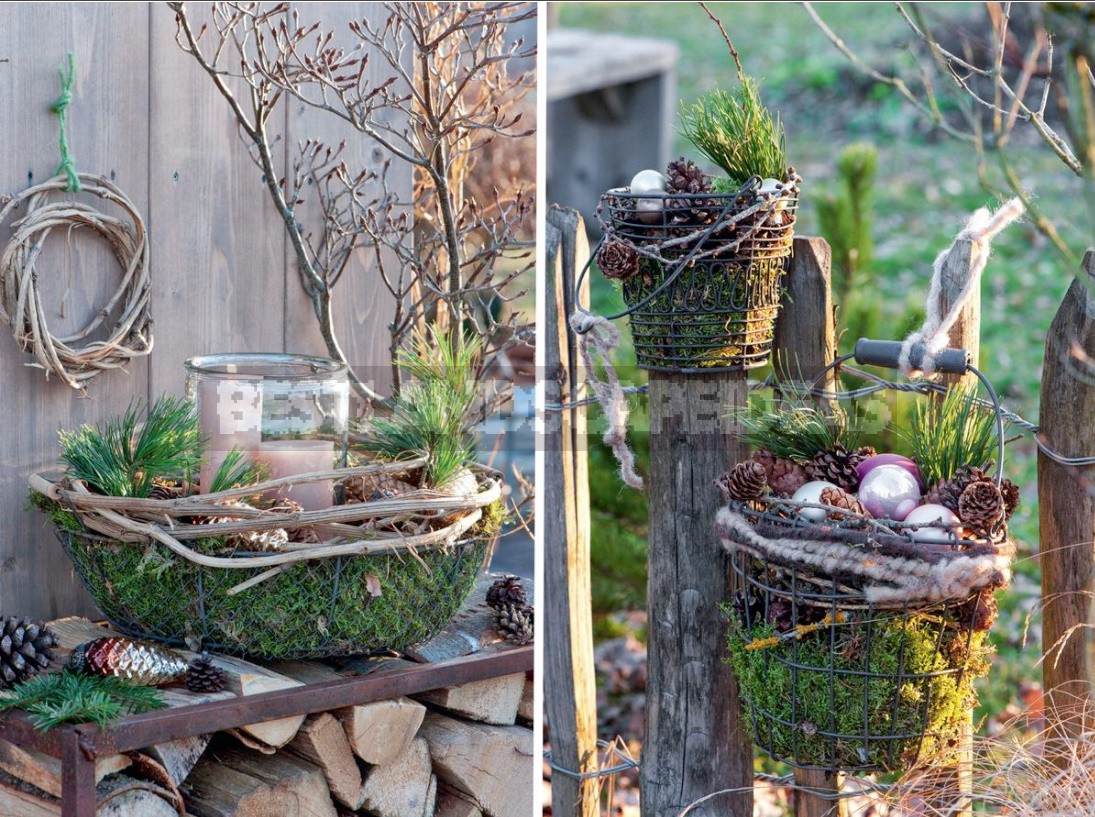 The basket, which is filled with moss, pine branches and cones and decorated with a wreath of clematis stems, looks charming in muted colors. In the center of the composition stands a glass container with white candles. A stylish addition is a decorative twig, a wreath of clematis on the wall and a couple of silver Christmas tree toys.
Simple wire baskets can be hastily filled with moss, pine cones and spectacular Christmas decorations. This accessory can be hung on a fence, garden gate or on the back of a chair. Beauty!