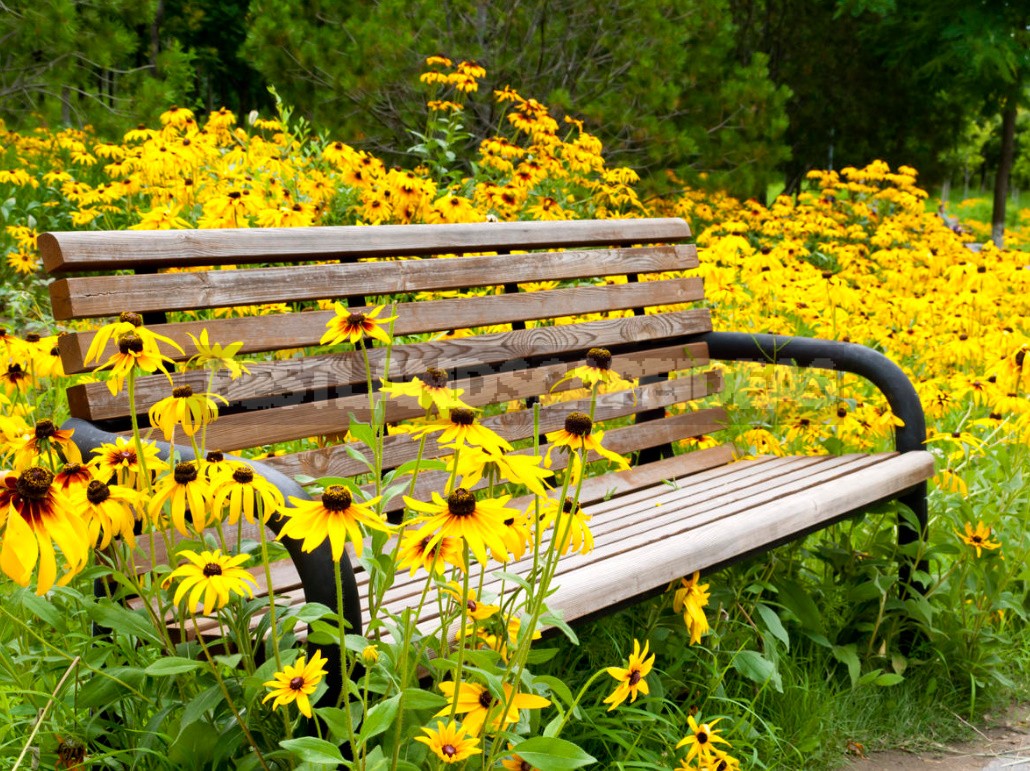 Why does a person need a garden? To harvest? Not only. You can also admire it — a beautiful man-made corner of nature, listen to the measured humming of bumblebees, inhale the aromas of herbs, catch sunbeams in the openwork foliage… And it is necessary to indulge in contemplation in comfort, so the garden of the soul is unthinkable without comfortable and beautiful benches.
They have long been a separate genre in landscape art. It has its own styles, fashion trends and timeless classics. A well-chosen bench will emphasize the individuality of your garden and become a harmonious continuation of landscape design.
The nature of the proof, Nordic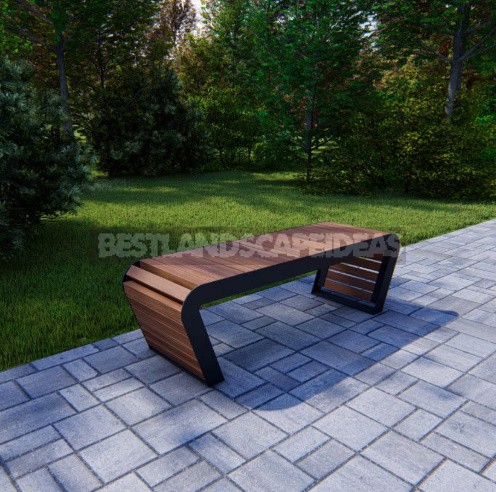 Clean, concise lines, minimalism and avant-garde "in one bottle". The solid steel base will be stable both on a flat paved area and just on the ground. Noble shades of wood emphasize its restrained style. This bench will be a good accompaniment in the garden with the same clear, clean lines of paths, flower beds, emphasized by gravel, using large stones and a variety of coniferous plants, referring to the image of Northern or Alpine landscapes. Complement the composition and eternal companions of conifers-elegant rhododendrons, hydrangeas, barberries.
Just for two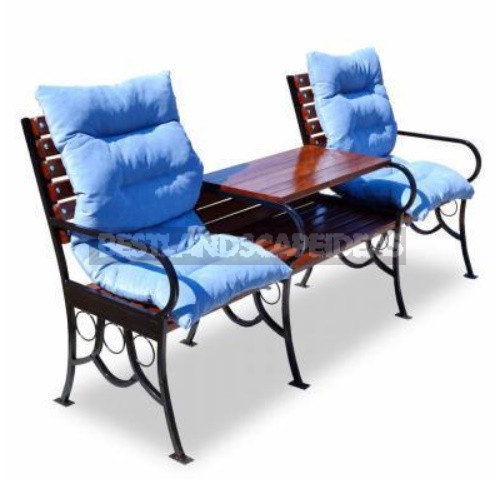 This bench with a built-in table is designed for unhurried conversations, cozy tea parties, contemplation. Despite its apparent lightness, this bench is reliable and stable thanks to additional decorative elements that increase the rigidity of the steel structure. Complement it with comfortable soft pillows and tune in to a pleasant stay in the company of a loved one. A great option for a romantic corner! Place it under a pergola surrounded by roses, ornamental shrubs and cereals so that you can enjoy your beautiful garden all season long.
Children's delight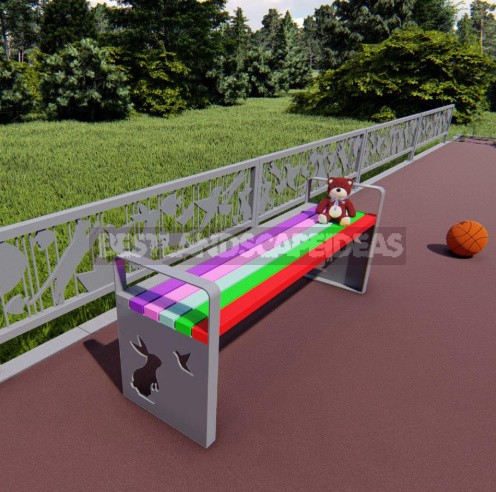 Looking for a Playground bench? Pay attention to this model, it is just perfect: a classic shape, a strong metal frame and a face covering made of hard wood of winter preparation will serve more than one generation of mischievous people. Cheerful colors, funny animal figures will not leave children indifferent. After active games, they will be happy to rest on such a bench in the shade, and adults will like it for its reliability and durability.
Modern classic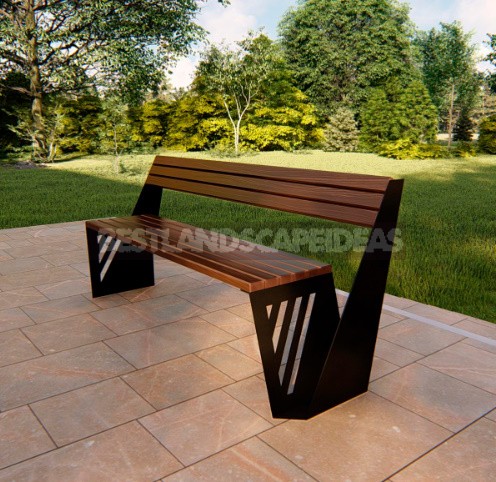 Gardening requires constant care, sometimes very time-consuming. After all the hassle, rest is just necessary. Sit down on this bench, lean back at a comfortable angle, and simply admire the fruits of your labors. Strict geometry of lines and modernist angularity are combined with the warmth of natural wood. This bench will be appropriate in the garden of any style-regular classic, mysterious Japanese, and romantic naturgarten.
Your honor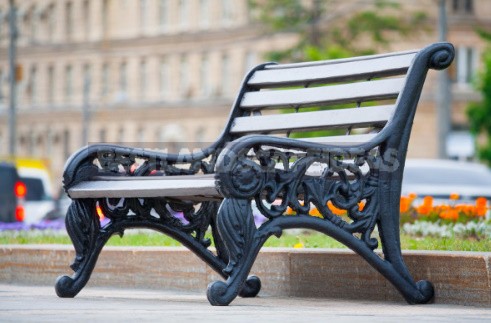 This bench on a cast-iron frame is simply the very respectability, reliability, style. At the same time, the design does not look too heavy due to the smoothness of the lines and the elegance of the classic floral ornament. The wooden seat in noble shades follows the curves of the body, providing a comfortable rest. This bench is certainly ideal for shady Park alleys, but it will be appropriate in any garden, giving it solidity and special chic.
Universal soldier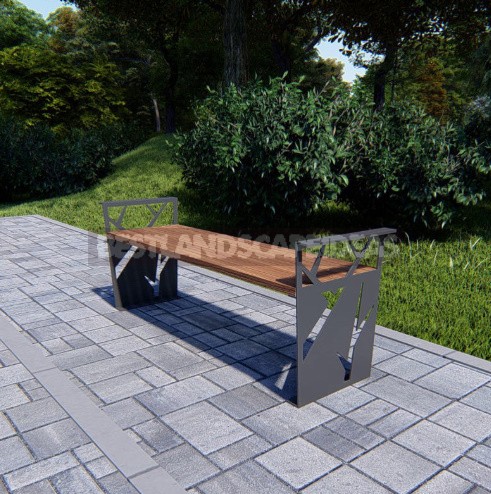 This practical and inexpensive bench is designed to serve you faithfully for many years. The steel base and wooden parts of the seat are covered with protective compounds that protect against aggressive natural factors. A design with plant motifs will fit into any garden concept. This bench will be good in a secluded corner under the shade of tall trees, and at the porch in the sun, and next to the barbecue area-it will be useful everywhere.
Flexible approach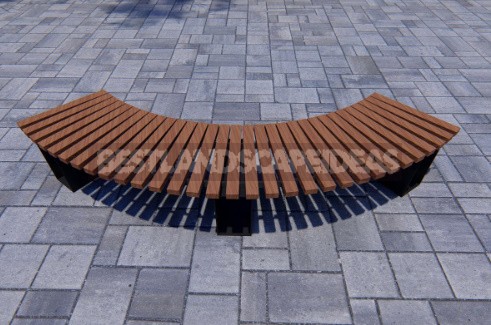 This model is not afraid of natural disasters: the steel base is protected by a polymer powder coating, and the seat made of softwood – special impregnations and a double layer of varnish. It will keep a presentable appearance for a long time, but this is not its main feature. Due to its unusual shape, this bench is a godsend for a space designer. You can use it in the design of the outdoor hearth zone and in the evenings a large company, sitting in a semicircle, admire the sparks of the fire, or you can emphasize the bend of the path, frame a flower bed or tree — there are many options.