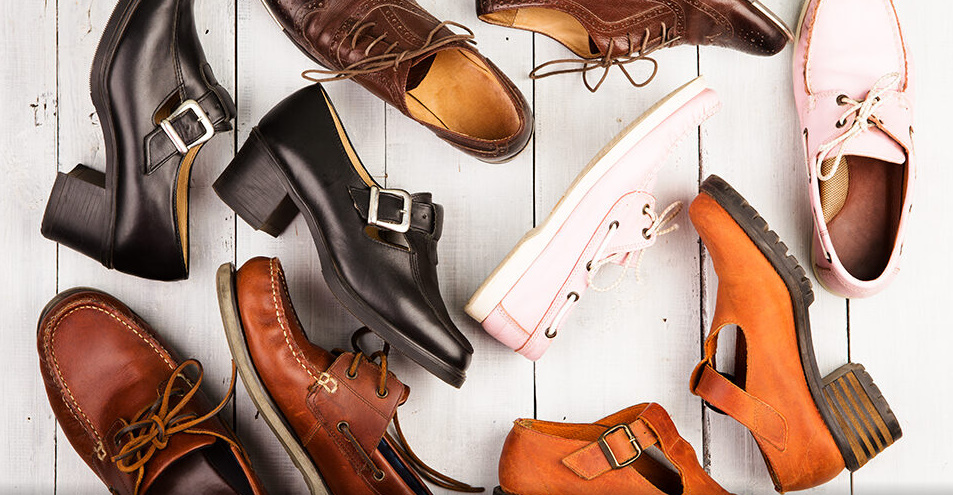 In order for the hallway to always be in order, it is important to consider a convenient and compact placement of shoes. Looking at the ideas already implemented, it is much easier to imagine whether one or another option will suit the conditions of your home, right? Then look and choose — we have tried to collect the most interesting and practical shoe boxes, most of which can not only be bought, but also made with your own hands.
Placement
First, let's consider the proposals for organizing "apartments" for the shoes that we wear now. Let's start with one of the traditional ways — closed, because many people prefer it.
Banquettes
A great option for the hallway: there is a place to sit down to calmly put on shoes, and the interior space of the furniture is used properly. Of course, it should be convenient to put and take out shoes, so consider various ways in advance: drawers, folding shelves or covers.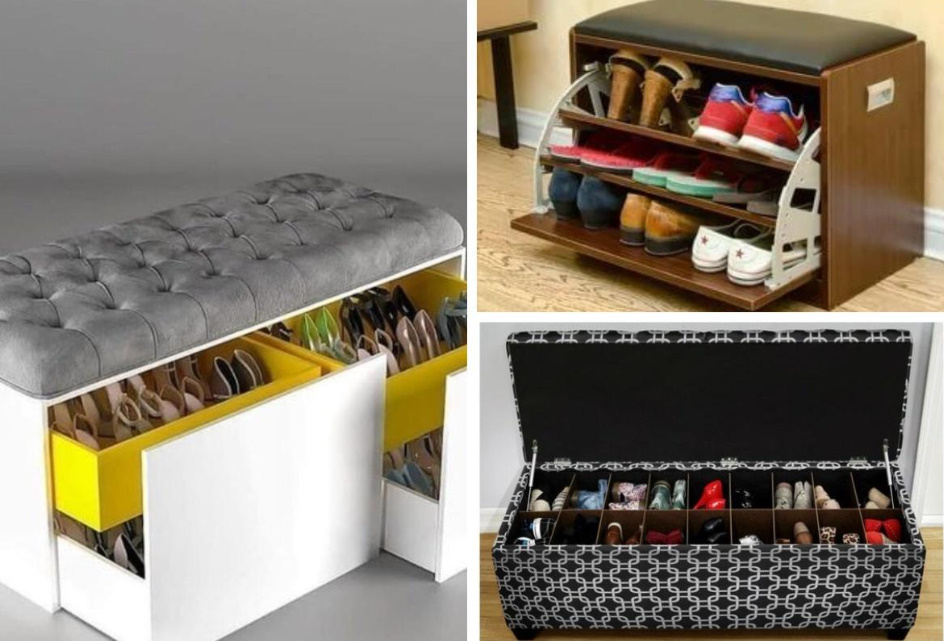 Dressers
Shoe dressers take up little space and at the same time perform the functions of a console table, on which they usually put the keys to the house and car, sunglasses and other important trifles.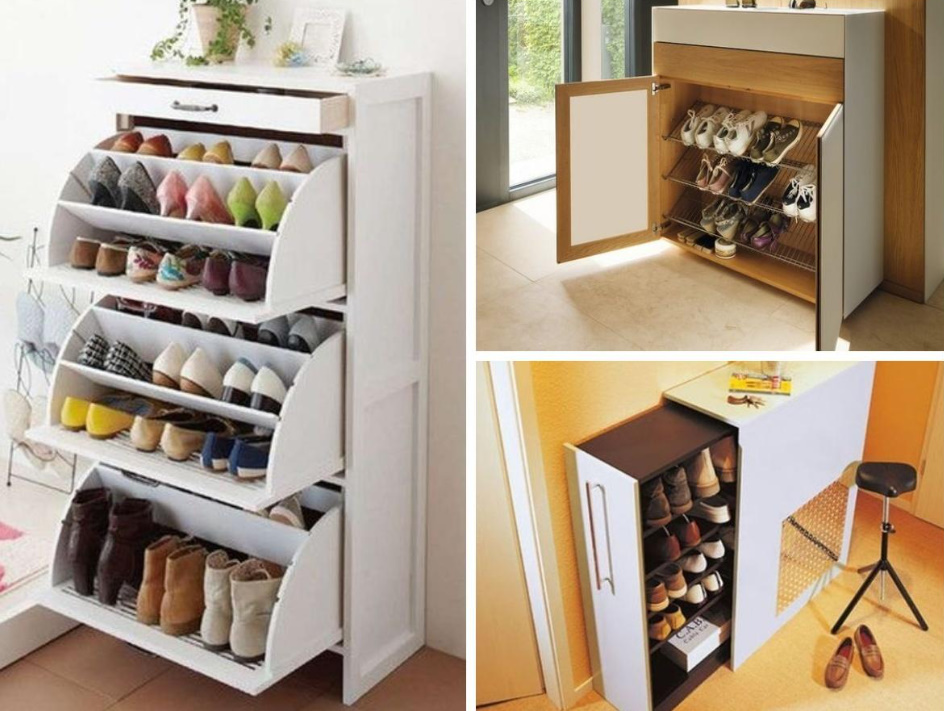 Wardrobes
Previously, such spacious furniture could only be needed by well-off people, but now everyone has so many shoes that there are more than enough. And if there is also a large family, then you definitely can't do without a closet.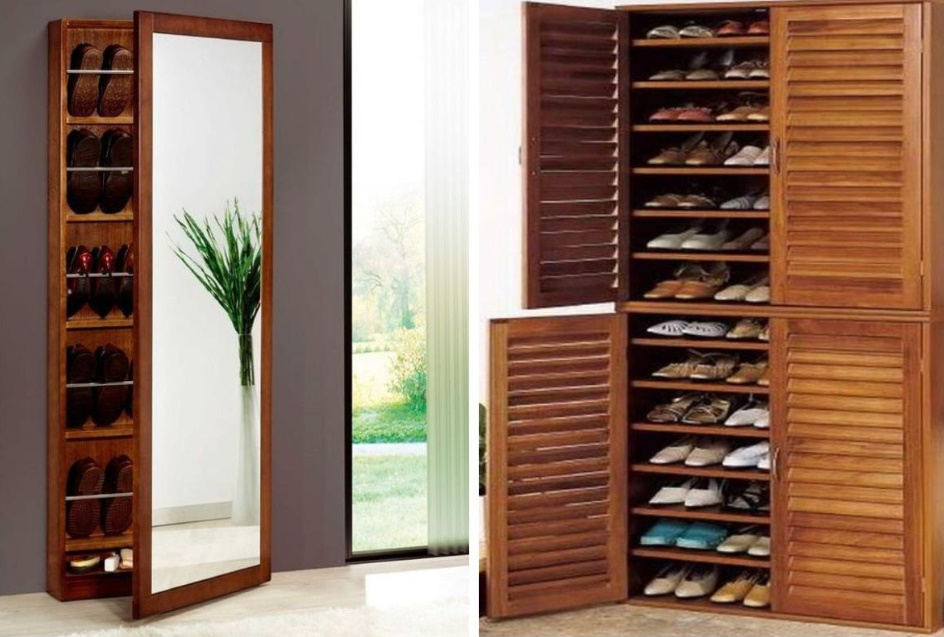 I liked the model with a mirrored door: before leaving the house, you can fix your hair and look at yourself closely — is everything all right? The closet with louvered doors has its advantages: shoes, even minimally, but ventilated, which is important.
And now let's take a closer look at the ideas of open placement. I am definitely more inclined to the classics: bedside tables and dressers with doors, but not everyone shares my opinion, as you will see now.
Banquettes and dressers
Lightweight models visually clutter up the space less than their tightly closed counterparts. When buying, they will cost less, and it will be easier and faster to make them yourself. If you don't have a "nothing superfluous in sight" thing, why not?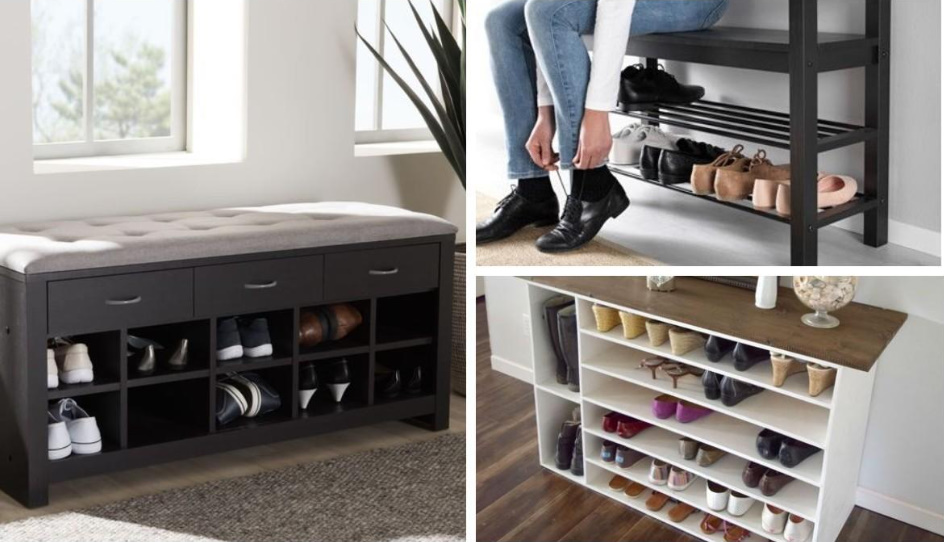 Shelving and shelves
A fashionable trend in modern interior design. If you want to follow the trends of the time, feel free to equip something like this in your home.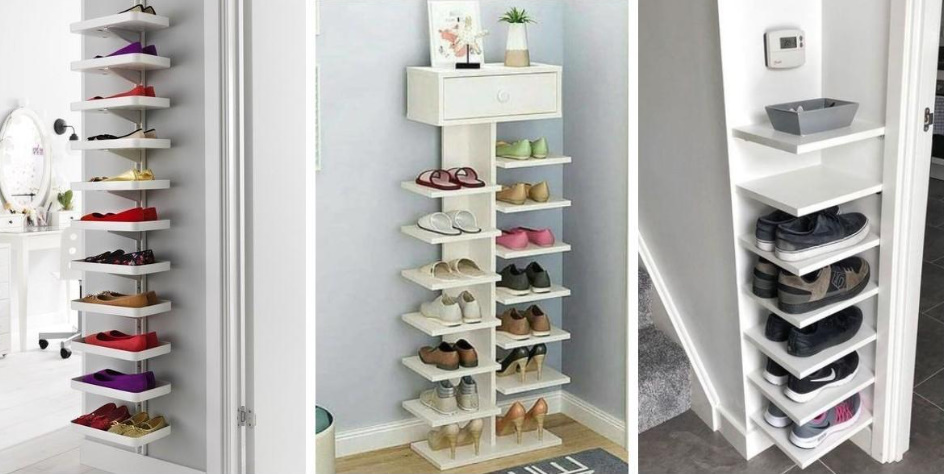 The undoubted advantage of such structures is compactness. For modest-sized hallways, this shoe placement option may be the only possible solution.
I liked shoe racks with removable or folding shelves — very convenient! The photo on the right looks like it was taken in a store, but who's going to stop us from borrowing a worthwhile idea for the house?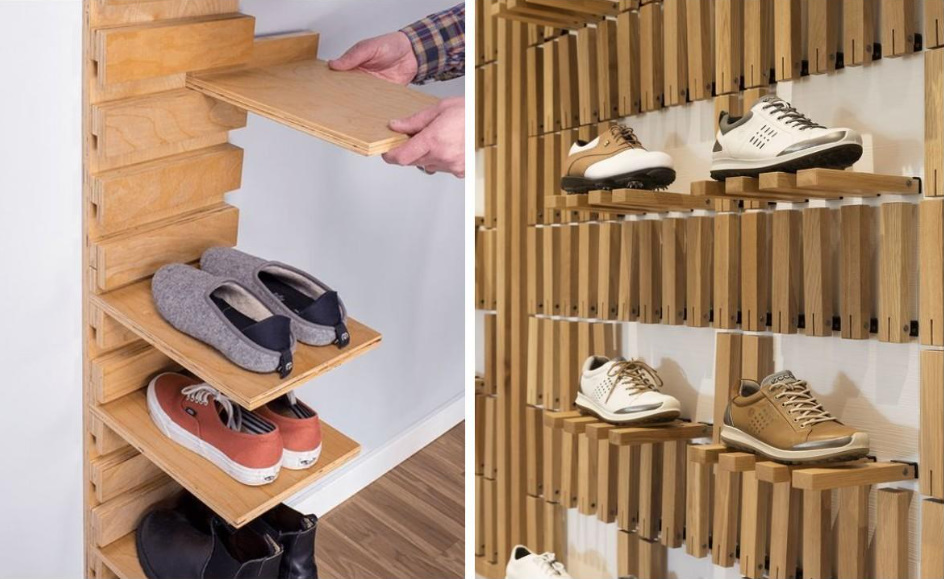 Let it not be for shoes, but such designs should be taken into account, they will definitely come in handy!
If the shelves prevent you from turning around in the corridor, take a closer look at these ideas of the most compact placement. There is no need to describe their device — everything is clear enough.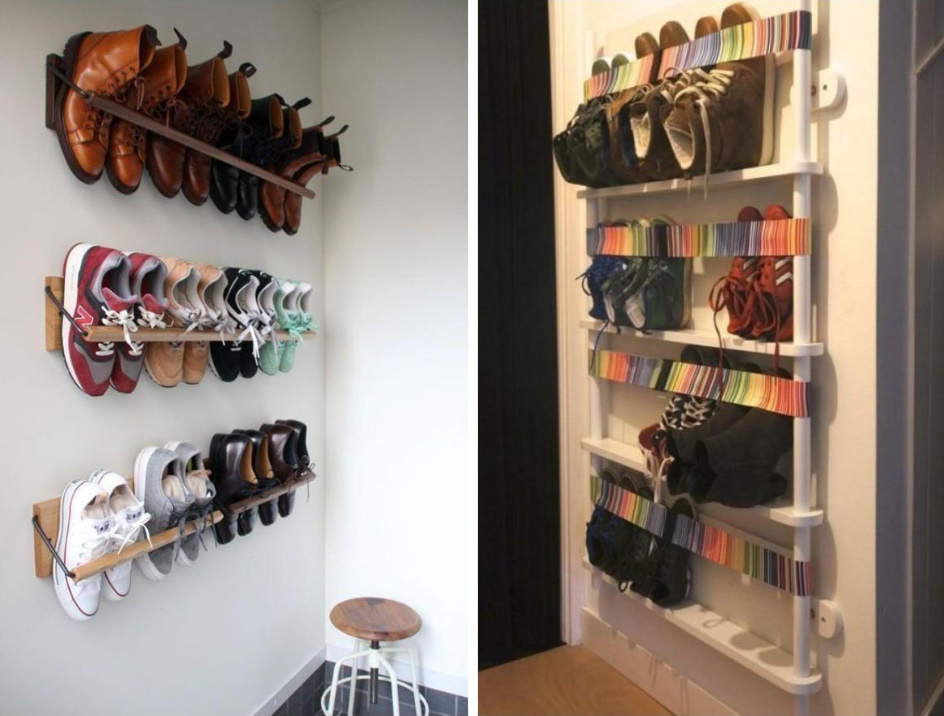 Here are some more interesting options, including using pallets.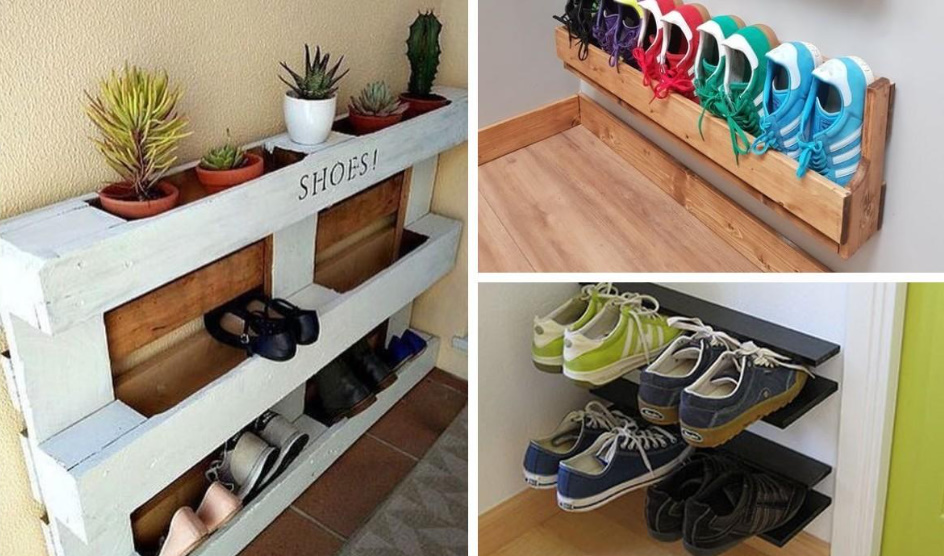 Hooks
An even easier way to arrange is placement on hooks. Now you can find anything in stores — from modest plastic to exquisite forging.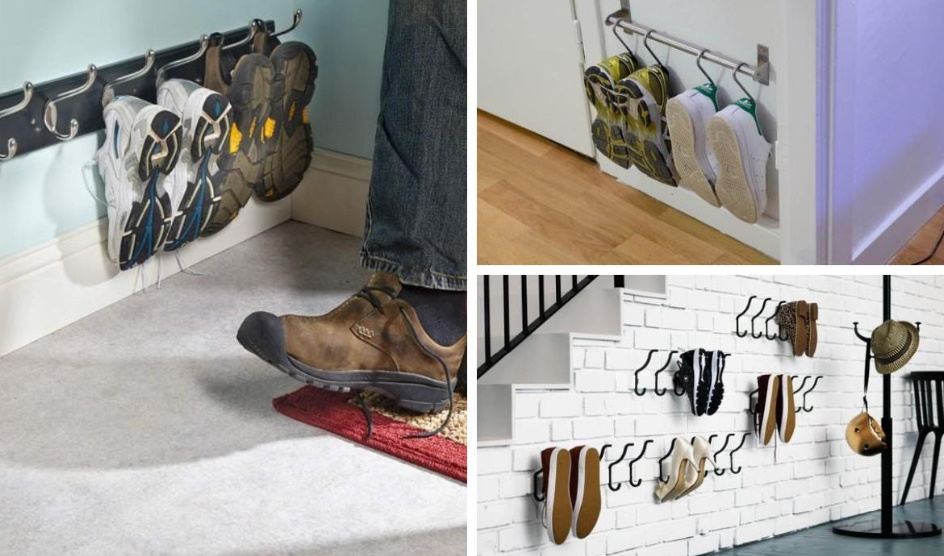 Or go even further and be creative in full: make the hooks yourself!
Boxes
Wooden boxes in suburban use are a necessary thing. And, as practice shows, they are successfully used not only for their intended purpose — for storing vegetables and fruits — but also for the arrangement of everyday life.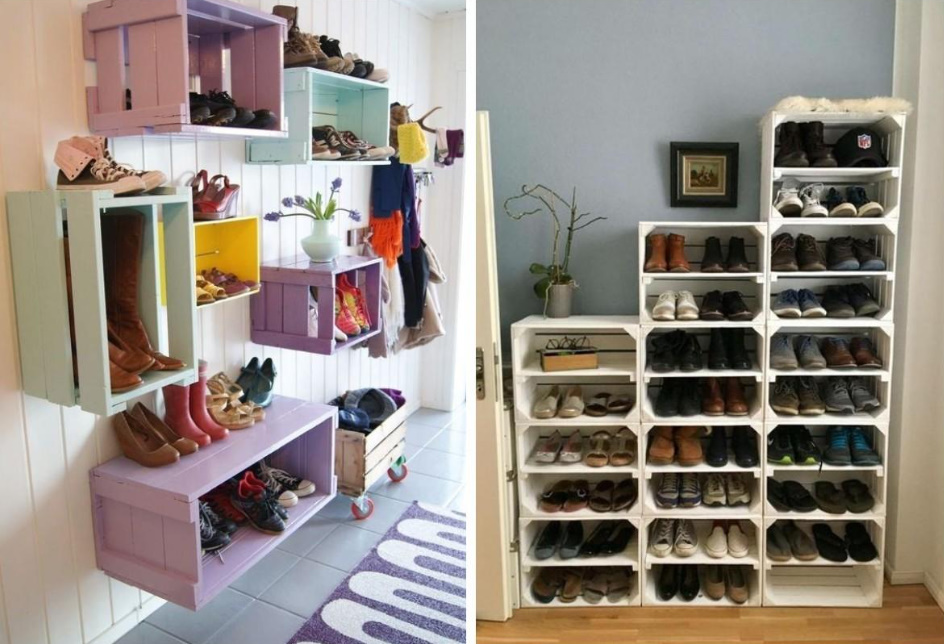 Perhaps such furniture will not impress with the elegance of forms, but it will be inexpensive and will get rid of shoe confusion in the hallway.
PVC Pipes
Today, the piggy bank of practical plastic crafts will be replenished with several variants of shoe boxes.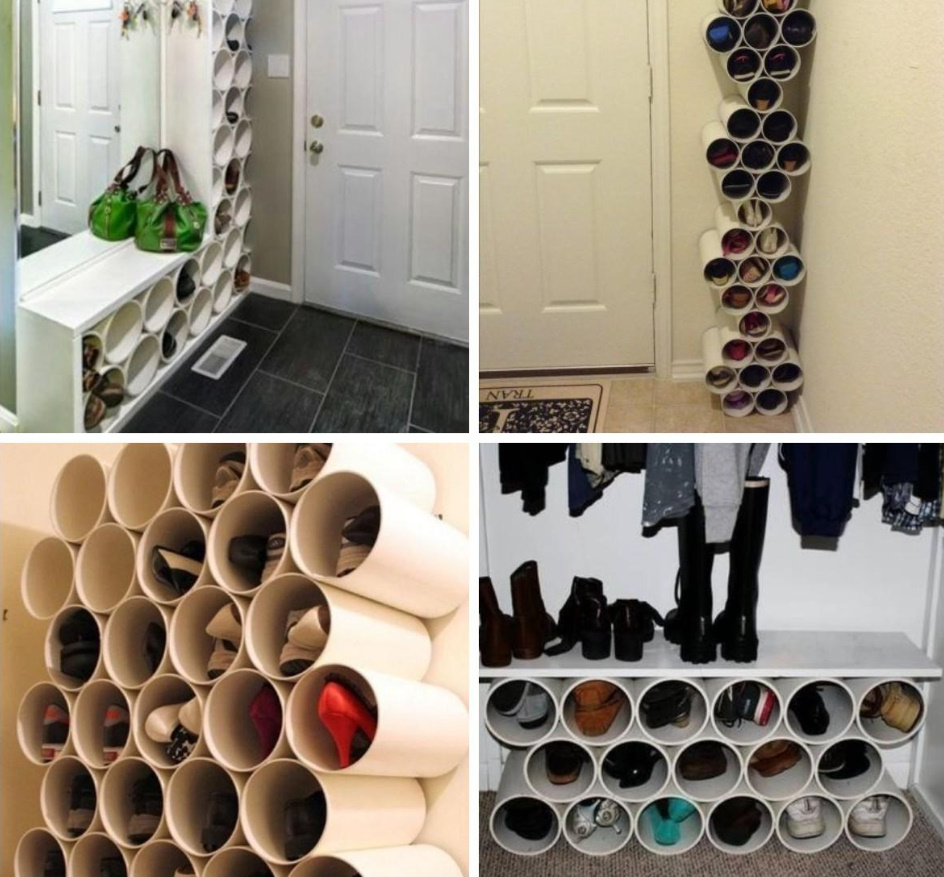 As you can see, if desired, you can even make some semblance of furniture out of them.
But I was seriously interested in another option — with the connection of the shoe box to the heating system: in winter and autumn, a "heated house" for boots and boots will be worth its weight in gold! I have a couple of electric dryers, but they are clearly not enough for a family of 5 people.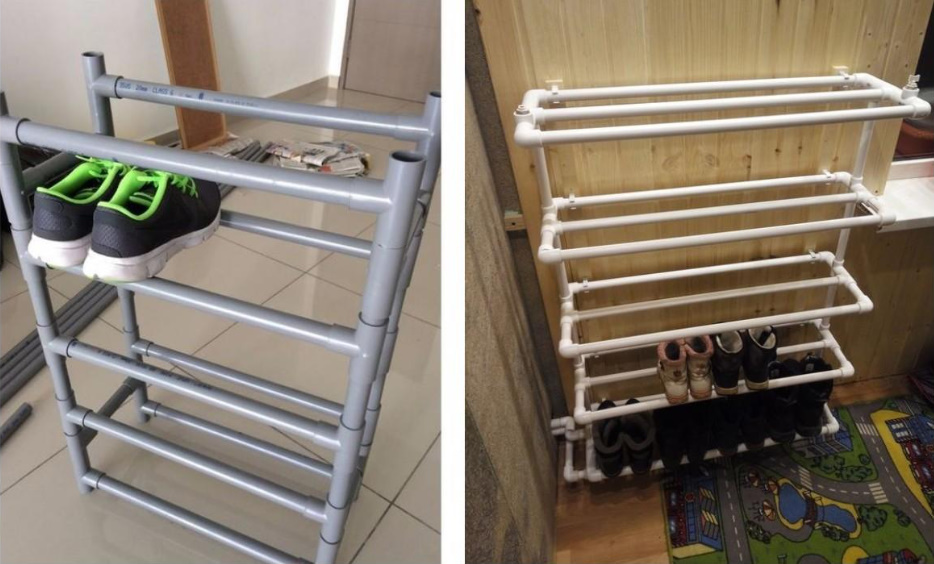 Assorted
The selection of ideas for placing shoes is completed by options that every summer resident can do with his own hands. Actually, the one from the grid will not have to be done, except that it will be cut to size and painted.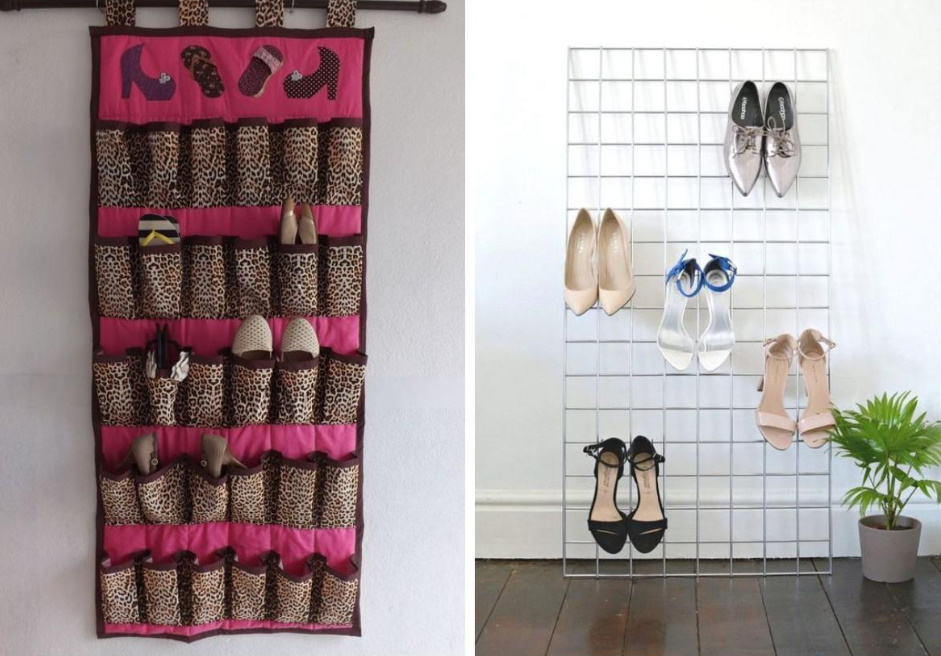 You will have to work hard on a pocket shoe box, but the idea is good! By the same principle, you can make a "Pocket" flower garden: when there is not much space on the site, it will help out! Can't sew? And staplers for what? Shoes are not grain, they won't fall out in a small hole!
Definitely not for my cheerful family ideas of cardboard stands: these products need to be handled carefully: keep away from water, do not step on inadvertently. Perhaps, with my active kids, such flimsy shoemakers would not exist for long.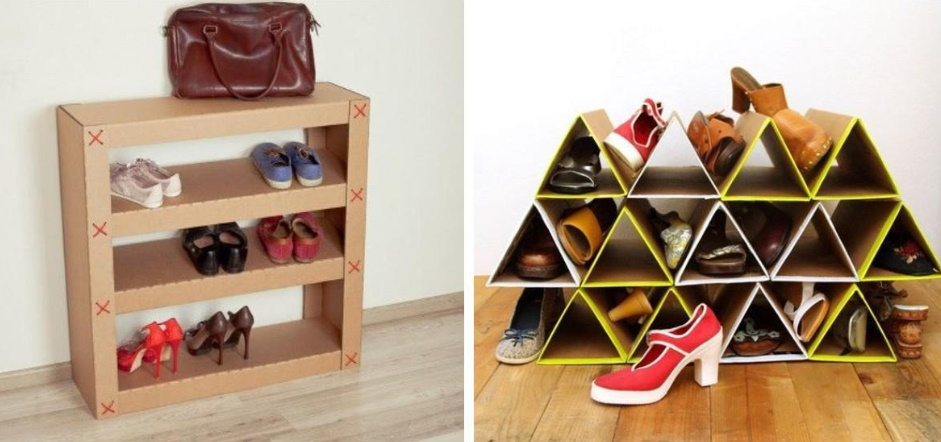 Keeping
Placement in the hallway is half the battle, seasonal storage — that's the task! If the area allows, it is best to put the shoes in their "native" boxes and take them to the dressing room. Unfortunately, most summer residents do not have such an opportunity (free space), so we will consider alternative options.
On the door
A large hinged rack or a volumetric organizer will be useful for those who need to store a lot of shoes. One basket will be enough for several pairs.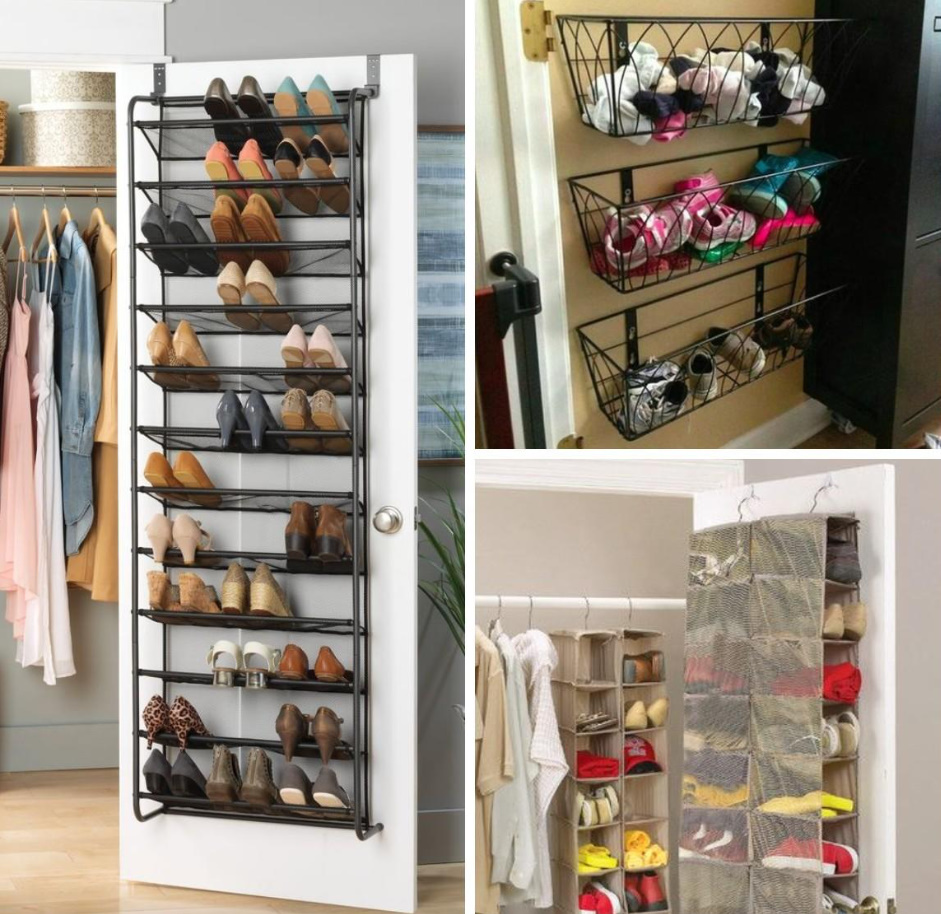 In the closet
The acquisition of useful modern devices for compact storage will greatly simplify the task. And you don't have to worry about the shape of the shoes — they won't close inadvertently.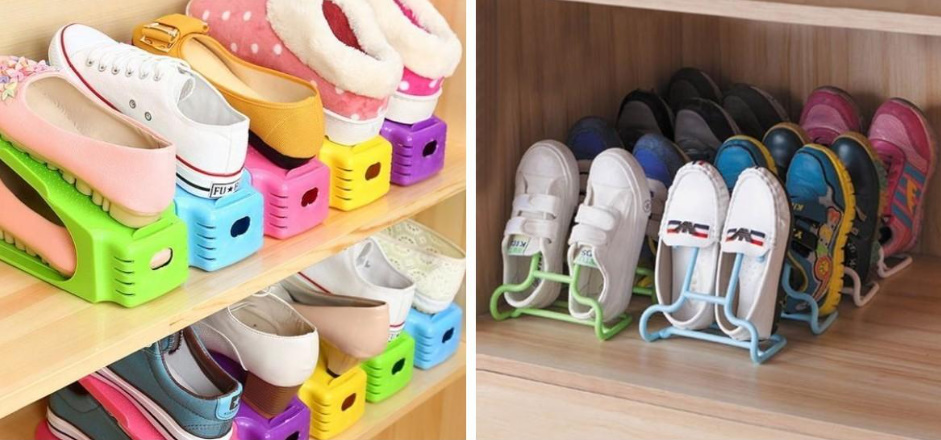 As an option, it is possible to replace the unknown number of stands with inexpensive trays for folders — archivers. Plastic ones will be inexpensive, and they will last for more than one year.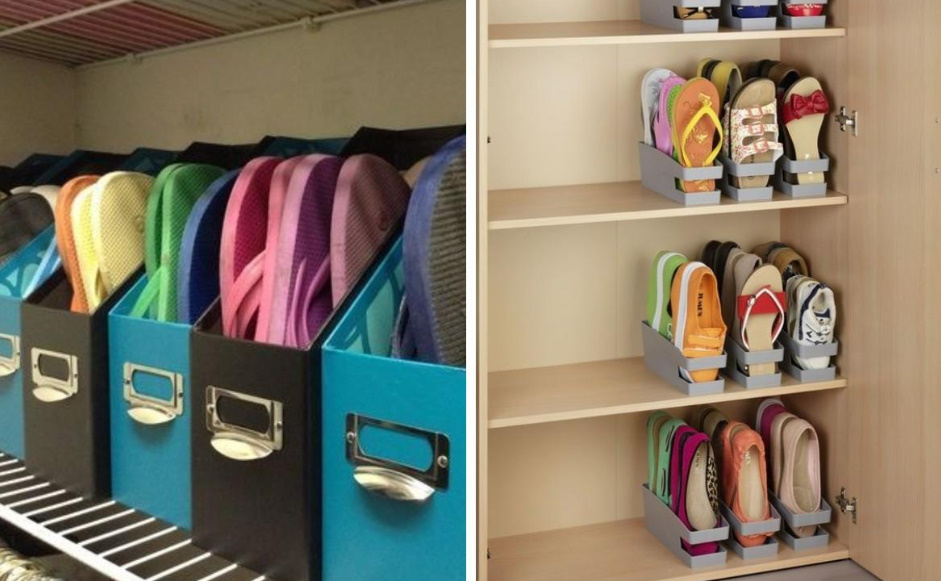 Needlewomen will not find it difficult to sew a simple, but very convenient organizer, and everyone can make it from 5-liter bottles.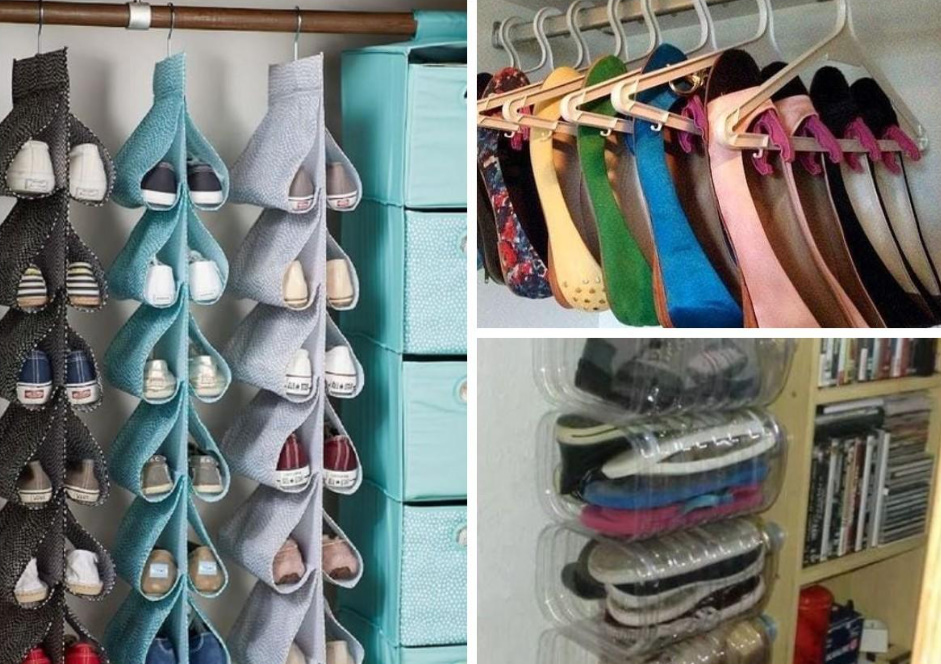 Under the furniture on legs
For some reason, shoes are most often stored under beds, although no one will forbid you to put a box under the kitchen cabinet. The main thing is that it is not very conspicuous.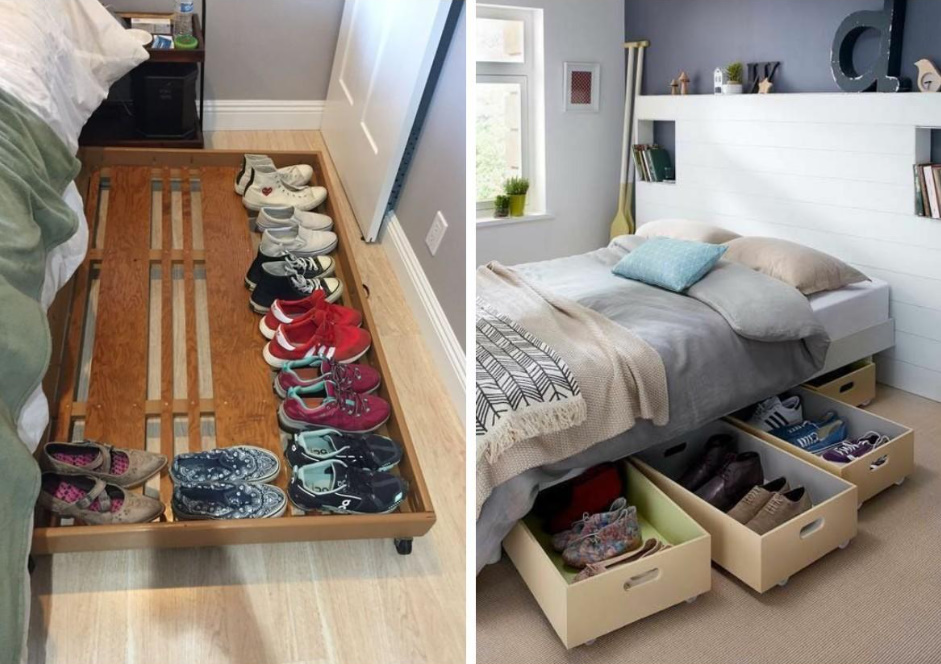 When it was possible to place almost all pairs, and only a few can not be pushed anywhere, a hanging organizer with pockets will come to the rescue.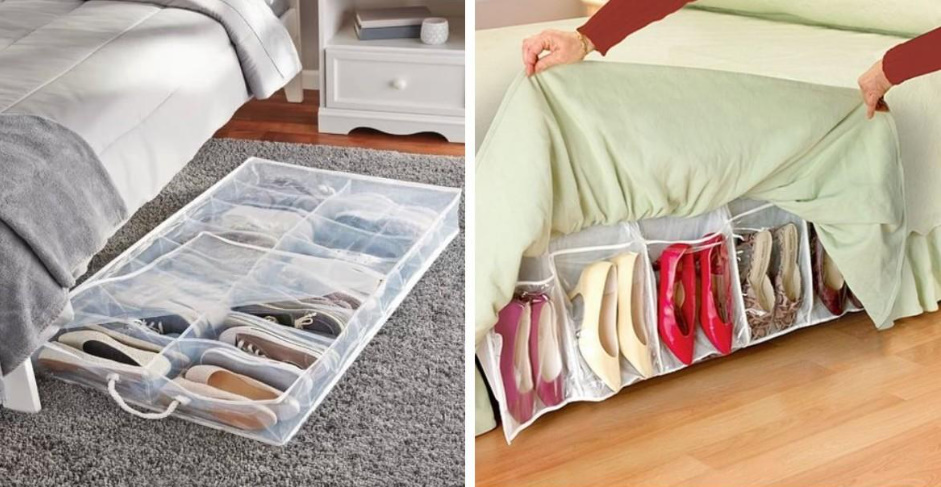 Perfect order: we have placed and stored absolutely all shoes!
It's time to share your own experiences: tell us how you cope with these tasks? Or maybe you have brilliant, but not yet implemented ideas — share them, they will be useful to many!