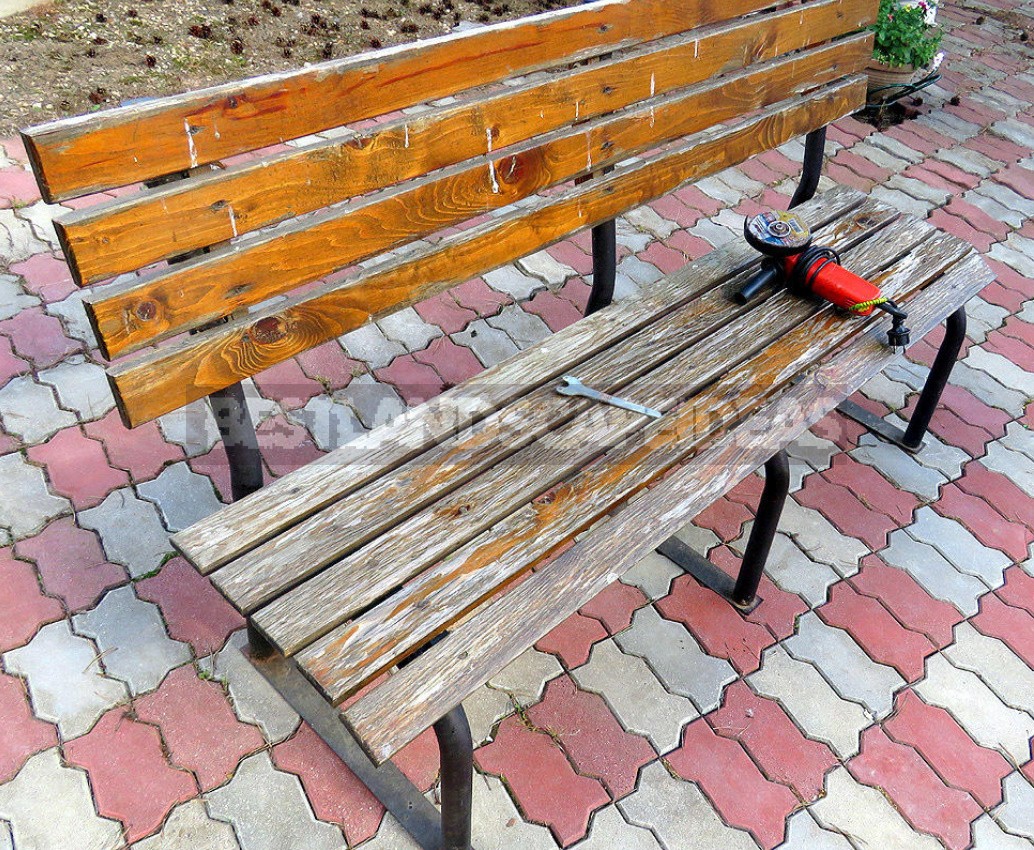 I have a colleague who lives near my dacha. I must say, a very convenient colleague, because on Friday it is more pleasant to get to the dacha by car than by train. One day he complained to me about an old garden bench that had lost its yacht Polish. I suggested covering it with oil: it definitely won't come off. At my dacha, I had an open can of Drewnochron Tung oil. Next Friday, I took a jar and a new petal disk for the grinder and went to visit a colleague to restore an old garden bench. The weather was excellent — the sun and the temperature +22ºC.
On the back of the bench, the varnish still somehow held, but from the seat it got off by 80 percent. Over time, the bench was not pretty at all.
What will the restoration consist of? From sanding the bench, removing the remaining varnish and covering it with oil. First, we install a petal nozzle with a large grain on the grinder.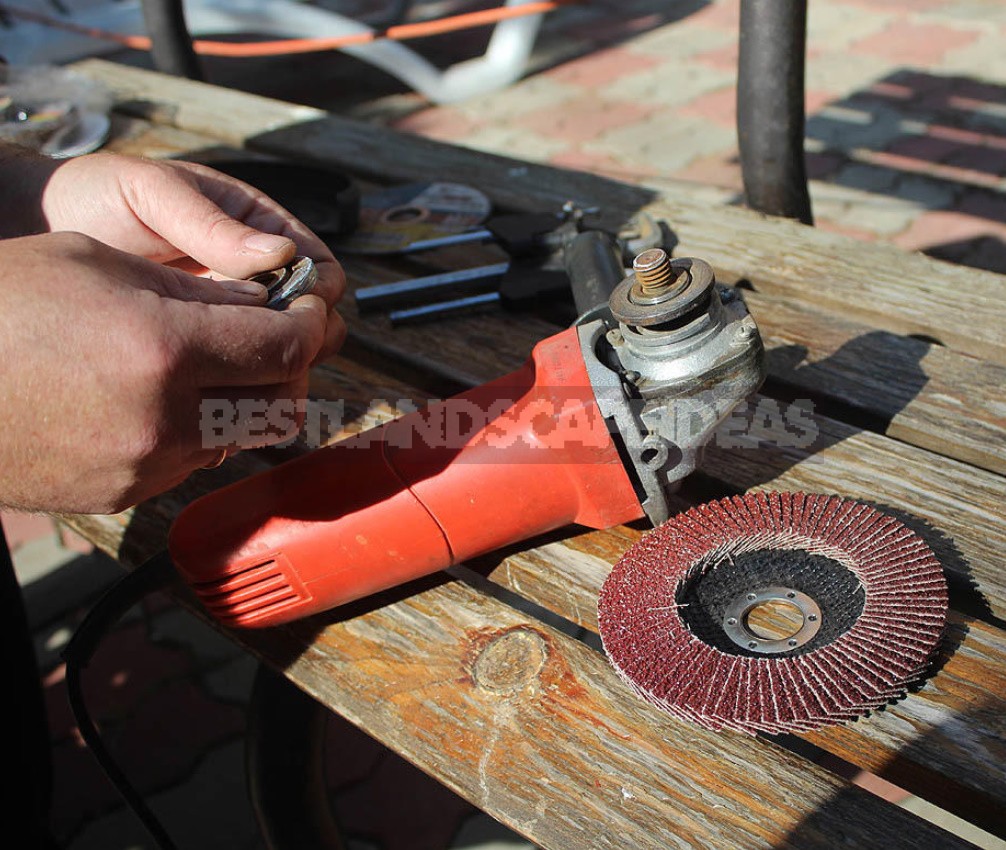 It is better to take a grinder with adjustable speeds, because at high speeds the tree burns a little.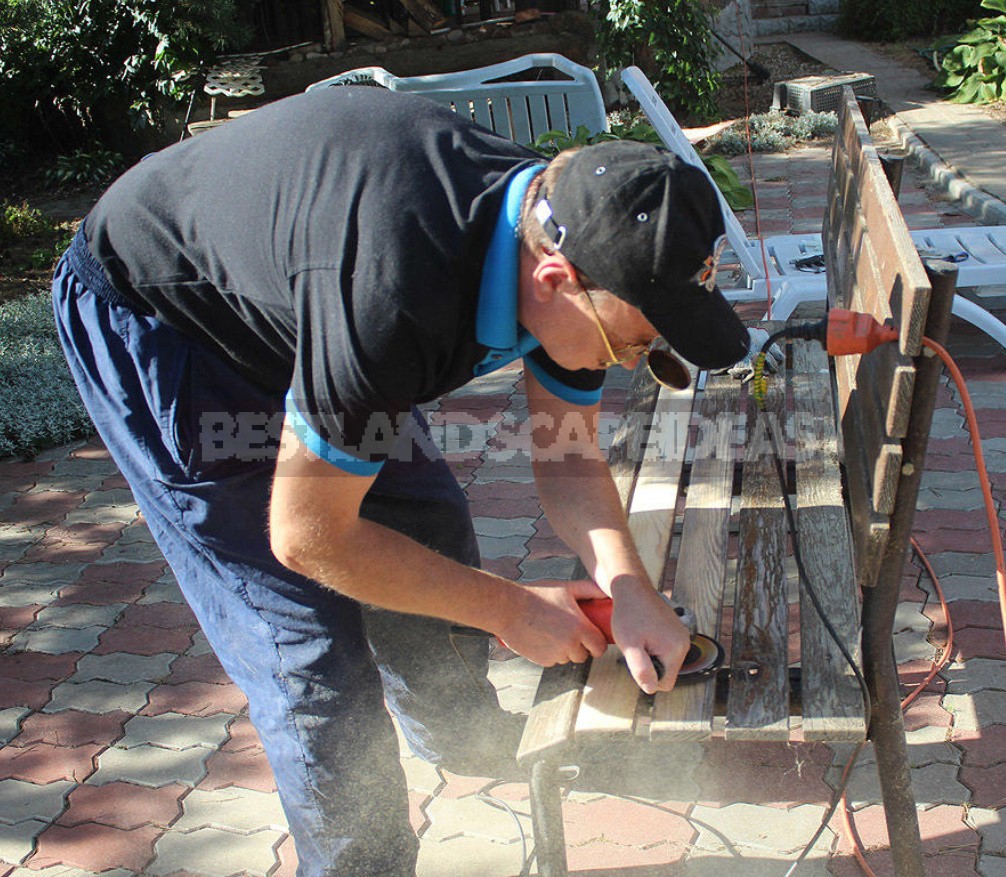 It is necessary to grind only on the street: the dust is a pillar! "And it doesn't hurt to put on a respirator," I hear a remark from the audience.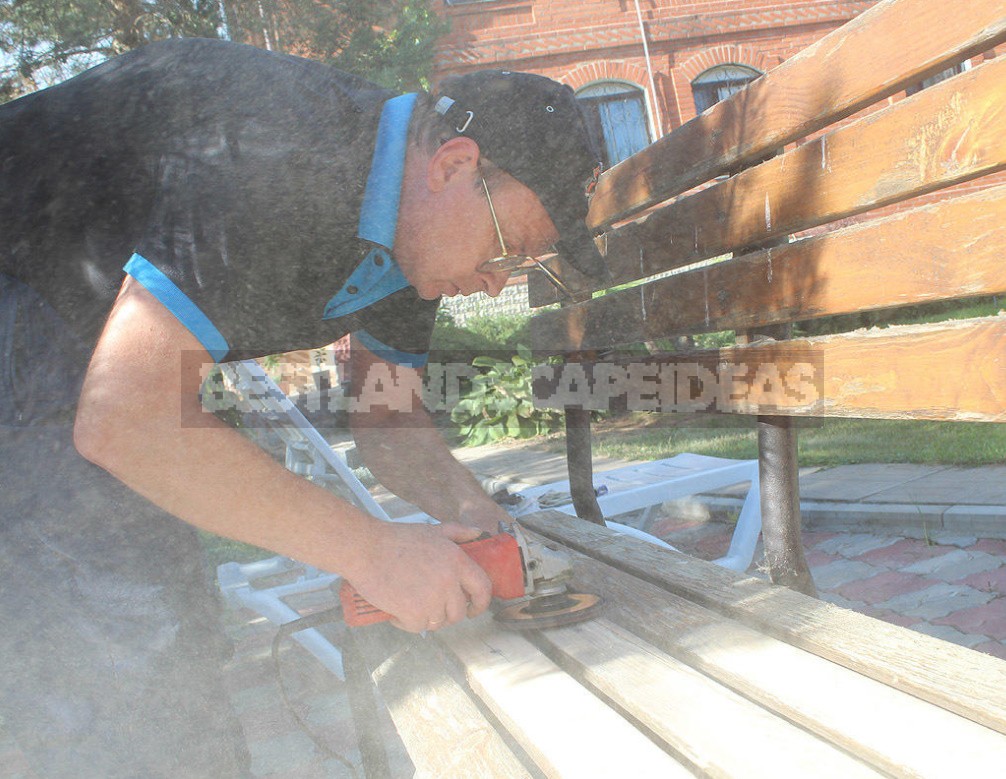 The process of sanding the shop took about 45 minutes. In my opinion, it turned out well. At first, I planned to walk around the shop after the petal attachment with a smaller skin — P 60. Then the surface would be smoother, the oil consumption would be less, and the shade would be lighter. But I'm getting tired of dusting.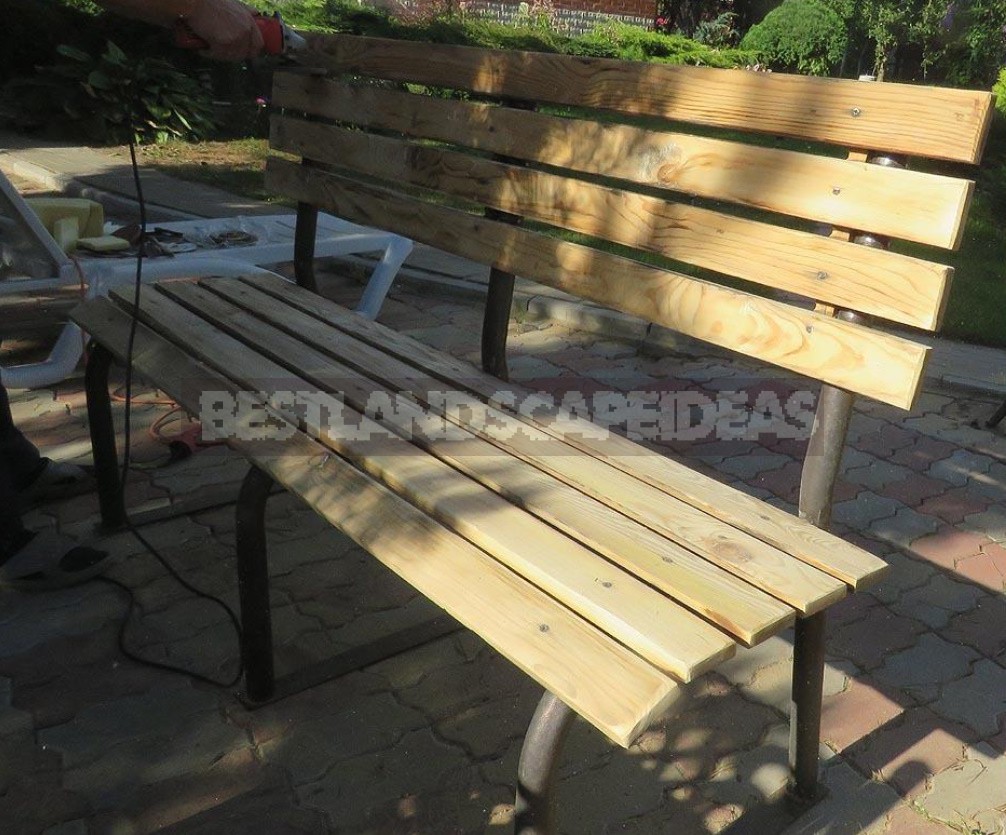 To paint the shop, I brought a can of terraced Tung oil "Drewno chron" in rosewood color. I have repeatedly used this brand of oil, it is relatively inexpensive and falls flat. Apply with a regular household sponge. There was no sponge at hand. A colleague cut off a couple of pieces of foam — in principle, for this purpose, and foam will do.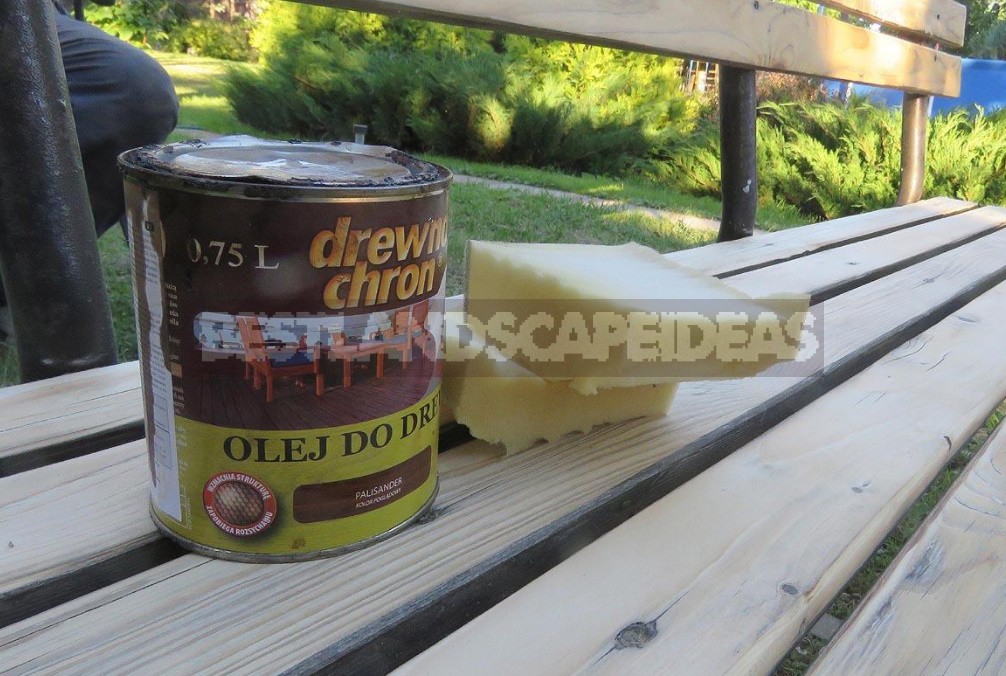 Dip the sponge in oil and apply to the surface.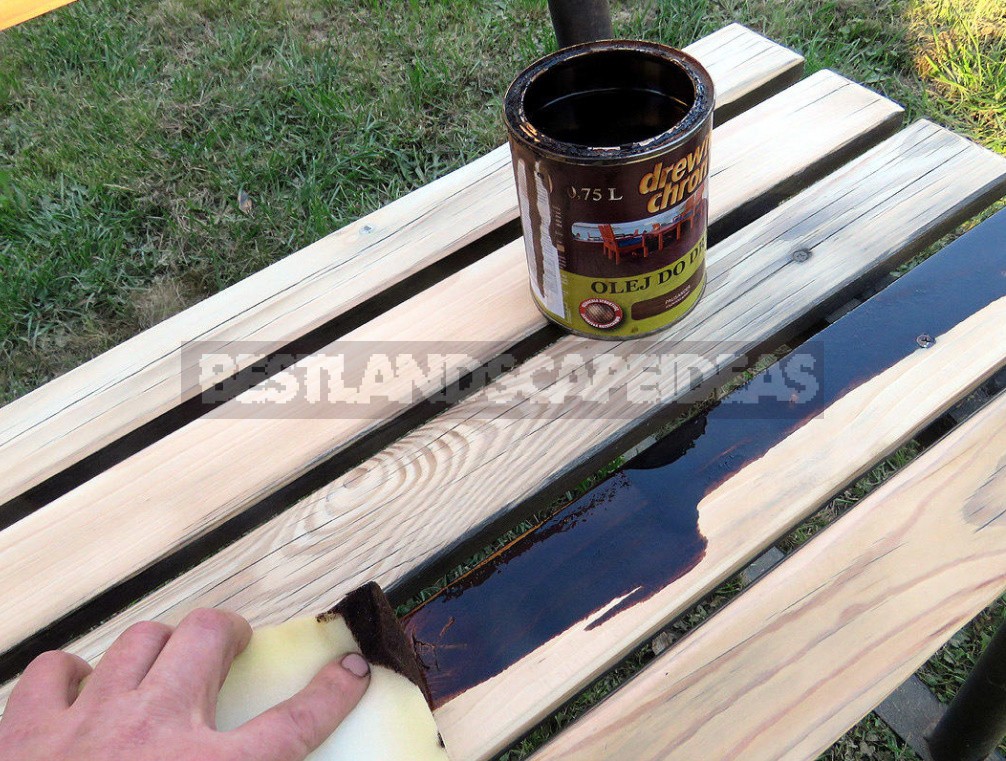 With the second sponge, RUB the oil and remove the smudges. Oil consumption is minimal — it took no more than 100 g to paint the shop.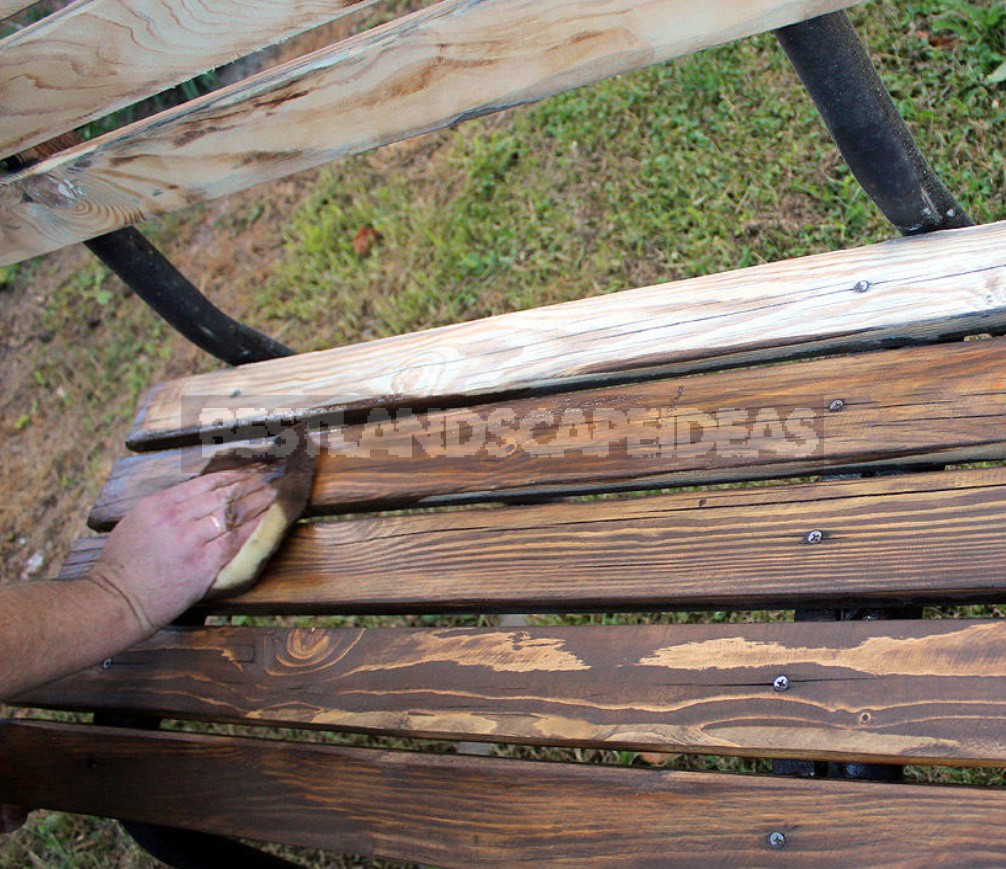 There was a spruce shop — it became a rosewood one.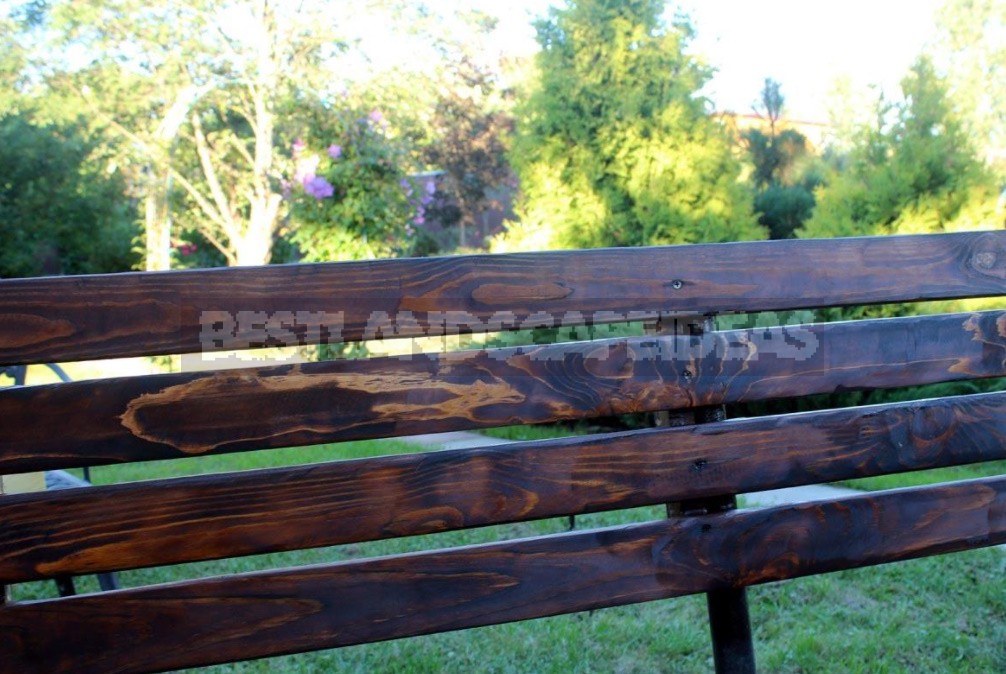 To cover a street bench with oil, it must be covered in a dry room at a temperature above +20 ° C and low humidity. But not always there is such a room at hand. Here you need to catch a Sunny day. Before lunch, sand and cover with the first layer. We put the bench to bask in the sun. In the sun, the oil polymerizes much faster.
After lunch, apply the second layer — and again expose to the sun. 2-3 hours in the sun — and the coating dried perfectly. The old shop became a new one. The second layer of oil does not darken the texture much.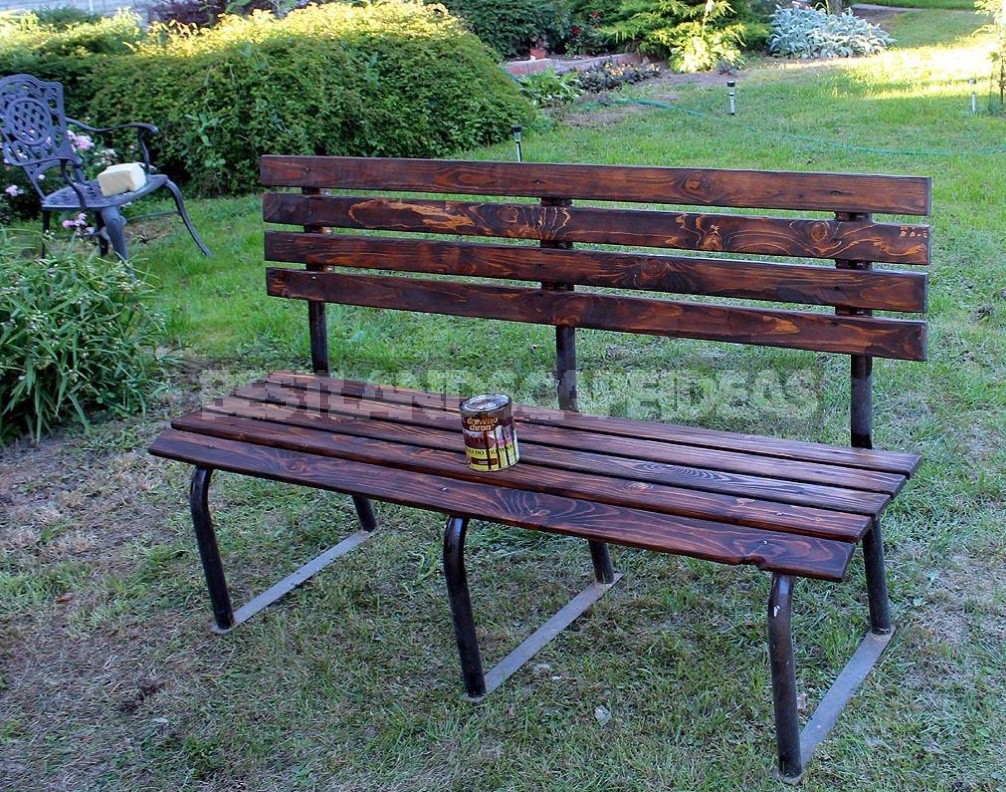 What should I cover outdoor furniture with?
Every active summer resident faces this issue. I ask myself this question after painting another bench or stool. What to choose: yacht varnish, oil, oil-wax, polyurethane varnish or epoxy resin? Or terrace oil… And what company? Indoors, all these coatings behave quite predictably — but on the street?
Two of my friends ' yacht Polish started to come off the street benches after two seasons. But on a couple of my stools, it holds up perfectly for more than 3 years. And these stools very often walk in the garden in the summer, they are forgotten for a week in the garden. But the varnish, however, holds… To answer these questions, you need to test several samples of both. I started buying different jars from different manufacturers. But very soon I realized that there was not enough money to "try everything". And a long-term test may not be enough life. I, for example, stopped at the 17th can of Liberon oil-wax: it's been three years since I've been able to cover anything. In General, I use what I have already bought. Banks to buy a new toad strangling. Can someone share their experience?