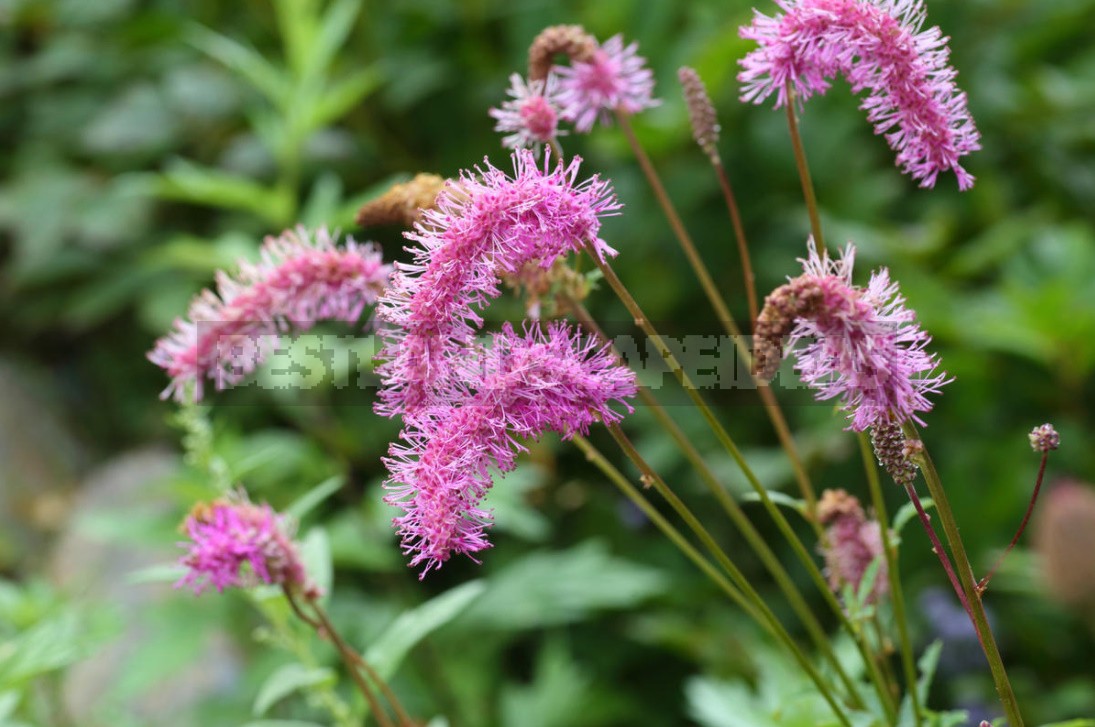 This charming herbaceous perennial slowly but surely won a place in the sun in flower beds. And not only because of the wide assortment: European experts have recognized Sanguisorba as one of the best candidates for gardening.
Modest careerist
In recent years, Sanguisorba has made a dizzying career: it has rapidly moved from the category of simple meadow grass to the ranks of recognized stars of flower gardens, decorated in the now fashionable natural style.
Dossier: Sanguisorba
Color of inflorescences: white, pink, purple.
Flowering time: depending on the type and variety during the month, from June to September.
Height: depending on the type and variety 30-220 cm.
Place of growth: sun or partial shade with slightly moist soil; only Calamagrostis minor grows well in dry soil.
Feature: long-lived (up to 40 years); not susceptible to diseases and pests; hardy.
The question remains: why did you so offend a pretty crumb by giving it such a discordant "name"? After all, it is not at all bloodthirsty, but, on the contrary, very useful! The fact is that the roots and leaves of Sanguisorba officinalis are rich in hemostatic substances, which is reflected in its Latin name Sanguisorba: sanguis translates as "blood", sorbere — "absorb, absorb". So you shouldn't look for a trick.
In the photo: Sanguisorba officinalis puffed up behind Echinacea. In height, this species of plant with purple inflorescences can be either one and a half meters, or completely dwarfed.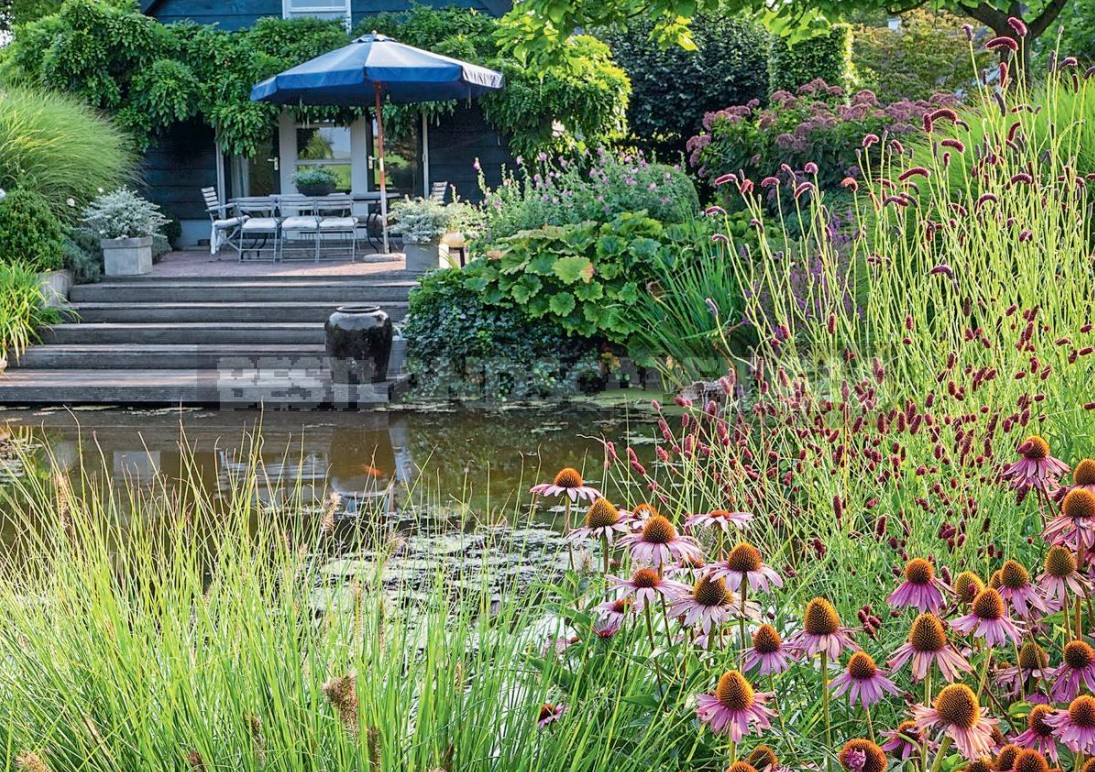 As you know, demand creates supply, so the shelves of garden centers are constantly replenishing more and more new forms of this plant with purple, white and pink flowers.
In the photo:
'Pink Brushes' translates as "pink brushes" — a suitable name for this variety, which, despite the considerable height of 120-150 cm, does not lie down. Minus plants — over time, the leaves lose their decorative effect. If you plant a lower herbaceous perennial before Sanguisorba, it somewhat veils the disadvantage of its neighbor.
White Sanguisorba in a pot looks lovely on its own. Sanguisorba tenuifolia 'Albiflora' is famous for its excellent qualities, while it belongs to the oldest varietal plants.
The same "excellent student" 'Scapino' stands out horizontally inclined dark inflorescences.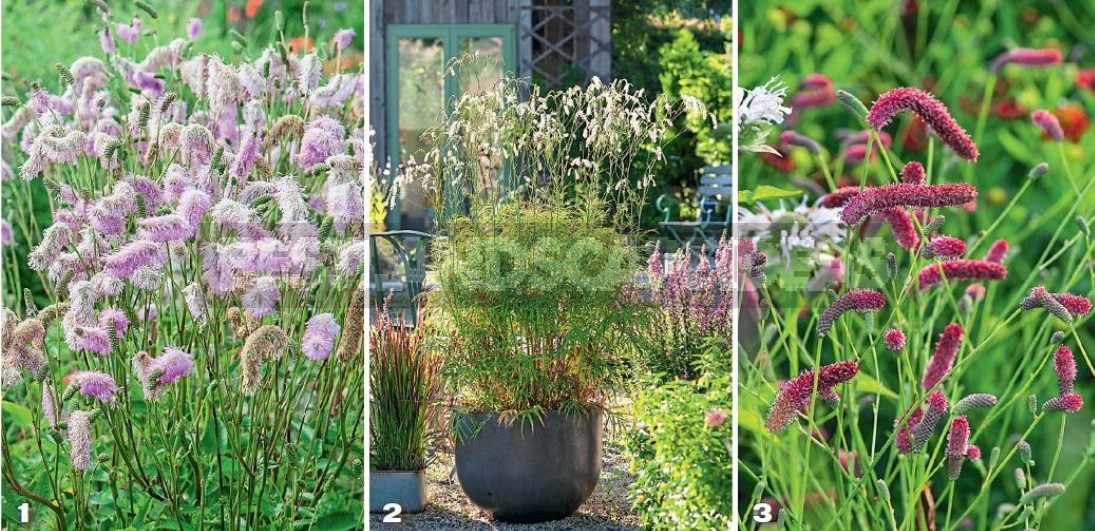 Moreover, over the past three years, European experts on herbaceous perennials have purposefully tested about 40 different species and varieties of Sanguisorba to determine the "most–most". Candidates were evaluated not only on "external data", but also on endurance, growth activity and ability to resist diseases and pests. And the results were pleasing: most of the subjects combine a charming "appearance" and a docile disposition.
In the photo on the left: 'Pink Tanna' swirled in a dance with a white Verbascum chaixii 'Album'. This Sanguisorba "passed the exam" from the experts perfectly. Right: 'Pink Elephant' almost two meters high needs support.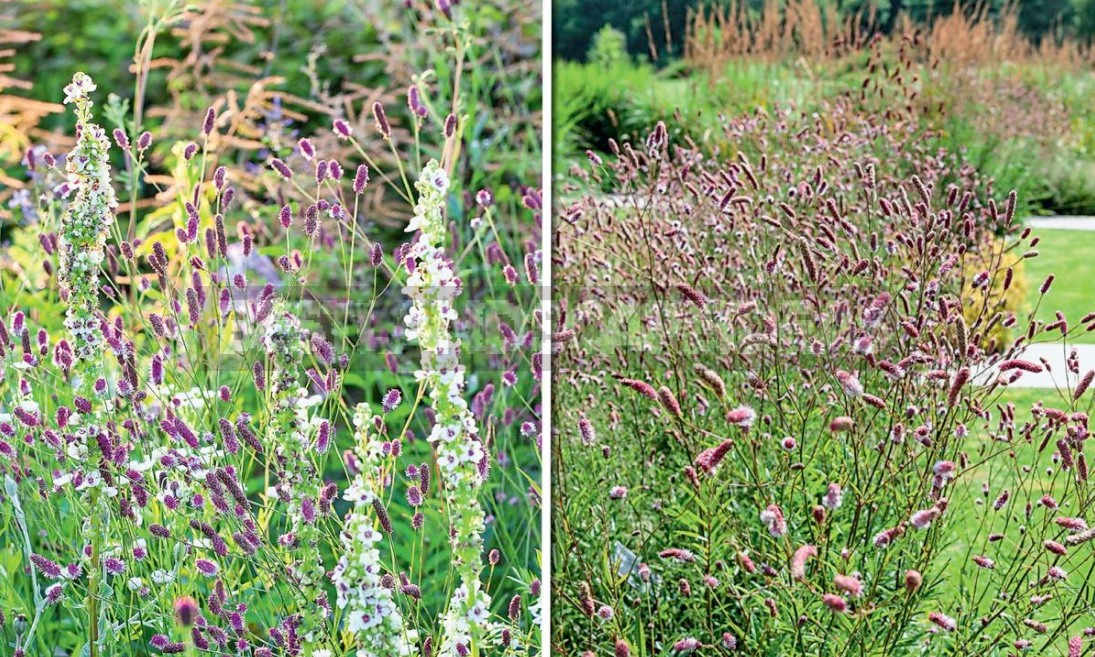 Sanguisorba in General turned out to be one of the most unpretentious plants. It grows equally well in the sun and in partial shade. Any soil is suitable for it, although moist and fertile is more to its liking — on this "basis" the Bush becomes especially lush and blooms profusely.
The undoubted advantages of the plant also include winter hardiness. Our heroine reproduces by self — seeding, but this feature is not a problem-you just need to cut the "brushes" after flowering.
Sanguisorba looks most advantageous in combination with decorative herbs, such as Miscanthus and Calamagrostis.
Among the flower plants, the elegant baby will be good partners with medium – and tall herbaceous perennials. These include astilba, Filipendula rubra, Veronicastrum and Bistorta amplexicaulis — all those representatives of the flora that fit well into the natural style of garden decoration.
In the photo on the left: if you look closely, you can see that Calamagrostis (in this case 'White Tanna') has no petals as such. The color of the inflorescences is given by long white stamens, which protrude in bundles from green-white calyxes. Right: the tandem of 'White Tanna' and red Crocosmia 'Lucifer' looks incredibly catchy. Calamagrostis of this variety experts on herbaceous perennials gave a high score.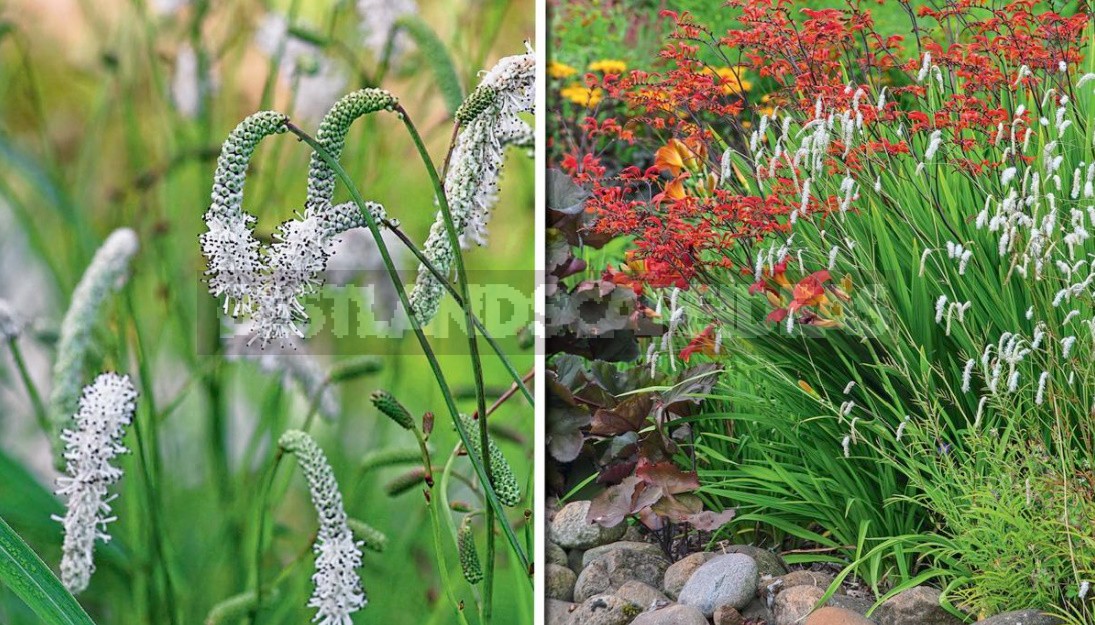 Interesting to know
Sanguisorba minor is most often grown not as an ornamental plant, but as a spice: in spring, young leaves with a pronounced pleasant cucumber flavor can be added to salads, sandwich oil or mixed with cottage cheese, or used to flavor soft drinks. You can also add young Calamagrostis rhizomes to salads.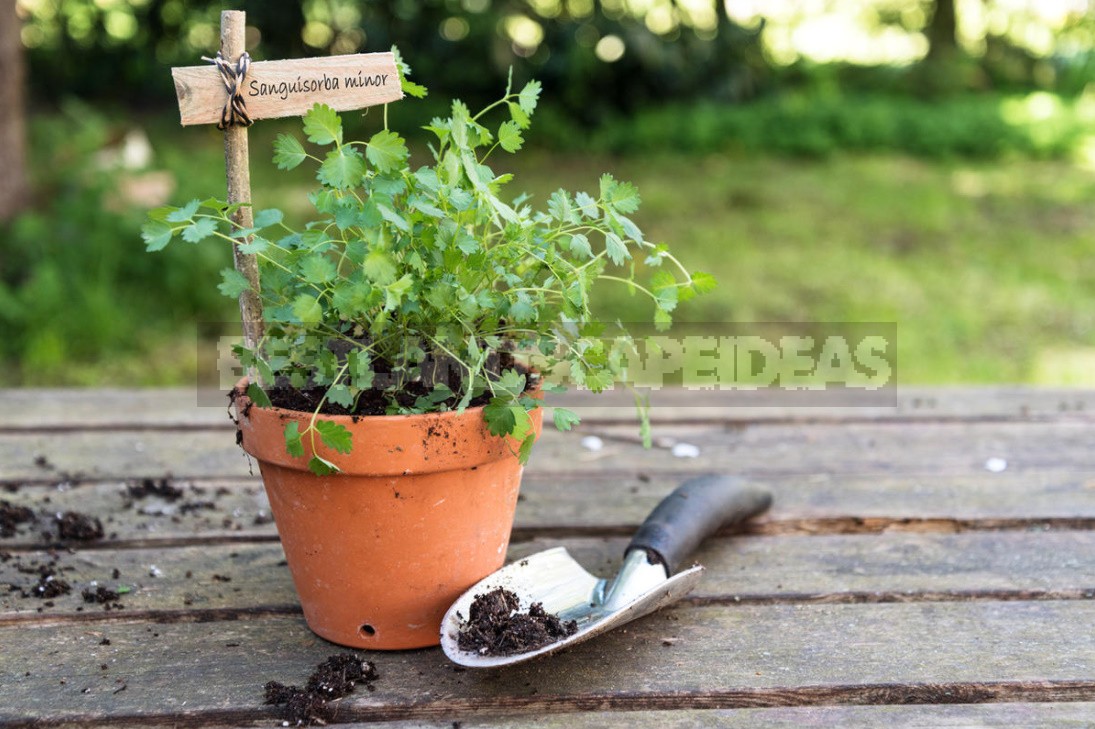 Tea, if you throw a couple of Calamagrostis leaves in it, gently stimulates the appetite, cleanses the blood and improves digestion. By the way, the green of the plant is also useful due to the fact that it contains ascorbic acid.