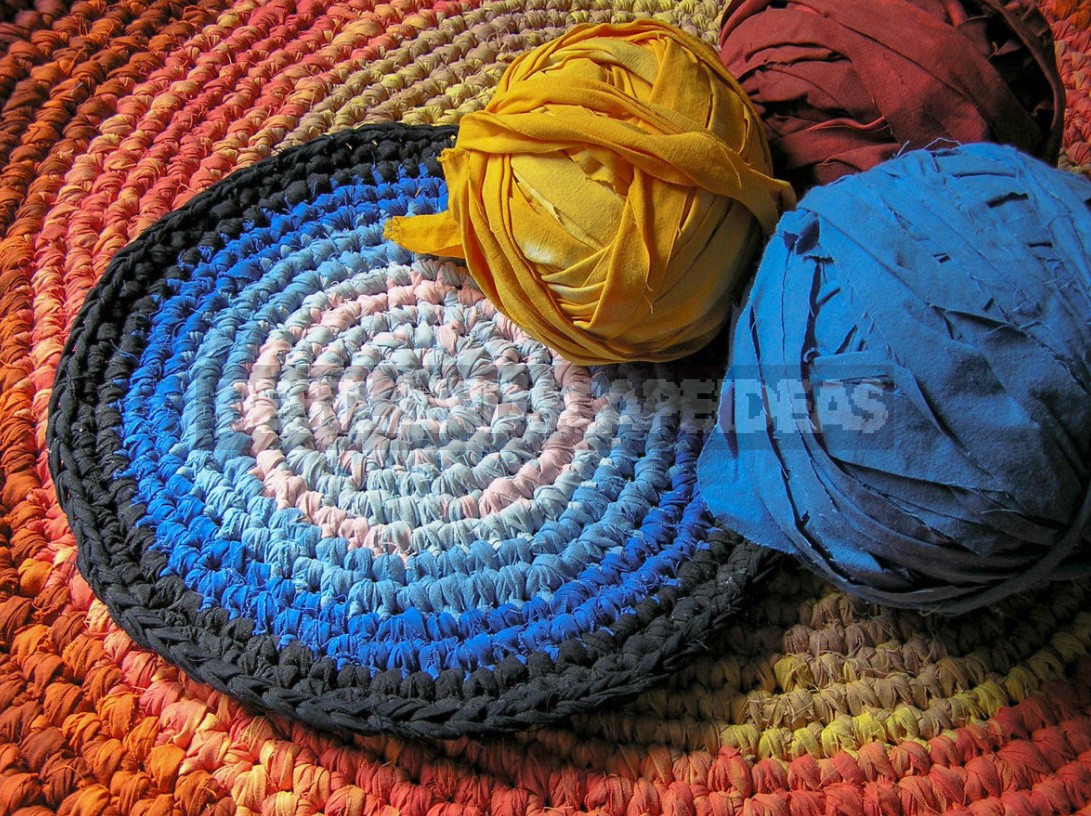 Personally, I firmly believe that there are not many mats. They need a lot and different-from wool and cotton, plain and bright, round and square, simple and original, to change not only for the season, but also for the mood. In summer, it's nice to walk on soft cotton, and in winter you can lay a prickly woolen bed, if only it was warmer.
It is clear that buying mats is not a problem now, you can even not leave the house-they will bring it, but this idea will not be cheap. But there is a way out: make them with your own hands from unnecessary things that you can probably find in the closet or in the attic. Choosing this option, we get a triple benefit: first, the mats themselves, and the shape, size and colors that caress our eyes and delight the soul. Secondly, we save a considerable amount that we can spend with a clear conscience on purchasing expensive seeds or seedlings. Third, we free up space in the closet, pantry, or attic. The cozy look of the room and the pleasure of a well-done job is a bonus.
There are a lot of techniques for making mats, and you can find master classes on any of them on the Web, so I suggest you limit yourself to ideas. Today we will admire homemade masterpieces made of fabric. Old t-shirts, sweaters, blouses, jeans, tiny scraps — everything will go to work!
Knit
Surely many people recognized the "grandmother's" rug. Yes, it used to be an attribute exclusively of village houses, but the changing fashion has turned its face to a modest handicraft product. Now interior designers are vying with each other to advise clients to decorate respectable villas with the simplest handmade rugs-it's stylish. And it's easy to make it: cut an old t-shirt (pillowcase, towel, dress — whatever you have) into narrow strips, sew or tie them together, and you can get to work.

If you knit from a strip of fabric, the rug will be soft and cozy. Many people prefer the improved version: tie a strip of fabric with a thread, then the product turns out to be more dense, it holds its shape better.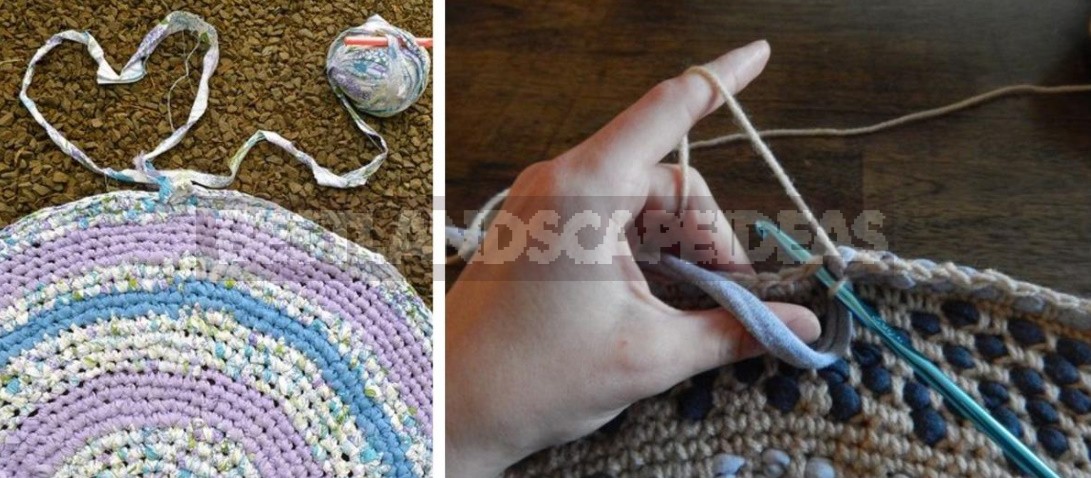 Color combinations can be the most unimaginable. And don't be embarrassed if it turns out too bright: the main thing is that you like the result.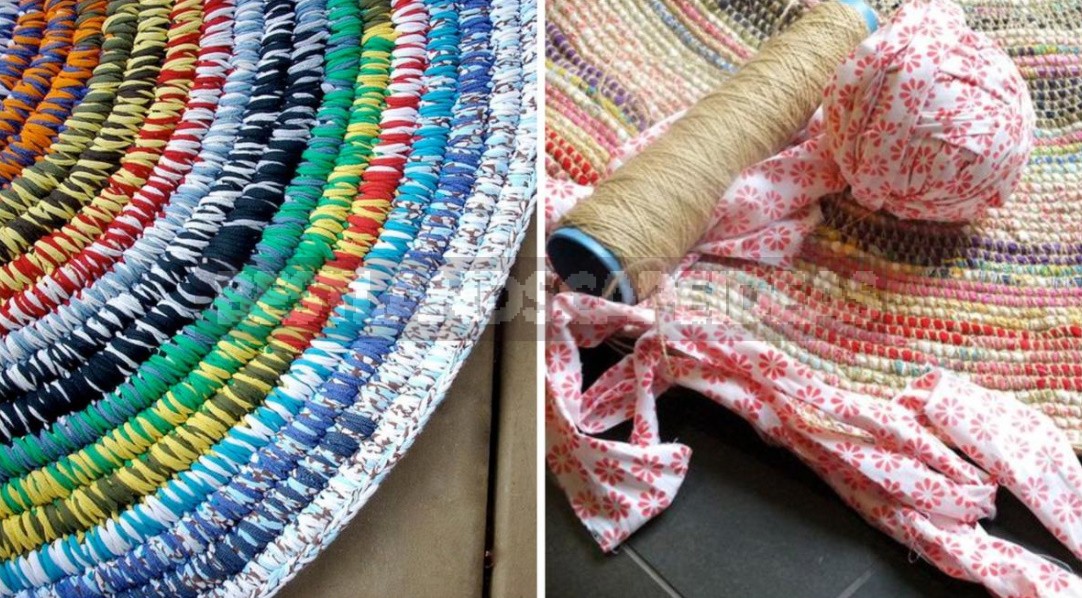 In this technique, it is quite difficult to make smooth edges for rectangular rugs, but I would not grieve about this. In my opinion, the lack of perfectly straight lines only emphasizes the originality of the product.
Woven
The name is serious, but in fact everything is simple: the usual braid. For the base, they often take strong threads, then the Mat will live longer. But you can make it from the same strips of fabric, it will also turn out well.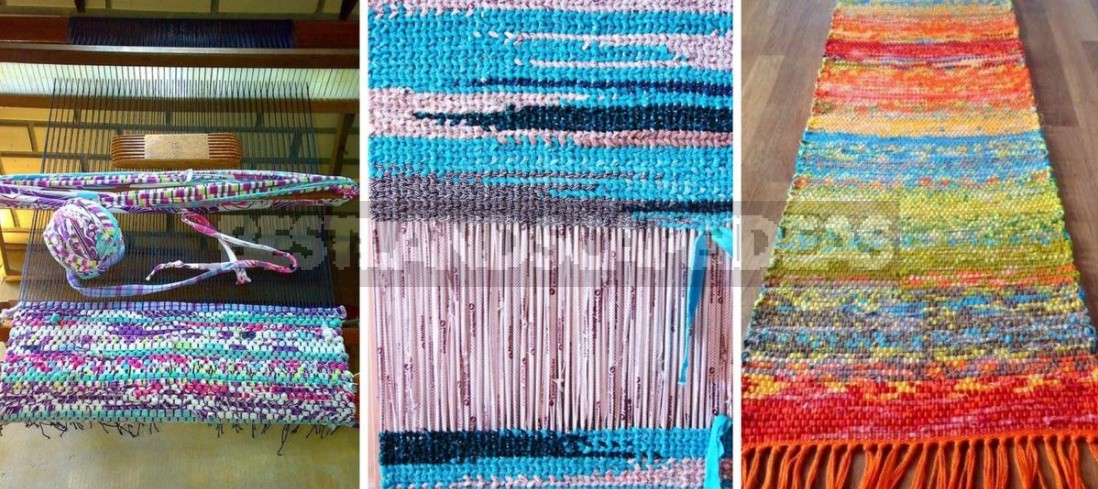 See what happens in the end: on the left, threads are taken as the basis, on the right – strips of fabric.

To create rectangular rugs, you will have to build a kind of loom: make a wooden frame, drive small carnations into the upper and lower planks. The closer the nails are to each other, the more threads of the base, the denser the canvas will turn out. And for round mats, you can do with simpler options: attach the warp threads to a gymnastic Hoop or cardboard.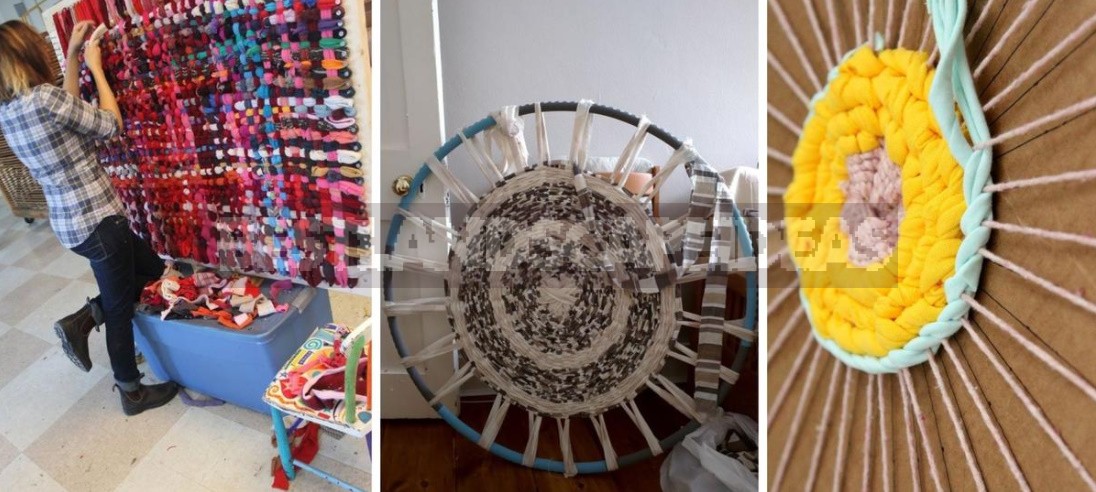 Fans of large textures will definitely like these options. And if each of the strips is filled with sintepon and sewn along the edge (of course, before weaving), the Mat will turn out much warmer and softer.

Pigtail
Very simple and pleasant way: everyone will be able to weave a pigtail, and you can connect them in various ways: sew them by hand, stitch them on a sewing machine, glue them to the base.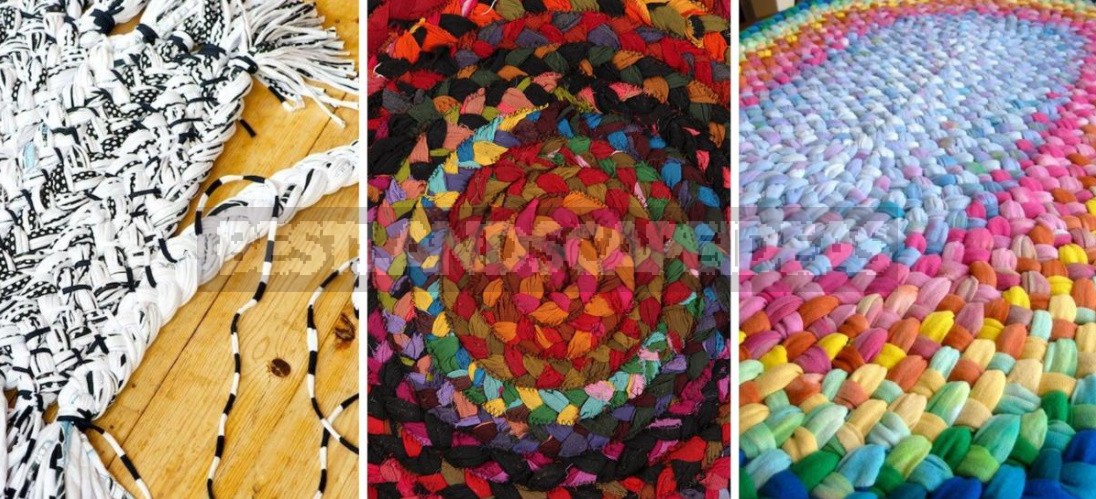 Some mats are so good that you want to repeat them exactly. It's a pity, but it's unlikely. Admiring the riot of colors, for some reason I remembered that psychologists advise that in the gloomy winter months, specially add warm colors to the interior for a good mood.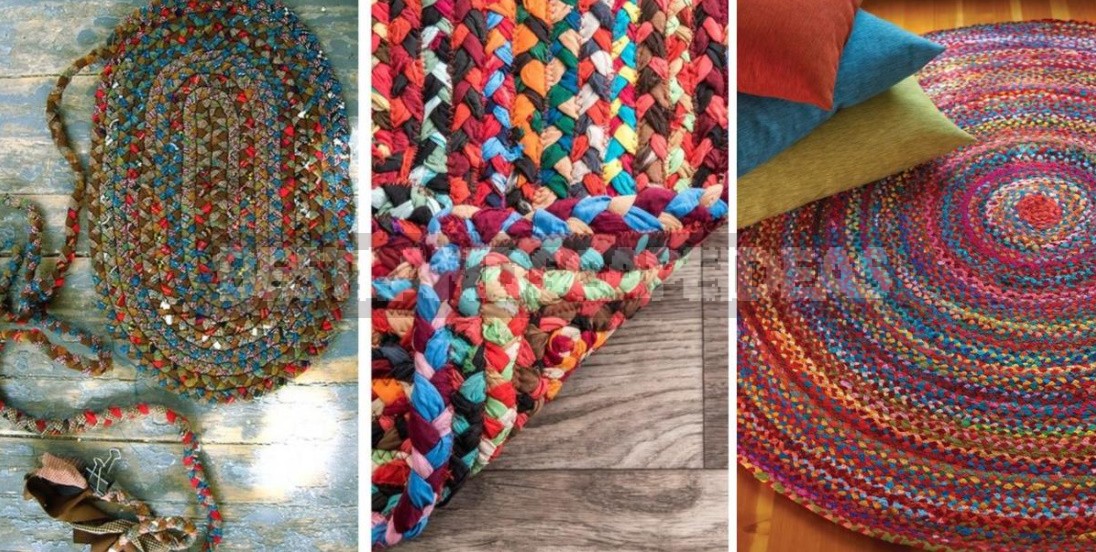 Old towels and bathrobes may well find a second life with your help. Just look at what wonderful rugs are made from Terry cloth! And how nice it is to step on them with bare feet! Perfect for a bedroom or bathroom.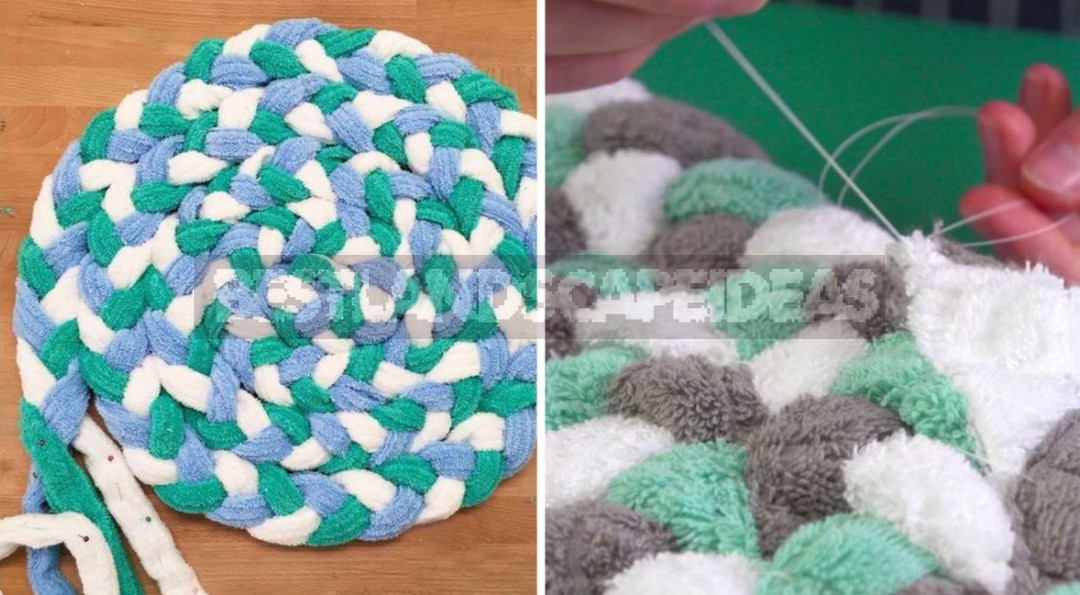 Shaggy
They are also easy to make: short pieces of fabric are tied to the base-canvas (grid), it can be found in needlework stores. The size of the cell is chosen in accordance with the thickness of the pieces of fabric that will stretch through it. However, a good Foundation is not cheap. Once again, our savvy craftswomen came up with an alternative option: to sew pieces of fabric to the base. In the photo, they are in a straightened form, and if you fold each flap with the edges inside, the appearance of the product on the grid or on the fabric base will be almost the same.

You can practice abstraction, and a little stuffed hand, go to the creation of more complex images, blooming meadows, for example.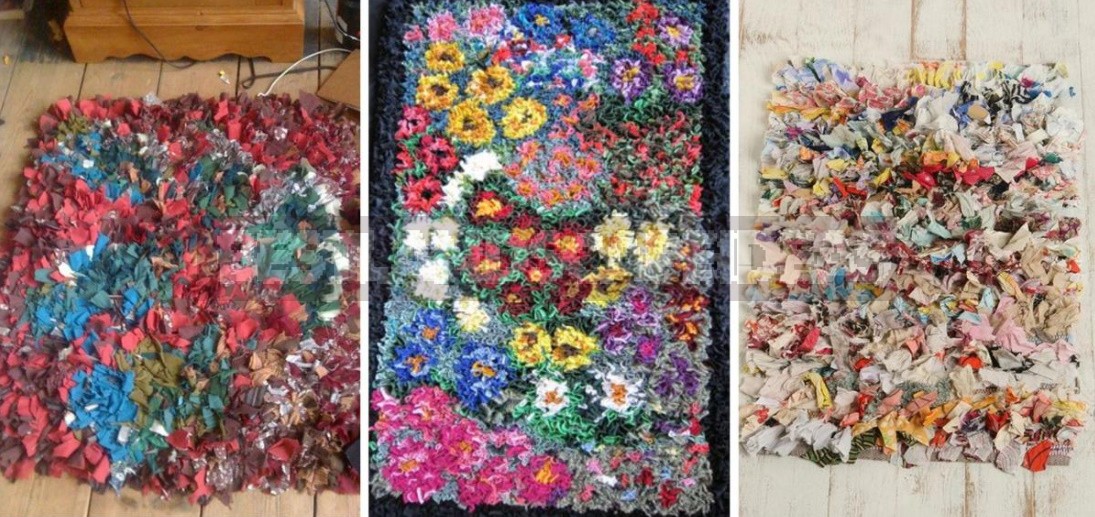 It's pretty good, isn't it?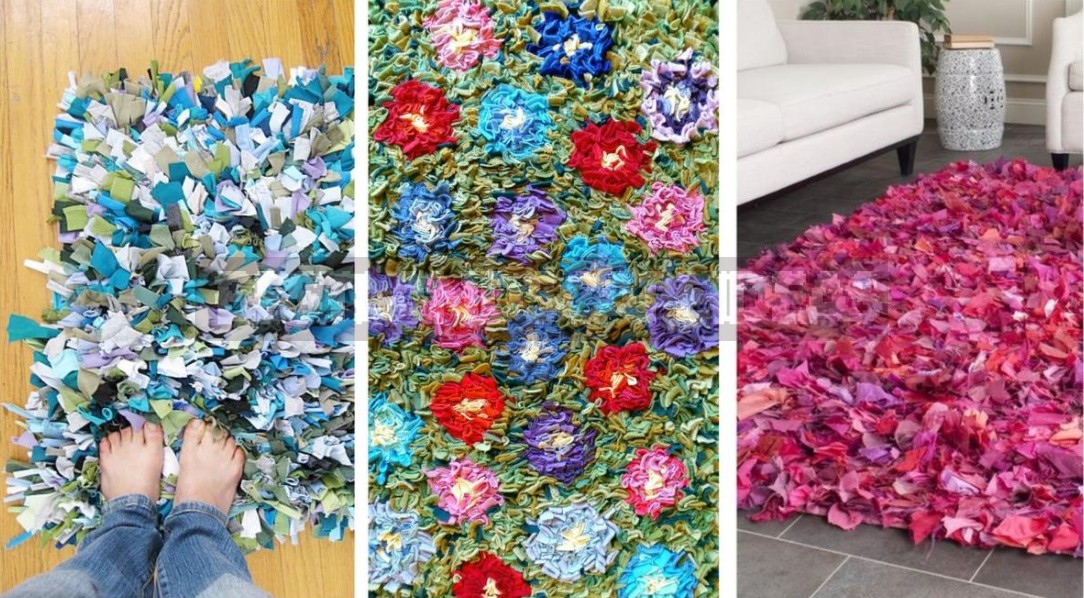 Patchwork
But what about without it? Perhaps, there are the most ideas in this technique, and each one is good in its own way. But we decided that there should be a lot of mats, so we don't have to choose, right?

Very beautiful doormats made of parts with filling: most often it is a cord or a thin rope, less often-rolled up strips of fabric. They can be sewn by hand, but much more beautiful look connected by machine seam "zigzag".

How beautiful it turns out! It's a pity to walk on such roads.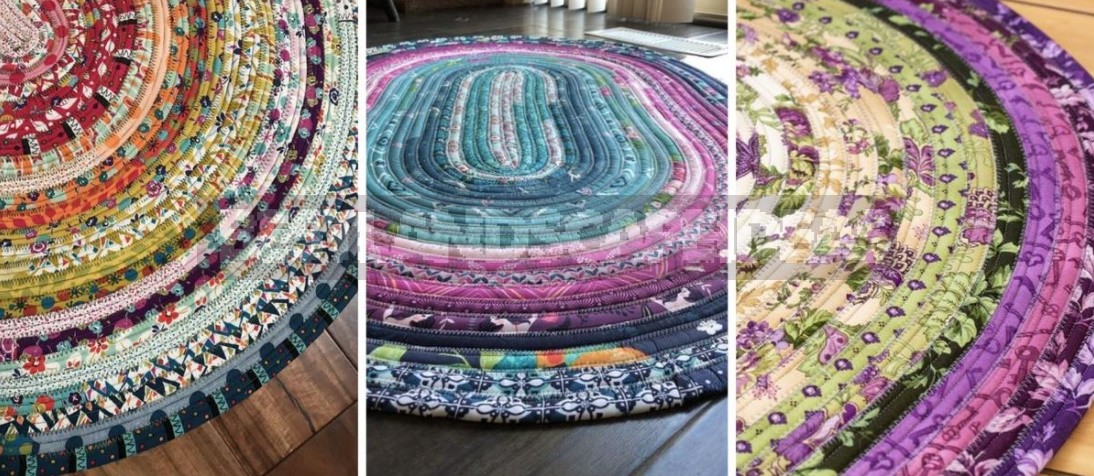 If you like large fragments, please! If you prefer smaller parts-no problem!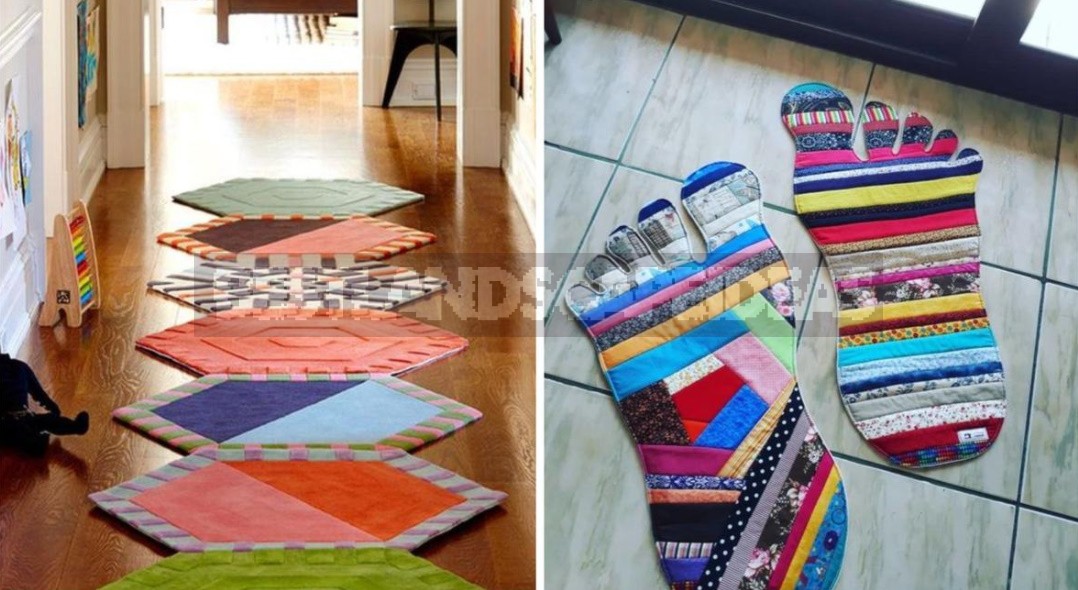 Well, these ideas are clearly for patchwork aces — a beginner is unlikely to have the patience to create such a complex design.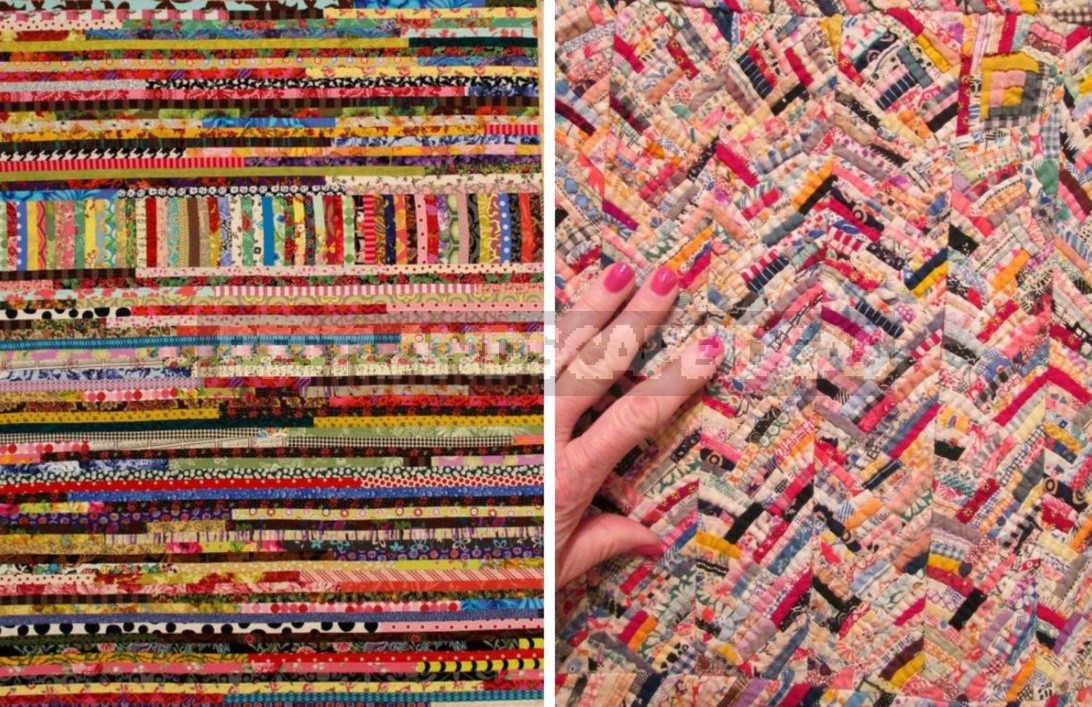 If you are sad about summer in winter, mats in the form of flowers and butterflies will help to brighten up the gloomy cold days.

And here is a charming kind of patchwork — hand stitch. I really like it, I will definitely try to make at least a small rug (for a start).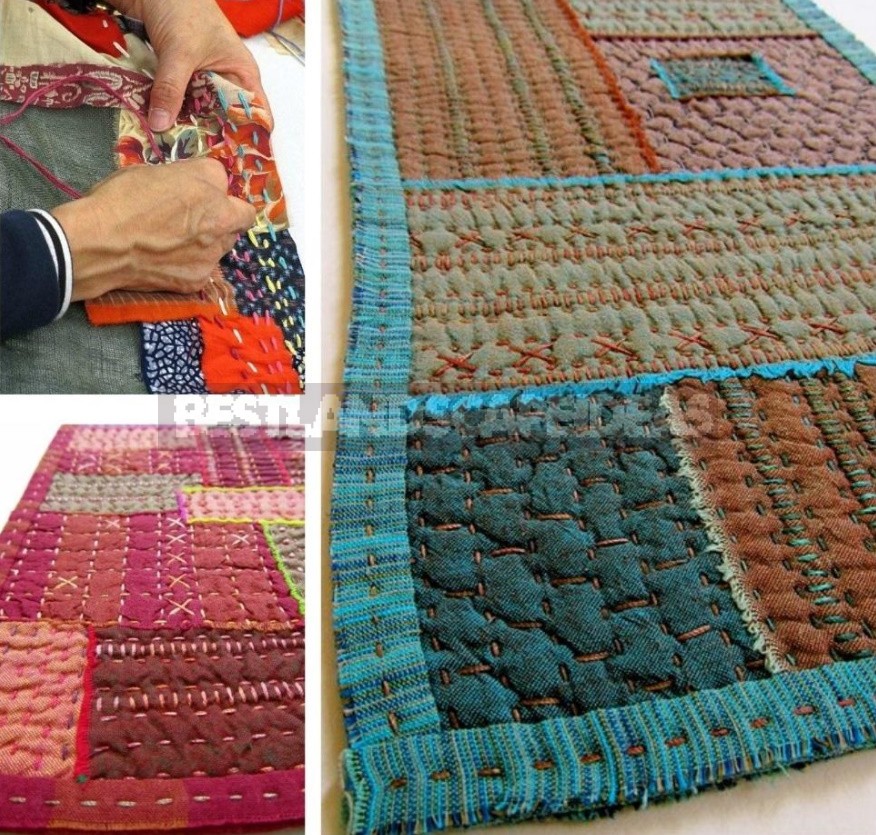 Perhaps someone will help out this simple method: just lay on the base of the fabric trim and quilt. The closer you lay the seams, the less likely it is that the edge of any flap will remain unstitched and will spoil the overall look, proudly flying over the smooth surface of the Mat. If there is a decorative mesh (I once used a cut of tulle – it turned out perfectly), put it on top of the scraps and then sew it, – everyone will lie like a cute!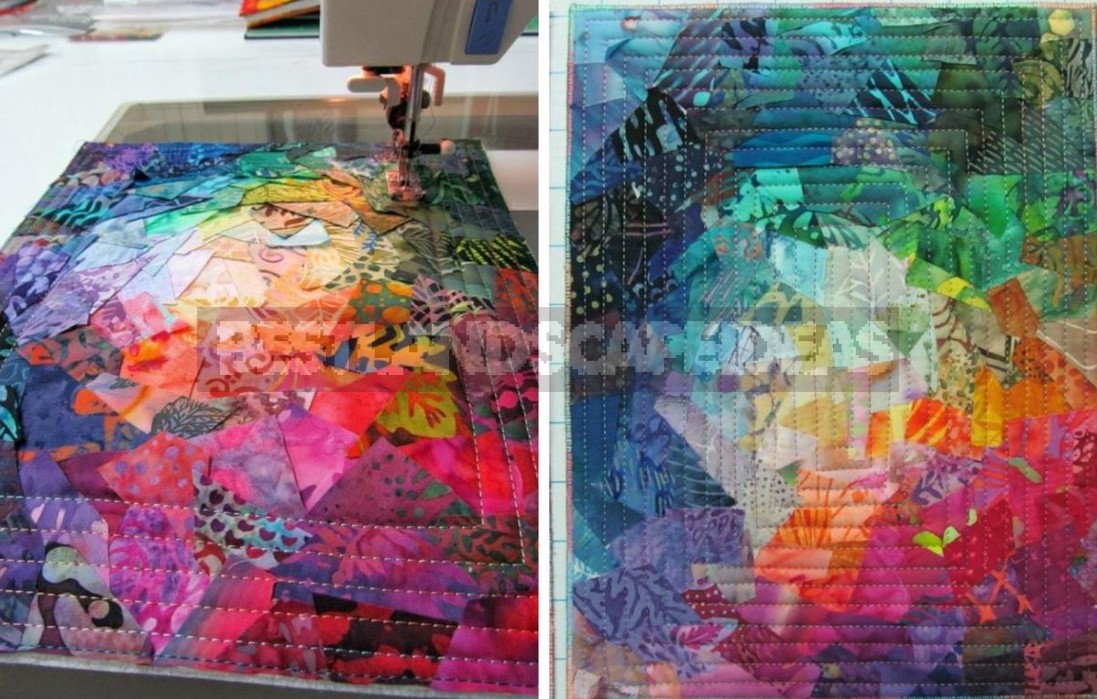 I could not pass by the cute ideas for the nursery with indifference. In addition to the main function — not to let a small ass freeze on a cold floor — these mats will help your child develop spatial thinking, logic, patience and other useful skills. The puzzles in the photo on the right are made from scraps of felt, which can be successfully replaced with a woolen knitted fabric. Just before starting work, wash an old sweater or dress in hot water: the item will decrease by several sizes, but the fabric will become so dense that the edges of the sections practically do not dissolve.

Made of denim
That's what every home probably has in abundance, so it's unnecessary jeans. The steel is small, the lightning is out of order, and children and grandchildren fill up the deposits in the attic with outdated models. Well, where to put all this stuff? The fabric is good, strong, throw the hand does not rise. And that's right: you can make a lot of useful things for your home from them!

The already familiar sewn braids look charming, the stylish hand stitch pleases the eye, and the fluffy Mat on the net hugs the feet pleasantly.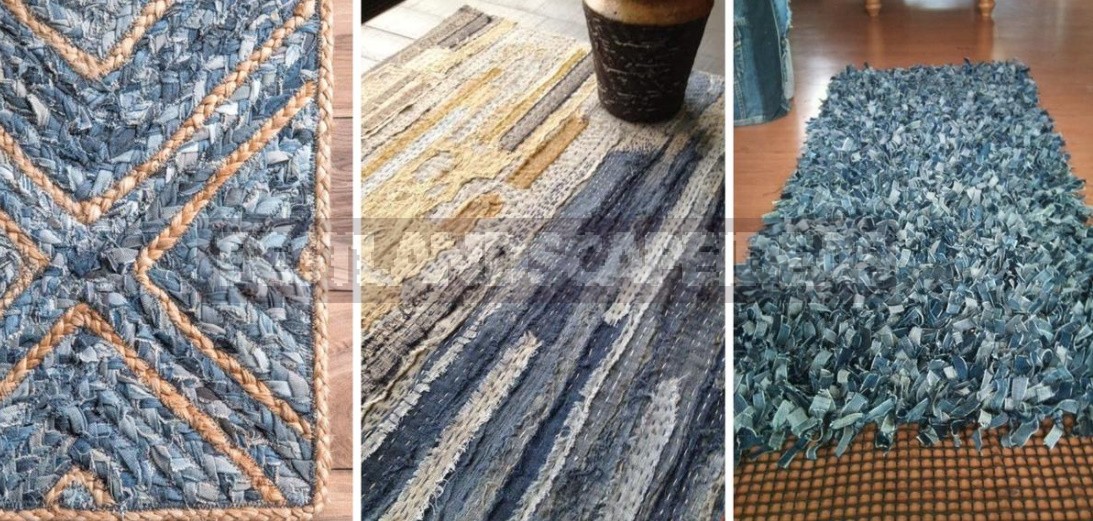 Or here is such a simple option: narrow strips of fabric sewn on a dense base. Do you know of any other simple method? Share with us, for sure many people will like the mats made of jeans, and there will certainly be no problems with the materials for making them.
Patchwork corners
You can also sew it by hand, although it will be much faster by car. The manufacturing technique is simple: fold a piece of fabric with a corner (envelope, semicircle with folds-as your heart desires) and sew it to the base.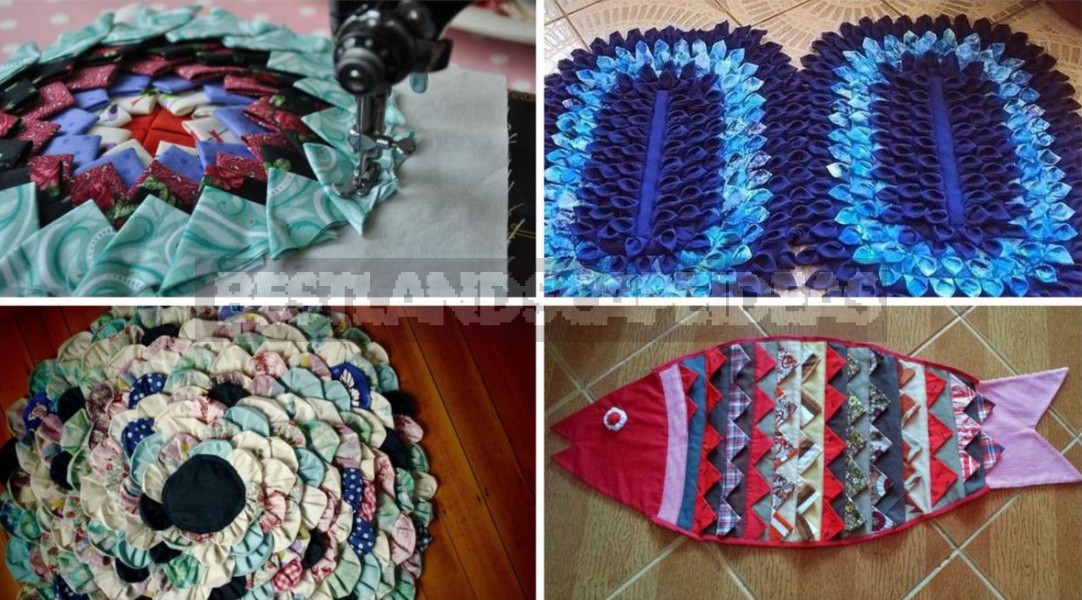 Looking at these man-made masterpieces, I couldn't help remembering the bright symmetrical patterns of the kaleidoscope.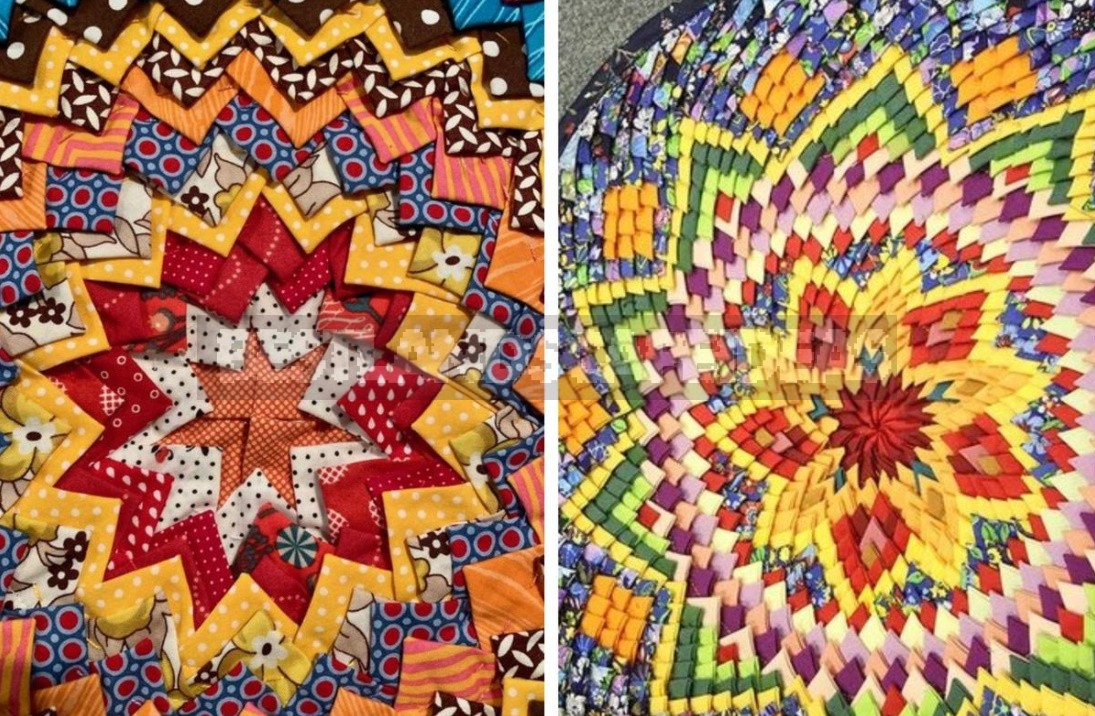 Artificial stones
Only for the patient, because there is a lot of work here: first make the blanks, and then assemble them into a single whole. However, the result is worth it — the mats are extremely beautiful and unusual.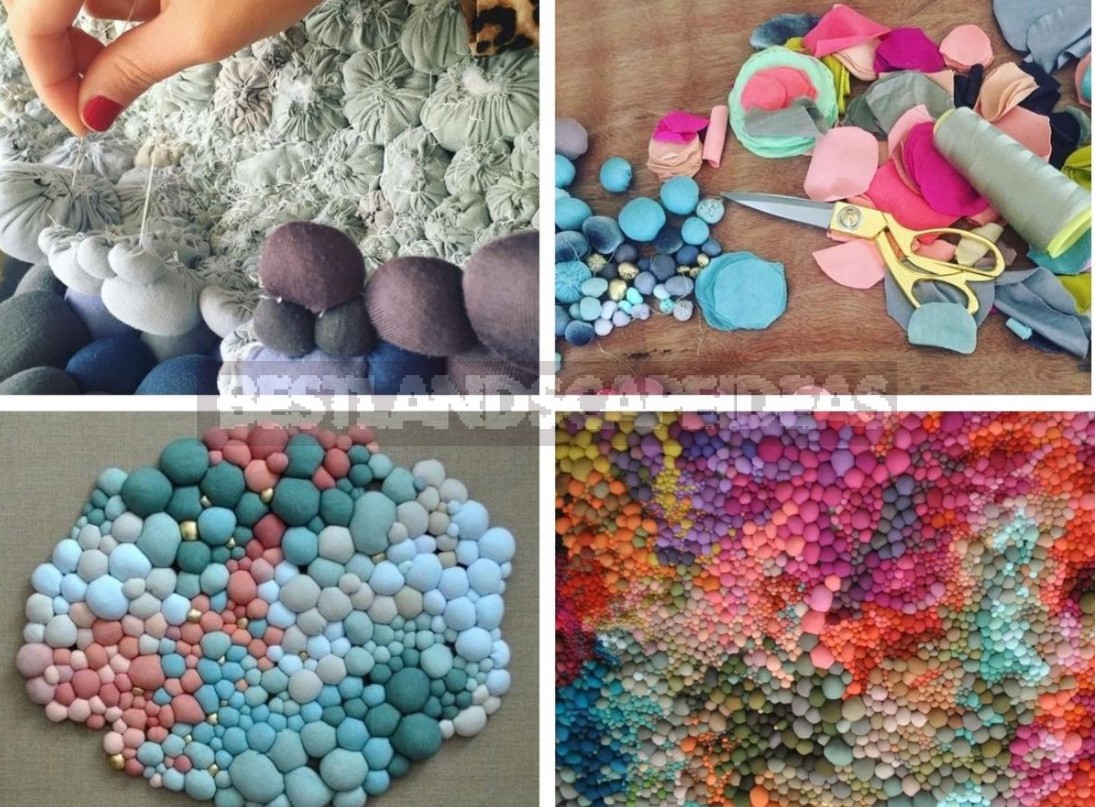 From felt
From such a good-quality material, you will get an extremely warm and cozy rug. But just putting a felt square or circle on the floor is not for us, it's too easy. How to decorate woolen gray? You can see a couple of possible options in the photo. I think it is not necessary to explain what exactly needs to be done, everything is clear without words.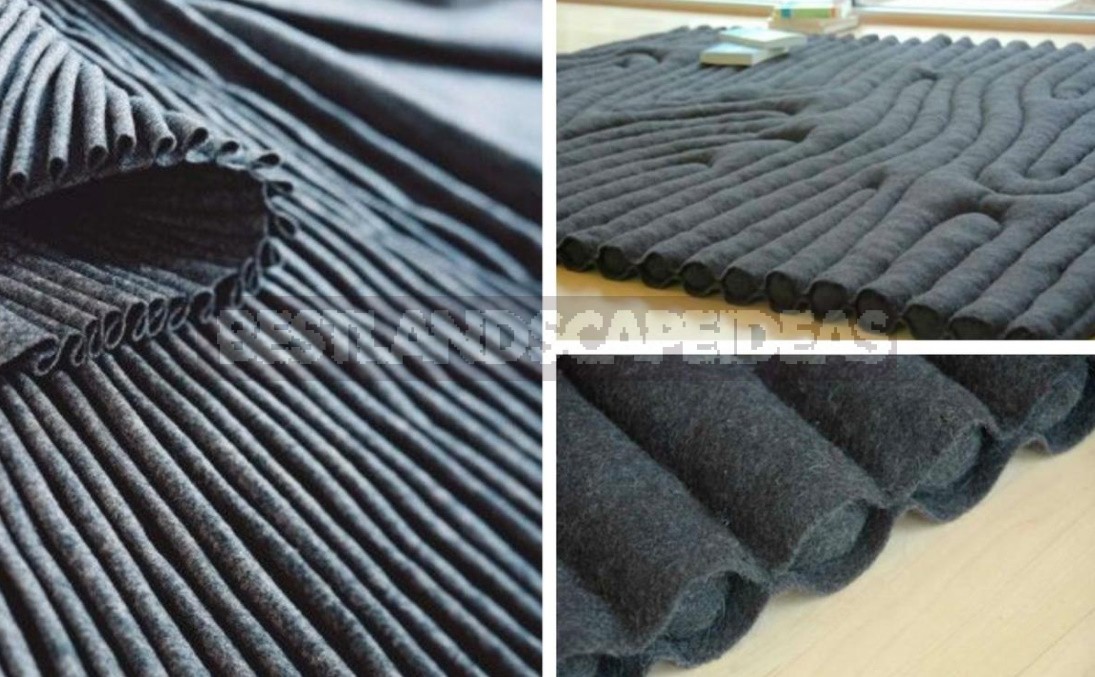 «Snails»
Fans of collecting mats from small fragments will surely like this idea.

Well, I think I showed you everything I saw. I believe that I was not able to find all the ways to create mats from fabric. So don't hesitate to add some ideas that have passed my attention. And if you already have fabric mats, share with us photos of your creativity, because there are never many ideas for inspiration (as well as kind words to the craftswoman)!