Soon spring will break out with a fireworks display of colorful colors. But before that, you need to walk around the garden with a pruner and a knot cutter in your hands to provide new "hairstyles"for the plants. Then trees, shrubs and herbaceous perennials will open a new garden season with new forces. But how can "whom" be "cut"? And when? It is absolutely impossible to rely only on intuition in this matter!
"Haircut" is one of the most important procedures in the care of ornamental plants. If everything is done correctly, they will become stronger and will bloom more abundantly.
So, in the spring it's time to trim:
Traditional early-flowering plants, such as Spiraea ×arguta, Ribes sanguineum and Philadelphus coronarius, can be pruned immediately after flowering.
In the case of magnolia, Acer palmatum and Hamamélis, the pruner should generally be removed away, since these representatives of the flora themselves have a beautiful "appearance" and also do not tolerate pruning.
The situation is quite different with numerous summer-flowering plants: for lavender, Hydrangea paniculata and Buddleja, pruning is equivalent to a rejuvenating procedure — they should be strongly "cut".
All old stems and peduncles of ornamental grasses and autumn-flowering herbaceous perennials are best cut in early spring.
But with the correction of the crown, bush or appearance of remontant roses, you should wait until the forsythia blooms.
In general, the stronger the pruning, the more new shoots the plant forms. Thus, it is possible to stimulate the branching of poorly growing woody representatives of the flora. If there is no such goal, it is enough to slightly shorten the branches and thin out the bush itself. In response to such care, the plant will please with a lush flowering and a harmonious "appearance".
Roses
Tea-hybrid and flowerbed roses
The optimal time for pruning remontant roses is considered to be the moment of flowering of forsythia: this is a signal that the severe frosts are already over. It is always necessary to shorten the stems to the kidney directed outward of the bush. Make the cut oblique and place it over the kidney at a distance of 0.5-1 cm. The further course of action depends on the growth activity.
In strong-growing flowerbed and tea-hybrid roses, a frame of 5-6 of the youngest and strongest skeletal branches should be left, which must be shortened to 5 buds.
In varietal plants with weaker growth, it is necessary to leave 3-4 skeletal branches with 3 buds on each, so as not to exhaust the bush.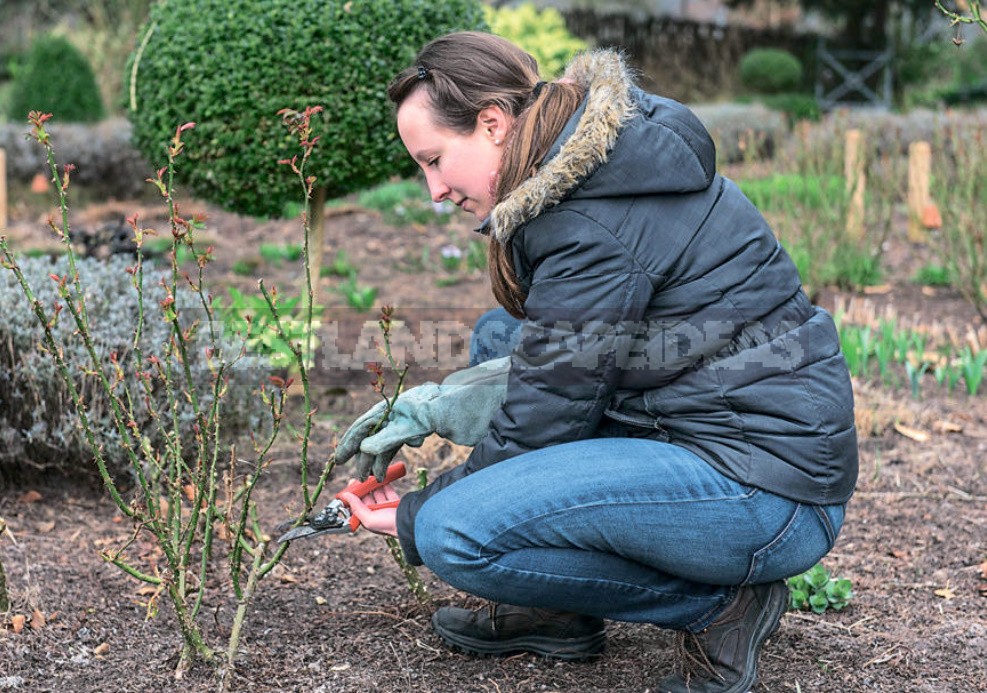 In summer, roses should remove all withered flowers until the first well-developed leaf.
Lush flowering of climbing roses
In order for the repair beauties to bloom tirelessly, in the spring you need to cut out all the old stems, leaving 5-6 strong annual increments (if there are few of them, then several biennial ones) and shorten the side shoots on them to 3-5 buds (photo below on the right). In single-flowering climbing roses, flowers are formed on last year's increments, so the bush is only thinned after flowering in summer. If necessary, you can remove a couple of the oldest skeletal branches — then the plant will not "sparkle with bare legs".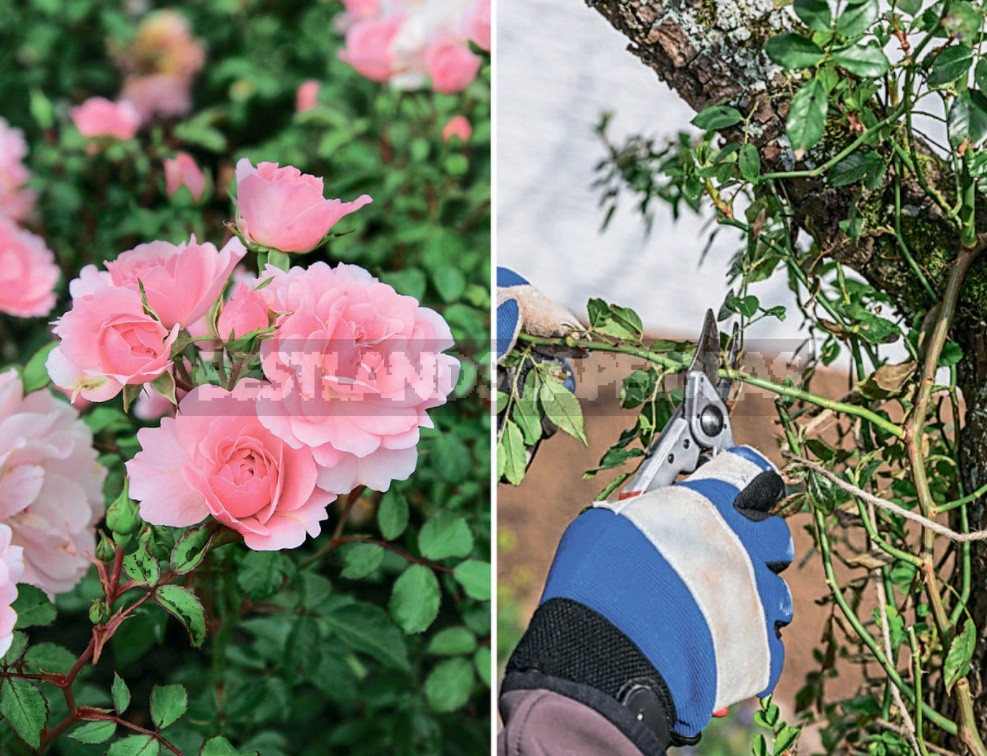 Tip: after cutting, the lashes of roses should be tied to the support, pointing horizontally or at an angle — this additionally stimulates flowering.
A variety of shrub roses
For their correct correction, it is again important to know whether a rose belongs to a remontant or a once-blooming variety. In the first, flowering occurs on young shoots. In such plants, strong shoots should be shortened by a third of the length, and those that are weaker – by half. Very old and very thin branches should be completely removed by cutting off at the base. In single-flowering shrubs, and numerous park ones, including, flower buds are laid on last year's shoots. Therefore, such plants can only be slightly thinned after flowering.
Mandatory pruning of lavender
This beloved by many semi-shrub in the spring must be cut off. Otherwise, the shoots are exposed in the lower part, gradually "balding" higher and higher. Every year in the spring, the stems should be shortened by about a third of the length, giving the bush a semicircular shape.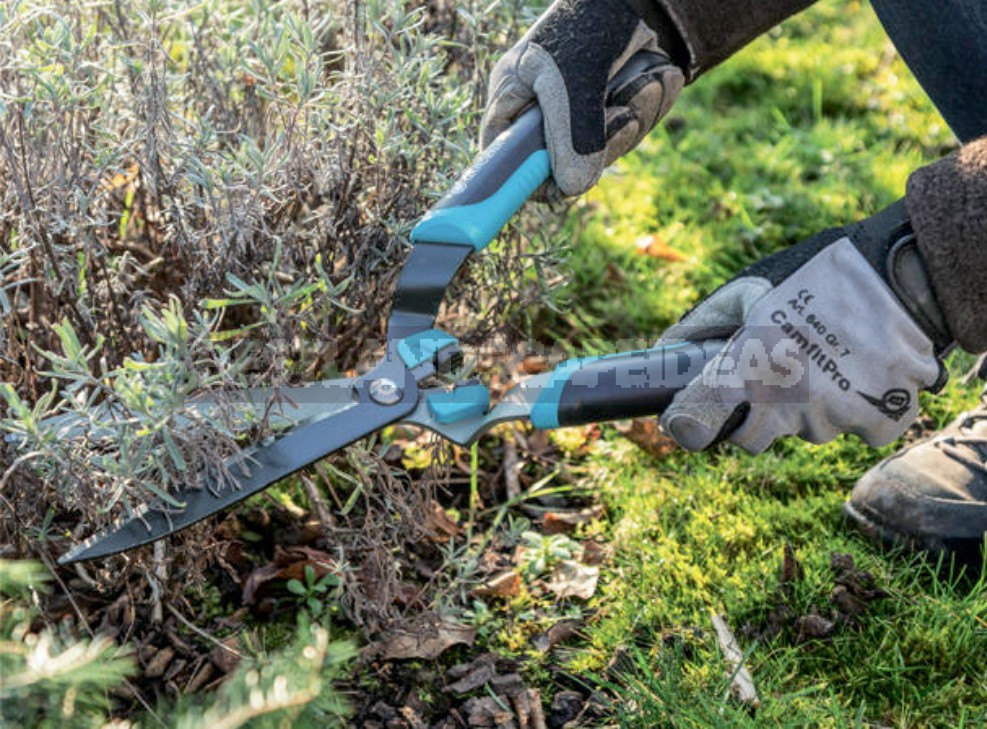 Important: it is necessary to cut not to the most lignified part of the stem, otherwise the plant will not be able to give new shoots.
After flowering, the bush should be cut again. This time, the peduncles with 2-3 upper pairs of leaves are subject to removal. In the same way, you can keep in good shape and maintain a compact appearance in other woody herbs, for example, Sālvia officinalis, rosemary and thyme.
Summer-flowering spiraea
These plants are divided into spring – and summer-flowering species. The latter include Spiraea tomentosa, S. japonica, S. x billardii, S. x bumalda, S. douglasii and some others. They have flower buds formed on young shoots. Therefore, in the spring, all the old last year's gains can be completely cut off.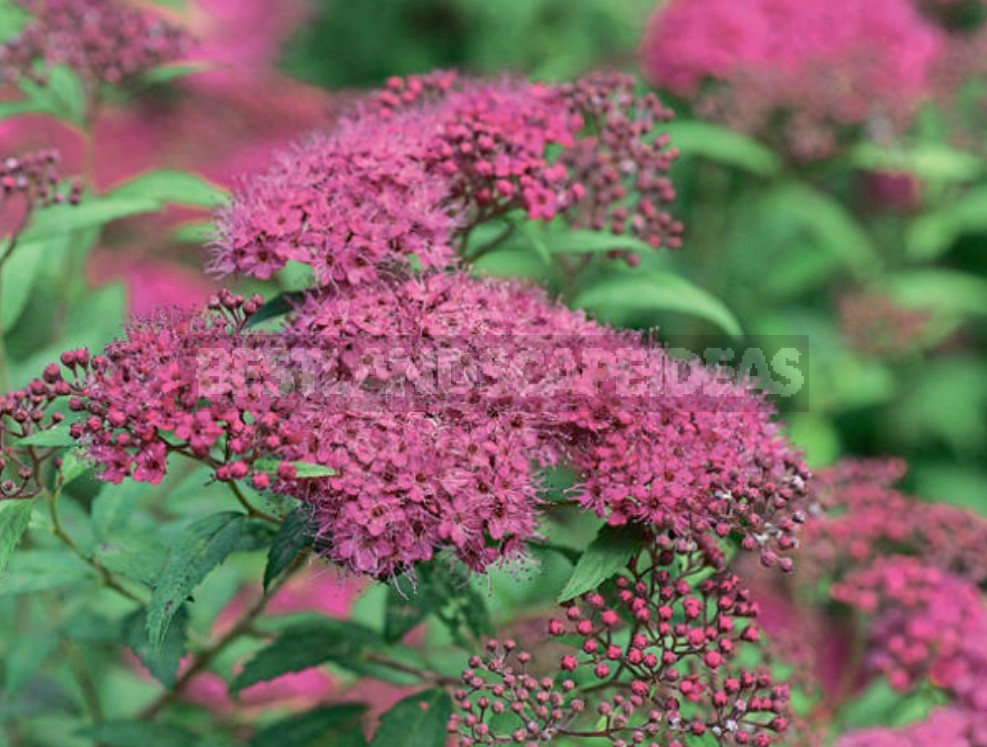 Thanks to such a radical change in appearance, these shrubs bloom profusely, and variegated spirea, for example ' Golden Princess', also delight with a particularly bright color of the leaves. Unlike the above-mentioned S. x arguta and S. xvanhouttei form inflorescences only on last year's increments, so they should be "cut" exclusively in the summer, after flowering.