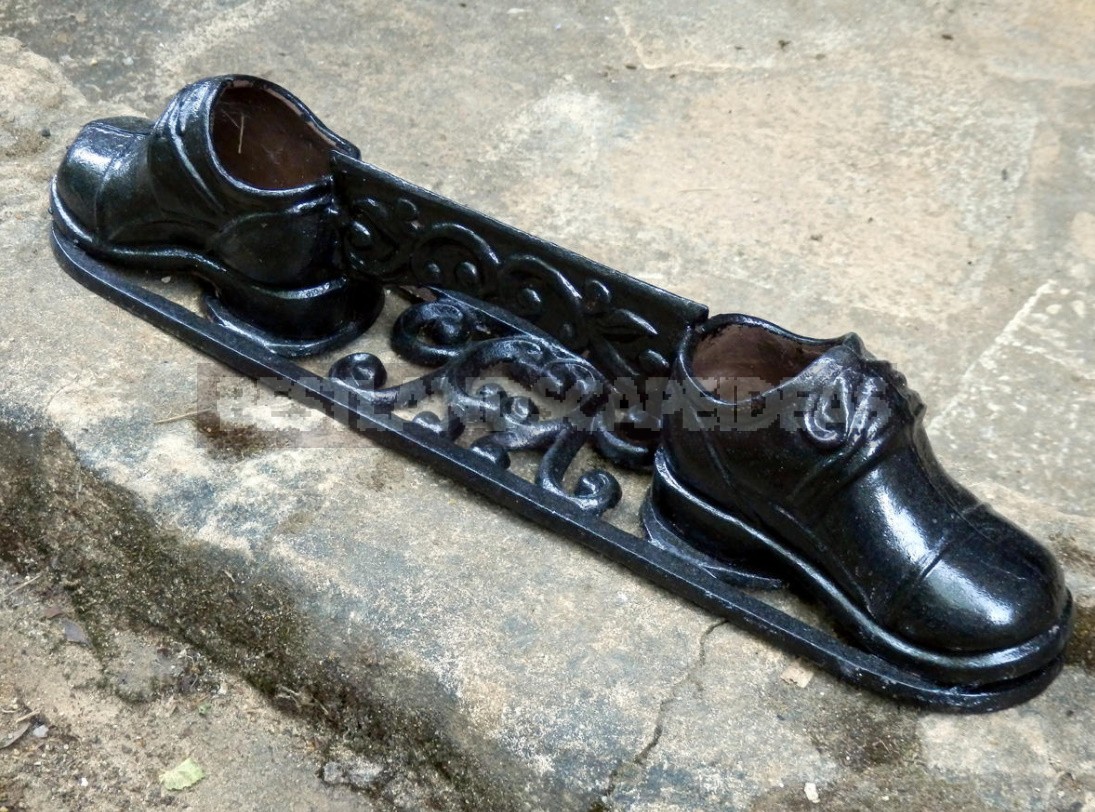 Somehow it turns out that I only remember about the Shoe cleaner at the beginning of winter. In summer, there is almost no need for it: you can't go to the garden after a good rainstorm, and the land dries up quickly. Autumn usually begins around the middle of October, and it doesn't often spoil you with rain, so the problem of dirty shoes only timidly reminds you of itself. Only when the slush begins, and every exit to the garden is equated to training the leg muscles with a weighting, the cleaner becomes a relief from physical and mental (I can not stand the dirt stuck to the sole!) sorrows.
While the honorary duties of the Shoe scraper are assigned to the shovel. She doesn't mind, but I'm extremely uncomfortable, it was designed so that the foot doesn't slip, but I need just the opposite. In General, I decided to look at the cleaners on the Internet to look for a suitable option for your site. Well, since I'm probably not the only one who still doesn't have such a useful thing, I want to share my ideas with you.
It couldn't be simpler
Practical scrapers that do not pretend to be a decoration of the site, well clean the dirt from the sole and sides of shoes, but "rough". A low-legged scraper won't do for me. When I come home from the garden, I carry a decent clod of earth on each foot. Perhaps, after one boot, the slide will be level with the cleaning bar, where will the dirt fall from the other boot?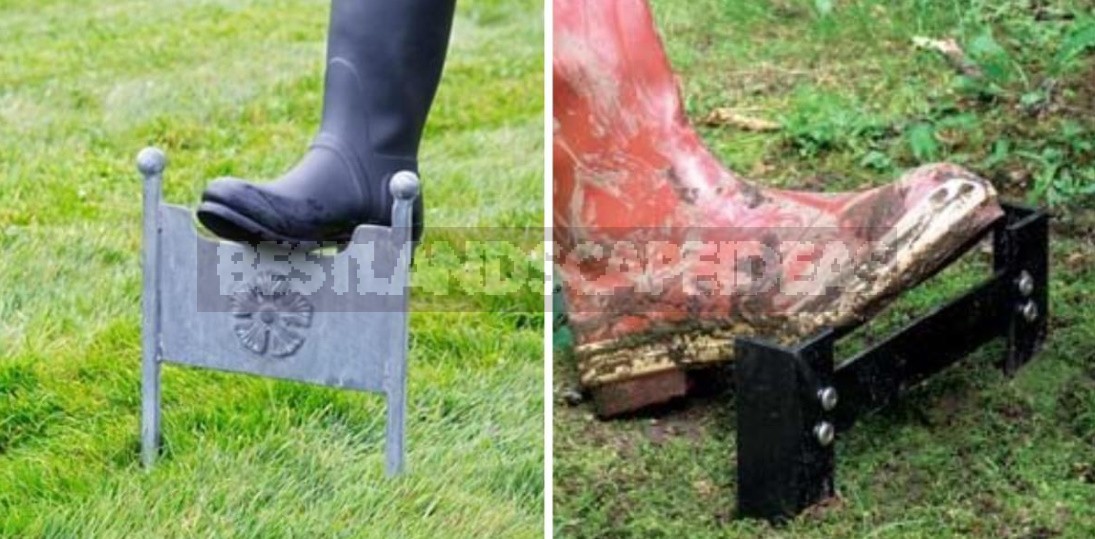 Another thing is a high — legged cleaner, – you can use it all day, and remove the dirt only once. Very convenient.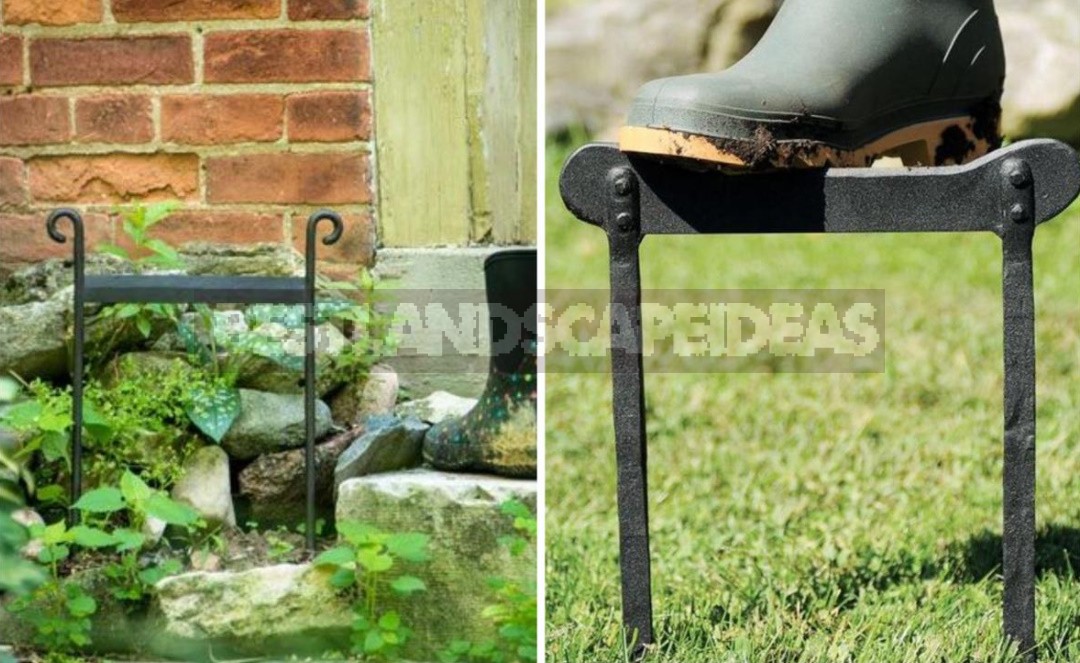 Well, if you choose the option with a pallet, everything that sticks to the soles will remain a compact hill to lie in it, and will not lie in picturesque lumps around the scraper.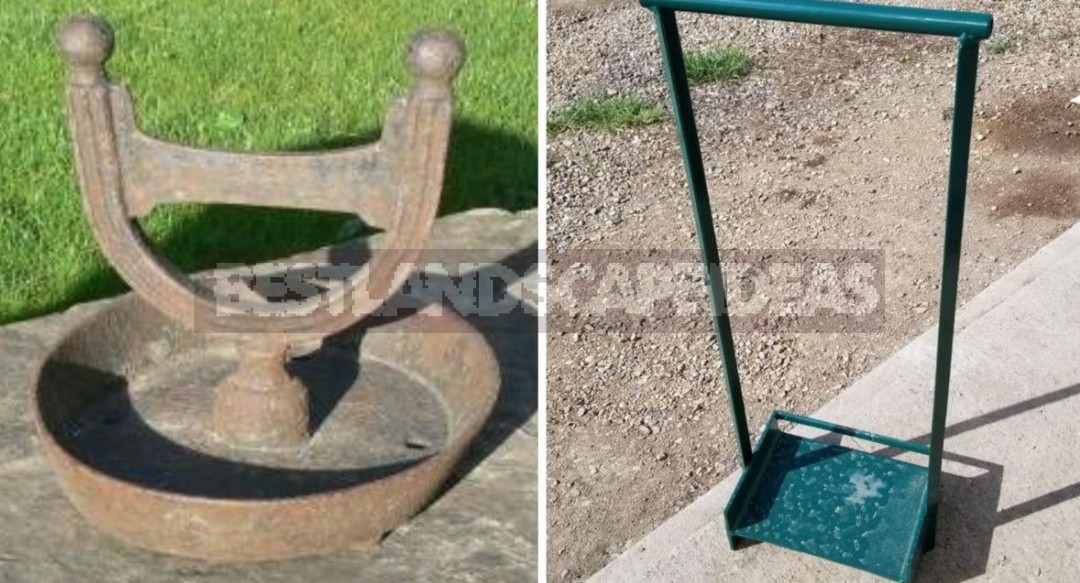 Handles will also be useful: sometimes the ground is so firmly held on the shoes that it does not hurt to rest on something.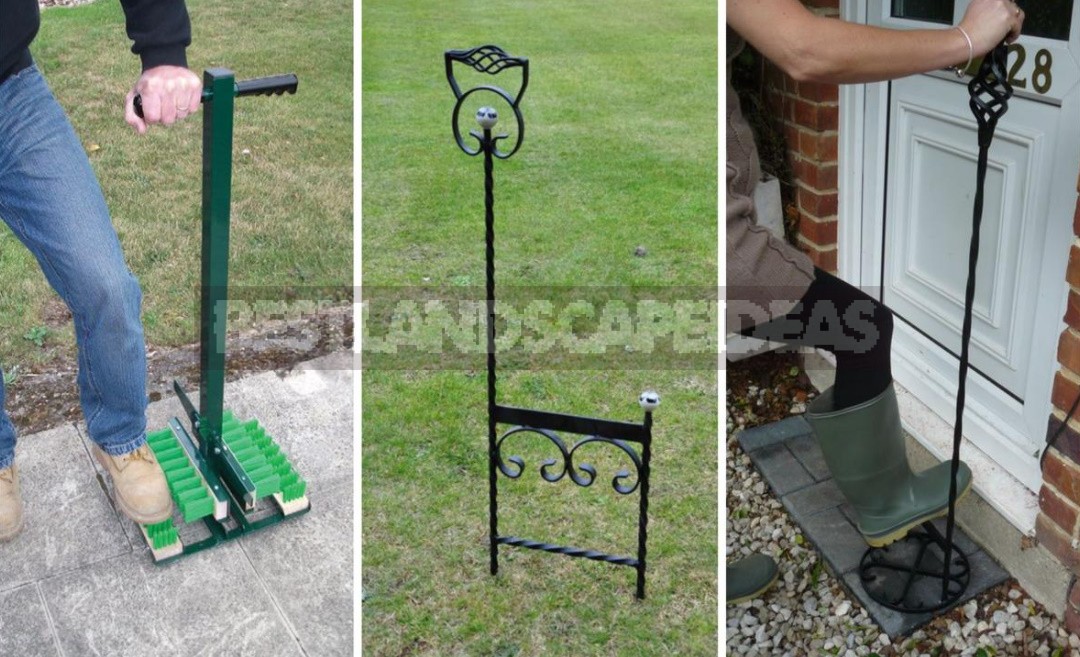 And it's easier to keep the balance this way, which is also important. I once tried my best to scrape a thick cake of viscous black earth off with a shovel, but something went wrong. My foot slid off and pressed down hard on the canvas, and because I was holding on to the handle, I collapsed on the wet grass with the tool in my arms. Well, there was also a bit of dirt, so I got a very picturesque view. When I entered the house, my husband, with a great effort of will, suppressed a laugh, very meekly asked what it was necessary to do in the garden to end up looking like this. Therefore, the option in the photo on the left certainly will not choose (an extra reminder of the flight), but the one on the right is quite nothing: simple, but elegant and convenient.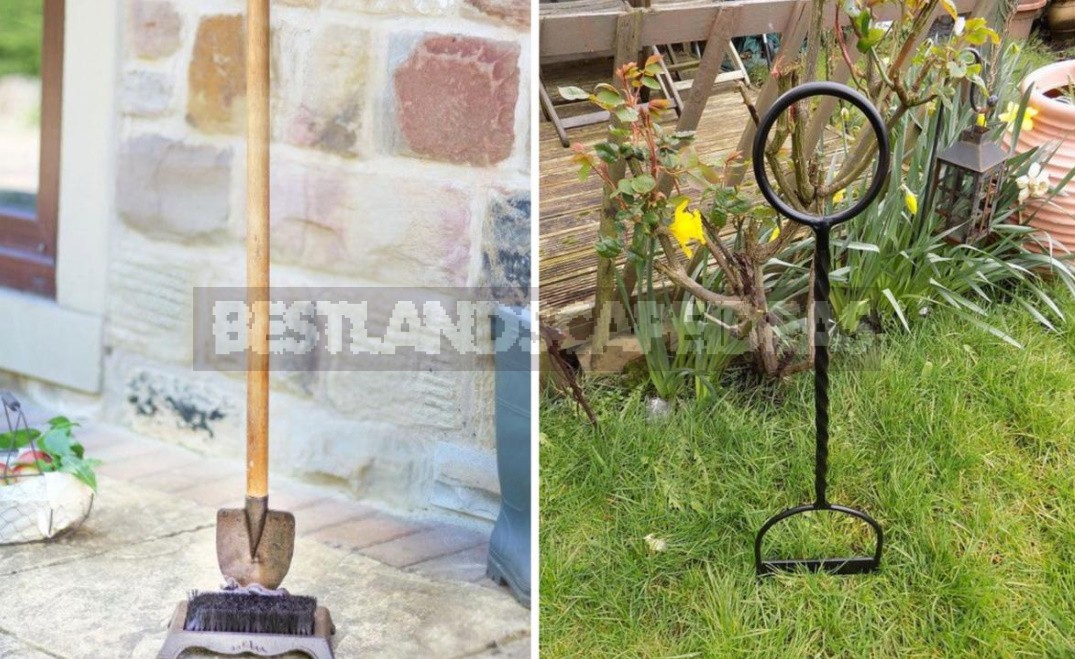 Brushes
I really liked the brush models, but they are clearly not for areas with black soil. I think they can handle sandy and sandy loam soil easily, but they are useless here. Sorry. You can buy ready-made: they are inexpensive (especially with plastic cases), compact. If you want, just move it to any corner of the site (which is sometimes absolutely necessary), hide it in a shed during your absence or in dry weather.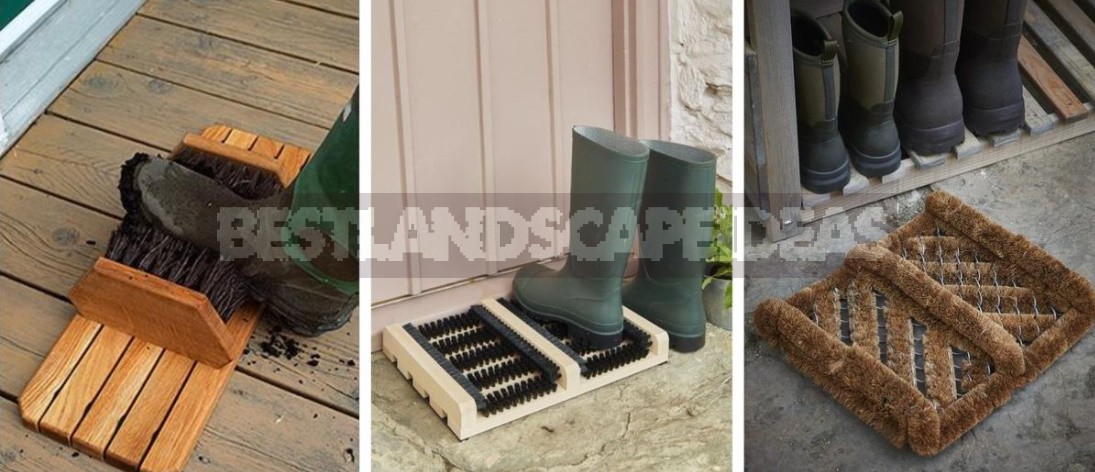 I especially liked the model with a folding strap for fixing: you hold the device with one foot, you clean your shoes on the other, without being afraid to throw the mud fighter in an unknown direction with a light movement (after all, you have to make a lot of effort, you will agree). Skilled summer residents will not be difficult to do something like this on their own.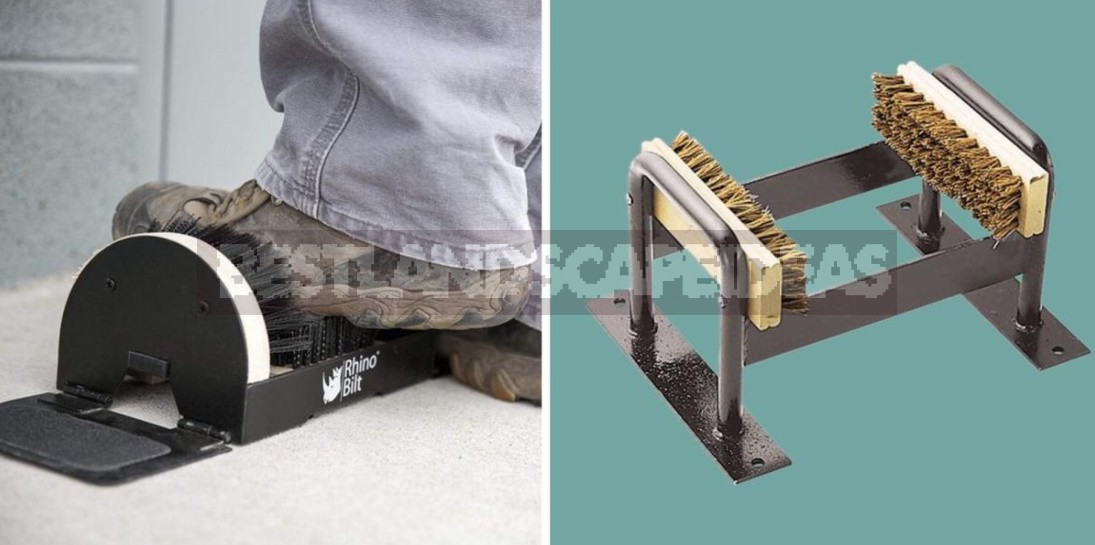 Grilles and floor mats
Charming wooden products will be "to face" on any surface, whether it is grass, ceramic tiles or natural stone. Just do not forget to properly treat them with the appropriate impregnations, otherwise it will be very difficult to wash off the dirt.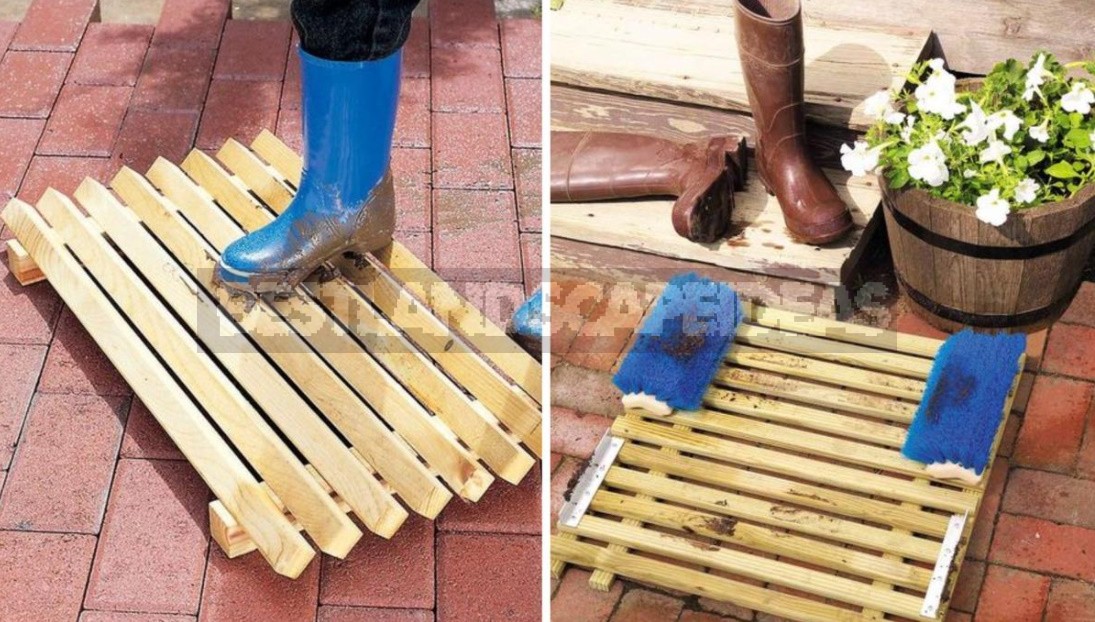 Models made of metal are not so elegant, but much stronger.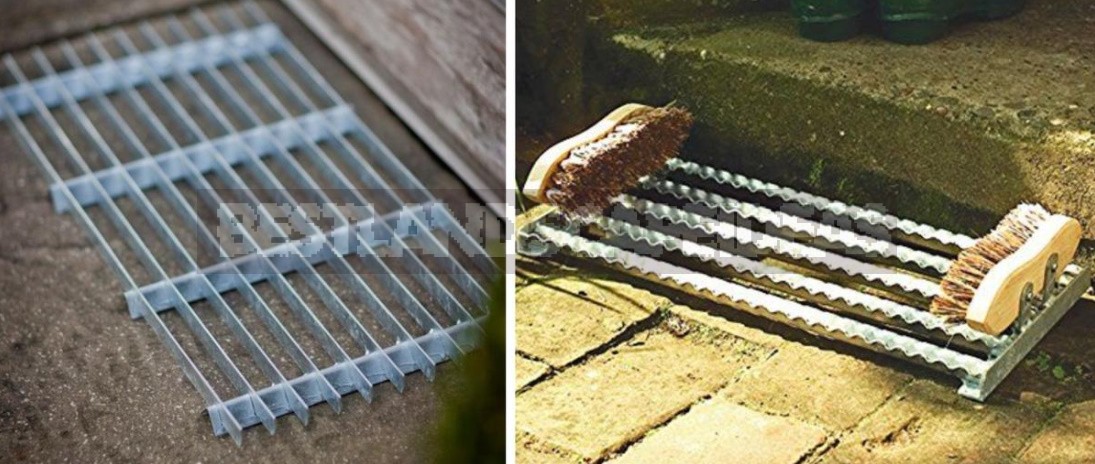 The ubiquitous plastic as a mud fighter on shoes has fully justified itself: it is inexpensive, relatively durable, and easy to clean. Tin lids will cope with the task no worse, and the homemade product will cost almost nothing: a piece of Board and a dozen or two nails will certainly be found in any dacha.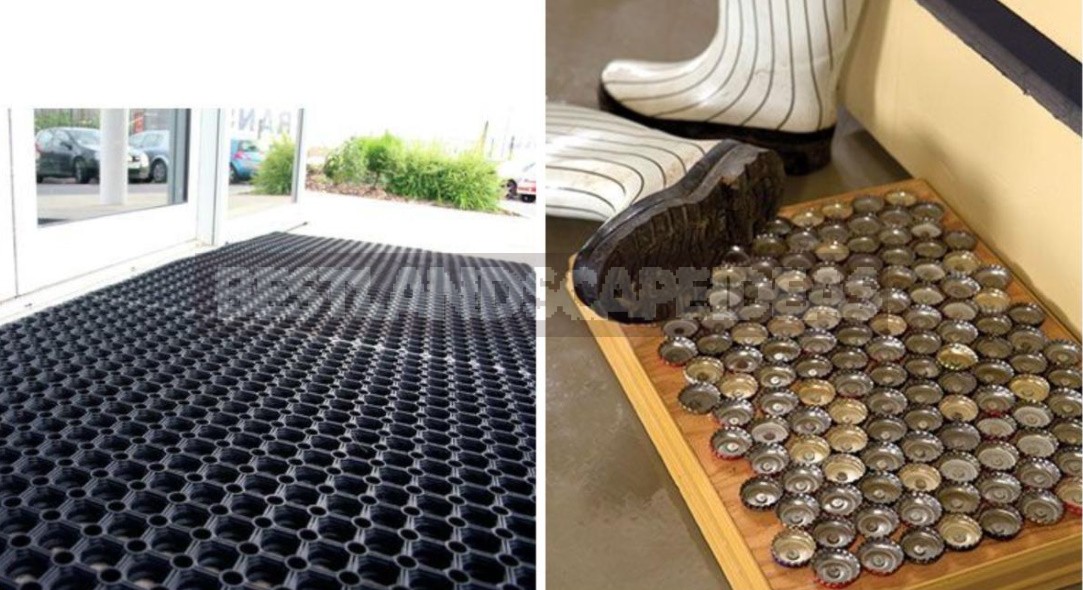 And in General: mats will be in place at the door and from the street, and in the room, and in the first case they may be more functional, and in the second — beautiful.
In my opinion, it is very convenient to combine the cleaner with a place to store work shoes: clean the sole with no brush, so why add extra work to clean the hallway? Plus, in the fresh air, the boots will be properly ventilated. You know when shoes don't breathe…
just look at how beautiful ordinary household items can be! They certainly won't spoil the overall look, even if you put them right at the entrance to the house.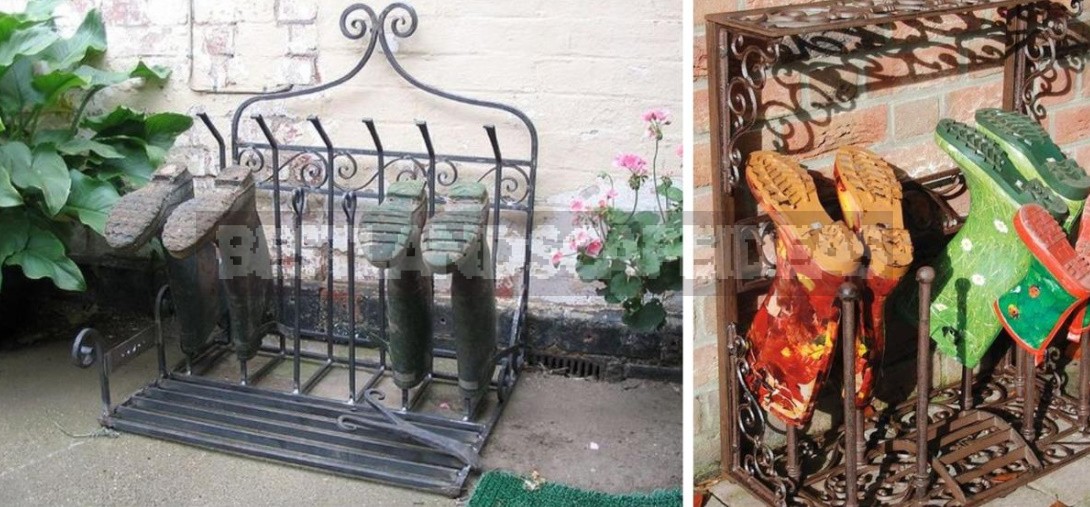 Anti-vandal
What about country thieves? They will not fail to take everything that their raking hands can reach. I offer you several anti-vandal heavy options. The solid construction on the right photo impressed me very much, but I pushed away even the thought of rushing in search of something like this. Surely, if you can lift it yourself, it will be at the risk of breaking. And then how to clean up under it?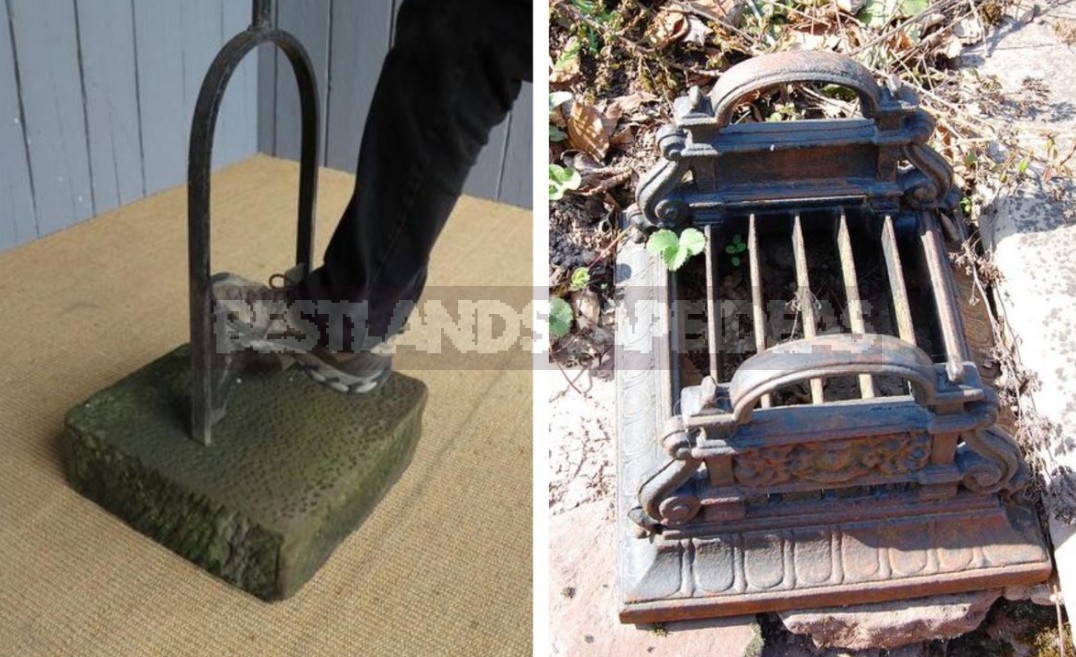 A cast-iron product is a tasty morsel for metal collectors, but its impressive weight will reliably protect it from the encroachments of thieves. However, only from those who trade alone. Well, no one would ever think of stealing a concrete slab.
Only the most avaricious thief will covet simple staples (but it still doesn't hurt to attach them as securely as possible: if he does, then let him at least suffer as much as possible by tearing them off the wall). A very good idea, in my opinion, is to make a Shoe-cleaning device part of a fence or gate.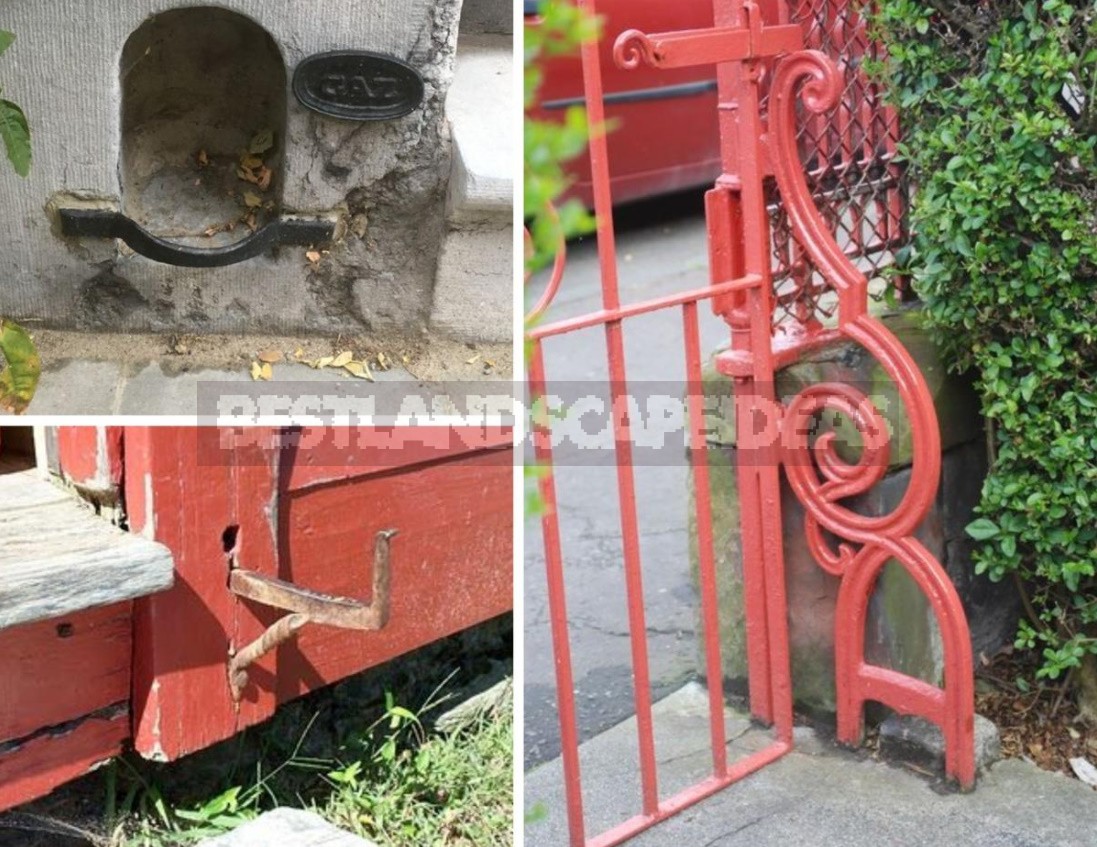 Forged and cast
If you are interested not only in the practical, but also in the aesthetic side, pay attention to forged or cast products. I enjoyed looking at each one for a long time, mentally trying it on to my site.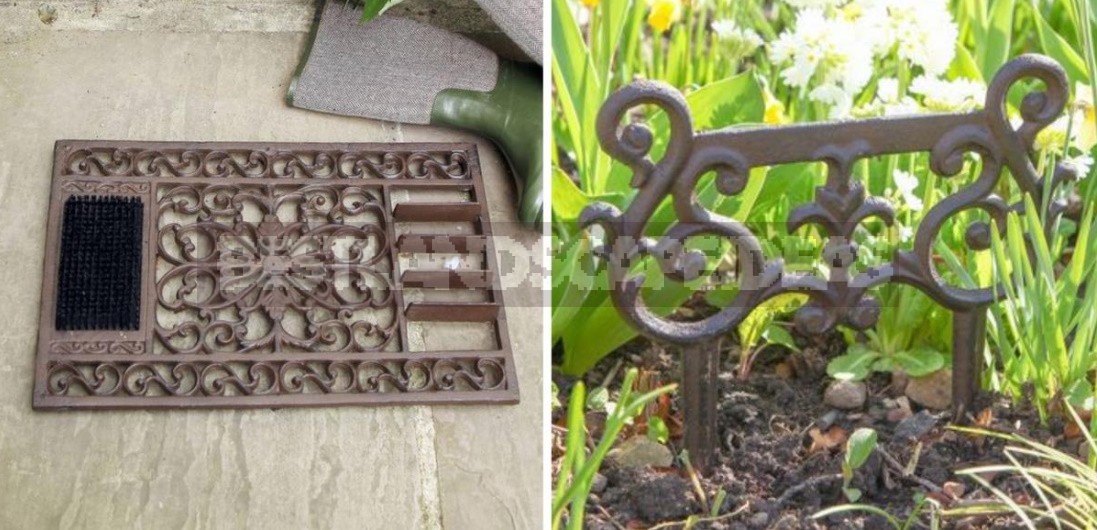 There are so many really beautiful models that your eyes run away! Yes, sometimes the choice becomes a problem!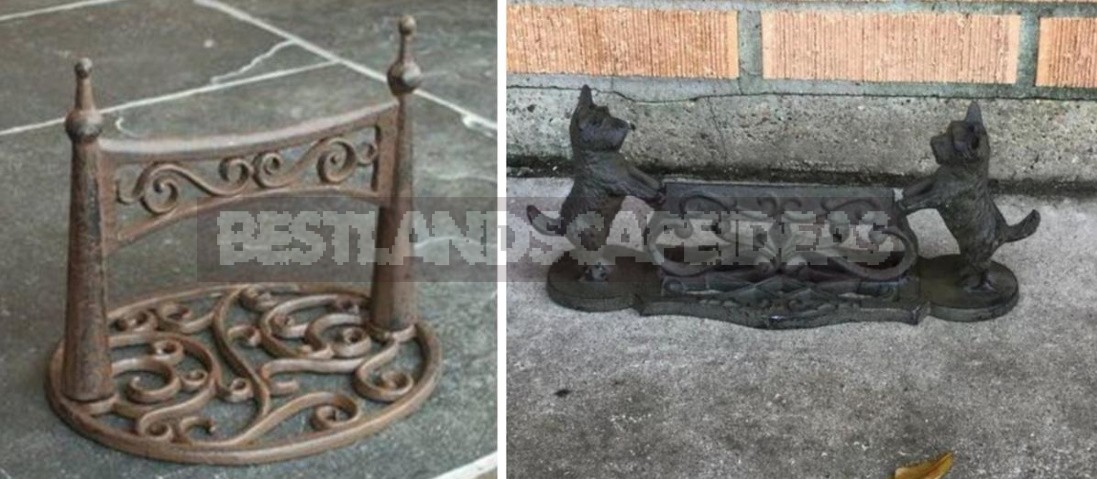 Just for the dacha: birds, butterflies, leaves and flowers-these scrapers and ask for the garden.

These exquisite products have only one drawback — the high price.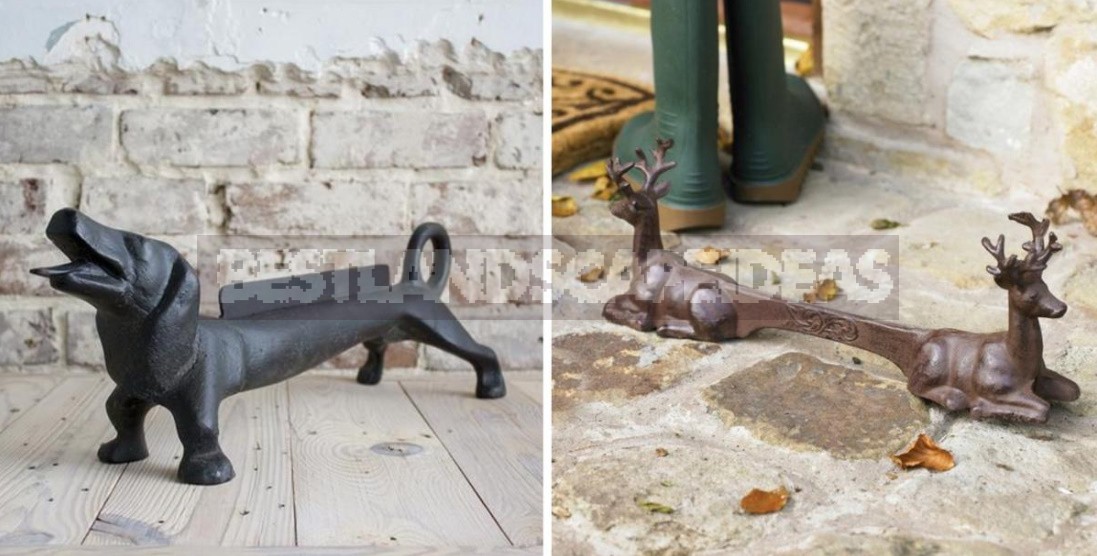 Do you want to look at the cleaners from the distant past?
Vintage
Simple or elegant, all were made soundly, for centuries.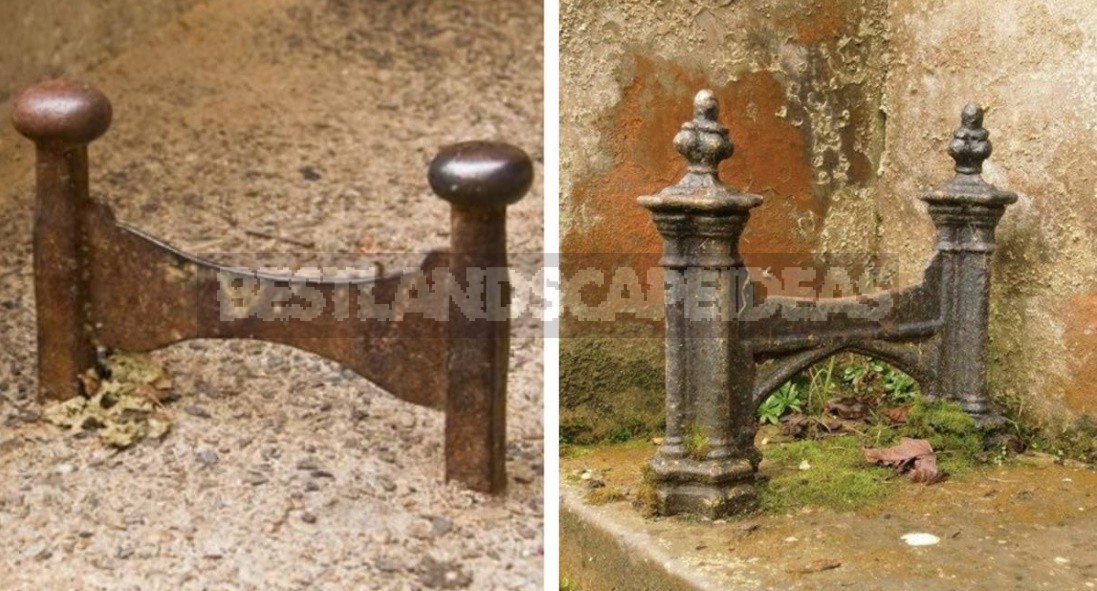 By the way, please note: the legs are firmly embedded in the steps or sidewalks. Apparently, in ancient times there were many people who wanted to profit from someone else's goods.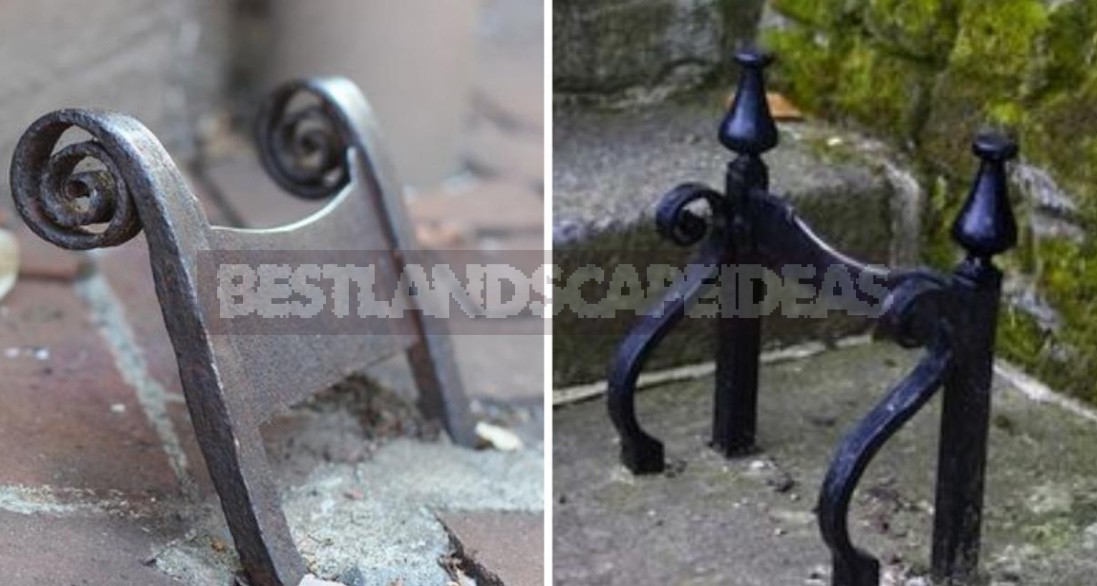 For the first time I saw devices made directly in the walls of buildings. It looks strange and strange.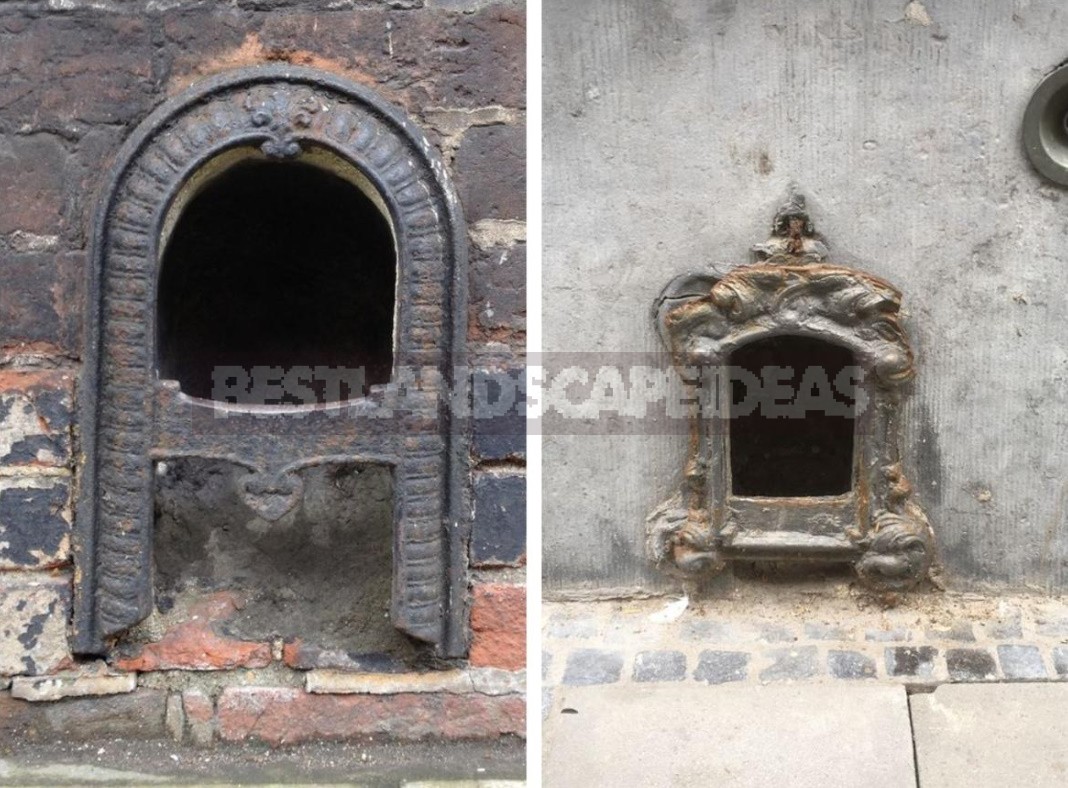 Mobile versions were also used. With rare exceptions, they are much more elegant than street ones.

In haste
Perhaps someone will need these simple ideas. If you are not going to participate in the beauty contest of country Shoe cleaners, why not?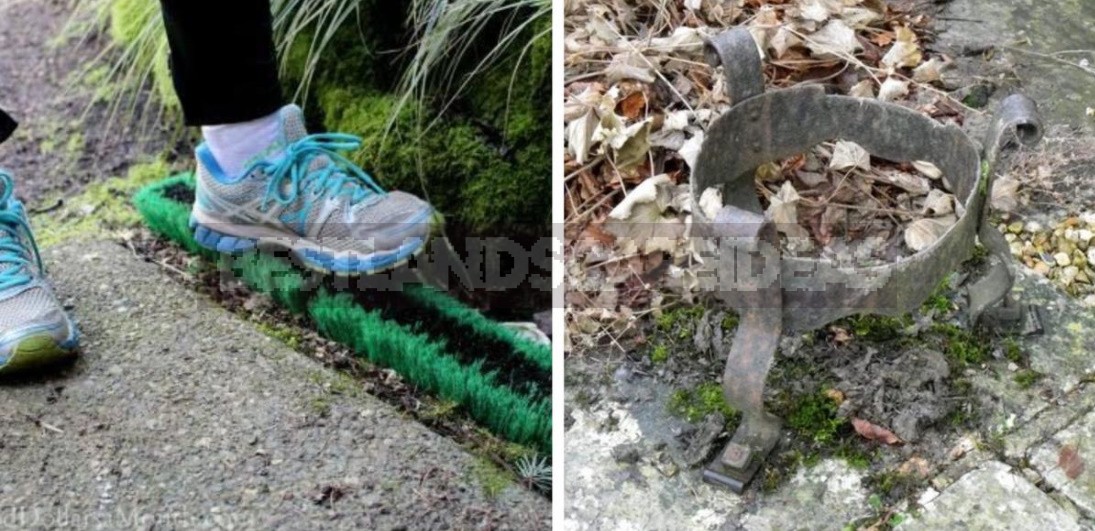 And these two photos are a mystery to me, which I hope to clear up with your help. That is, the purpose of the products is clear, but here are the details… Only a wooden saw cut could be identified with confidence.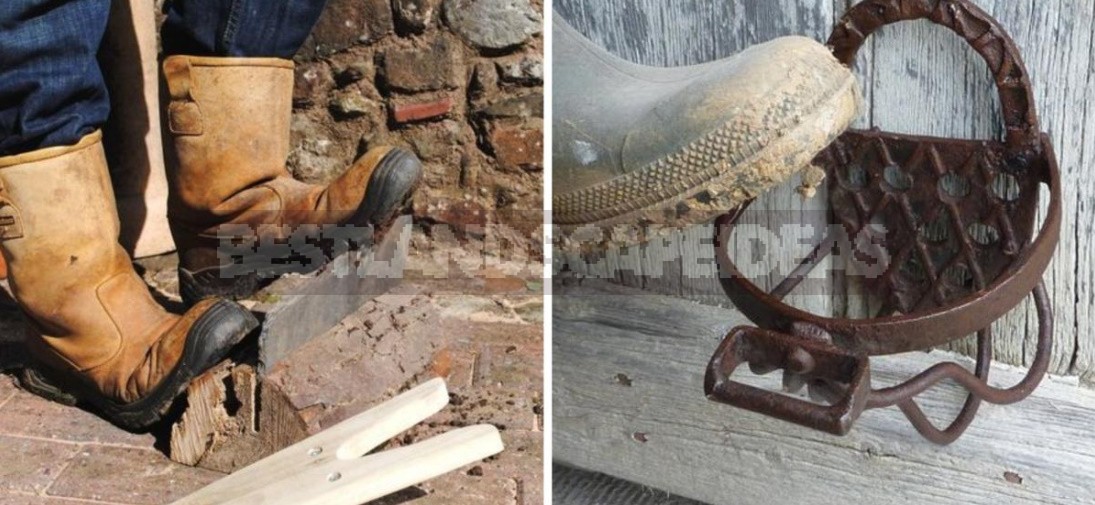 I want to finish the topic with very positive models that will definitely bring the owner happiness if it is suddenly not enough.

I will be glad if in this small selection you will find what you need. I still remain with the right shovel: I liked a few models, but none of them sunk into my soul. What kind of cleaners do you have? Tell us what is convenient and what are the disadvantages. And if you also show it, it will be great!