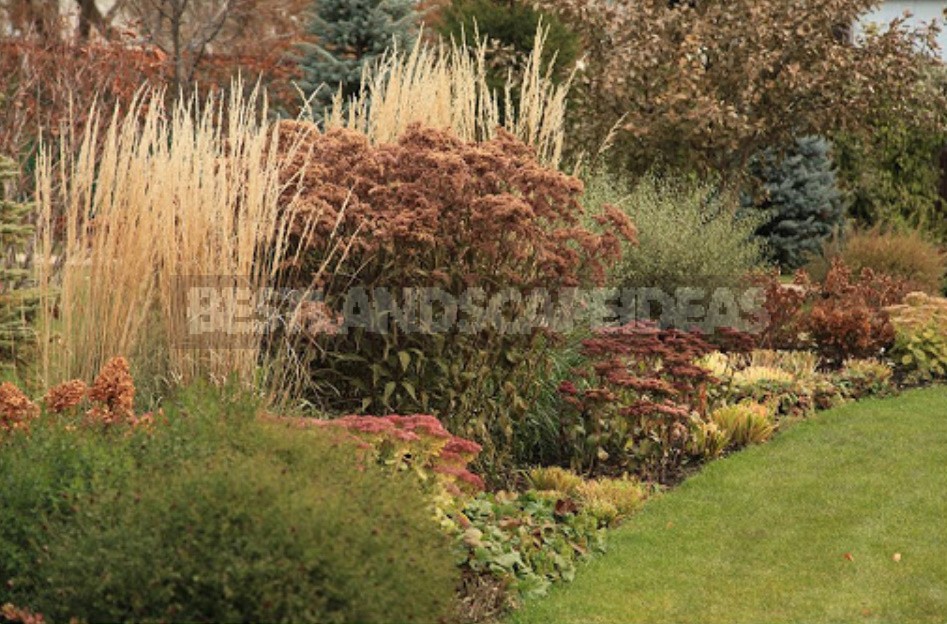 The exuberant summer bloom, the bright autumn flash of colors-everything remained only in memories and photos. And in the garden every other day rain and a dull beige-brown palette. And now, in the dry balance, you understand how right the famous Dutch designer Piet Oudolf was when he said that form is more important than color. And that brown is also a color.
We present 20 perennials that will decorate the November flower garden.
1. Astilbe
Spectacular red, pink, purple or white astilbe inflorescences, collected in large erect panicle inflorescences, consist of thousands of small flowers. And in autumn, their dried panicles are like a beacon in a flower garden — so piercing is this shade of brown.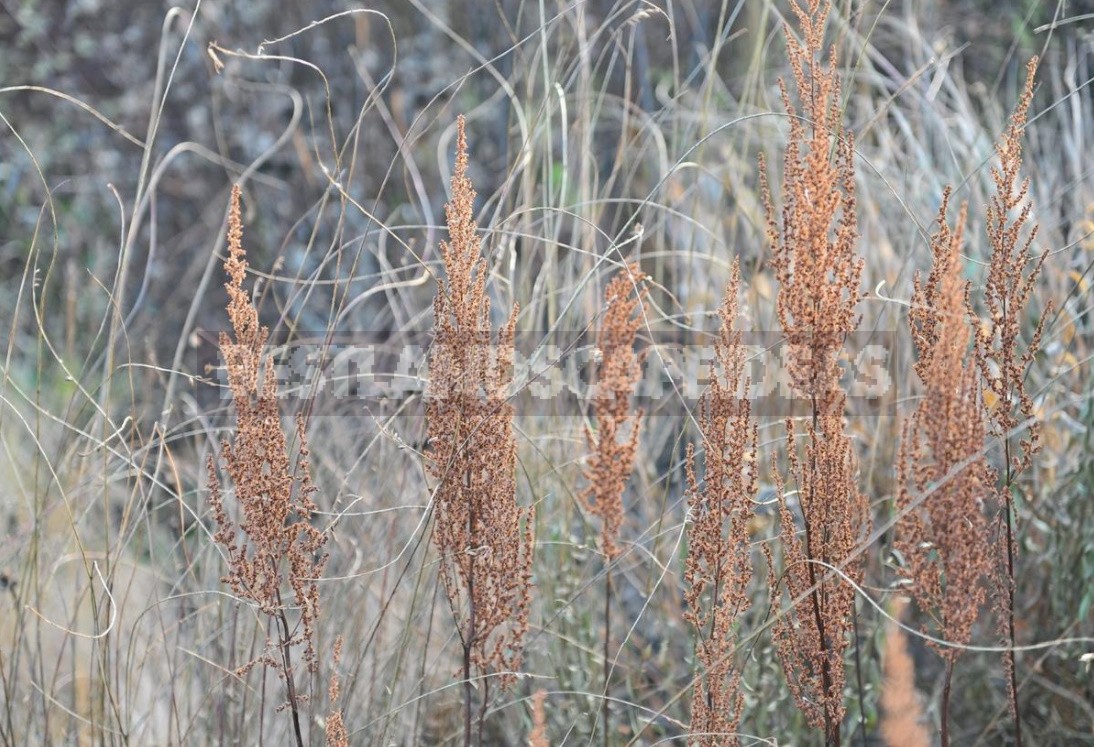 The most impressive look Astilbe, planted in groups or arrays in coastal flower beds or on wet soils. Astilbe chinensis 'Purpurlanze' is somewhat more drought-resistant than the rest — it is often used in "meadow" flower beds of natural appearance.
2. Echinacea purpurea
A resident of the North American prairies, Echinacea purpurea has a huge number of bright varieties. Not all of them are reliable, but the species overwinters stably. And pleases the eye with large purple inflorescences- "daisies" in summer and exquisite dark conical fruit-in autumn. A frequent participant in the "meadow" of flowers.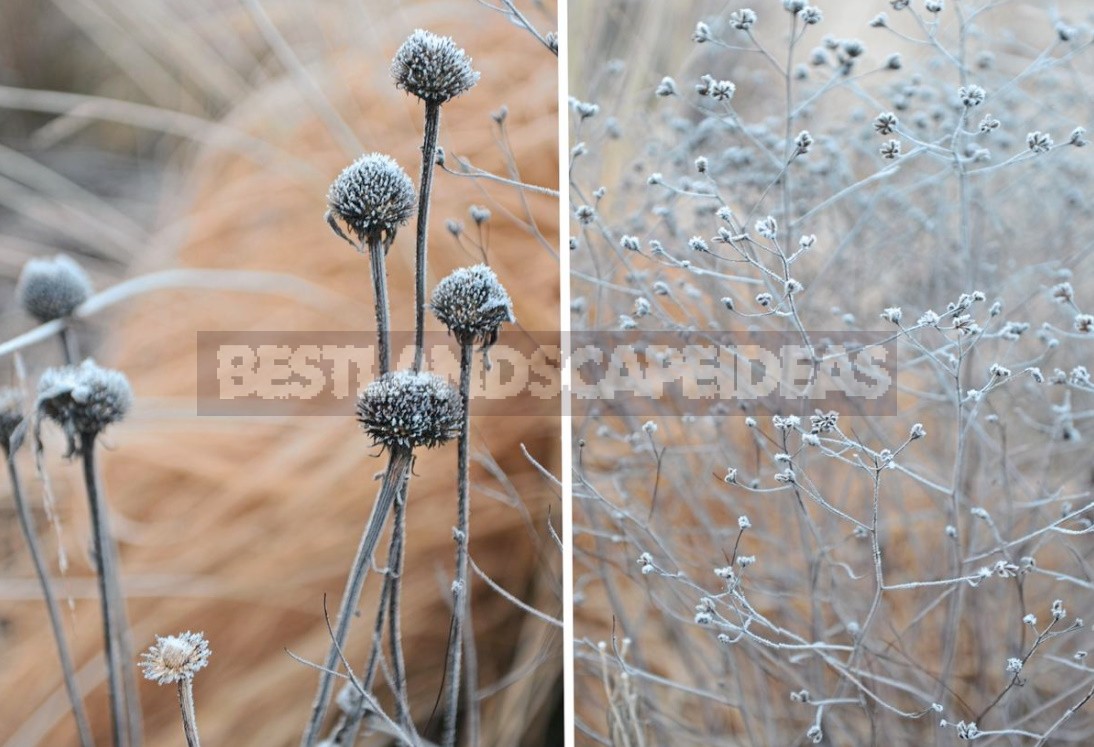 3. Gillenia trifoliata
Strong shoots of Gillenia trifoliata become woody over time, so the Bush never falls apart. In the upper part of the peduncles are strongly branched-light and elegant and they themselves, and white flowers, and small brown fruits. Openwork Gillenia always gives the flower beds airiness and volume, movement when the wind blows and the effect of a translucent haze, if you look at the lumen.
4. Amsonia
All types of Amsonia bloom in early summer with"star" flowers of a cold blue hue, sometimes with a metallic sheen. And then the plants are decorated with long and narrow beautiful fruits-pods collected in a brush at the top of the peduncles. In addition, the amsonia has a surprisingly bright autumn color — it is yellow (sometimes with red tones) and lasts for a very long time. When all the other perennials have dried up, the "bonfire" of the amsonia is still burning.
5. Cimicifuga
In late summer and early autumn, Cimicifuga is attracted by long white or pinkish "candles" of inflorescences. Over time they become less striking narrow brown stems. These are plants for partial shade, although some varieties can withstand a Sunny location.
6. Liatris
Liatris-another plant – "candle", although its flower stalks are not as high as those of Cimicifuga — only from 30 to 50 cm.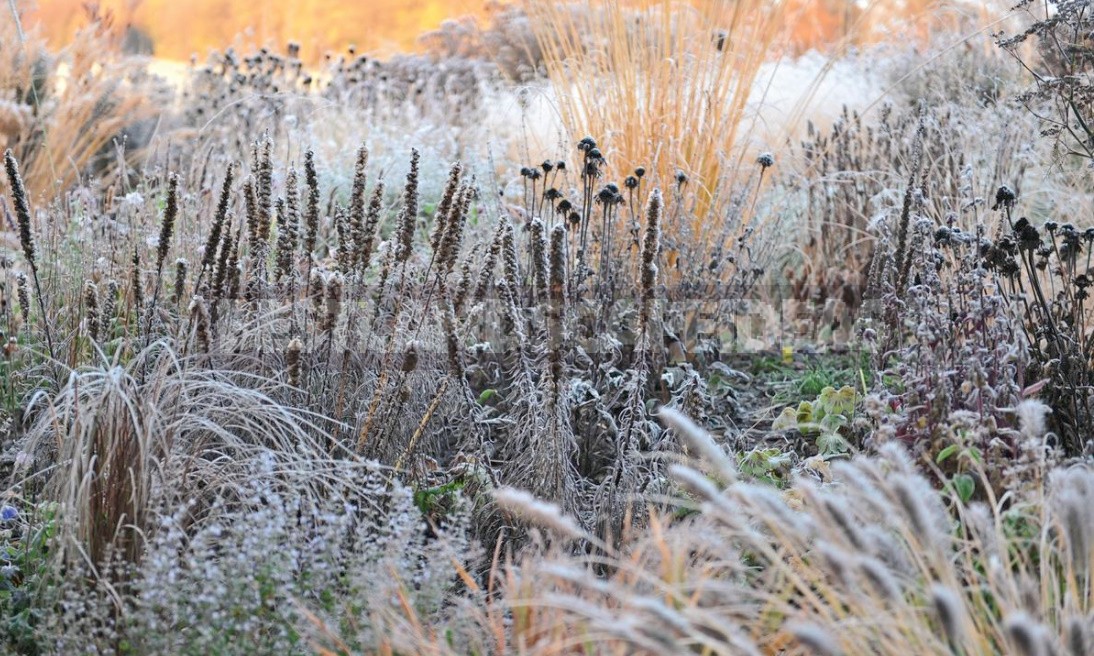 In summer, the "candles" are white or lilac-purple, and in autumn, thanks to the pubescent seeds, they become beige and fluffy.
7. Allium
Most ornamental bows bloom in late spring or early summer. Spherical purple, purple or white inflorescences remain attractive after drying and can adorn the garden until late autumn.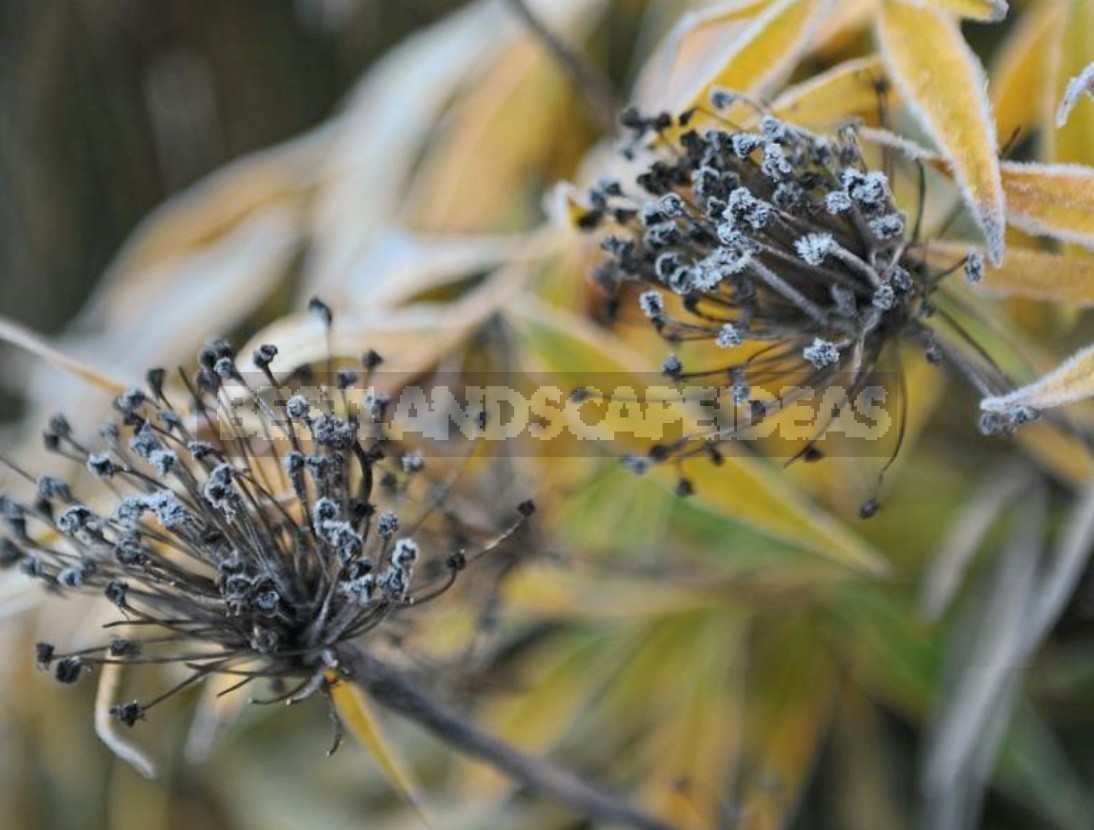 In order for onions to bloom well every year, they need a Sunny, well-warmed place. For maximum visual effect, it is better to plant bulbs in the flower garden not singly, but in small groups.
8. Hakonechloa macra
Hakonechloa macra deserves to be included in the list of autumn garden decorations due to not so openwork panicles, but beautiful foliage.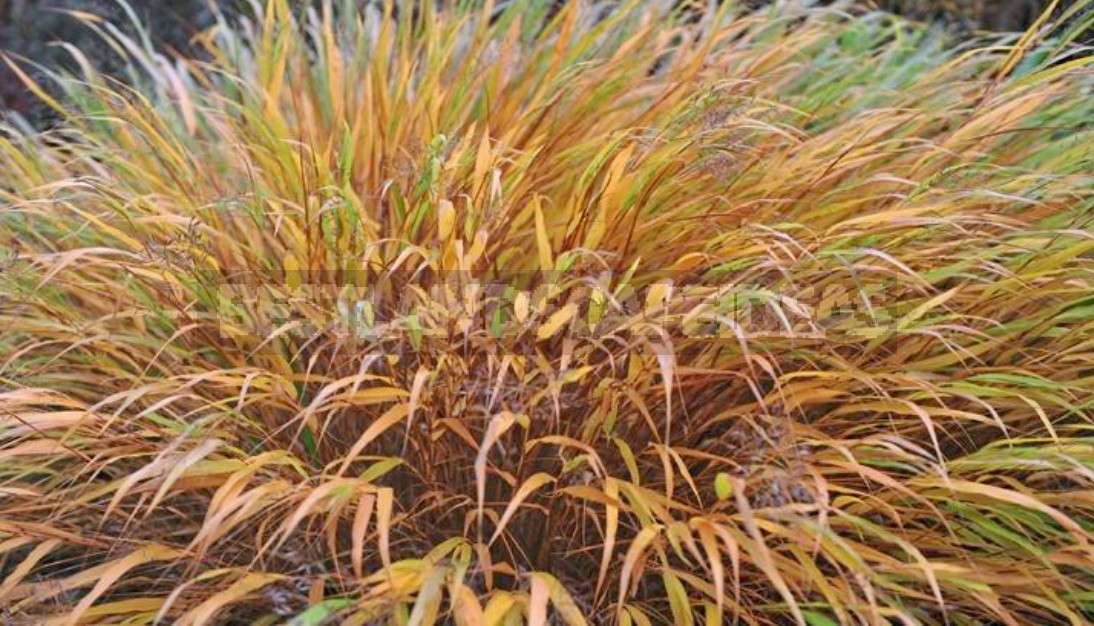 It droops gracefully, which makes the low bushes have a rounded shape, and in autumn it becomes bright orange tones. And even when it is completely dry, it does not lose its attractiveness. Hakonechloa grows quite quickly.
9. Miscanthus sinensis
Miscanthus sinensis-a classic decoration of autumn flower beds, and all thanks to decorative inflorescences-panicles. There are a great many varieties, but not all of them are winter hardy and have time to bloom in the middle zone. It makes sense to plant varieties 'Flamingo', 'Malepartus', 'Roland', 'Rotsilber', 'Silberfeder', 'Silberspinne', 'Vorlaufer'.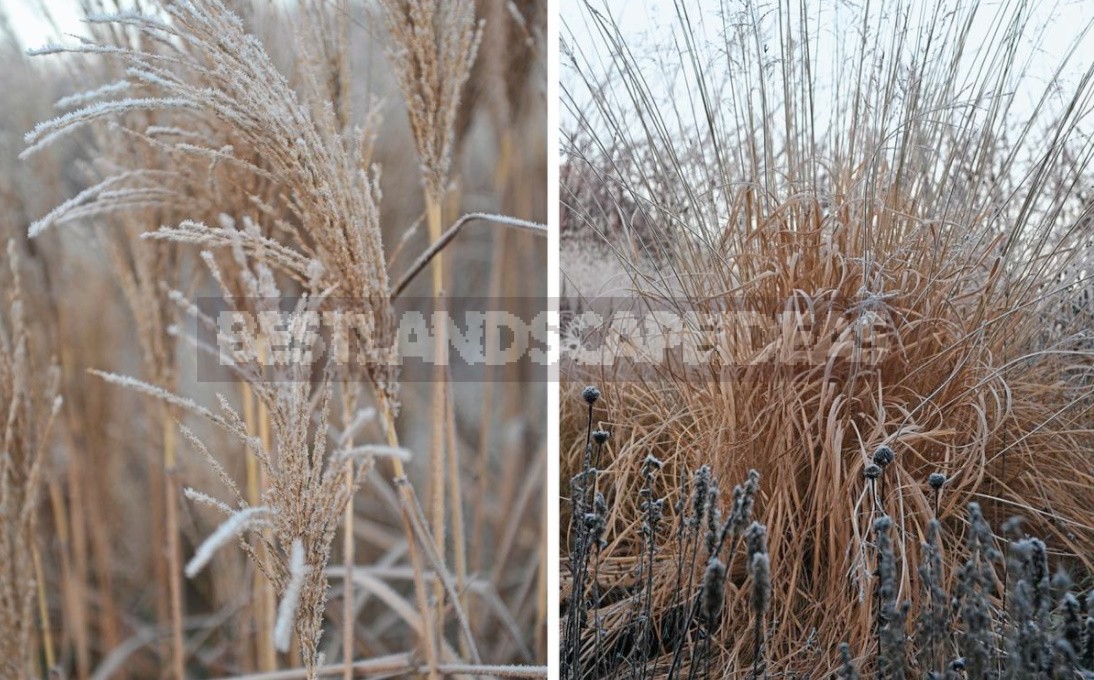 10. Molinia
Molinia is another decorative cereal that has a huge number of varieties of different heights and shapes of the Bush: from low erect, up to 40 cm high, to two-meter, openwork and spreading. Molinias are valued for their bright autumn "flash". Before they dry and fade to a straw color, the leaves and flower stalks acquire the brightest yellow, Golden and even orange tones.
11. Chasmanthium latifolium
Spikelets of Chasmanthium latifolium are spectacular and recognizable at first glance — they are large and flat, as if they were thoroughly ironed.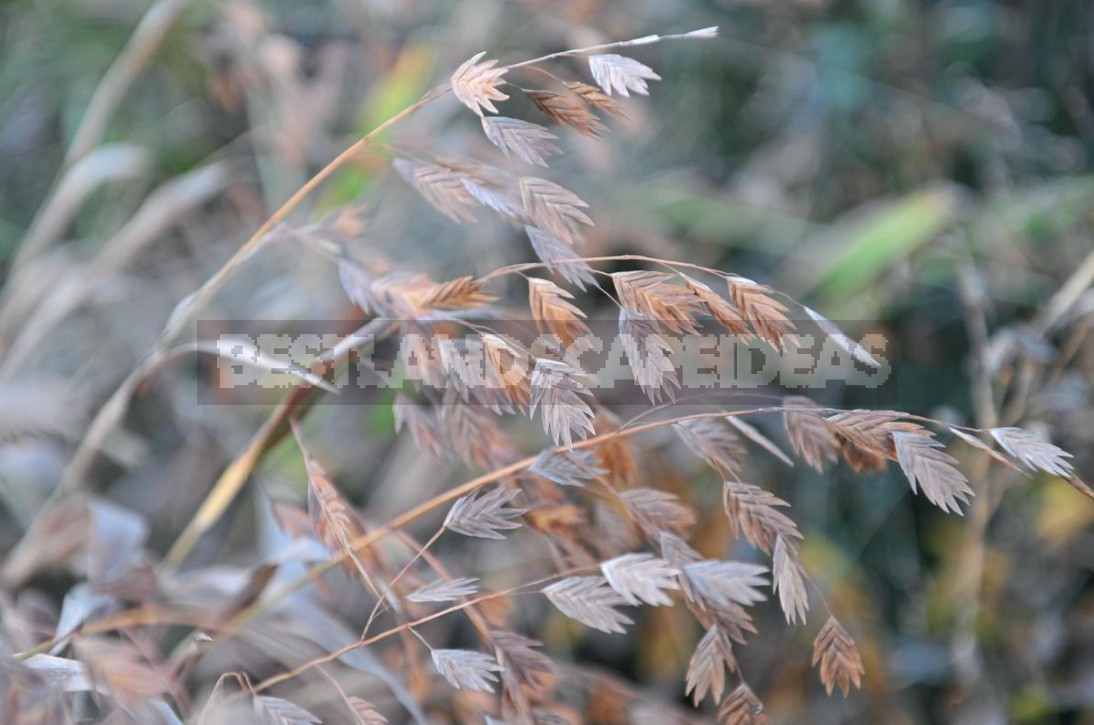 Before they dry out in the fall, the wide, beautiful leaves acquire a Chartreuse color. This decorative grain will adorn any Sunny flower garden; it also tolerates light shading.
12. Symphyotrichum
Symphyotrichum, or the most common autumn asters, gained popularity due to the abundant flowering in September and October. Naturally, the flowers are followed by seeds, and equally abundant self-seeding is possible. But in the autumn frosts, the faded bushes continue to look elegant.
The best partners are other late flowers (Eupatorium, Rudbeckia, Cimicifuga, Helianthus).
13. Eupatorium
Fluffy light brown seeds will stay on Eupatorium for only a couple of weeks and will quickly disperse. But there will be high "architectural" stems and branched flower stalks-in the frost they look fantastically beautiful. Because of their high growth, Eupatorium bushes are usually planted in the background of flower beds.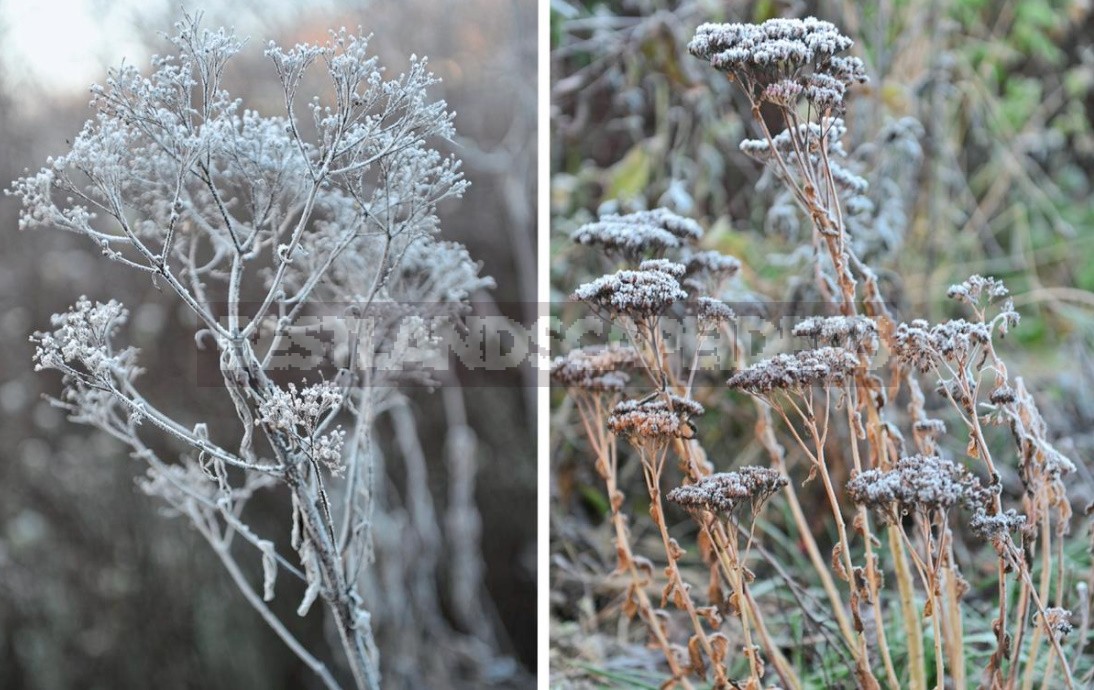 14. Hylotelephium
Hylotelephium is a classic plant for the foreground of mixed borders. Fading white, pink, red and purple flat horizontal inflorescences do not lose their beauty in the brown version.
15. Rudbeckia
From the yellow "daisies" of rudbeckia to the middle of autumn, there are black conical copulations that look wonderful on a more light background.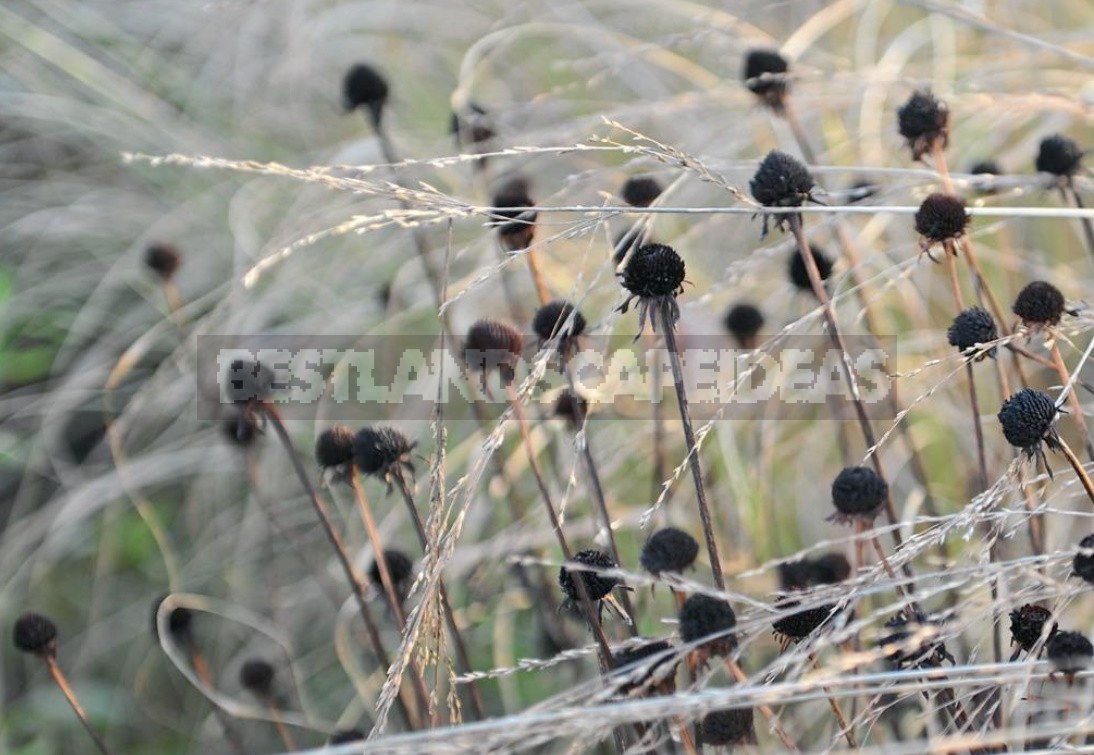 16. Stachys monieri 'Hummelo'
Short lilac "candles" on low peduncles of Stachys monieri 'Hummelo' attract bees and butterflies in summer, and in winter they leave a bronze-brown "sculptural" group.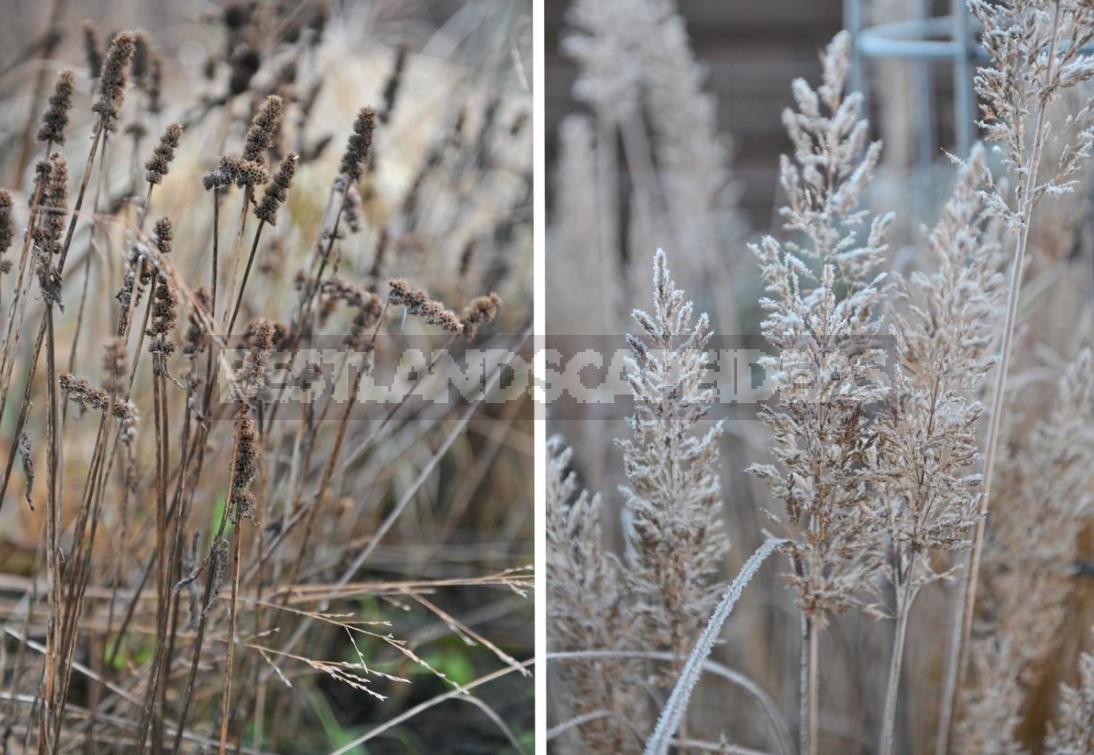 17. Calamagrostis acutiflora 'Karl Foerster'
Calamagrostis acutiflora 'Karl Foerster', like a persistent tin soldier, stands at attention until the snowfall, all its appearance inspires unpretentiousness and reliability. Its autumn color can be described as a beautiful straw shade, while Calamagrostis brachytricha with more lush openwork panicles acquires bright orange tones with the first cold weather. They are often used in natural-style gardens and as a recurring element to create rhythm in a flower garden.
18. Veronicastrum virginicum
In spring, Veronicastrum virginicum attracts with beautiful foliage, vase-like shape and dense structure of the Bush, in summer-with elegant "candles" of inflorescences. And in autumn-a flash of yellow autumn color, which after the first frost becomes just as bright black. The withered stems and stems of Veronicastrum virginicum are monumental and can adorn a garden until they disappear in snowdrifts.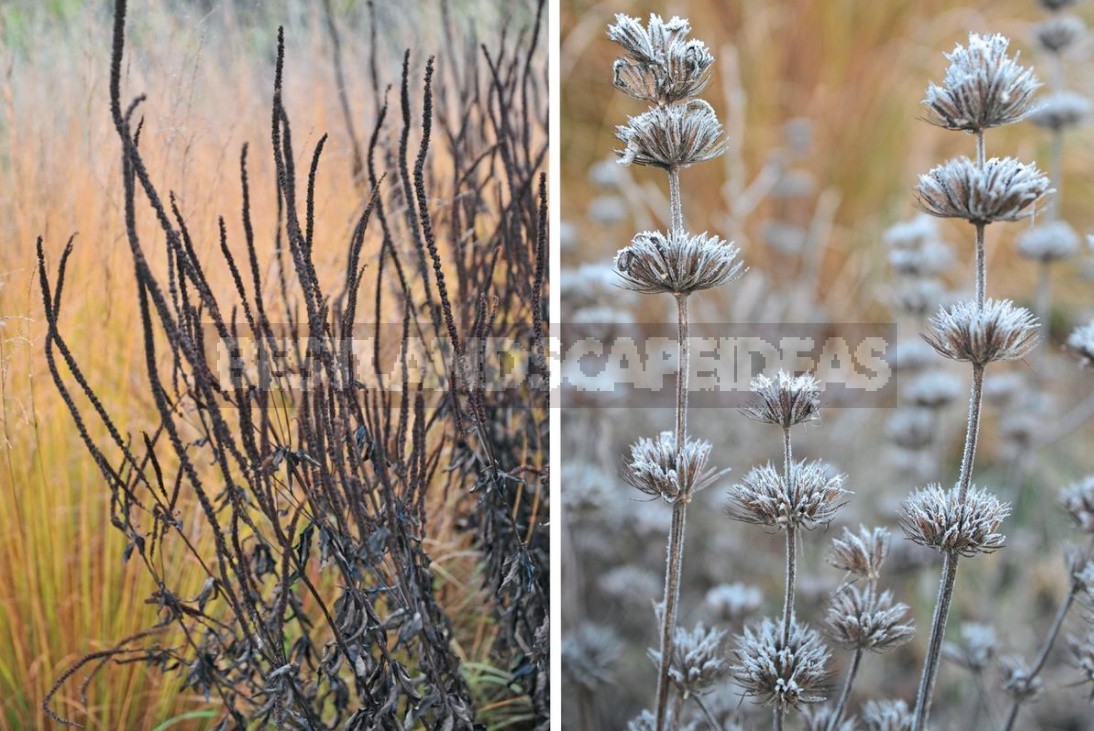 19. Phlomis
Phlomis inflorescences look like beads strung on a stick. Yellow flowers of Phlomis russeliana, dusty grayish-brown Phlomis samia, and purple Phlomis tuberosa-all of them turn into an exquisite garden decoration in autumn, and they look especially impressive when dusted with frost.
20. Deschampsia cespitosa
Deschampsia cespitosa is one of the most "airy" ornamental grasses.
Despite its openwork, it is quite resistant and can withstand the first snowfall well. This plant is a "haze" that creates a blurry matte light beige background for flowers with a well-defined silhouette: Echinacea, Rudbeckia, Verbascum, Digitalis. Very good in groups and in the mass.