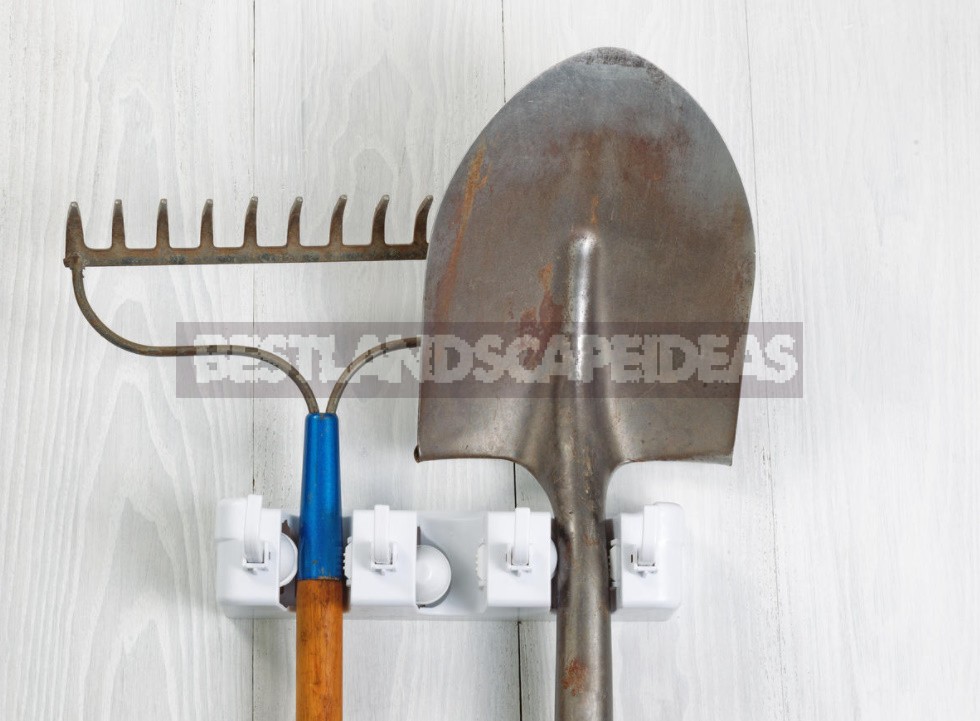 Stands made of pallets or wooden slats
Narrow racks, extremely easy to manufacture, are obtained from pallets. It is done in an elementary way: put it vertically, close to the wall, fixed it-done! If the pallet is not at hand, you can assemble a similar structure from ordinary boards or wide slats. It will take a little more time, but there are no restrictions on the size of the finished product.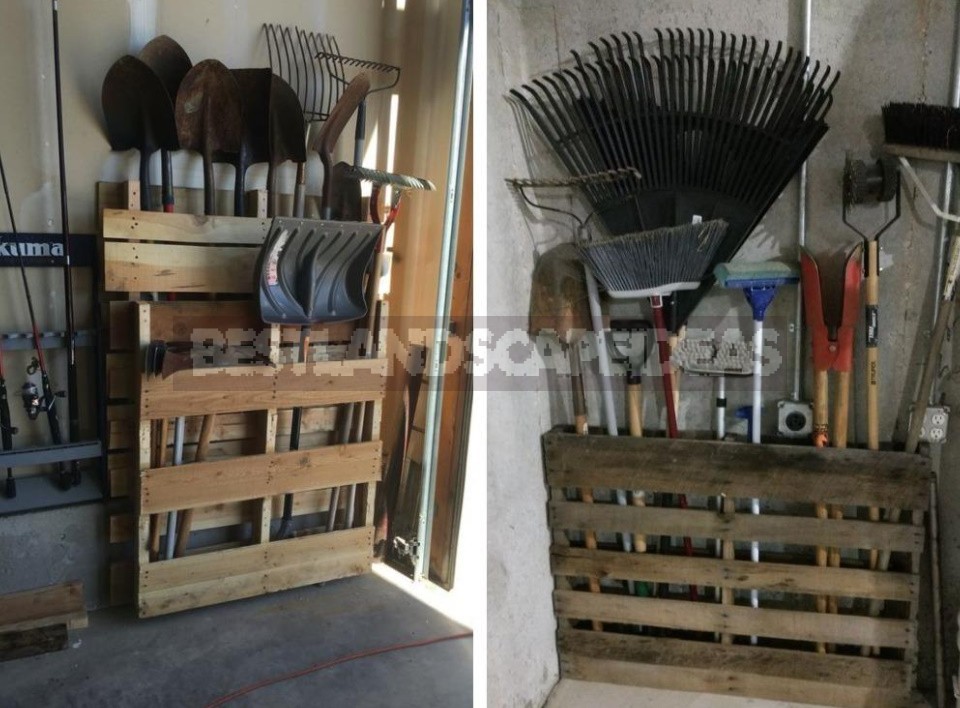 The disadvantage of such a stand is that the tools in it are only in the photo are even-in life, all this beauty lasts only until the first attempt to extract a shovel or rake. However, you can quickly get rid of this drawback by slightly modifying the design — for example, as in the photo on the bottom right: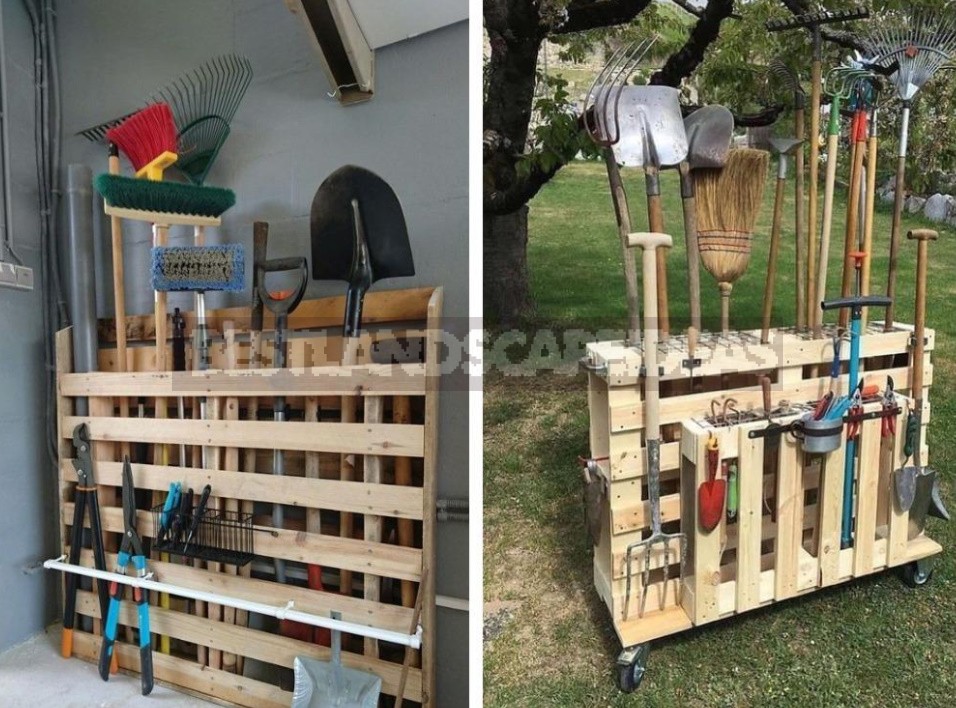 By the way, please note: such a structure does not have to be stationary. If the dacha landscape allows, attach convenient wheels to the inventory rack — and everything you need can be quickly and without unnecessary worries delivered to the place of gardening work.
Tool carts: both storage and transportation
And this, by the way, is a very practical idea: instead of carrying work tools back and forth, regularly realizing that something is missing, and forgetting somewhere one thing or another, make a mobile rack or cart that allows you to compactly store the most popular equipment in the shed, and carry it with you around the garden.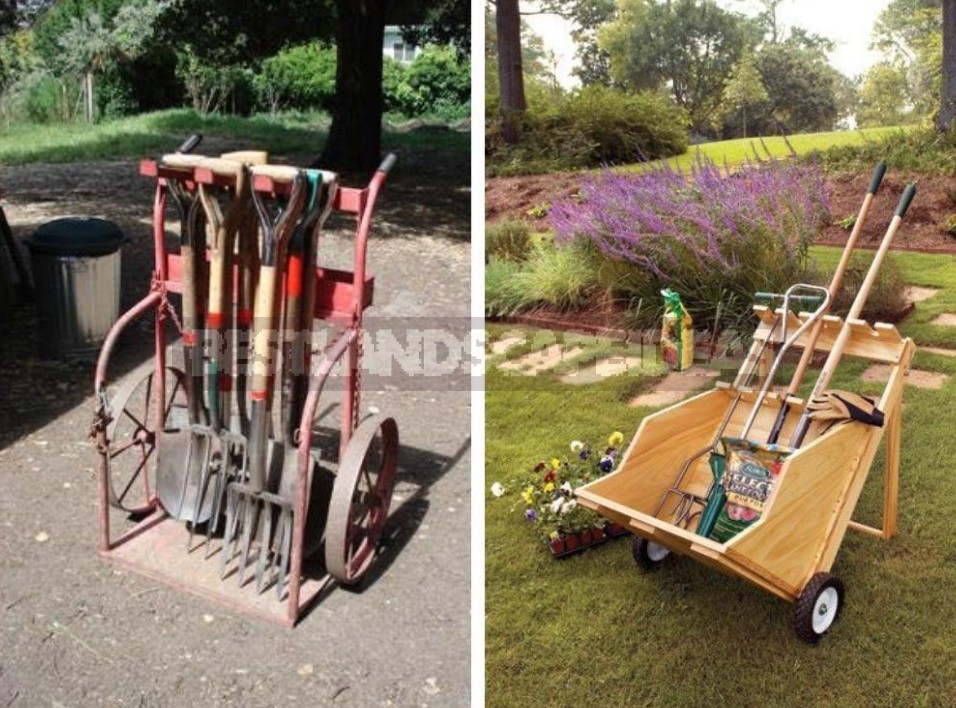 The cart can be of any design — everything is in your hands. On sale, if you want, it is easy to find a finished product, but I think, if you really like the idea, it is better to make a mobile stand with your own hands-for your own needs and conditions.
A new look at the old barrel
The original garden tool racks are perfectly made from garden barrels or trash cans. Looks like a pencil holder, doesn't it? Although the structure in the photo on the bottom left causes me doubts: in order for it to be stable and not to tip over, the bottom of the tank must be thoroughly weighted, because it is quite light in itself: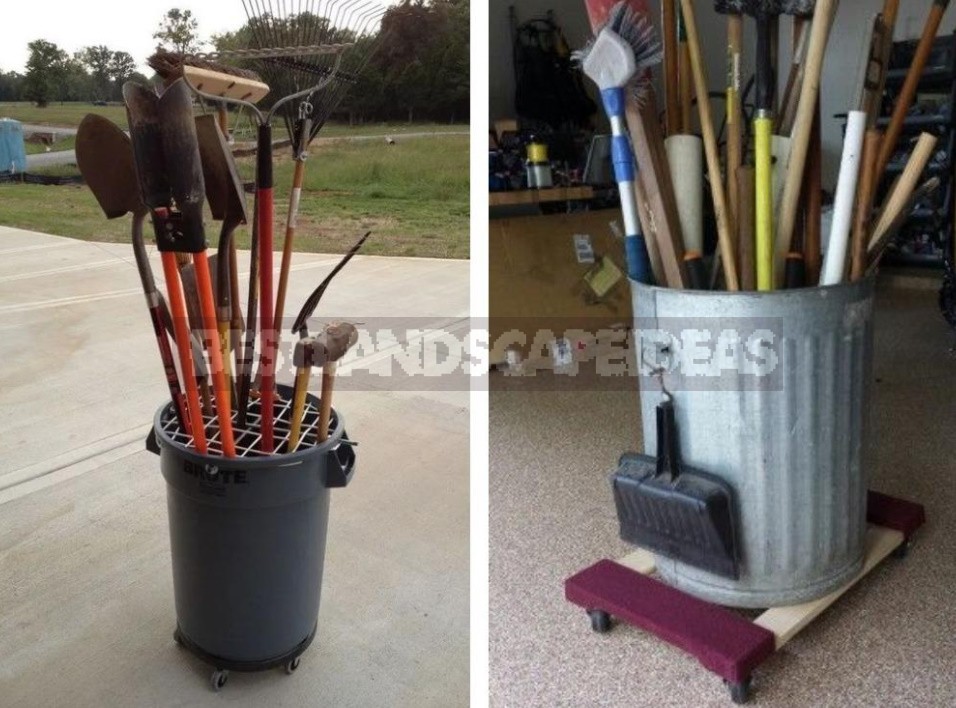 But the idea definitely deserves attention. It can be improved in every possible way: for example, by fixing a light plastic barrel on a cart, we get a mobile stand, and using a barrel with a lid, in which holes are made for cuttings, we can conveniently and compactly arrange all our shovels, rakes and hoes: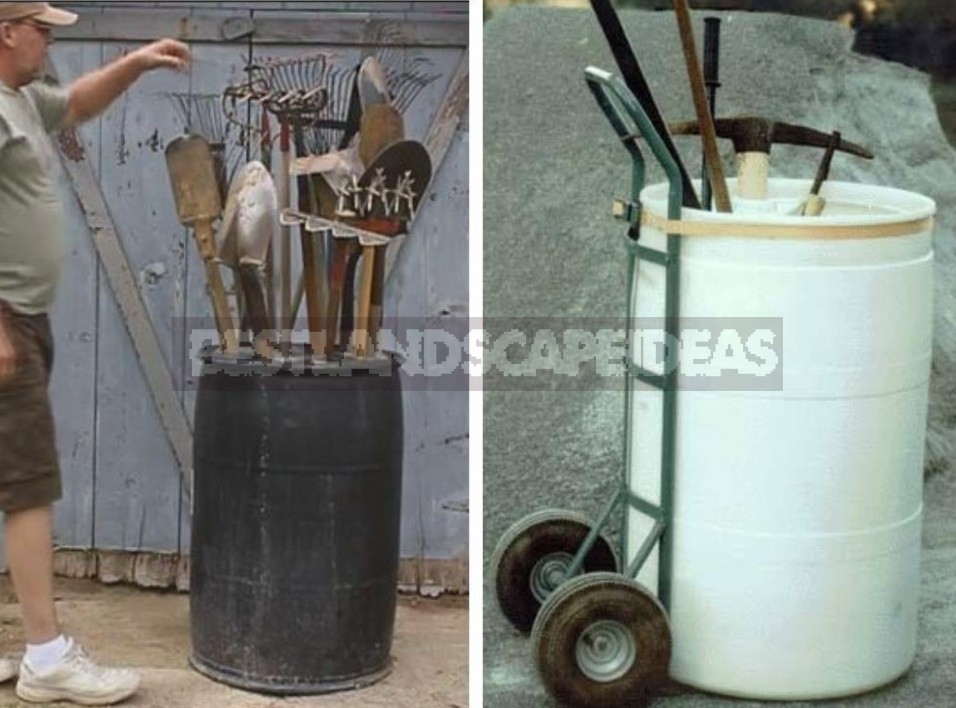 And again, the implementation of this idea does not require special skills, skills and costs, especially if an extra barrel is already available on the farm (for example, if a water tank is leaking, why not give it a second life instead of throwing it away…).
Based on the fire shield
You can not invent anything new and use what has long been invented. The fire shield, I think everyone saw it? Now take a look at the photo: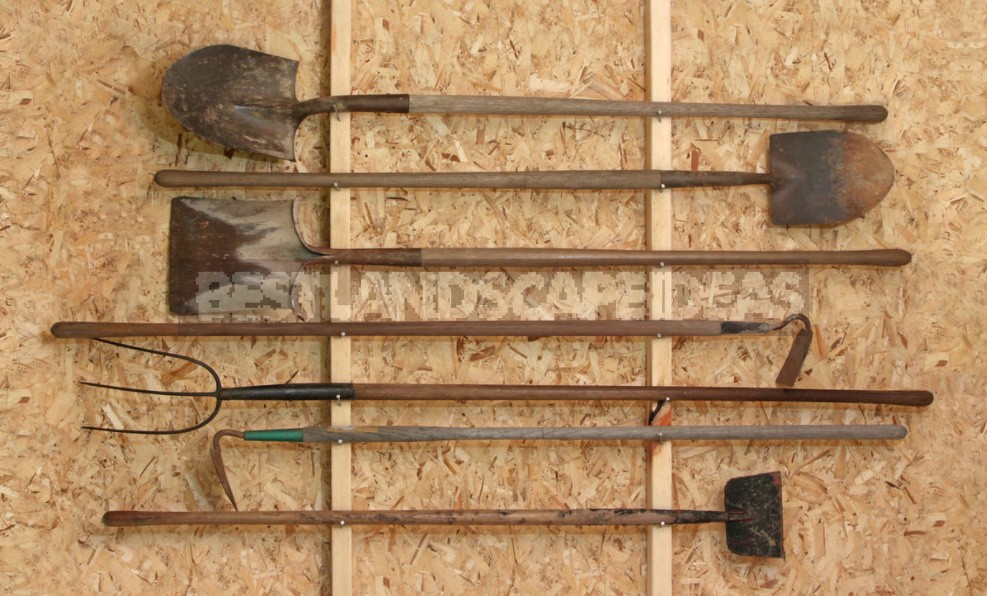 Doesn't it look like it? And it is very convenient: all the tools are in sight, any of them is easy to take, and if some are missing, it will be immediately noticeable — it will probably be even easier to maintain order on such a stand than with other storage methods.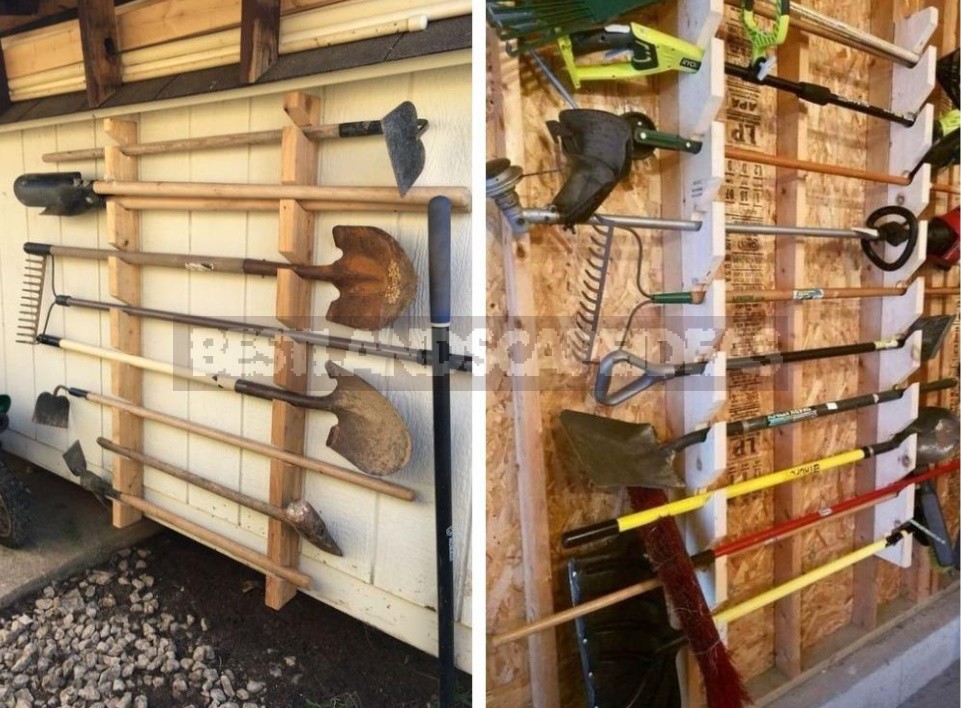 And you can store almost everything here-from rakes and forks to trimmers. The size and number of racks can be easily varied-depending on the available space and available inventory.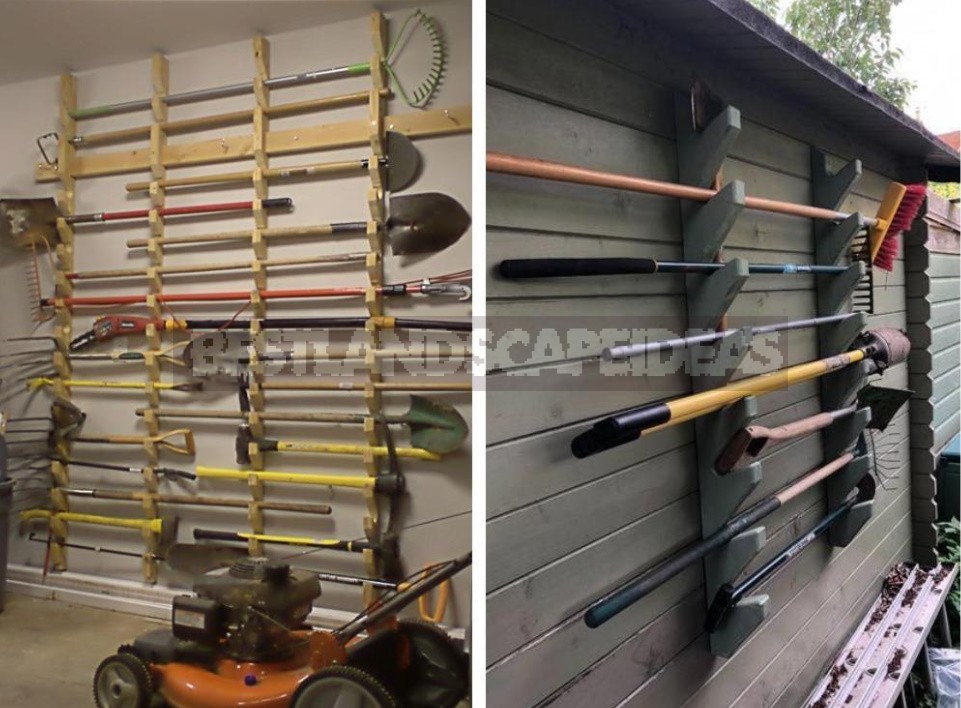 In short, if there are free walls of sufficient area, there is probably no better way to find them. Personally, I see only one "but" for him: it will take time to make neat and strong racks. And if you need a quick option?
Original wall mounts
Here, perhaps, is the quickest and simplest idea: we take an old garden hose and attach it to the wall in such a way that the cuttings of garden tools can be inserted into the resulting "loops". That's it! I would, perhaps, slightly improve the idea by laying the hose not in one, but in two rows, one under the other — so our inventory will hang much more stable.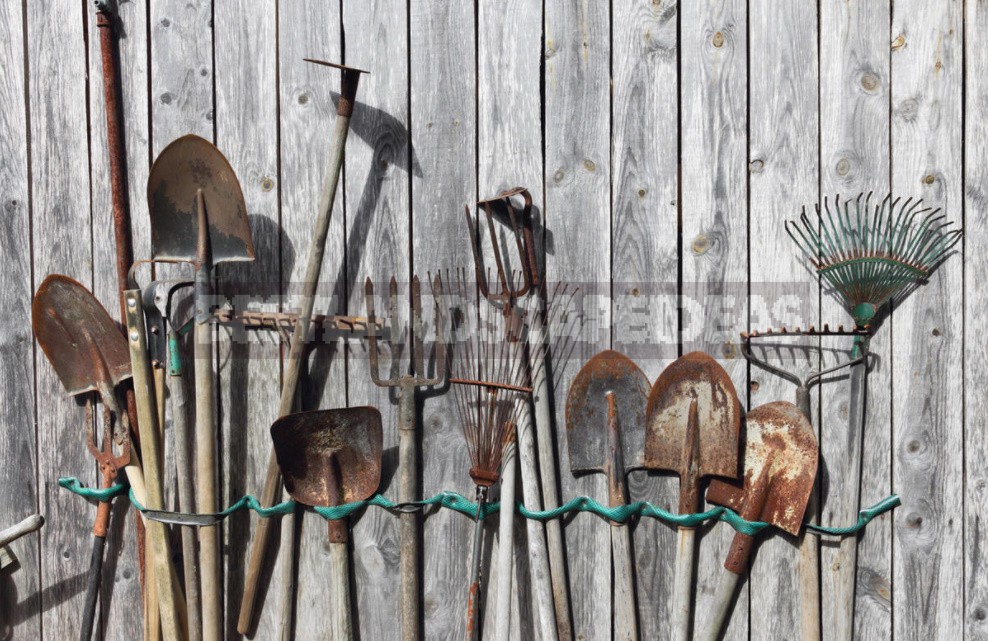 A little more time will be required to make fasteners from pipe scraps. Well, the idea of building buckets seemed to me worthy of attention. Although in this case, the durability of the structure is in doubt: with constant use, the upper buckets are likely to quickly become unusable.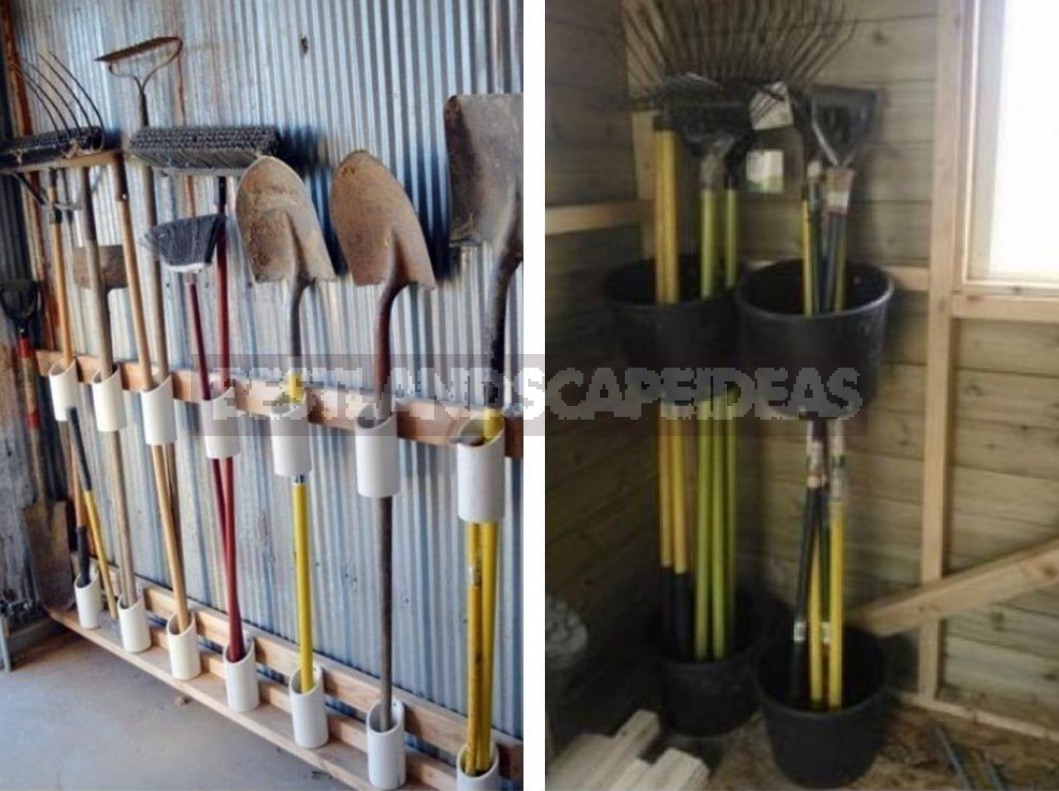 But the main thing here is the idea, and then you can creatively develop it: for example, take the buckets not plastic, but old galvanized ones — they are much stronger…
Storage of garden items
Completing my selection, I noticed that most of the ideas are designed for storing "large" inventory, but we also have a lot of small things, for example: pruners, shovels and shovels for flowers, planting cones, scissors, forks for loosening… And all this — due to its modest size-is often lost. Not the order, do you agree?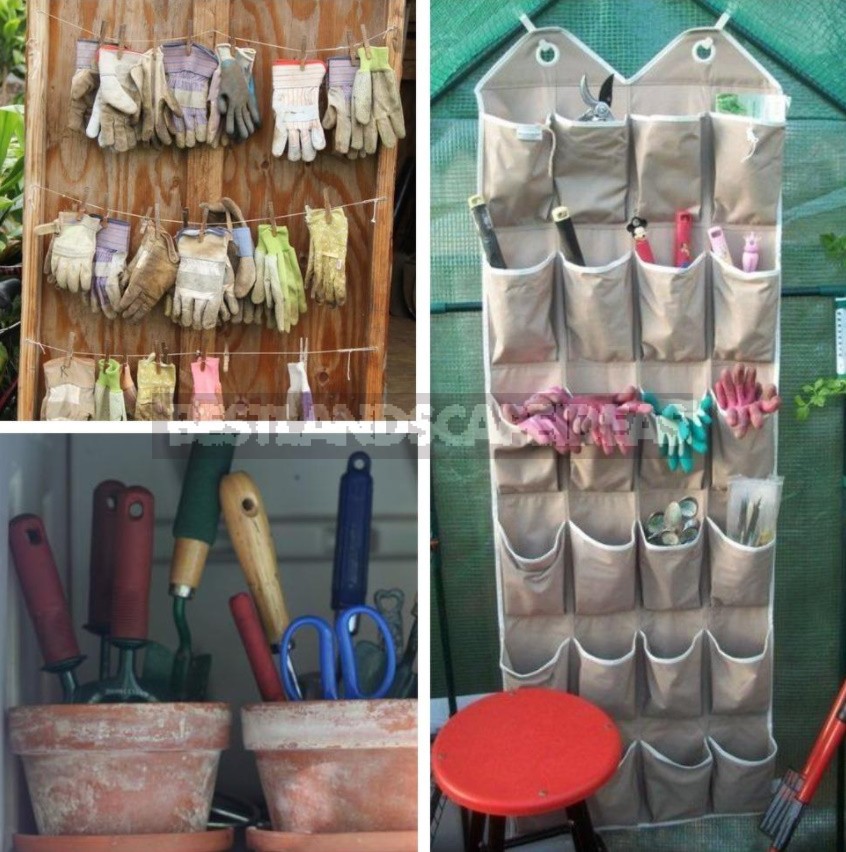 In my opinion, the most convenient solution for storing garden items is convenient hanging organizers with pockets made of dense material. And the more pockets, the better: each tool has its own "compartment".
And what ideas did you like? Maybe you have already used some of them, or have tested them in practice and rejected them? Tell us, complete my selection with your successful finds!