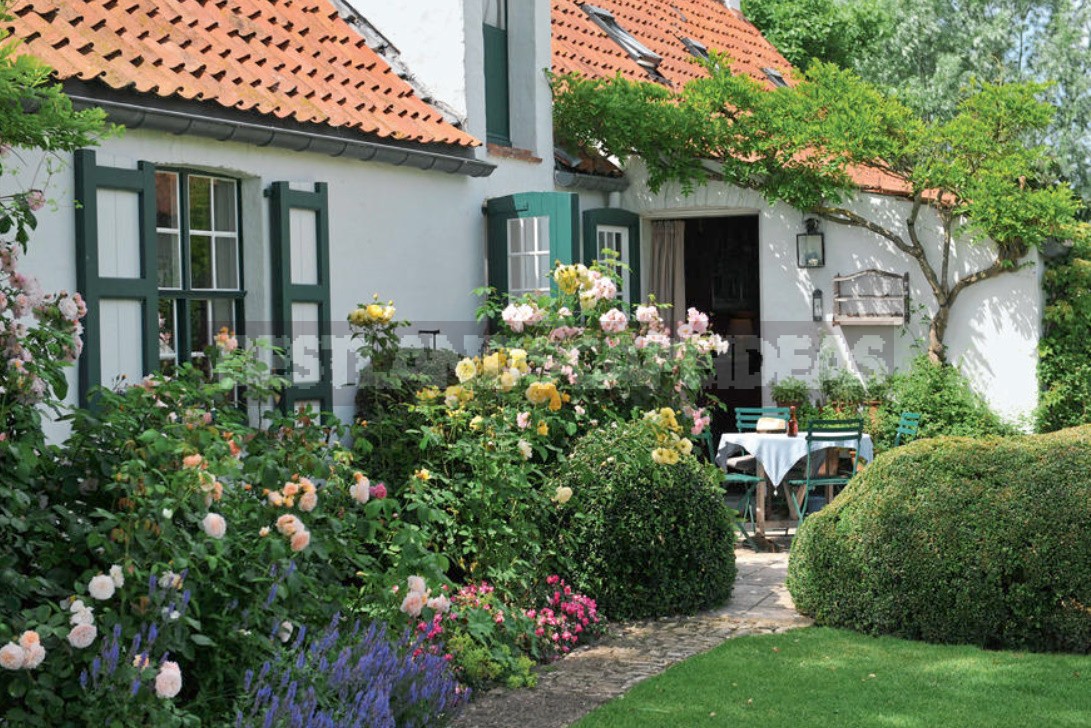 It seems that a nice and cozy cottage garden has existed since time immemorial. However, this style was finally formed at the end of the XIX century and was very popular in the last century. And we have-in connection with the boom of cottage construction-and now.
Cottage garden was invented by the British. It was their response to the industrial revolution, which transformed Great Britain from an agricultural country to an industrial one, bankrupted most of the artisans, and elevated the manufacturers of standard consumer goods to the pinnacle of success. Then, as now, people were nostalgic for the good old England, long-established orders, things and handmade interiors. That is why the cottage garden is so closely associated with the Arts&Crafts movement, which aimed to bring art and craft closer together. From soulless machines, people sought refuge in a luxuriously blooming, peaceful, comfortable, soulful and emotionally warm garden. We offer you fifteen ideas, using which you can break a nice and comfortable cottage garden and at your doorstep.
1. Landscape layout
The landscape layout of the cottage garden meets the demand for emphasized naturalness. Undoubtedly, it can have geometric modules: playgrounds and terraces, straight paths, whist trees, flower beds, reservoirs. It can even be divided into rectangular "green rooms". However, thanks to the informal plant design, the garden will still be perceived as a series of landscapes.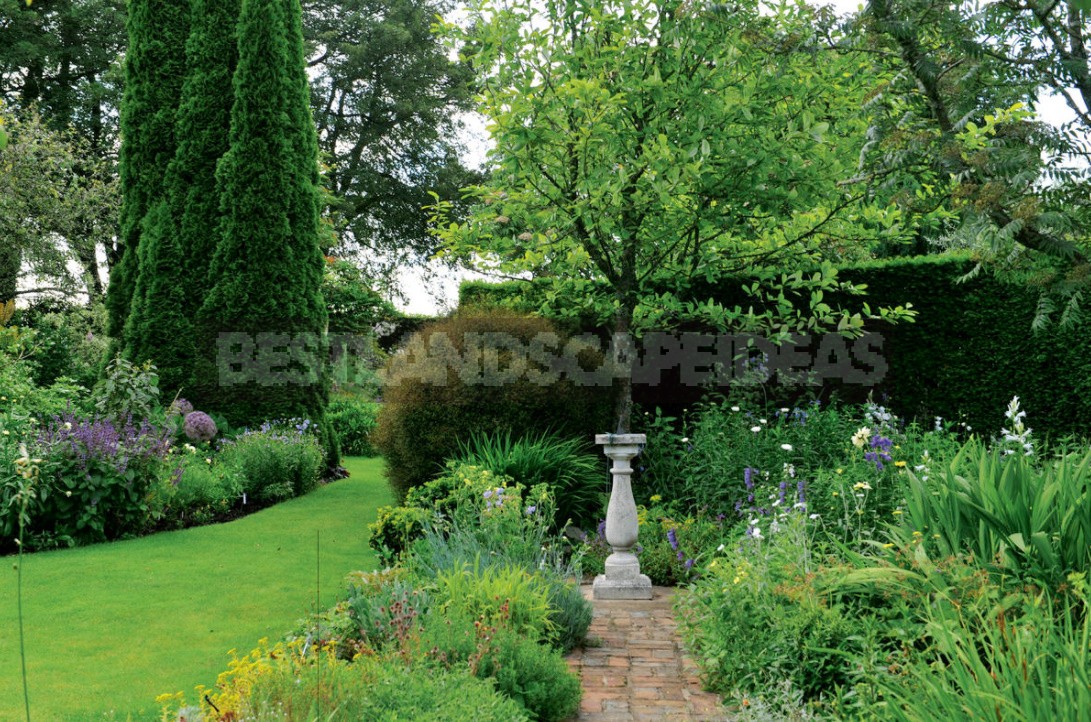 2. Home and garden connection
The garden and the house should be connected together, as if they flow into each other. To do this, the architectural solution can use elements such as verandas, galleries, winter gardens and patios with corners for gatherings near the house.
And the plant design of the site, in addition to flower beds, should contain vertical landscaping (including the walls of buildings) and mobile container green decor of paved areas and decking. But we will talk about these two points separately.
3. Handmade
Handmade elements are a key feature of a cottage garden. These can be custom-made wrought-iron or wooden gates and wickets, elegant pergolas with an interesting shadow pattern inside, stained glass windows used in the design of garden buildings, original sculpture and artisan garden furniture, mosaics decorating countertops or paved areas — everything that imagination, taste and possibilities allow.
4. Old things
Old things are a symbol of the cottage garden. Nothing conveys an atmosphere of nostalgia for the old days more than the rusty garden tools hanging on the wall, the clay pots with a salt coating placed on the steps of an old wooden staircase, or the wicker wooden baskets with flowers. Such things can be found at flea markets.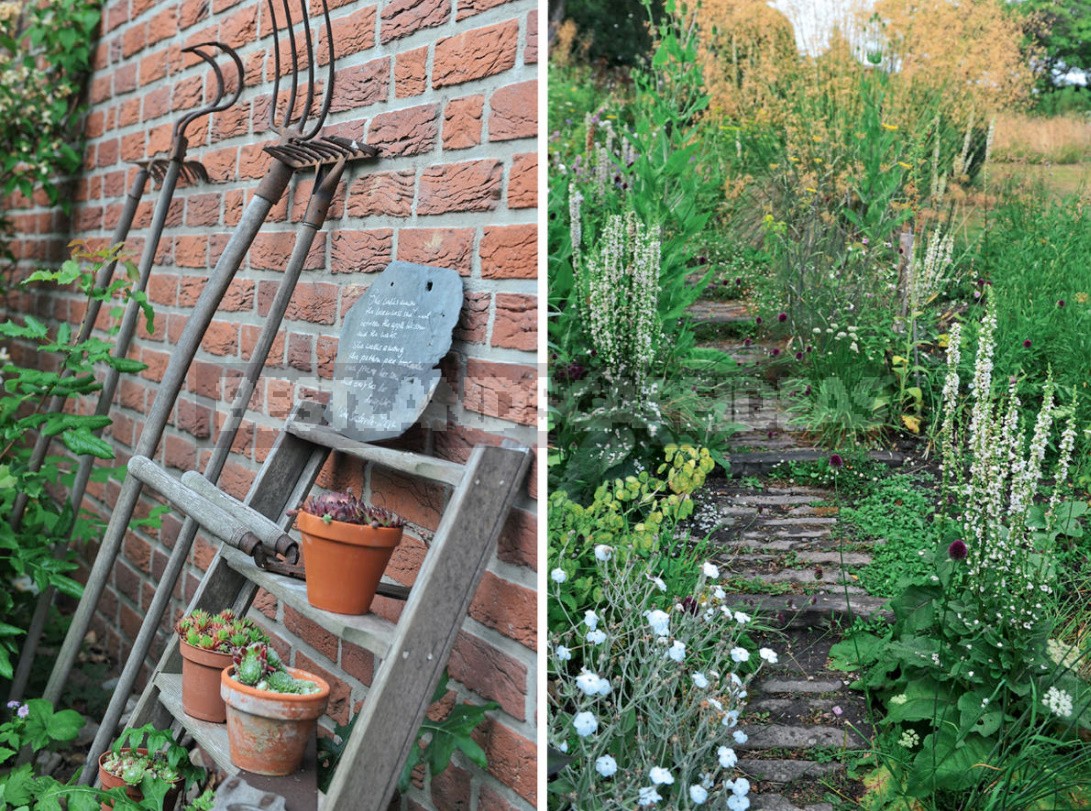 5. Natural materials
By the way, about paving and coverings. Usually they are gravel, brick, wood or lawn, and in no case should they look like a new model of a lifeless flagstone with completely worn seams. Old brick is an ideal material for garden paths (and if you put it edge — then curbs) or low retaining walls. Used railway sleepers can also be used as curbs, elements of paths or steps.
6. The illusion of naturalness
To create the illusion of naturalness, some flowering plants are allowed to be sown. Where they improve the picture, the seedlings are left, the rest are weeded out. Thus, nature itself helps to create a beautiful garden with elements of unpredictability.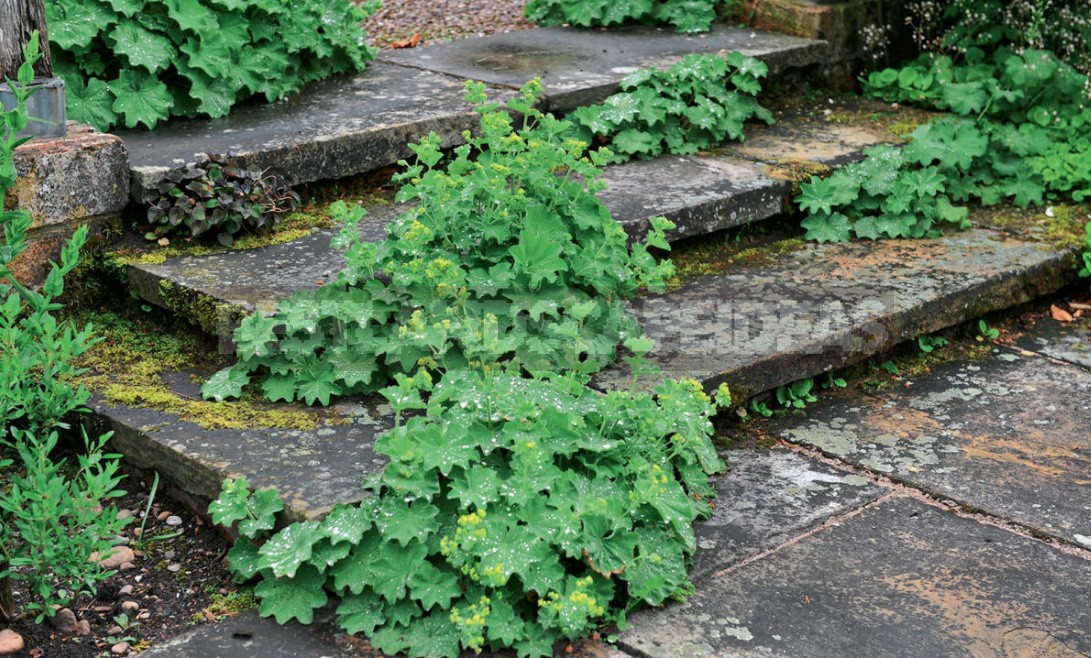 7. Continuous flowering
Spectacular flower beds throughout the season-from the first bulbous ones to the shrubs and trees with decorative bark that attract attention in winter-are the result of a thoughtful selection and combination of plants.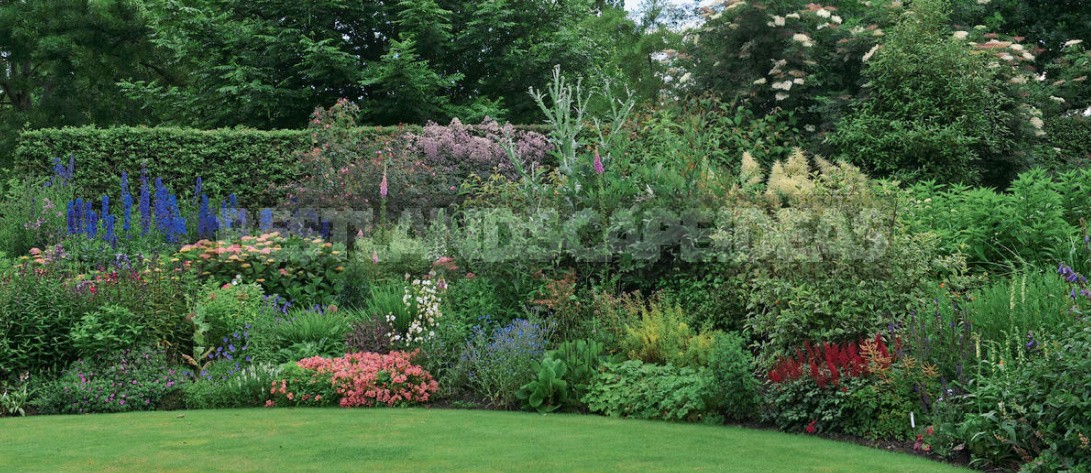 Among them, you can find both "high society" (roses, delphiniums, lilies, peonies) and "rustic simpletons" (hollyhocks, night violets, poppies, and even "weeds"). All this is mixed into a beautiful rattlesnake mixture, which will have to be constantly taken care of. However, beauty requires sacrifice, and dazzling — even more so.
8. Roses, roses, roses
The English are subtle connoisseurs of roses, no cottage garden can do without them. However, these should not be tea-hybrid cultivars with their chiseled and somewhat artificial beauty, but nostalgic roses. Breeder David Austin devoted his entire life to breeding such varieties with double flowers of ancient shape and amazing aroma-they are now called English, or Austin roses.
9. Coloristics
Since the time of the famous English gardener Gertrude Jekyll, the color of the flower beds in the cottage garden has been given special attention.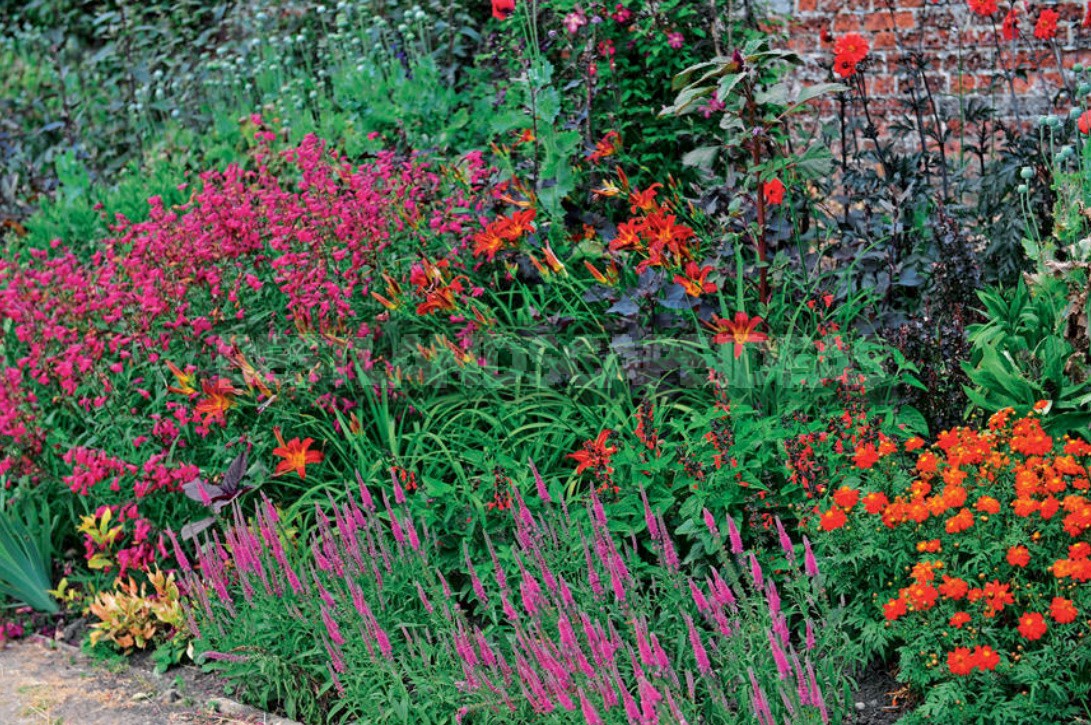 Both contrast techniques are actively used to create bright, eye-catching combinations, and nuance, when compositions are built from plants of different shades of the same color. Monochrome gardens are very popular: white, yellow, red, blue, purple.
10. Container compositions
Annuals and container compositions are an important seasonal decoration of the cottage garden. There are three advantages to this technique: you can plant flowers in pots on any site, the plants can be changed seasonally, and the compositions themselves-at least daily, choosing new spectacular combinations or creating themed container flower beds (white, blue, shadow).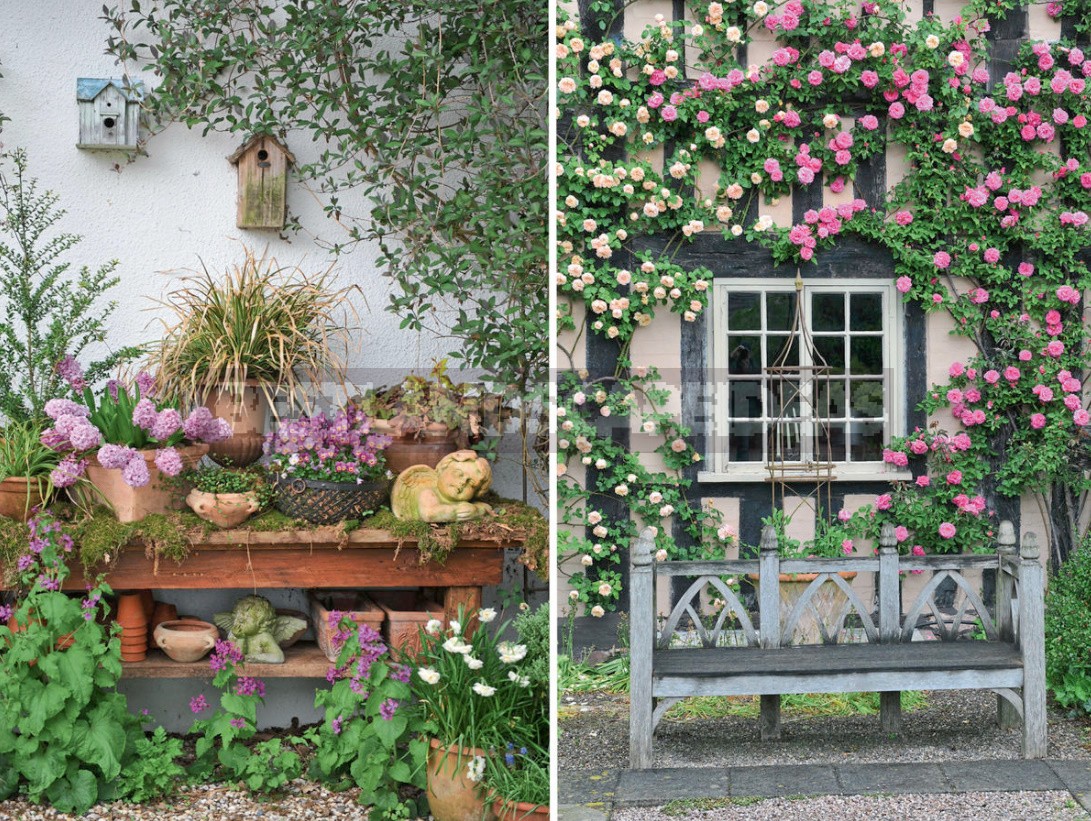 At the same time, any cute containers can and should be used as pots, it is only important to drill drainage holes in them. This can be old kitchen utensils, hanging bird cages, bright cans, out-of-print shoes, and anything else that your imagination will allow.
11. Vertical landscaping
Various beautifully flowering or decorative lianas – help to decorate the walls, pergolas and arches and erase the line between the house and the garden. No traditional flower garden is complete without sweet peas — the British have bred hundreds of varieties of this cute annual.
In general, vertical gardening is present in the cottage garden everywhere.
12. Plant supports
Plant supports are another opportunity to show your imagination.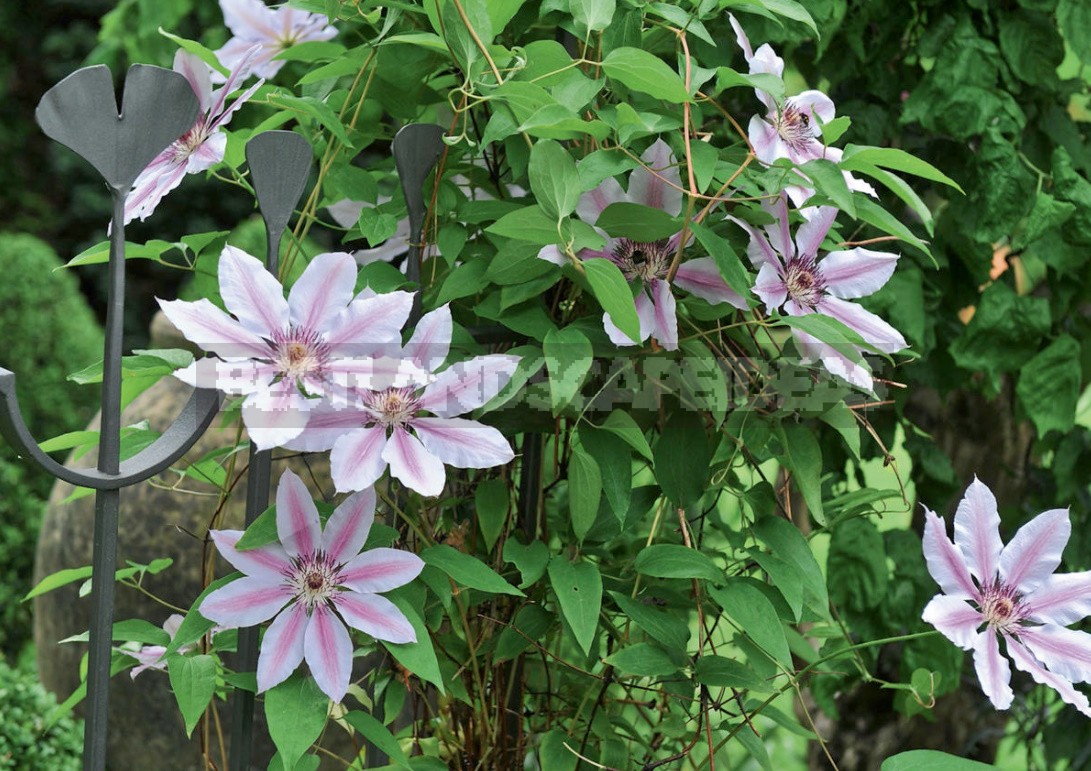 What you will not see in English cottage gardens in this hypostasis: metal gates, and shaped iron headboards of beds, and bicycle wheels mounted horizontally on a leg, through the spokes of which crumbling bushes grow. Naturally, everything is old, rusty and pretty. And "wigwams" for sweet peas and low supports for peonies and other lush, prone to lie down on the ground flowers, you can personally build from the branches left over from pruning.
13. "Wild" spaces
Increasingly, in cottage gardens, you can find "wild" spaces in the form of untouched or man-made meadows with local flowers.
If there is not enough space for such an idea, you can select a small island on the lawn for this idea and leave it uncut.
14. Reservoir
In addition to stone, wood and metal, the fourth mandatory element is water. Whether it is a pond, a stream or just a small fountain, but water adventures are always present in the cottage garden.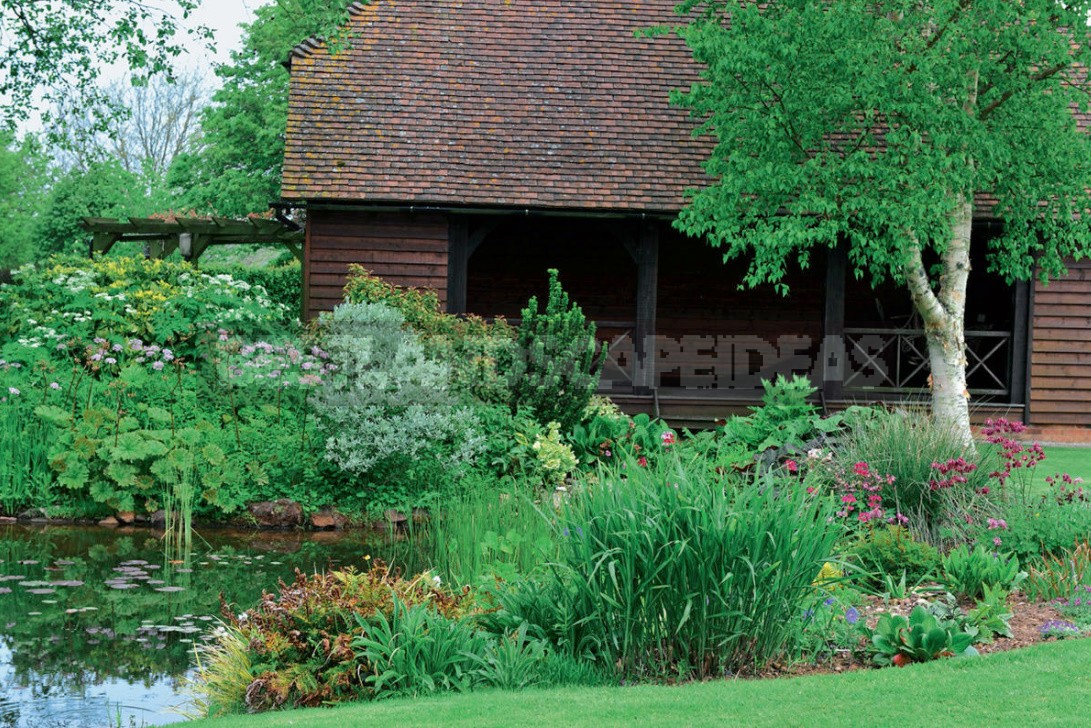 Water calms out negative emotions.
15. Sundial
A sundial is a common element of a cottage garden. They can become the central point of a decorative garden or set the theme for a separate flower garden, but the fact remains that their presence is a tribute to tradition.