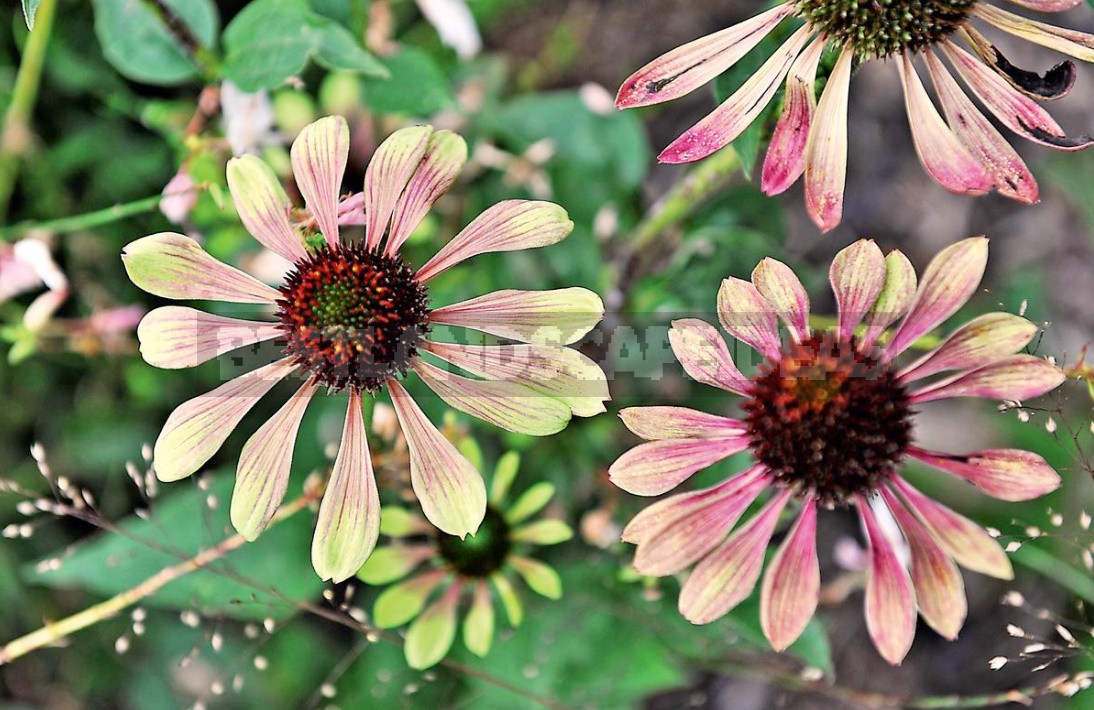 After designing a suburban area, it's time to start selecting plants, accessories, and other garden design objects. Today we will give you some tips that will help you create a bright and interesting garden at any time of the year.
1. Flowers-the chameleon
The chameleon is an amazing animal that impresses with its ability to change color. However, this ability is possessed not only by him, but also by some garden flowers. By placing them in their flower beds, you can observe interesting color changes throughout the season.
The choice of such plants is already quite large. These include:
bluish and smoky varieties of Phlox paniculata,
some varieties of Hydrangea paniculata ('Limelight') and Hydrangea arborescens ('Annabelle'),
Echinacea 'Green Envy',
roses 'Acropolis', 'Apricot Bells', 'Gloria Dei',' Keith's Delight', 'Lavender Pinocchio', 'Plaisanterie',
pink varieties of Anemone nemorosa – 'Kentish Pink', 'Marselina',' Tilo', 'Frulings Fee'
and even many yellow-coniferous Pinus mugo varieties.
Watching the life of chameleon flowers is a fascinating experience.
2. Flaming flower beds
There is nothing wrong with adding brightness to your garden. Gray weekdays not least contribute to the desire to make a flower garden on the theme of "50 shades of red".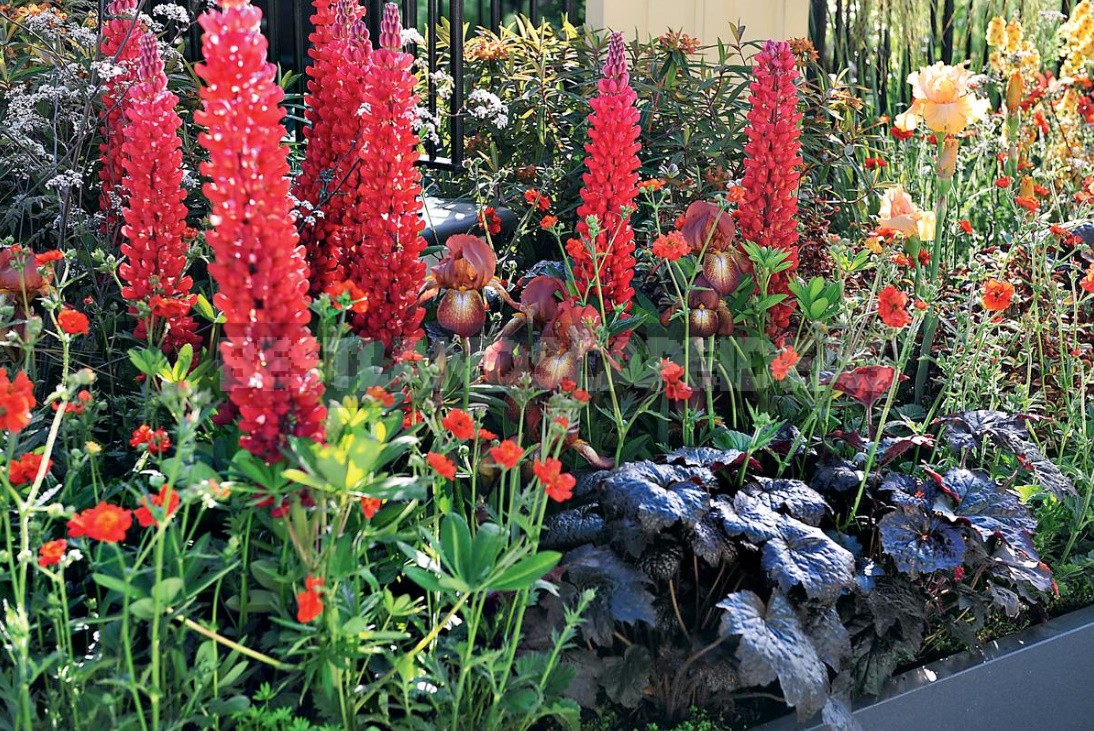 Subtly selecting nuanced combinations of colors and foliage of different tones of red – from scarlet to purple, you can make a real "garden fire". The main thing is not to overdo it.
Another option is to add other "warm" colors-yellow, orange, Magenta, pink, purple – and dilute them with white. This flower garden will also be spectacular and "hot". And most importantly, it will lift your mood even in the coolest and cloudy summer.
3. Summer bulbs
Camassia is quite rare in gardens, and yet it is a real find for flower beds in late may-early June, when almost all Tulipa, Narcissus and Hyacinthus have already faded, and the bulk of perennials are only gaining buds. And if you plant different types of bows in the flower garden, you can stretch their flowering from may to July:
in late spring, Allium aflatunense and Allium zebdanense bloom;
in June-Allium giganteum, Allium nigrum, Allium rosenbachianum, Allium moly and Allium schoenoprasum;
in Midsummer – Allium cristophii, Allium sphaerocephalon, Allium atropurpureum, Allium caeruleum.
It is important to note that after flowering, they lose their decorative effect, so you need to choose your neighbors in the flower garden so that they cover the fading leaves and fill the voids.
4. Tulips "double effect"
It is this phrase that denotes tulips, from which you can expect a little more than usual. Often, double-effect tulips are recorded simultaneously as double-flowered, with a peony flower, and multi-flowered (one bulb gives a whole bunch of flowers), as well as double-flowered varieties with variegated leaves. There are also more interesting rarities. For example, a Tulip from the Lilyflowering class, but with fringed petals. Or Tulipa x gesneriana Parrot Group with variegate foliage.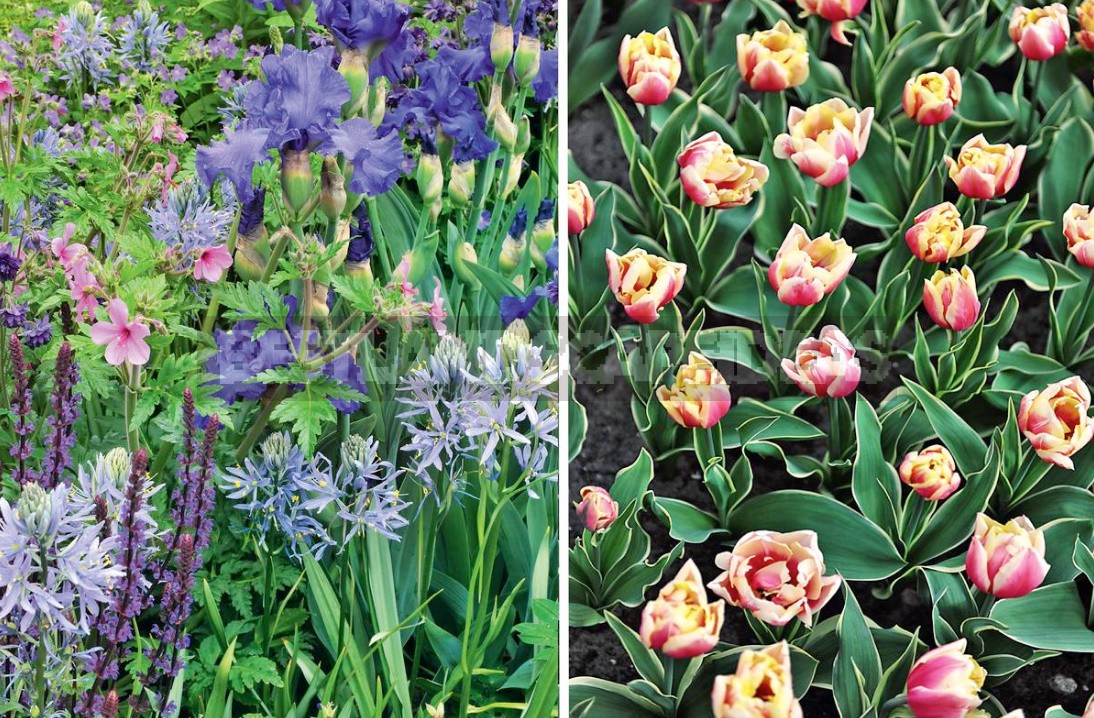 Keep your finger on the pulse, for sure soon there will be tulips with a "triple effect"!
5. Clematis for beginners
To help novice gardeners, there is a list of large-flowered varieties "for beginners". They are unpretentious, reliable and do not require special care from those who decided to plant this flowering vine in their garden for the first time.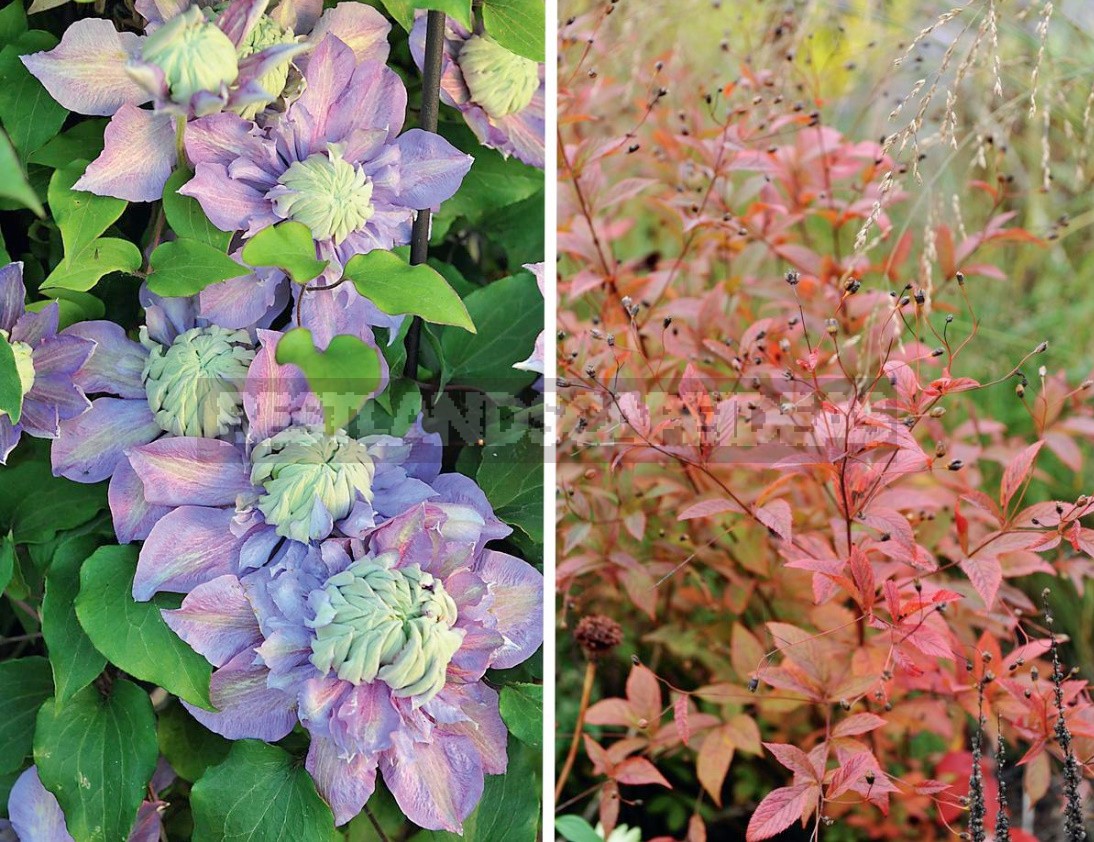 Of the early-flowering varieties, these are Clematis 'Fujimusume' '' Guernsey Cream' ' 'Pink Champagne',' Mrs. Georg Jackman' ' 'Niobe' '' Piilu', 'Westerplatte'.
The recommended summer flowering varieties are 'Ascotiensis', 'Comtesse de Bouchaud', 'Gipsy Queen', 'Hagley Hybrid', 'Huldine', 'Jackmanii', 'John Huxtable' '' Victoria',' Viola','Warszawska Nike'.
Among the Terry varieties, you should choose those that bloom with double flowers on both old and new shoots, for example ' 'Diamantina' or 'Josephine'.
6. Autumn color of perennials
Autumn is a Golden time. In September and October, the garden is transformed every day. And not only because of the autumn color of the leaves of trees and shrubs — they are supported by perennials.
The foliage of Amsonia, Molinia, and Hakonechloa is painted in Golden tones.
Wine-red shades are acquired by the leaves of Aruncus aethusifolius, Gillenia, Lythrum virgatum, Bergenia, Geranium macrorrhizum, Darmera.
Platycodon grandiflorus and Liatris spicata turn from yellow to purple.
If you do not forget that perennials with autumn foliage color will add a bright touch to the garden palette at the end of the season, your garden will be bright until the first snowfall.
7. Perennials with beautiful fruits
If you haven't done this yet, pay attention to perennials with beautiful fruits. You can get a double benefit from them-they often look even more interesting in autumn than in bloom.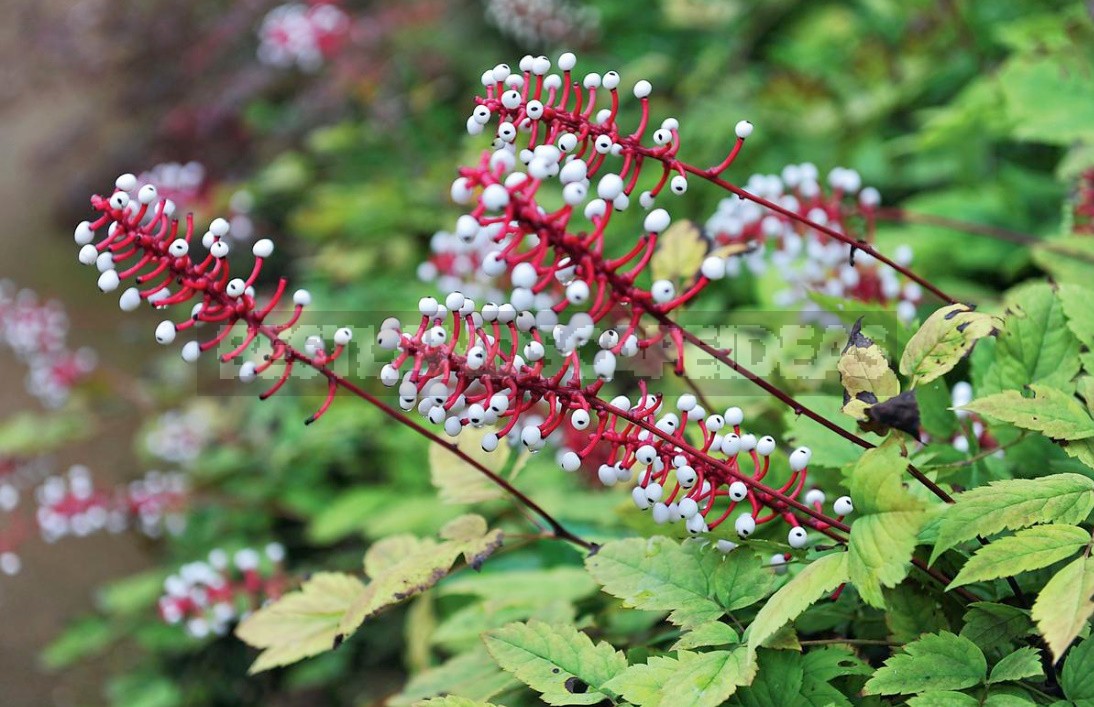 Having set a goal, you can collect a real Treasury of "garden jewelry" – so diverse are the fruits in color and shape. Here you can find colorful beads (Actaea, Disporum, Arisaema), buttons (Glaucidium, Phytolacca), fringe (Aruncus), pendants and pendants (Symplocarpus, Podophyllum).
8. Green flowers
When talking about the green color in the garden, first of all they mean a rich choice of many options for shapes and shades of foliage. And often forget about plants with green flowers. This in itself is an unusual quality that surprises and makes you look closer. At the same time, in the flower garden, these plants play a neutral role of "pacifier", smoothing color transitions and pleasing shades of green – from lime to olive, on which the eye rests. Green flowers can be found in almost any group of plants: annual and perennial, bulbous and indoor, among roses and Clematis, trees and shrubs.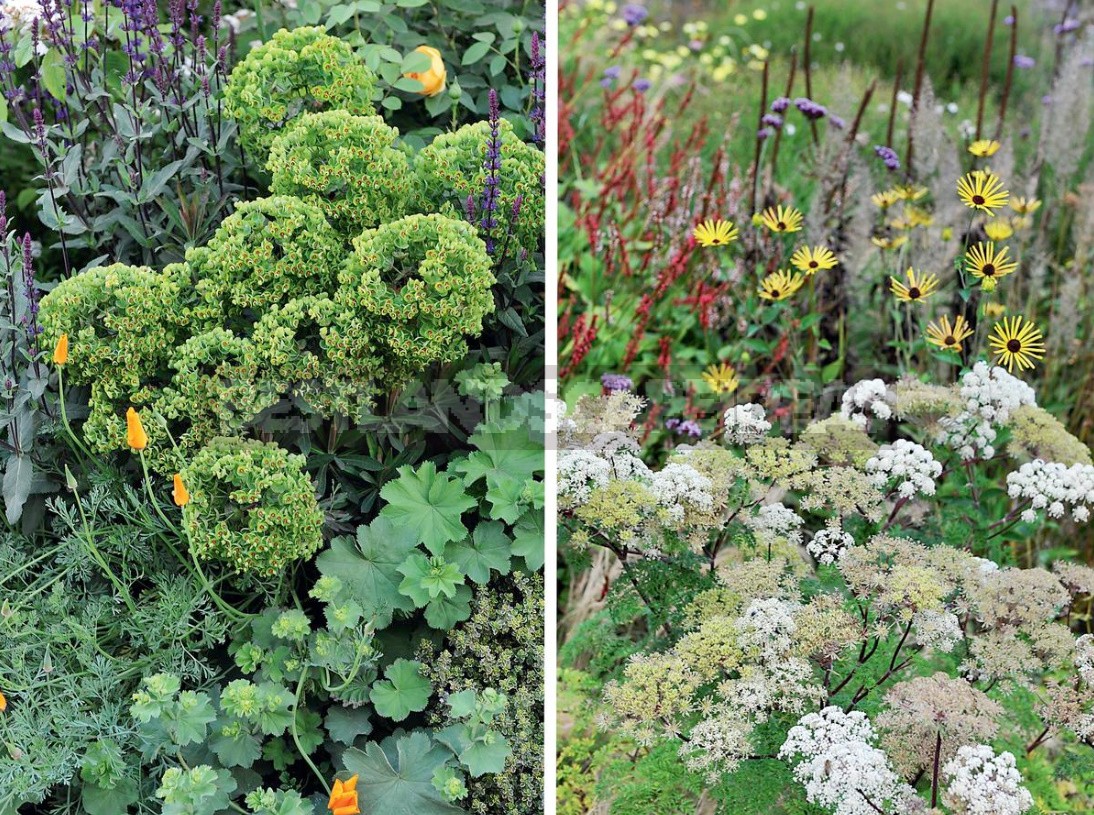 9. Plants of the Apiaceae family
They are always associated either with a vegetable garden (carrots, celery), or with a garden of herbs (dill, parsley, chervil, cumin). However, they are good not only in beds, but also in flower beds! The carved foliage of many Apiaceae is irresistible in contrasting combinations with plants with large leaves. And openwork flowers-umbrellas charm with their perfect symmetry. At the same time, they are so airy that they can play the role of a kind of haze, veil, or translucent veil in the flower garden. Large plants, such as Angelica, will become an accent in any composition. A scattering of small flowers Astrantia and Eryngium will fill your summer with bright color, but, unlike colorful annuals, will do it gently and unobtrusively.
10. Delicious neighbors
Have you noticed that green plants and vegetables are not only delicious and healthy, but also extremely beautiful? And if you plant them among ordinary flowers, you can get a flower garden for every taste – in all senses of this phrase. Among the "garden" plants can be found:
"architectural" elements (Rheum, Cynara, Helianthus),
coloristic accents ("colored" cabbage varieties, Basil, Chard),
options for green borders (parsley, Origanum, Allium schoenoprasum)
and even vines (beans, peas, cucumbers and small pumpkins) for vertical gardening.
Strawberries can also decorate a flower bed not only with beautiful leaves and flowers, but also with delicious bright red fruits.