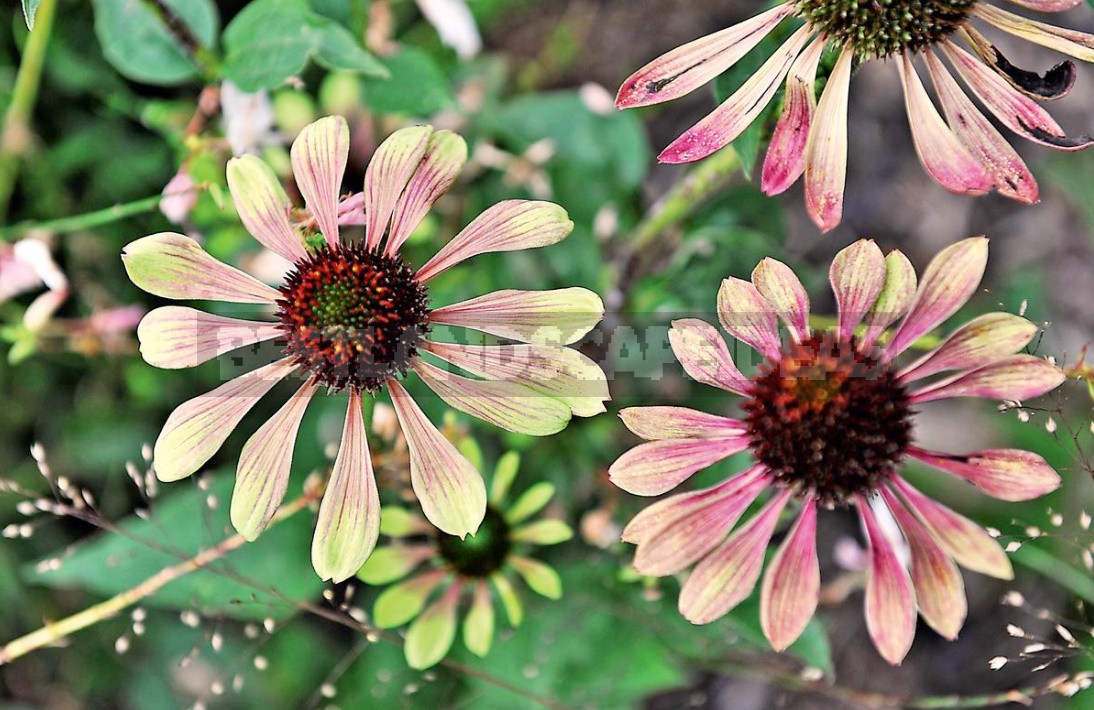 11. Rust in the garden
Do you think that the most inconspicuous shade in the garden is green? Then look at the color of the rusty metal. This brown-red tone is in harmony with all the colors of the spectrum and never argues with any of them. It will become a background for both the brightest and the most ordinary flower and will also favorably emphasize any plant. It will give the old garden an atmosphere of romance and self-irony, and will help the young to seem older than their years. This color in summer reminds us of the newly thawed brown spring earth and the beautiful and sad palette of late autumn, when all the flowers have already dried up. Perhaps this is why it is so appropriate in any garden.
12. Poaceae in flower beds
In search of beautiful and easy-to-care solutions for natural gardens, Dutch designer Piet Oudolf decided to add decorative Poaceae to the flower beds. The result inspired him so much that he took Poaceae as a basis, and already diluted them with flowers. Today, he has thousands of followers.
In flower beds, decorative Poaceae usually play the role of peacemakers. They smooth out any inconsistencies and roughness, mute excessive brightness and emphasize the beauty of pastel shades. They are among the first to Wake up in the spring and solo in the garden until late autumn. Decorative Poaceae in the garden are very effective.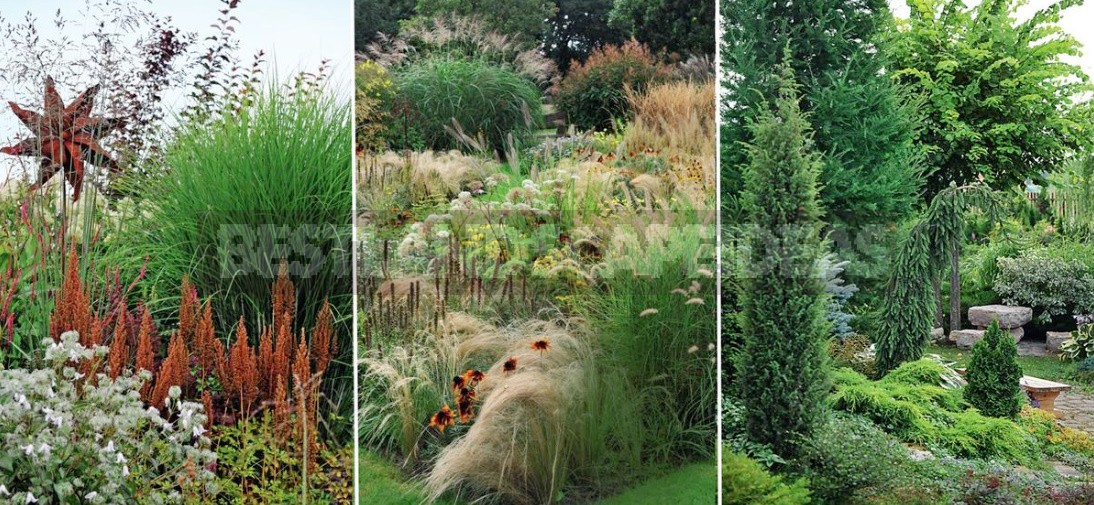 13. Reliable garden Foundation
If winter in your garden is an uninteresting and colorless season, then you have underestimated the importance of evergreen coniferous trees and shrubs and plants with decorative bark. In summer, they do not catch your eye, and in winter, the color of needles and bark stands out against the white snow. You can choose varieties of Cornus or various Salix with colorful shoots: from yellowish-olive to orange-red. Or plant Prunus maackii-its trunks are the color of dark amber. You should also pay attention to Corylus 'Contorta' – a valuable decoration of the winter garden. And, of course, do not forget about conifers, the choice of which is now huge: from yellow to blue colors, from dwarfs to giants.
14. Mobile container garden
A paved area or wooden flooring does not necessarily look lifeless — you can green any horizontal surface. Plants in containers will come to the rescue: such plantings will require care, but they are good because the compositions can be changed as many times as necessary. It is better to choose large containers – the soil in them dries up more slowly. It makes sense to add a hydrogel to the substrate to reduce watering. You can grow in containers not only annuals, but also perennial crops, such as Hosta, Astilbe. However, for the winter they will have to be transplanted from containers into the ground or remove pots with plants in a non-freezing place (for example, in the basement). Some gardeners thus contain collections of varieties of garden Hydrangea.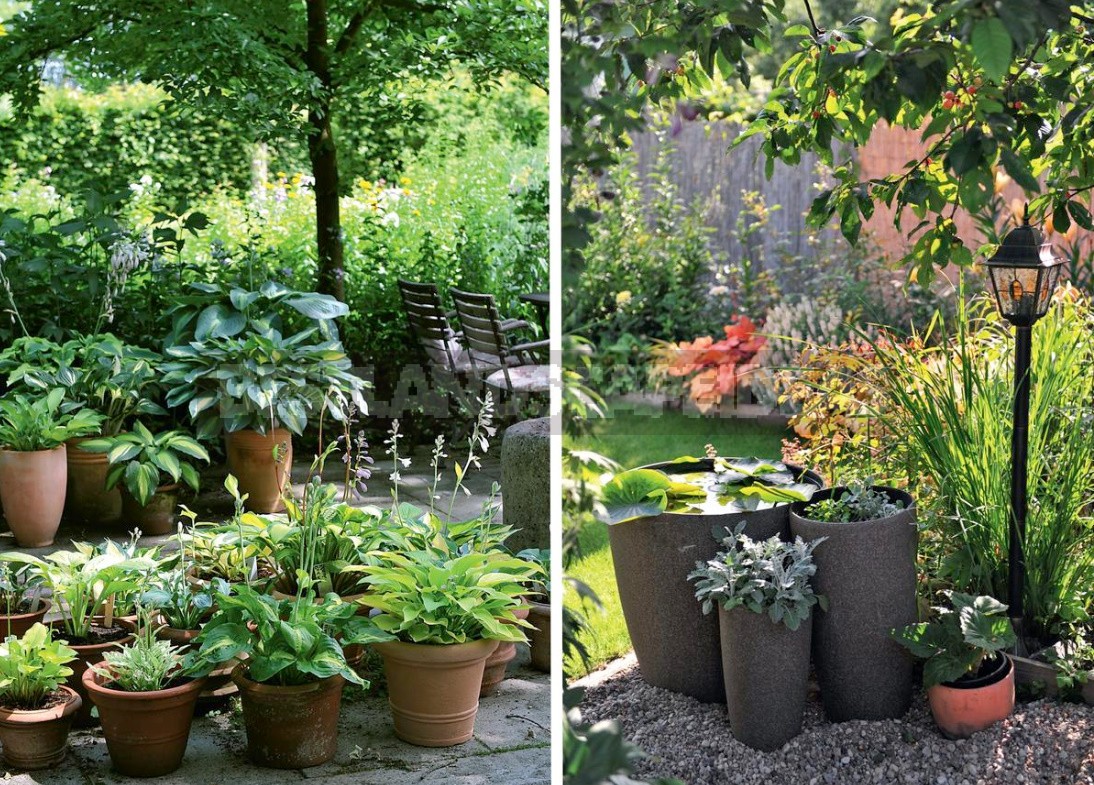 15. Pond in mini format
Even a small terrace or patio in front of the house can be decorated with a pond. It was tiny, but it was enough to make Nymphaea bloom. For these purposes, any wide vessel, the height of which is selected for a specific variety of water lilies, is suitable. Nymphea Pygmaea is immersed to a depth of 20-40 cm, larger ones are kept at a depth of 30-60 cm.. For the winter, this mini-pond with Nymphea is moved to a winter garden or other non-freezing place. Do not forget: as the Bush grows, the rhizome of Nymphea should be divided.
16. Czech rock garden
The Czechs call the rock garden skalka, and this word has taken root among gardeners to refer to a special type of rock garden. It looks like a natural outlet of the mountain nature with stones of different thickness standing on the edge vertically or almost at right angles.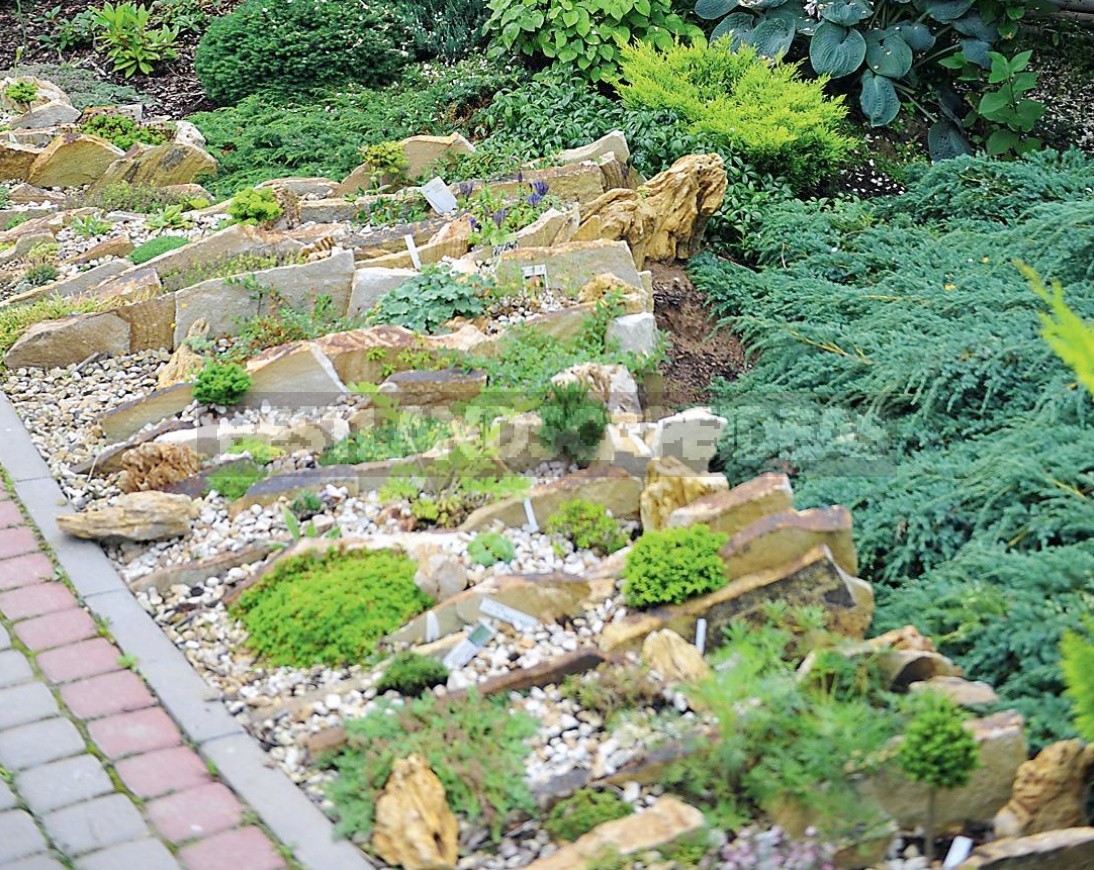 In the classic version, the stones are set tightly, and in narrow crevices filled with soil, Alpine plants are planted and mulched with gravel of the same breed. If the rock garden is made for growing miniature coniferous plants, the stones can be installed less often – then you will not get a classic version, but a distant image, but there will be a place for planting coniferous trees.
17. Garden sculpture in miniature
In small gardens, the role of visual emphasis, the culmination of the garden performance, can be performed by a design detail that is commensurate with the scale of the garden and in harmony with the environment.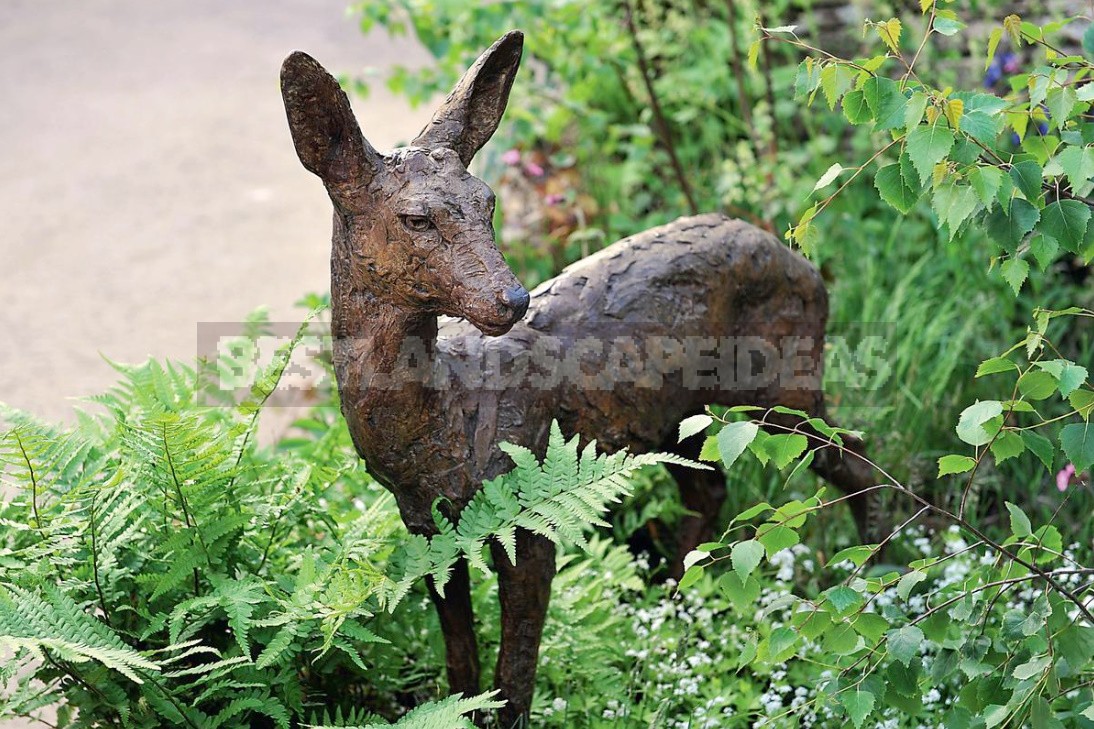 Original garden furniture or a small sculpture will do for this role. It can even be a beautiful container with a textured plant or a pyramid made of flat stones. It is important to correlate the size of the accent detail with the size of the site – too large will unnecessarily dominate, too small – will be lost and will not fulfill its intended role.
18. Garden second-hand
If things have served their time in the house, you can give them a new life – this time in the garden. Of course, we are not talking about tasteless flower beds in old tires, but about beautiful and practical solutions. For example, a cast-iron frame from an old sewing machine can become an original base for a garden table decorated with flowers – you only need to find a suitable table top.
By the way, it is not necessary to plant flowers in ordinary containers – unnecessary metal kitchen utensils are perfect for this role. It is important not to forget to drill drainage holes in the bottom of teapots, cans and jugs to drain water. If desired, you can paint the "container" dishes in the theme of the flower garden.
19. Attract useful insects to the garden
European gardeners have long set in gardens with special houses for over-wintering beneficial insects. They are sold ready-made in stores, you can easily make them yourself. For the simplest model, you will need old boards, hollow bamboo tubes, small clay pots, cones, straw, pieces of bark, and bricks. We combine these materials, and the hotel for Coccinellidae, Chrysopidae, wild bees and Syrphidae is ready. It is better to arrange it closer to the ground, so that in winter it was covered with snow. In summer, useful insects are attracted to the garden by many flowers, but they give special preference to Apiaceae.