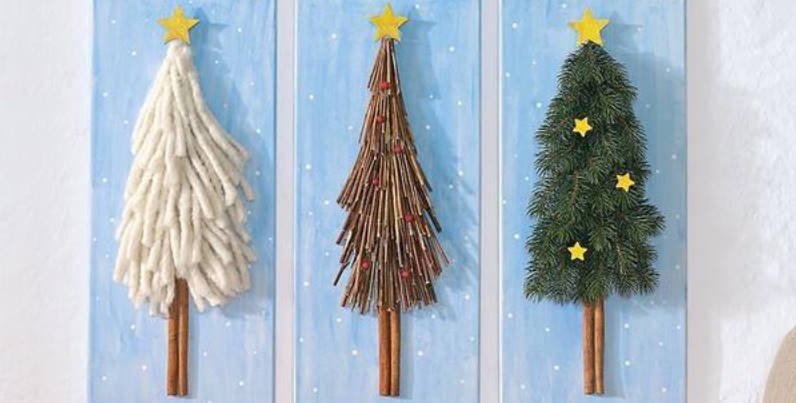 Is there no place to put a Christmas tree in your house? And what a New Year without the beauty of the forest! We offer an original and ingenious solution: these trees will not take up much space, will not crumble, and the New Year's tradition will not be broken!
For every taste
An elegant trio of cute Christmas trees will certainly give your home a festive mood, filling it with the smell of fresh pine needles and the delicate aroma of cinnamon.
You will need:
3 polished plywood bases (23 x 60 cm/0.7×2 feet)
white, golden yellow, crimson and ultramarine acrylic paint
wooden stars (3 pieces with a diameter of 5 and 2.5 cm (1 inches) and 2 pieces with a diameter of 3.5 cm/1.4 inches)
vine twigs (about 100 twigs 6-9 cm/2.4-3.5 inches long)
spruce twigs (about 25-30 pieces)
unpainted felt wool cord (50-60 segments 10-12 cm/3.9-4.7 inches long)
6 cinnamon sticks (about 12-14 cm/4.7-5.5 inches in length)
red artificial berries (7 pieces)
3 cotton balls (diameter 15 mm/0.6 inches-as a pad)
letters made of wood for the inscription " Happy New Year!"(4 cm/1.6 inches high)
round wooden stick (diameter 4 mm/0.15 inches)
brown knitting wire (diameter 0.37 mm/0.01 inches)
paper scissors
pliers (for twisting wire)
sharp knife
vine scissors
glue gun
sponge
adhesive tape
Job description:
1. Before you start, cover each plywood base with a slightly diluted white acrylic paint. Then, on a wet sponge, take a little blue paint and apply it to the still wet white paint (on top of it). If the color is too rich, lightly paint again with white paint.
2. After the paint dries, a strip of 6 cm (2.4 inches) wide adhesive tape is glued on one side and painted with crimson paint, wooden stars-golden yellow, letters-white.
3. Cut the branches of the vine, spruce branches, wool cord in the right amount according to the specified sizes, spread out on the desktop. First, stick the cinnamon sticks in the middle of the base as a barrel. Then the prepared material is gradually pasted on top. In this case, the cord segments and spruce twigs are strengthened individually. Cut the twigs of the vine with a knitting wire to connect the panicles, one by one, to glue them to the trunk (step 1).
4. When gluing the "twigs" in the direction from the bottom up, try to position them so that the tree looks beautiful. Between the rows of "twigs" to maintain a certain interval (step 2).


Technology of work
5. Cut the cotton balls on the sides with a sharp knife so that they become flat; glue them as a pad to the top of the tree. Use the glue gun to attach a large star. Small stars – on a tree made of spruce twigs (according to the photo). Red berries stick on the Christmas tree from the branches of the vine.
6. Place the wooden letters and the remaining stars on the bottom of the Christmas tree. Use a round wooden stick and white paint to draw a basic image of snowflakes.
Christmas tree of pompons
A cozy Christmas tree made of soft pompoms, decorated with flirty bows. Try to do this together with the children-it will be fun and exciting!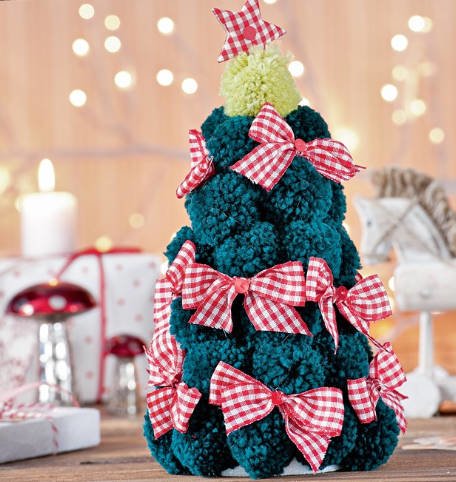 Tree of pompons
You will need:
remnants of wool yarn (130 m-164 yard / 50 g-1.8 ounce) dark green and light green
red sequins (diameter 7 mm/0.3 inches)
1 styrofoam cone (height 20 cm/7.8 inches, base diameter 10 cm/3.9 inches)
set of templates for making pom-poms
scissors
universal adhesive
5 m decorative ribbon (width 2 cm/0.8 inches) in red and white check
finished textile sprocket (diameter 5 mm/0.2 inches) on top
36 dark green and 1 light green pompom (4 cm/1.6 inches in diameter)
Job description:
1. First you need to make the required number of pom-poms.
2. Starting at the base of the cone, the dark green pom-poms are arranged upward in six ranges, in each subsequent 8, 7, 6, 6, 5, 3 pom-pom and glue to the cone. Last but not least, attach light green pom-poms as the top.
3. Cut the checkered ribbon into 14 (5.5 inches) lengths of 30 cm (11.8 inches) each to tie the bow. On the knots of the bow, glue a piece at a time. Stick the star on the piece on both sides.
4. Distribute the bows evenly and glue them to the dark green pompoms. The star should be attached to the top of the light green pompom.