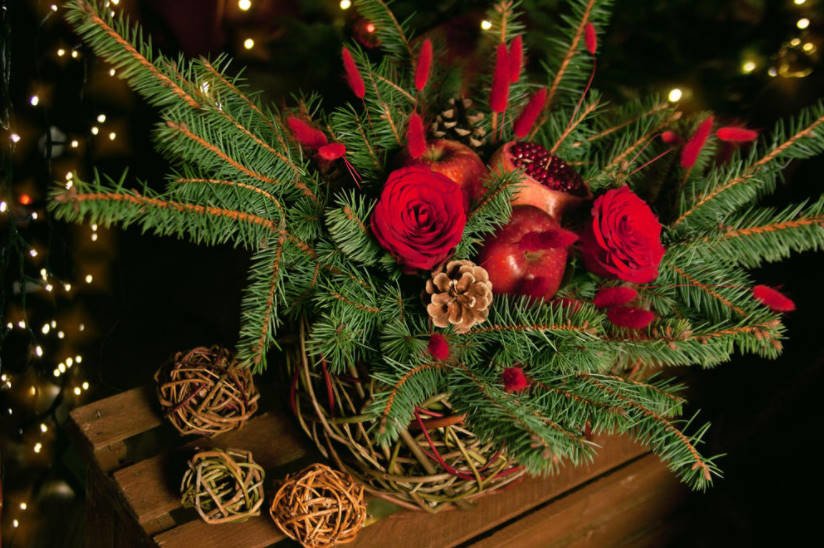 New Year's bouquets and compositions are a good addition to traditional festive attributes. When decorating your home, pay attention to these decorative elements: they are unusual, elegant and can even become a worthy alternative to an ordinary Christmas tree.
Natural material+
When composing New Year's compositions, the main element, as a rule, are live branches of coniferous species: spruce, pine, fir or thuja. They can be installed in a container with water or use a flower sponge. Unfortunately, these bouquets are short-lived; if you use artificial materials, the product will last you for many years.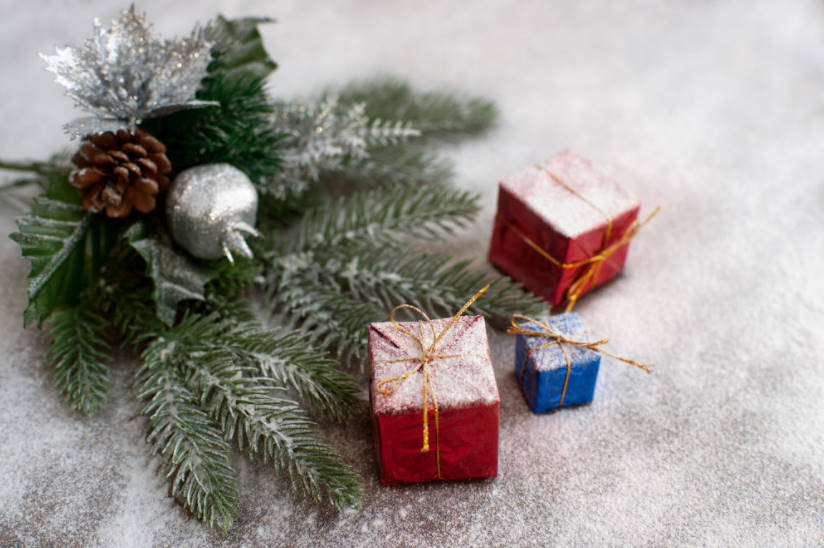 If you use artificial materials, the composition will be durable
Lovers of minimalism or very busy people may not bother much and make such a simple "installation". It will not take much time to create it, and it will undoubtedly bring a touch of celebration to your apartment.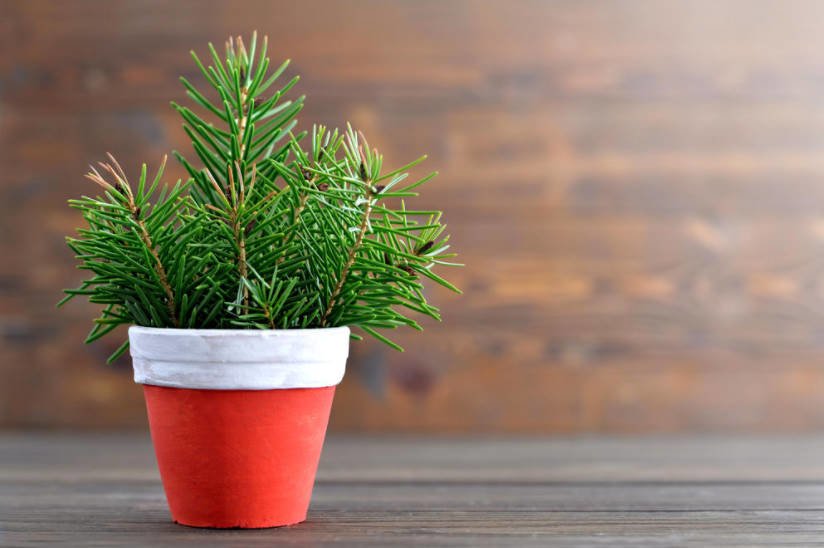 The simplest New Year's bouquet: several fir branches in a suitable container
Add Christmas toys, a couple of forest cones, a few winter accessories – and here we have a completely finished Christmas composition.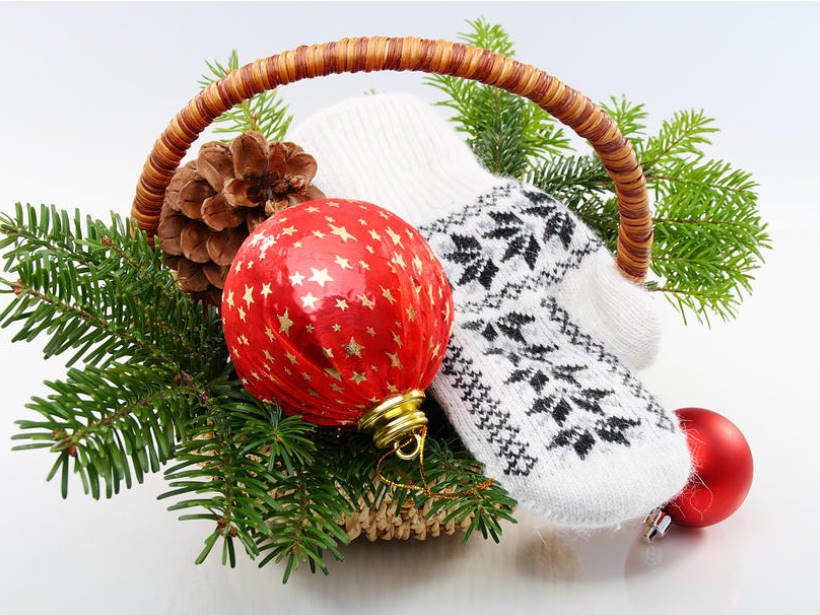 Properly selected accessories will help to create a complete Christmas composition
Speaking of bumps. They, together with pine branches, do not even require anything more to create a full-fledged Christmas decor.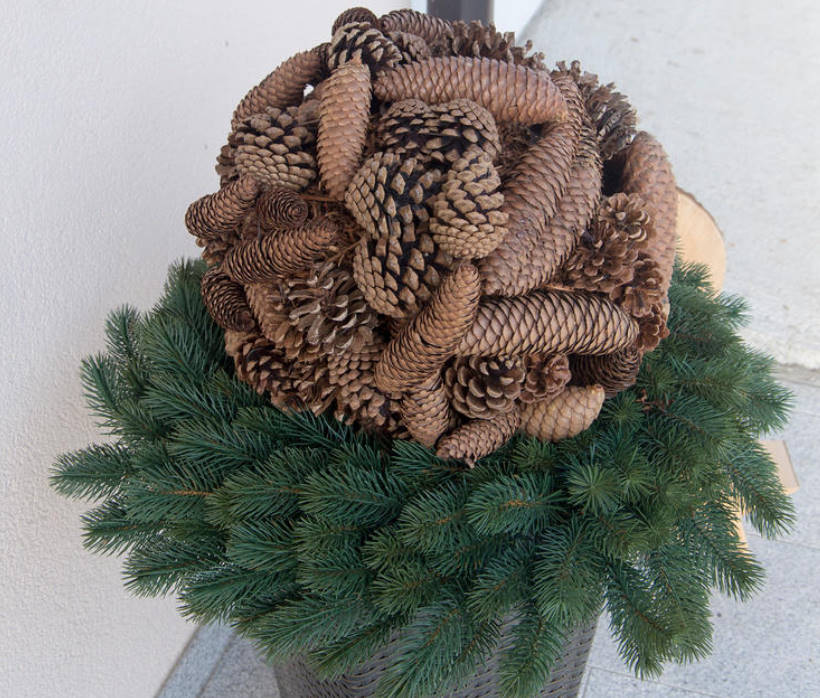 Fir needles and cones – laconic classics
You can do without needles – just cones. Such a bouquet will be a good addition to a gift for the new year.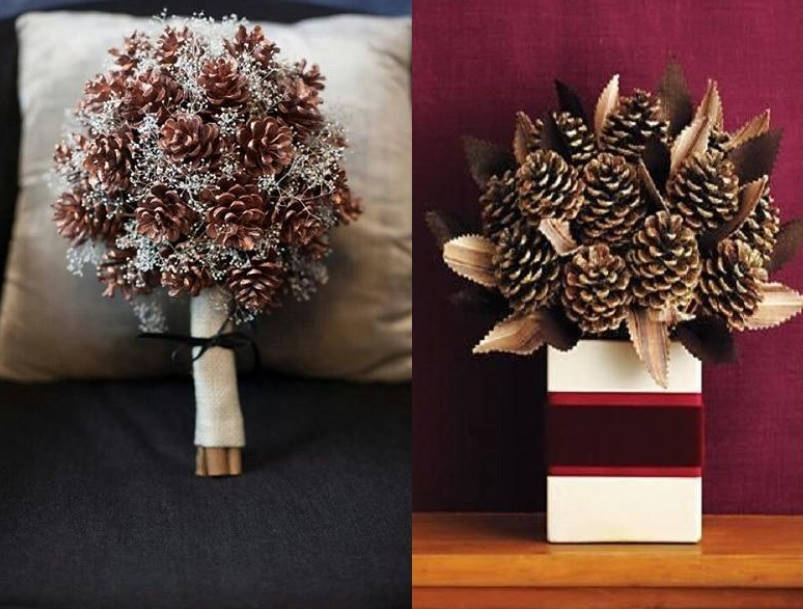 Christmas bouquets of cones
Weave a cozy nest out of spruce branches or tinsel, but instead of bird eggs, put bright Christmas balls in it.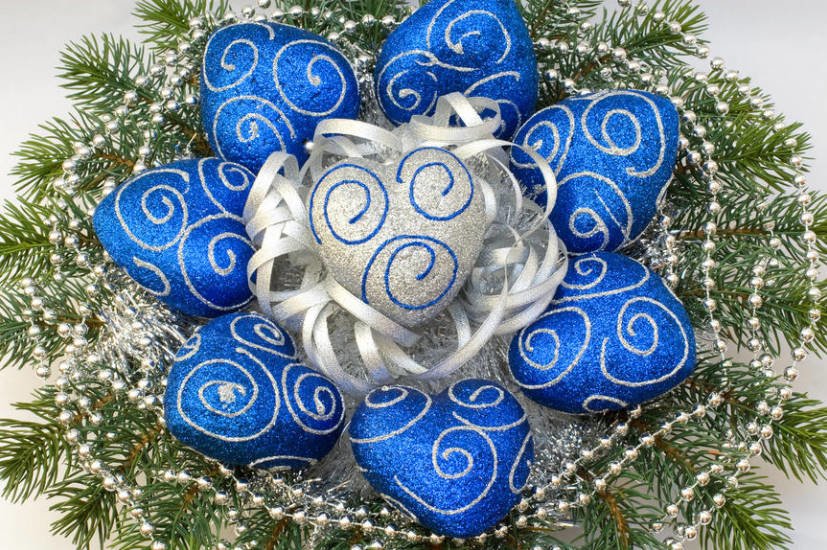 New year bouquet
Surely traditional Christmas songs need brighter colors, pomp and conviviality? Add artificial or fresh flowers, Christmas decorations, bright ribbons to the pine tree and get spectacular beauty: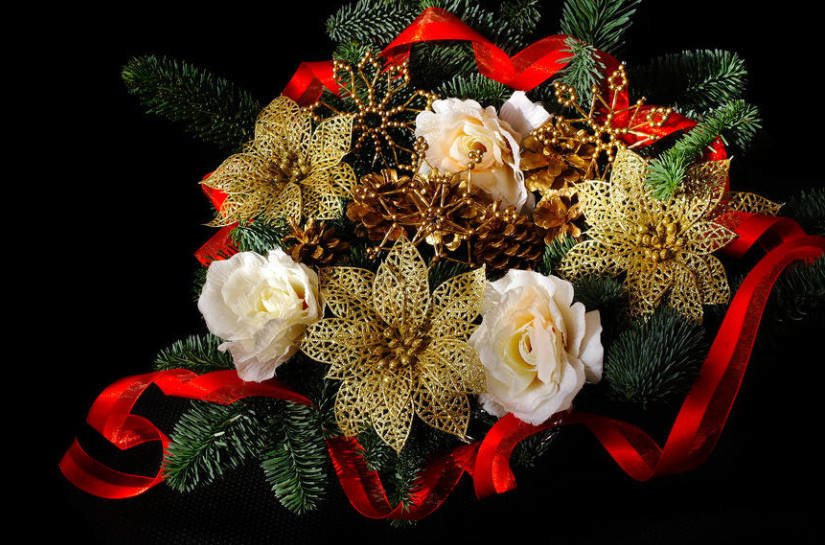 Bright details and fresh flowers will make the composition elegant and festive
An indispensable attribute of the New Year is candles. And an elegant composition of pine branches can successfully play the role of a candlestick: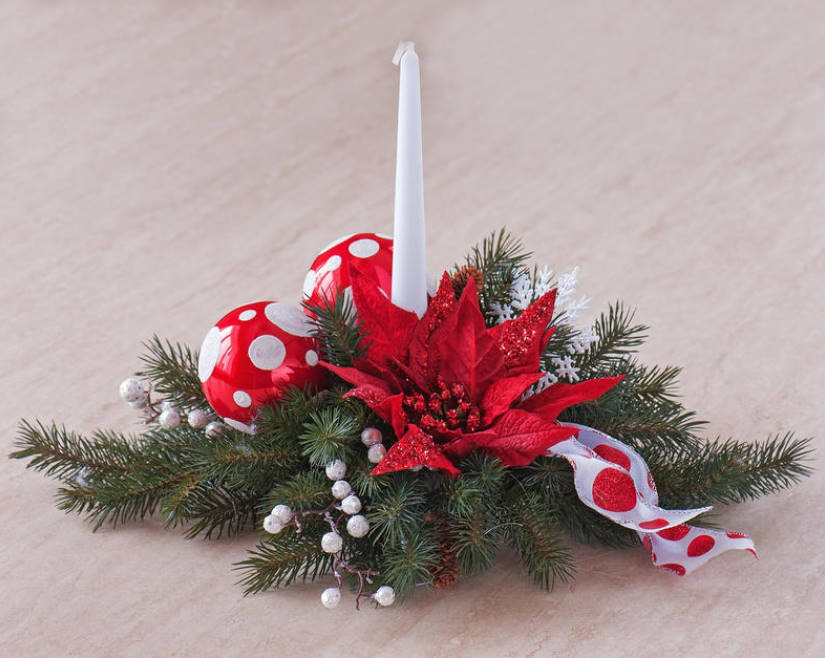 A New Year's composition of pine branches can act as a candlestick
Fruits look very advantageous in festive compositions. For example, tangerines and oranges, which are always associated with the New Year.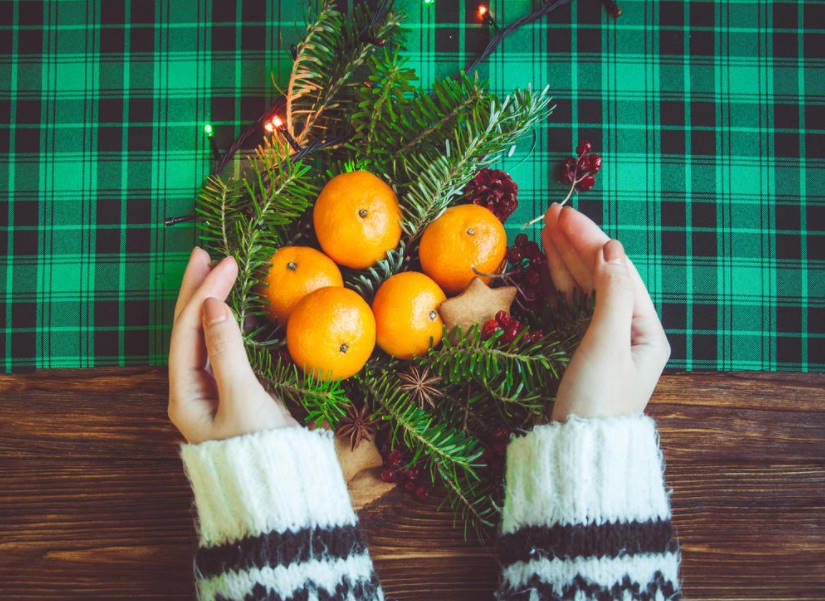 Oranges + needles = Christmas mood
If you also decorate oranges with cloves, then it is not only beautiful, but also very useful – microbes can not stand such combinations. And with carnation buds on an orange peel, it's easy to "draw" any cute pattern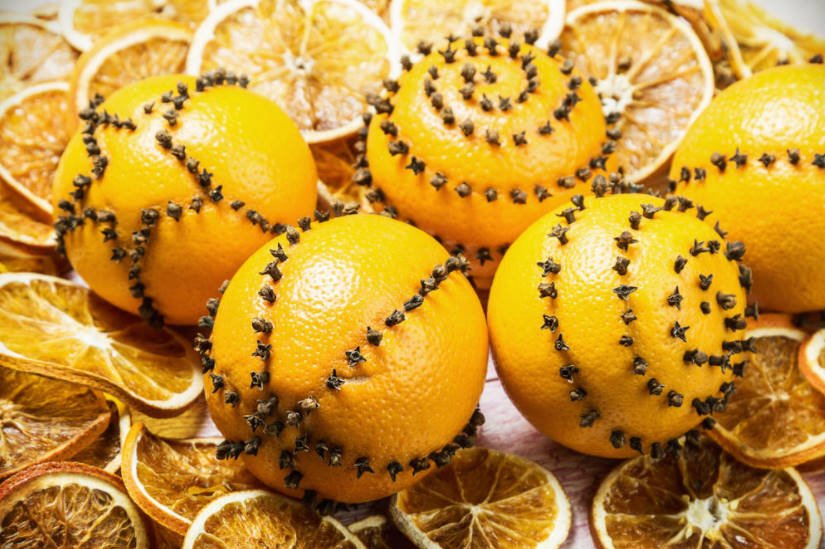 With carnation buds on an orange peel, you can draw any drawing
You can use whole fruits, but if you don't want the elements of the composition to be eaten before the end of the holiday, take dried pieces of citrus: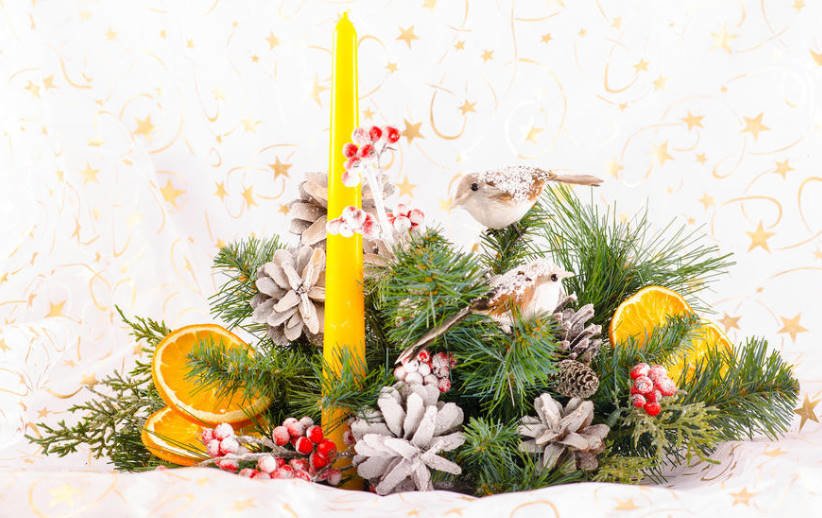 It is convenient to use dried citrus slices in compositions
Other gifts of nature can also become a worthy element of the New Year's composition. Use apples, bunches of red mountain ash, nuts and chestnuts – whatever is at hand. Both natural fruits and their imitation – decorative fruits, berries and even mushrooms are suitable: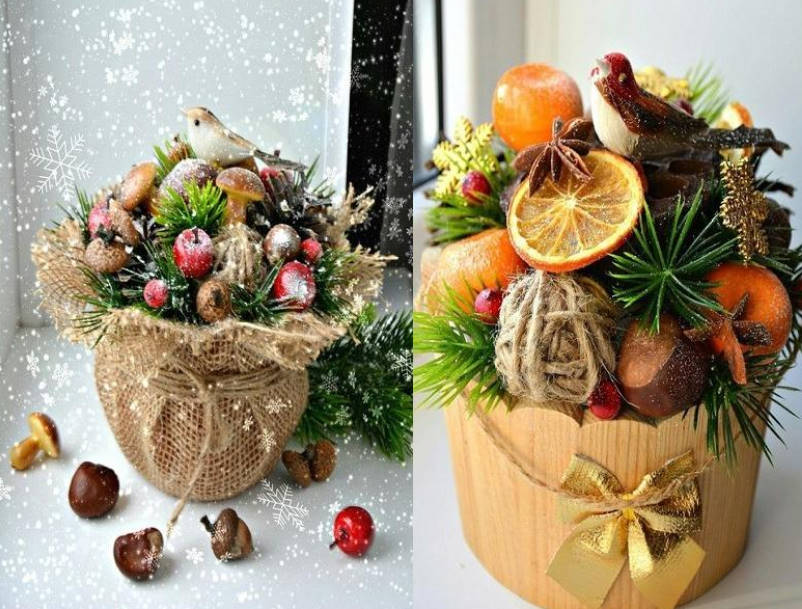 Christmas bouquets made of different materials
Sometimes a clock is used as a semantic complement. Of course, their arrows must be put on "five to twelve."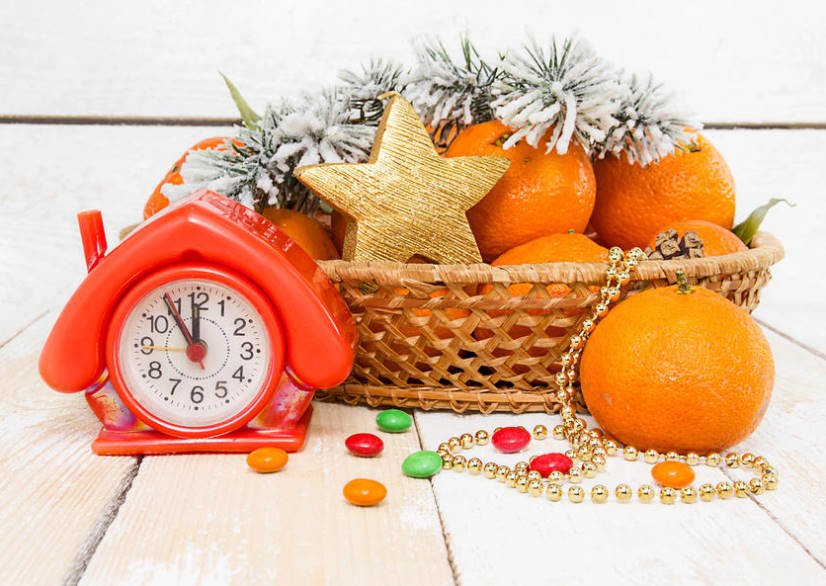 The clock is a good element of the New Year's composition
Do you want to repeat this original? Then give up all the needles, cones and fruits. Use only dry branches and toys – it will turn out both stylish and festive.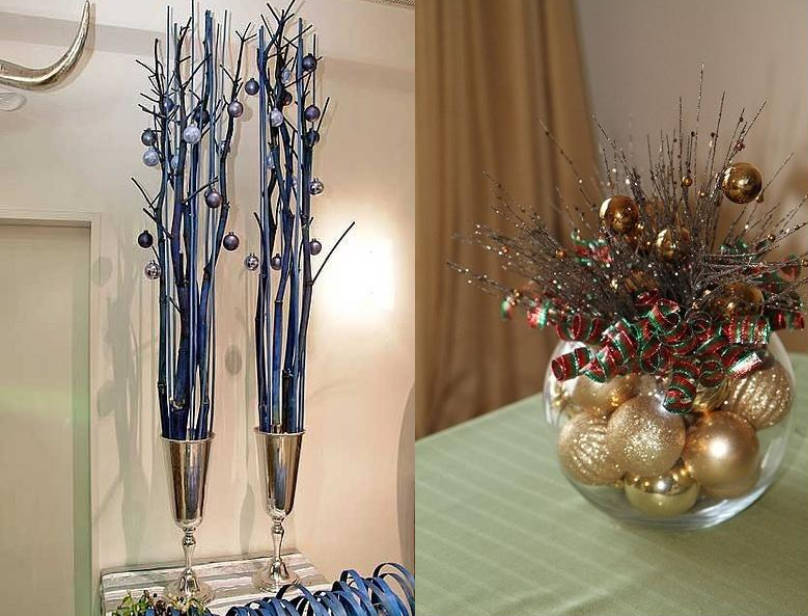 Composition of compositions
In these "bouquets" it is very important to choose the right color palette. Avoid bright colors — it would destroy harmony.
Candy for a bouquet
In recent years, candy bouquets have become very popular. They are given for birthdays and weddings. Why should the New Year be an exception? Just in time for this holiday, a bright bouquet of sweets will be very useful.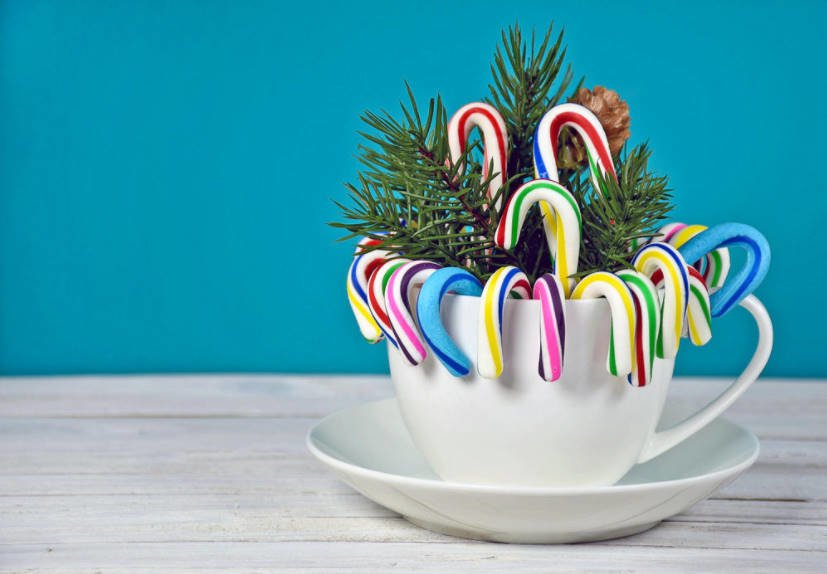 Christmas candy bouquet is a good idea
When choosing the "material", it is better to focus on bright shiny wrappers designed in the traditional New Year's color scheme – red, green or blue. you can also add a chocolate figure of Santa Claus to the composition (fortunately, there were plenty of them in stores before the holiday).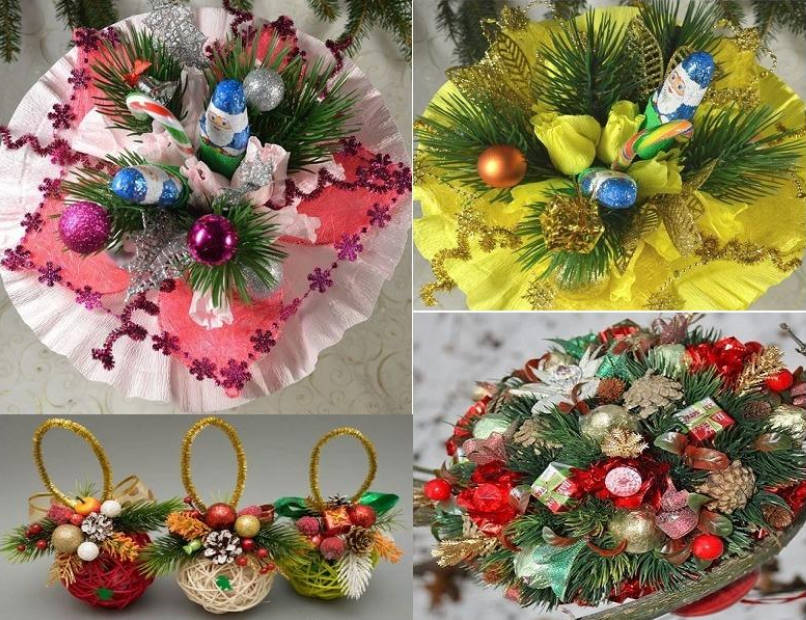 Christmas candy bouquets
Make a Christmas bouquet of sweets from a bottle of champagne or put it in Santa's hood – your imagination will be appreciated.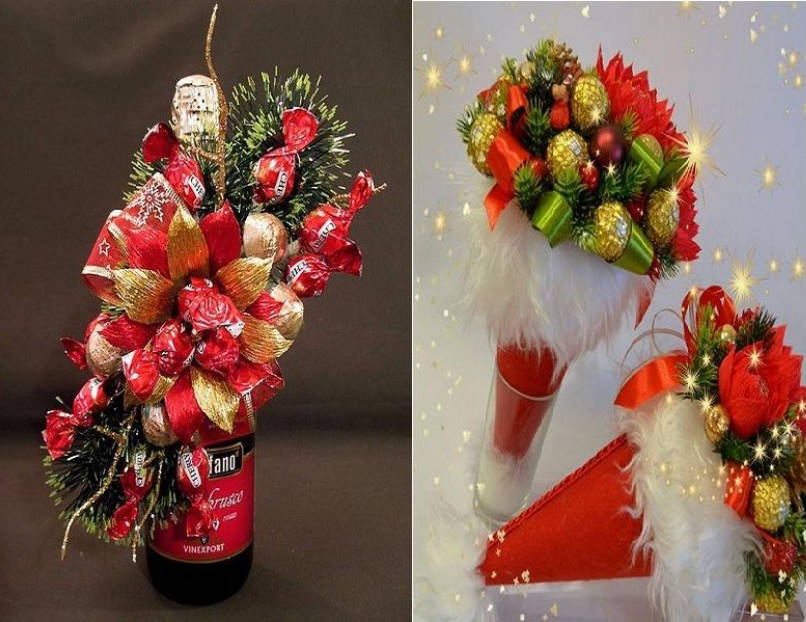 Christmas decorations made of candy
Skilled confectioners are able to make candies that look like Christmas toys and fairy-tale Christmas characters. A bouquet of such sweets will turn out just fantastic!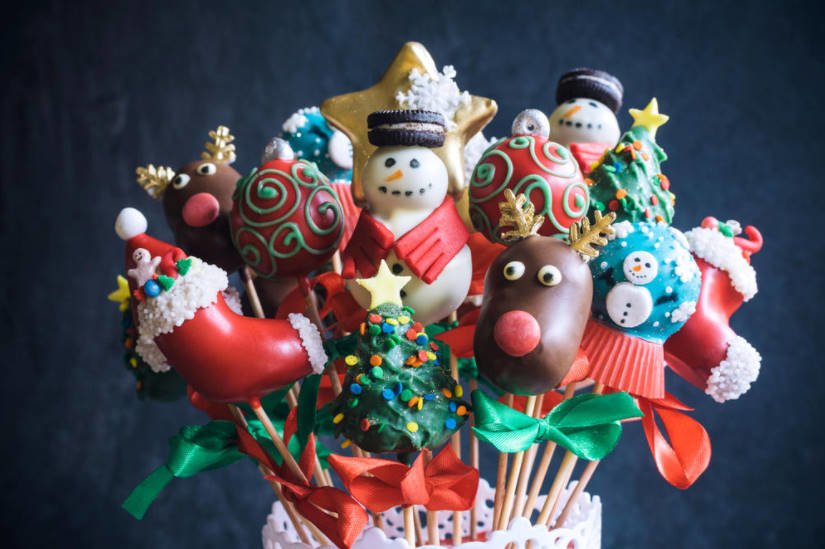 A fabulous bouquet of unusual candies
Capacity is an important character
For Christmas bouquets, the container in which the composition is placed is very important.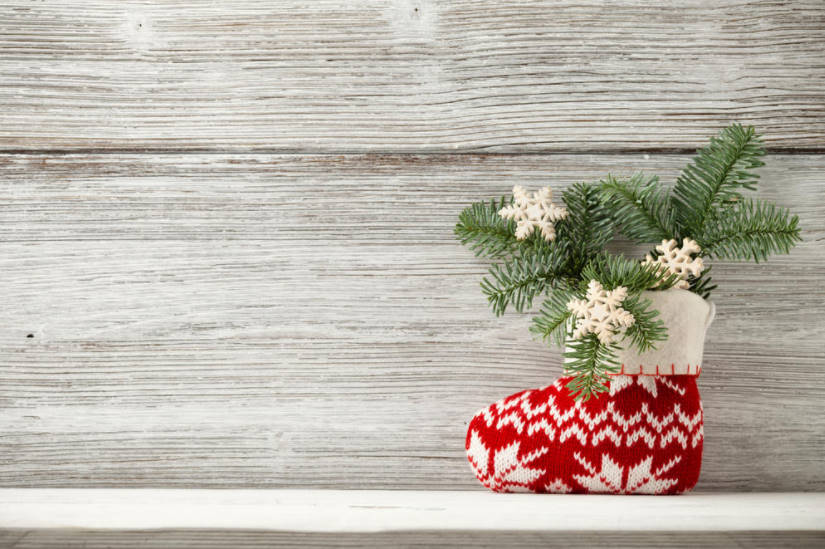 It is very important which vase the New Year bouquet has
A properly selected and decorated vase, pot or any other tableware should be well combined with the contents and in itself be an organic element of the composition.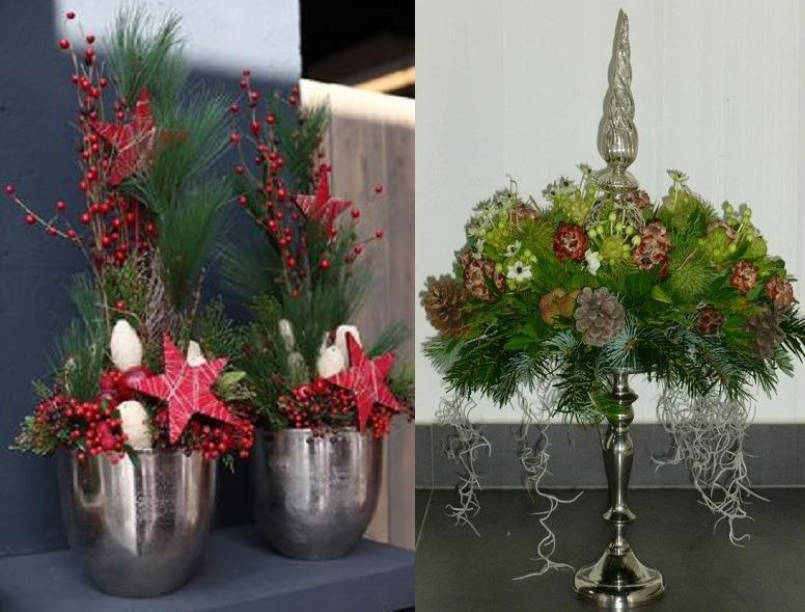 New Year bouquets in beautiful stands
You can use anything you want. Here ordinary glasses are turned into original stands for miniature bouquets…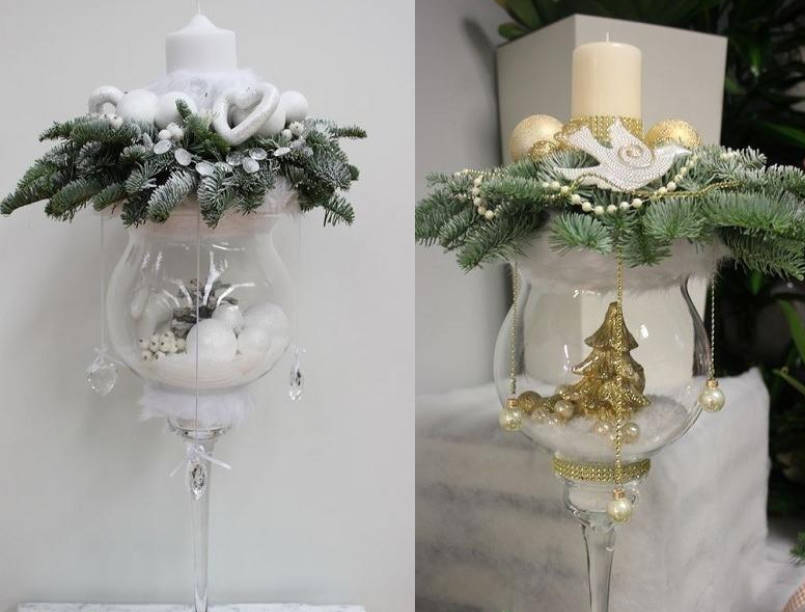 Christmas composition in a glass
But the plate turns into a forest clearing with a Christmas tree…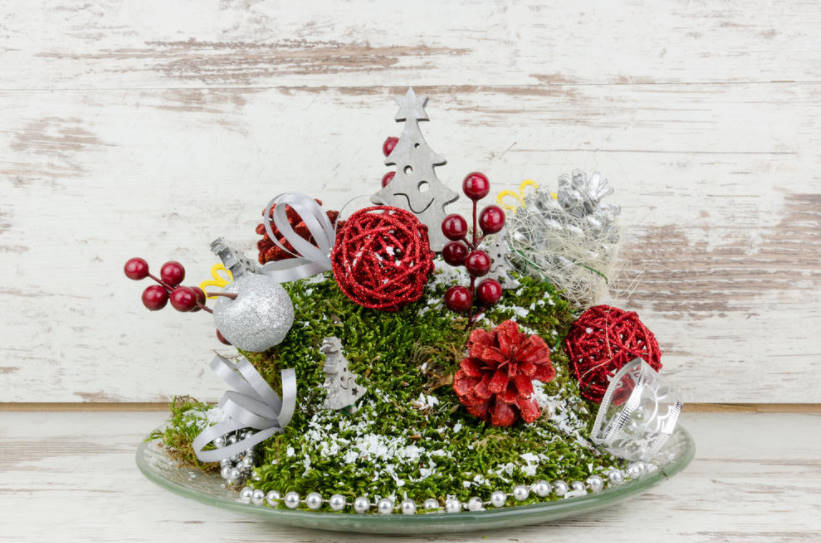 A wide plate is an excellent basis for a festive composition
And even a simple wicker basket can be fun to beat…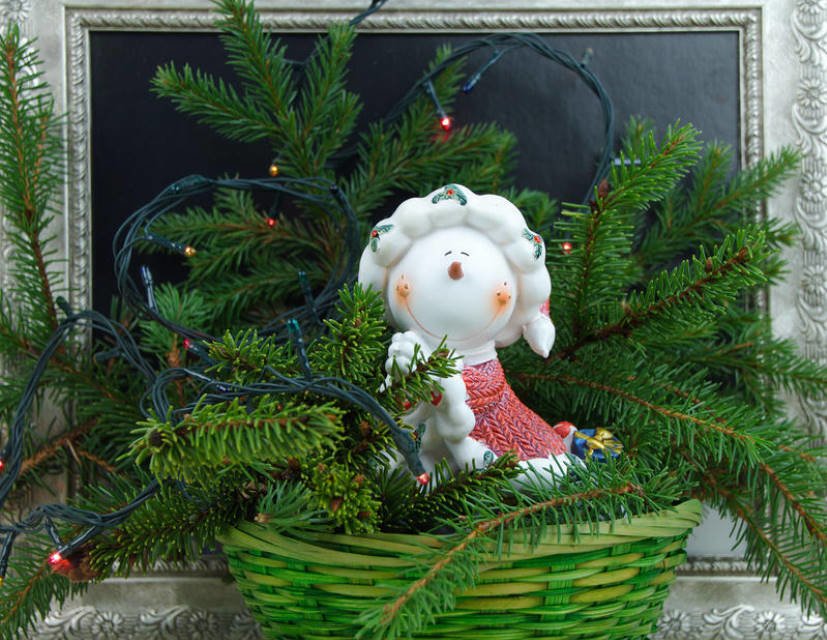 Christmas composition in a simple basket
A festive bouquet in an original wicker "car" will be a great Christmas gift: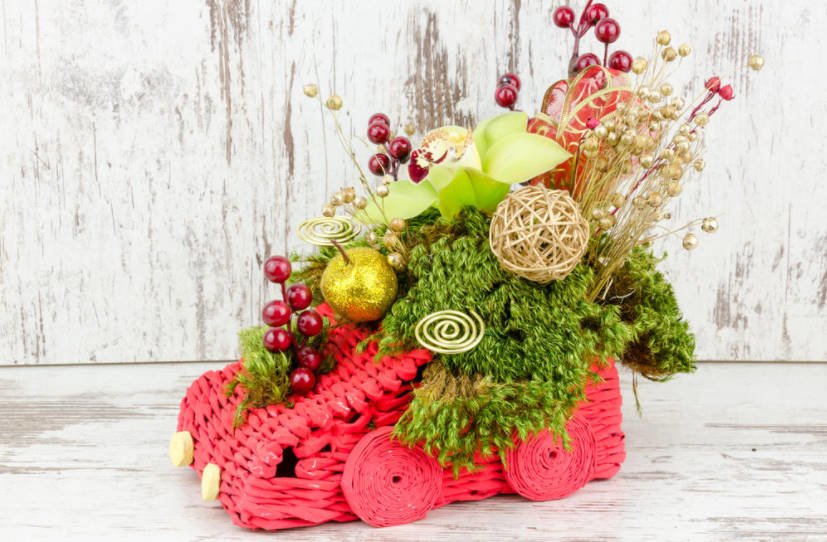 This bouquet can be a great Christmas gift
Sometimes, it would seem that insufficient power is invested in Christmas, but in the end it turns out very beautifully.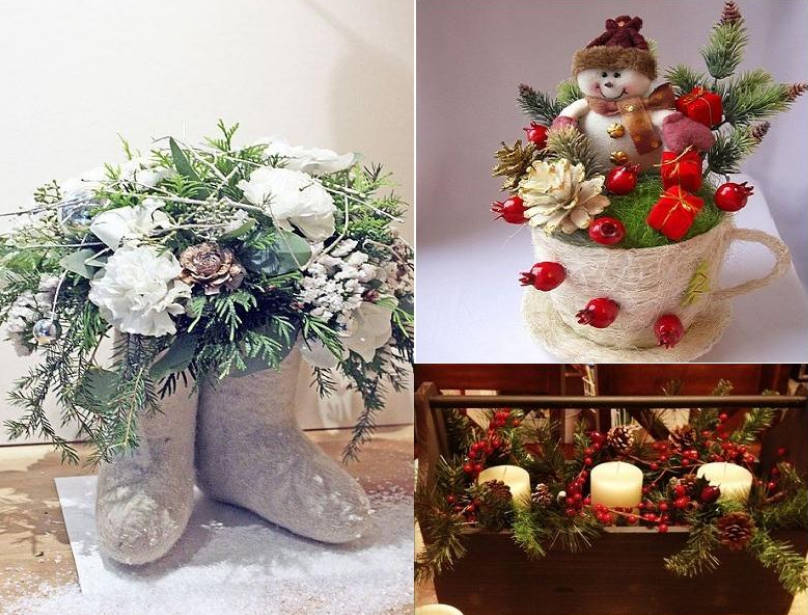 Unusual variants of stands for Christmas compositions
Not only the content, but also the form
If it seems to you that an ordinary bouquet is banal, try to give your creation an unusual shape. And since we are talking about New Year's Eve, let's make a composition in the form of a traditional Christmas tree…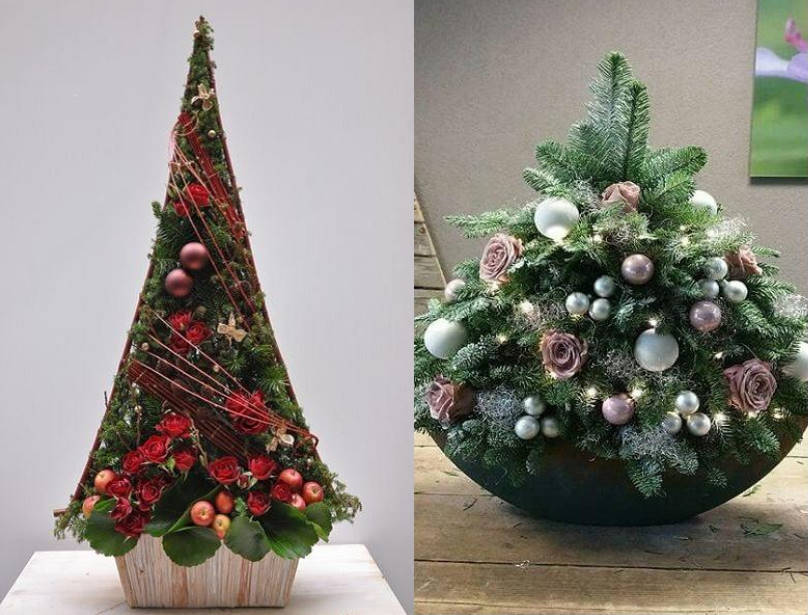 Christmas tree-shaped compositions
… or in the form of a ball …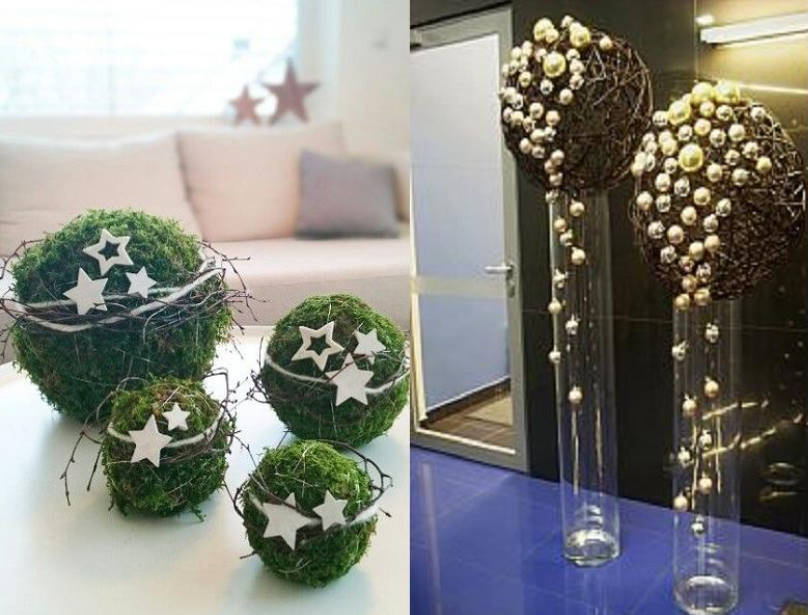 Ball-shaped Christmas compositions
If you are going to hang the work on the wall, you can choose geometric shapes: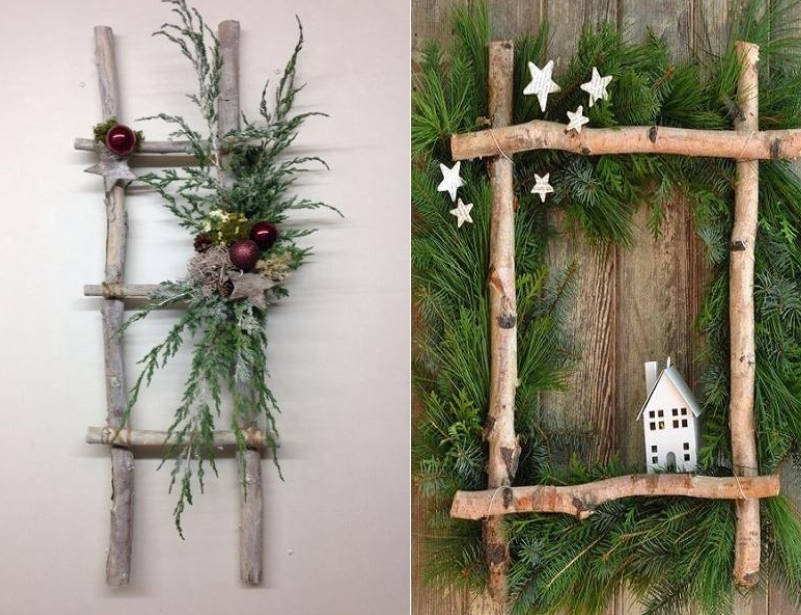 Wall Christmas installations
Lovers will surely like New Year's compositions in the form of a heart: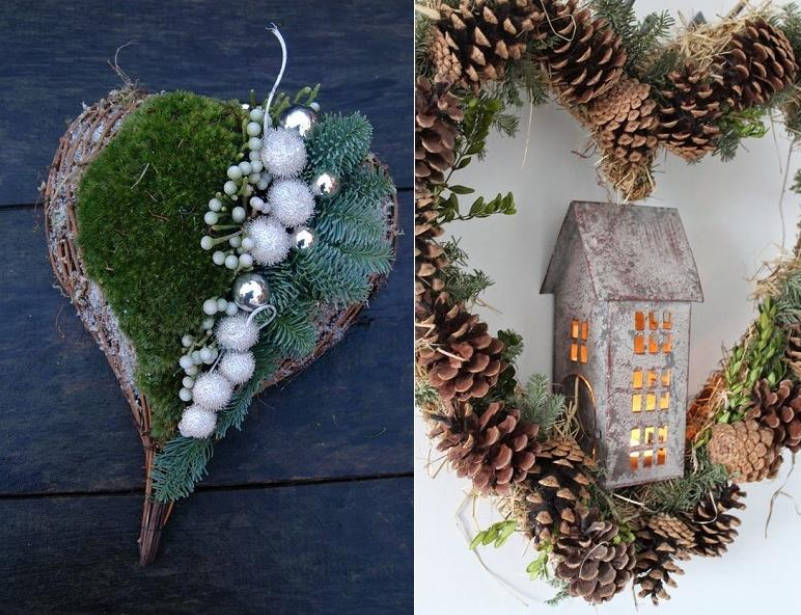 Composition in the shape of a heart
And sometimes someone's fantasy takes such bizarre forms that you won't guess what the author meant.:

Christmas compositions of a bizarre shape
But it's already becoming clearer — these are Christmas gnomes! Or are there Christmas trees after all?..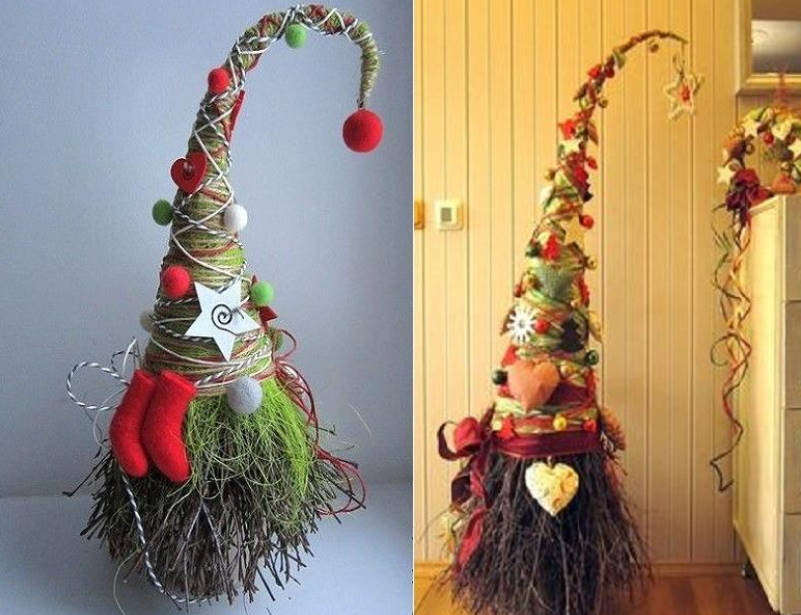 Compositions in the form of gnomes
New Year's bouquets and compositions will decorate your home, give it a special charm and charm. Choose any options — those that you like; those that are able to realize – create and celebrate holidays in a beautiful and joyful atmosphere!