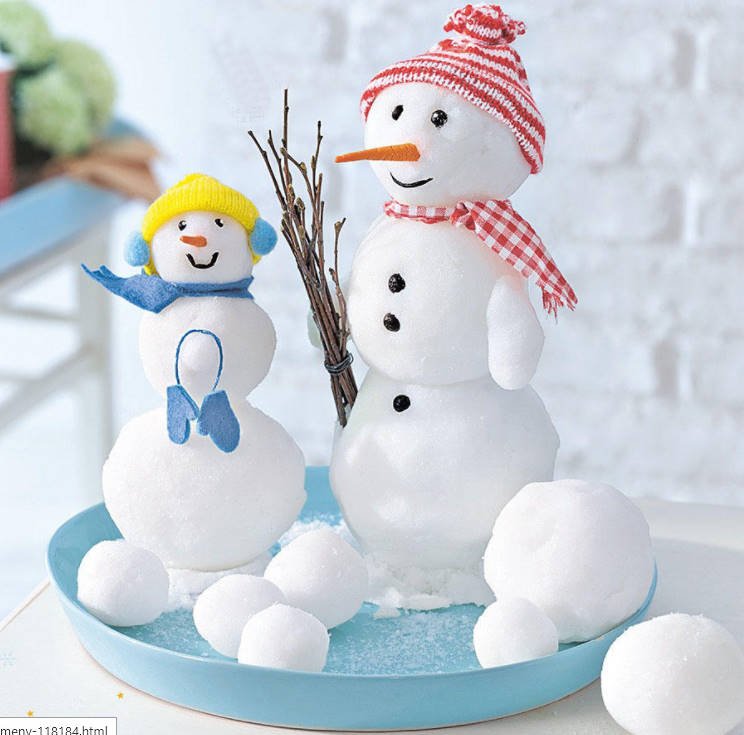 Cute figures, placed in prominent places-in the garden, on the porch, in the hallway, under the Christmas tree – happily greet guests and hosts, cheer up and remind you that your favorite holiday is already on the threshold. Make them with the children you will help our schemes-patterns and detailed instructions.
Snow couple: modeling figures
From a new mass for the modelings, you can make amazing figures looking at that full impression that they are fashioned from real snow.
You will need:
white mass for snowpie modelling (approx. 400-500 g)
orange mass for modeling
thin natural twigs
juniper berry
slim black leather strap
10 cm circular knitted fabric in red and white stripe 6 cm wide
6 cm round-knitted yellow cloth 4 cm wide
30 cm tape in a white-red cage 25 mm wide
2 blue pompons with a diameter of 12 mm
10cm blue threads for embroidery
10 cm blue felt
scissors
ruler
polyethylene film
rubber gloves
skewer for shish kebabs
pins
white rope
a small piece of wire
plunger
hot glue gun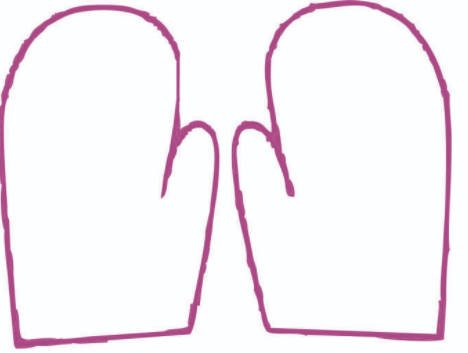 Scheme-pattern
Job description:
1. Prior to modeling figurines made of plastic film small balls for the body of the snowmen. For a ball with a diameter of about 7 cm, about 1.5 m of film will be required. For a great snowman to make balls of diameters 10, 8 and 7 cm; for the little snowman to make balls with diameters of 8, 6 and 4, see the film in the molding firmly to compress.
2. The mass for forming is squeezed out of the sleeve (the mass imitating snow is Packed as sausage) in small portions. It should be borne in mind that the mass remains plastic for about one hour. Squeeze out about 100-150 g of white mass. Form a flat plate. Work in rubber gloves. The plate can be made by kneading a portion of the mass between the palms, and you can put a portion of the mass between the layers of the film and roll out with a rolling pin.
3. Rolled the mass to wrap around the ball of tape, evenly, gently press it and rolled into a snow globe (step 1).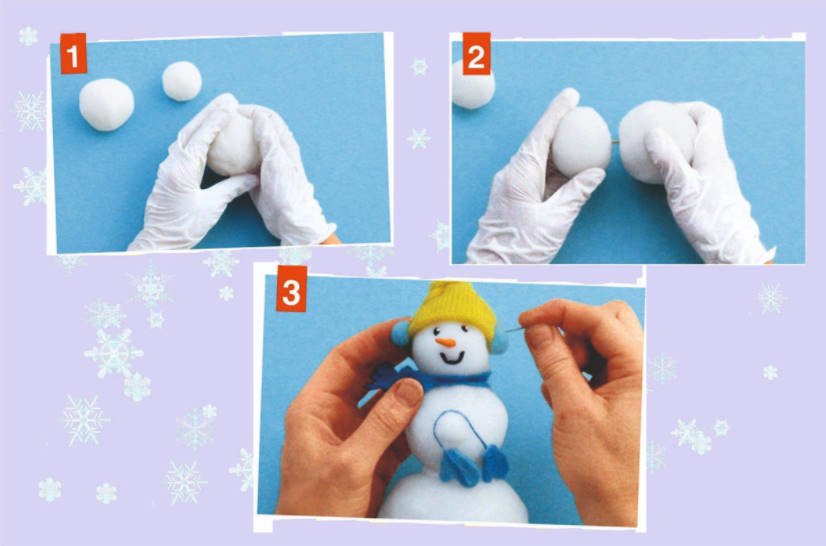 Technology of work
4. Then separate spheres to connect in a figure of the snowman. For this one balloon put on the other, slightly move the. For better stability you can use a kebab skewer. Then, in the places where the balls are connected, level the mass slightly with fingers moistened with water or with a modeling stick (step 2).
5. From the orange mass (which hardens in the oven) molded small carrots-spouts with a diameter of about 2 cm and about 5 cm long and according to the manufacturer's instructions, bake in the oven. For eyes and buttons use small juniper berries or black wooden beads. Eyes, buttons and nose gently pressed into a soft mass. In the form of a mouth pressed into a short piece of leather strap.
6. Hands and her hands formed into small portions of the white mass, attached to the torso. A strip of felt about 2 x 20 cm size to tie one snowman around the neck in the form of a scarf. Another snowman in the form of a scarf around the neck tie a piece of checkered ribbons. According to motif cut from blue felt gloves, glue them to the ends of the cord. The segment of the circular knitted fabric tie on one side with a thread and put on the head of the snowman in the form of a cap. Cap lock with a pin, pompoms also attach with a pin. At the end of the hand of a large snowman to put a bunch of twigs in the form of a broom. The broom fixed in place with a pin or piece of wire.
Snowman and bird of paper
Snowman and bird in admiration: instead of snowflakes falling from the sky stars, sparkling with a variety of amazing colors. How can we not surprised!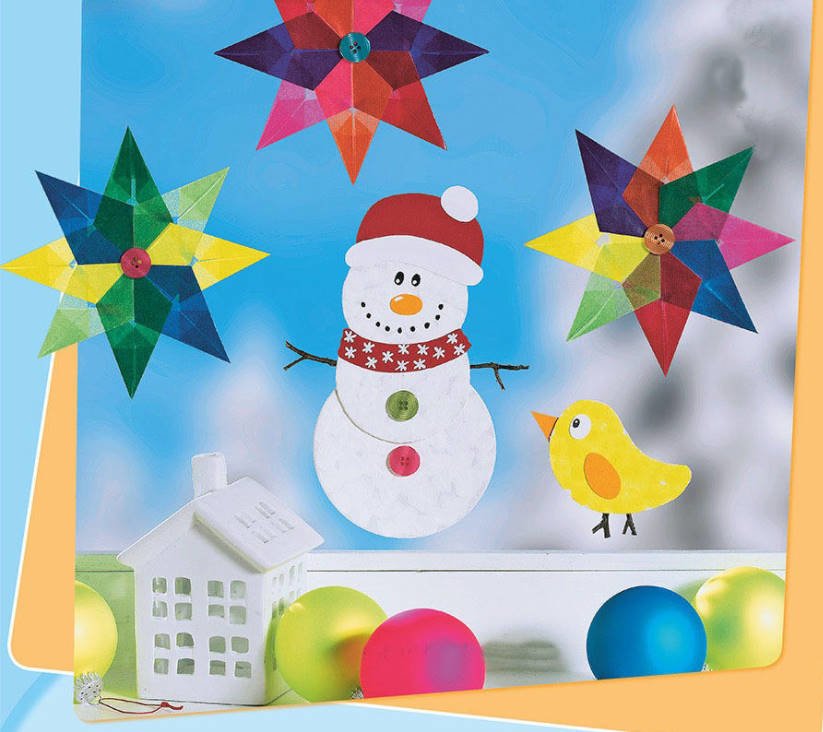 Snowman and bird
You will need:
4 round felt coasters under beer
white and yellow paint for DIY
white, orange and red paper
transparent origami paper
buttons of different colors with a diameter of 1.8 cm
small twigs
white and black markers for decorative works
compass
simple pencil
scissors
universal glue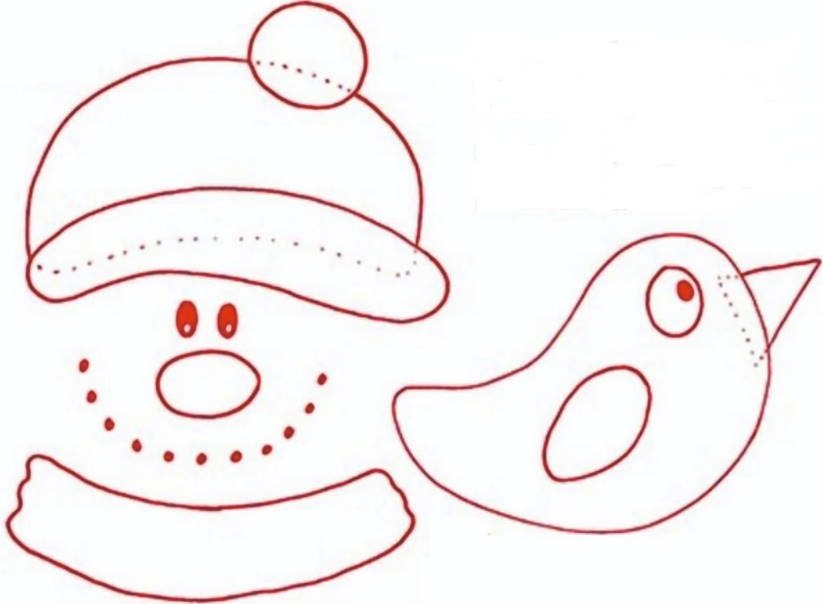 Scheme-pattern
Job description
1. A compass to put you first for a radius of 3.8 cm, then 4 cm and two beer mats to draw one circle of specified dimensions. On the third stand draw the outline of the birds, all three motifs cut out.
2. Cut circles and a whole stand for beer paint with white paint, leaving fingerprints on it. Bird paint with yellow paint. Give the paint to dry completely.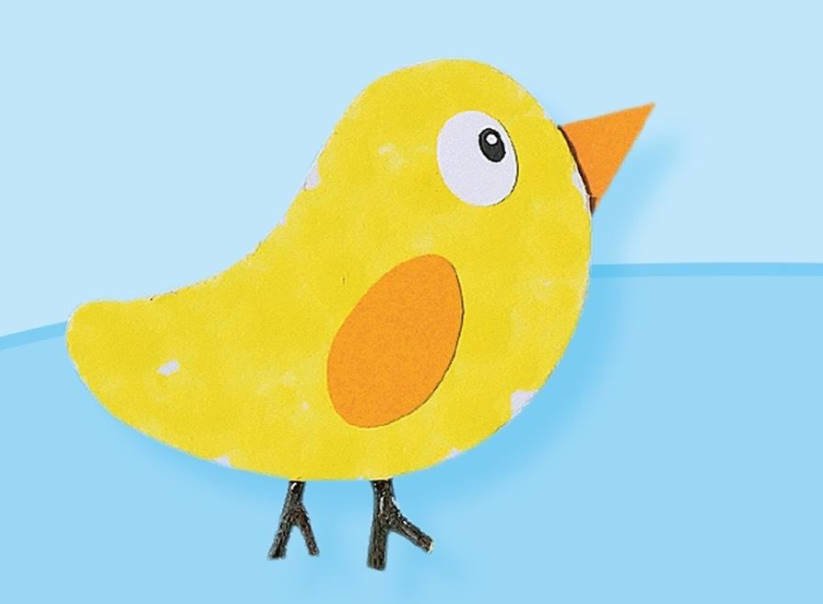 Birdie
3. From colored paper cut out parts as shown on sheets based on. On a scarf to draw small stars. All details, as shown in the photo, glue and finish. On the reverse side, fix small pieces of twigs as handles and legs.
4. Produce 3 star origami paper of various colors, for which transparent paper cut into rectangles measuring 8 x 6 cm, folded according to the steps shown in the figures and glue.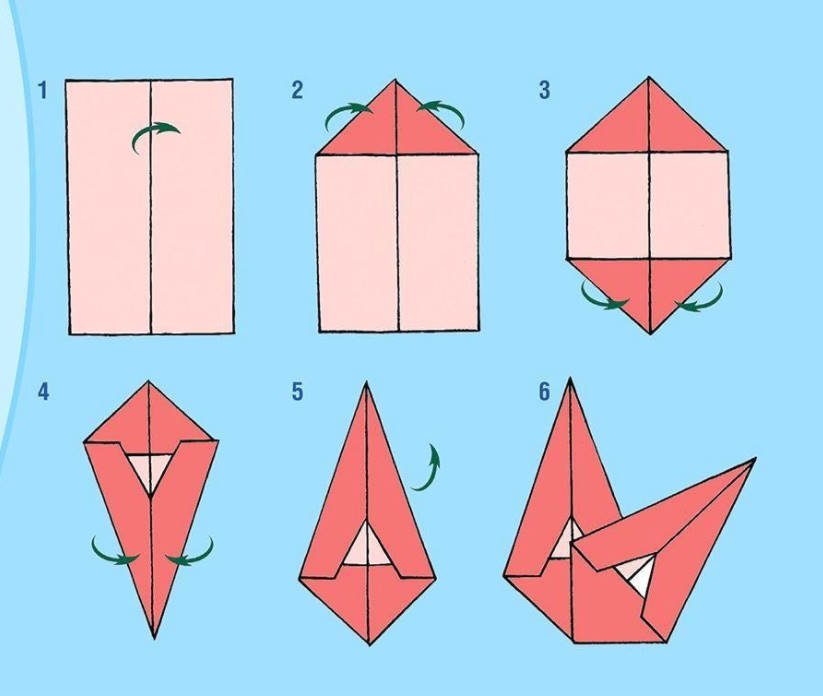 Technology
For each star you will need 8 angular details. At the end to glue in the center of the star button.
Cordial meeting: cheerful snowman for hallway
The surprises begin in the hallway: you are welcomed joyfully cheerful snowman. Smiling broadly, he seemed to promise that the best is yet to come.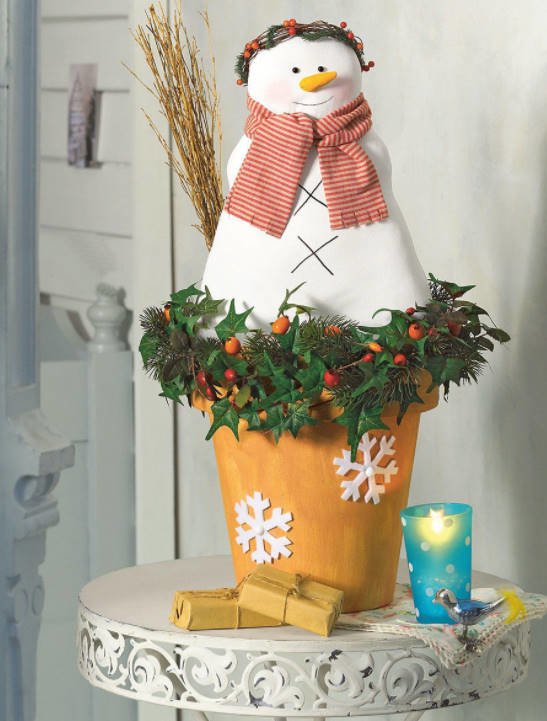 A big Snowman for the hall
You will need:
cotton fabric: white with red and cream stripes
white, orange, light brown acrylic paints
Carmine-red watercolor pencil
2 halves of black beads with a diameter of 5mm
1 white wooden bead with a diameter of 10 mm
about 300 g of white cotton wool for filling
black permanent pencil
fine structural paste
pot diameter 20 cm and height 35 cm
piaflor (floral sponge)
For decoration:
branches of the vine
the long shoots of ivy
red berry
dogrose
2 felt snowflakes with a diameter of 7 cm
spruce twigs
garland of thin spruce twigs
thin twigs for the broom
Besides:
scissors for fabric
a simple pencil with a soft grip
pushpin
sewing machine
white thread
sewing needle
Combi-cutters
hot glue gun
sponge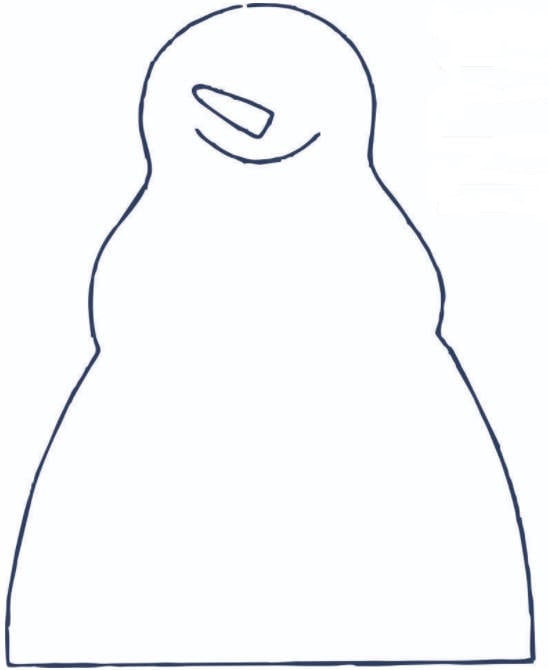 Scheme-pattern
Job description
1. The pattern of the torso of the snowman and the nose to increase with leaf motifs to the appropriate size, transfer to cardboard and cut out (template). When translating, do not forget about the marks for the filling hole. White cotton fabric folded face inside, the top to impose patterns and pin pins. A simple pencil to trace the contours of the templates.
2. On the machine to lay the line along the contours to label. Details cut: torso with seam allowances 1 cm wide, nose-with seam allowances 3-4 mm, details carefully Unscrew (step 1).
3. Then fill the torso and nose with cotton wool, paying attention to the fact that the torso was evenly and densely filled (step 2).
4. Open area in the seam to be stitched manually, as follows: since the snowman is not a sustainable bottom, first remove the one marked area of the seam allowance to wrong side with the overlay. Then, according to the photo, one of the edges is dragged over the lining on the wrong side. Drag over the area of the second chip, and to shear off the pins. Until the mid-torso region firmly pin, then starting with the other hand, chopping the trunk. Then small stitches to sew to the body filled with cotton wool nose (step 3).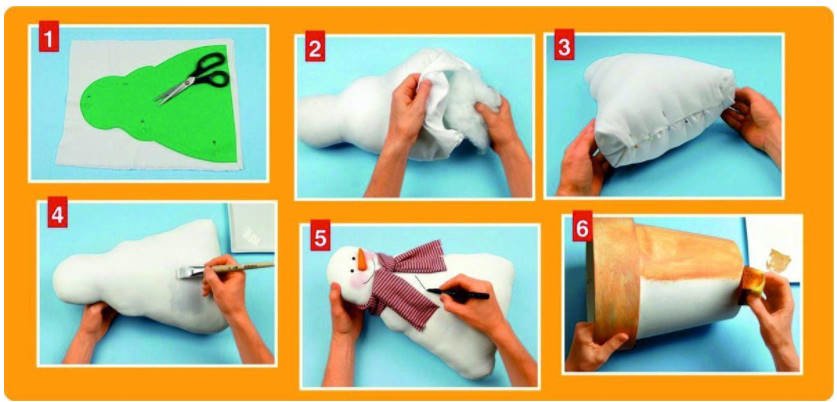 Technology
5. Brush to cover the torso of the snowman with a thin layer of structural paste and leave to dry pasta. Nose paint orange paint, leave to dry then glue to the head with hot glue. Slightly wet with a red pencil, draw the snowman's cheeks (step 4).
6. Detail of striped fabric with a size of 60 x 13 cm folded in half lengthwise face inward. Sew longitudinal sections of the sleeve and glued. Then the item to turn out on short sections to perform fringe (a scarf). Scarf tie on the neck of the snowman, if necessary, stick. Halves of the black beads to stick on as the eyes. Black permanent pencil to draw a mouth, put crosses in the form of buttons (step 5).
7. Mix the light brown and white acrylic paints obtained by the mixture to paint the pot with a sponge. A pot to fill with paper or Floral foam, put in a pot snowman. Long ivy escape wrap on top of the pot along the top edge, if necessary, stick in several places drops of hot glue. In between to glue the spruce sprigs and rose. Sprigs of vines to weave a wreath, entwine its slim fir garland and wire, in the spaces replaced by small berries. Wreath to put on the head of a snowman and glue. From thin twigs make broom and stick on the back of the snowman. White wooden bead saw in half, two snowflakes stick on the pot, in the middle of each snowflake stick half wooden bead (step 6).
Welcome! Plastic egg snowman
At the threshold of the house welcomes dear guests a little snowman – in a chic snow-white suit and a warm hat. And not to get bored, he diligently considers falling from the sky snowflakes.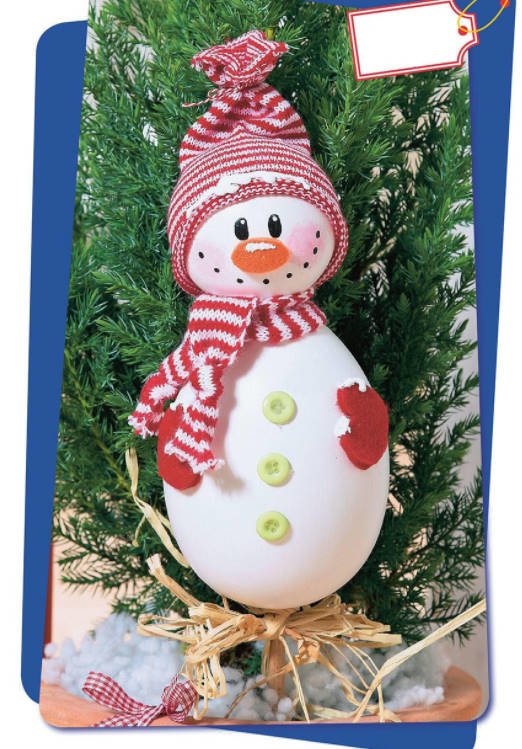 Snowman
You will need:
circular knitted red-and-white cloths with a diameter of 2,2 and 6 cm
orange and red felt, 4 mm thick
egg made of plastic with cut in a straight end for support, size 15 cm
plastic ball with cut for a straight end for a bearing with a diameter of 8 cm
round rod made of beech wood with a diameter of 8mm
a natural bast fiber
marker Snow-Pen with paste " snow"
red-white thread with a diameter of 1 mm
drill with thin drill
brush
scissors
universal glue
hot glue gun.
Job description
1. Plastic ball and egg wash thoroughly with dish detergent to make them completely degreased. Balloon cover with a white acrylic paint, light touches with a brush apply a blush on the cheeks. From orange felt cut out oval nose and stick on the face of the snowman. Draw eyes and mouth.
2. Top plastic balls to drill a hole for the head and glue the head with a pistol with hot glue (it should make an adult!).
3. Knit fabric to tie around the neck as a scarf, the ends to tie knots to knitting will not be dismissed. Knit from a wide canvas to carve out the cap, one side to tighten and glue the hat to the head. The upper open end of the cloth to tie a thread.
4. Red felt to cut out two gloves, stick them on the egg and glue the buttons. Into the hole in the egg to insert the beech rod and tie a bow on it with bast fiber.
5. Apply marker pen "snow" on the cap, nose and mittens and allow to dry completely.
Santa Claus and astrologer from the blackboard
Characters favorite fairy tales! We drank them from a regular Board and "dressed" in elegant clothes. Now they proudly flaunt in your house or in the garden. There, they are not terrible neither snow, nor rain.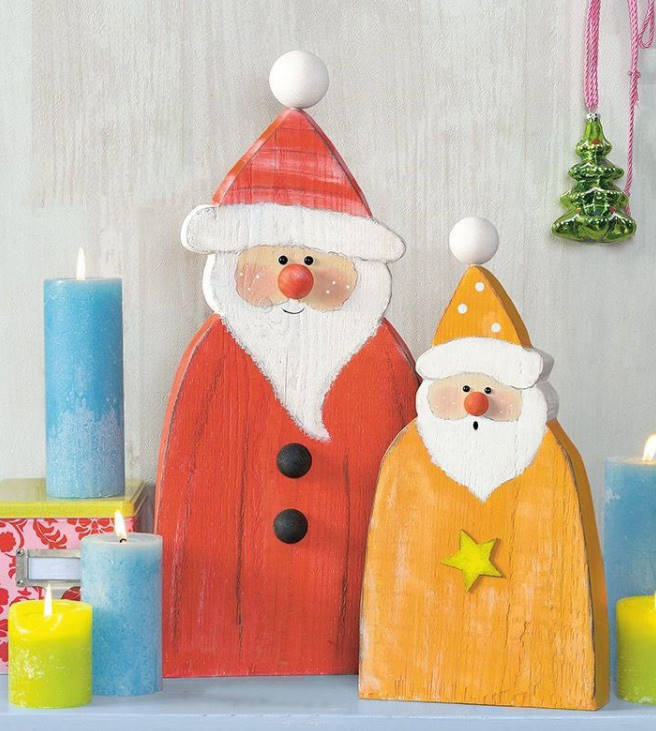 Santa Claus and the asterisk
You will need:
Board for cutting thickness approx. 3-4 mm width and 30-35 cm
the piece of molded plywood with a thickness of 6 mm
white, yellow, beige, orange, red, dark brown and black acrylic paints
black waterproof felt pen
halves of wooden balls: 1 x 25mm diameter and 3 x 35mm diameter
40 and 50 mm diameter wooden balls with holes drilled to the middle
2 pieces of round wooden stick with a diameter of 8 mm, length 5 cm
2 black artificial eyes of 6 and 10 mm in diameter
In addition:
soft simple pencil
thin cardboard
fillet hacksaw
drill
drill bit diameter 8 mm
sanding pad
manual grinding machine
sponge
glue for wood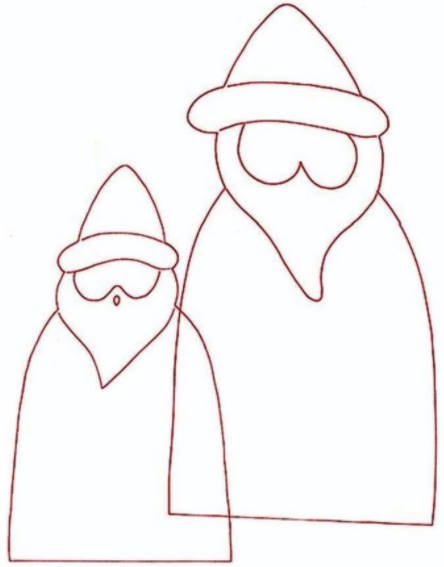 Scheme
Job description
1. Both motives increase with leaf motives, translate on the thin cardboard and cut (this will be pattern). Template to impose on the Board, cut around the contours with a soft pencil. The motive to cut through hacksaw.
2. Then, with the help of a grinding machine, process slices and uneven surfaces. Finish with the sanding pad (step 1).
3. Figures paint diluted water acrylic paint: Stargazer-orange, Santa Claus-red. After drying, paint the two shapes to complement a white beard, a cap with a white edge. Color star wood beads (pompons) and the two halves of the balls (buttons).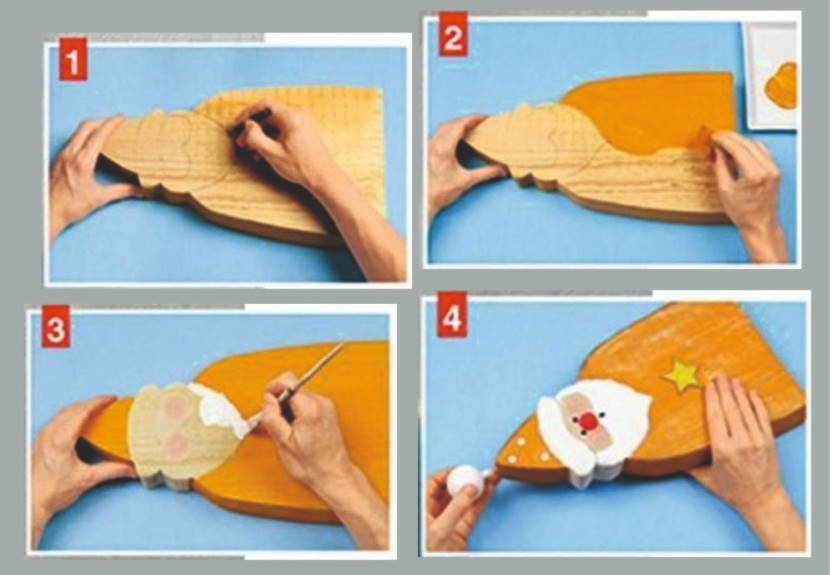 Technology
4. His mouth draw it black with a marker. To emphasize contours and to execute toning dark brown and white paint. Paint to take a little sponge. Remove excess paint from a sponge a rag. Only then tone (step 2 + 3). After the paint is dry glue the eyes, buttons and a star.
5. Both wooden balls, drill out the hole with a diameter of 8 mm from a round rod (diameter 8 mm) cut 2 cut length of 5 cm, insert into the drilled hole and glue. At the top of each cap drill drill drill drill diameter of 8 mm hole, insert the balls into the holes (pompons) and paste
(step 4).