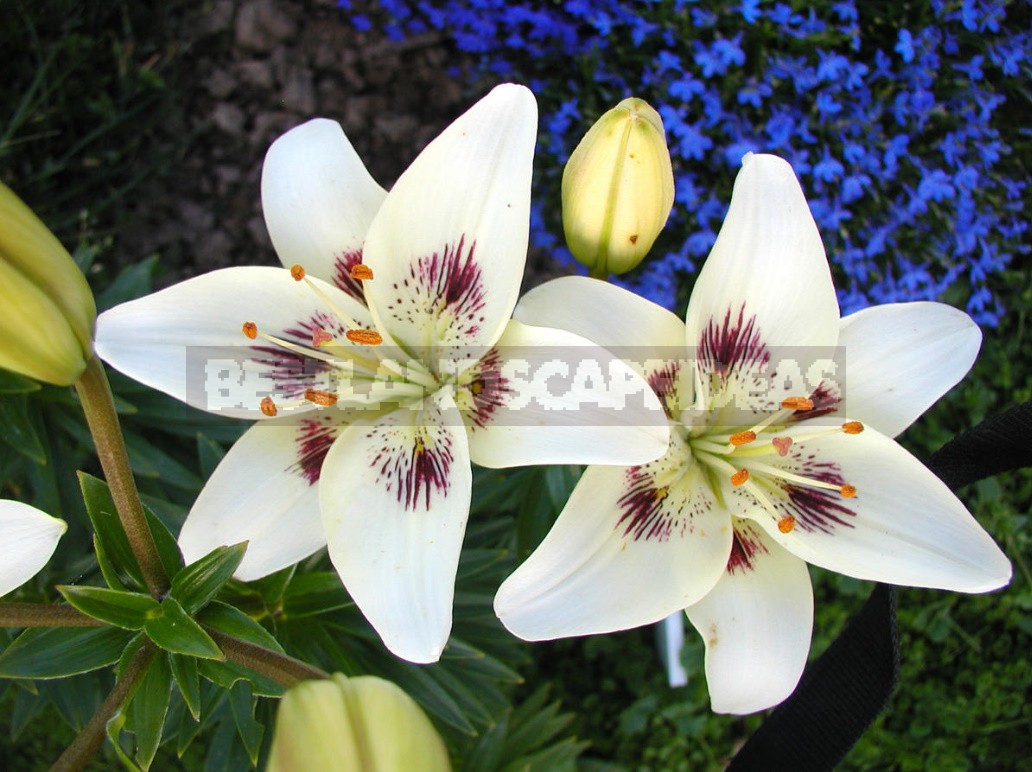 Traditionally, the title of Queen of the garden belongs to the rose. But when the first wave of rosebush blooms passes, the lilies begin to bloom, and then my priorities lose their stability, making various movements relative to each other: from roses to lilies and back. And I'm lost, I can't choose who's better.
Lily is not called "simple", it is not attributed to "modest charm". This plant clearly illustrates the beauty of graphics and perfection of form. This is a perfect exception to the well – known rule: "Symmetry is the enemy of beauty."
Strict flower pattern, density of perianth lobes, a diverse palette of colors, many species and hybrids have excellent winter hardiness and a strong pleasant smell – these signs and advantages multiply the army of admirers, lovers and collectors of this wonderful plant every year.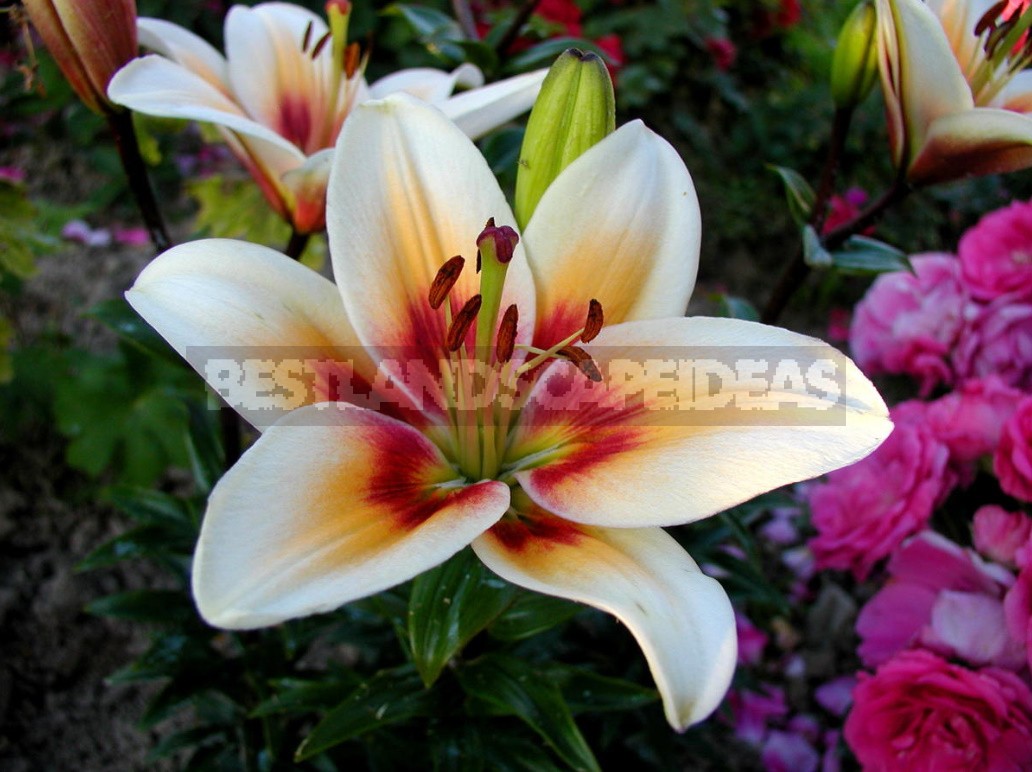 Classification of lilies in the second half of the XX century, interpreted and reviewed. There have been no significant changes since the publication of the International garden classification of lilies in 1962, taking into account the refinements and additions adopted in 1991 and 1997. Species and hybrids of lilies are still divided into 9 sections. Representatives of some groups can be found mainly in the gardens of collectors, some do not tolerate the harsh climate of the middle zone. If you do not take into account the collection preferences, in the gardens of flower growers live, as a rule, the same common hybrids. Let's get to know the most popular ones.
The Asiatic Hybrids
These include the most unpretentious, winter-hardy plants. The flowers of these lilies are odorless and have a wide range of colors. "Asians" are United in variety groups according to the color and painting of the petals: brushmark, polychrome (two – and three-color), tango (with a thick contrasting speck), Connecticut (non-speckled).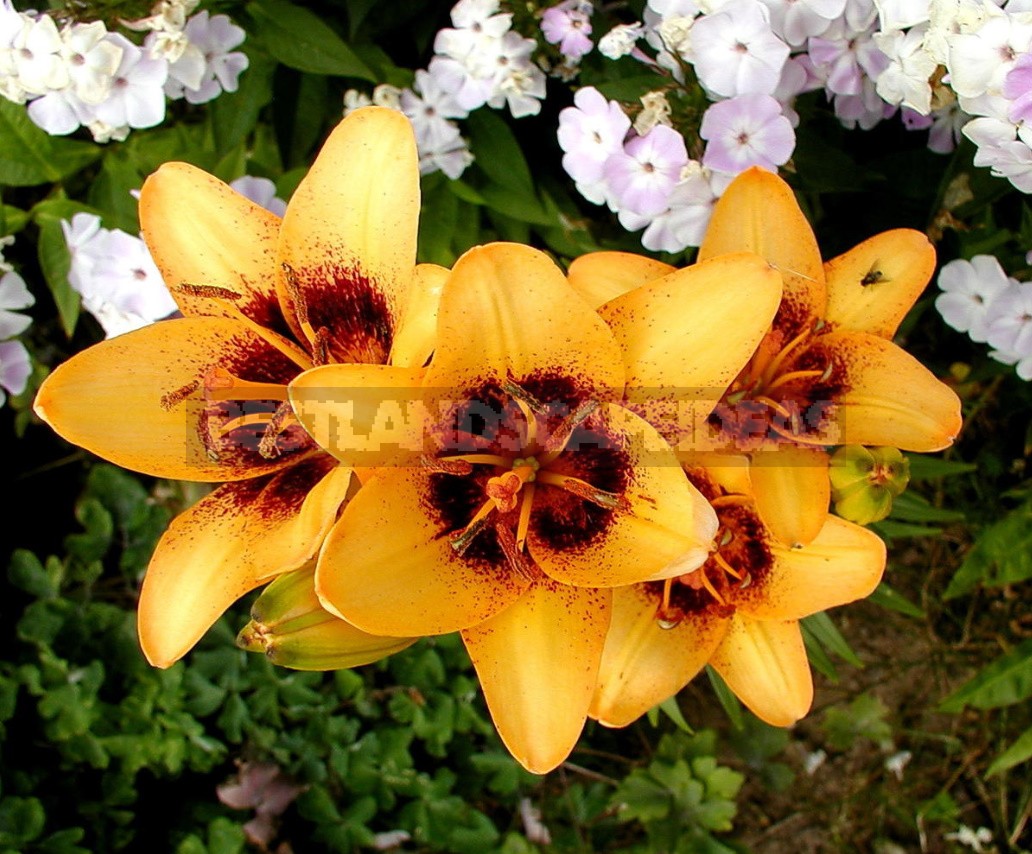 If the perianth lobes ("petals") of varieties are decorated with strokes – this is a brushmark ('Delta', 'Loretto', 'Baja').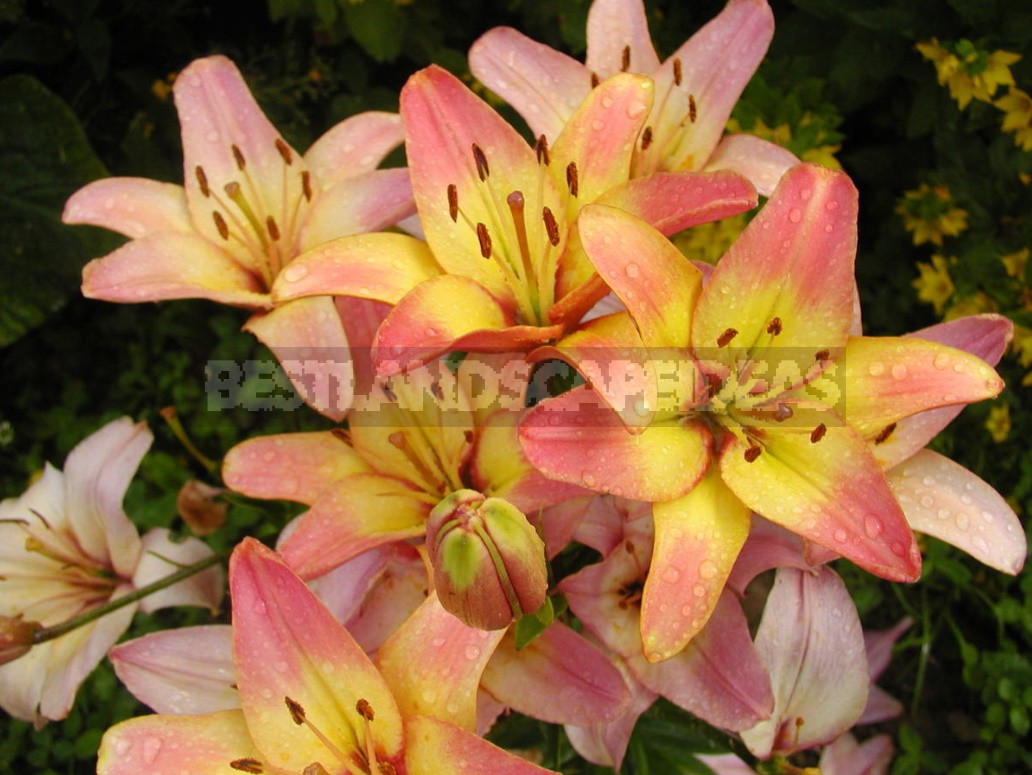 In some varieties, they are marked with hatching ('Centerfold'), have a polychrome – two – or three — color-color ('Corrida', 'Tinos','Gran Cru', 'Vermeer'), a thick speck ('Apricot Pixel', 'Tropical Breeze', 'White Pixels', 'Wizard').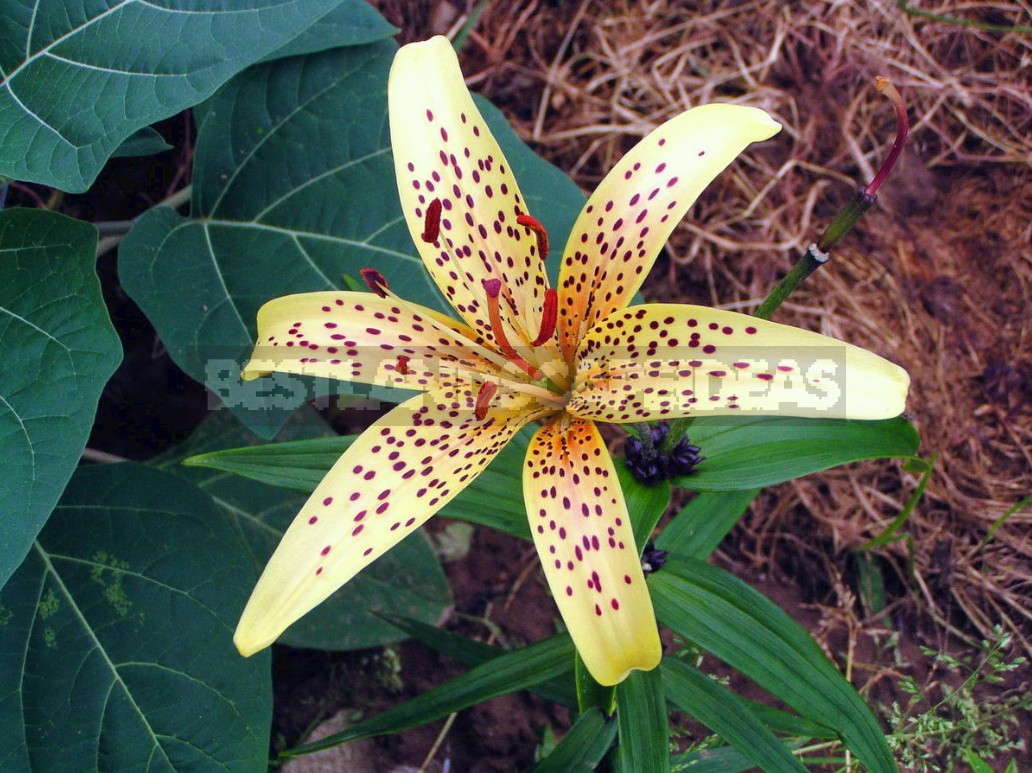 Depending on the variety, Asian hybrids have a turban-shaped ('Citronella'), star-shaped ('Aelita'), Cup-shaped ('Paola') flower shape.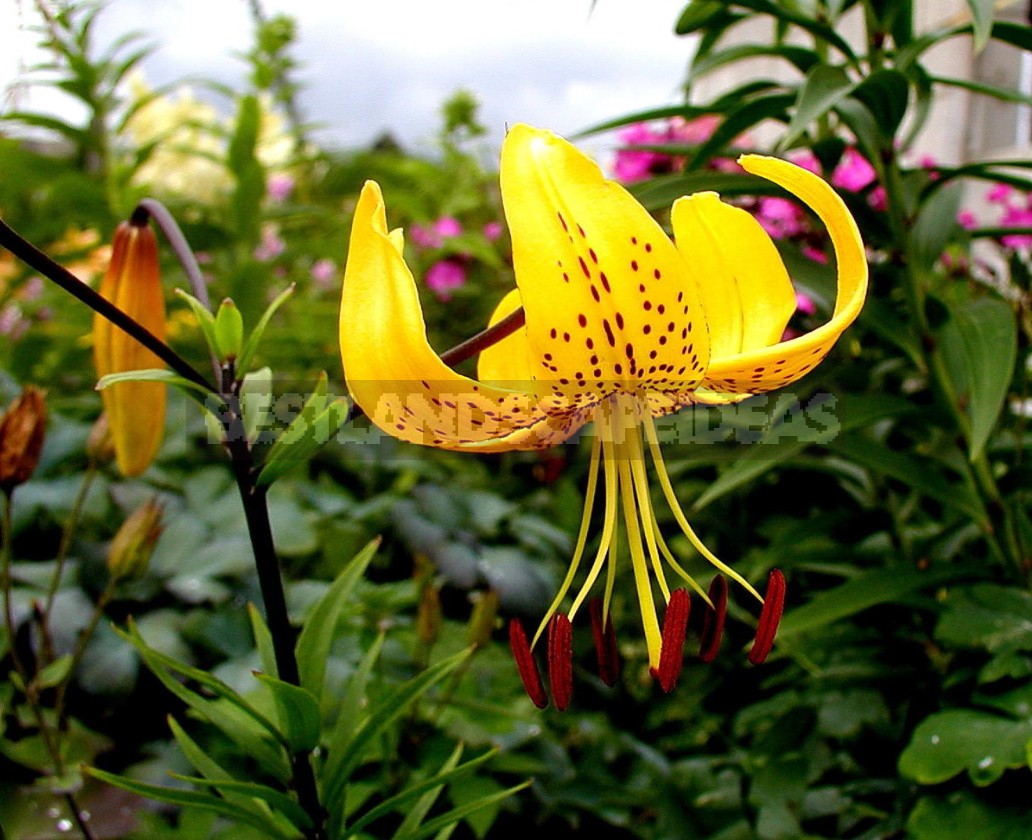 Rare specks, elegant turban-shaped flower, high growth distinguishes the group of lilies Lilium lancifolium, represented by varieties 'Sweet Surrender', 'Pink Giant', 'King Pete', 'Red Tiger', 'Salmon Tiger', 'White Tiger'.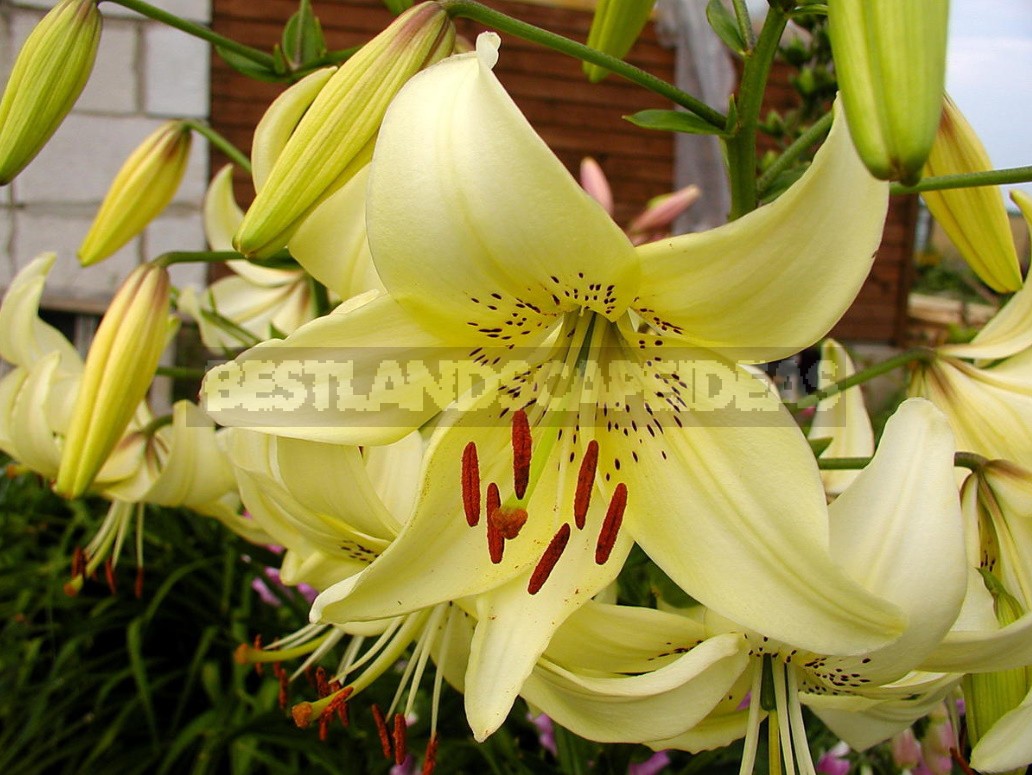 The palette of shades is very wide:
pure white with a greenish core in 'Apollo', 'Sorpresa', 'Pulsar';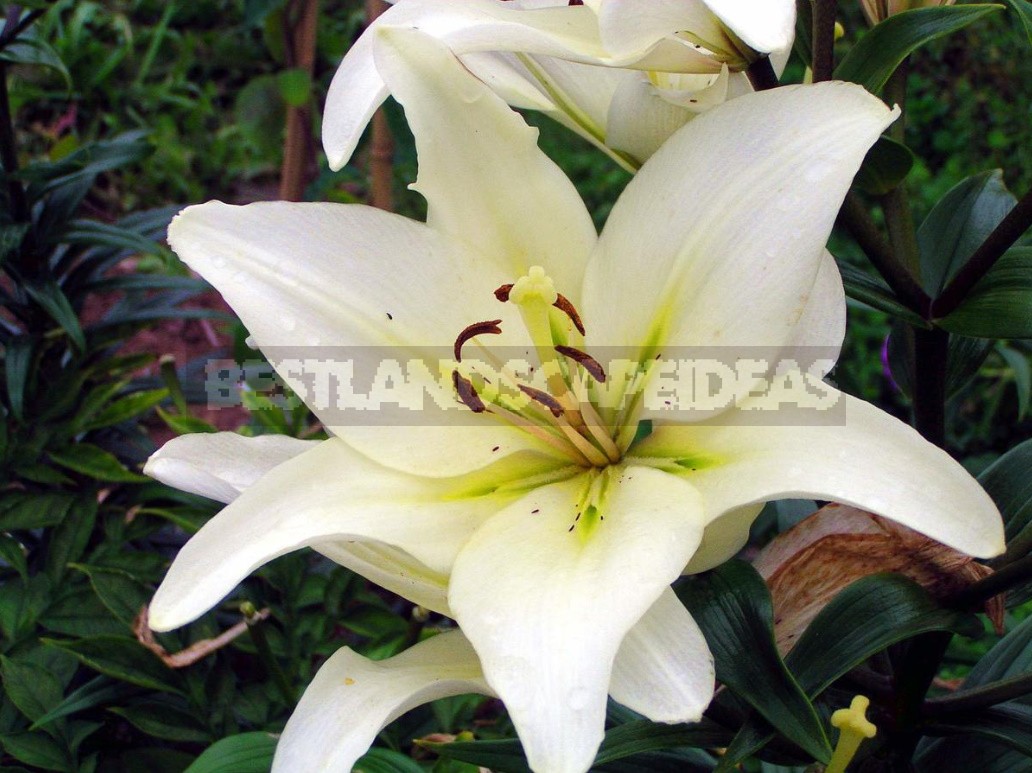 yellow, various shades of 'Golden Flame', with a delicate speck at the base – 'Gironde';
pure orange in 'Klaas De Jond';
tangerine-red with fiery reflections at 'Saidja';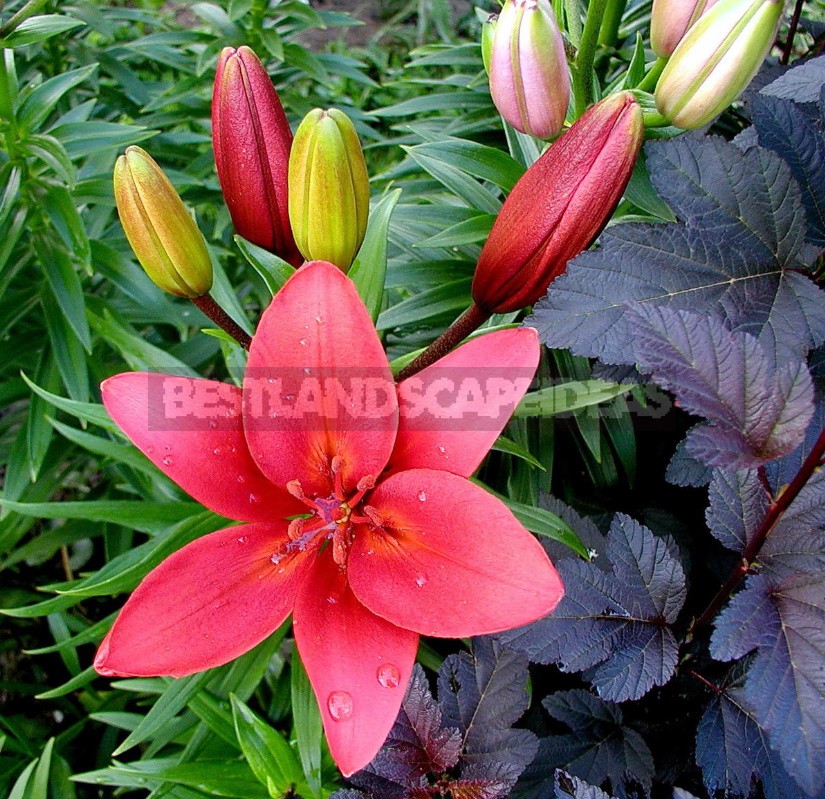 deep pink with hints of purple in 'Paola';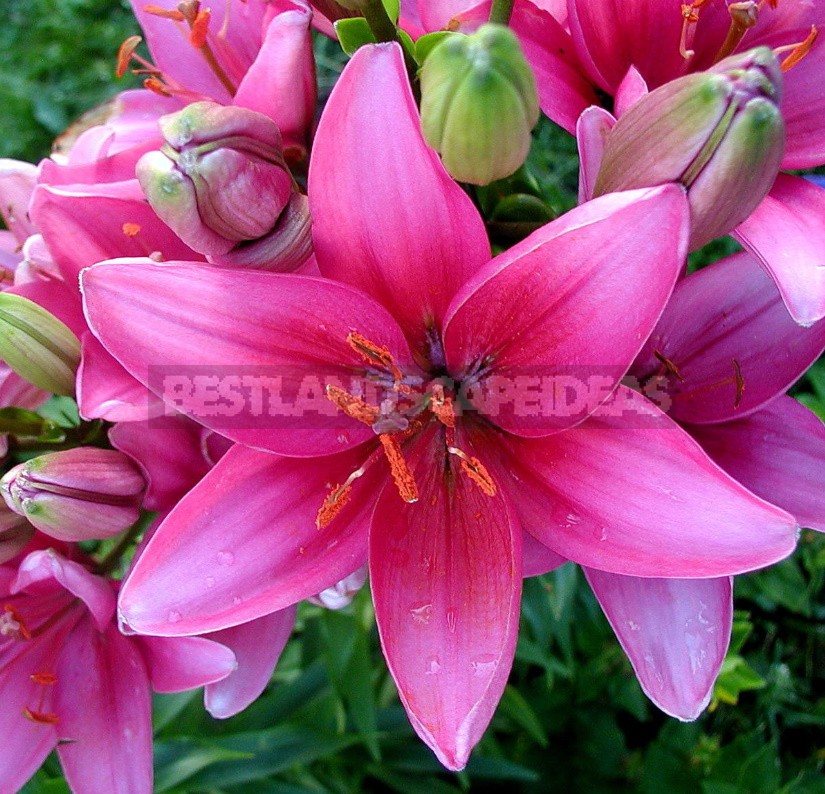 red with purple and dark speckles in the middle of 'Marrakech';
dark red, purple for 'Black Out';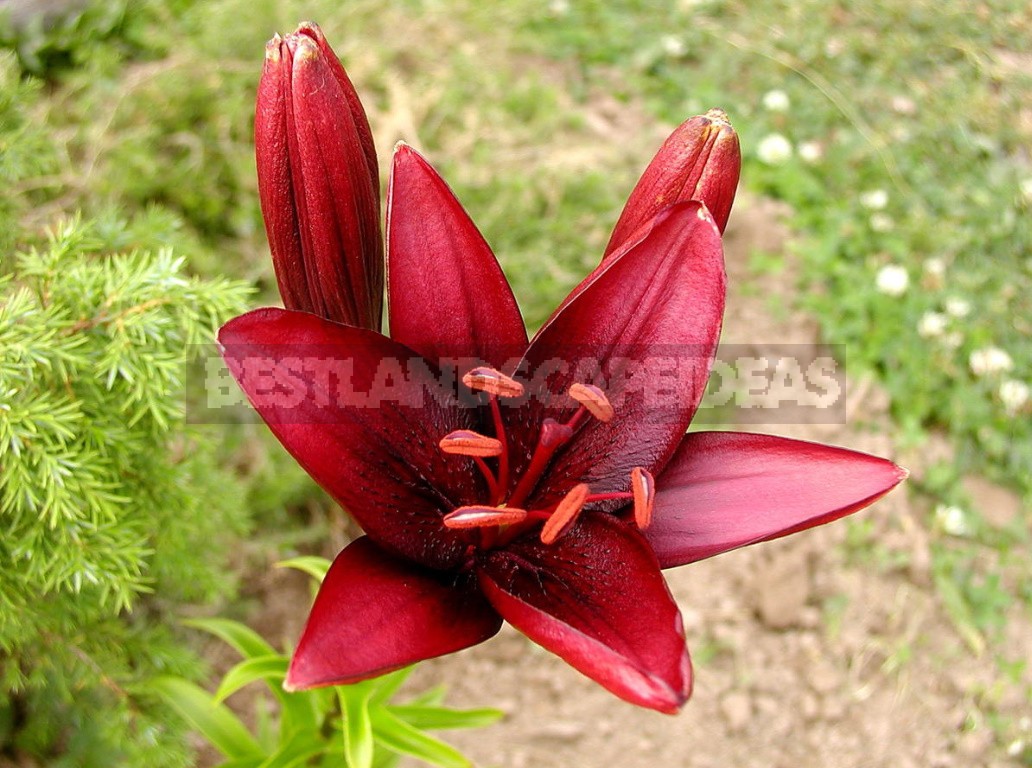 the darkest color of the "magic" black and purple 'Landini'.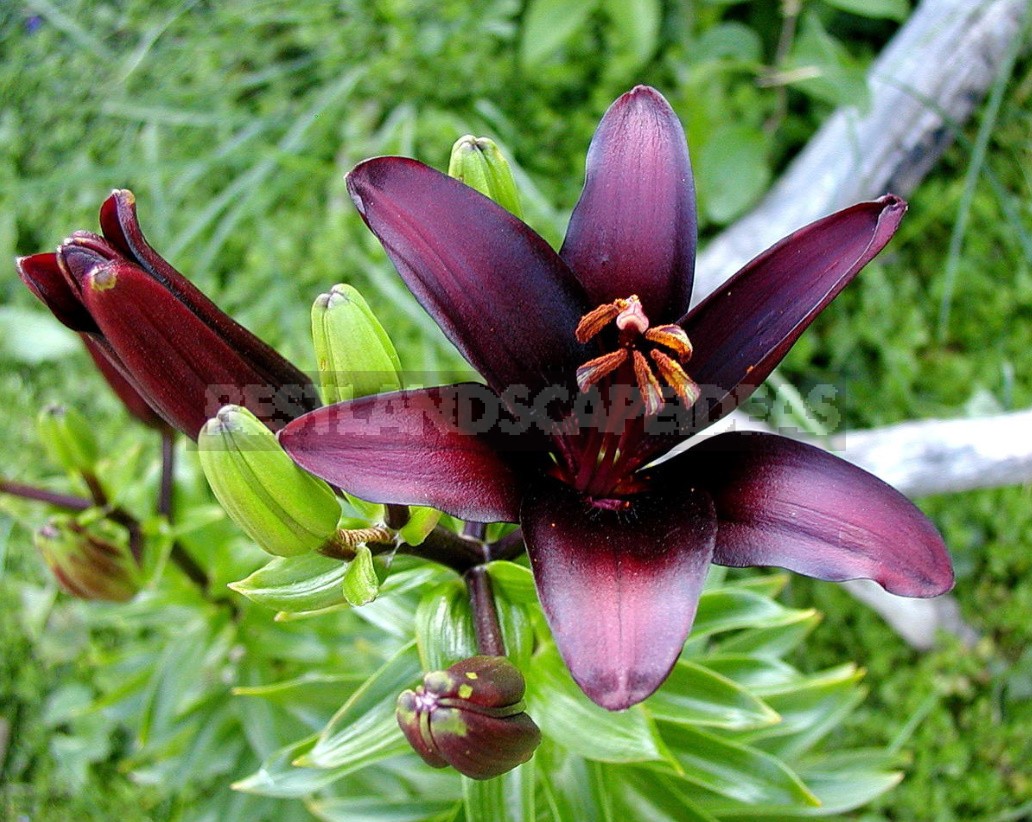 In this group, there are several varieties with double flowers. They are not very popular among gardeners, because with an increase in the number of" petals " the ideal shape is lost, the flower looks sloppy, shaggy ('Ceres', 'Elodie', 'Aphrodite', 'Fata Morgana' and others).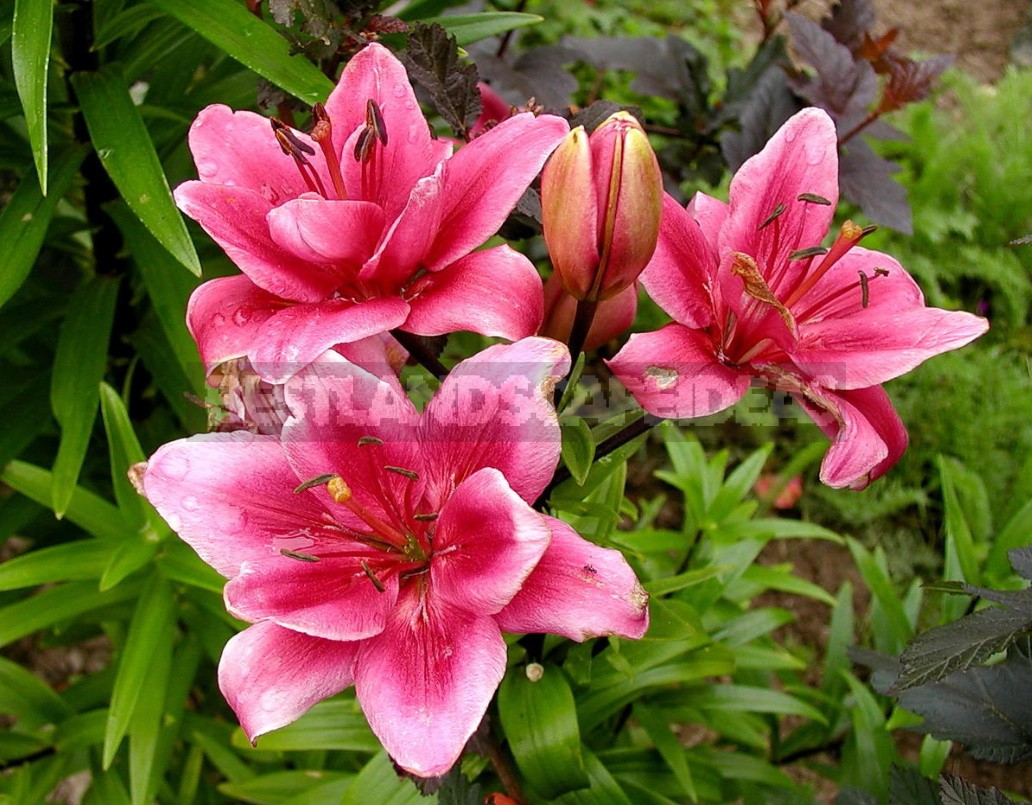 Amazing and unusual Lily 'Marlen', varietal feature of which is often appearing fasciation, ie, the fusion of several stems into one flattened, and accordingly, an unusual flowering.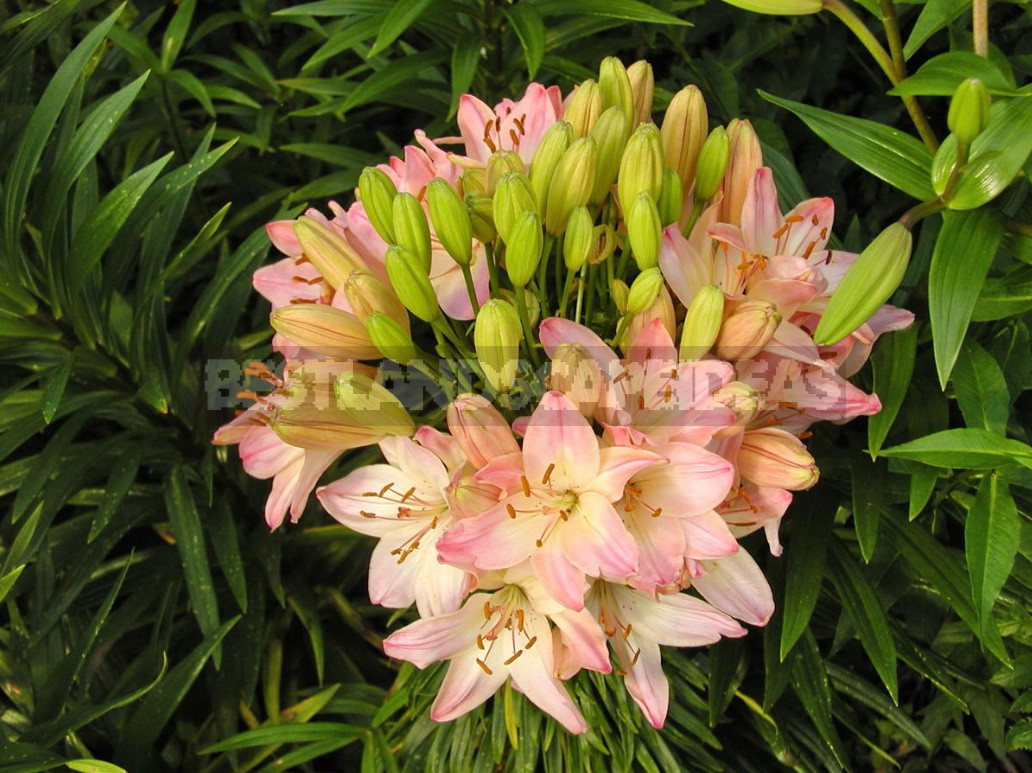 Asiatic hybrids are easily propagated subsidiary bulblets, scales, bulbectomy ('Aelita', 'Accent', 'the Firebird' and others). They are undemanding to the soil, prefer loose slightly acidic or neutral. Location-Sunny or partial shade.
The Trumpet Hybrids
These lilies have beautiful large flowers of exquisite shape – 'African Queen', 'Golden Splendor', 'Pink Perfection', 'Copper King'.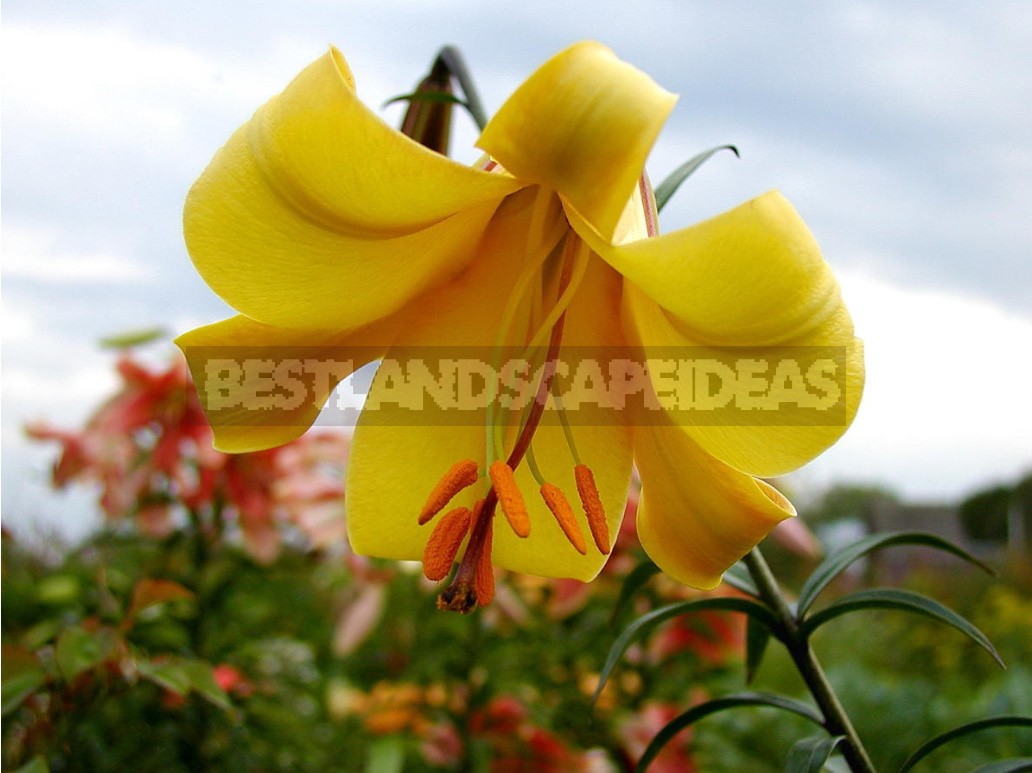 A common and beautiful type of tubular lilies is the snow-white, cherry-budded species Lilium regale.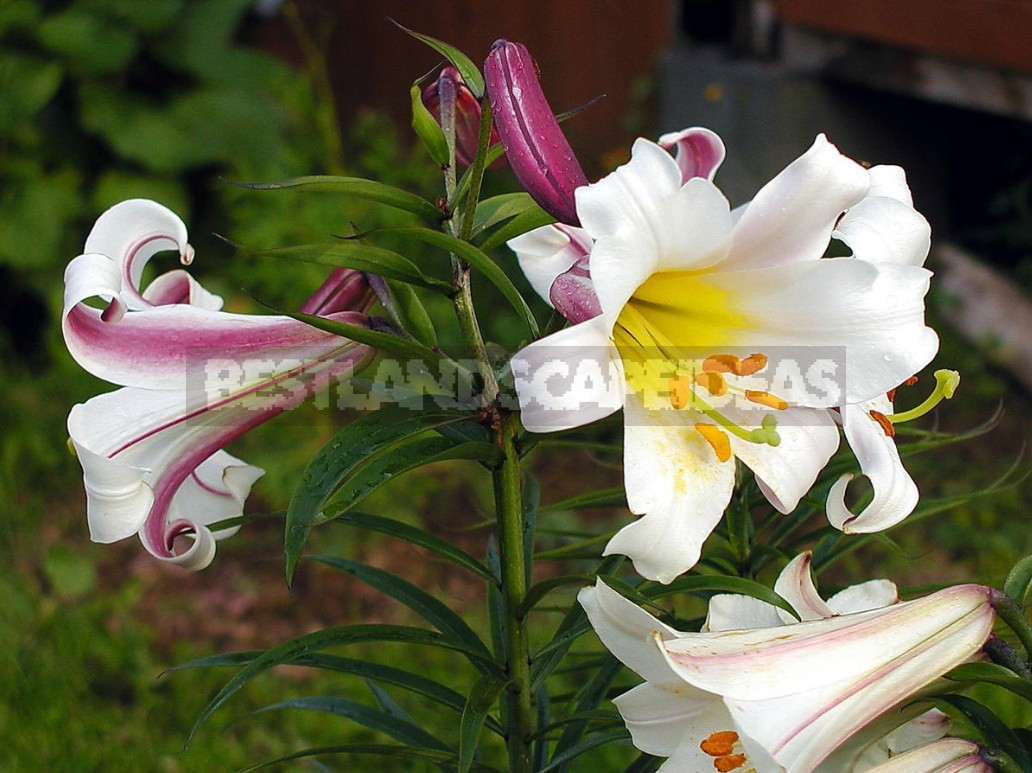 Plants are quite hardy, but not as unpretentious as, for example, Asian hybrids. They suffer from waterlogging, from late spring frosts, so they require special care techniques: shelter in the fall from precipitation; protection from spring frosts, which can disrupt further flowering.
The best soil is clay, clay-gravelly, with the addition of sand. Acidic soil must be limed or wood ash must be added to it. For a successful winter planting should be covered with spruce branches or foliage.
The Oriental Hybrids
They combine the most beautiful and refined varieties that please diligent gardeners not only with a beautiful smell, but also with wonderful colors. According to the shape of the flower, Eastern hybrids are divided into 4 groups: tubular, Cup-shaped, flat, and turban-shaped. In this group — as well as among Asian women-there are not only two -, but also three-colored lilies.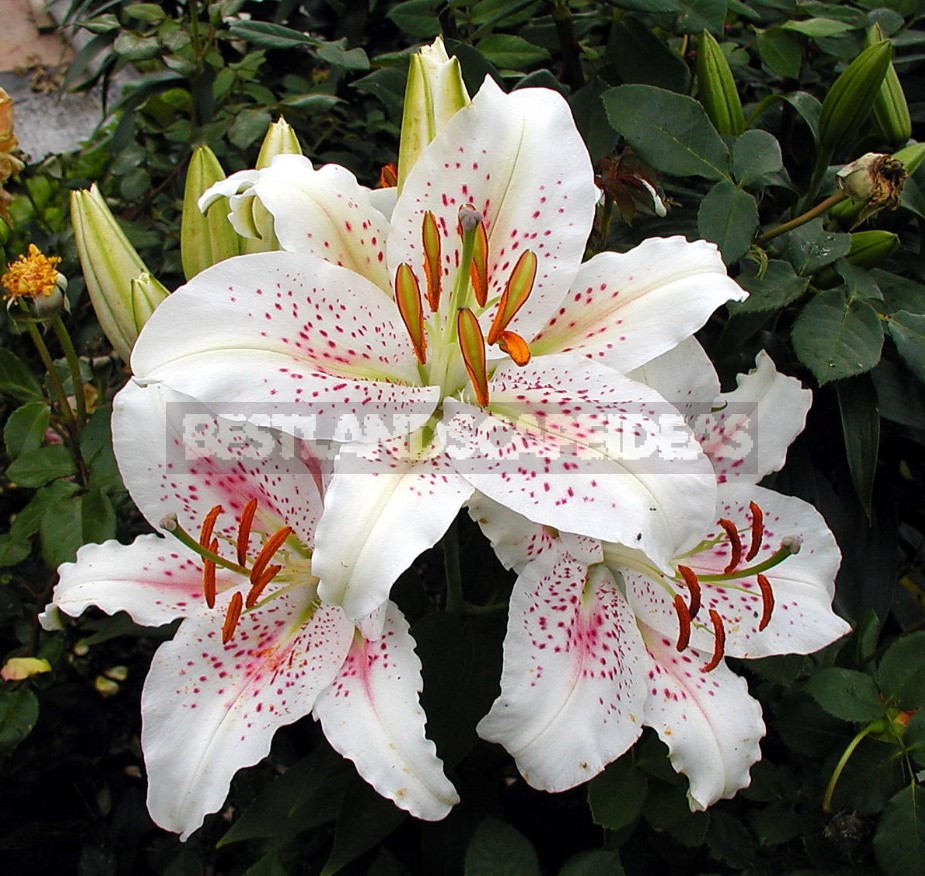 Very elegant varieties of various colors, each with its own "zest":
with a thick pink color of the petals, bordered by a contrasting white stripe, with thick crimson outgrowths, which are often called by the medical term "papillomas" – 'Stargaser', 'Starfighter';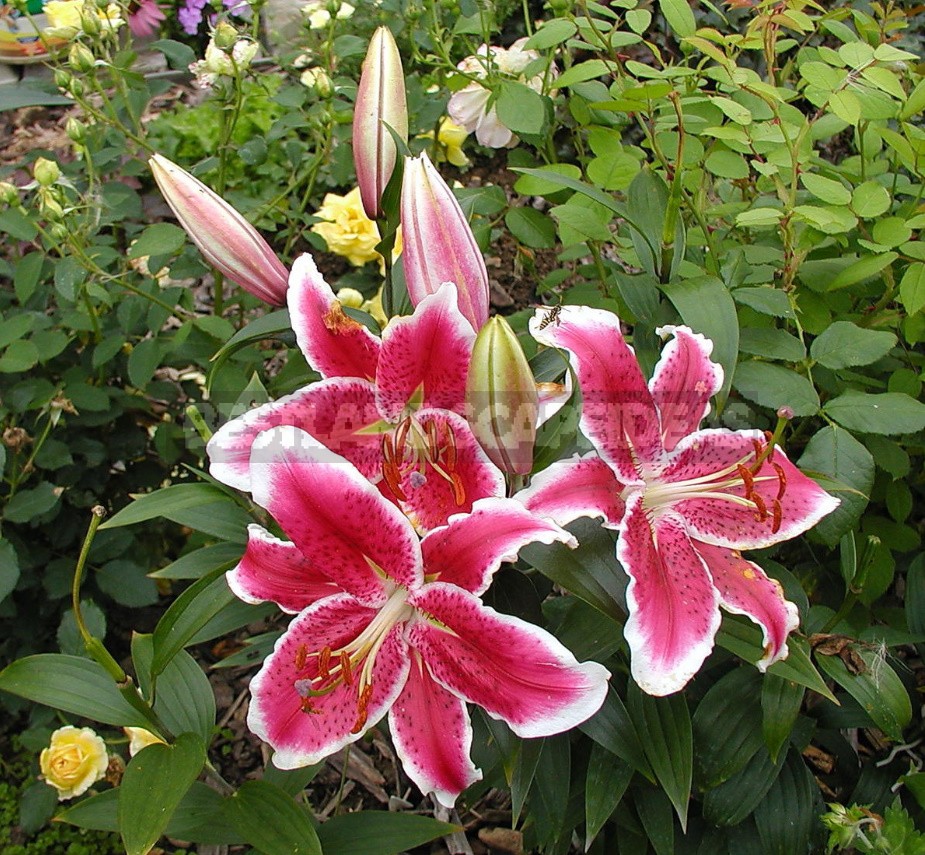 dark crimson with white border 'Kissproof', 'Lamaster',' Maru',
crimson with white tips 'Sumatra',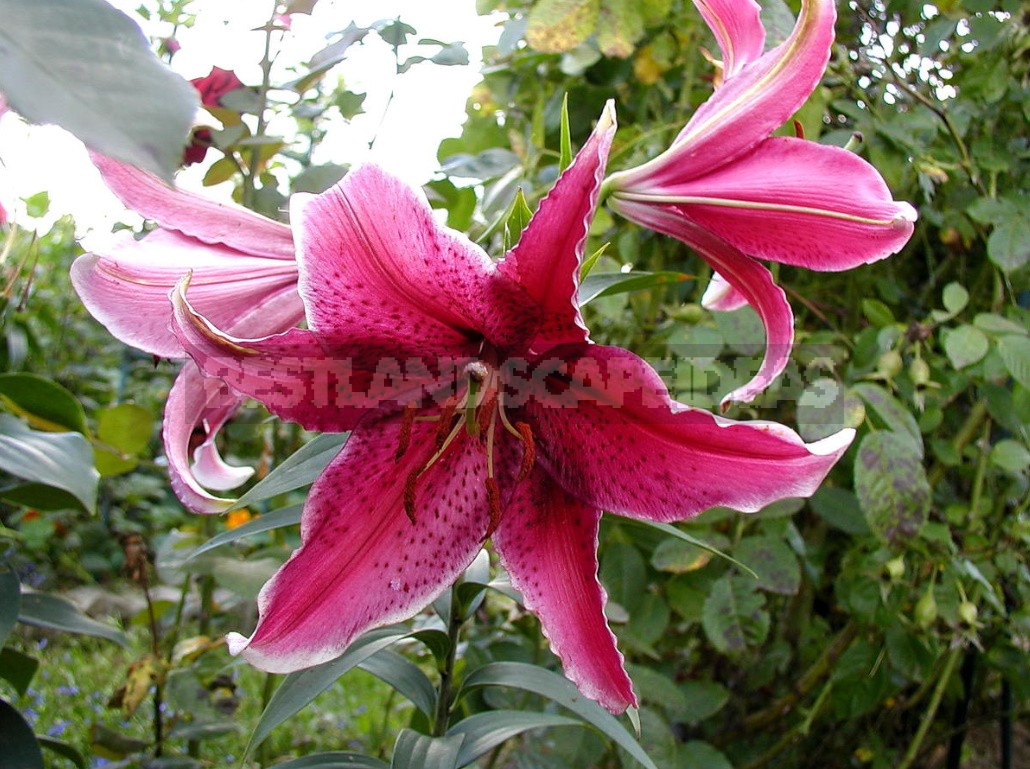 varieties with pure color flowers – dark pink 'Arabian Red',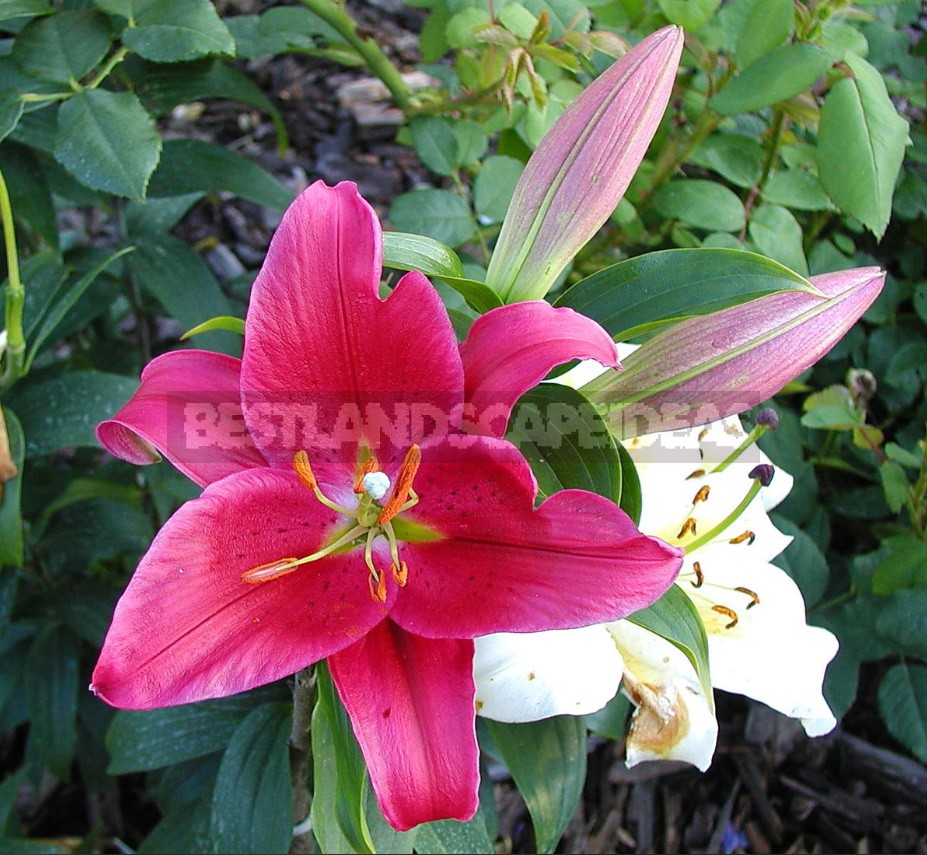 lighter with wavy petals – 'Acapulco',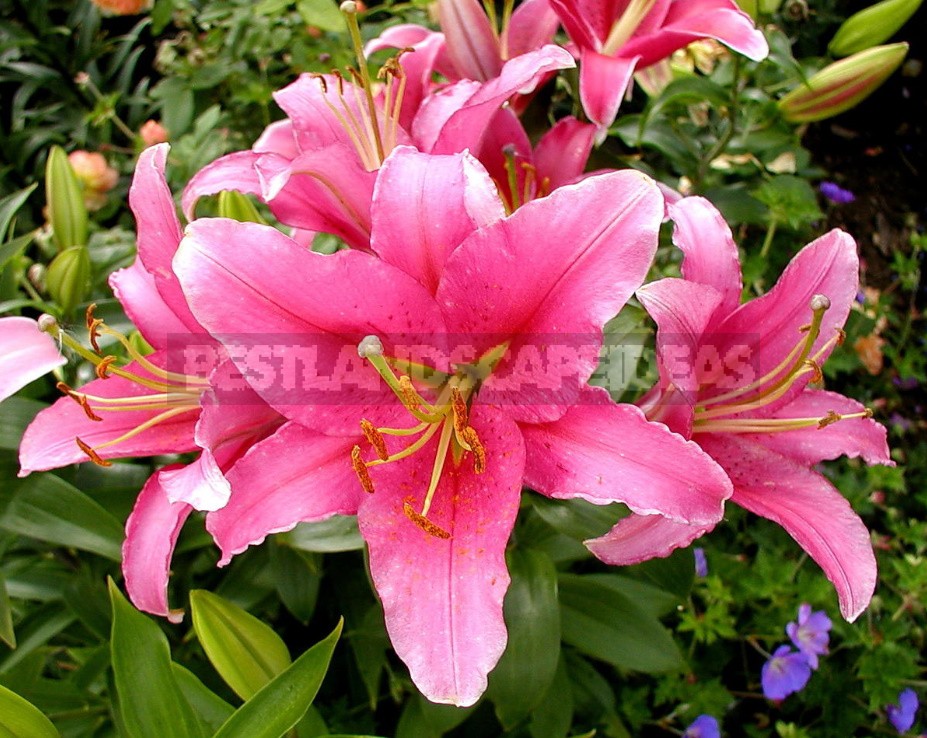 rich red-purple 'Montezuma',
raspberry with yellow throat 'Barbaresco',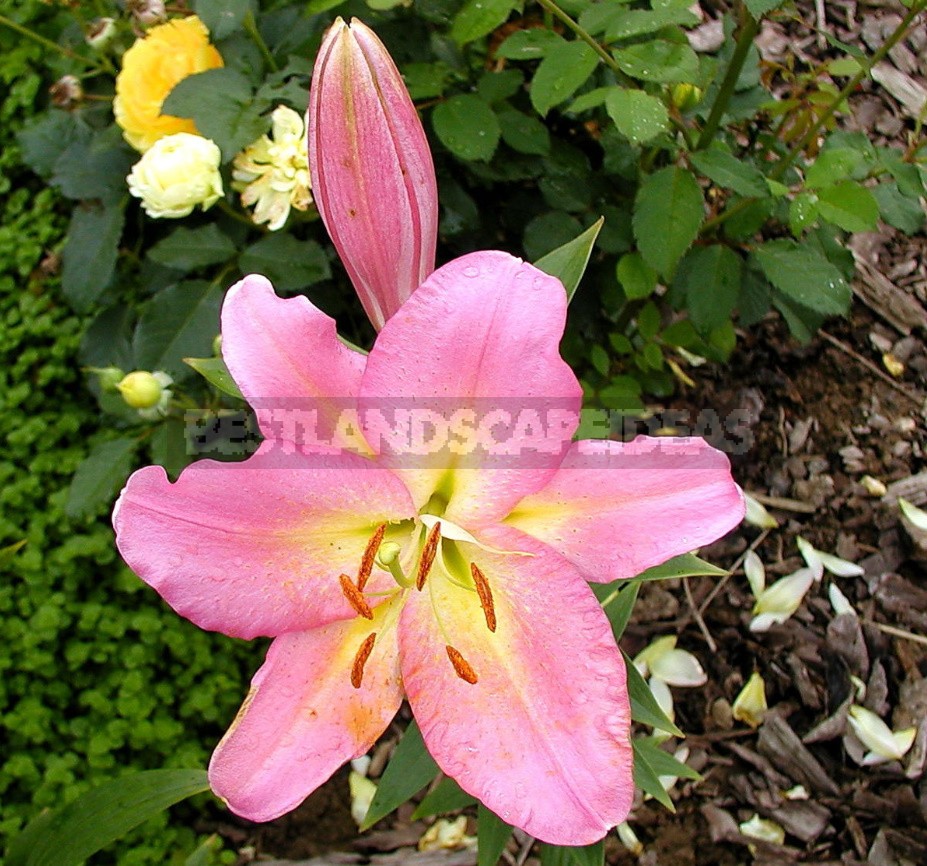 pale pink with yellow throat 'Pink Mistery', ' Borneo', 'Buenos Aires',
white and pink varieties 'Muscadet', 'Brasilia', ' Emmely',
white and pink with yellow accents 'Arena',' Rosy Dawn',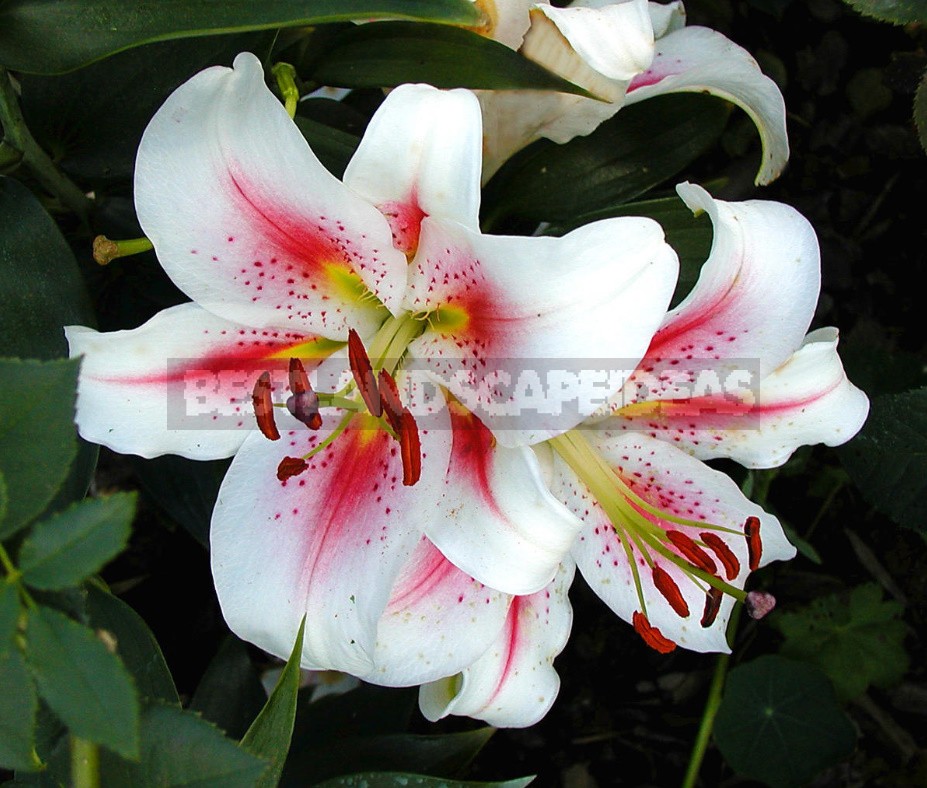 white with yellow stripe 'Gaudy', 'Aubage',
finally, pure white, very tender varieties 'Alma-Ata', 'Casa Blanca',' Montrachet', 'Siberia',.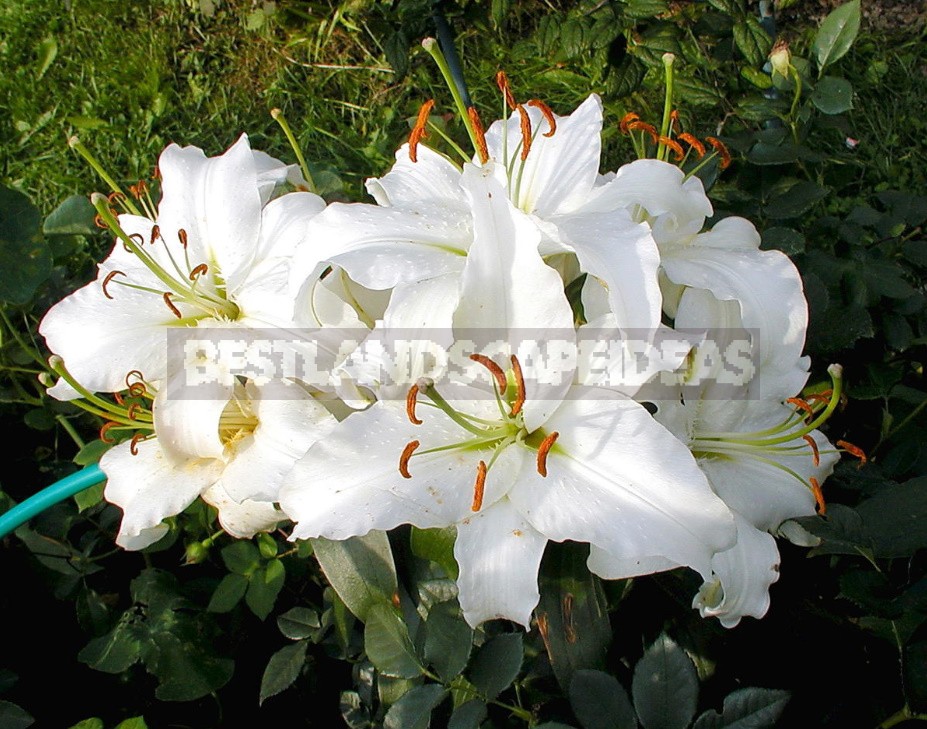 All of them, in addition, differ in the texture of the petals, the shape of the flower, and the timing of flowering.
Among the varieties of this group there are the so-called border, or pot (pot, or dwarf) – small lilies that have all the advantages of tall plants, perfectly developing in containers. This is, for example, 'Souvenir', 'Sombrero', 'Miracle'.
In fairness, I will say that potted varieties are b among Asian, and among LA-hybrids.
Orientals are not easy to care for, they are susceptible to viral and fungal diseases. Capricious beauties should be protected in the fall from excessive precipitation, and in the spring from late frosts. These lilies prefer a well-drained place with loose acidic soil.
Grow quite slowly, in one place they should not be kept more than 4-6 years. Eastern lilies can be planted in the rose garden, sheltering for the winter with roses.