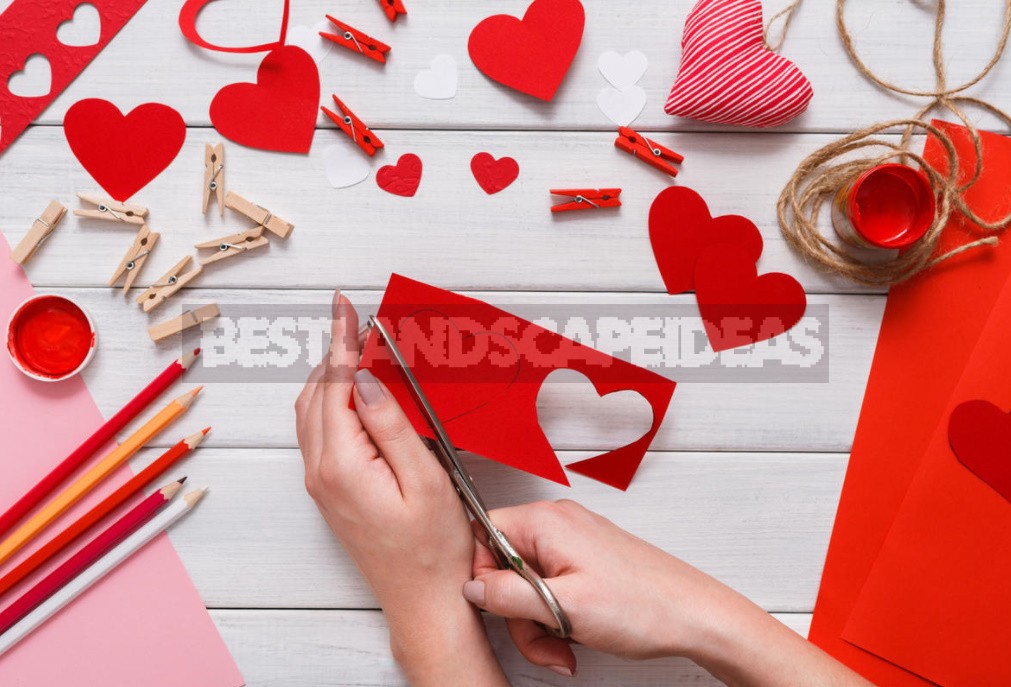 Valentine's Day is on the doorstep, and you did not have time to prepare for it? Don't worry: all is not lost yet! Cute gifts and beautiful decor can be made with your own hands, and you will need a minimum of time and materials!
Let's leave aside the history of the emergence of Valentine's Day and look at this holiday from the other side — as a good reason to once again say about love to the closest people. After all, often in the rush of urgent matters, we simply forget about such "little things", and some, due to their nature, can not just talk about their feelings at all. So let's catch up!
Postcards from the heart
Since we do not have much time, we will consider the time-consuming and difficult-to-perform options another time. Let's take the simplest ones: believe me, and they can touch you to the core! Paper and glue will surely be found in every home, and nothing more is needed to create a simple postcard.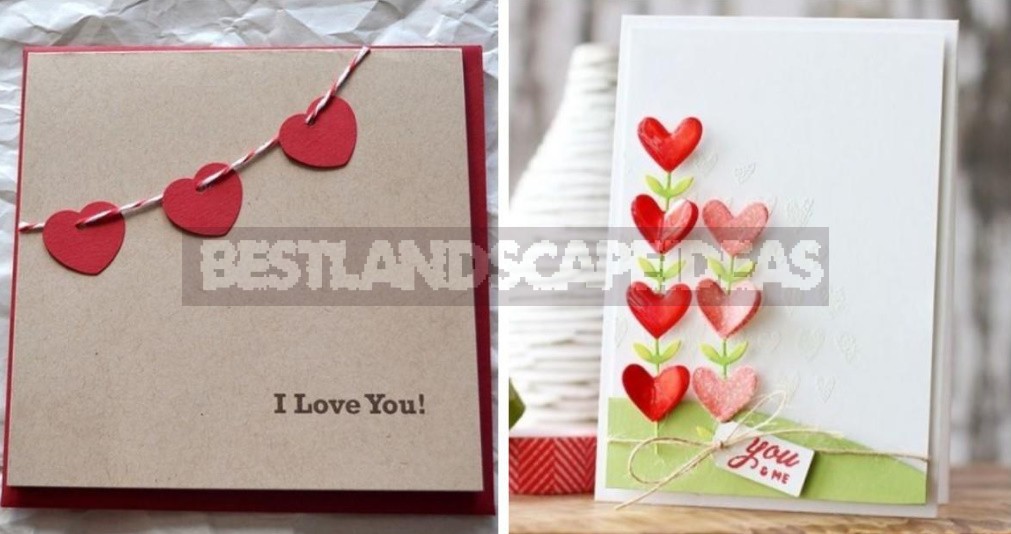 The main thing in the congratulatory message is hearts. It is good if they differ in size and pattern. Even better, if there are a lot of them, because each paper heart is a symbol of a real heart, in which love lives.
If you have skills in any technique of working with paper, such as quilling, it's time to show off your skills.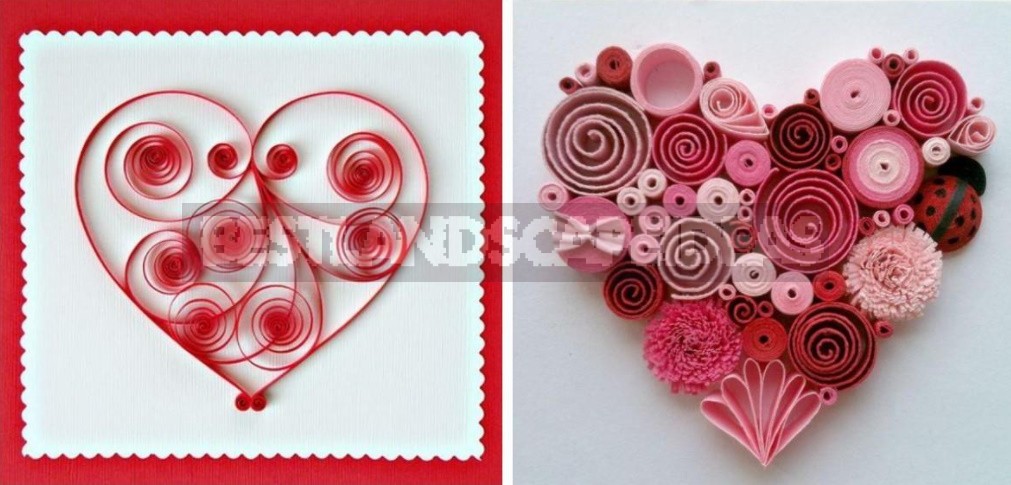 The composition options are literally inexhaustible, and each is good in its own way. And if you don't like something, make adjustments to your own taste.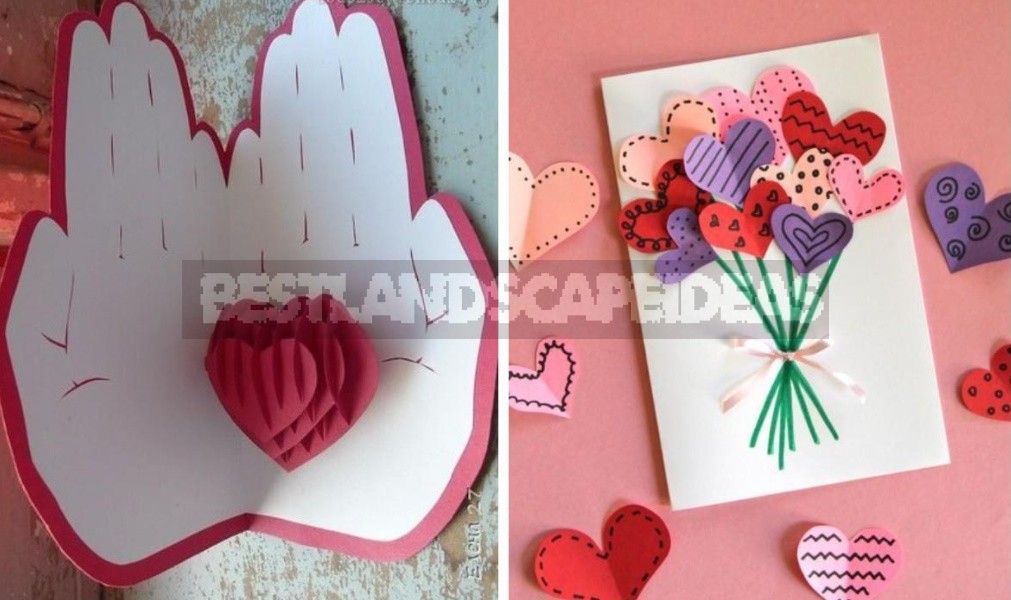 A worthy alternative to living flowers
If you do not have time to buy a bouquet of fresh flowers, feel free to give paper or felt ones. And don't be embarrassed: it is still unknown which will bring more joy!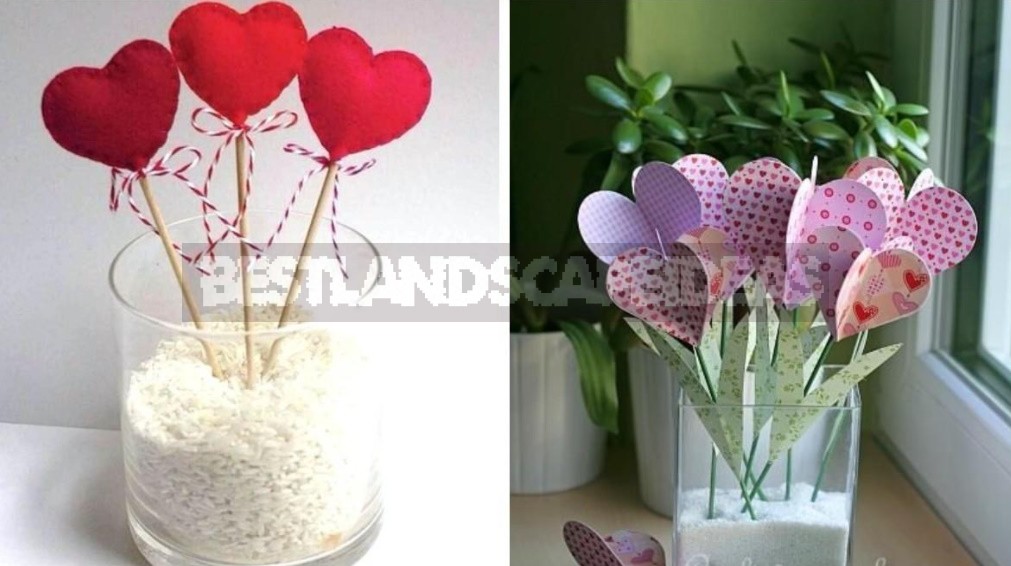 Compositions made of branches decorated with symbols of love look very beautiful and spring-like. No decorative filler for the glass vase? Replace it with sugar, salt, wheat, corn or beans!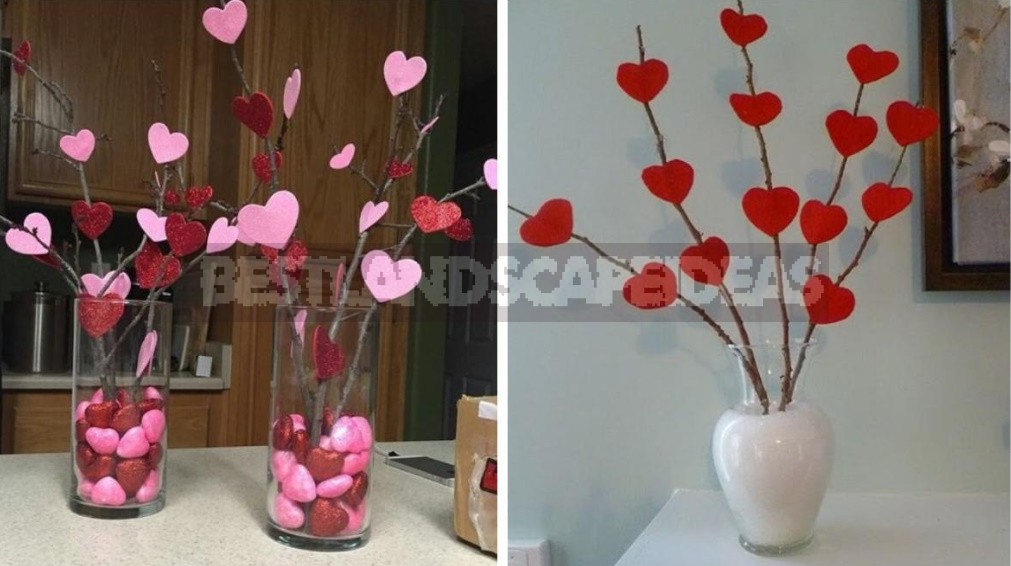 Or put an improvised bouquet in a regular jug. In my opinion, this way the composition looks even more interesting.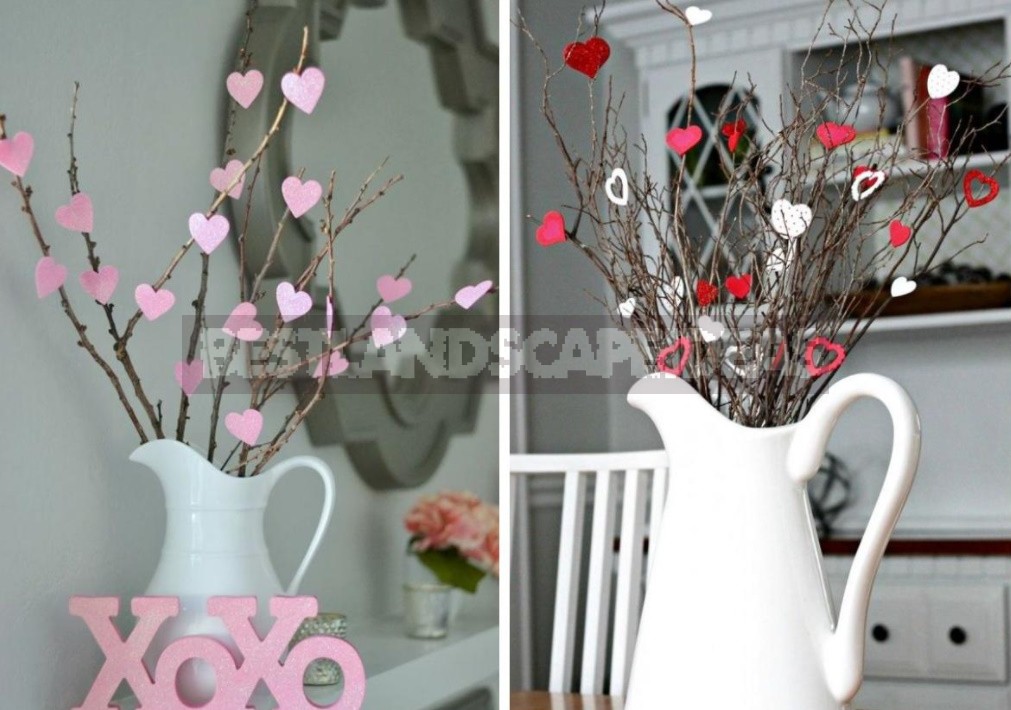 Do you think that a postcard and a bouquet are not enough? Then let's decorate the room!
Quick and easy: making garlands
What will we decorate with? For example, a garland. If there is colored paper left, cut out hearts from it — and in the absence of it, use ordinary newspapers, felt scraps, or any other fabric that holds its shape well. However, both calico and lace are suitable, but first you need to give the canvas a certain rigidity. The simplest option is glue: smear the fabric properly and dry it (if there is no time at all, a hair dryer will help you). That's all, now the hearts will fly proudly, and not droop dejectedly. If there is no glue, remember the time-tested method-starching.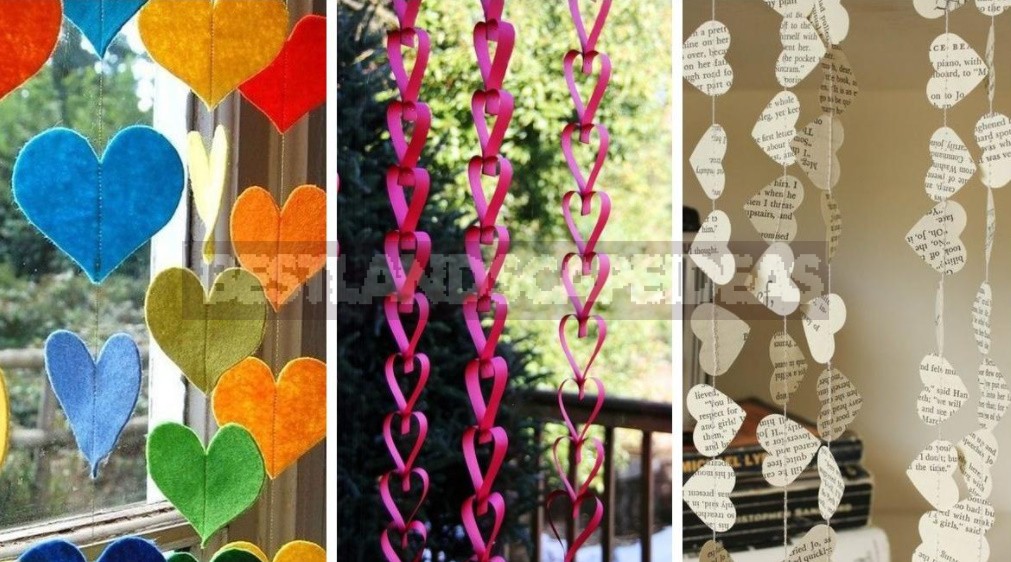 Freshly dried garlands can frame interior doors or decorate the bedroom.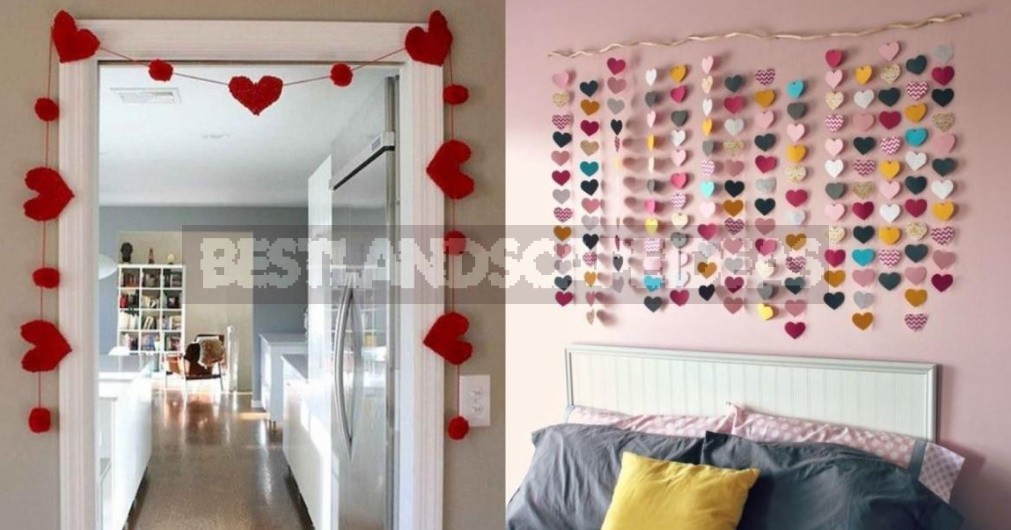 You probably know the tastes of the person to whom the greeting is intended, so do not limit the flight of imagination to red and pink. Experiment more boldly not only with the color, but also with the shape. See how interesting the three-dimensional hearts look! Surely it will take a little time to create such a wonderful gift.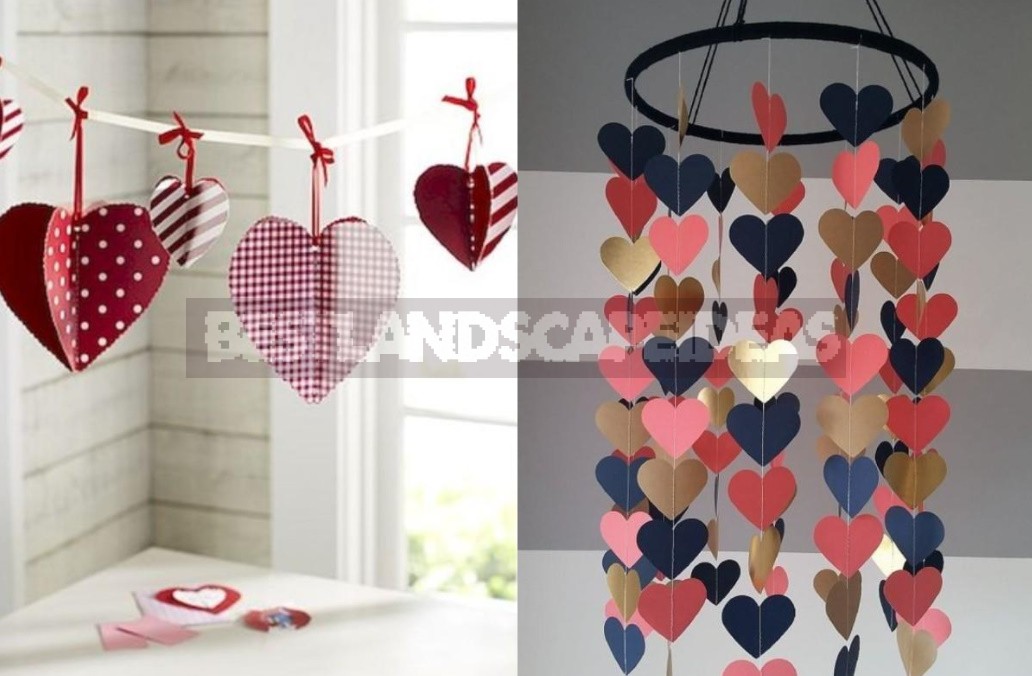 A heartfelt message-a worthy frame
How nice that we recently beautifully hung the frames on the walls! Themed compositions in a stylish frame — what you need for a moderate decor of the room. For a while, take out a photo from the baguette, a day or two in its place will be flaunted by a company of cute hearts.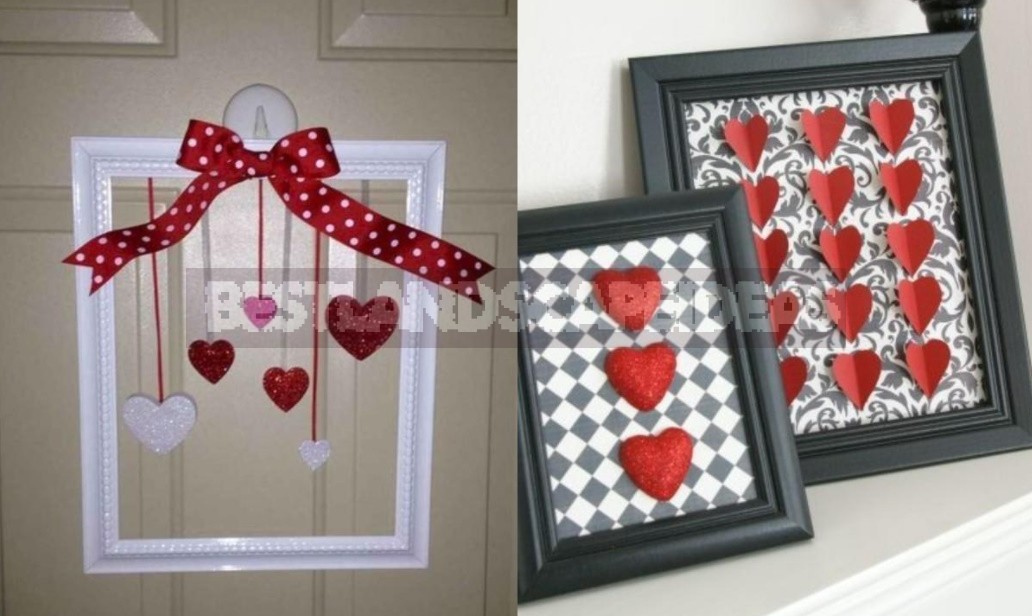 Soloists who can be depicted with the help of improvised materials — buttons, coins, beads and other cute little things-look no worse. Add a key to the composition, and the precious half will be calm: from now on, access to your heart is closed to everyone else!
Festive outfit for pillows
In general, the festive mood is a purely individual matter. Perhaps one detail of the interior will be enough for someone. For example, you can decorate sofa cushions. It is not necessary to sew a new cover: decorate the existing one with felt symbols of love. Embroidery with a satin ribbon will be even easier and faster — it will take you a few minutes! Given that most summer residents do not have such ribbons in stock, I suggest replacing it with wool yarn in several additions — it will be no worse. And even the usual spool threads will work, only you will need more additions. I repeat: the color of the threads can be anything!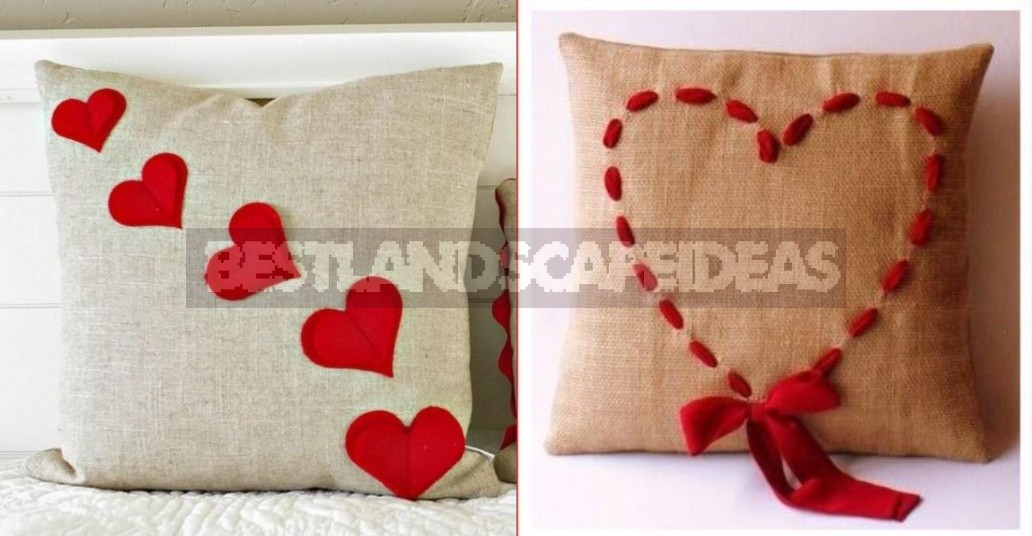 Of course, it would be unforgivable to ignore the cute pom-poms. They will also look great on the pillow, and as an independent element of decor — a fluffy heart. Make it simple: cut out a form of foam or foam rubber, make pom-poms and glue them to the base.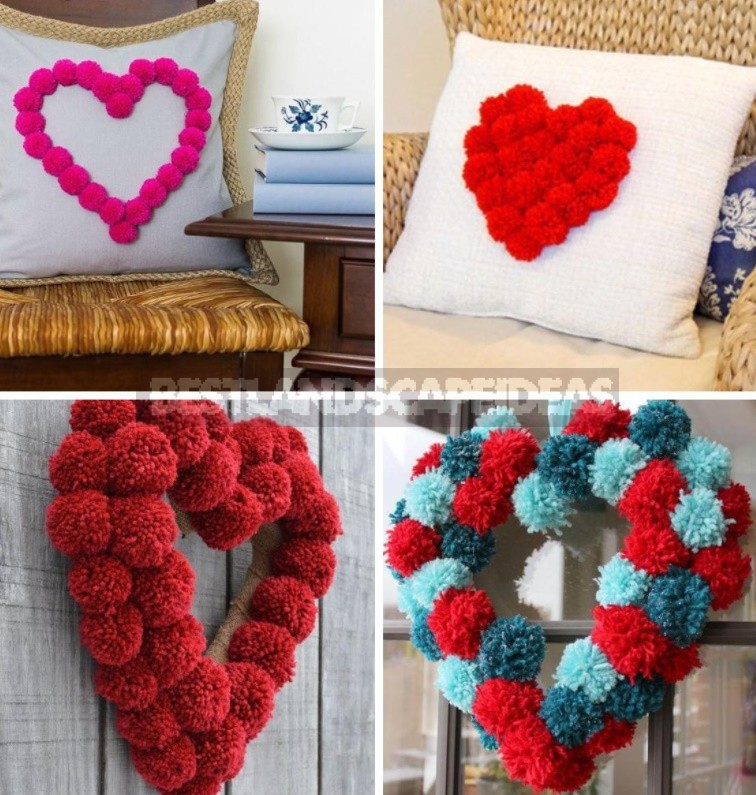 Stylish wreaths and panels
By the way, the heart as an analogue of the Christmas wreath is now very much in demand. So let's take a closer look at the other ideas: maybe you'll like some of them.
For example, on the same base of foam rubber, you can sew four-folded circles from any fabric — the result is great! In the photo, the blank is factory-made, but is it difficult to cut a simple shape from a soft material? Even if it turns out not quite smooth, do not worry: in the end, this defect will still not be visible.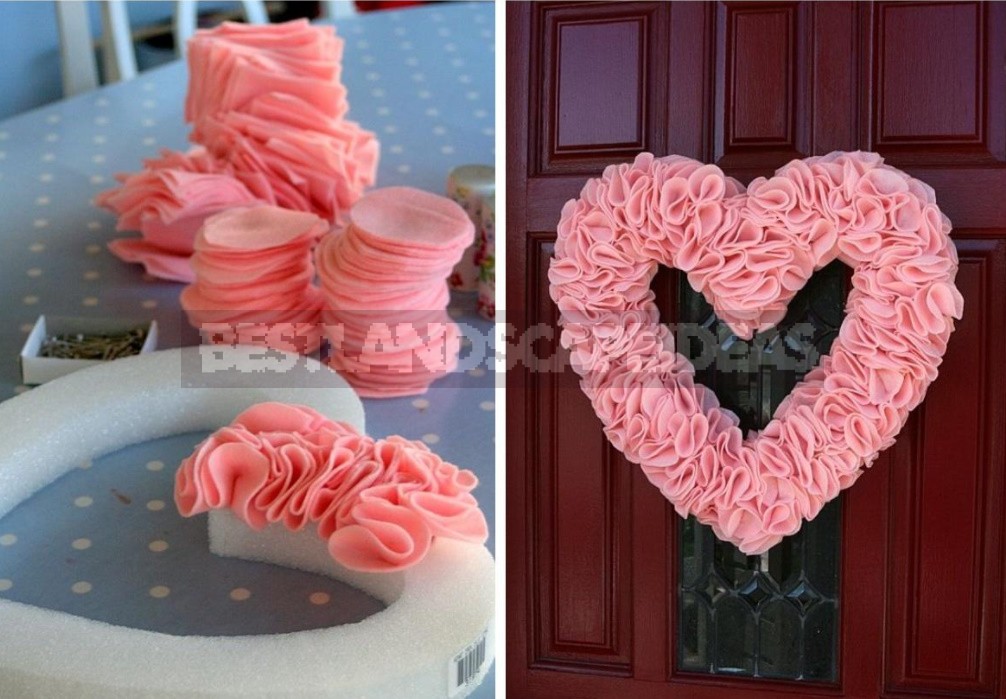 There is an even easier option — to make a base of wire and decorate it to your liking. If you want-pieces of ribbons, fabric or braid. If you want-lace, you will get a romantic heart in the retro style. For such a handmade product, by the way, in a decor store you would have to pay a considerable amount!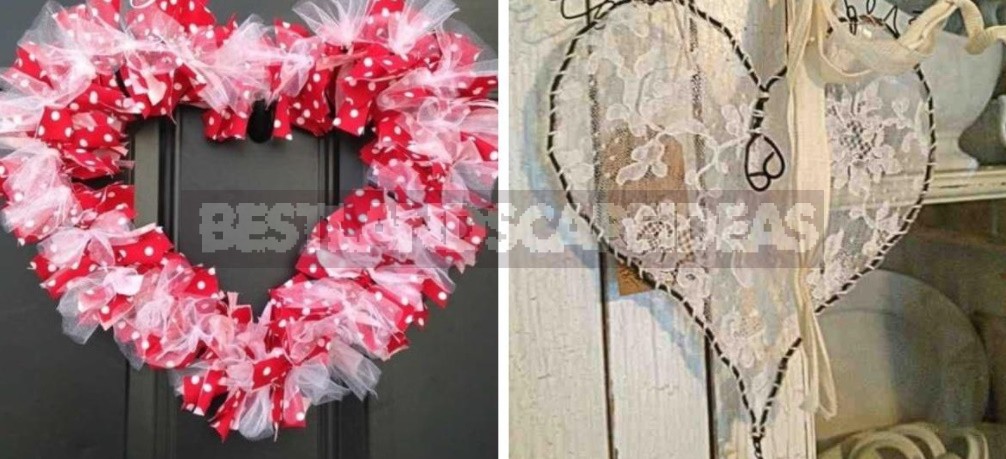 The models made of twigs did not immediately arouse the desire to go in search of a suitable firewood, but everyone's tastes are different. Perhaps someone will find such a decor perfectly suited to the interior or just like it. One thing is certain: it will definitely not go unnoticed!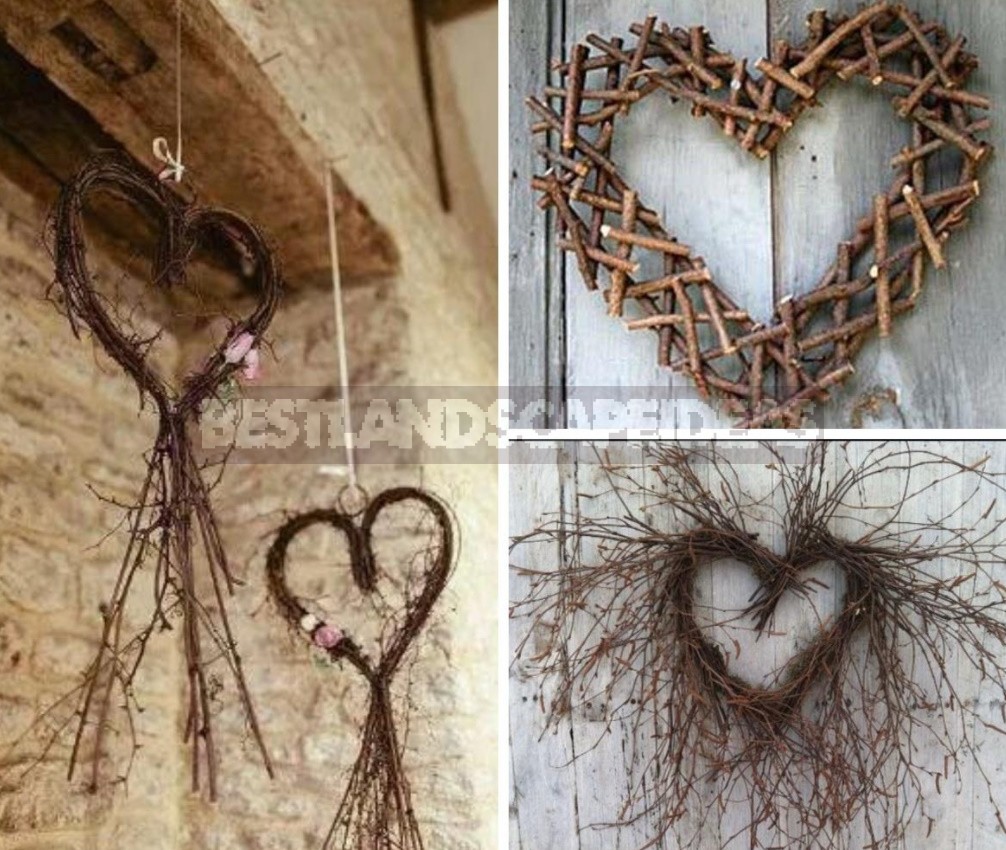 In principle, the holiday-appropriate decor can be made from almost anything: twisted paper tubes or coffee beans, an old shirt or seeds-choose, supplement, alter at your own discretion!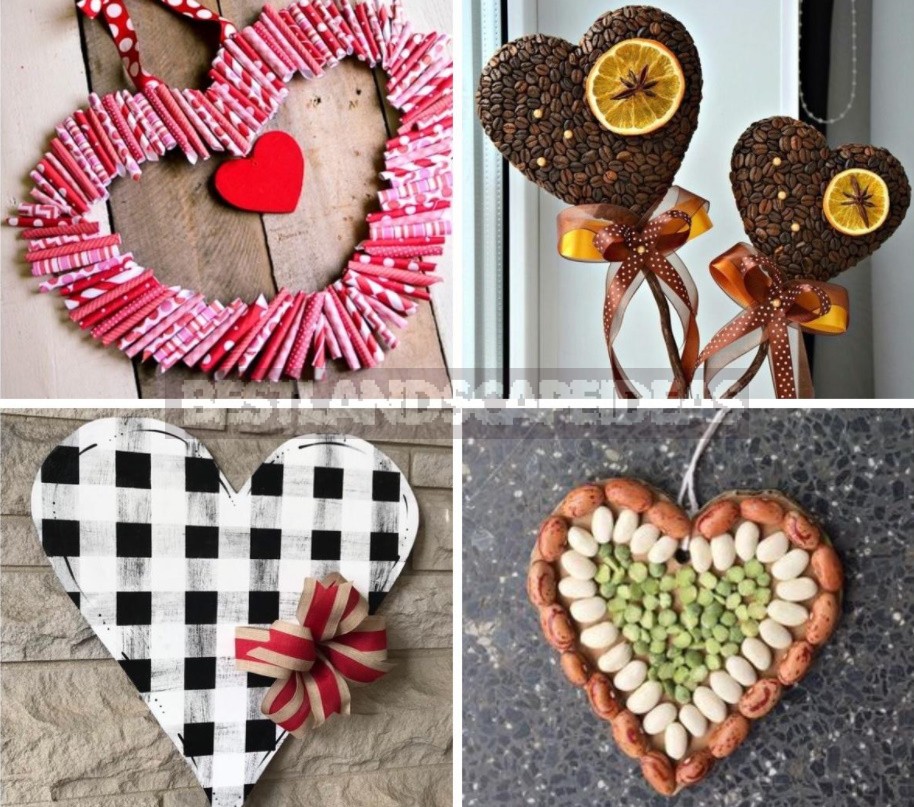 Do you have any wine corks in stock? Great, their-also in the case! Glue, colored paper, skewers for canapes — and in a few minutes on the shelf flaunts a line of loving hearts!
Or make a panel. If you like the texture of the bark of the cork tree, leave the cork as it is. And if you want to enhance the festive effect, paint in the desired color.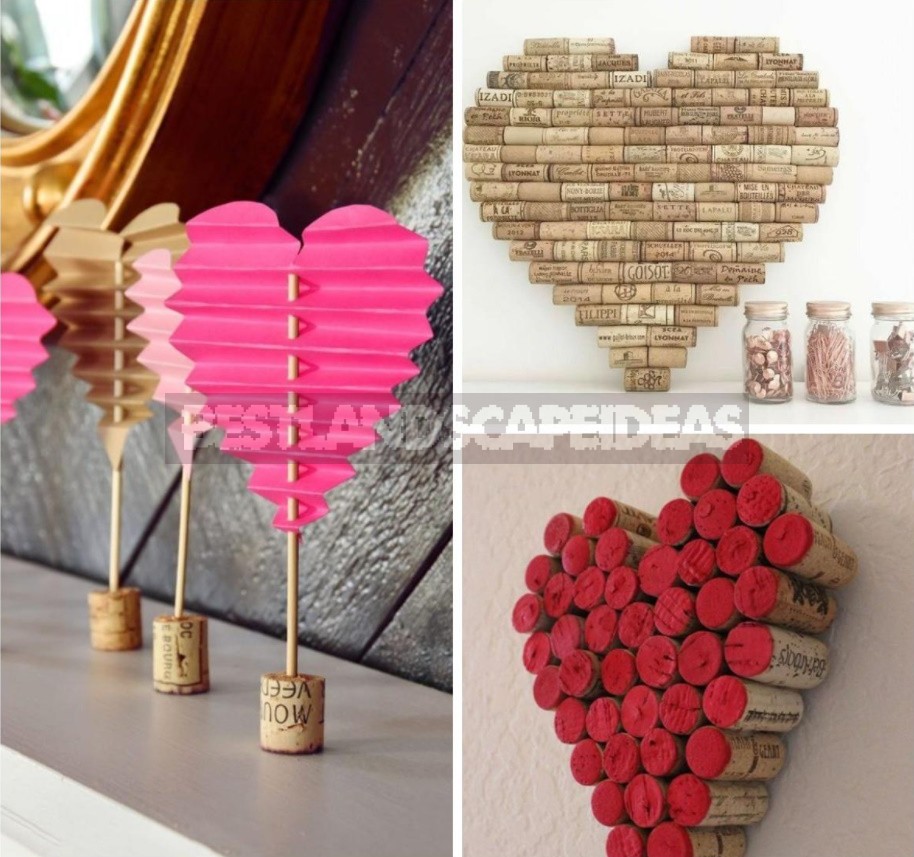 Charming candlesticks in half an hour
If the celebration plan includes a candlelit dinner, you can build amazing candlesticks at an emergency pace. For example, with the help of wooden clothespins or twine made of cotton, jute, paper (in principle, no one will forbid taking synthetics, but natural materials always look more elegant).
The tin cans will also help out. If it is difficult to cut out a window-heart, limit yourself to perforating, it will still be beautiful.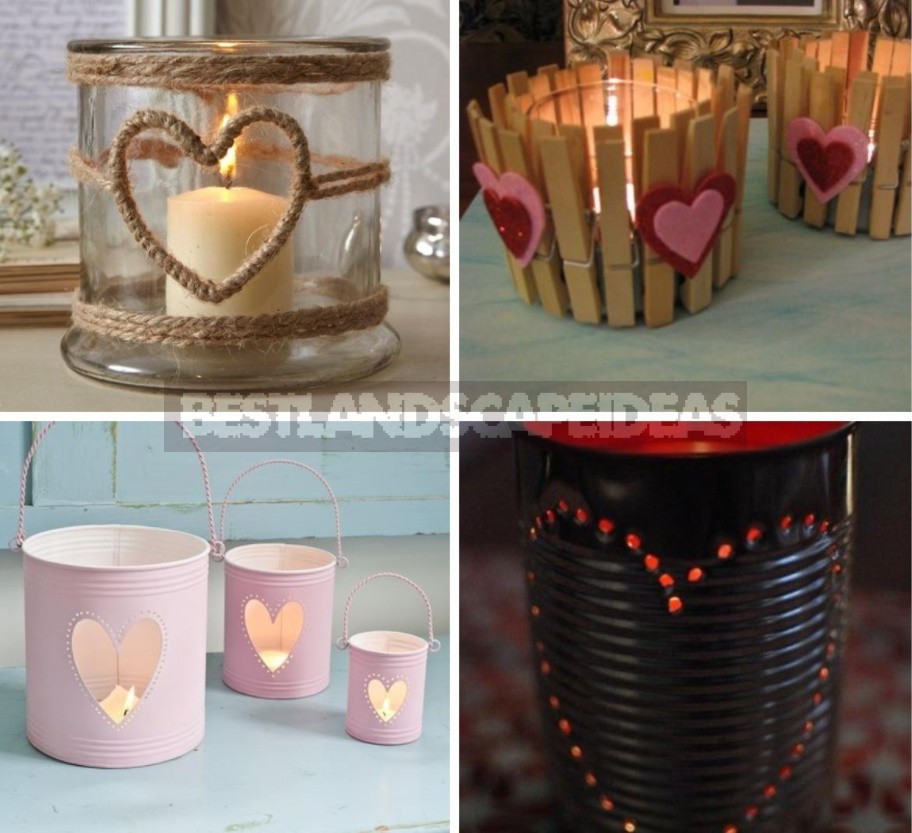 After all, you can just paint the cans. Or decorate the candles themselves — also a good option.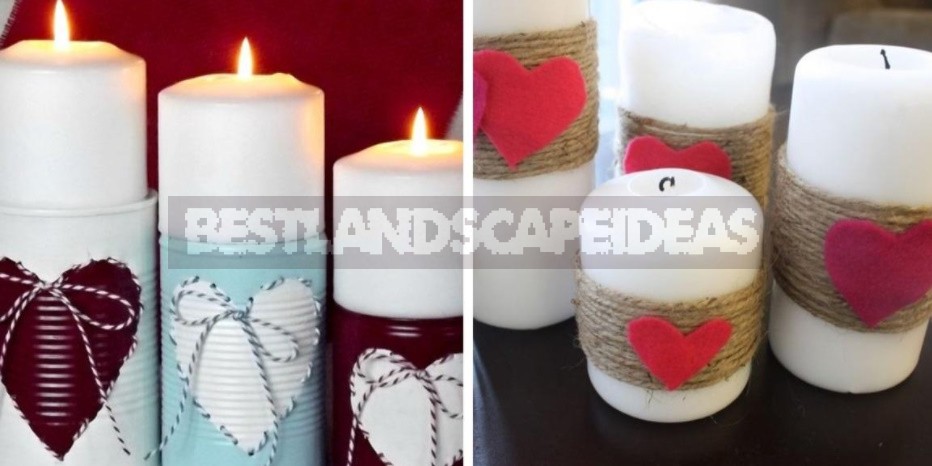 Dining path made of cozy felt
Since we have an emergency preparation, there is probably no appropriate tablecloth available. And we will make a dining path from felt hearts-simple and beautiful! Just in case, it is desirable to glue the elements together or fasten them with a stapler.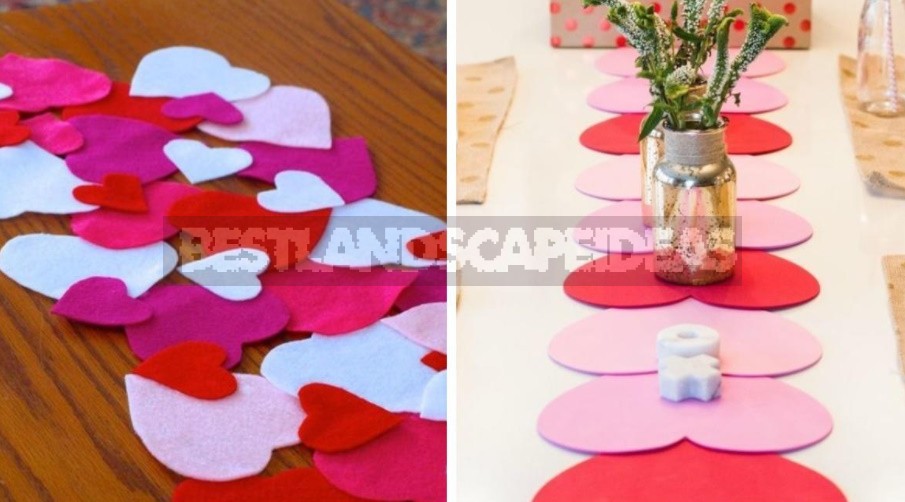 Everyone to the table!
Well, a few serving ideas wouldn't hurt either, right? How does your morning start? Probably-with a cup of hot tea or coffee and a light breakfast. And let's start celebrating from now on! No, no, we will not drink champagne early in the morning, but you can prepare special dishes.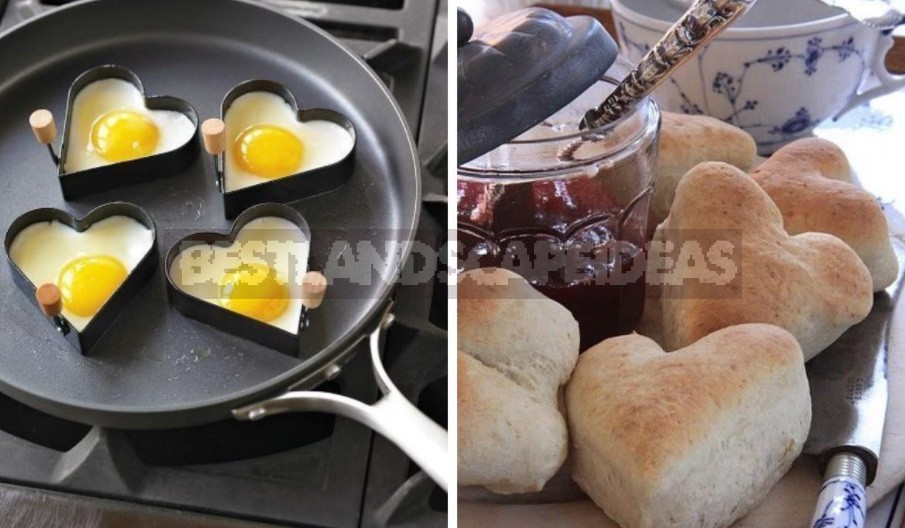 There are also ideas for those who like a good snack. For example, how would a heart-shaped pizza suit you? You can bake a large or several portions, as it is more convenient.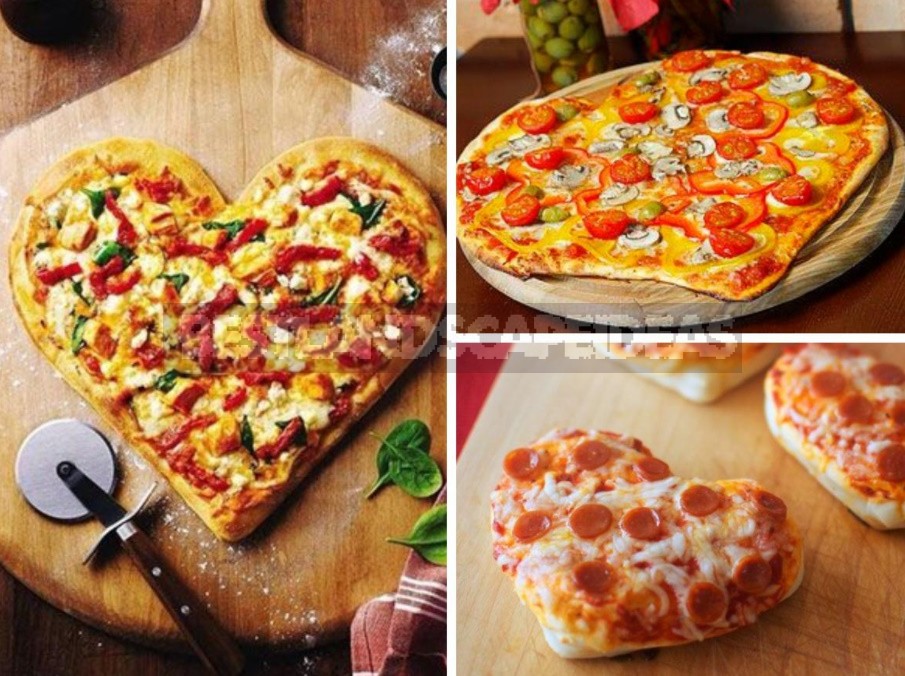 For tea, you will have a nice cookie by the way: there is no way to cook — decorate the store, bake yourself-even better!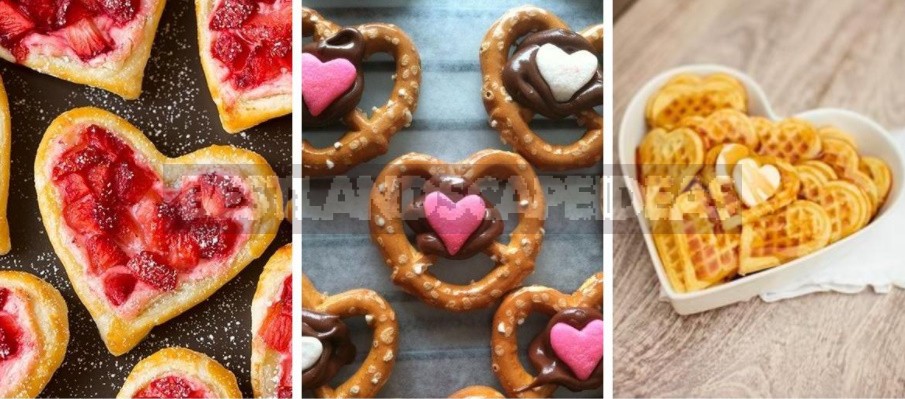 If you are planning a festive dinner, the ideas of elegant serving of snacks and sandwiches will definitely come in handy. And how do you like the salad decoration?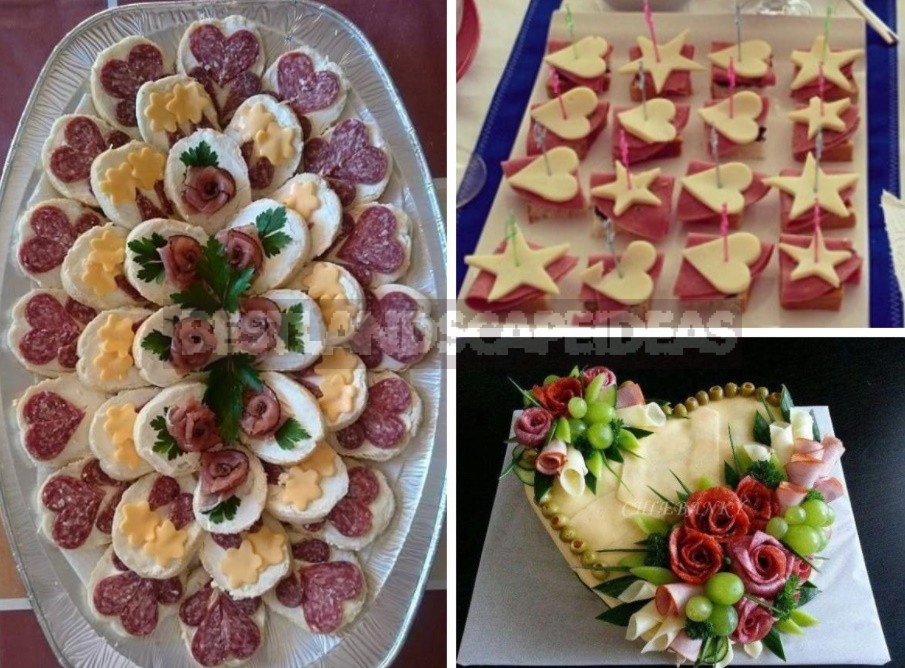 According to a long-established tradition, there must be fruit on the festive table. Previously, they were laid out whole, but now fruit plates have become fashionable. Well, let's take this nuance into account.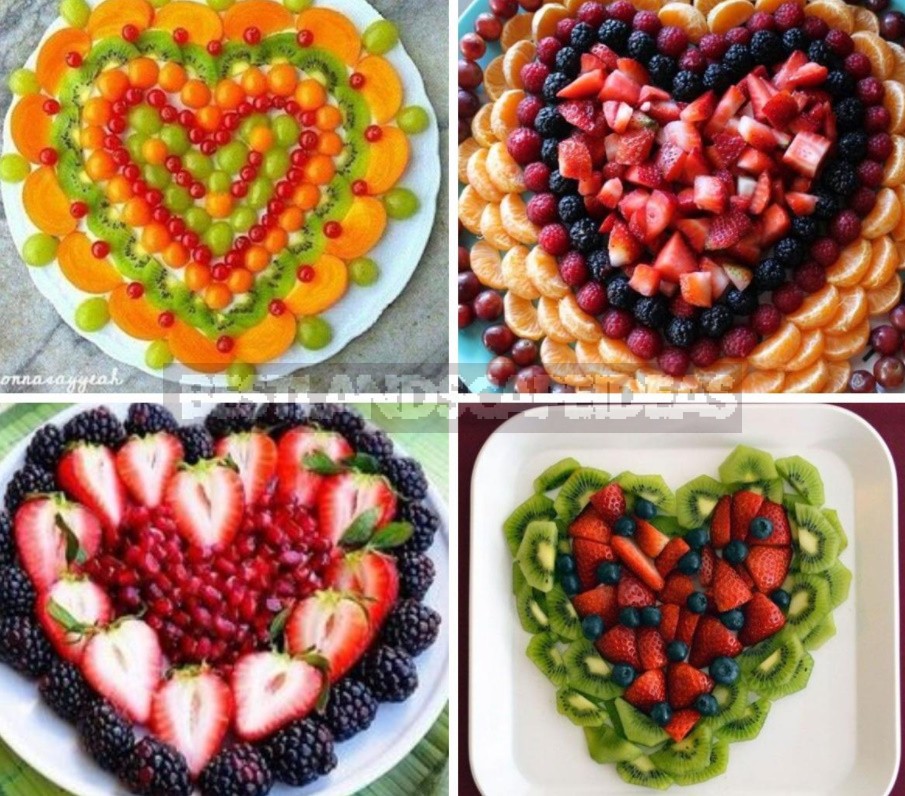 Long live the surprise!
And finally, a surprise idea. When everyone is asleep, you need to sneak into the garage or bathroom and stick as many stickers with declarations of love as possible! And calmly go to rest, because the main action will be in the morning … The main thing is not to oversleep the moment when the message is discovered, in order to fully enjoy the effect produced.
Be prepared for the fact that your soulmate may be moved to tears: do not worry, crying for joy is even useful. There is another possibility: if she or he is pedantic about cleanliness, thoughts of glue marks on the mirror or panel will supersede all others, and instead of gratitude and hot kisses, you risk getting a severe reprimand.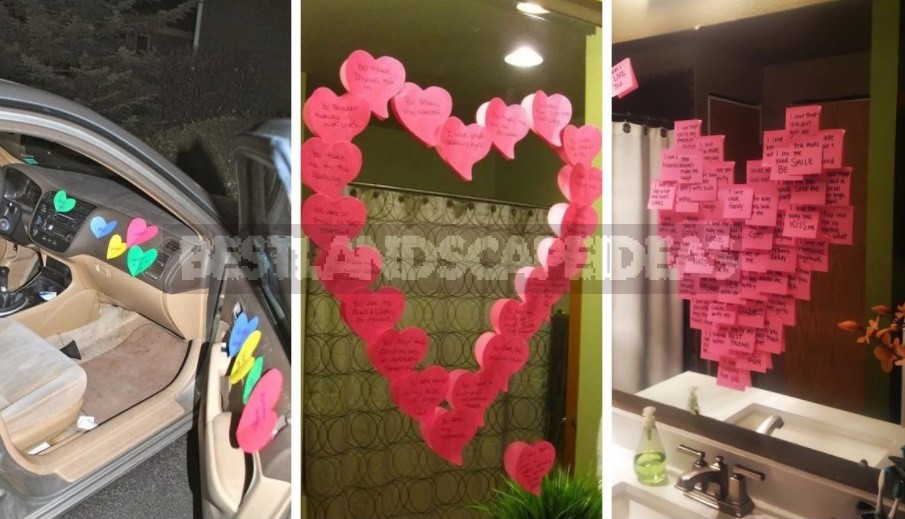 That's it, it's time to get to work! I hope this small selection of ideas will help you organize an unforgettable beautiful Valentine's Day!