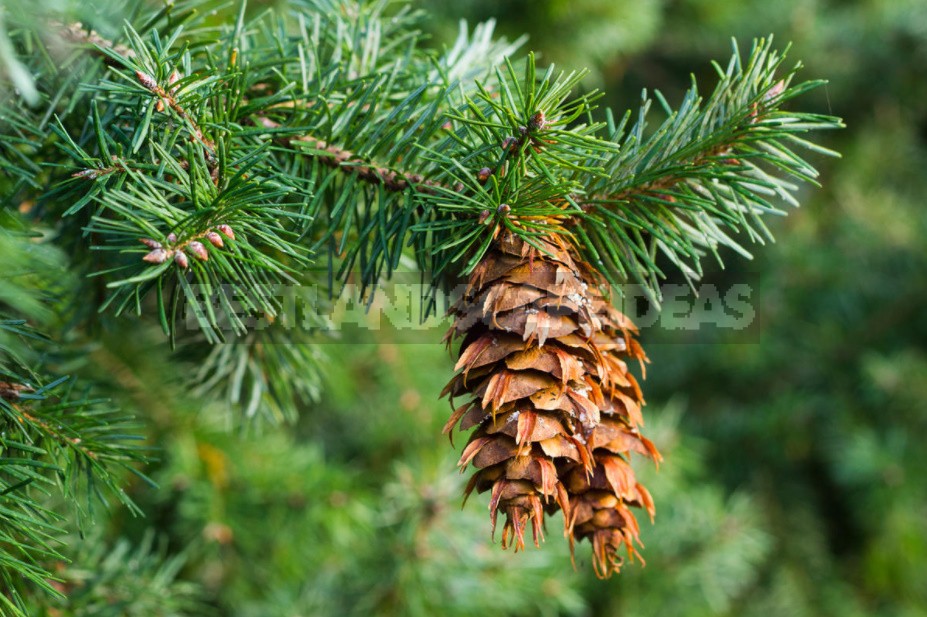 We will continue the interesting topic of exotic species of trees, shrubs and lianas that can be grown in the country. Today I will introduce you to the so-called pseudo-plants, which are like two drops of water similar to their more famous relatives.
The similarity of the trees and shrubs of today's species is even more striking. It is so impressive that only narrow specialists-botanists will be able to determine "who is who"at a glance. Nevertheless, there are differences that allowed taxonomists to distinguish "doubles" into separate genera, adding the prefix pseudo – or false-to the names. So, meet me!
Pseudocydonia sinensis
Both in the period of spectacular flowering and during fruiting, it is similar to its relative — Cydonia oblonga. Relatively hardy: USDA zone 5-8.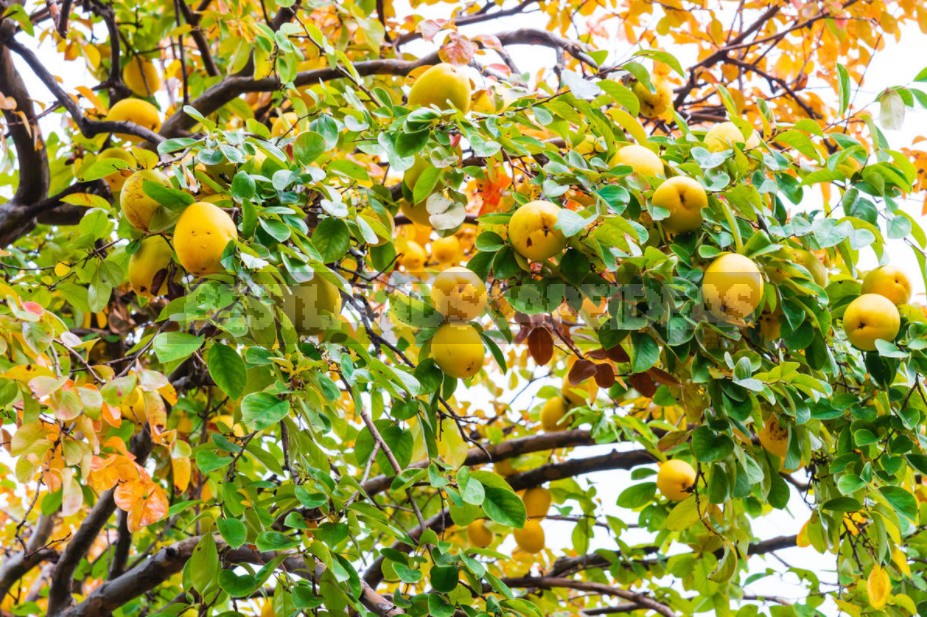 This broad-spreading deciduous monoecious shrub or small tree with a height and width of up to 6 m, with peeling bark plates, belongs to the family Rosaceae. Pseudocydonia sinensis is native to China, as indicated by its species name. The leaves are oval, finely toothed, up to 10 cm long. The flowers are single, cup-shaped, pink, 4 cm in diameter; they bloom from mid to late spring. The fruits are apple-shaped, greenish-yellow, large, up to 15 cm long, fragrant, hard, inedible, long preserved on the plant.
Features of care and reproduction
When planting large-sized seedlings, the installation of stakes and a garter are necessary. The barrel circle is kept in a clean and loose condition. In the light and fertile soils in the first year of planting, watering is regular, from the 2nd to the 5th-as the upper layer dries, starting from the 6th year-only in drought. It is good in the first 5 years in the spring, before the growth of shoots, to carry out fertilizing with a full mineral fertilizer. Pruning consists in shortening the strong-growing shoots and removing the undergrowth (in exceptional cases-on a high stump). Propagated by seeds. In Japan, it is grown as bonsai.
Pseudolarix amabilis
Pseudolarix amabilis, syn. P. kaempferi looks similar to Larix. But still there are differences — they became the reason for the allocation of it in a separate genus in the family Pinaceae. Its winter hardiness according to the USDA classification corresponds to the 5th-7th zones.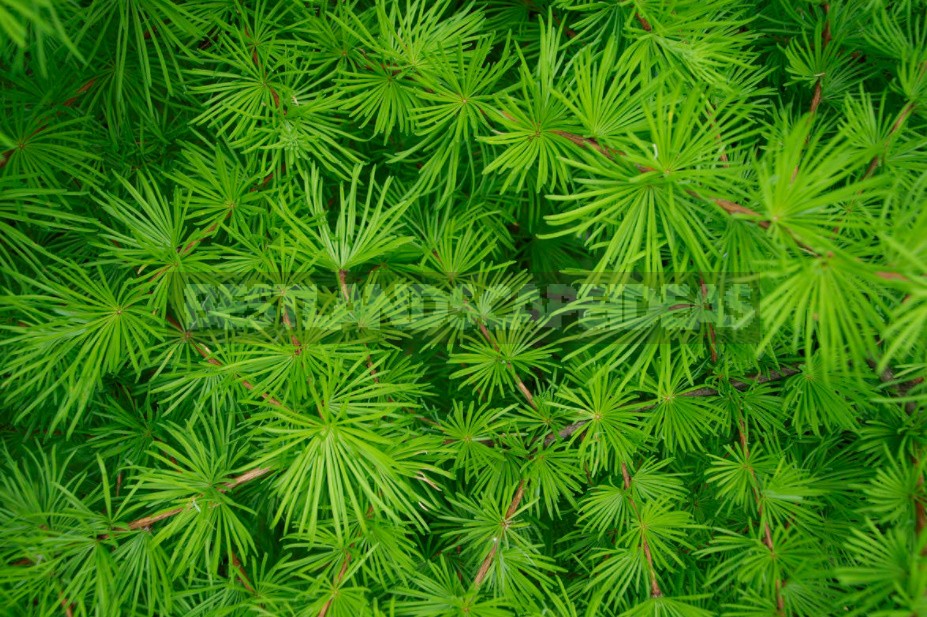 This is a tree with a wide-cone-shaped crown (formed by rather thin branches and drooping shoots), up to 15-20 m high and 6-12 m wide. It is native to the mountainous regions of Southern and Eastern China. The needles are soft, light green (in autumn-golden-orange), 2-5 cm long, on short lateral shoots collected in funnel-shaped rosettes. Cones are yellow-green, 6-8 cm long.
Features of care and reproduction
It requires moderately moist, well-cultivated, well-drained soil and well-lit areas. It does not tolerate transplanting with an open root system, so the seedlings are grown in containers.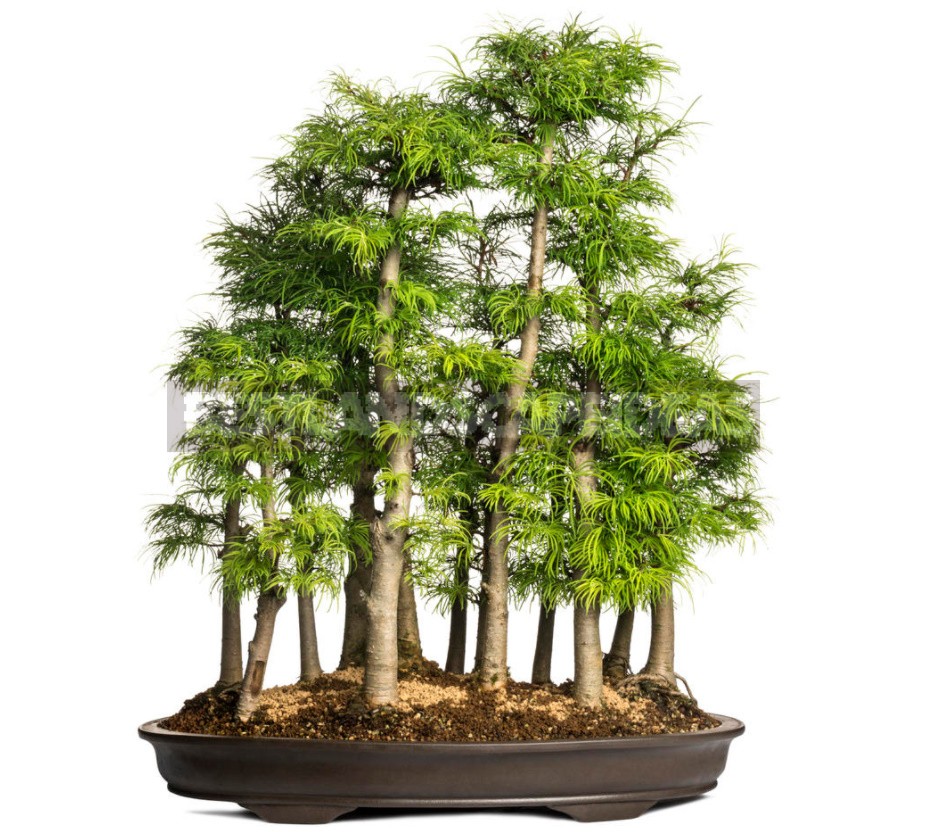 It can also be grown as a bonsai.
Pseudotsuga menziesii
Pseudotsuga menziesii, syn. P. douglasii, P. taxifolia — the most common and hardy species in the genus, used similarly to spruce and fir. It is native to North America. Pseudotsuga menziesii is similar to its relative from the Pinaceae family — Tsuga. According to the USDA classification, the winter hardiness of the first corresponds to the 3rd-6th zones. Achilles ' heel-the plant suffers from spring and autumn frosts.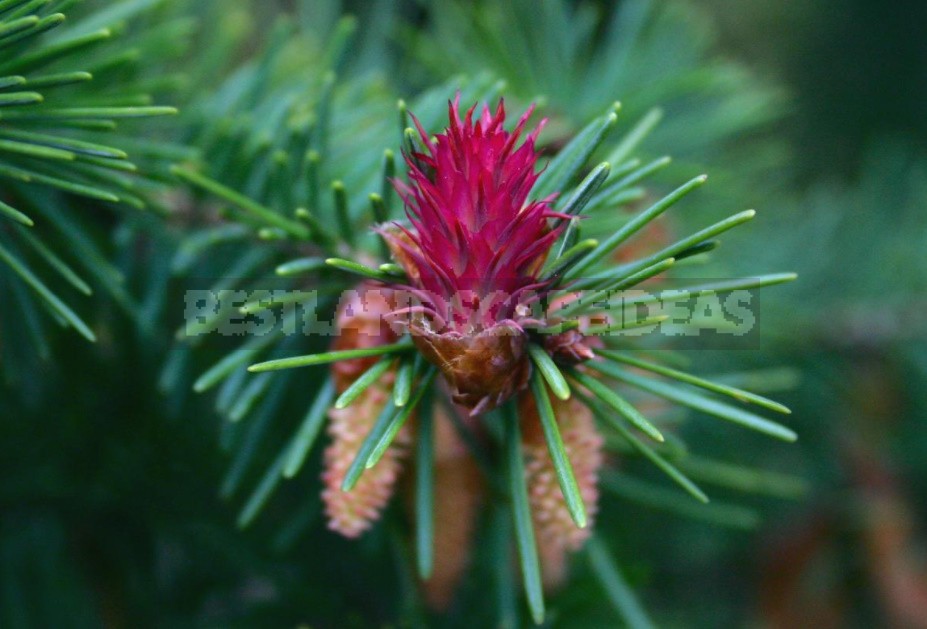 Features of care and reproduction
This is a fast-growing tree with a height of 25-50 m and a width of 6-10 m with a narrow cone-shaped crown formed by smoothly ascending branches. The needles are dark green, glaucous on the tops of the shoots, up to 3 cm long. The cones are oblong-ovate, brown, up to 12 cm long, with protruding ends of the covering scales.
Decorative forms:
'Fretsii' is a slow-growing dwarf cultivar with a conical crown, up to 6 m high. Needles are dark green, up to 1 cm long;
var. glauca-with a smaller narrow-cone crown and smaller coverts of cones than in the typical species. The bark is grey, thinner and scaly. Bluish-silver needles 4.5-6 cm long;
'Oudemansii' – a tree 5-10 m high, needles 1.5-2 cm long.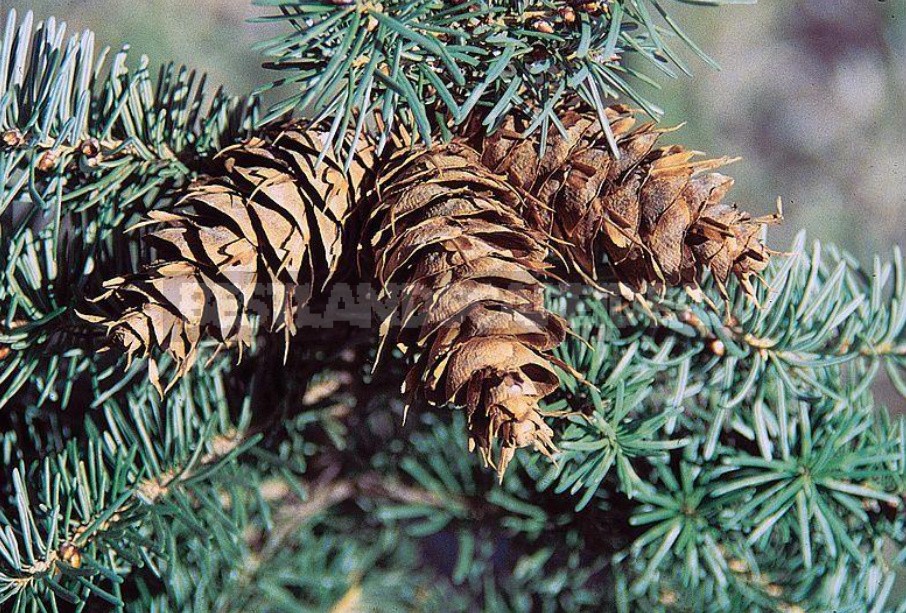 Before planting in the open ground, Pseudotsuga menziesii is best grown in containers. At a young age, it perfectly tolerates shading. It is not demanding on soils, but it reaches its best development on well-drained deep loams. Propagated by seeds-it is better to sow freshly harvested, in the fall, then their ground germination is 39-50%. The sealing depth is 5-7 cm.
Pseuderanthemum atropurpureum
Pseuderanthemum atropurpureum, syn. Eranthemum atropurpureum is familiar to lovers of indoor floriculture as an ornamental plant. Actually, for the sake of beautiful brightly colored leaves, it is grown. Due to the richness of colors and the shape of the leaves, it is similar to its relative — Eranthemum. Thermophilic: its winter hardiness according to the USDA classification corresponds to the 8th-11th zones. The English Encyclopedia of Garden Plants indicates a minimum of +13°C for it, but it is better to keep Pseuderanthemum atropurpureum at a temperature of at least +18°C in winter. Therefore, on the territory of the middle zone, it is grown in closed ground, relying on more decorative young plants (after cuttings) with an intense color of variegated leaves.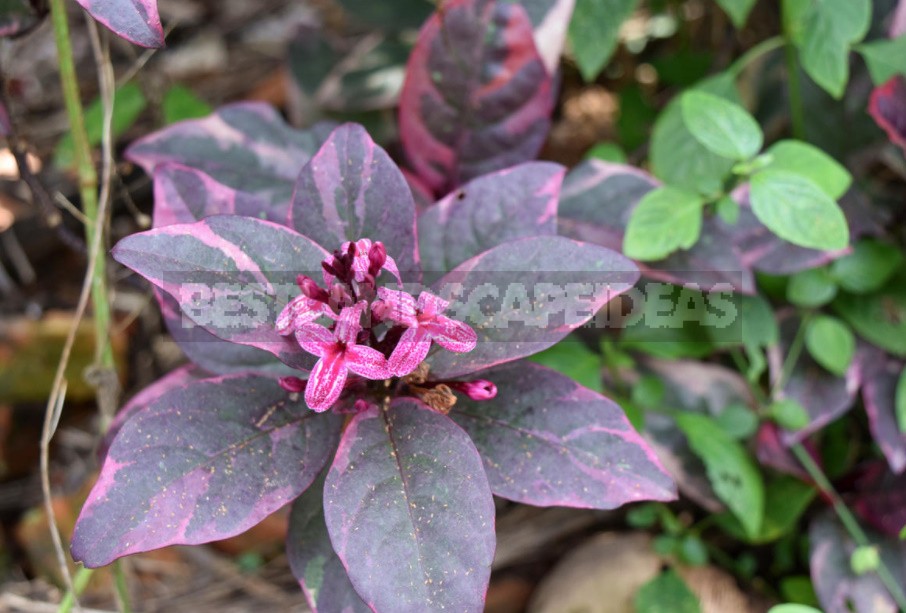 It is an erect, sparsely branched shrub up to 1.5 m tall and up to 75 cm wide from the family Acanthaceae. He is originally from Polynesia. The leaves are ovate to broadly elliptical, 10-15 cm long, dark purple, sometimes yellow-spotted, pinkish-red, pink, green, white. The flowers are tubular, white with pinkish-red or purple spots in the center, 2.5 cm long, collected in apical spikelets up to 18 cm long. In indoor conditions, it rarely blooms.
Decorative form – 'Variegatum', syn. 'Tricolor' (leaves bronze-purple with cream-yellow and pink spots and spots).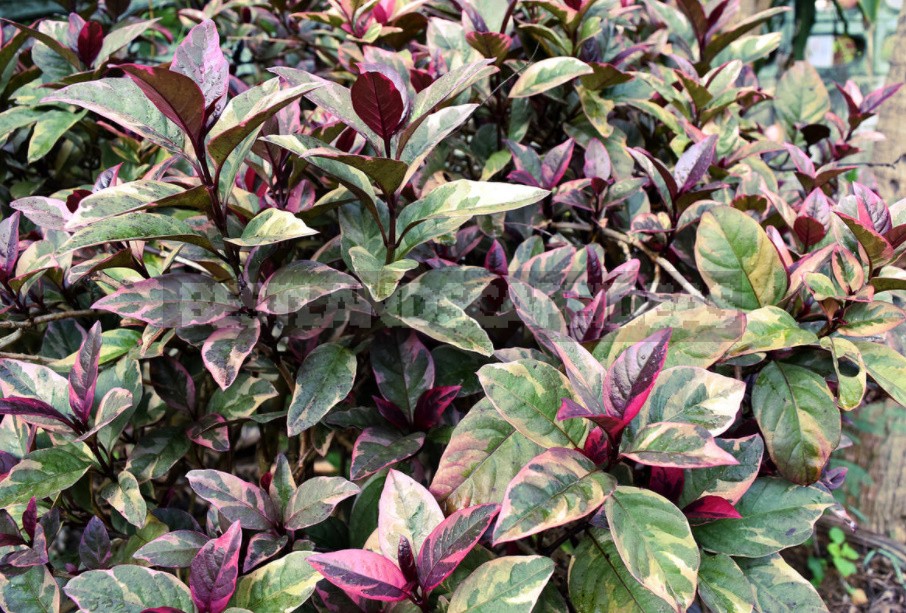 Features of care and reproduction
The optimal soil substrate is humus or peat, leafy earth, turf, sand, taken in equal parts. It is demanding to high humidity. On the sills of the south windows, it is shaded. For branching shoots, the tops are pinched. Propagate by herbaceous cuttings in the spring at a temperature of +22…+24°C.
Pseudosasa japonica
To be honest, I distinguish this type of bamboo — Pseudosasa japonica — from its "double", Sasa, only knowing the places of their growth. Pseudosasa japonica is quite resistant to cold: according to the USDA classification, its winter hardiness corresponds to zones 6-9.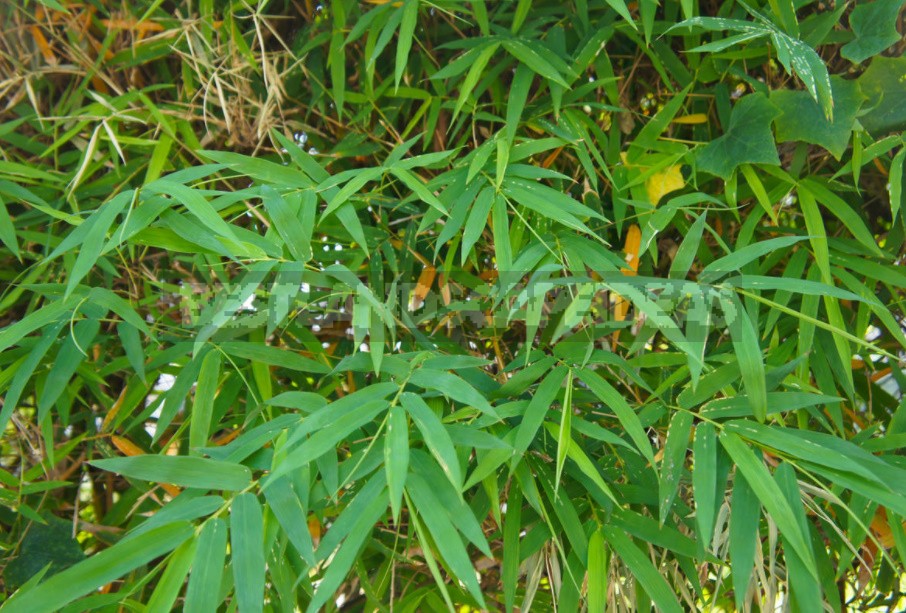 The plant is native to Japan. This is a rhizomatous representative of the Gramineae/Poaceae family, 3-6 m high, wide in comfortable conditions for it can grow indefinitely. There are no lateral branches in the lower part of the straws. The leaves are large, up to 35 cm long, lanceolate, dark green. Upon reaching maturity, it blooms almost every year (polycarpic, that is, it does not die after flowering), without losing its decorative effect.
Features of care and reproduction
It grows rapidly, forming dense thickets. You can use it to create impenetrable evergreen hedges. It grows well on moist, loose, fertile soils in shaded areas. Beautiful bamboo for small southern cottages. Propagate by seeds and delenki (parts of the rhizome) in early spring.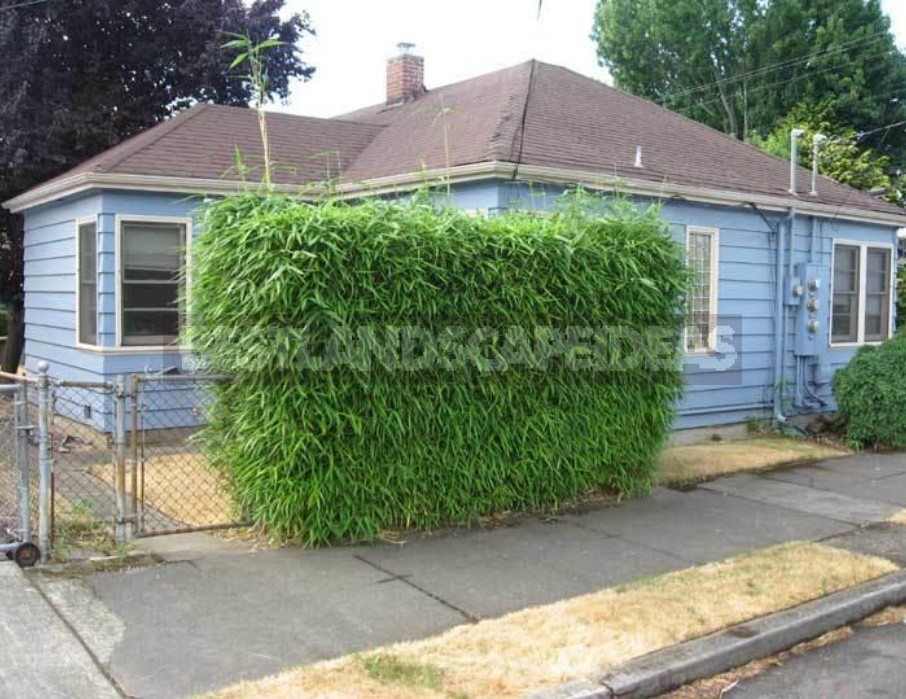 Of course, this is not the whole list of doubles. Still in their ranks there are:
Pseudotaxus chienii is a member of the Taxaceae family. It is endemic to Eastern China. It has a mature seed, about 6 mm long, covered with a fleshy bell-shaped roof of white color. Its winter hardiness according to the USDA classification-zones 5a-6b;
Pseudopanax from the Araliaceae family. In culture, there are several types. Their winter hardiness according to the USDA classification is determined for P. arboreus (syn. Neopanax arboreus) as zones 9-11, for P. crassifolius-as 8-10, for P. ferox – as 8-9;
Pseudowintera colorata, syn. Drimys colorata is an evergreen shrub in the family Winteraceae. It is endemic to New Zealand. Its winter hardiness according to the USDA classification is zones 6-8.
To be continued.