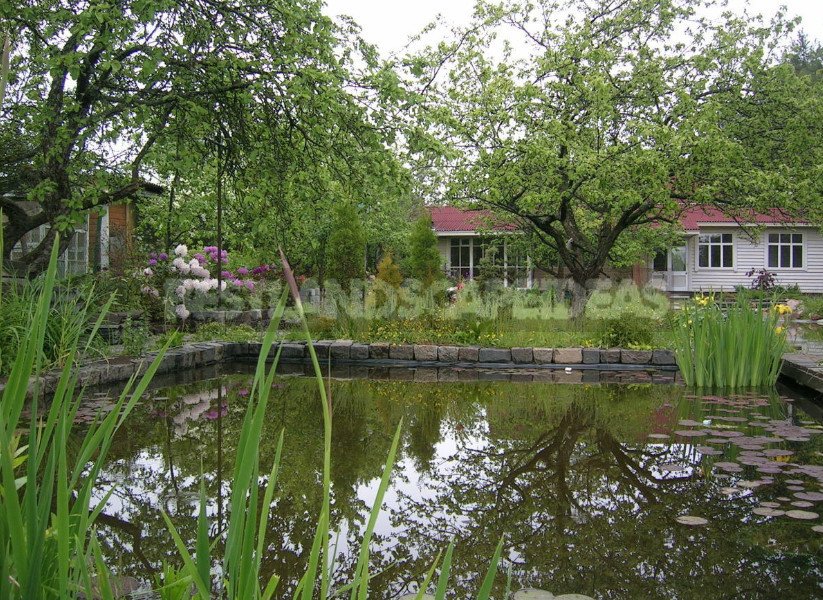 Recall, we continue the article called Pond in the Garden: Choose Materials and Equipment (Part 1). So, where were we?
Pumps and hoses
In order that the water device conceived by you with running water or the fountain reliably functioned for many years, it is necessary to use only specially intended pumps. The range of such pumps is sufficient to ensure the movement of water in the widest range of power – from a trickle to a fairly strong flow and a high fountain.
To date, the supply of pumps from different manufacturers: Poland, Italy, Germany, USA. And from experience I can tell you that a cheap pump does not mean weak and unreliable. Therefore, there is absolutely no need to chase expensive, and it is necessary when choosing to get detailed advice from the Manager of a specialized store. You must tell him for what purpose you need the pump, with what approximately the parameters of the work. As well as the length, width and depth of the flow or the height and power of the fountain jet or the height difference in the stream and cascade, and the approximate volume of the tank in which the pump will be installed. Do not hide the fact that you can not pay for the pump more than a certain amount. This also affects the choice, and as I said, cheap in this case does not mean poor quality. Taking into account the data specified by you, the Manager will advise you the best option.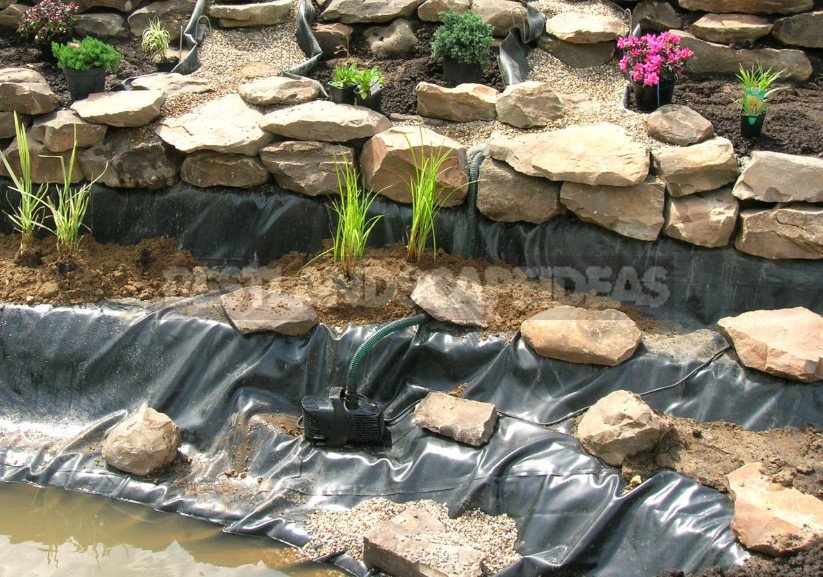 Specialized salon usually offers to try the selected pump, and if it still does not fit, within a week you will be able to change it.
Special pumps for decorative ponds are designed for continuous operation throughout the frost-free season. As a rule, they correspond to a voltage of 220v, but can be low – voltage-12v and 24v with the inclusion of adapters. The manufacturer offers low voltage pumps, although this does not mean that it is dangerous to install standard voltage pumps. All submersible pumps for water bodies are completely sealed and safe.
The required capacity of the equipment is calculated with the direct participation of the Manager of a specialized store according to the formula for which you must report the parameters of a particular water device. In this case, the friction power loss is calculated and not only the pump power is determined, but also the optimal hose section. As a rule, in most cases, fit the hose with a section of ¾ and 1 inch, i.e., 2 and 2.54 cm
Keep in mind that the effective operation of the pump is not least dependent on the quality and parameters of the hose, so do not use to save completely unsuitable for this purpose irrigation hoses. An illiterate pump can negate all your efforts. Too weak will not give the necessary pressure, and hence the desired effect, and too powerful, on the contrary, will overlap, creating a restless feeling of "flood", and it will have to provide special devices to repay the power.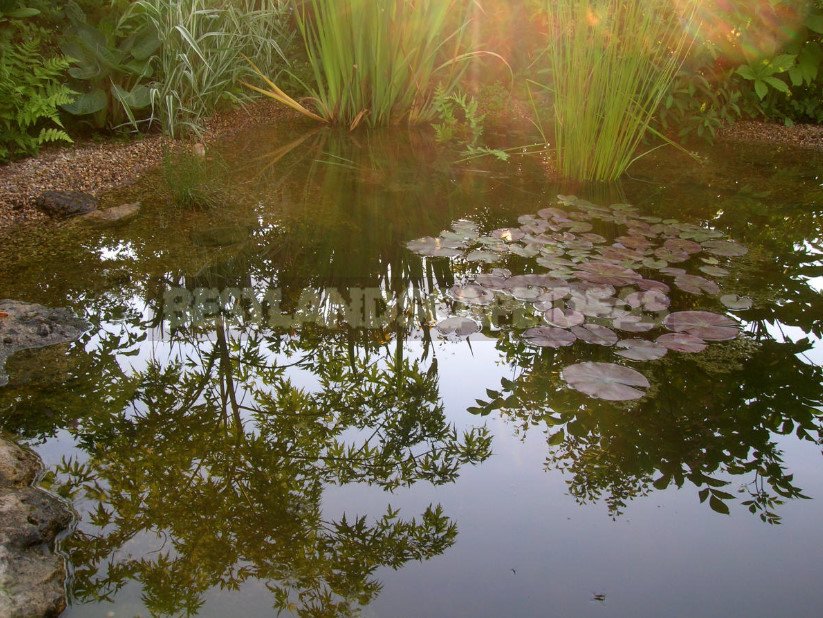 It should also be borne in mind that many pumps of the fountain-stream class have a universal purpose, as they say, three in one — that is, they can function in the "fountain" position, in the "stream" position and with the simultaneous inclusion of both functions. Some models of pumps are equipped with several types of nozzles, with which you can change the shape of the fountain jets. Nozzles are also sold separately.
Submersible pumps for decorative ponds should be turned off and removed before the onset of stable cold weather. Remove, rinse and clean the filters and all removable parts, dry, reassemble and remove for winter storage. In the spring, after the post-winter cleaning of the reservoir, the pump is again installed on the site intended for it at a depth of not less than 50 cm from the water surface and with the help of special couplings is attached to the end of the hose lowered into the reservoir. The hose for the winter is not dismantled, but it is necessary to close its ends with plugs, so that debris, rodents and other objects that can block it when the pump is turned on in the spring.
Remember: it is not safe to use drainage and home-made pumps for decorative water devices. It is necessary to provide a place protected from moisture and inaccessible to children, where the plug of the pump cable will be included. All electrical appliances for decorative water devices have completely sealed connections. Do not use the services of unprofessional electricians in the design of complex electrical systems.
Lighting equipment
Any decorative water devices decorate the garden, needless to say, that in the presence of thoughtful lighting they will look even more mysterious. The sale offers a variety of electrical equipment for this purpose, equipped not only with all kinds of lamps and reflectors, but also projectors, color filters, relays, programmers and so on.
It makes no sense to dwell on this issue. Every year the range of these goods increases. The quality and safety of professionally executed equipment is not a concern. It is necessary to remind only that from the aesthetic point of view not each offer deserves attention. And in any case, try to make the choice of a lighting system was artistically justified. Do not forget about the law of similarity and a sense of proportion. When installing electrical lighting equipment, observe safety regulations.
Preparations for the care of the health of the pond and its inhabitants
More recently, there were specially designed for the conditions of a private garden biochemical drugs that allow you to regulate certain processes occurring in the water area. By means of these means it is possible to influence quality of water, its chemical composition, level of alkalinity and rigidity, presence in water of oxygen and the components useful for health of fishes and other inhabitants.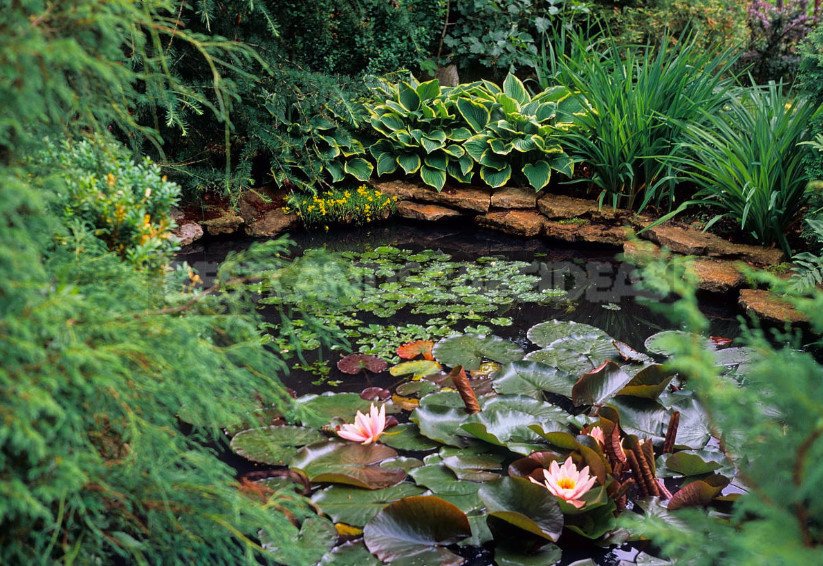 Specially designed biologically active additives are able to improve and modify the quality of water, initially in its parameters is not suitable for decorative pond. They neutralize harmful components, adapt new water and stabilize biological balance, for example, in the presence of stressful factors during the long summer heat or with an excessive number of fish, with the wrong regime of their feeding or with a large number of organic residues rotting on the bottom.
These drugs were developed by serious scientific institutions for the conditions of private water bodies, so they are not toxic to humans and Pets and are marketed in a convenient package for use. And many of these tools have a wide, universal and prolonged range of action, so provide a healthy existence and waters, and all its inhabitants without any additional effort on your part. In specialized stores you will be given detailed advice on this issue. Keep in mind that in some cases it is more economical to buy larger packages, the contents of which can be used several times.
When creating and improving decorative ponds in different gardens, I had the opportunity to test some of these drugs, so I can confidently recommend them. Without them, of course, you can do, but in many cases they make life much easier.
Filters and cleaning systems
Specially designed for artificial decorative reservoirs filtration systems are designed for biological and biomechanical water purification in a multistage, multi-level cycle. For this purpose, a whole series of components is offered. It is possible to choose correctly system of cleaning only by means of the Manager consultant, having informed him parameters of your water device. To do this, at the design stage it is necessary to calculate the volume of water in the future reservoir and solve all technical issues. This will significantly save your money in the future.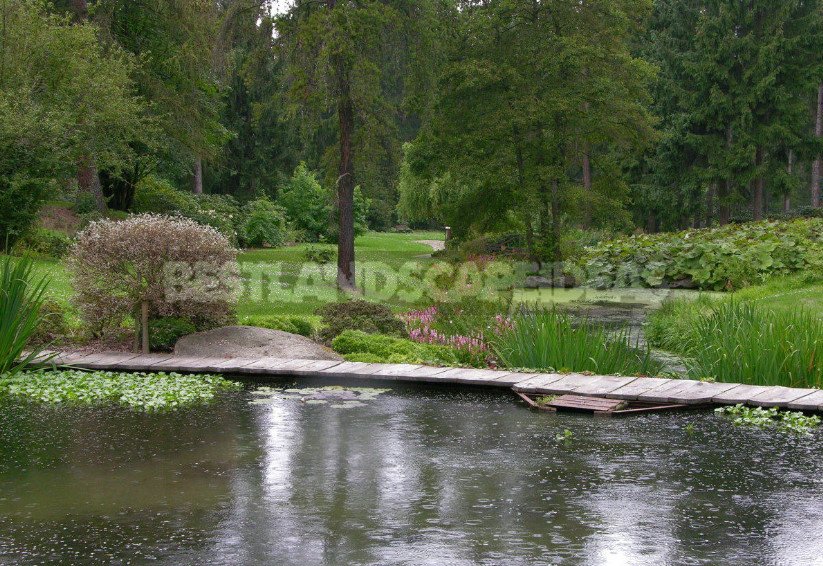 The complexity of the water system, its size, the presence or absence of water circulation will determine the need for a particular purification system. In many cases, if there is a pump for a fountain or waterfall, it can be used as a generator of water supply to the purification system. That is, it makes no sense to buy an additional pump. From myself I will add: in most cases, you can generally avoid these costs and hassle, if you organize a body of water with a sufficient amount of water by natural type, which will establish an ecological balance between all parts of the biological chain. Such a body of water exists without expensive equipment, self-cleaning almost without our participation.
Vacuum cleaners, nets, scissors and other devices for the care of flora and fauna
Specialized store can always offer your choice of an Arsenal of tools and devices for the care of decorative pond. I'm not sure that every owner of a garden pond will need a water vacuum cleaner. There are several modifications, but the efficiency of these expensive units is highly questionable. In any case, the rather expensive branded vacuum cleaner of the new generation, which I had to deal with, did not cope with the task for which it was purchased, and it was quite troublesome to use it. I can only advise you to listen carefully to the proposals of the market and be aware of the real need for this or that expensive adaptation. For example, in many cases, in the fight against filamentous algae or turbid water is much more effective to use bioactive drugs, as mentioned above.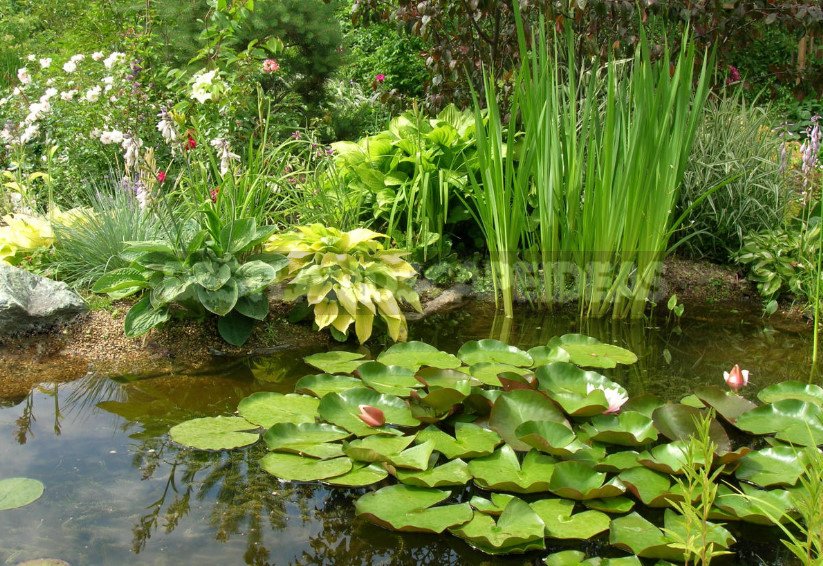 But there are tools without which the care of the reservoir is simply impossible. This, above all, nets. Please note: on sale, as a rule, there are models of different diameters with long handles, including telescopic (with varying length). Nets are designed to care for water bodies of different size and structure, so different cell size and quality of the grid. Of course, varies and their price. Branded high quality nets are very expensive, so do not buy the first available net without understanding the range.
Special scissors for water plants and tongs for lifting debris from the bottom make it much easier to care. They have a long handle and allow you to reach objects at a considerable distance. Unfortunately, not everywhere and not always they are available for sale, but it is desirable to find and buy them.
At the end of this review article, I will allow myself to give another piece of advice. Do not buy materials and accessories for ponds in random places. Find out the coordinates of specialized shops, many of them are official dealers of manufacturing companies. Therefore, the range of products in these stores is extremely full, the quality is guaranteed, and the prices are quite reasonable.