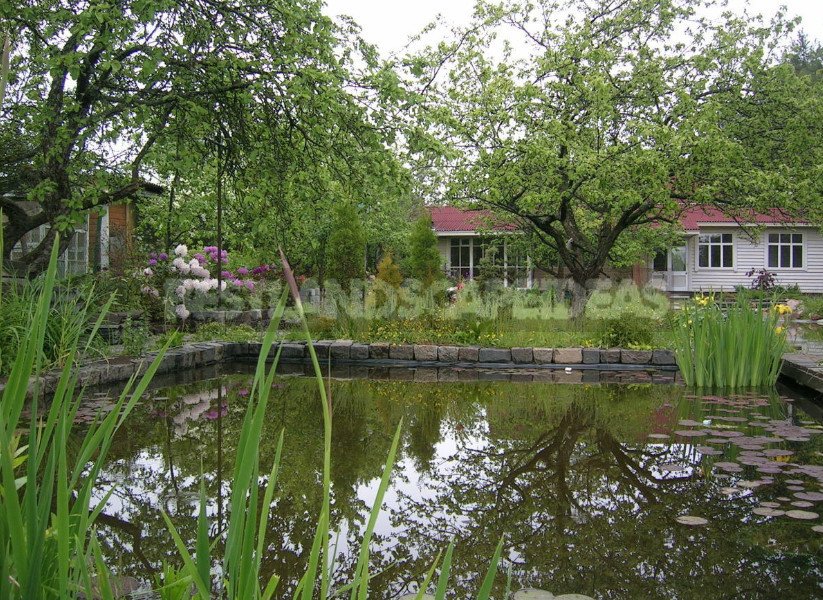 In past publications, we have analyzed the typical mistakes that make fans when creating a pond, and made their choice in favor of a pond, stream or waterfall. But before you get to work, you need to know what we may need for it. Every year on the market there are more and more materials and devices, including for the creation of water gardens. The process itself is, of course, joyful. But how to navigate this abundance? How to understand what is really necessary, and without which it is possible to do?
The seller, of course, is interested in selling the goods, so it will be very convincing to inspire that you need everything. In fact, this is certainly not the case. Manufacturers do offer a huge range of everything, but this does not mean that everyone needs everything. Let's try to figure out what's what together.
Flexible waterproofing materials
Today, these materials are the most rational and economical when it comes to creating a water device of any complexity and almost any size. However, there is a wide range of rigid plastic forms on the market. They appeared earlier flexible materials, some time were progressive in comparison with technology of concreting, but with emergence of flexible materials lost the appeal. And yet their presence on the market is constantly confusing-so I want to believe that this is the easiest and most rational way. Unfortunately, this is not the case.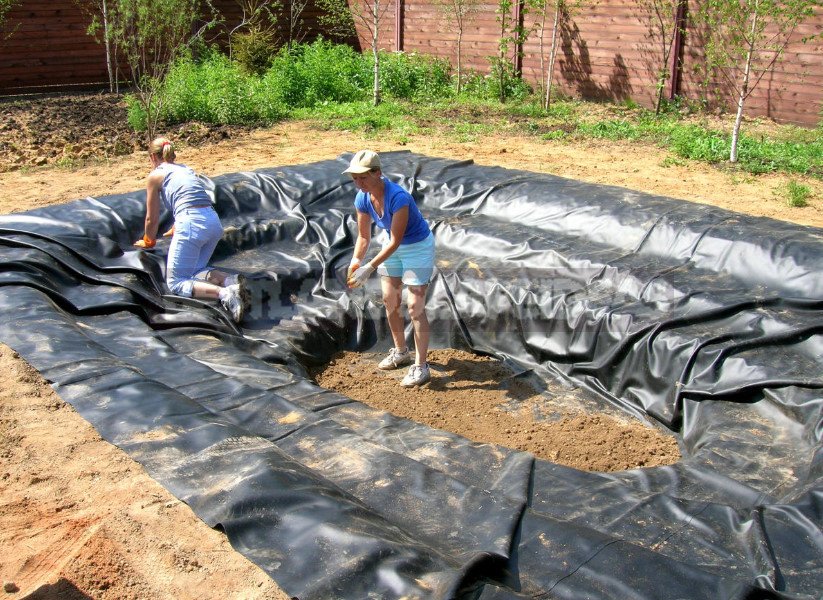 From small and, as a rule, intricate configuration of forms it is impossible to create any plausible reservoir. In addition, in such a pond will often have to change the water, disturb the inhabitants — that is, constantly take care of its ecology. Forms larger roads, they are difficult to transport and install, without a truck and a special team can not do. For rigid forms there is one niche – formal reservoirs. They are usually small in size, but should have clear geometric parameters. If the finished forms meet these conditions, they will be widely used in the device of all kinds of decorative pools.
To create picturesque ponds, streams, waterfalls and cascades, canals and wetlands, flexible insulating materials are absolutely indispensable. Among them, the most popular are polyvinyl chloride film and butyl rubber. To date, they are available, relatively inexpensive, easy to fit by one or more people, perfectly functioning in the winter without the need to drain water from the reservoir. They can be cut with scissors and glue, which makes it possible to create very large structures. In addition, over time, you can change the size and configuration of existing reservoirs, easily, quickly and reliably eliminate damage. At the same time, the guaranteed service life of flexible materials from 25 (for polyvinyl chloride film) to 50 (for butyl rubber) years. This is much more than the maintenance-free service life of concrete and other materials.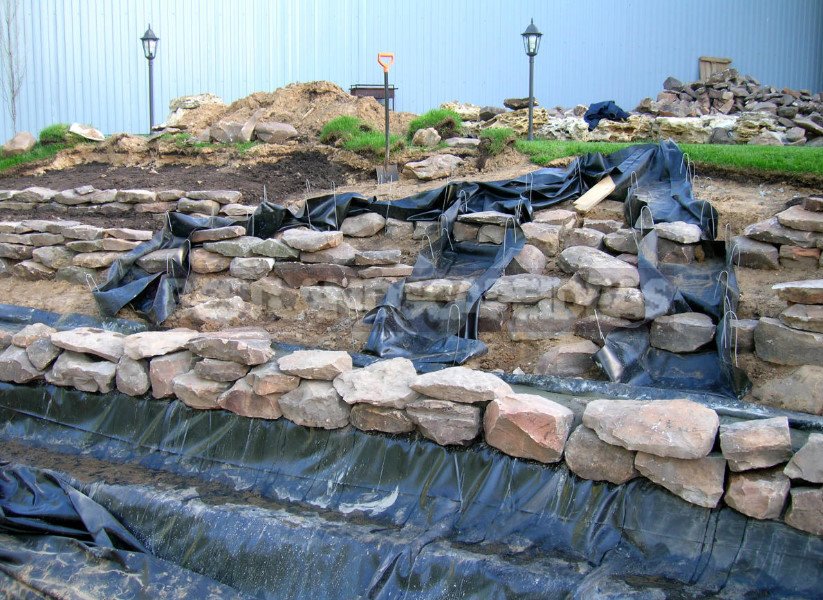 Special polyvinyl chloride film for water bodies has different cross-section thickness: 0.5 mm, 0.8 mm, 1.0 mm and 1.2 mm. depending on the thickness used:
for lining the bed of streams and shallow ponds-0.5 mm and 0.8 mm
for waterfalls, cascades and deep ponds-1.0 mm and 1.2 mm.
The length of the roll of polyvinyl chloride film, regardless of the thickness is 25 m, and the width can be 2, 4, 6 and 8 m. the film Panels, starting with a 4-meter width, have a factory gluing with a step of 2 m. the Presence of these seams does not affect the strength and other characteristics of the material.
Thus, having the estimated size of the future reservoir, you can order the appropriate piece of film. And by purchasing a special glue for polyvinyl chloride film, you will be virtually unlimited in size. Glued film is easy and reliable, and effortlessly you can get a cloth of any non-standard size and shape.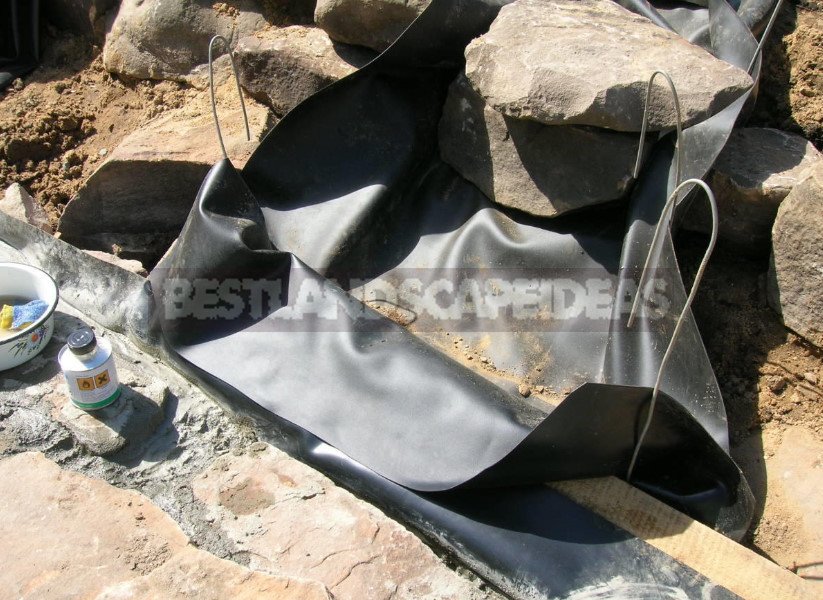 The color of the polyvinyl chloride film, designed for decorative pond, must be black. It creates the illusion of depth and at the same time increases the reflectivity of the water. There is a persistent misconception that the blue polyvinyl chloride film, which is more often used for swimming pools, allegedly more suited to the color of the water. For decorative ponds is a terrible minus. Unnatural turquoise-blue color of this film can not be decorated, it literally glows from the depths and significantly reduces the reflectivity of water. And plants planted on top of this film, look unnatural.
Even more perfect flexible insulating material is butyl rubber, or, as it is called by manufacturers, membrane. It is more flexible and durable. At a thickness of 1 mm roll width can be 3.05 m, 6.1 m, 9.15 m, 12.2 m, and 15,25 m. the factory gluing is performed in increments of 3 m. the Length of the coils is, accordingly, 15,25 m, 30.5 m, 45,75 m and 61.0 m. Not every seller is in selling rolls of all possible combinations of length and width offered by the manufacturer, but in a specialty store, you can order the membrane of any manufactured size.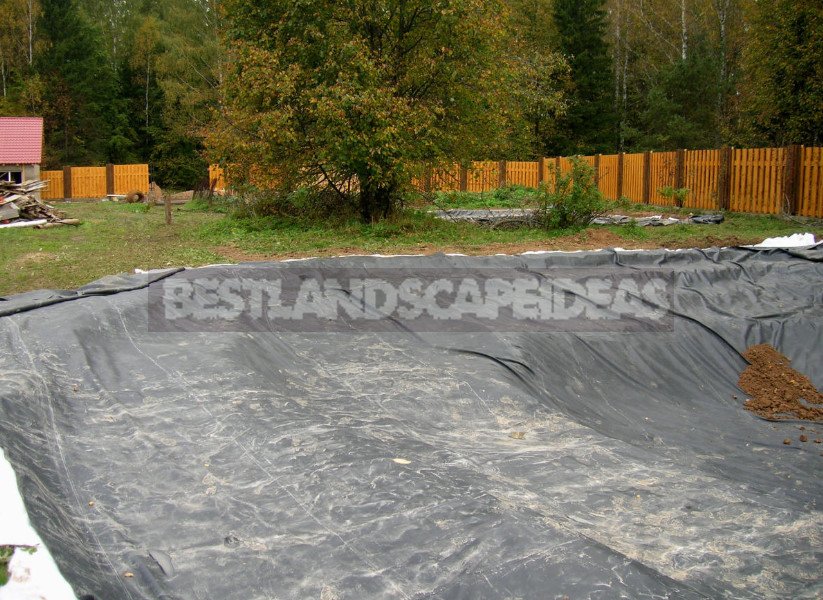 As well as polyvinyl chloride film, butyl rubber is cut with scissors and glued into the cloth of the desired size and shape. Bonding occurs due to the process of cold vulcanization. Special adhesive cleaner and tape-tape with self-vulcanizing rubber are sold in the same place where you can buy butyl rubber. However, the technology of gluing the butyl rubber membrane is somewhat more complicated than the process of gluing the polyvinyl chloride film, but still quite feasible on their own, as they say, at home.
It should be borne in mind that butyl rubber is not only more plastic and durable than polyvinyl chloride film, but also more expensive and much heavier. In most cases, it is enough to use a polyvinyl chloride film. Butyl rubber is indispensable when it comes to a very large or public body of water, which requires special strength and durability, and the factors of price and labor recede into the background. Comparative characteristics of polyvinyl chloride film and butyl rubber should be taken into account, making a choice in favor of a particular material in each situation.
Subsurface material
The name of this group of materials is determined by their purpose. These are materials that in a given situation should be used as a cushioning layer between the soil and the waterproofing layer. Manufacturers offer special synthetic non-woven fleece.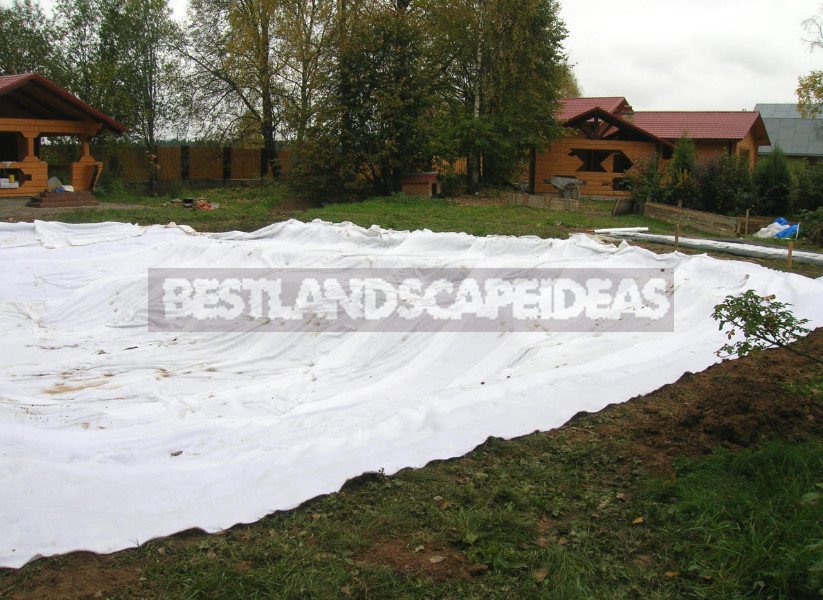 Different manufacturers vary its width, thickness and strength, as well as the length of the rolls. Naturally, when buying you will cut as much as you need, but it will have to be laid in parts, with overlap of at least 20 cm.
Strictly speaking, this is an item of expenditure, which can be saved, because as the underlying can be used many other materials at hand: spunbond, lutrasil, mineral wool, other nonwovens, fine clean sand. The need for underlying materials is determined by the specific situation. If the soil on which the work is carried out on the device of the reservoir, heavily clogged, for example, construction debris or tree roots, will have to use the underlying materials. If the soil is uniform in structure and most importantly — clean, quite a small layer of sand, and it is usually always in the economy. So do not buy fleece in advance, not knowing the situation.